These Survivors of the Waffle House Shooting Explain Exactly What They Remember
Shootings may seem like they're on the rise, but even so, no one expects to be caught in the middle of one. Unfortunately, for customers at their local Nashville-area Waffle House, that's exactly what happened. Chaos and death ensued when one man walked into the restaurant and used a rifle to open fire on customers.
Now, we get to hear what the harrowing situation was like for the customers who saw it all. Here are the stories from the survivors, including one from the man who grabbed the gun from the shooter and saved everyone (pages 5 and 6).
1. Survivor Brennan McCurry said he made eye contact with the shooter in the parking lot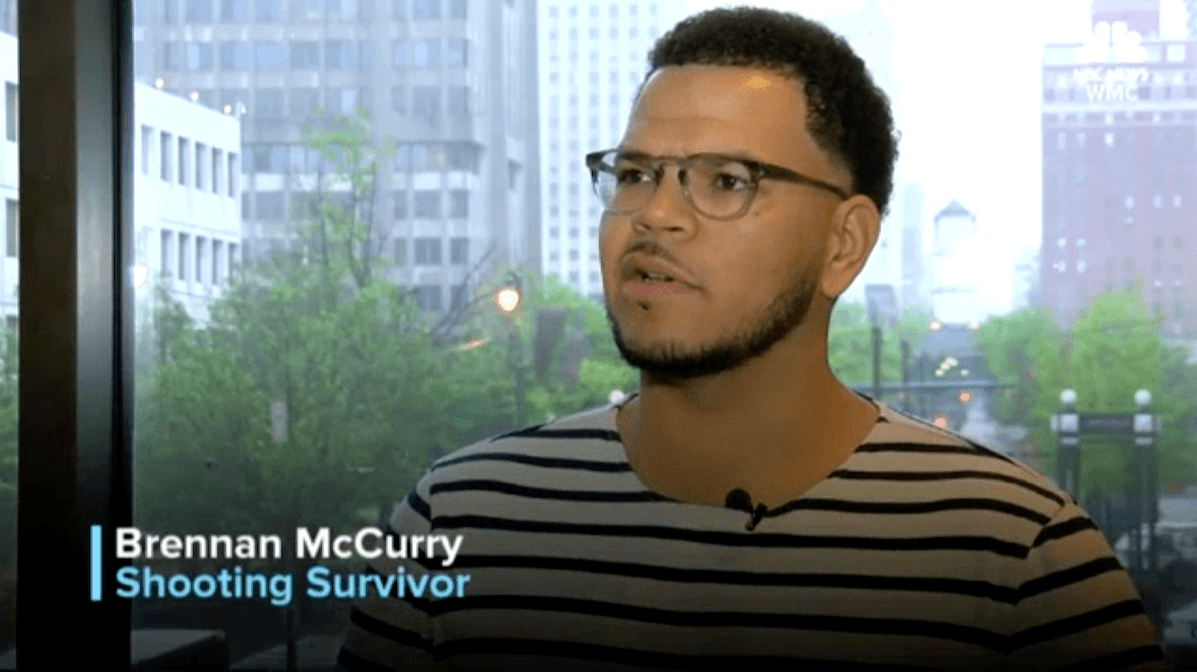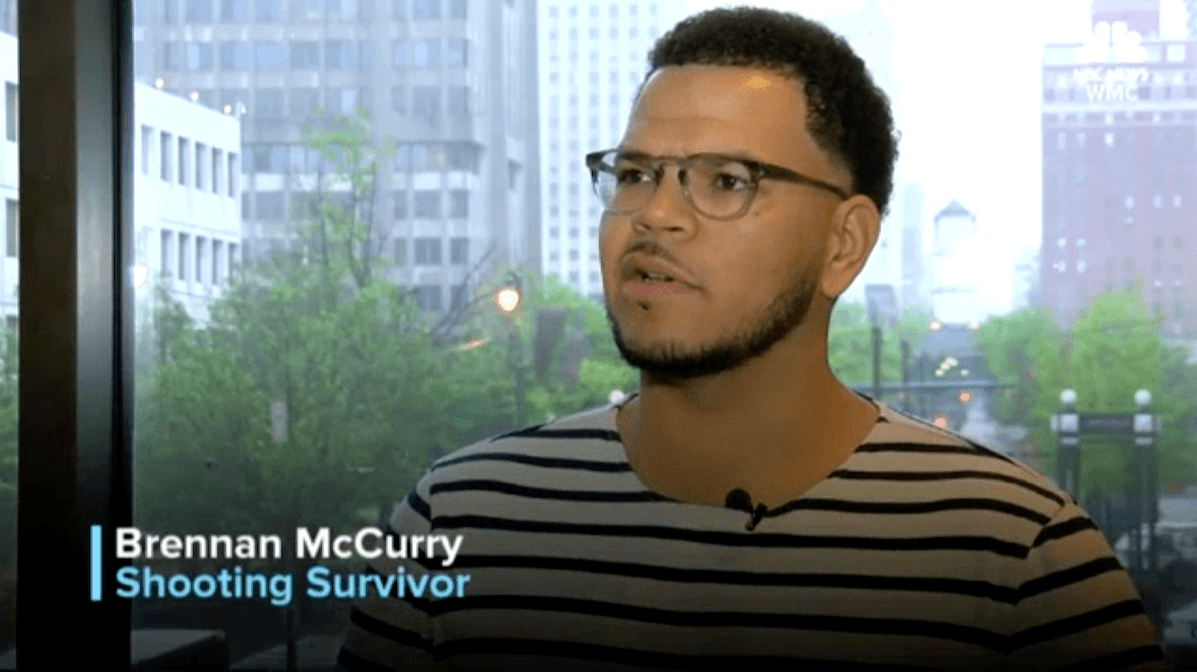 Waffle House shooting survivor Brennan McCurry | NECN
When suspected shooter Travis Jeffrey Reinking stormed the Waffle House in just a green jacket, none of the patrons ever saw it coming. And Brennan McCurry, a regular who was there that night, told New England Cable News that the whole experience felt surreal.
Oddly enough, McCurry said he felt something was off before he even stepped inside of the restaurant with his best friend, James Shaw Jr. "When we were walking up we had made eye contact, essentially, with what we know now as the shooter," McCurry says. "He was just looking at us."
Next: McCurry recounts when he heard the sounds of bullets.
2. McCurry and Shaw were in the restaurant for only 2 minutes before the gunshots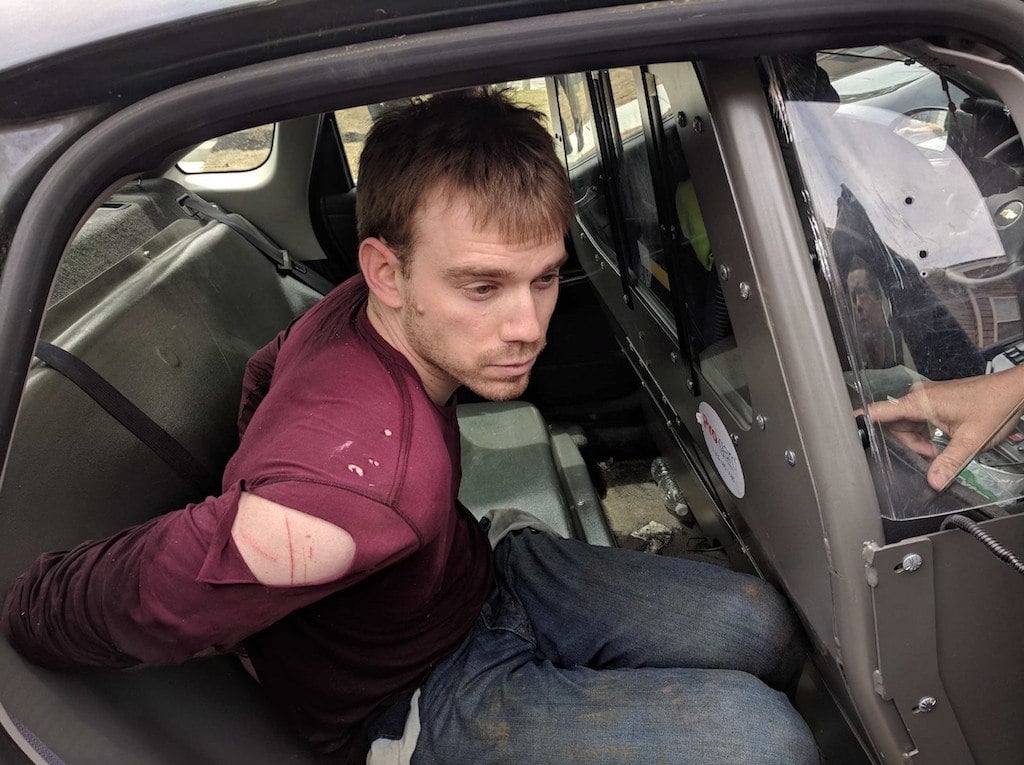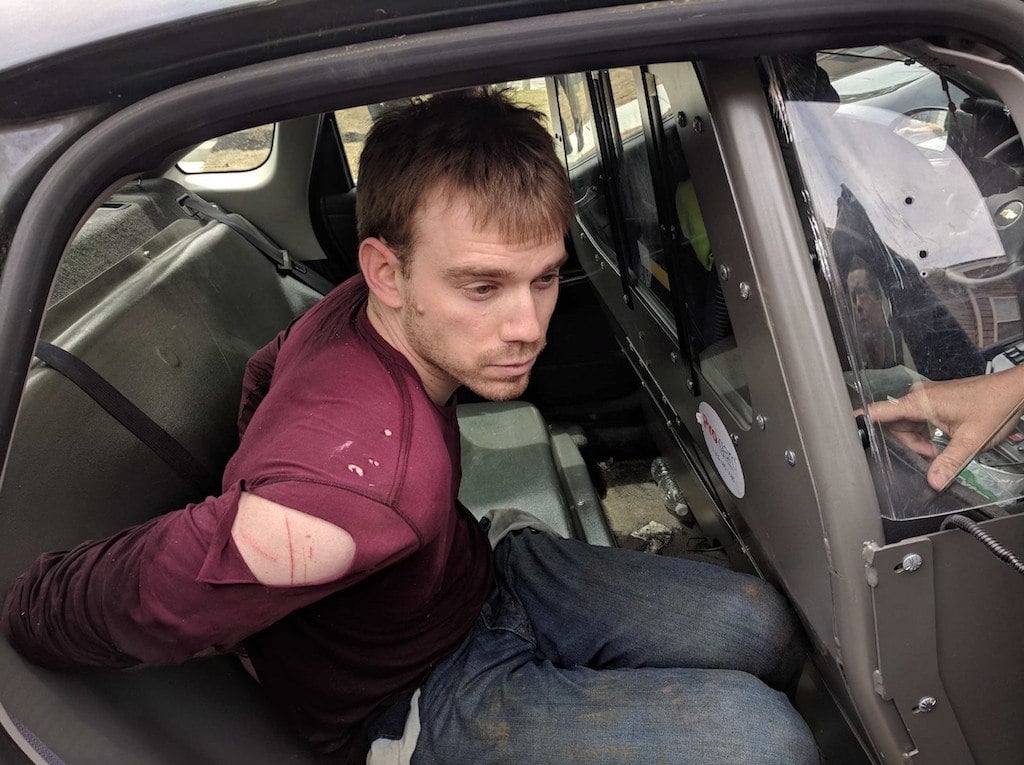 Reinking opened fire on about 20 people. | Metro Nashville Police Department via Getty Images
McCurry and Shaw barely stepped into the Waffle House before chaos ensued. McCurry said he heard gunshots "just going, louder, rumbling, walls trembling." There were only about 20 people inside of the establishment at the time, he recalls to NECN. And he then tried to think of the best place to run for cover.
"The shots just get louder, and louder, and louder, and closer," McCurry recalled.
Next: McCurry thought this one spot in the Waffle House would be his best bet for survival. 
3. McCurry ran to the bathrooms to take cover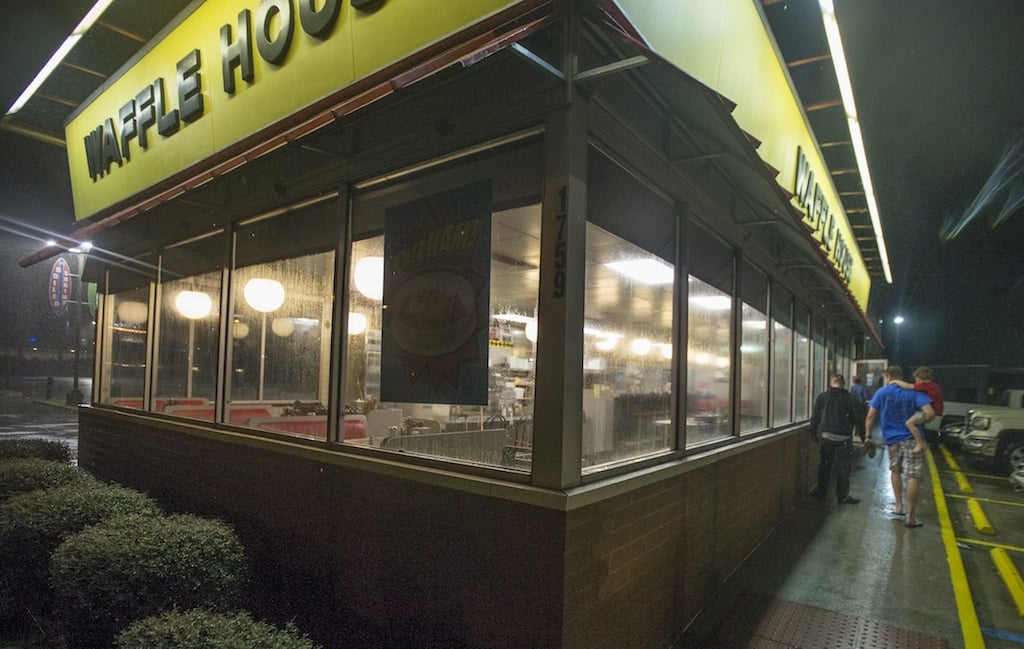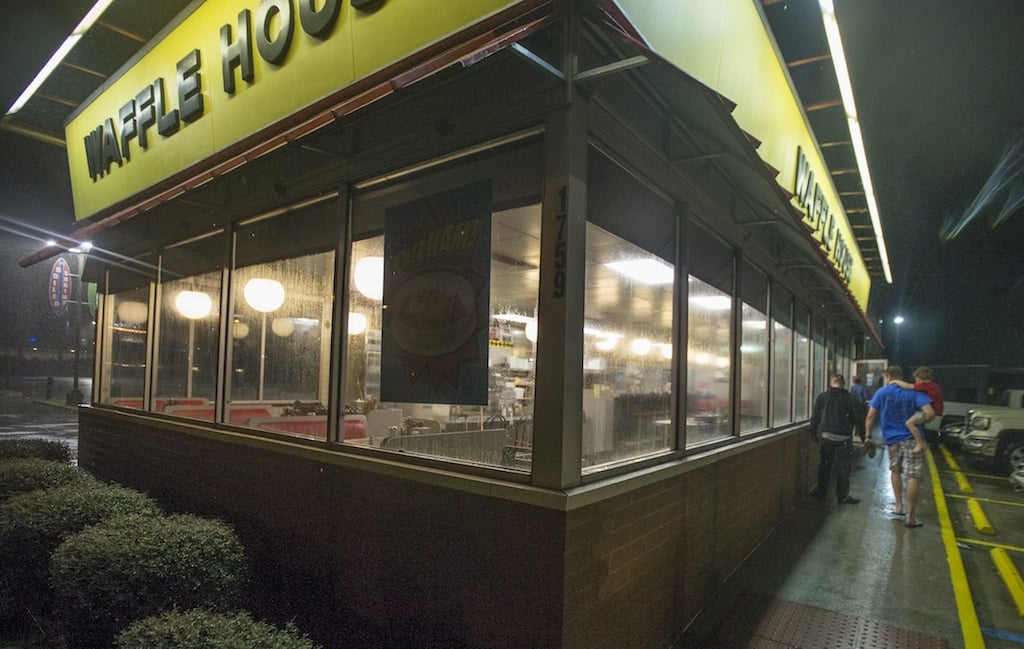 Some patrons scrambled to hide in the bathroom. | Mark Wallheiser/Getty Images
As the shots got closer to McCurry, he told NECN that he yelled for everyone to run to the bathrooms for their safety. McCurry himself headed to the bathrooms as well, which is where he hid from the gunman. He also reportedly thought Shaw was safely somewhere in there with him.
When McCurry finally heard the gunshots stop, he opened the bathroom door. To his surprise, he saw Shaw there telling him that they needed to leave immediately.
Next: Shaw wasn't in the bathrooms. This is what he was really up to. 
4. Shaw yelled to McCurry that he attacked the shooter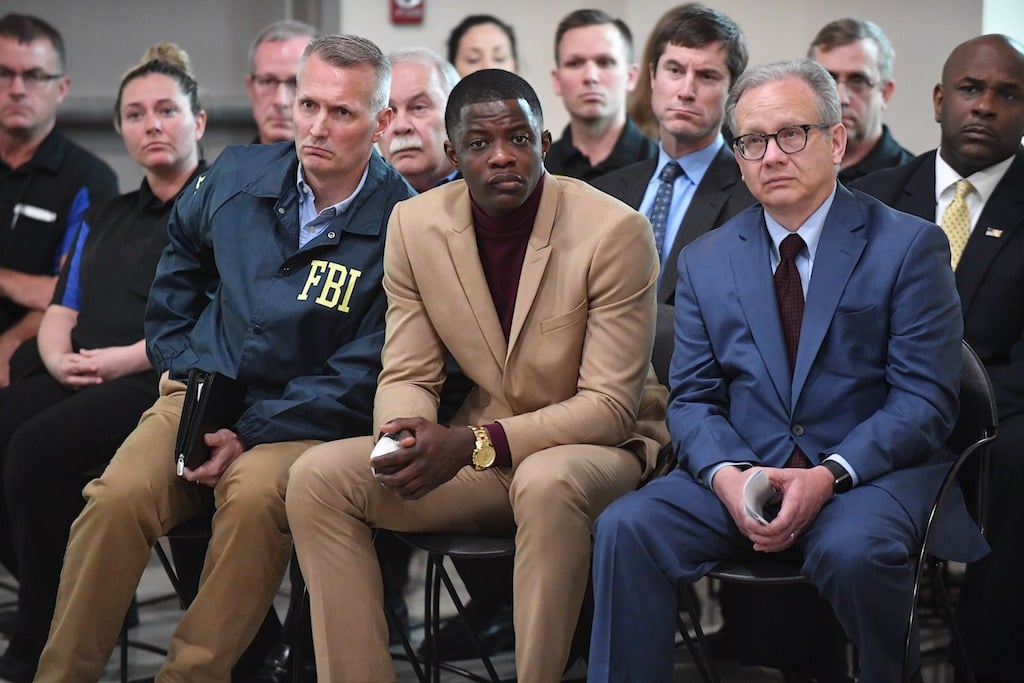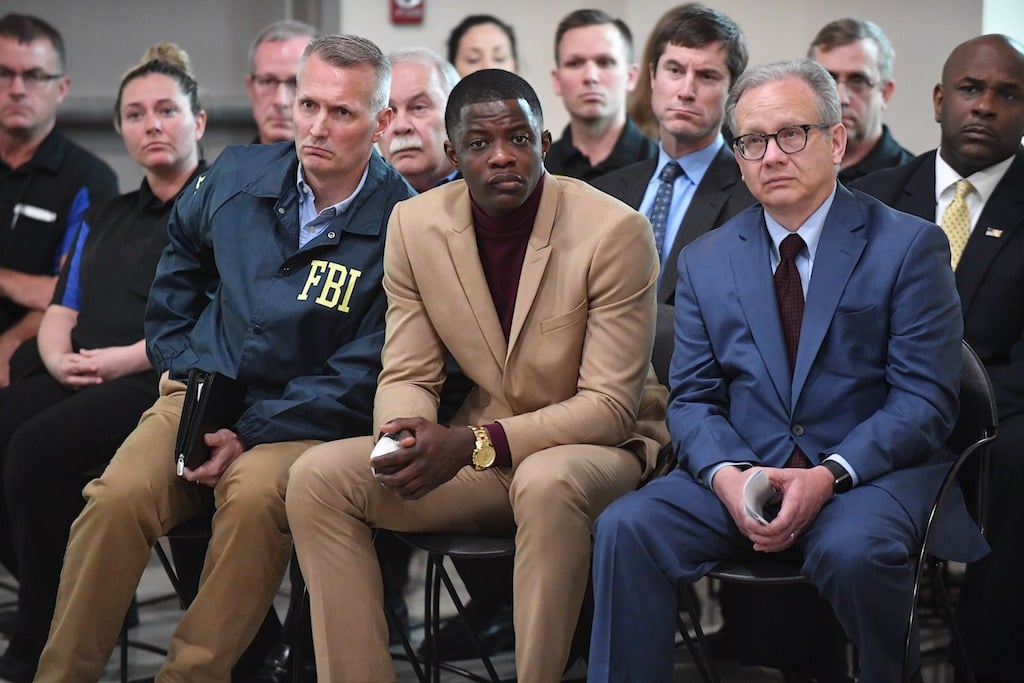 James Shaw, Jr. at a press conference April 22, 2018. | Jason Davis/Getty Images
McCurry explains to NECN that when he was reunited with his best friend, he noticed Shaw had a limp. He then asked Shaw, "Did you get shot? Are you OK?"
Shaw then told McCurry that he didn't get shot. Instead, he explains to his friend that he fell, which confused McCurry even more. Shaw then said, "I just fought the guy."
Next: Here's Shaw's perspective of how he wrestled the attacker. 
5. Shaw, now hailed as hero, explains why he chose to attack rather than run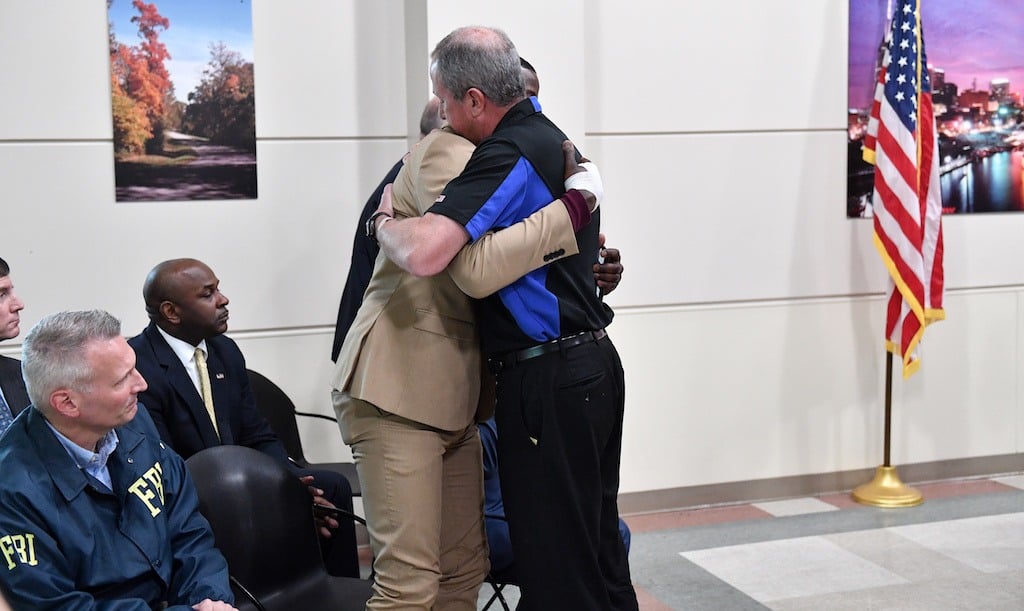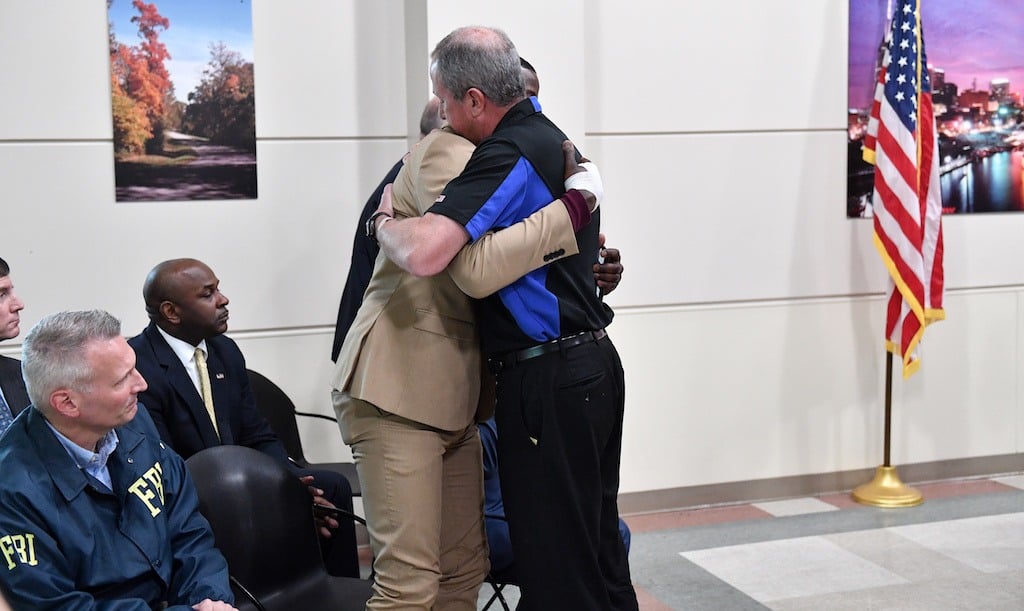 Waffle House President and CEO, Walt Ehmer embraces patron James Shaw, Jr. at a press conference | Jason Davis/Getty Images
Shaw told Today that when the first heard gunshots, he had no idea what was going on. And then he looked toward the entrance and saw the shooter. Shaw explained he jumped from the high countertop seats toward the bathroom first — but then he realized he'd be trapped if he stayed there.
"I was just kind of like, 'He's gonna get me either way I go,'" Shaw explained. "When I saw the barrel down, I just saw my opportunity and I attacked. … It worked out for myself and others that were actually in the Waffle House at the same time."
Next: Here's the shocking way Shaw was able to disarm the attacker. 
6. Shaw says he's sore, but he'd rather be that way than severely injured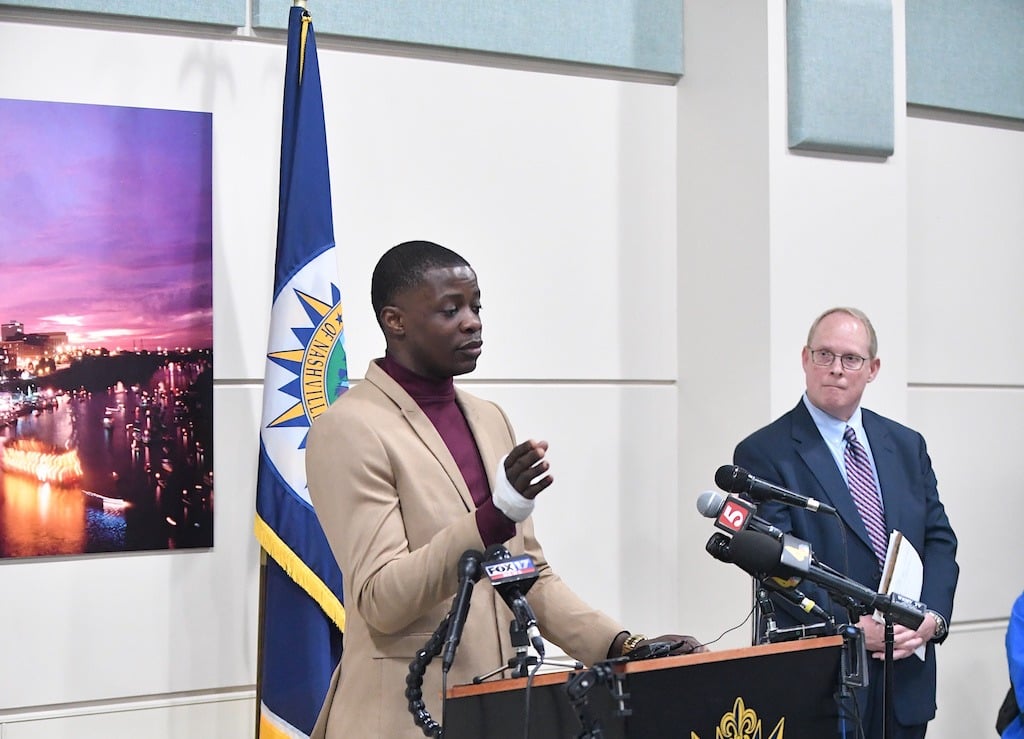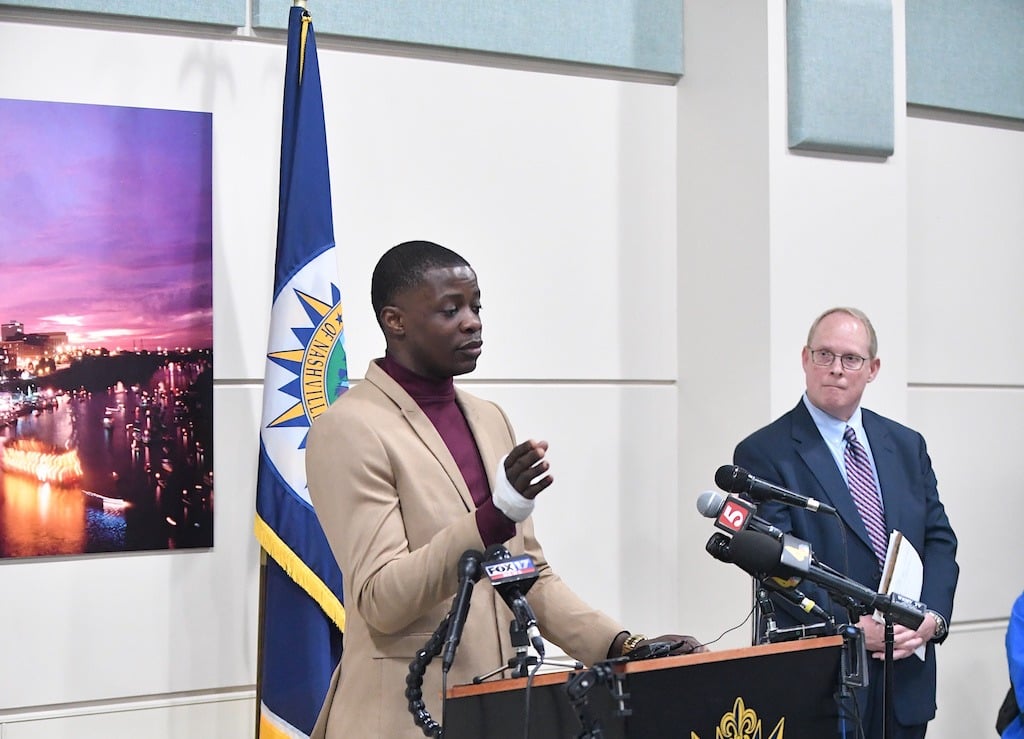 James Shaw, Jr. and his bandaged hand. | Jason Davis/Getty Images
Shaw explained to Today that he was able to get the gun pointed all the way down to the ground. And once it was there, he fought the attacker with his right arm while keeping his left holding the gun away. Once the rifle was out of the attacker's hands, Shaw threw it over the countertop. From there, he brought himself and the gunman outside.
Shaw said he still has "bumps and bruises" from the physical altercation. "But I'd rather be sore than severely shot. I had a bullet graze my upper right elbow," he added.
Next: Here's how this next survivor managed to get away unscathed. 
7. Survivor Kayla Shaw played dead to avoid being shot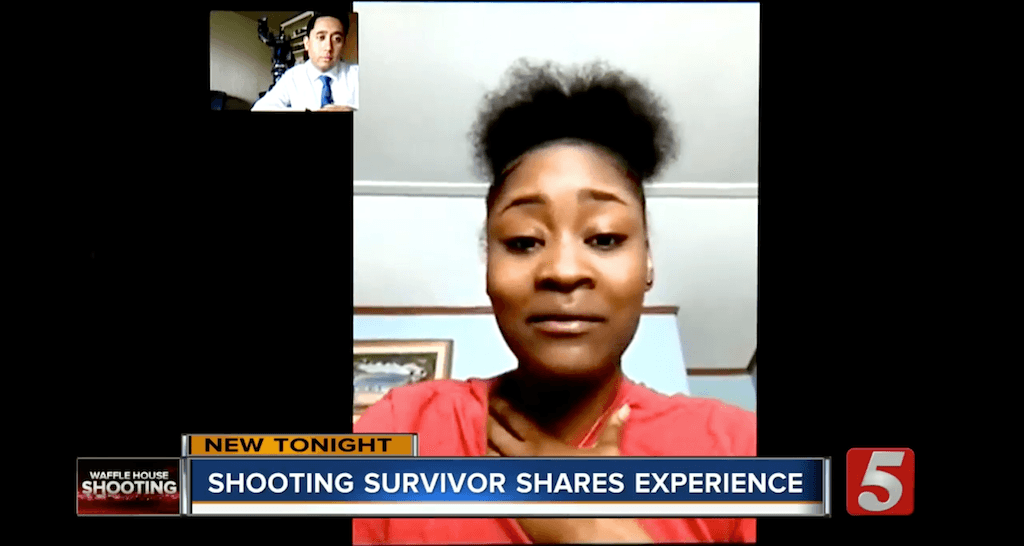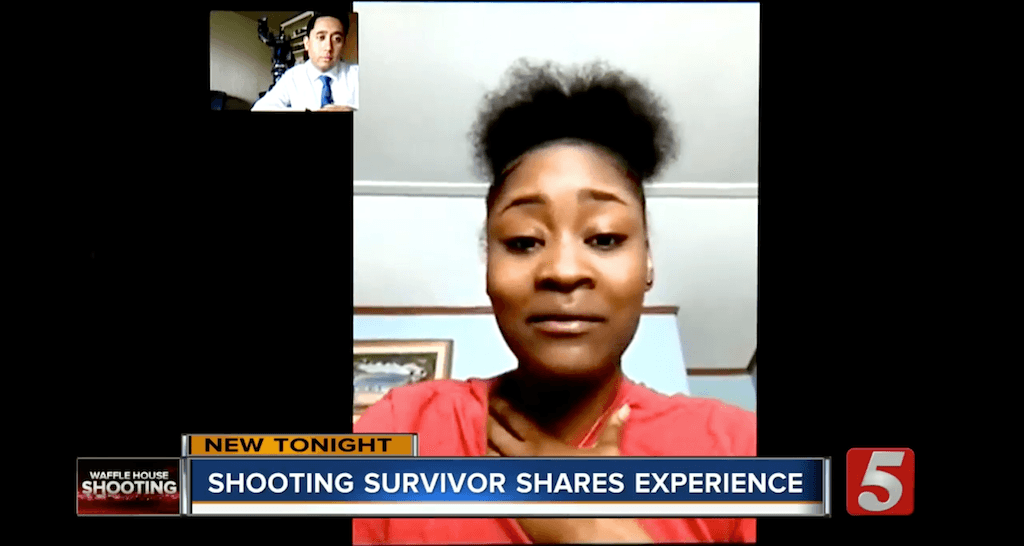 Waffle House shooting survivor Kayla Shaw | WKBW Buffalo
Among the 20 Waffle House patrons was Kayla Shaw, who was reportedly about to pay for her to-go order when the gunman opened fire. She told WKBW-TV she first heard a loud pop to her left, and then she felt glass from the window hit her face. From there, she hit the floor. "I laid there, and my first thought was, 'God please don't let me die in a Waffle House,'" she said.
Next: The one time she opened her eyes, this is the startling thing Kayla Shaw saw.
8. Kayla Shaw saw the gunman standing over her during the chaotic scene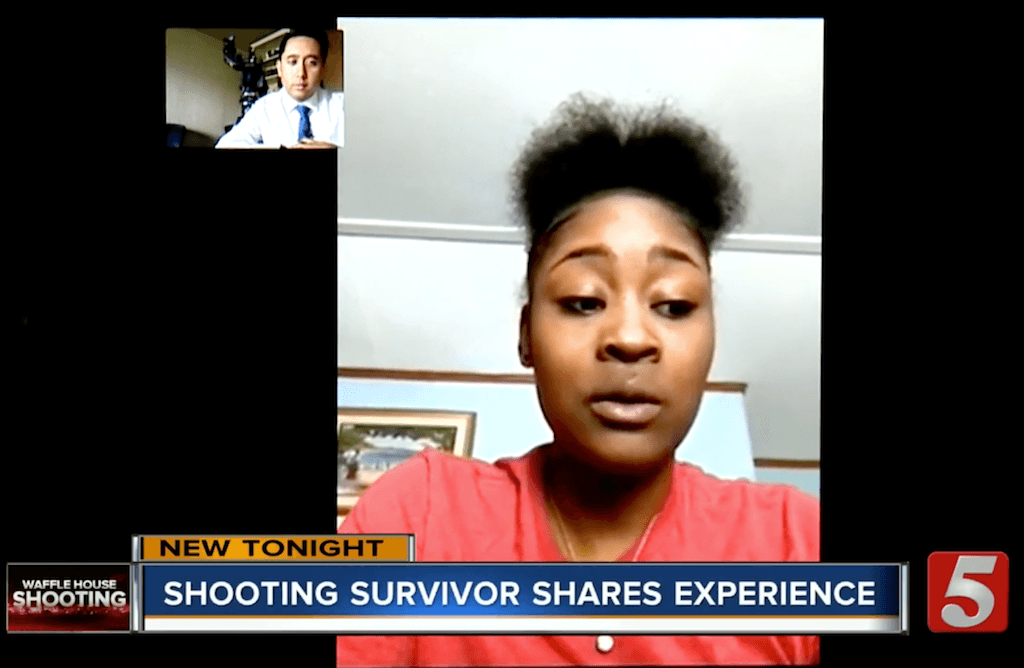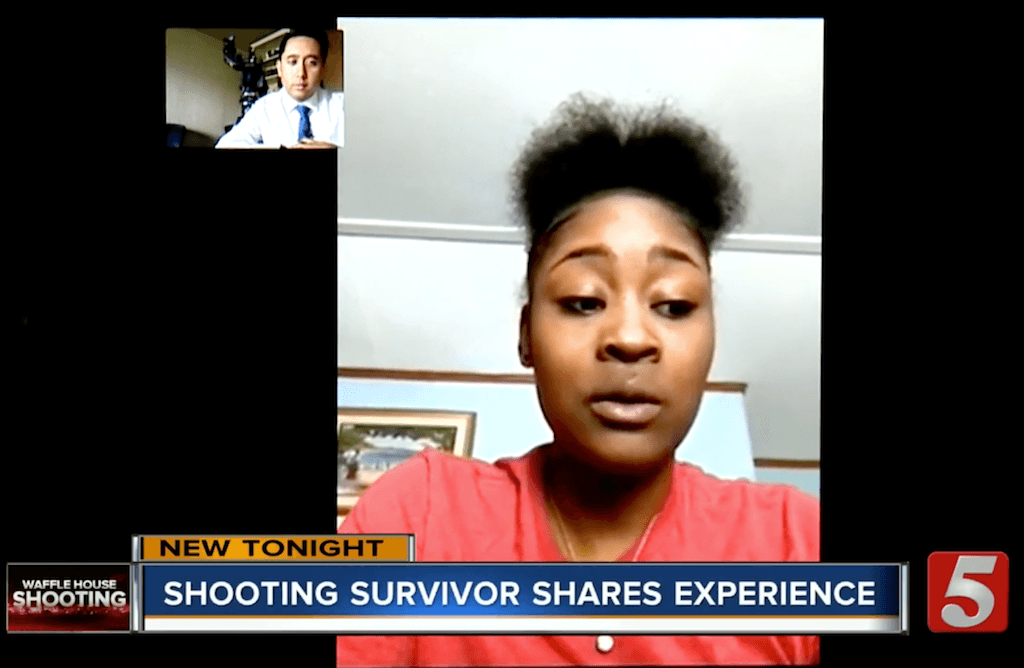 Waffle House shooting survivor Kayla Shaw | WKBW Buffalo
Kayla Shaw remained on the floor amidst the shooting, but she did open her eyes at one point. She explained to WKBW-TV that she saw the shooter's genitals since all he was wearing was a green jacket during the altercation. Once she no longer heard gunshots, she hid behind the counter before running out of the restaurant and driving off with her cousins.
"I question why I got to live, but I feel like my actions by playing dead actually helped me live after I heard the gunshots," she said.
Next: This next survivor is having trouble dealing with what he's seen. 
9. Survivor Chuck Cordero saw the gunman shoot a cook in the parking lot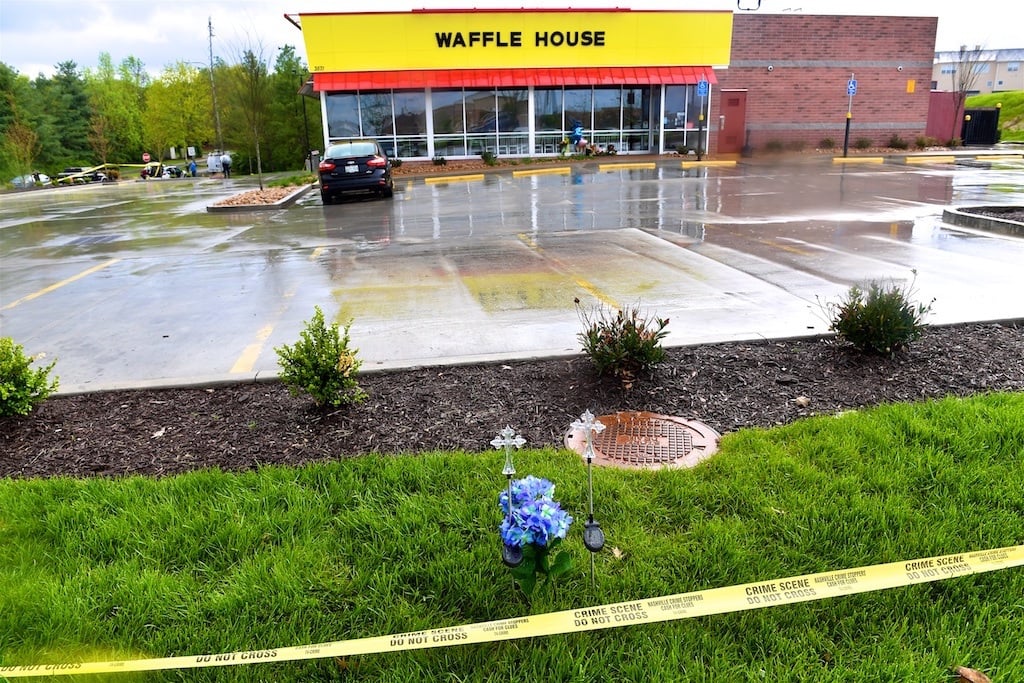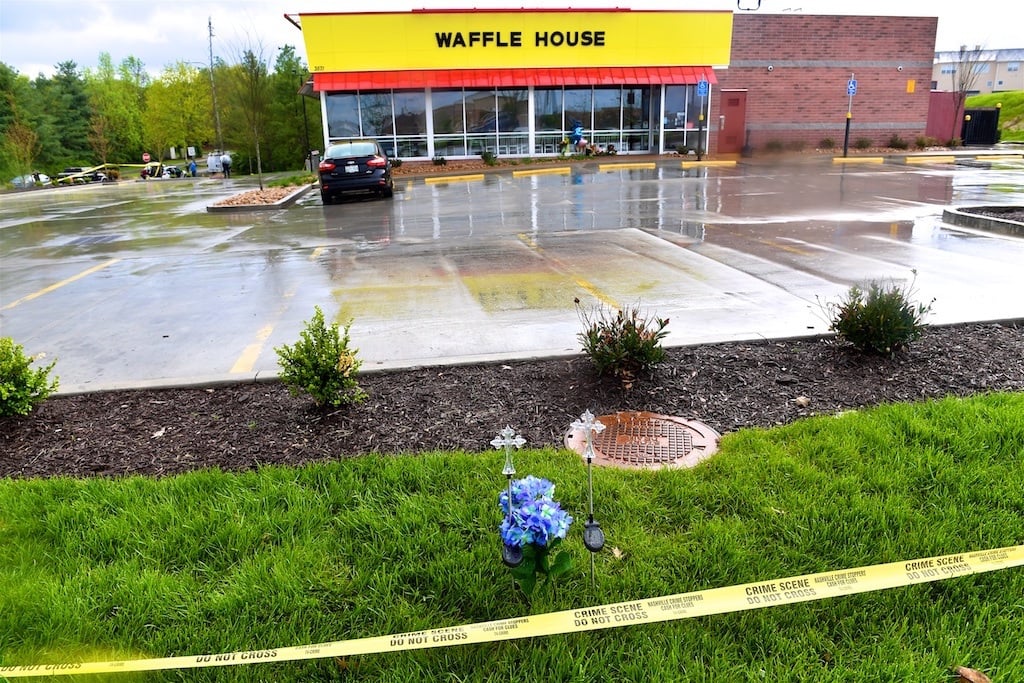 The Waffle House in the aftermath of the shooting. | Jason Davis/Getty Images
NBC News reports 51-year-old Chuck Cordero, a regular at Waffle House, was scared to return after what had happened. But since the incident, he's been back — even though he reportedly saw a 29-year-old cook get shot in the parking lot.
As for why he keeps returning to the Waffle House despite his trauma, he said, "Maybe I want to make sure my friends are OK. Maybe I want to know that I'm OK. Maybe I don't want to let the bad people win. I just don't know."
Check out The Cheat Sheet on Facebook! 
Source: Read Full Article