This Video Of Kylie Jenner & Stormi Wesbter "Working On Our Kisses" Is Too Cute
When it comes to adorable mother-daughter duos, Kylie Jenner and Stormi Webster are pretty are to beat in the cute AF department. The 8-month-old and her lip kit-maven mom took to Jenner's Instagram Story on Sunday, Oct. 7 to share a sweet moment with Jenner's followers. TBH, this video of Kylie Jenner and Stormi Webster "working on our kisses" might just be the cutest thing you see today.
After using her IG Story to share eyebrow-raising clips of Travis Scott (more on that later), Stormi's dad and Jenner's boyfriend, throughout his Saturday Night Live performance on Oct. 6 (Jenner called him "hubby" and now everyone's wondering if it means what you think it means), Jenner switched right back into mom mode on Sunday. Stormi donned a gray onesie as Jenner held her up in her arms to plant a kiss on her baby girl. The cutest part of it all, though, is that Stormi looks wide-eyed at the camera and tries to mimic the kissy face. Jenney aptly captioned the video, "[W]e've been working on our kisses."
An equally endearing moment in the video is when Jenner nearly squeals in delight because of how proud she is when Stormi totally nails her kiss. With a pucker like that, I think Stormi is definitely primed to follow in her mom's lip kit footsteps.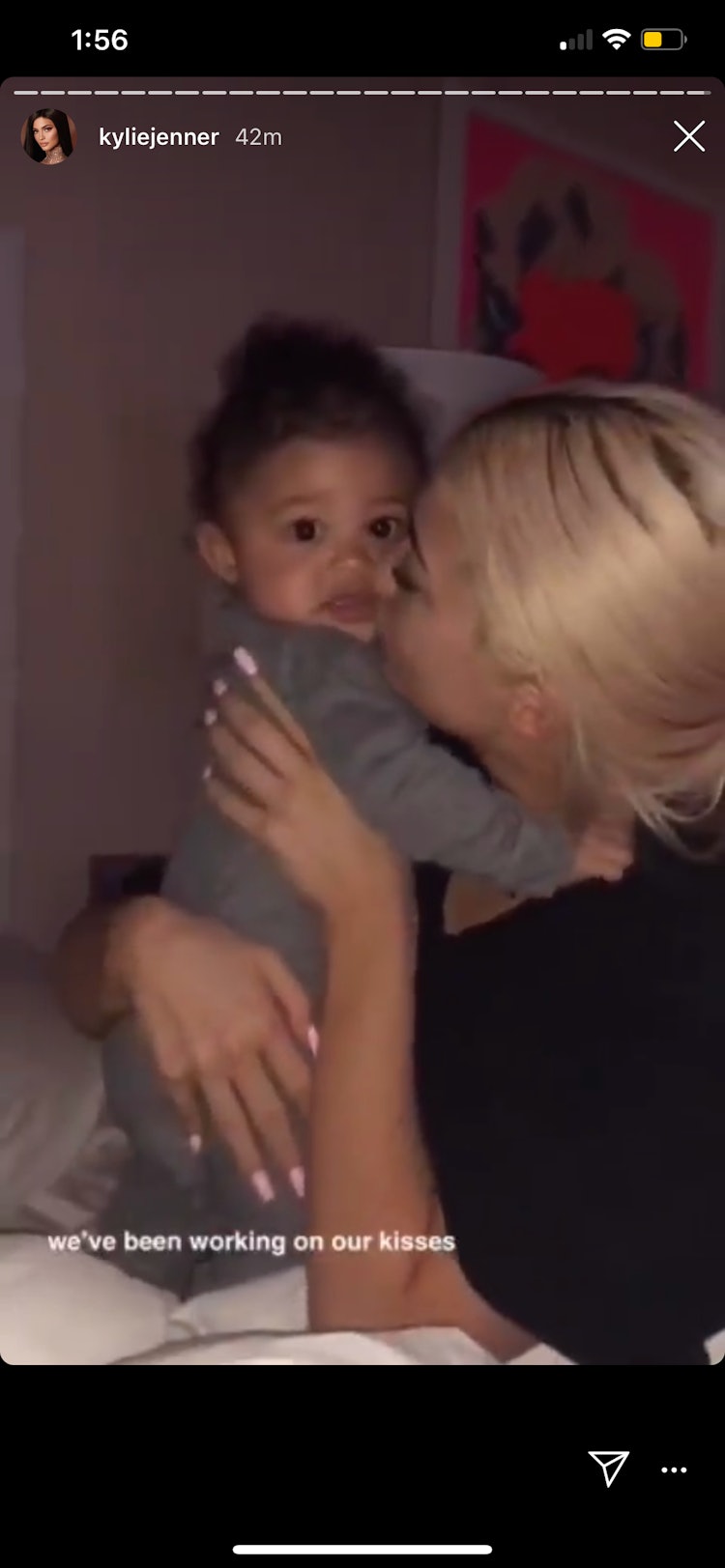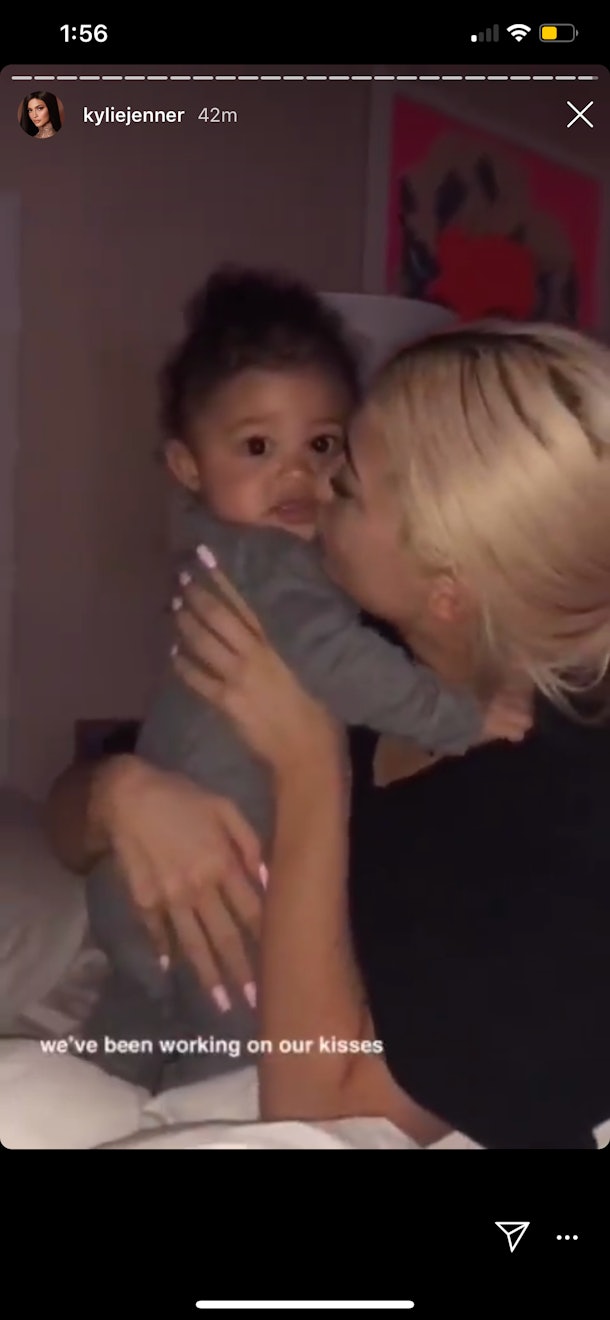 Seriously, check out all the momma-daughter cuteness in a video of the moment below.
Is it just me, or is Stormi growing up so freaking fast right before everyone's eyes? I mean, it seems like not long ago that Jenner surprised everyone when she announced the birth of her baby girl on Sunday, February 4, 2018. Stormi was actually born a few days earlier on February 1.
Since then, fans of Jenner have been treated to countless cherished moments between the mom and daughter. Remember when Jenner shared photos of Stormi looking on as Jenner got glammed up in the makeup chair? The photos were complete with an Instagram heart filter atop both Stormi and Jenner's heads. Oh, and Jenner shared that Stormi was also "holding onto [Jenner's] hair" as the 21-year-old was working her magic with a beauty blender. But in the end, the two look happy and gorgeous all snuggled up together.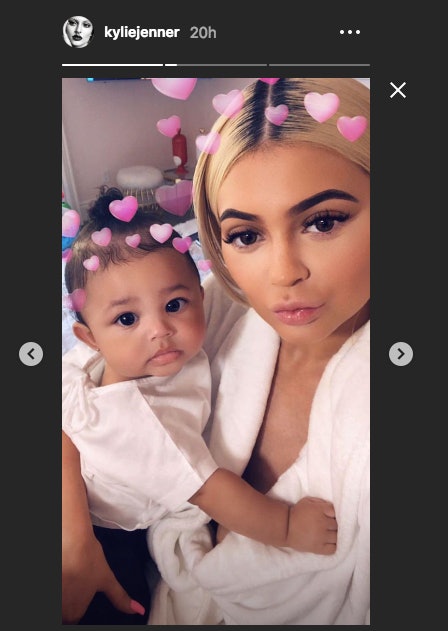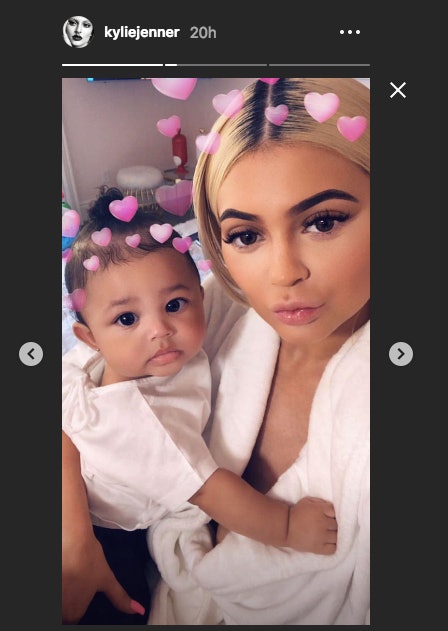 With a makeup maven mom, it's no wonder that Stormi is ready to move on to getting lip kit-ready by practicing her kisses.
OK, now that I've established Stormi and Jenner can do no wrong when it comes to putting their mother-daughter bond on display, it's time to get back to what the heck Jenner meant when she shared clips of Scott on her Instagram Story with the caption, "hubby." Of course, your first thought is: OMG, did Jenner and Scott have a secret wedding? Alas, there was no immediate answer to that burning question. Elite Daily reached out to both Scott's and Kenner's representation for comment and clarification of Jenner's post, but did not hear back at the time of publication.
Come to think of it, though, this could be just the best ploy ever to tune into Keeping Up with the Kardashians on Sunday night to see if Jenner and Scott surprise fans with a super low-profile wedding? I wouldn't bank on that happening, but I would seriously not be mad it. Oh well, at least you have these too-cute-for-words Stormi and Jenner moments to hold you over until you find out exactly what "hubby" means.
Source: Read Full Article