This Tiny Clue In An Old 'SNL' Skit TOTALLY Predicted Ariana Grande & Pete Davidson's Love
Unless you've been living under a rock for the past few days, you're well aware with the fact that Ariana Grande and Pete Davidson are reportedly engaged. But even though the relationship has seemed like a whirlwind romance to many, their connection has actually been right in front of us this entire time, or at least since 2017. As recently pointed out by TMZ, Saturday Night Live cast member Davidson wore Ariana Grande-like bunny ears in an SNL skit from 2017 that some are saying foreshadowed Davidson and Grande's relationship in a very interesting way.
Regular watchers of the popular NBC sketch comedy series Saturday Night Live may remember one particular segment, which centered around Beck Bennett and Kyle Mooney's friendship and their struggle to maintain that bond after Mooney started dating Leslie Jones. So what exactly does this have to do with Davidson and Grande, you may be wondering? While it's true that most of the skit is focused strictly on Bennett and Mooney, there is a brief moment during the cast masquerade ball where Davidson is shown wearing a very noticeable bunny ear mask that looks just like the one Grande is donning on the cover of her Dangerous Woman album. Could this be a consequence? Possibly, but in hindsight it feels like these two were trying to tell us something all along.
Here's Davidson in the skit in question: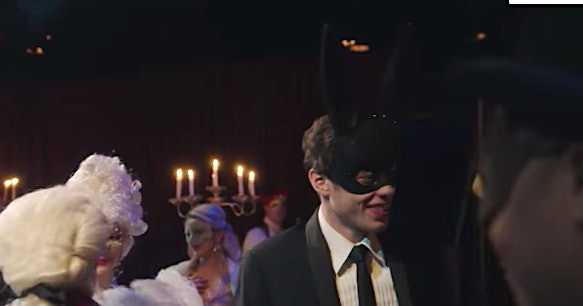 And here's Grande in said bunny ears:
Looking back on it now their bond seems all that more obvious. In fact, photos of Davidson and Grande together on SNL are almost too adorable for words. Clearly, they've had chemistry since Grande's 2016 appearance on the show; yet their romantic relationship is still relatively new, which made the reports of their engagement all the more shocking. It should be noted that neither Grande or Davidson have officially confirmed that rumors are true, though some fans have interpreted Grande's tweets as confirmation, like when she wrote "crying," in response to someone referring to her as "Mrs. Davidson". As the days pass and the cryptic tweets pile up, the reported engagement is starting to feel more and more certain.
Davidson's ominous masquerade mask isn't the only time he's seemingly paid homage to Grande's iconic album look, though. The 24-year-old actor recently got a black bunny ear mask tattoo inked behind his ear, which tattoo artist London Reese shared on Instagram with the caption reading: "We had a good night." So yeah, that mask is definitely meant to serve as a direct symbol of their love. Does that mean Saturday Night Live has the ability to predict the future or have these two been trolling us for longer than we thought?
When asked about Grande and Davidson's relationship, a source reportedly told Us Weekly, "They are a perfect fit. They are not rushing to get married." Meanwhile, another source told the outlet that the duo initially announced their upcoming nuptials at Robert Pattinson's birthday party in Los Angeles on June 9. Despite how fast their romance seems to be progressing, fans of the couple shouldn't necessarily expect to see them tying the knot anytime in the near future. One more additional source told Us Weekly that Davidson and Grande "are looking forward to a very long engagement together." Maybe they'll even decide to get married on SNL since that seems to be wear the foundation of their relationship initially began. (Hey, a girl can dream, right?)
Regardless, their SNL connections seem to be multiplying by the day, and no doubt other fans will be inspired to go back to other SNL skits in search for even more clues Davidson could've been giving fans about his future love without anyone realizing it. As long as the two of them are happy, that's really all that matters.
Source: Read Full Article