Watch Moment Man Calmly Approaches Police & Admits to Shooting, Killing Woman
"I'm here to turn myself in," Brian E. Mason says in the bodycam video. While he calls it an "accident," he was charged with murder.
Bodycam footage from a police officer in the parking lot of the Miamisburg Police Department shows the moment an Ohio man admitted to shooting and killing a woman.
The incident went down on March 23, with video starting with an officer getting out of his vehicle as a man — later identified as Brian E. Mason, 58 — approaches him with a water bottle in hand.
"Hey, I'm here to turn myself in," he says, very calmly. "I had an accident last night. I was showing an old friend of mine how to use this gun she asked for, and it went off and shot her in the chest. I've been running around scared all day."
Unable to render YouTube Video.
The officer detained him, with Mason saying he understood why he needed to be placed in handcuffs. "I wouldn't be here voluntarily, but I've been so scared since it happened," Mason added, before a second officer arrived as backup and to help figure out the victim's identity and where she was located, so they could possibly help her.
"I'm walking in because I know this is the right thing to do," he said, saying the victim was definitely "deceased." He added, "She collapsed instantly and I got scared," before he was taken to an interview room.
As one officer left with Mason, the other went to the man's vehicle to retrieve the gun he said went off. Another officer arrived at that time, exclaiming, "Oh my god," upon being filled in on everything. The original cop then told him, "He said the gun he used to kill her with is in this car," before adding, in air quotes, "accidentally."
Waiting for your permission to load the Facebook Post.
Facebook Post Unavailable
Inside the interview room, Mason gave additional details on where the victim was located, before they were dispatched to a residence for a welfare check.
"Upon deputies' arrival they received no response. Looking through a window blood was observed in the residence," the Miami County Sheriff's Office said in a release. "Forced entry was then made at which time an adult female was found deceased in the residence suffering from what appeared to be a gunshot wound."
"Detectives responded to the scene to process and began the investigation. Detectives also responded to the Miamisburg Police Department to interview Mason. The female victim was subsequently identified as Michelle L. Elliott, 57, who resided at the Montgomery County Line Road residence," they continued. "Miami County Corner Dr. Ginn ordered Ms. Elliott's remains transported to the Montgomery County Coroner's Office for autopsy."
Mason was later charged with murder, pleading not guilty at his March 28 arraignment. His bond was set at $1,000,000.
According to an affidavit obtained by the Dayton Daily News, Mason claimed the victim "wanted a different firearm to have at her household because she felt unsafe" — and said he panicked, covered her body with a blanket and then left the home.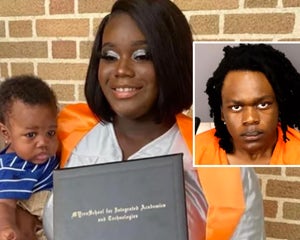 2-Year-Old Boy Found in Alligator's Jaws After Mother Stabbed Over 100 Times
Source: Read Full Article