You Won't Believe All the Ways Tiffany Trump Is Spending Donald Trump's Money
The second youngest of President Donald Trump's children, Tiffany Trump seems to be living her best life right now. The tumultuous affair and marriage between Tiffany's mother, Marla Maples, and Mr. Trump laid the groundwork for Tiffany to be considered the black sheep of the family. In some cases, she's referred to as 'the forgotten daughter.'
Even though Trump never defaulted on his child support, Maples solely raised and parented Tiffany as a single mom. Besides being smart and beautiful, she's figured out a nice balance between life as a First Daughter, socialite, and student. Plus, she doesn't seem to be pinching any pennies. Take a peek to find out all the ways Tiffany is spending her Daddy's money. We'll also take a quick look at some other fascinating things you didn't know about her.
1. Italian yacht trip with Mother Marla
Yachting runs in the family. | Tiffany Trump via Instagram
What better way to enjoy summer vacation than by boarding a 130-foot luxury yacht named Mirage IV? The mother-daughter duo basked in the Italian sunshine, sipped cocktails, and drank tea for the week-long getaway. Of course, no vacation for a First Daughter would be complete without the Secret Service, who joined Maples and Trump aboard.
Next: Can Tiffany's Democrat boyfriend get along with the GOP-loving family? 
2. Sojourn to Europe, Secret Service included
The American public paid for her security. | Tiffany Trump via Instagram
The precursor to the yacht trip was Trump's' Berlin and Budapest sojourn with boyfriend (and noted Democrat) Ross Mechanic. While Trump seems to have spared no expense during the couple's getaway, it's American taxpayers who were left holding the bag. The Secret Service ran up a tab of over $22,000 for lodging alone — not to mention all of the other expenses that go along with keeping members of the First Family safe and secure.
Next: Does Ivanka know she's wearing this rivaling brand? 
3. Taoray Wang clothing and Aquazzura shoes
Those are pricey flats. | Tiffany Trump via Instagram
Trump's racier sense of style often comes courtesy of Shanghai designer Taoray Wang. The edgy and clean designs of these couture pieces must be specially ordered — and they aren't cheap.
When it comes to Trump's shoes, she's been spotted in all sorts of high-end brands, however, her affinity for Aquazzura stands out the most. The patriotic shoe pictured here costs $725. Ironically, Aquazzura filed a lawsuit against Ivanka Trump alleging she copied the company's shoe designs.
Next: A Trump heir's education is no joke.
4. Law school at Georgetown
Georgetown is not cheap. | Tiffany Trump via Instagram
Trump carried on the family tradition by earning her undergrad degree at the University of Pennsylvania, but she's at Georgetown Law School now. She enrolled in August 2017 and seems to be enjoying her studies. The Georgetown education comes with a hefty price tag — upwards of $58,000 per year.
Next: Nightly room rates that cost more than a middle-class mortgage payment.
5. Mid-term luxury Bahama vacations
A quick trip to the Bahamas. | Tiffany Trump via Instagram
Trump and Mechanic took off to unwind after mid-terms in the spring of 2016, and they did so at the luxury Cove Resort in Eleuthra, Bahamas. Rates for a standard suite begin at $1,500 and cap out at $5,300 per night for an oceanfront villa.
Next: The 'forgotten daughter' doesn't share in this Trump holiday.
6. Holiday ski trips spent away from her dad and siblings
The two enjoyed the winter wonderland together. | Tiffany Trump via Instagram
Trump and Maples have spent holidays away from the Trump clan for many, many years. So it was no surprise to see Trump and her mother dashing out to Utah's Sundance Ski Resort for a holiday ski vacation. The two were seen enjoying fine restaurants and ziplining in the winter wonderland.
Next: Have you ever heard of the 'Rich Kids of Instagram?'
7. Southampton summers with her squad
They can thank their parents for paying the bill. | Tiffany Trump via Instagram
Summertime for Trump equals party time in Southampton with her "Rich Kids of Instagram" buddies. The group of extremely wealthy, young socialites can thank their parents for footing the bill on fancy dinners and late night ragers.
Next: She drops thousands on these couture pieces.
8. Daniel Basso gowns and Chanel handbags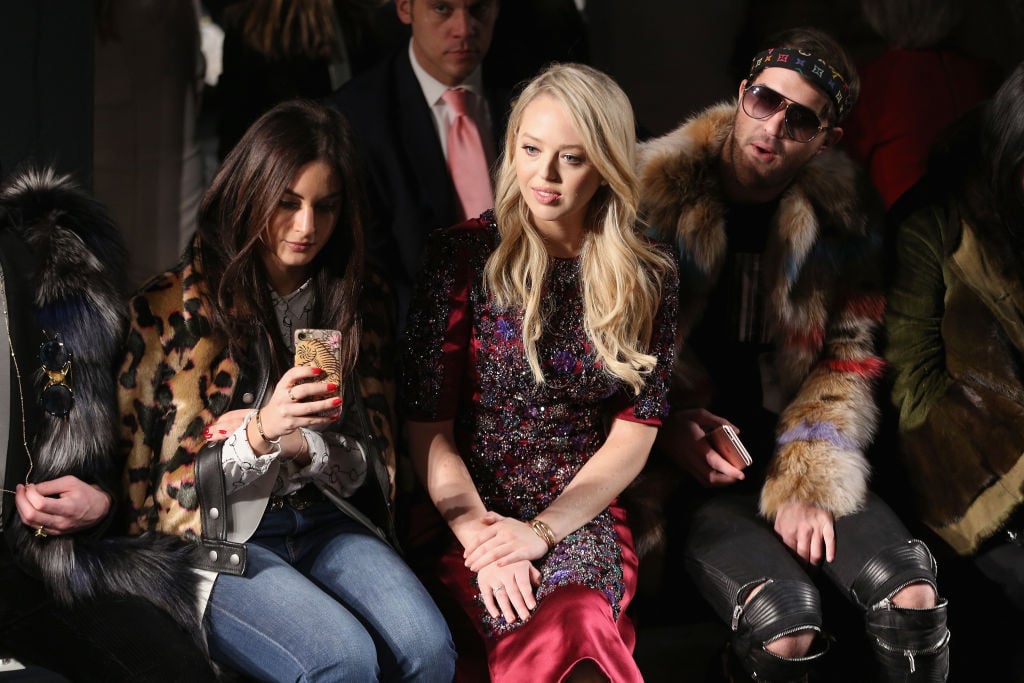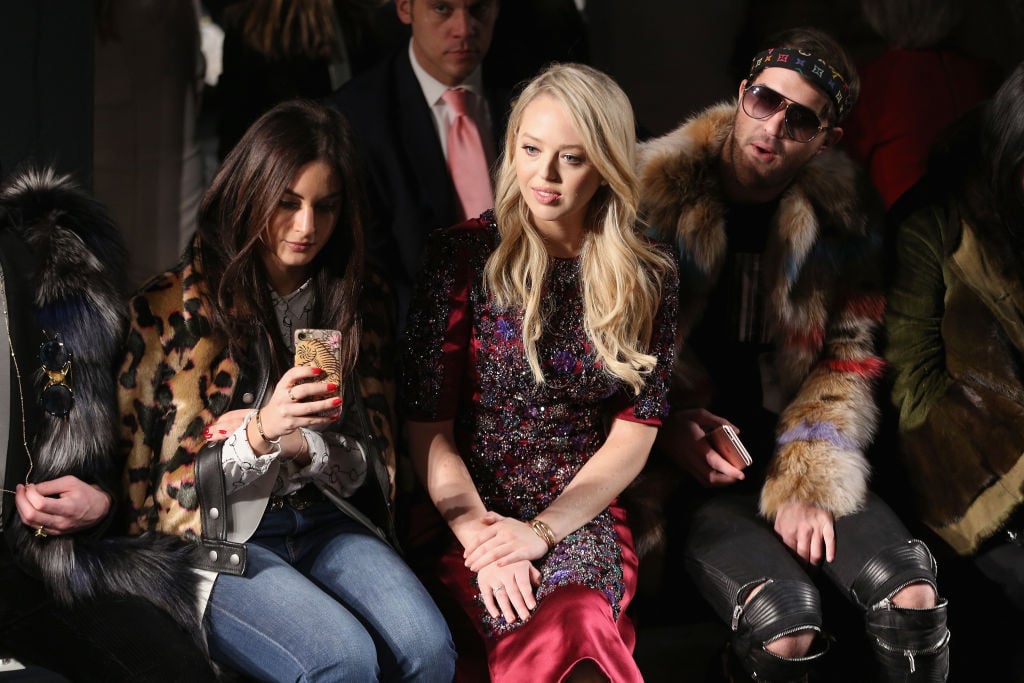 Thankfully she seems to be friendly with the designer. | Robin Marchant/Getty Images for New York Fashion Week: The Shows
You won't be pulling a Daniel Basso gown off the rack at Macy's. These handmade couture gowns cost thousands of dollars, and Tiffany Trump is willing to pay for them. For many of Trump's formal events, she's been seen wearing and favoring the label. As for handbags, what girl doesn't want Chanel? Trump is no exception. She also spends thousands on the designer bags.
Next: The surprising rich story behind how Tiffany got her name.
9. She was named after one of Donald's favorite deals
Tiffany's name was no accident. | Spencer Platt/Getty Images
Leave it to the egocentric Donald Trump to name his child after a business conquest. This one, in particular, refers to the landmark jewelry store. Tiffany's mother, Marla Maples, told The New York Times that their only child together was named after one of the real estate mogul's favorite deals: Trump purchased the air rights above the Tiffany's store in Manhattan so he could build Trump Tower.
Next: How involved was Donald in Tiffany's upbringing?
10. She was raised by a single mother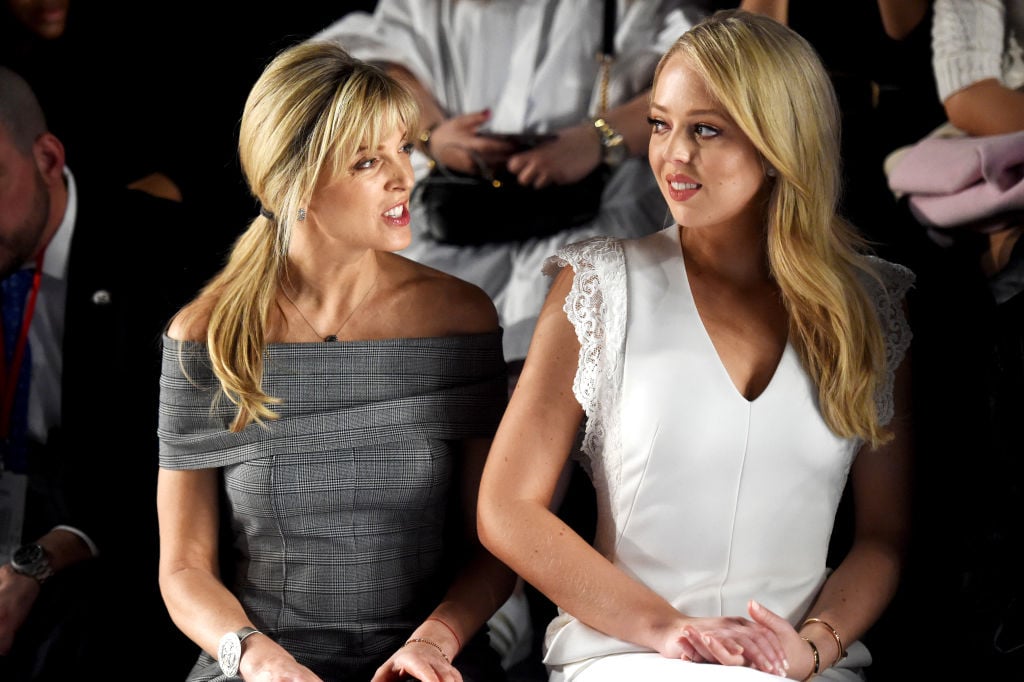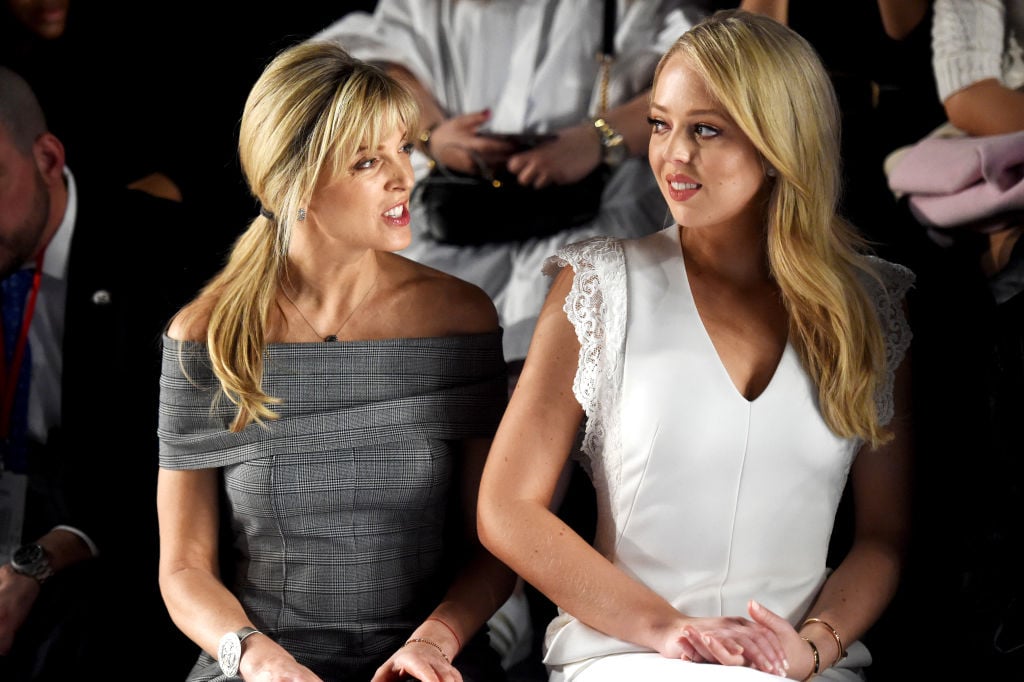 Tiffany and her mother are very close. | Jamie McCarthy/Getty Images
Before she was another one of Donald Trump's ex-wives, Marla Maples was a lover of the arts, acting on the big and small screens, performing on Broadway, and landing magazine covers. Two months after little Tiffany was born, Trump married Maples, who, of course, is probably most known for her six-year marriage to the now president of the United States.
Next: There was a country between Tiffany and her father.
11. She grew up in California
This mother-daughter duo headed straight toward the sunshine. | J. Emilio Flores/Getty Images
Growing up, Tiffany didn't get much face time with her father, who has five children with three different women. According to her website, Maples and her daughter moved to Southern California in 1999 to "focus on finding a quieter, more spiritual existence." Apparently, growing up on the other side of the country from her father and his infamous antics served her well; Tiffany didn't experience the same kind of media attention as her older siblings.
Next: When did she actually get to see her father?
12. She mostly saw her father during spring breaks growing up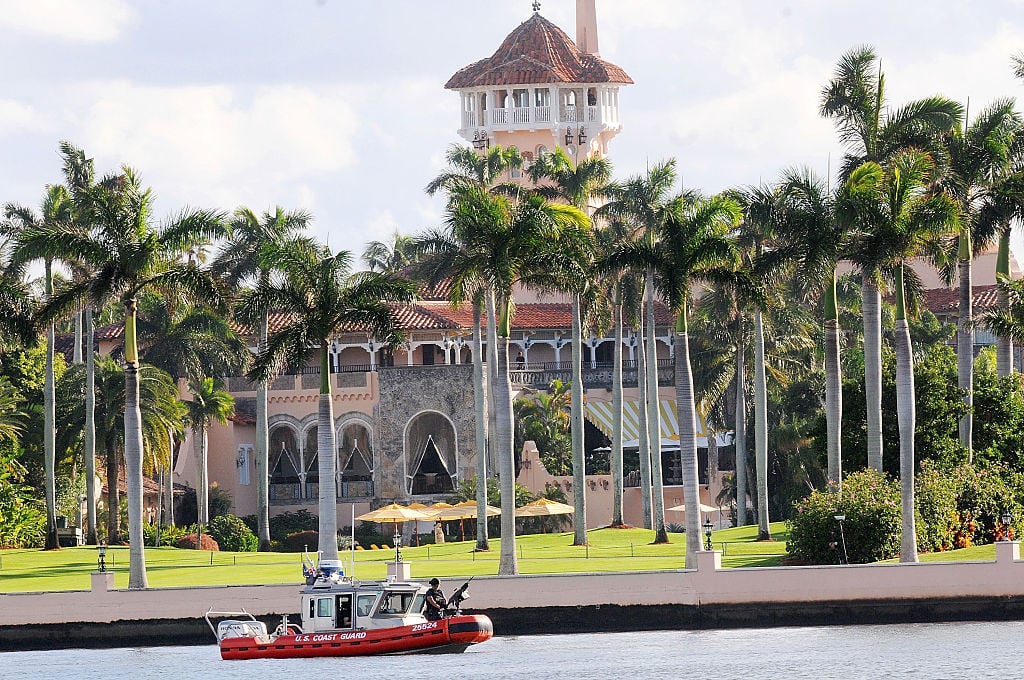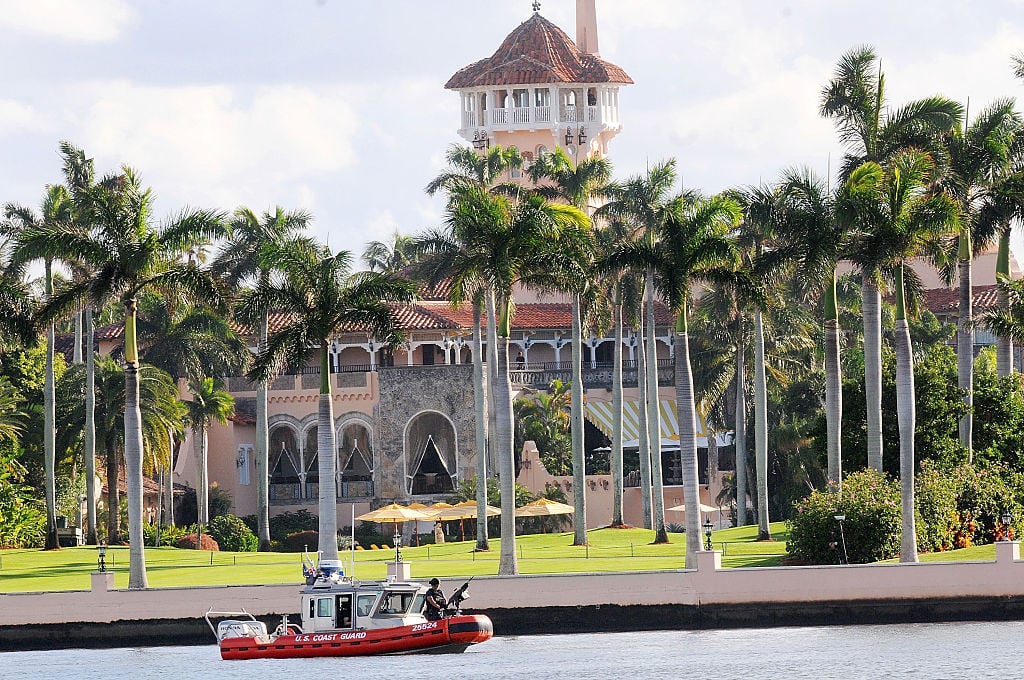 Mar-a-Lago was Tiffany's home base during spring break. | Gerardo Mora/Getty Images
After Donald Trump's first divorce, his children grew up just an elevator ride away. After his second divorce, however, it was a different story. Quality time between Trump and his youngest daughter was certainly limited, which could be why some consider Tiffany the "Jan Brady" of the Trump clan. (She was even left out of the super awkward Millennials for Trump photo.)
But it seems the two have been getting closer than they were during Tiffany's childhood. The New York Times reported that Tiffany spent spring break at Mar-a-Lago with her father, and also saw him for any occasion that warranted a visit to California, like when she won awards.
Next: Her school-aged acquaintances have a very famous last name.
13. She was acquainted with the Kardashians
The Kardashians are known for their over-the-top lifestyles. | E!
Tiffany and her mother associated with one of the most fascinating family empires of our time — the Kardashians. Marla Maples was friends with Kris Jenner, so Tiffany knew the family while she was growing up in Calabasas, California.
Next: Tiffany hoped to take after her mother. 
14. Growing up, she wanted a career in show business
If you want a career in showbiz, Hollywood's the place to be. | David McNew/Getty Images
Like mother, like daughter — or, at least when Tiffany was younger, that is. Growing up in Southern California with a mother who had a professional life in show business, it's no surprise Tiffany thought about getting into the spotlight herself. According to The New York Times, "As a teenager, Tiffany seemed interested in having a show business career like her mother. She took acting lessons with her mother's coach, and in 2011 she recorded a pop song, 'Like a Bird.'"
Additional reporting by Julie Peirano.
Source: Read Full Article