Yes, The Royals Stars Are Very Excited for Prince Harry & Meghan Markle's Wedding! on The Royals
It's hard to tell what we're more excited for: King Robert's upcoming wedding on The Royals or the real royal wedding between Prince Harry and Meghan Markle!
The Royals co-stars William Moseley and Alexandra Park sat down with E! News this week to promote the upcoming season finale of their hit E! show but talk quickly turned to the upcoming real-life royal wedding on May 19.
"I think we're very fortunate that the royal family in England and our royal family on TV sort of work together. You know, our show's on the air at the moment, there's about to be a royal wedding. So there's a lot of royal excitement in the air," Moseley told E News exclusively during the NBCUniversal press day in L.A. "I'm personally very excited to see the royal wedding. I love the traditional aspect and I think Meghan's a great asset to England and our royal family."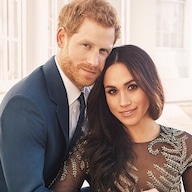 Photos
Celebs Who've Dated Royals
Park says she's crossed paths with the former Suits star at NBC press events in the past and remembers being "starstruck." "She's part of the NBC family so we see her around," Park added. "I don't think we can say that we know her."
Watch our interview with Will and Alex to hear behind-the-scenes scoop on working with Elizabeth Hurley's son Damian Hurley on The Royals!
Watch a brand new episode of The Royals Sunday at 10 p.m., only on E!
Watch E!'s five-hour Live From the Royal Wedding coverage Saturday, May 19 starting at 5 a.m. ET/2 a.m. PT for wall-to-wall coverage of Meghan and Harry's big day! Also, catch E! News every night at 7 and 11 p.m. the week before everything you need to know. And don't miss E!'s The Real Princess Diaries: From Diana to Meghan pre-wedding special airing Monday, May 7 at 9 p.m.!
Source: Read Full Article