You'll Get a Kick Out of Abby Wambach and Glennon Doyle's Whirlwind Love Story
It seems as if the retired World Cup champion and her author wife have already compiled a lifetime's worth of memories, but they just met four years ago.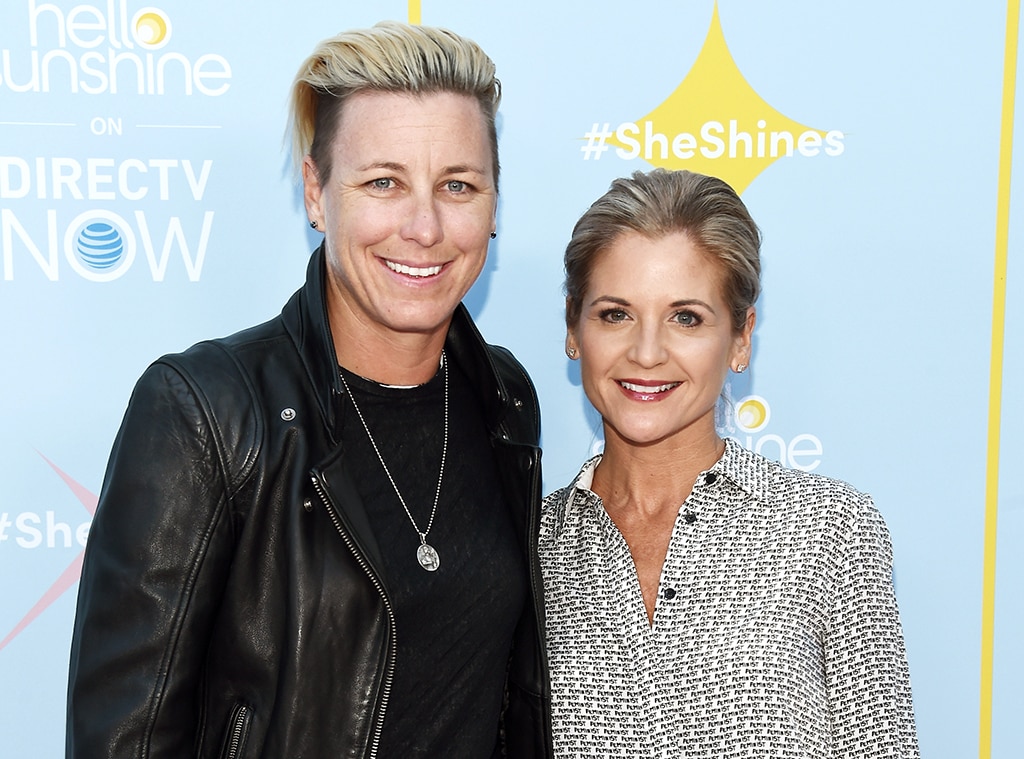 You never know when or where true love is going to strike.
Consider Abby Wambach and Glennon Doyle, who met at a librarian convention in 2016. Both had new books out to promote. Doyle's, Love Warrior, was about all the work she and husband Craig Melton had put into saving their marriage after a series of problems (including his cheating).
"When Abby showed up, something happened," the author and motivational speaker recalled to the Wall Street Journal earlier this year. "I saw in her someone who never internalized the stuff I had been trying to shake off. She seemed so free and strong and was the kindest person in the room. I had always thought there was something different about me. With Abby, I understood. I didn't think to myself, 'Oh, I'm gay.' Instead, I just knew she was my person forever."
Meanwhile, Wambach, a two-time Olympic gold medalist and World Cup champion with the U.S. Women's National Soccer Team, was at the convention with her memoir Forward, in which she opened up about, yes, her achievements, but also her divorce (which was so recent she first revealed it in the book) and her battle with alcohol and pill addiction.
Needless to say, she didn't always feel like the strongest person. But then into her life walked "a Christian mommy blogger."
Wambach, the leading all-time goal scorer for the USWNT, had known very little besides winning all of her life. The youngest of seven kids, she started playing soccer at 4 in her hometown of Rochester, N.Y., after her mom checked out a book about the sport for her from the library.
She went on to be an All-American selection in high school and college, and she led the University of Florida Gators to their first women's soccer championship as a freshman in 1998, and she remains the school's all-time goal scorer. In her first year as a professional she was named WUSA's Rookie of the year, and she is a six-time U.S. Soccer Athlete of the Year. In 2012, after the U.S. women's team won their second straight Olympic gold medal, she was named FIFA World Player of the Year—only the fourth woman ever to be given the honor, and the first since the previous face of women's soccer, her former Washington Freedom teammate Mia Hamm, in 2002. (In 2003, they tied for highest scorer in the league, with 33 goals apiece.)
Name a lofty height in soccer, Wambach has achieved it. Her natural talent, discipline and drive made her one of the best athletes playing in any sport.
Her personal life, however, was a bit more all over the place.
Trending Stories
Netflix Star Damian Powers Addresses His Hangout With Francesca Farago
Josh Gad Shares Final Texts From Chadwick Boseman: "Take This In"
Chadwick Boseman Married Taylor Simone Ledward Before His Death
After retiring from the USWNT at the end of 2015, the universe started throwing yellow cards her way.
Wambach was arrested for DUI in April 2016 after being pulled over in Portland, Ore., for running a red light and she promptly pleaded guilty, part of the deal including that she have a breathalyzer installed in her vehicle and that she undergo drug and alcohol treatment. Because she was a first-time offender, she was eligible to have the conviction removed from her record after a year if she successfully completed a diversion program.
The MVP Healthcare spokeswoman considered her embarrassing run-in with the law a much-needed wake-up call.
"That night getting arrested was one of the best things that has ever happened to me. Because if I don't get so publicly shamed and publicly humiliated, I don't think I wake up," Wambach told the Associated Press on her book tour that September. "I think I was asleep for a lot of years. Asleep to the pleas from my family and friends, and even myself, to get help. So that night I was humiliated enough to wake up."
At the same time, her relationship with wife Sarah Huffman was on the rocks. The Western New York Flash teammates had tied the knot on a Kauai beach in October 2013, Wambach later denying that it was some sort of political statement, same-sex marriage not yet legally recognized at the time in Hawaii, much less all 50 states as it would become in 2015. 
''I wasn't going to wait for a state to legalize it for my own life," she told reporters a couple weeks after the I-dos, adding, ''I can't speak for other people, but for me, I feel like gone are the days that you need to come out of a closet. I never felt like I was in a closet. I never did. I always felt comfortable with who I am and the decisions I made."
She continued, "I've never been asked a question in my soccer world about my relationship, rightfully so because it shouldn't matter, because it doesn't have anything to do with soccer. But I realize I'm a public figure and people are curious about my private life. I'm honestly not the kind of person who wants to step up to a podium, test the microphone and be like, 'Hey, I'm homosexual and this is who I am, hear me roar!' That's not who I am."
But the kiss she shared with Huffman after the USWNT won the World Cup in July 2015 roared on its own, a shoo-in for the Romance Hall of Fame. And even after their split just months later, Wambach paid tribute to Huffman for helping her keep her life together when it threatened to spiral out of control.
"Not only was I hiding this secret from the world for so long, so were the people that I loved—they loved me so fiercely they wanted to protect me as much as possible, almost from myself," she told the AP. "Sarah was definitely one of my saving graces because she was one of the first people in my life who made me aware of the problems that I was having. And this was years ago. This isn't something that just snuck up on me when I retired from soccer. This is something I've been dealing with for years now."
Wambach concluded, "It's really hard to talk about things when you're ashamed. And I'm not ashamed about what happened to me anymore because it led me to where I'm at right now. I'm proud of where I'm at."
What she didn't indicate about where she was at, at the time, was whether she was already newly smitten with Momastery blogger Glennon Doyle.
No stranger to overcoming adversity, Doyle had battled bulimia at a young age and drank and did drugs in college, eventually deciding to get sober in 2002 when she got pregnant with her first child. (Also when she found out she was expecting, she married her now-ex-husband, because "I thought it was the right thing to do," she told Glamour.com.)
"I'd never even kissed a girl, so I had no context for what was about to happen to me," she divulged on MamaMia's No Filter podcast in May. "But when Abby walked in the room, I'm telling you, it was like that [inner] voice that I had been practicing hearing and trusting [after my separation] just screamed. My whole self was like 'there she is,' and I just knew."
About a month later they started corresponding, Doyle recalled, and a month after that, "I sat down with Craig and said, 'It's over. I'm in love.' By the way, Abby and I had never seen each other outside of that room. We spent 10 minutes together and then dismantled our entire lives to be together."
As Wambach recalled to the New York Times, "We couldn't have been a worse fit for each other. Glennon had a husband and three children and lived in Naples, Fla. I'd been sober for a month, my marriage was falling apart, I'd just left my soccer career of 30 years and I lived in Portland, Ore."
That November, they became Instagram official when Doyle posted a photo with Wambach, writing, "Her name is Abby. You might recognize her from soccer."
View this post on Instagram
[[[LOVE WINS ANNOUNCEMENT PART ONE]]] Feels like the world could use all the love it can get right now. So today, I'm going to share with you my new love. Her name is Abby. You might recognize her from soccer. She was one of the best players of all time, and she has been a fierce and committed advocate for women's equality for a decade. And honestly? Those are the least impressive things about her. Abby is deeply sensitive and kind. The kids call her an M&M because she looks tough on the outside but inside she's really mushy and sweet. Abby's brave. Not just with her words but with her entire being. She's unwaveringly good to Craig, to the kids, to Sister and to all my people. And oh my God, she is so good to me. She loves me for all the things I've always wanted to be loved for. She's just my favorite. My person. Wanted to answer a few questions you might have: Isn't this fast, G? Yes, it is. How is Craig? He's his beautiful, kind, brave self. He's dating too — and we are both supportive of each other's relationships. How are the kids? I'll let them speak for themselves, or not. I can tell you that as usual, we're walking through this together. They have the love and support of their dad, me, their grandparents, their aunts and uncles, their church, their teachers, their friends' families. They're lucky kids, to be surrounded by so much love. We have family dinners together – all six of us — and Abby cooks. (She is an AMAZING chef because Jesus loves me). We are a modern, beautiful family. Our children are loved. So loved. And because of all of that love, they are brave. When Craig and I sat them down to tell them about Abby I started by saying: "In our family, we live and tell the truth about who we are no matter what, and then love each other through it — and I'm about to show you how that's done." [[CONTINUED IN LOVE WINS PART TWO]]]
A post shared by Glennon Doyle (@glennondoyle) on
By the end of 2016, they were both fully extricated from their marriages (Doyle called her divorce amicable) and in May 2017 they married each other, settling down in Naples.
Talking to the WSJ, Doyle said Wambach made her "unashamed" to be herself and showed her she was "completely lovable exactly as I am."
In addition to her writing projects, including her latest book, Untamed, Doyle is the founder of Together Rising, a nonprofit that supports at-risk women and families. 
Wambach—now, like her wife, an in-demand public speaker—launched the leadership development and training program Wolfpack Endeavor, inspired by the theme of a 2018 commencement speech she gave at Barnard College that turned into her 2019 book Wolfpack: How to Come Together, Unleash Our Power, and Change the Game. She refrained from wading into politics for most of her career, not wanting to distract from the sport, but as her time with the USWNT wound down she became more outspoken, especially in the arena of gender equality.
And, of course, the spouses stay busy co-parenting Doyle's three kids with her ex-husband, Melton, whom she calls the second-kindest person she knows after her wife.
"A year and a half ago when I was really struggling and pretty sick, if you were to tell me I'd be a stepmom and sober and living in Florida and as happy as I've ever been, I would have called you a liar,'' Wambach told SI.com in June 2017. The kids—Chase, Tish and Amma—"are the best teachers I've ever had."
But as all athletes know, getting better at anything is a process. Strengthening any muscle, physical or emotional, takes reps.
"For the first couple of years, I was basically in observation mode—a little bit afraid to participate in the emotional welfare, the physical safety, and the development of these kids," Wambach admitted to Glamour.com last October. "I felt like I was a little bit of an outsider. I didn't really know what the hell I was doing, and Glennon—if you could see her parenting in action, it would be like going to be the assistant of the best coach that ever was and having no experience. But over time I realized that we both have very different strengths and we both do provide very different things for each of our kids. There's no one-stop-shop parenting."
And while Melton does his equal share as a co-parent, Wambach acknowledged that her wife's ex-husband needed a minute to wrap his head around the new normal.
"What people don't know about us is that it has taken quite a bit of work to get to this loving blended family," she said. "It started with Craig, who put his feelings aside and his children's feelings before his own while going through the divorce. He gave these children permission to love me. It was truly maybe the greatest gift anybody's ever given me and, probably, Glennon."
Melton told the New York Times, "I've seen a lot of people in similar situations where the two exes put their egos first and the kids suffer. I wanted to be the best role model I could, knowing there was some damage that was my fault in the relationship."
Doyle, who on her website several years before meeting Wambach had written about being a Christian and seeing no issue with homosexuality, said on No Filter, "I'm so grateful that I have always taught my kids that we celebrate who people are on every level and we stand up for people who are marginalized in any way, because when it came time for them to live it out they didn't have to unlearn any crap. They were open-armed to Abby.
"And also," the author added, "she's a miracle. I mean, it really feels like she's not somebody that was added to our family—and Craig would tell you the same thing—it feels like she was missing from our family."
Perhaps that's why it seems as if they've been making up for lost time, cherishing every minute together and amassing memories right and left:
"It was like immediate sweat from head to toe, like if I'm not with this human being I will die," Doyle recalled on MamaMia's No Filter podcast of meeting Wambach for the first time in 2016. "It wasn't like a friendship, it was like a recognizing. That's how we both describe it."
Talking about how quickly they realized they wanted to be together, after only briefly chatting in person when their respective book tours brought them to the same place, she said, "Sure, I was worried about everything. I was so scared. My God, I had so much to worry about at that time. But it's interesting when you say 'fast'; it did happen fast and it didn't. I mean, we didn't even touch each other or hug each other.
"I remember sitting with Abby and saying, 'Are we seriously going to do this before we've ever even kissed? Are we insane?'"
In June, Pride Month, Doyle posted a throwback photo of them kissing inside St. Peter's Basilica in the Vatican, an "act of joyful resistance."
"Every Lover is a Fighter," she wrote. "Deeply grateful to the fighters who came before me. Deeply committed to fighting for those who come after."
Now both Wambach and Doyle are sought-after experts, audiences pumping them for information about the secrets of their success—and how they've mastered the modern family.
"We're using our first marriages as a gauge—things that we did that didn't feel good, things that happened in those marriages that were confusing and left us reeling," Wambaugh explained to Glamour.com in October 2019 when they were on their Together Live speaking tour. "Both Glennon and I had to forgive ourselves for our past mistakes. We also had to open all the lines of communication. We've each worked to create the most beautiful and truest versions of ourselves, and by virtue, we've created the most beautiful version of a marriage we can dream of. It's not something that we sit idly by waiting for. It's something that we actually proactively go out and cocreate together."
"We're both raging feminists in every way," Doyle told Glamour.com. "One of the coolest things about being in a same-sex marriage is that you realize—even when you thought you were a progressive person—you still have to undo all of the gender expectations that you grew up with. I remember sitting down with Abby, and being like, 'I'm all for equality and everything, but I really need to know which one of us gets the bugs.'"
She acknowledged that she played the more old-fashioned, traditional-wife role during her first marriage, "And I think when we first got married, I just kind of defaulted and passed that over to Abby. One night she was like, 'I don't want this responsibility for myself. I need you to be in this with me. I need you to learn it.' We got a financial adviser and I was so confused for a while, but I didn't give up. Now she doesn't feel as alone in the financial management."
Moreover, Doyle continued, "A partner in modern marriage is not someone who says, 'What can I do to help?' as if they're an assistant. It's carrying the mental load so that one person isn't the default parent and the other is the helper."
"There's probably a heck of a lot more that we have in common with other families than what's different," Glennon said about her and Wambach's daily lives as mom and stepmom to son Chase and daughters Tish and Amma. "What's different is we have three parents in our family: two of us are women, one of them is Craig, my ex-husband. We do blended family a little bit different than many families, in that we are co-parenting between the three of us equally."
Wambach added, "We're the same as other people in that we have the same things go on inside our home: We play, we have fun, we get annoyed with each other, we love each other, we watch TV."
Wambach's soccer skills and advocacy for women's equality are "the least impressive things about her," Doyle gushed when introducing their relationship to the world in 2016. "Abby is deeply sensitive and kind. The kids call her an M&M because she looks tough on the outside but inside she's really mushy and sweet. Abby's brave. Not just with her words but with her entire being. She's unwaveringly good to Craig, to the kids, to Sister [Doyle's sister, Amanda] and to all my people. And oh my God, she is so good to me."
"Before I met Glennon, I was living fast and hard," Wambaugh admitted to People in May. Calling herself a "bonus mom," she said, "the kids and Glennon have taught me everything."
The family recently welcomed Hattie to the fold. She joins bulldog sister Honey.
The support runs deep, with images of Doyle's latest book, Untamed, all over Wambach's Instagram account.
The support river runs both ways, with Doyle sporting some Wolfpack merch on a cozy day at home.
"Divorce is difficult," Wambach told People. "But Craig, Glennon and I make a choice every day. We make sure that the kids' lives are as least disrupted as possible."
Wambach and Melton are both coaches for Tish's youth soccer team—and they've even played on an adult-league team together.
They don't mean that "all day, every day, we're talking about our marriage," Wambach assured Glamour.com. "This means that when we lie down at night to go to bed, we do a moral inventory. This means that when we have things that come up, we sit down and respectfully, calmly discuss what's gone on. Modern marriage is taking all the evidence and all the facts of each of our lives and trying to make some sort of sense out of them together."
Considering they're just a few years into the rest of their lives, they know the challenges have barely begun. Which is fine, considering neither is the type to not give 110 percent to a cause that matters to them.
"It's not done," Wambach told Glamour. "The marriage part is getting to the altar and saying, 'I do,' but it's not the finish line. That's where it begins. That's where the work really does start, because everybody knows what it's like to be courting and to be falling in love and how your brain lights up. Being in a marriage is choosing to love each other every day and trying to co-create some beautiful existence. I'm just lucky to be able to do it with somebody who wants to talk as much as I do."
Source: Read Full Article