You'll Recognize Verne Troyer's Longtime Girlfriend From Lots Of '90s Roles
There's sad news out of Hollywood today. Austin Powers' actor Verne Troyer has died at age 49. The beloved star is survived by his family and his longtime girlfriend. Verne Troyer's girlfriend Brittney Powell is a familiar face to movie and TV fans as well. While it's unclear exactly how long she and Troyer were together, the two have been dating since at least 2015 when they starred in an episode of Celebrity Wife Swap together.
Troyer's family confirmed the news of his death on Instagram. Their statement reads,
Earlier in April, Troyer was hospitalized reportedly for alcohol-related reasons. He previously sought voluntary treatment for his issues with alcohol in April 2017.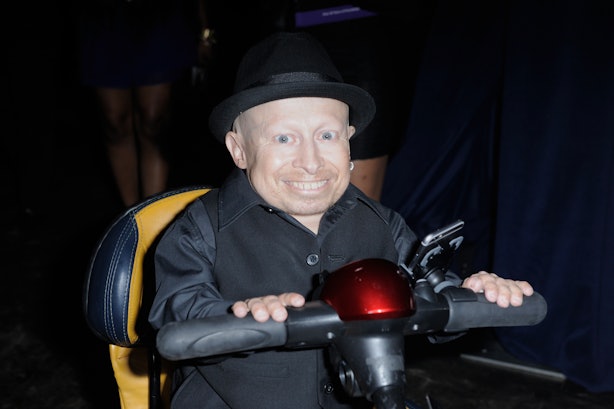 Powell, who is not active on social media, has not yet released a statement about the actor's passing. However, reality show appearance aside, the couple was always private. While they did not have any children, Powell does have a son, Tyson, from a previous relationship.
For '90s kids, Powell is a familiar face. The actor is best known for her roles in Airborne, Boy Meets World, Friends, and Xena: Warrior Princess. More recently, she starred in and co-wrote the action film Trouble Is My Business. She has been active in the convention circle in the past, especially in connection with her Xena role.
Meanwhile, Troyer is best known for his roles as Mini Me in the Austin Powers' series and Griphook in Harry Potter and the Sorcerer's Stone. Like his girlfriend, he was known for interacting with his fans as well, and he even had his own YouTube channel.
This is no doubt a difficult time for Powell. Even though the couple wasn't constantly in the media spotlight, their bond must have been a special one. Troyer will be missed by so many people, but his passing is surely particularly difficult for his longtime girlfriend.
If you or someone you know are experiencing suicidal thoughts, call 911, or call the National Suicide Prevention Hotline at 1-800-273-8255.
Source: Read Full Article