12 Female Duos Who Are Best Friends IRL And 12 Who Can't Even Work Together
When celebrities are working on a TV show or movie, its best that they're friends with their co-stars especially when it's a TV show since those can last for years. Some celebrity duos are best friends when they met on set like Jennifer Aniston and Courtney Cox who spent many years playing best friends on Friends which turned into a real-life friendship and years later, they still hang out together at home and at red-carpet events. Busy Philipps and Michelle Williams became best friends after meeting on the set of Dawson's Creek and Busy was even Michelle's date at the Oscars. Ashley Benson and Shay Mitchell love taking selfies and posting it on their Instagram and they're still close even though Pretty Little Liars is over. Our favorite comedy duos are Tina Fey and Amy Poehler who are super close and they've even acted in movies together called Baby Mama and Sisters. It's always easy meeting your life long besties on set but some celebrities didn't get a long at all and can't work with each other ever again.
You would think Sarah Jessica Parker and Kim Cattrall would be really close as they play really close friends on the hit show Sex and the City but in real life, they can't stand each other, and Kim even prevented any hopes of having a third movie in the instalment. Glee co-stars Lea Michele and Naya Rivera also don't get along at all and Nicki Minaj and Mariah Carey made the set of American Idol a living nightmare. Read on for co-stars who are Hollywood's favorite duos and co-stars who can't help but clash and cause drama!
24 Ashley Benson And Shay Mitchell — Best Friends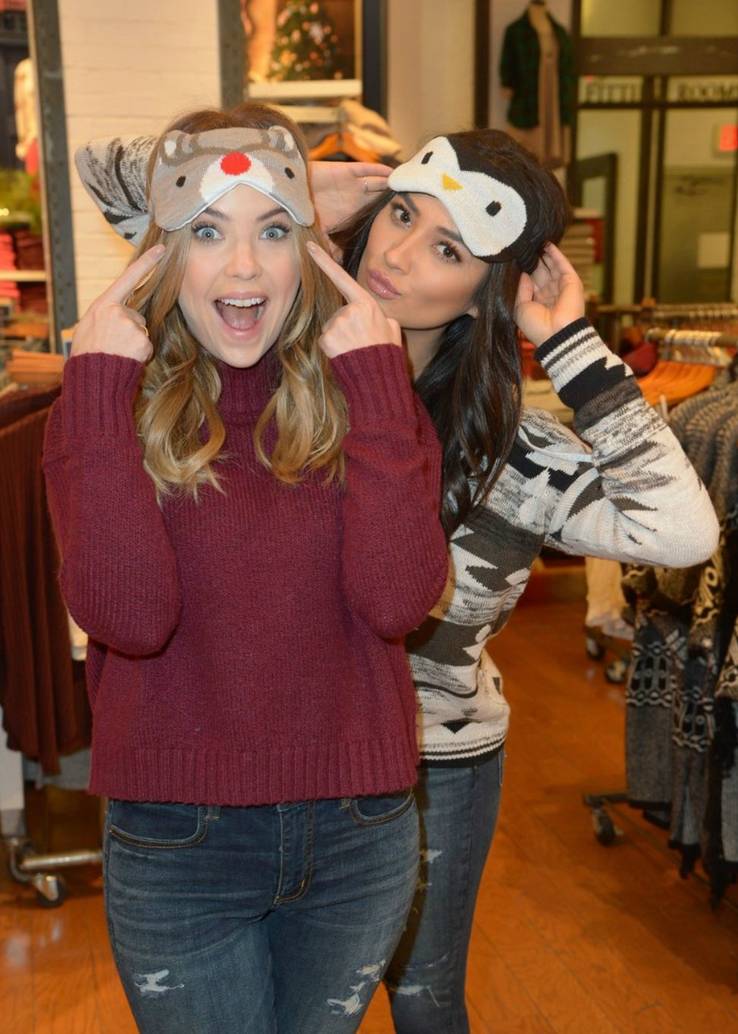 The Pretty Little Liar co-stars are always on Instagram sharing their best friend moments with the world and the images consisting of endless selfies mainly with food during their dinner or lunch dates and it appears Shay and Ashley hanged out while they weren't filming on a regular basis at the beach or restaurants. Ashley and Shay were spotted last year in Los Angeles while getting a bite to eat at Olive and Thyme. Their selfies are friendship goals and we can't get enough. The two even share their FaceTime moments with one another on their social media. During events, Mitchell and Benson also do the goofing around thing with funny poses and laughing while posing together! Ashley had nice things to say about the whole Pretty Little Liars cast after the show ended.
"They're like my family. I've spent seven years with them. I've seen them more than I've seen my own family in the last seven years."
Shay even gushes about Ashley and says meeting her was "love at first sight." They even go on vacations together like Hawaii and I'm sure every friendship aspires to be like theirs. All the girls got on well but Ashley and Shay bonded the most with their selfies being evidence! I'm sure they will remain friends for a long time.
23 Lea Michele And Naya Rivera — Frenemies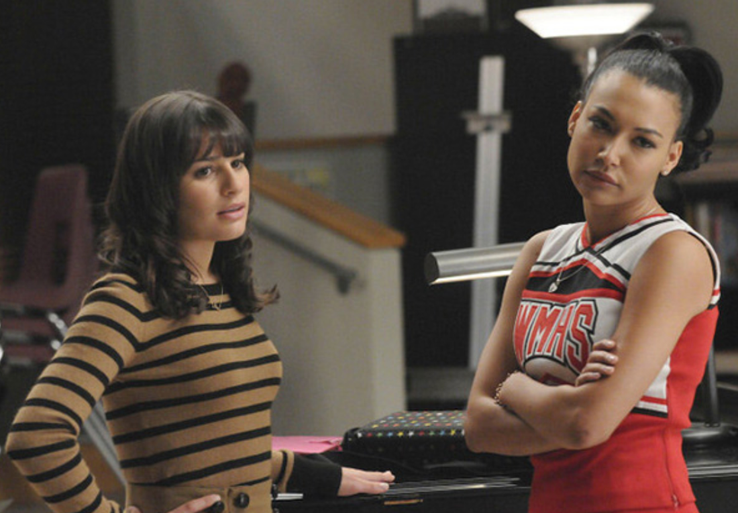 The Glee stars butted heads during filming of the popular show and Naya shared the reasons why in her memoir, Sorry Not Sorry: Dreams, Mistakes and Growing Up.
"As the show progressed, though, that friendship started to break down, especially as Santana moved from a background character to one with bigger plot lines and more screen time. I think Rachel — I mean Lea — didn't like sharing the spotlight."
Naya also admits that the two personalities clash as they both have different outlooks. "Lea was a lot more sensitive, though, and it seemed like she blamed me for anything and everything that went wrong." It got so bad as Lea started assuming that every time Naya was complaining it was about her which led to Lea ignoring Naya and not saying a word to her during the filming of season six. They were once friends, but not anymore. "Lea and I definitely weren't the best of friends, and I doubt we'll ever sit on her couch and eat kale together again." Now that Glee is over they don't need to act together anymore and they'll most likely stay away from one another and not act as co-stars in future roles.
22 Tina Fey And Amy Poehler — Best Friends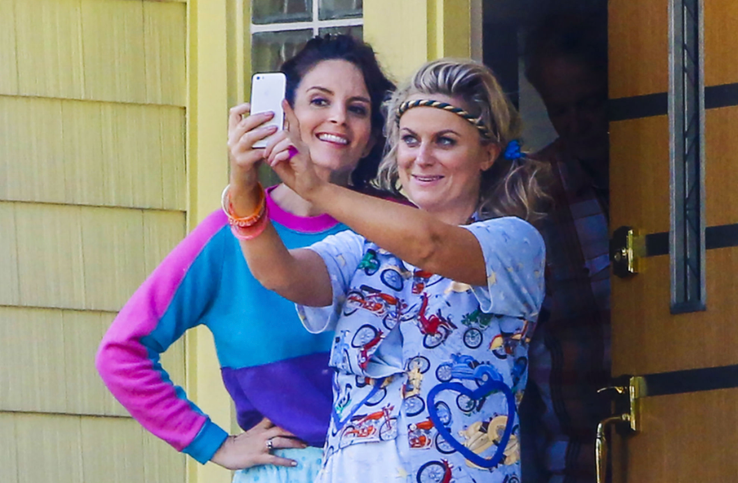 This comedic duo have been friends for 22 years, which is a long time and their love for one another is evident in Baby Mama and Sisters. Amy even refers to their bond as marriage. "It's like a good marriage." Amy and Tina met in 1993 while they were studying improv comedy at The Second City in Chicago. After studying the two have worked together on a number of projects, mainly Saturday Night Live and co-hosted the Golden Globes. Amy said in her book Yes Please that they were very similar and the only difference is their hair color. Amy see's Tina as her family.
"I think that Tina and I are chosen sisters. I think we are chosen family, so I think it's been fun to experience that thing I never got to experience in real life."
Amy admits it was easy working with Tina during Sisters since they already knew each other. "There's usually this moment at the beginning of a film when you have to go out for dinner and talk to an unfamiliar co-star and be like, 'How do you like to work?'" Poehler said. "We didn't have to do any of that when we first started Sisters." Tina says their friendship lasted so long as they don't see each other that often which was a joke.
21 Nicki Minaj And Mariah Carey — Frenemies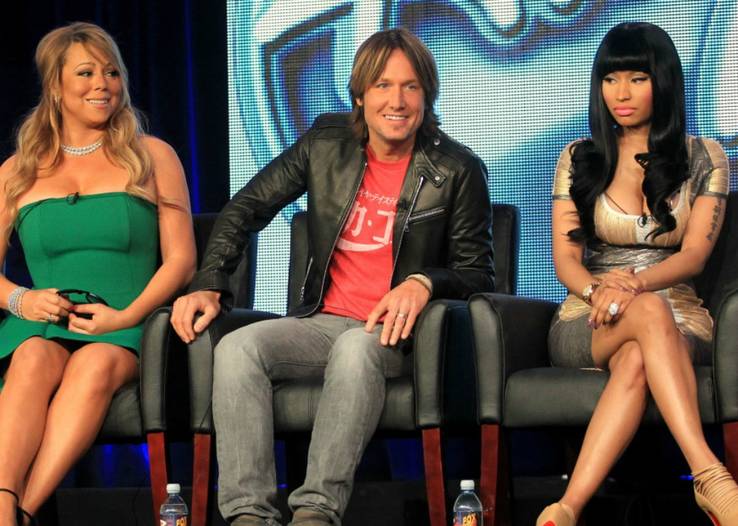 In 2013, the two singers were judges for American Idol and they were the highlight of the show because of their feuding on live television. Nicki and Mariah were asked about the rumors of their feud during taping of the auditions Mariah said it was one sided and Nicki replied that it wasn't. When asked about a song that Nicki wrote which could be about Mariah, Carey replied.
"Don't know. I didn't know she sang. I thought she rapped or whatever."
Carey and Minaj had a lot of arguments especially over movies and who knows the movie better. The movie they argued about is Mean Girls. Poor Carey as she received a lot of eye rolls and facial expression shades by Nicki. The war even ensued on Twitter mainly by Minaj who shaded Mariah with a number of tweets. Nicki reacted though after Mariah made digs at her career by saying how Minaj never reached number one on Billboard Hot 100 Singles whereas Mariah had 18 songs reach number one in her career. Minaj replied with "What you should be doing is asking why a woman so successful at her age is still so insecure and bitter." It's a good thing that the two aren't judges anymore as their drama was ongoing and would've been unbearable to handle.
20 Busy Philipps And Michelle Williams — Best Friends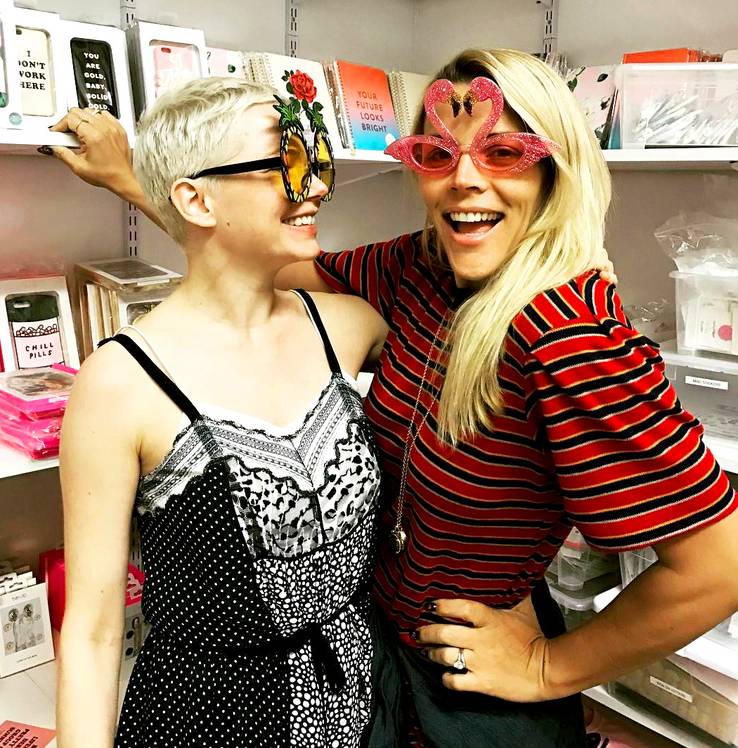 Remember the '90s teenage drama Dawson's Creek? Well, Michelle was one of the leading characters with her role as Jennifer Lindley and in season five, Busy joined the cast with her role as Audrey Liddell. Williams and Philipps must have hit it off since 17 years later they act like sisters. Philipp's has even been approached by Simon & Schuster's Touchstone division to write a memoir after doing work for brands on Instagram and Michelle is featured in a lot of Busy's stories. "I think it's fascinating to her, because it's so outside of what she would normally do. I think she's very curious about the immediate feedback of fans and people, you know, giving you reinforcement. Positive and negative." Michelle and Busy hang out together a lot and Williams let Philipp dye her hair pink and refers to Michelle as her best friend on her Instagram. Michelle can't stop gushing about Busy.
"Her passion is people. She has this amazing quality: People just fall in love with her. Like, you spend ten minutes with her, and people are like, 'she's incredible.'"
The pair even have matching best friends jackets and Busy was Michelle's date at the 2017 Oscars and she was present during Michelle's press tour for Manchester By the Sea and Philipp's didn't leave her side.
19 America Ferrera And Lindsay Lohan — Frenemies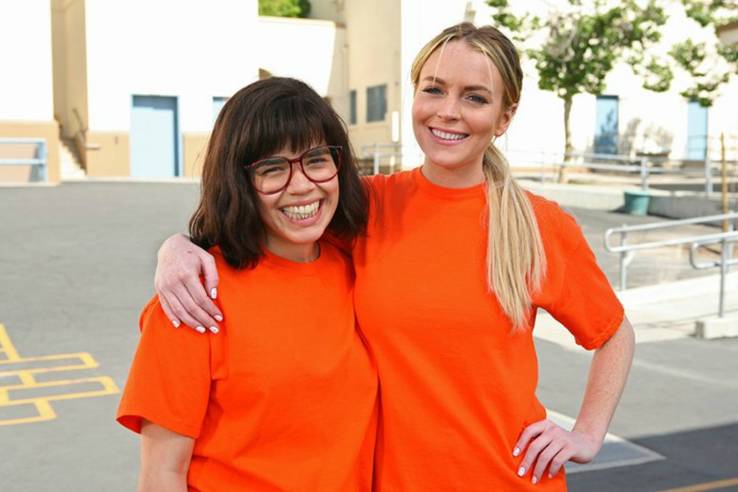 Lindsay was supposed to have six episodes in the show Ugly Betty in 2008, but it was cut down to four because Lindsay and America were not getting along. Lohan was reportedly acting like a diva on set. According to someone from production, "Lindsay would show up every day with an entourage of people. She smoked 24/7, and after she left, they had to re-paint her dressing room it was such a mess." Lindsay was also displaying weird behavior,
"obsessively cut pictures of herself out of the tabloids like she was creating some sort of scrapbook and refused to go on set until America was there — it was a power play."
Sources say America got her revenge by pulling down Lindsay's pants and that really embarrassed her. "They were rehearsing the scene and America wasn't supposed to pull Lindsay's pants down — but she did. Lindsay was so embarrassed, she started crying." Lindsay's friend says it was America's fault. "America was mean to Lindsay. Producers give her too much power. Lindsay didn't do the last two episodes because America didn't like her and got her kicked off." It sounds like it was a good thing that Lindsay left before finishing her episodes as it seems these two can't work together at all.
18 Vanessa Hudgens And Ashley Tisdale — Best Friends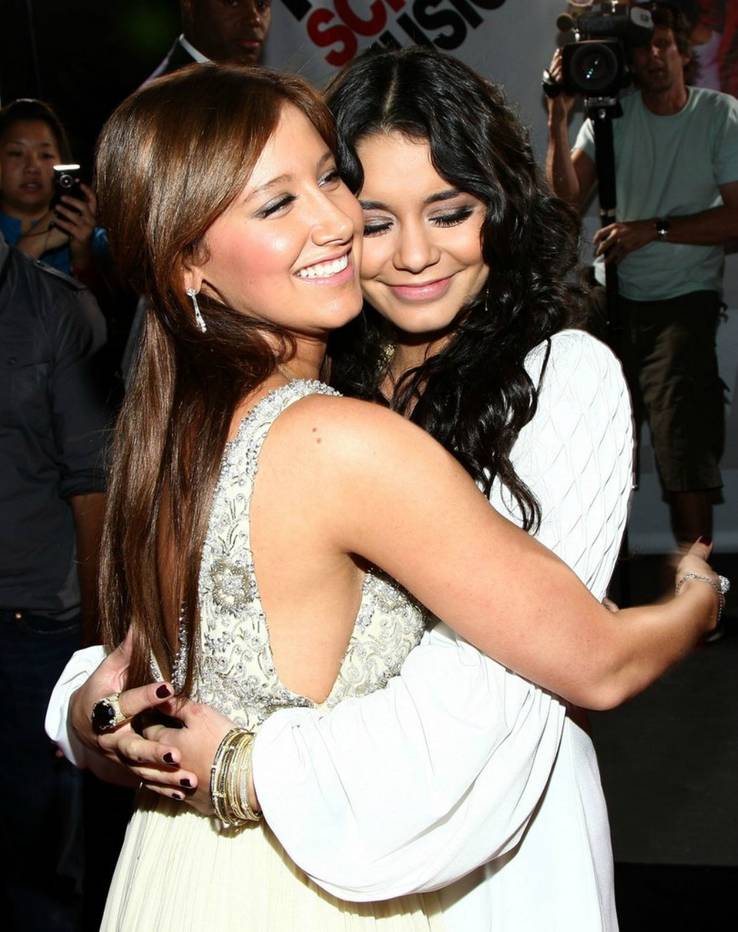 The youngsters ,who are now all grown up, met on the set of the High School movies and since then they've been inseparable. The last film was in 2008 but Ashley and Vanessa are still close after all these years. Vanessa said that she remains loyal. "She's one of those girlfriends who will be my friend forever." Ashley confided in what they get up to during their girls nights.
"A lot of the time, we do dinner parties at one of our houses, and we all cook dinner together and have a bunch of girls over. Sometimes we do a themed night — she loves a good theme. One time, we watched the Victoria's Secret model show and I had onesies for everyone."
The two even had a double date with their partners. "I mean, it's great because Austin was my best friend since way before they got together, so it's just nice to have your two best friends be in a relationship." Vanessa admits that she would love to work with Ashley again. "Things are a little busy right now with Powerless, but somewhere down the line it would be so much fun." Vanessa even says that they love each other and since they've been friends for so long it's obvious that they'll continue doing so.
Featured Today
20 Times Bernadette Outdid Penny On Big Bang Theory

10 CW Co-Stars Who Are BFFs (And 10 Who Can't Be In The Same Room)

20 Grey's Anatomy Actors Shonda Rhimes Dropped: Where Are They Now?

17 Teri Hatcher And Nicollette Sheridan — Frenemies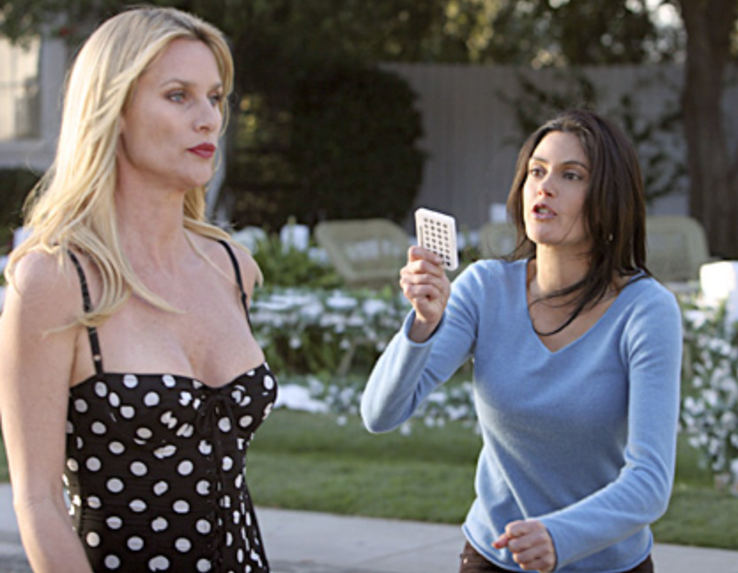 These two stars from the housewife drama, Desperate Housewives didn't get along at all and the creator Marc Cherry had to stand in and stop a fight between Teri and Nicollette during the first season. Sheridan called Hatcher, "meanest woman in the world." The feud got so bad that Cherry was called onto the set. "They were furious with each other." Marc also said that he killed off Sheridan's character because of unprofessional behavior and budgetary reasons. Although according to someone from production Hatcher didn't get along with the whole crew as Teri's name was left off the goodbye card that the actors gave to the crew members after filming. It was signed off, "Love Eva, Marcia, Felicity and Vanessa." The production source said,
"The girls don't get along with Teri, so they organized this and left her out."
Bosses even wanted Hatcher to be written off the show in season five but Cherry didn't want that. Eva Longoria is another co-star that is enemies with Teri which will be talked about in another list. Hatcher didn't even join the rest of her co-stars during mourning of the end of the show. Felicity Huffman who played Lynette said they sat for 40 minutes crying and reminiscing and Teri's name wasn't mentioned. Maybe it was a good thing that Sheridan left the show as it sounds like it could've gotten worse.
16 Blake Lively And Amber Tamblyn — Best Friends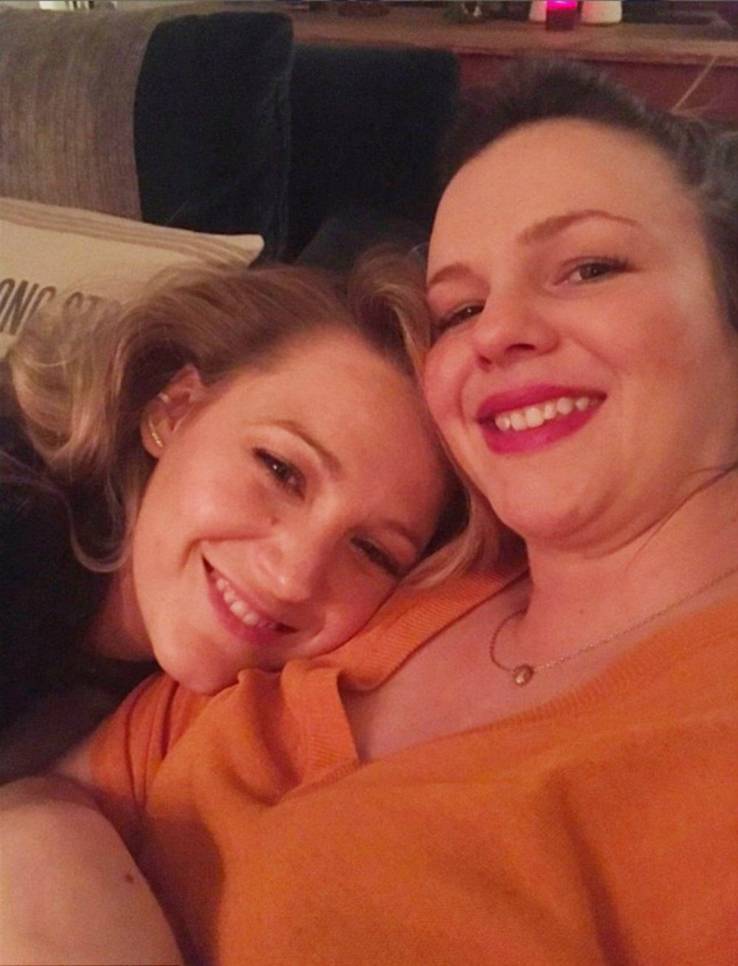 The two actresses met on set of the first Sisterhood of the Travelling Pants movies and more than 10 years later they remain best friends. Even though Lively is busy with her children and Amber is expecting they still make time for each other as Blake is a regular on Amber's Twitter and Instagram. Last year, Tamblyn posted a selfie of them hanging out on the couch. The two even face timed their other Sisterhood co-star America Ferrera. Blake shared a shot of the occasion on her Instagram and captioned it.
"This year has taught us a lot. But it's reminded us to practise something we've always known: Love your pals. Love yourself."
Blake even gushed about Amber on her Instagram after it was announced that Amber is expecting. In the photo Blake placed her hands on Amber's pregnant stomach and wrote the caption. "So proud of my dear friend, and new mama to be." They've all stayed close of the years as Blake said in 2008. "From the first film, we got along so well that we all try to get together whenever we're in the same city." The girls may even be reuniting soon as Sisterhood of the Travelling Pants 3 may happen. Alexis told Jimmy Fallon, "We just pitched a third movie. I hope it comes together. It would be so great."
15 Alyssa Milano And Shannen Doherty — Frenemies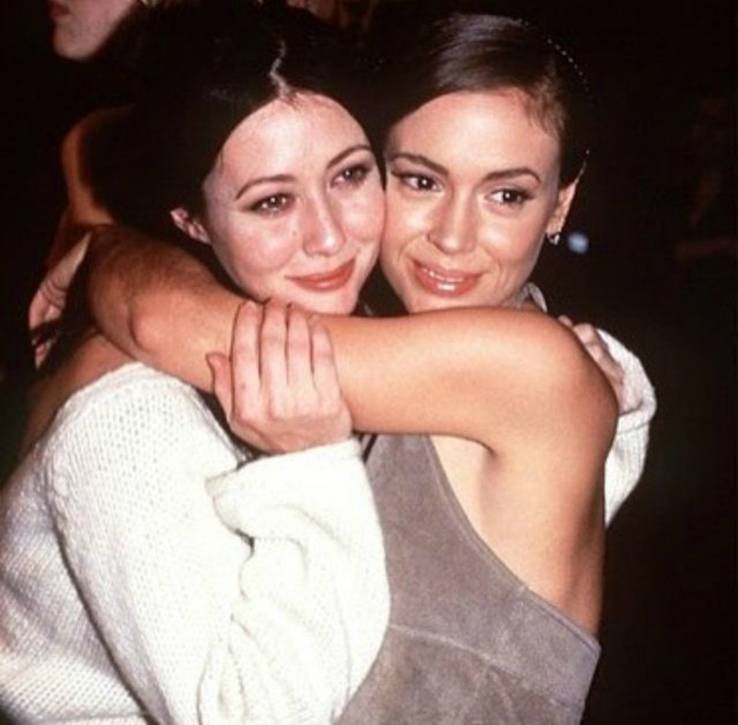 The Charmed actresses who played good witches on the show were anything but friends and after 15 years they've reconciled. Milano and Doherty have even made plans to get together after all this time. "And I spoke to her maybe two or three days ago, and we decided that we're going to get together. That date has not been set yet, but yes!" Alyssa also shared that they decided to end the feud as they found it irrelevant after 15 years and Doherty battled cancer. Alyssa believes they've changed. "I think that what she has gone through, and motherhood in my life, I think it just changes people." What exactly caused the bad blood between the two especially since Shannen left the show after three seasons. Alyssa gave all the details of what happened and she referred to working on set being like high school and we all know how dramatic that can be. Milano said it was hard working with her.
"I can tell you that we were on the air with her for three years and there were definitely some rough days."
Doherty said she left the show because of these reason. "There was too much drama on the set and not enough passion for the work. I'm 30 years old and I don't have time for drama in my life anymore. I'll miss Holly a lot. She's one of my best friends and I love her dearly, and there were never, ever, ever any problems between the two of us
14 Zendaya And Bella Thorne — Best Friends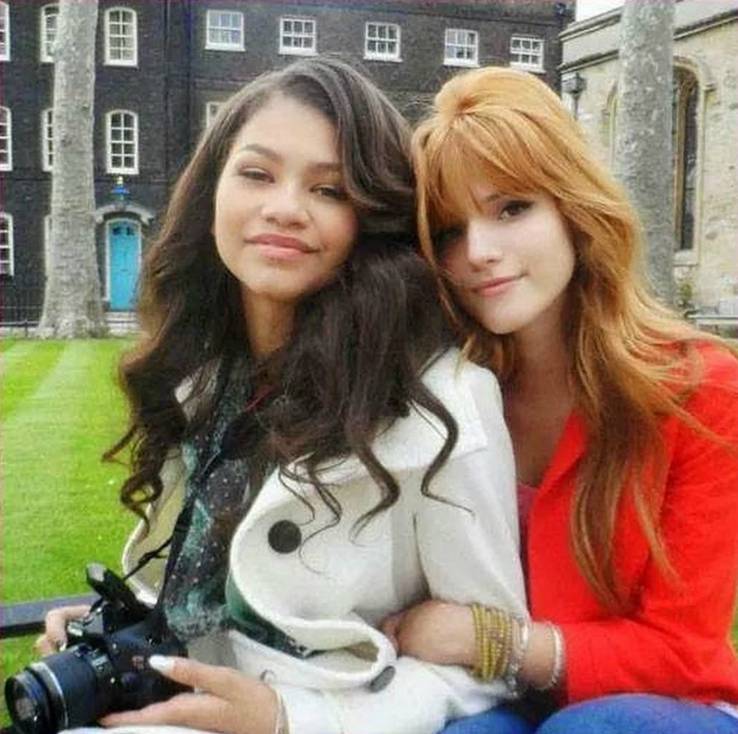 This pair met on the show Shake It Up and they played best friends on the show, but what makes it so special is the fact that they remained friends off set as well and when the show ended as well. Even though the show has ended Bella and Zendaya still support each other by attending each other's events and guest starring on each other's shows. Zendaya was Bella's first Hollywood friend. "Zendaya and I met at the test for Shake It Up. We instantly hit it off and then we were really, really close sin e that. My first friend in Hollywood is Zendaya." Although during filming their friendship was put to the test because of comparing reasons.
"We wanted to love each other, but we were constantly being put against each other. It was, 'Who's better at this?' and 'Who's better at that?' And then second season, we kind of just had this tell-all talk where we started crying and really just put everything out there on the table, and that's when we became best friends."
In 2016, Zendaya said they still chat, "We'll post things to each other on social media, but we know everybody's looking at that, so if she wants to talk, she'll call me or text me."
13 Selena Gomez And Demi Lovato — Frenemies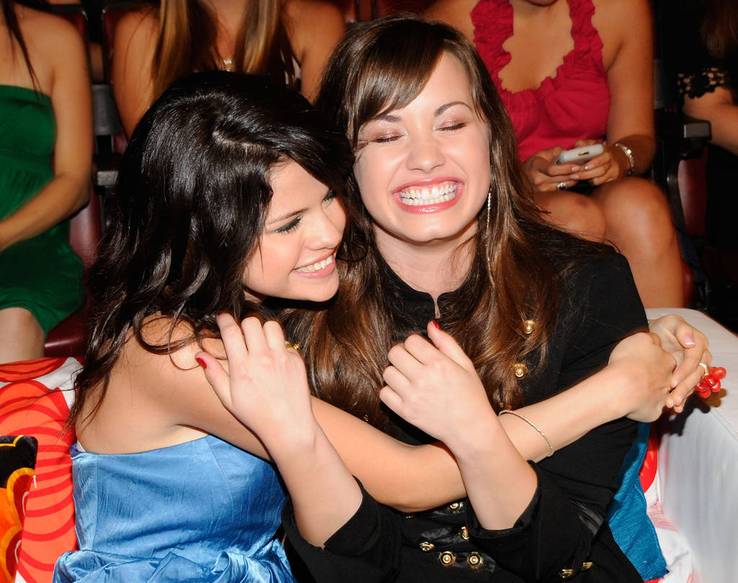 Once upon a time these two former Disney stars were best of friends as they met on the set of Barney so they basically grew up together and they even acted together in the Disney movie Princess Protection Program and they also had a vlog together where Selena and Demi revealed their secret handshake. Selena couldn't stop gushing about her long-time friend. "We enjoy doing everything together. But our favorite is to just chill at each other's houses." Then Taylor Swift came along and Demi didn't like it as when a fan asked Lovato in 2010 how Selena was and Demi replied. "Ask Taylor." Lovato sounded suspicious when she also said this in 2010.
"True friends don't let their friends or family be mean to you. If you can't trust somebody, you can't be friends with them."
The two became friends again after that as they were seen together at events but in 2014 Demi unfollowed Selena on her Twitter and Instagram and made this statement, "I think it's just one of those things where people change and people grow apart." It appears that they won't reunite anytime soon for acting in movies and they may reunite and fall apart continuously which makes it a toxic friendship.
12 Emma Roberts And Lea Michele — Friends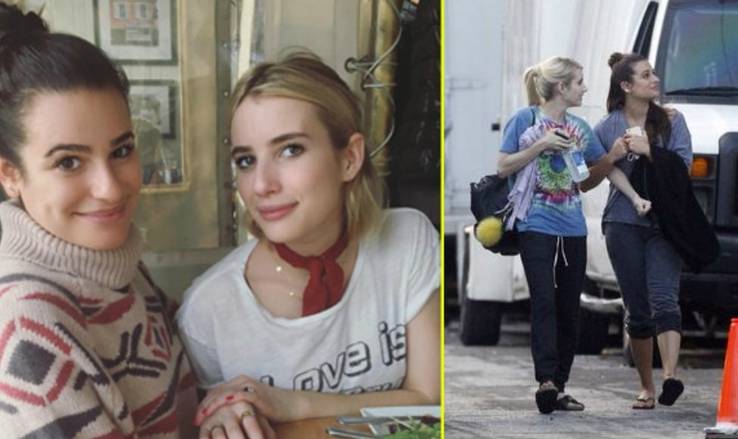 This duo met on the set of Scream Queens and instantly started a friendship and last year the Glee star wished Emma a happy 26th birthday with an image and caption on her Instagram. The picture was of Emma and Lea hugging each other while at a restaurant and the caption said. "Happy Birthday to truly the best friend a girl could ask for. I love you Emma." Michele admits that she couldn't do certain things with anyone else.
"There is no one I laugh harder with, would rather call in the middle of the night, or blast The Wreckers with all day. Thank you for always being there for me."
During filming of Scream Queens, Roberts admits Michele was there for her especially when she was having self-doubt of doing the scene right and Lea encouraged Emma and said she can do it. Emma and Lea love Pilates when they hang out. "Lea and I keep each other in shape – we do Pilates." The pair even spent Christmas together last year and shared festive pictures together on their social media. Lea captioned this with the picture. "Emma, I love you so much. You're the best friend a girl could ask for and I'm so happy we made our mommy's best friends too and even happier to be with you this holiday." Emma is one lucky girl to have a best friend like Lea!
11 Kailyn Lowry And Jenelle Evans — Frenemies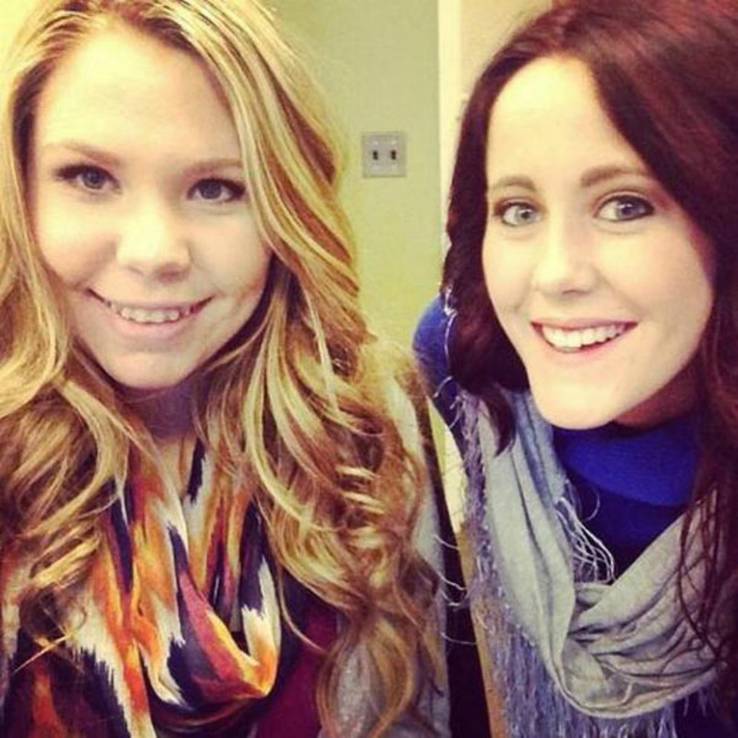 The reality star duos from Teen Mom 2 which is a popular show on MTV had a huge battle on Twitter and luckily for their fans they could witness everything. The feud was also revealed on MTV special Biggest Behind the Scenes Moments this February and it reveals how noteworthy the battle was. The war started after Kailyn wrote a cryptic tweet about a wedding and apparently it was about Jenelle's wedding which Kailyn said it was awful. Jenelle fought back with this tweet: "At least I didn't go around telling everyone at the reunion a while back that you wanted divorce." Fans responded and said the show should be stopped. The two often have Twitter wars as in December, Kailyn gave a warning to Jenelle who implied that Chris Lopez isn't the father of Kailyn's 6 month old. Apparently Jenelle shared the article which upset Kailyn. It got so bad that Kailyn even sent Jenelle a cease and desist letter. Jenelle says Kailyn is causing all the drama with this tweet.
"For you to get on here again to tweet about some drama goes to show how thirsty you are for attention constantly, you try way too hard. It's funny."
Will this Twitter war ever end or it will continue in the future?
10 Cameron Diaz And Drew Barrymore — Best Friends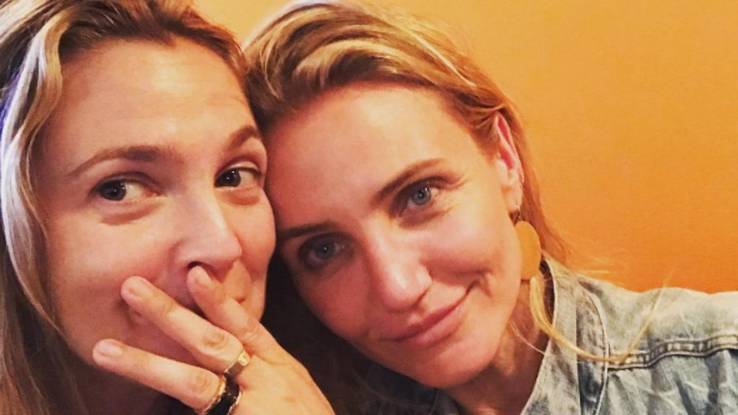 The actresses were co-stars in the Charlie Angel's hit franchise and they played besties even then. In reality, they're best friends as well and have been for 30 years. Barrymore described that Diaz will be the first person she calls if she's in trouble. "Not that any one of us are going to jail anytime soon. But 100 percent. She would, like, get in there and get you out." Drew also couldn't help but gush about Cameron and called her loyal and that she is perfect for every occasion. Barrymore said,
"If you're looking for the best dinner-cooking partner and watching-TV-on-the-couch friend, call her. If someone is in a medical situation, call her! She's the most loyal, fierce, fun, cozy friend. We have incredible honesty with each other and we work hard on our lives and our friendship."
Cameron supported Drew during her divorce to Will Kopelman and when the ex-couple married in 2012 Cameron was even a bridesmaid. Diaz admires her friendship with Drew. "To have people that you've known for that long, those are real relationships, real friendships. We've gone through a lot in life together." Drew calls Cameron her sister as she posted an Instagram selfie of them last year and Barrymore said Diaz makes her feel beautiful. To be friends that long is impressive especially with busy schedules.
9 Jennifer Aniston And Leslie Mann — Frenemies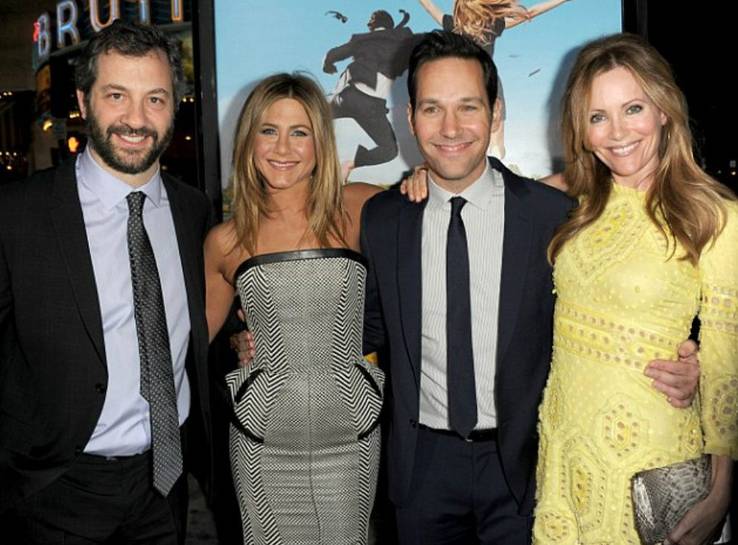 In 1996, the two actresses worked together in the movie She's the One but after that Aniston makes sure they don't act again since they haven't co stared in anything else since. Jennifer wants to work with the director Judd Apatow again but she is skeptical as she doesn't want to work with Mann again and wants to avoid it. In 2014, it was reported that Jen was interested in working with Elizabeth Banks but Aniston was worried that Judd would want Leslie to be in the movie as well. According to the unnamed source, "Leslie is friends with neither Jen nor Elizabeth, and she's infamous among Hollywood circles for not getting along with his leading ladies." The problem, though, is that Judd's wife, Leslie, can be tricky. The source also added that Jen reportedly see's Leslie as, "She's his wife from hell." Leslie has featured in many of Apatow's films. Who knows if it will ever happen now even though Jen seemed to be making plans.
"Jen has told her reps to start discussions with Judd, with the caveat that Jen and her friend Elizabeth will star in one of his upcoming films."
Leslie has replaced Jennifer in a movie called The Comedian. The director, Solomon said "Leslie Mann's impeccable timing and ability to inject drama into comedy make her the right choice for the film."
8 Keira Knightley And Sienna Miller — Best Friends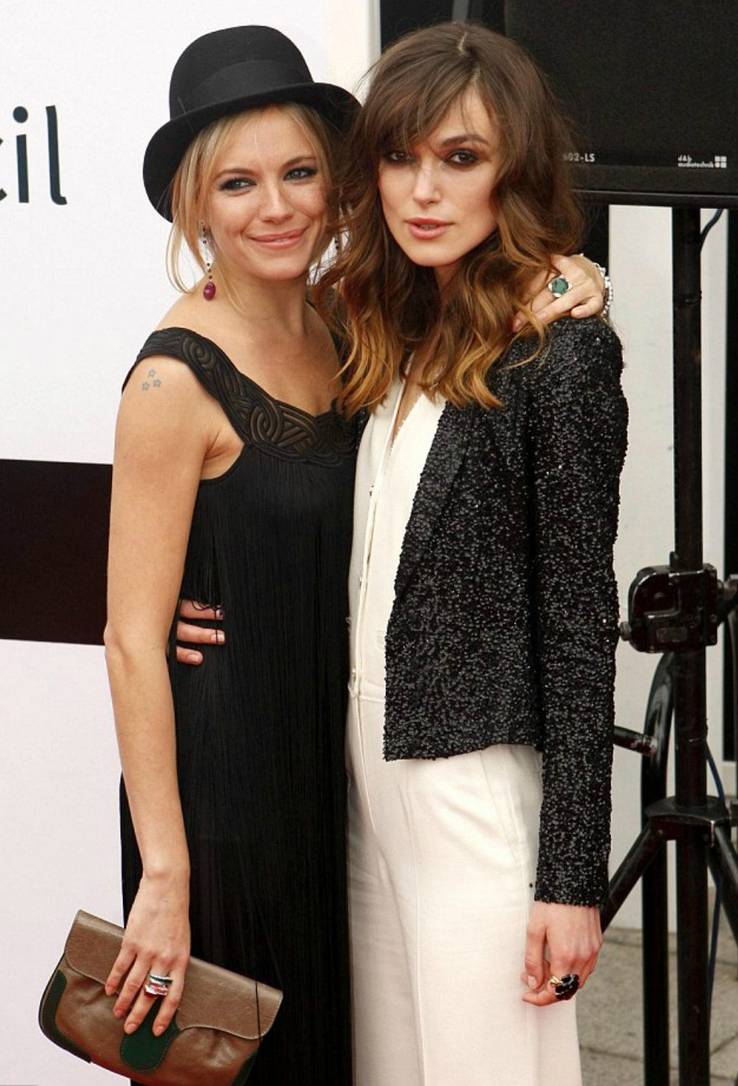 The besties only have nice things to say about one another and in 2015, Sienna even called Keira her fashion icon.
"You say this about people who have style but it is true — she genuinely doesn't think about the way she looks or how she puts herself together. She could throw on a bin bag and look beautiful."
Miller even made this statement about Knightley 'the most beautiful woman'. The duo met on the set of The Edge of Love in 2009 and a friendship developed. Miller also gushed about Keira's mother abilities after Knightley welcomed her new born. "We've spoken a lot and I know she will be amazing. She doesn't need any advice. She will be perfect." Back in 2011, before Knightly became a mother and her life changed, she and Sienna had a girl's night out after Keira's split from Rupert Friend. According to reports, Sienna and Keira had a great night with singing at Lucky Voice and then heading to a restaurant for some dinner. An unnamed source said they sang "Don't Cha" from the Pussycat Dolls and that they were having fun. "It was a pretty raucous affair. The girls weren't holding back at all. There were about 12 people in the group, but no diva-like antics." There's nothing better than getting over a break up with your closet friends.
7 Eva Longoria And Teri Hatcher — Frenemies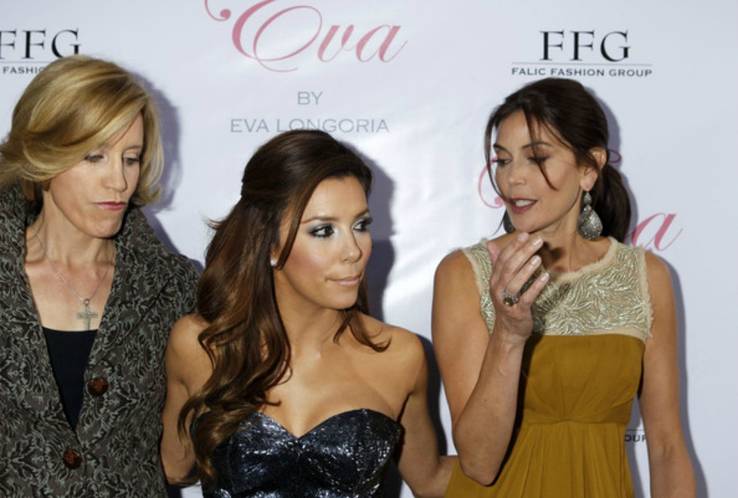 The Desperate Housewives actress makes another appearance on the list for being an enemy and her co-star not wanting to work with her again. Eva had no choice but to work with Teri during the eighth season of the show but they managed to act as friends on the show but it they're far from that and instead Eva wants nothing to do with her. This year Eva got a star on the Hollywood Walk of Fame and Felicity Huffman and Marcia Cross who were Longoria's co-stars on Desperate Housewives but Hatcher was missing and Eva even threw some shade during an interview with Jimmy Kimmel when the host asked if they were all there. "No, but 99 percent of us are." Longoria even laughed after replying!
Longoria does hang out with the former cast as she made this statement in 2007. "Flick and I live down the street from each other. When (ex-husband) Tony Parker is in town, Marcia and I get together with our husbands — those two are big basketball fans. And Nicollette and I go shopping all the time." Hatcher wasn't mentioned and she refuses to make any comment. "I will never disclose the true and complicated journey of us all, but I wish everyone on the show well."
6 Salma Hayek And Penélope Cruz — Best Friends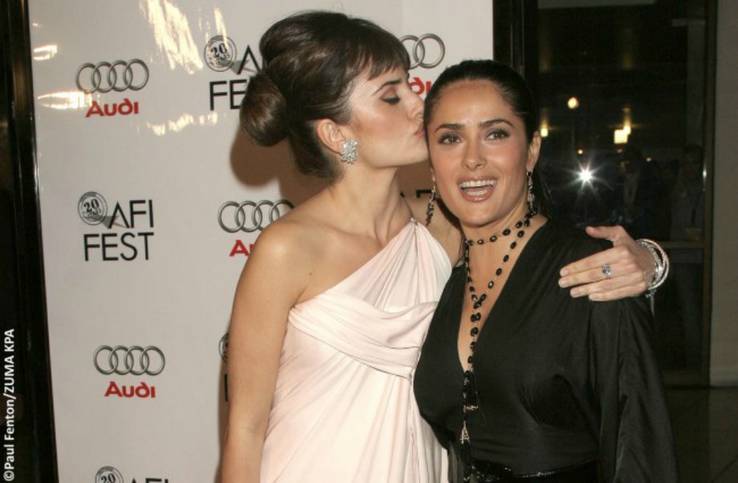 The two actresses have been friends for over 20 years and are another duo who gives us friendship goals. Last year on January 10, Salma Hayek posted an adorable picture of the two on her Instagram and captioned it. "Good #friends are forever." It was in regard to the duo celebrating their friendship and Penelope also posted a picture on her Instagram and said, "Friends Forever." Cruz is Hayek's hero, "But then Penélope has always been my hero and my friend. We've known each other for at least 20 years." Penélope also shared some details about their friendship in 2014.
"She's one of my best friends. We call each other huevos [eggs]. It was because when we were working together, we didn't have children yet, so we used to sleep much more than now. So it was a way to call each other lazy."
The pair were friends before acting in the 2006 movie, Bandidas together and Salma is proud of her friend's accomplishments. "It is great to see somebody who you think deserves it get everything she has ever dreamed of." Salma and Penélope also love to pose together at red carpet events when the opportunity arrives and even with children and busy lives they still find time for one another.
5 Betty White And Bea Arthur — Frenemies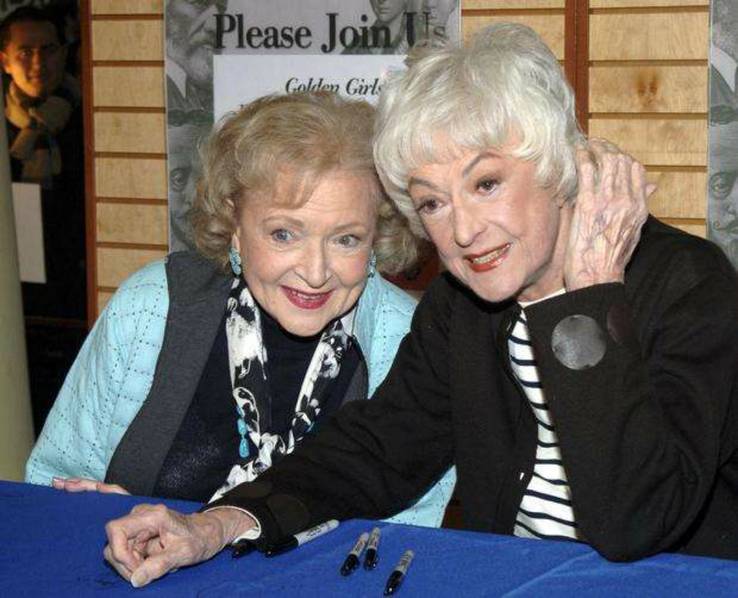 Things weren't that rosy which one might think with the Golden Girls cast mainly between Betty and Bea as there was some friction off set. In 2011 White admitted, "Bea had a reserve. She was not that fond of me." Betty says Arthur couldn't handle her positive attitude and that's why there were problems. "She found me a pain in the neck sometimes. It was my positive attitude, and that made Bea mad sometimes. Sometimes, if I was happy, she'd be furious!" Bea was also reportedly angry that Betty was the first one to win an Emmy for the hit sitcom. Arthur's son, Matthew Saks said, "Betty became her nemesis."
It's suggested that it occurred because of Betty's natural crowd pleasing talent with her improvisation and Arthur didn't like that. Bea quit the show and that's what reportedly ended it. Arthur's son also said, "My mom unknowingly carried the attitude that it was fun to have somebody to be angry at." The two just clashed which Matthew said was due to their different way of doing things. "Sometimes Betty would go out and smile and chat with the audience and literally go and make friends with the audience. Which is a nice thing — many of them have come from all over the country and are fans." Bea couldn't handle it, "I think my mom didn't dig that. It's more about being focused or conserving your energy. It's just not the right time to talk to fans between takes."
4 Snooki And JWoww — Best Friends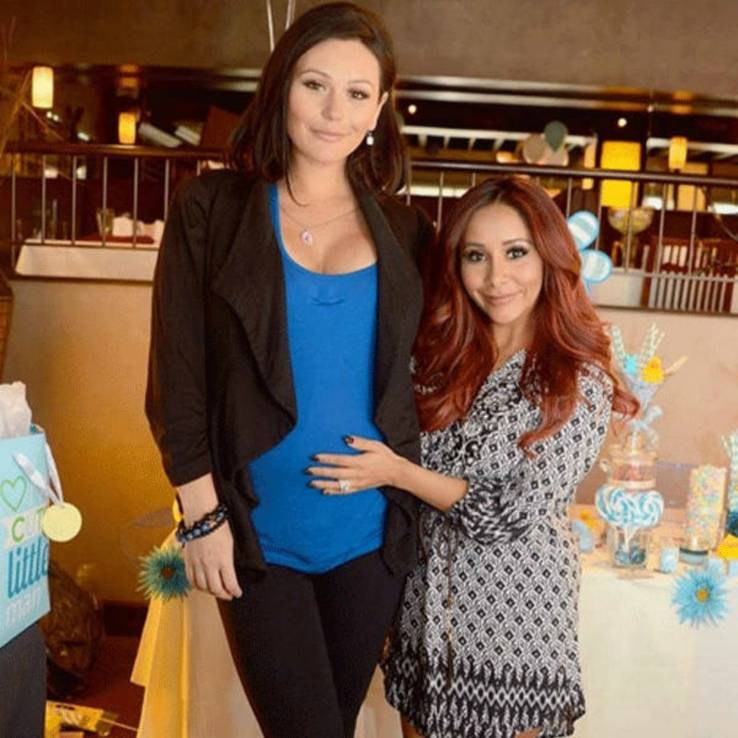 The two reality stars from Jersey Shore are besties in real life and there's so many reasons why they're Hollywood's favorite reality star best friends. Firstly their selfies on their Instagram and they both support each other. Even though they argue over Snooki's drunken antics on the show it's clear that the duo will remain best friends for ever as they are glued to the hip and plus they defend each other like when Mike made a rude comment about Snooki's weight during a night out at a restaurant JWoww stood up for her by telling him off. When Snooki also goes overboard and parties, JWoww is there for her and even puts her into bed. Snooki gave JWoww her approval for her relationship with Roger Matthews and when they got married Snooki was a bridesmaid and JWoww was also a part of Snooki's wedding. They also publicly announce their status as being best friends on their Instagram and Snooki made this caption.
"Happy #InternationalWomensDay I'd like to shout out my best friend who is the strongest woman I know. The best mother and hardest worker all in one!"
The moms have play dates for their daughters and now they've become besties! When one feels emotion and cries the other joins in and cries as well which happened when Snooki started crying because she missed her kids and JWoww joined in.
3 Shannen Doherty And Jennie Garth —Frenemies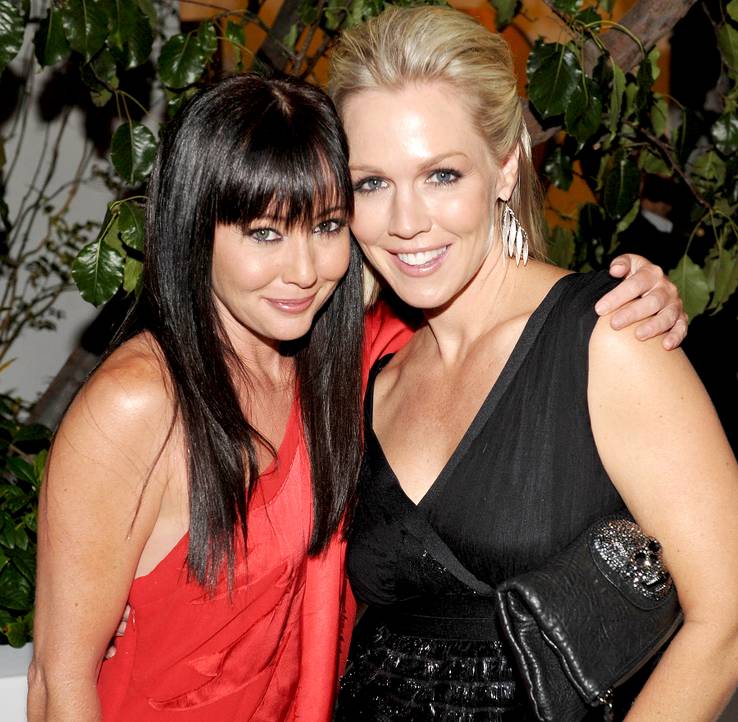 Shannen features on another enemy list and this time it's because of her relationship with Jennie who was her co-star in Beverly Hills, 90210. Garth gave all the details to E! News while promoting her new book, Deep Thoughts From a Hollywood Blonde. out. Jennie admits the feud rumors were true. Garth says they didn't get along because of their strong personalities. "Shannen and I are both Aries women, we're both very strong, independent women, so we butt heads a lot."Tori Spelling had a lot to say about Garth and Doherty during her authorized truth in a lifetime special called Tori Spelling: Celebrity Lie Detector. Tori said there was a physical fight between Doherty and Garth and Spelling also admits that Doherty was difficult to work with.
"I remember, I could hear the door fly open and everyone screaming and crying. That's when I was told the boys just had to break up Jennie and Shannen. It was like a fistfight."
Tori even said that she made her father who was the creator and producer of the show fire Shannen.
2 Jennifer Aniston And Courtney Cox — Best Friends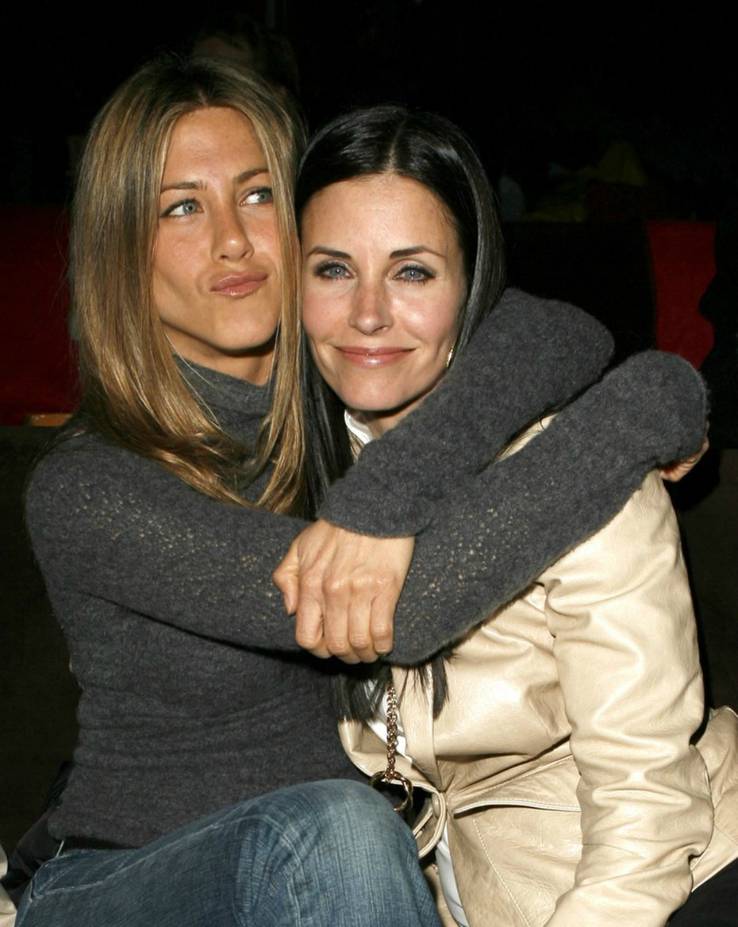 On the iconic comedy TV show Friends, Rachel and Monica were the best of friends and were even roommates and in reality, Jen and Courtney are also besties at home and on the red carpet. Aniston supported Cox during the screening of the movie Just Before I Go and Jen and Courtney were having fun goofing around with funny poses and hugging in front of the cameras. The two friends support each other and they only have nice things to say about each other. As Jennifer says,
"You'll never feel scolded. She's extremely fair, ridiculously loyal, and fiercely loving."
They are even there to be a shoulder to cry on during divorce as Jen was there for Courtney. "I don't know what's going on in the planets or what, but things are being shaken up and I don't know what's going to happen, but, yeah, Jennifer has been amazing for sure." Courtney has also been there for Jen during her split from Justin Theroux. According to the unnamed source Jen surrounded herself with friends after the split especially Courtney. "Spending time at Courtney's always make her happy." Jen and Courtney have been friends for years and they may remain besties forever!
1 Sarah Jessica Parker And Kim Cattrall — Frenemies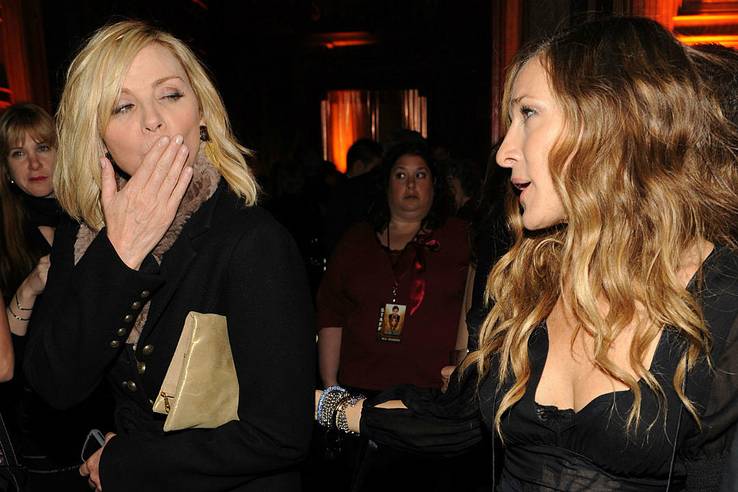 These two must be really good in hiding their feelings as they had the public fooled with their friendship on Sex and the City as in real life it's far from the truth as Sarah and Kim are actually full on enemies. Although the pair don't really hate each other that much in public Kim did state clearly how she doesn't want to do a Sex and the City third movie. "Everyone is doing their own thing and if it was going to happen, it would have happened by now. It would be a challenge to do a third instalment." Kim even says that she's never been friends with the whole cast and she specifically mentioned Sarah's name.
"And this is really where I take to task the people from Sex and the City and specifically Sarah Jessica Parker, is that I think she could have been nicer. I really think she could have been nicer."
Things got really heated this year when Kim dissed Parker on Instagram after offering condolences for the loss of Cattrall's brother. This is what Kim said, "Your continuous reaching out is a painful reminder of how cruel you really were then and now. Let me make this very clear — if I haven't already — you are not my family. You are not my friend. So I'm writing to tell you one last time to stop exploiting our tragedy in order to restore your 'nice girl' persona." Ouch!
References: Daily Mail.co.uk, Hello magazine.com, Us magazine.com, Eonline.com, LifeandStyle mag.com, Countryliving.com, Telegraph.co.uk, Popsugar.com.au, Daily Telegraph.com.au, Express.co.uk, RadarOnline.com, Variety.com, EtOnline.com, People.com, Intouchweekly.com, Just Jared.com, Dolly.com.au, M magazine.com, Huffingtonpost.com.au, HollywoodReporter.com, Tvguide.com, Teenvogue.com, Glamourmagazine.co.uk, W magazine.com, Elitedaily.com, Today.com, Vogue.com, Cosmopolitan.com, and Popsugar.com.
Source: Read Full Article