12 TV Actors Who Are Surprisingly Besties (And 12 Who Can't Stand Each Other)
For all the hilarious situations and emotional moments television has offered over the years, it's the strong bonds between characters that audiences will never forget. Just about every show that exists features at least one dynamic duo that makes fans wish they could experience a friendship or relationship half as strong as their fictional examples. In some cases, the actors behind the role take things even a step further by matching their character's bonds with a similarly strong connection in real life. While a surprising number of co-stars have been friends since well before their shared employment began, others never met until they crossed paths during auditions, or maybe even on camera. This means their friendship largely developed for the entire world to see, allowing for that extremely close connection with the audience that makes them so popular.
Unfortunately, not every pair of close friends on television can be so lucky. For every pair of TV pals that genuinely spend all their time together, there's another duo of so-called "friends" who barely even talk once the director says cut. Indeed, the same way being coworkers can cause friendships to form, the stress and drama of putting on a TV show for an audiences of millions can slowly drive an irreparable wedge in the cast. In the worst case scenarios, they actually talk a whole lot, but almost every exchanged word is powerfully negative, to the extent a total separation might actually be a good option. To discover if your favorite show provided a peaceful environment, keep reading and learn about 12 TV actors who you didn't know were really BFFs and 12 who couldn't stand one another.
24 BESTIES: Mindy Kaling and B.J. Novak From The Office Were The Opposite Of Kelly And Ryan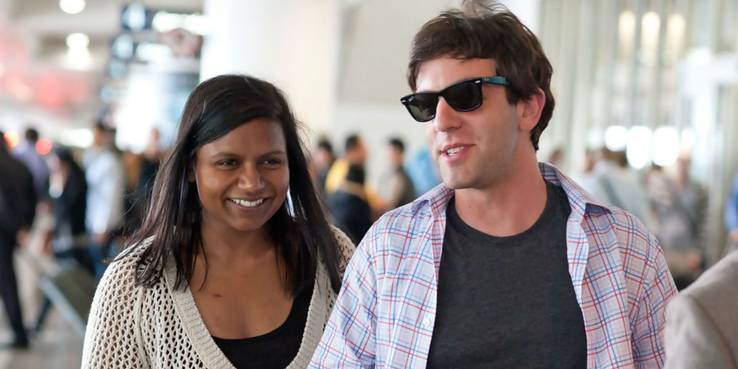 Long after The Office aired it's final episode, fans of the show still consider one relationship it featured to be the absolute peak of "relationship goals." As a matter of fact, they may feel that way about a few pairings on the show, with Jim and Pam, Michael and Holly, and even Dwight and Angela all sharing unique connections that could make a lonely heart jealous. That's not quite the case with Ryan and Kelly, who fight and break up constantly, sometimes more than once in the same conversation. Surprisingly, the actors behind these characters were actually some of the closest on set, and still remain extremely close friends to this day.
Despite how close they claim to be, B.J. Novak and Mindy Kaling actually did match Ryan and Kelly in the sense they dated and broke up a whole lot, but if anything, this only made them closer as friends.
Explaining how their bond formed, Kaling told Vulture that as young adults in their 20s writing one of the most popular shows on the planet, the two went through a very unique experience, and it powerfully brought them together. While the two no longer date, taking a term from the show they co-wrote, Kaling and Novak now refer to one another as "soup snakes" to explain their deep connection and unique situation.
23 CAN'T GET ALONG: Janet Hubert Thought Will Smith Was Fresh, Not A Prince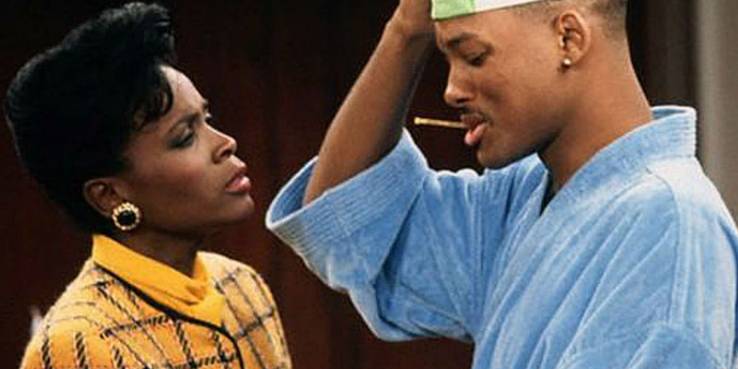 Whether or not they necessarily know the full story, just about everyone who watched The Fresh Prince of Bel-Air immediately noticed something must have been up with Janet Hubert at the start of season three. It was at that point Daphne Maxwell Reid replaced Hubert as Aunt Viv, thus beginning one of the longest and most bitter feuds in all of television history. At the time, series star Will Smith blamed Hubert's departure on the actress wanting more screen time, while she herself claimed the Fresh Prince and many other co-stars harbored generally disrespectful attitudes that drove her off the set.
Whatever happened in 1993, the more important issue is that it apparently continues to dominate Hubert's thoughts to this day. When given the opportunity, she generally chooses to further castigate Will Smith, insulting his film performances and finding ways to blame him for personal tragedies. From the looks of it, Hubert still feels Smith's words as she exited the show forever damaged her career and reputation. Rather than fuel the fire, Smith stopped retaliating way back in the '90s, and any discussion on Hubert since then has been entirely focused on her exemplary skills as an actress. Similarly, no one else from the Fresh Prince cast seems to have all that much to say on the issue.
22 BESTIES: Jennifer Aniston and Courteney Cox Are Always There For One Another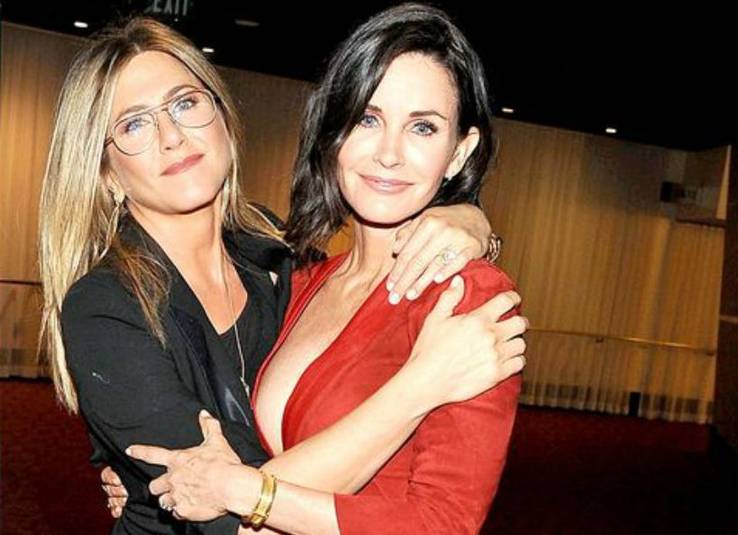 If there's any one show where audiences would hope the cast are actually friends in real life, it's, well, Friends. Luckily for fans of Rachel, Monica, Phoebe, Joey, Chandler, Ross, and all their other acquaintances, this appears to be the case with just about every pairing in the cast. Of course, some connections are stronger than others, and former TV roommates Courteney Cox and Jennifer Aniston are often considered the closest of all. It all began when Aniston was asked to audition for Monica and Cox for Rachel, which producers quickly realized was backwards, casting them in one another's intended roles. Just like Rachel and Monica, Cox and Aniston proved the title of their series accurate almost immediately, with their relationship continuing to grow as the show went from a new sensation to one of the most iconic in TV history.
As noted, most members of the cast remain close in one way or another, yet these two clearly spend the most time together, remaining integrally involved with one another's lives and relationships.
This will likely always be the case, as Aniston is even Cox's daughter's godmother. In another family tie, Cox was also Aniston's maid of honor during her second wedding, and allegedly was the last guest to leave the ceremony. By the looks of it, their friendship may even outlast the marriage.
21 CAN'T GET ALONG: Sarah Jessica Parker and Kim Cattrall Won't Hang Out In The City Anytime Soon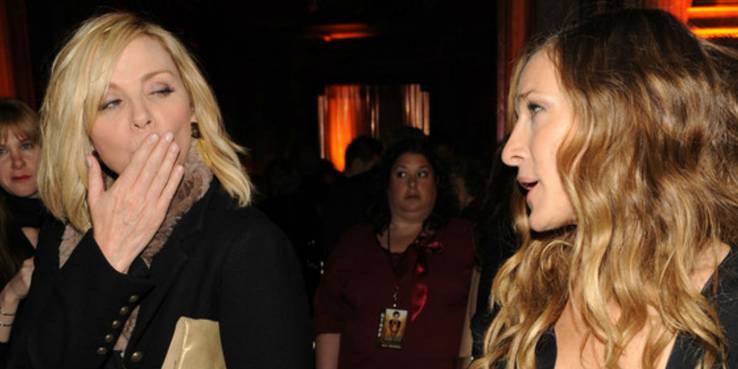 Caustically acerbic with her every opinion on life, fans of Sex and The City would never expect Samantha Jones to hold her tongue in any scenario. Carrie Bradshaw, on the other hand, might spend all night at her typewriter trying to figure out the perfect thing to say before every expressing herself out loud. Despite this, the two managed to become extremely close friends as they looked for love in New York City, which is one thing the actresses behind the roles couldn't quite live up to. Matching Samantha's careless attitude, Kim Cattrall has been very open about the fact the Sex and the City franchise is very much in her past no matter how much fans want a third movie. Her main reason for this seems to be dissatisfaction with her co-stars, specifically the series lead Sarah Jessica Parker. This came as a huge shock to Parker and the rest of the cast, who largely denied how harsh tensions were becoming until Cattrall went public with her complaints.
In a statement explaining why there will be no third film, she even pointedly stated the cast has "never been friends," a statement to which Parker later took offence, having felt it wasn't true.
Whatever the case, any positive or negative relationship between them is in the past, and won't rekindle anytime soon.
20 BESTIES: John Stamos and Bob Saget Have Full Memories Of Friendship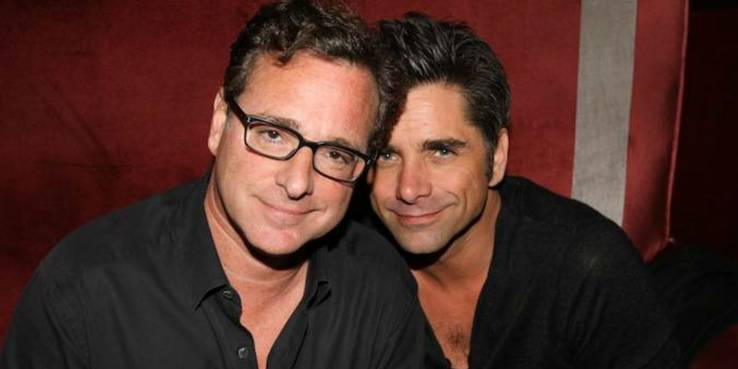 When Full House star Danny Tanner needed help raising his daughter after their mother's sudden death, he looked to best friends Joey Gladstone and Jesse Katsopolis. Now in their 50s, it's unlikely actors Bob Saget or John Stamos would ever find themselves in a similar situation, but if they did, chances are they would similarly call upon one another for support in such a trying time. The same way raising a group of children together can bring a couple together, Saget, Stamos, and fellow co-star Dave Coulier became extremely close as they lived together and redefined the meaning of family for eight seasons.
Even now that the kids have all grown up and have an even Fuller House of their own, Saget and Stamos in particular remain very close friends in their every day lives. Of course, with the kids out of the way, they're free to go on more adult adventures, like all night drinking binges and late night parties. According to Saget, this type of experience has even resulted in the two winding up passed out in the same bed, an experience that only the closest of friends can share. Not that they need alcohol to get along, as the pair can always be caught praising one another whenever either of them hits the talk show circuit.
19 CAN'T GET ALONG: Naya Rivera Won't Be Joining Any Real Life Glee Clubs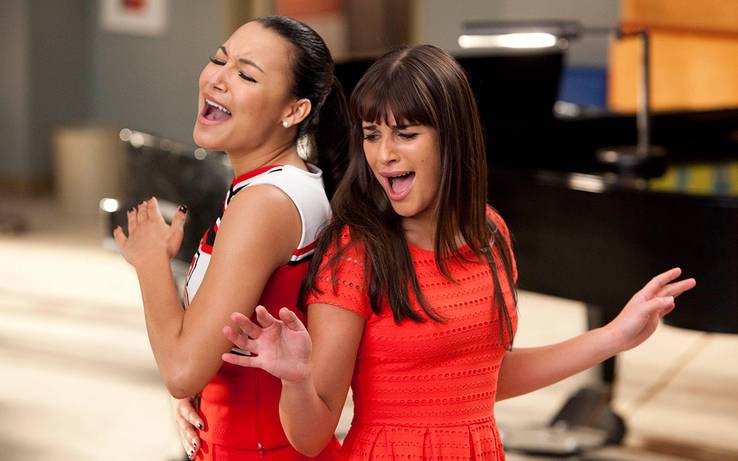 No matter how tense things could get at William McKinley High, the kids in Mr. Shoe's glee club were always able to get passed their troubles to sing a jaunty pop tune in 30 minutes or less. Any combination of characters could follow this trend, with Santana Lopez and Rachel Berry experiencing it many times over as they evolved from minor acquaintances to roommates and co-workers. As can often happen with high school friends, though, the two eventually grew apart from one another, and mountain tensions between the actresses playing the roles may have had something to do with it.
Series creator Ryan Murphy later told E! that Naya Rivera and Rachel Berry were hardly the only two cast members prone to regular arguments. However, rather than judge them for it, Murphy was entirely understanding that his teenage cast was naturally confused and unsure how to navigate their newfound fame.
He didn't even seem to mind as Rivera dedicated significant portions of her book Sorry Not Sorry: Dreams, Mistakes, and Growing Up to accuse Berry and other actresses of jealousy when Santana started getting more screen time. Granted, the accusation was somewhat spurious from the start, as both actresses remained a huge part of the show from beginning to end, albeit occasionally in separate storylines.
18 BESTIES: Jessica St. Clair and Lennon Parham Aren't Just Playing Around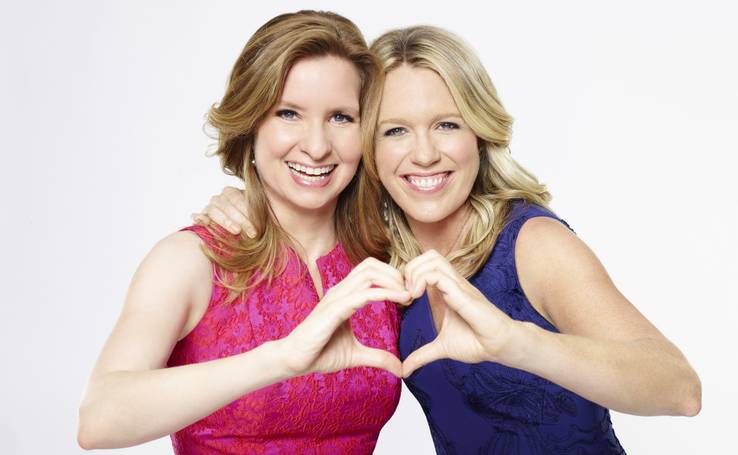 Compared to some names on this list, the tandem of Jessica St. Clair and Lennon Parham may not be instantly recognizable. That's a bit surprising, considering the duo actually co-created and starred in two separate mainstream sitcoms. First up was Best Friends Forever, which merely lasted six short episodes on NBC before getting canceled. That was hardly the end for them, though, as just two years after that, they bounced back with the more successful Playing House on the USA Network. This time around, the series about their attempts at navigating through adulthood with only a best friend for support lasted three full seasons before similarly getting the axe.
Disappointing as it was for two separate series to get canceled, Parham and St. Clair's real life friendship obviously isn't going to go down so easily.
The two had been working together in the Upright Citizen's Brigade since long before they had a TV show, with St. Clair feeling their real life connection was an integral piece of the duo's comedic voice. With that in mind, fans of either project can likely assume the women will keep looking for ways to express that voice for a long time coming, so long as they can find networks that will give them the opportunity. Even if they don't, there's always podcasts.
Featured Today
15 Surprising Celebs Who Tried To Lock Down Scarlett Johansson (But Couldn't)

25 Reasons Why Marvel Characters Outshine DC Characters

8 A-List Celebs Who Are Actual Sweethearts And 7 Who Are Total Divas IRL

17 CAN'T GET ALONG: Shannen Doherty and Alyssa Milano Didn't Have A Charmed Relationship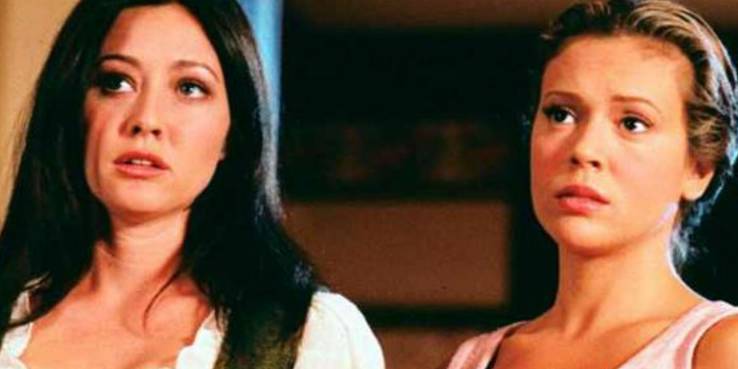 Theoretically speaking, the magical powers of a witch should allow a supernatural being to use their mystical influence on just about anyone and turn them into a friend. Then again, maybe this is just wishful thinking, as that clearly wasn't the case with the cast of Charmed. Continuing her reputation from Beverly Hills, 90210, most of the drama centered on lead actress Shannen Doherty, who left the show after three of an eventual eight series. While we doubt the issue was exactly "supernatural," Doherty was always vague about what exactly drove her away, simply telling Entertainment Tonight,
"I'm 30 years old, and I don't have time for drama in my life anymore."
Upon making that decision, Doherty's character Prue Halliwell was quickly killed off by a demon and replaced with half-sister Paige Matthews, portrayed by Rose McGowan. While her character's death deeply affected Milano's Phoebe Halliwell and their third sister Piper, the siblings eventually recovered and continued their fight against demons and other mystical forces. Years after the fact, Doherty and Milano would finally bury the hatchet after the former disclosed she was suffering from breast cancer in 2015. It's not exactly a happy ending given the circumstances, but now that Doherty has announced the disease is in remission, there's a chance the story will get there soon enough.
16 BESTIES: Sophie Turner and Maisie Williams Understand Friendship Is No Game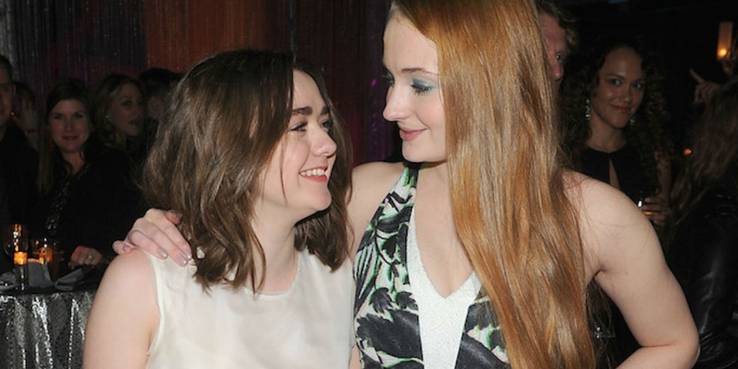 Viewers turning to television for warm and fuzzy family togetherness probably know better than to watch Game of Thrones. Despite being one of the most critically acclaimed crossover hits in recent history, the characters of Westeros are decidedly violent types who rarely get along. This is especially true of certain family members vying for power, while others are simply torn apart by conflict, unable to even speak with one another for years. That was the case for Arya and Sansa Stark from season two to six, and the little time they spent together outside of those years wasn't always positive.
Regardless of how these sisters feel about one another on screen, actresses Sophie Turner and Maisie Williams are possibly the two closest friends on this list.
Lamenting the fact their characters didn't get to spend much time together for years, Turner even told The Insider in regards to Williams, "She's my best friend. She's my soul mate. I love that girl to pieces." Wanting to create a physical representation of their bond, the duo got matching Game of Thrones tattoos that celebrated the date they signed to work on the show, and thus also the beginning of their friendship. Hopefully, none of the show's more violent experiences will have that same resonance in their lives.
15 CAN'T GET ALONG: Star Trek Wasn't A Pleasant Voyage For Jeri Ryan and Kate Mulgrew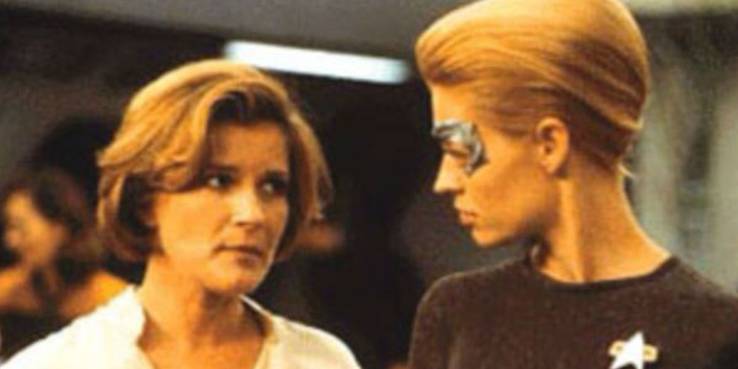 Boldly going where no man (or woman) had gone before, each entry into the Star Trek franchise attempts to create bonds between the crew of the USS Enterprise and whichever unique alien species they encounter. Unfortunately, from the very first series, not all actors on the cast have been entirely able to support this concept. Stories about William Shatner and the original crew are well known at this point, especially after many of Captain Kirk's co-stars aired public grievances at his Comedy Central Roast. Less common knowledge is that the cast of Voyager apparently experienced similar hardships with lead Kate Mulgrew and Jeri Ryan's breakout role, Seven of Nine.
Given Voyager was the first Star Trek instalment to feature a female captain, a strong feminist message was apparent from the beginning. Unfortunately, that didn't translate to a positive atmosphere for all the women behind the stage, with Ryan later plainly telling the Huffington Post,
"It was not a super easy four years for me."
Specifically, she was talking about rumors of on-set arguments with Mulgrew, which allegedly made her physically ill at their worst. On the plus side, it seems Mulgrew has since owned up to her behavior, with recent pictures showing her and Ryan able to move on from the past for the good of Trekkies everywhere.
14 BESTIES: Seth Rogen and James Franco Are Freaky Geeky Friends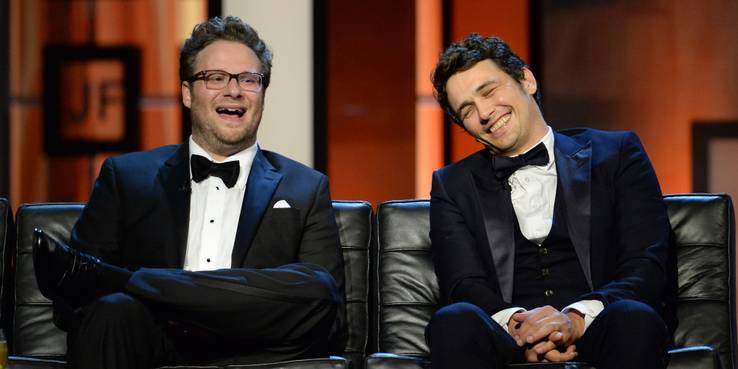 Typically, appearing on a TV show together was either the trigger that formed these powerful real life friendships or the final step in cementing that childhood bonds would last an entire lifetime. Ironically, although Seth Rogen and James Franco are one of the most high profile pairs on this list, the fact they were on a TV show together near the start of their careers barely effected the bond they later formed. When still cast members on Freaks and Geeks, Rogen and Franco apparently didn't interact all that much, perhaps because Franco was too busy embroiled in drama with Busy Philipps to notice Rogen's humor.
Luckily for the future friends, Freaks and Geeks was hardly the last time they would cross paths.
It would be quite some time before a reunion, though, as Rogen and Franco didn't link up again until The Pineapple Express. After eight years apart, the two had developed into incredibly similar personalities, quickly rekindling their friendship and making it stronger than ever before. Since then, they've continued appearing in major films as co-stars, including This Is The End, the extremely controversial The Interview and the highly acclaimed The Disaster Artist, playing a pair that was decidedly less friendly. Recently, Rogen even made it clear he'll stick by Franco despite recent controversies surrounding his acting classes.
13 CAN'T GET ALONG: Lindsay Lohan Didn't Endear Herself To Ugly Betty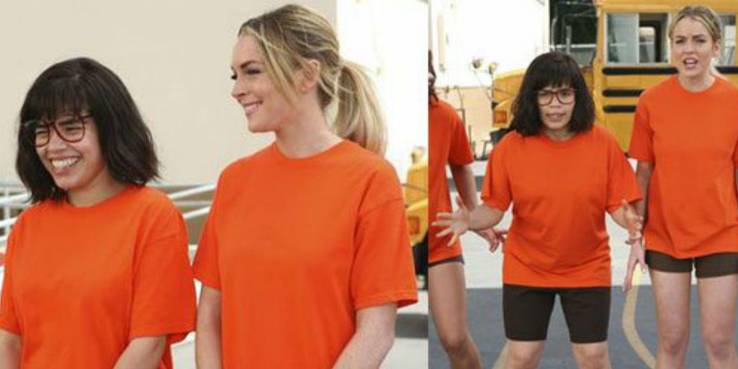 Typically, when a high profile guest star stops by the set of a critical darling that deserves a bigger audience, producers do whatever they can to keep the big name around. Contrary to expectation, the exact opposite happened when Lindsay Lohan was announced for six episodes of Ugly Betty, with most rumors suggesting the controversial film star couldn't get along with lead actress America Ferrera.
In a sense, this was fitting, as Lohan's character was an old schoolyard acquaintance of Betty, who apparently bullied her to an extent they remain enemies in young adulthood.
Obviously, whatever real world difficulties arose between Ferrara and Lohan didn't exactly date back to childhood, and it doesn't seem like bullying had anything to do with it, per se. That said, the exact circumstances of their feud was decidedly confusing from the moment it was reported. According to on set sources talking to The New York Post, series producers blamed Lohan's well-known partier attitude, while the actresses friends claimed Ferrera was an antagonizing presence who intentionally embarrassed the former "mean girl" on set. The world may never know the true story, yet the ultimate result was Lohan's character arc dropping from six episodes to four. Nonetheless, Lohan arguably got the last laugh when the show was canceled one year later.
12 BESTIES: Lena Dunham and Jemima Kirke Have Been Through It All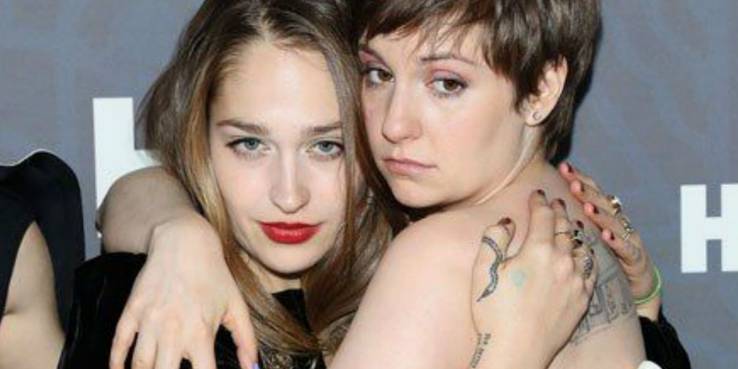 No matter how hard she tries, Hannah Horvath never quite masters the art of human relationships throughout the six seasons of Girls. Nothing better exemplifies her struggle than the fact her oldest friend, Jessa, whom she initially worships like a hero, eventually became one of her greatest enemies as they feuded over shared romances. While it wasn't quite that dramatic, actresses Lena Dunham and Jemima Kirke have apparently had equally explosive episodes in their real life, though both women are typically able to immediately brush the drama off as a simple side effect of knowing one another for decades.
According to Dunham, she and Kirke have been friends since they were 11 years old, making her an obvious pick for the role of Jessa.
Kirke's real passionate personality was on display when she admitted to attempting to quit Girls right before season two began, only for her best friend to eventually talk her out of it. The way Dunham spoke about their relationship with Glamour, it felt like big blow ups like this were hardly uncommon, but the two always manage to hug it out and their friendship only grows forever stronger for having survived the struggle. With the terrible decisions made by their characters on the show now in the past, maybe they can focus entirely on real life positivity.
11 CAN'T GET ALONG: There Was No Love Between Vivian Vance And William Frawley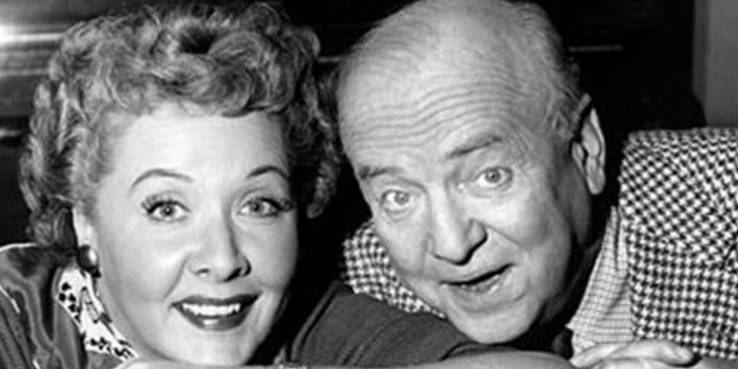 On the other half of this list, signing a contract to work on a TV show often meant a lifelong friendship as a contractual bonus. For Vivian Vance and William Frawley, it signified the beginning of a heated blood feud that wouldn't end until one of them passed away and the other reportedly celebrated with champagne. Allegedly, it was the very first day of I Love Lucy rehearsals that Vance uttered a flippant remark that defined the rest of her career, claiming "no one will believe" she was married to Frawley who was 22 years older. Some rumors also suggest Vance made this point with some decidedly harsh language about Frawley's advanced age.
Despite the fact they played married partners Fred and Ethel Mertz, the hatred shared between Vance and Frawley was in many respects to their benefit.
Similar to Lucy and Ricky, the allegedly happy couple were constantly at odds with one another. The only difference between the characters and their real life personas is that Ethel was a master at brushing off Fred's mockery, unlike the pair's actual ability to hold a grudge literally for as long as they lived. Not even the allure of a Lucy spin-off and potential millions could make Vance willing to work with her rival any longer than she had to.
10 BESTIES: Zach Braff and Donald Faison Exemplify True Guy Love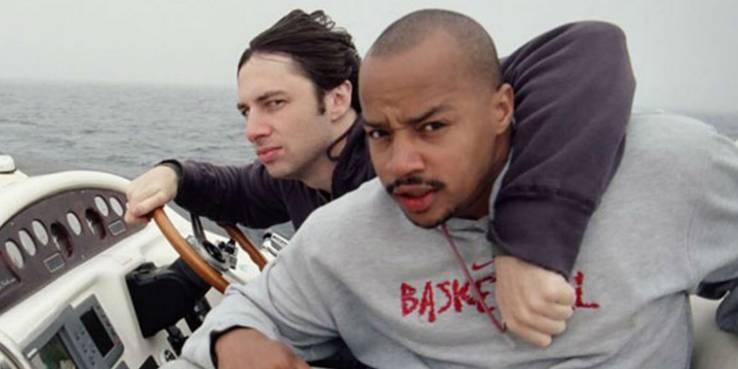 If there's any one TV duo that defines the concept of "Guy Love," it's Scrubs doctors slash roommates John "J.D." Dorian and surgeon Chris Turk. The two had been BFFs since med school onward, with their platonic loving bond growing ever stronger until the day it became so powerful they had to start singing about it. Of course, considering these two guys deal with matters of life and death on a daily basis, it's only natural they would need an extremely close friend nearby to help them cope with the heartbreak and loss their profession causes.
As Hollywood actors with fairly decent careers, Zach Braff and Donald Faison aren't so desperate for affection, but they nonetheless exhibit a great amount of it toward one another. When asked by Yahoo! Celebrity how the friendship between JD and Turk felt so real, Faison explained,
"The only way to have a real bromance is if you're genuinely fond of each other. [Zach]'s my best friend. I'm really fond of that man, and I'm not ashamed to say it."
In other words, it's guy love between two guys who are closer than the average man and wife. The best part is that in the real world, Carla, Elliot, and other outliers who don't understand aren't around to bring them of their cloud.
9 CAN'T GET ALONG: Chevy Chase Made Community Difficult For Donald Glover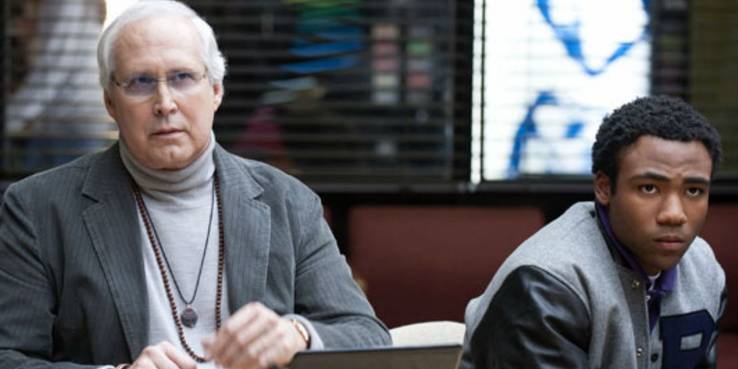 Possessing a unique energy that had fans saying it resembled a live-action cartoon, the general atmosphere of Community seemed too light and enjoyable to possibly behoove conflict and animosity. Well, until season four, anyway. Against these expectations, it turns out a certain cast member was well known for being a disruptive presence, both publicly and when the show was being filmed. Most fans are probably already aware we're talking about Chevy Chase, and the main object of his ire was apparently Donald Glover. On the show, their characters Pierce Hawthorne and Troy Barnes were close enough to live together for a time, but their real life relationship was hardly this positive. According to an in-depth profile by The New Yorker, as Glover developed into a clear breakout star, Chase would regularly interrupt his scenes and make shockingly offensive racial jokes about his success.
To his credit, Glover was always able to brush it off, feeling Chase was simply unable to cope with his star power gradually fading away.
It's not like he was the only one having trouble with Chevy anyway, hence the veteran actor's exit from the series in season four. Coincidentally, Glover wasn't that far behind him in leaving, though his reasons were more related to a desire for artistic freedom than anything else.
8 BESTIES: Andy Samberg and Chelsea Peretti Go Way Back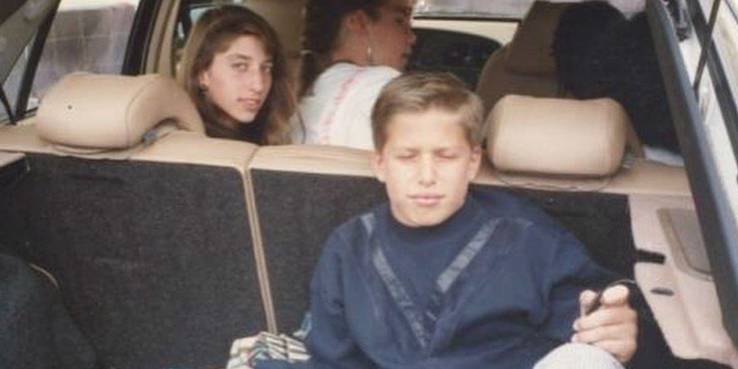 Technically speaking, it may not be entirely accurate to call Detective Jake Peralta and Brooklyn Nine-Nine office administrator Gina Linetti "friends" in the traditional sense. Jake would probably be fine with the title, but the ultra cool Gina might think having a "work friend" is above her standards. Nonetheless, she gets along with Peralta better than almost anyone else in the bureau, and the explanation is that the two had known one another since their early childhoods. Believe it or not, this backstory is based on the true relationship between actors Andy Samberg and Chelsea Peretti, who genuinely have known one another since grade school.
In fact, Gina might spend her time day dreaming about life with Terry in the Nine-Nine, but back when they were kids, Peretti later admitted she had a childhood crush on Samberg and wasn't sure how to express it.
Unfortunately for the young pair, whatever method she attempted didn't quite work out, but it would eventually lead to her finding love in a different way—years later, Samberg was the one who introduced Peretti to Academy Award winning writer Jordan Peele, who she eventually married. When Peretti moved from elementary school to junior high, she was also a friend of comedian Moshe Kasher, who also later had a cameo in the Nine-Nine.
7 CAN'T GET ALONG: Damon Wayans And Clayne Crawford's Relationship Was Lethal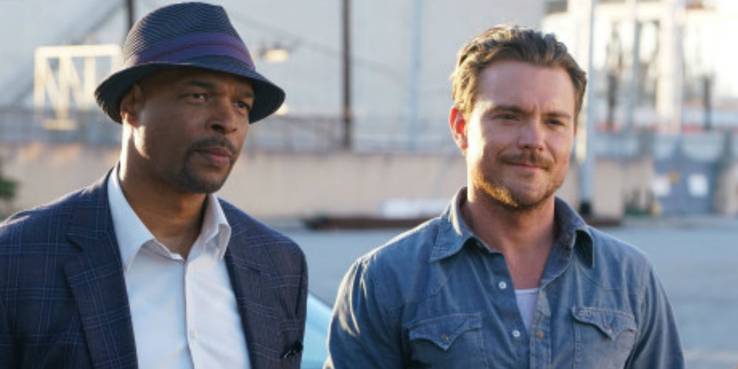 If there's any one show on television audiences might expect would have a bit of a reckless atmosphere, it's probably Lethal Weapon. After four hugely successful hit films, Fox took the cantankerous relationship of Murtaugh and Riggs to primetime, and their explosive antics once again became a huge hit with audiences. The downside is that Daman Wayans and Clayne Crawford apparently lacked the same chemistry of Mel Gibson and Danny Glover, and repeat incidents on set caused the on-screen partners to have at least one real life yelling match.
In a rare case of Hollywood honesty, Crawford admitted he was to blame for every blow up, the worst of which came during an episode for which he also served as the director.
To fill in the blanks, Variety eventually discovered audio of a fight the two had, where both men shouted profanities at one another in a very tense exchange. Wayans would also offer further detail on social media, claiming Crawford was careless and disrespectful to staff during his directing stint, going so far as to call him an "emotional terrorist." Ultimately, it would appear Fox agreed that Crawford could no longer be trusted, removing him from the show prior to the third season and replacing Riggs with a new character to be portrayed by Seann William Scott.
6 BESTIES: Maya Rudolph and Kristen Wiig Stick With Their Bridesmaids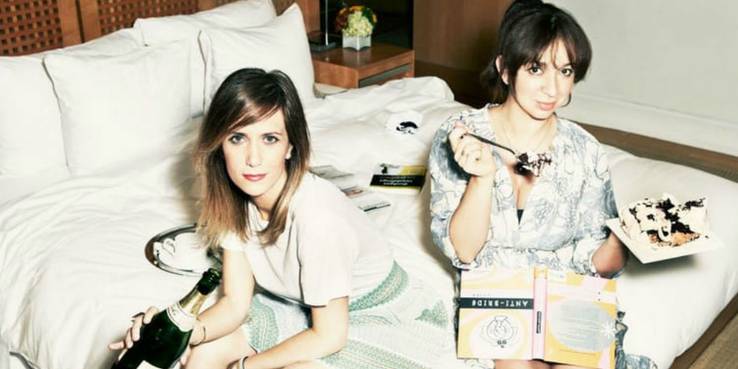 Prior to supporting one another as they found romance in a hectic world, Kristen Wiig and Maya Rudolph started their professional relationship as fellow cast members on Saturday Night Live. Oddly enough, though, it was as actual wedding guests that they first crossed paths, having met at fellow Bridesmaids co-star Melissa McCarthy's house during an actual bridal shower. Coincidentally, Wendi McLendon-Covey was also in attendance at the party, which took place a full 10 years before they all made a blockbuster movie together.
This was also five full years prior to Wiig joining Rudolph on SNL, making it a truly fateful encounter.
Given their close connection with one another, it's no surprise Wiig and Rudolph continue working together whenever they have the chance. After Bridesmaids, the duo took starring roles in Friends with Kids, and they also both made appearances in fellow SNL friend Will Forte's McGruber. Whenever one goes back to the old stomping grounds, it's always possible the other will appear for at least a sketch or two, usually in extremely memorable encounters like the unforgettable "Super Showcase" sketch where they both broke character. Luckily, unlike their Bridesmaids characters, Wiig and Rudolph's friendship has apparently never faltered, perhaps because they never actually involved on another in their bridal showers.
5 CAN'T GET ALONG: Teri Hatcher Made The Other Housewives Desperate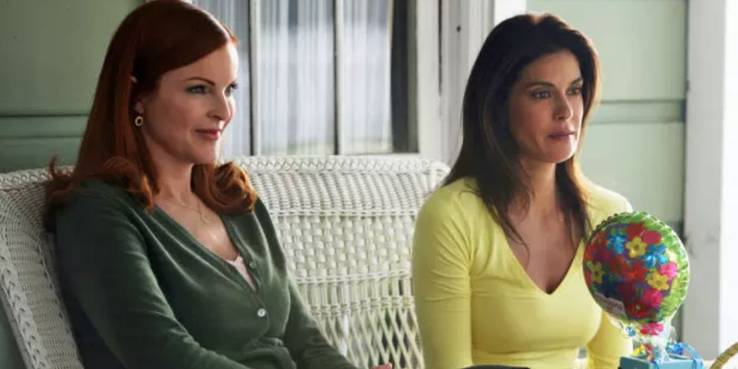 Considering how the women of Wisteria Lane often treated the concept of friendship, it's no surprise a few of them would wind up on this half of the list. Of course, the real life death of a related party had nothing to do with it, nor does it seem that Teri Hatcher was ever truly close with Marcia Cross, Eva Longoria, or just about anyone else on the cast for that matter. This situation was very public right from the beginning, when a Vanity Fair photo shoot promoting season two quickly devolved into a revelatory story of jealousy and in fighting that reportedly left all three women varying levels of upset.
During that particular incident, Hatcher seemed to be the focus, with the other stars later claiming she simply didn't treat the cast like a family in the same way the rest did.
That finally appears to have changed when Vanessa Williams joined the cast, at least in the sense Hatcher finally started fraternizing with one coworker when cameras weren't rolling, which must have dulled the tension a little bit. Despite the situation with Hatcher, the rest of the Desperate Housewives generally claimed to get along with one another quite well. While Hatcher admits she and her old co-stars don't talk much, any lingering resentments appear to largely be behind them.
4 BESTIES: Amy Poehler and Tina Fey Will Have Plenty Pleasant Tomorrows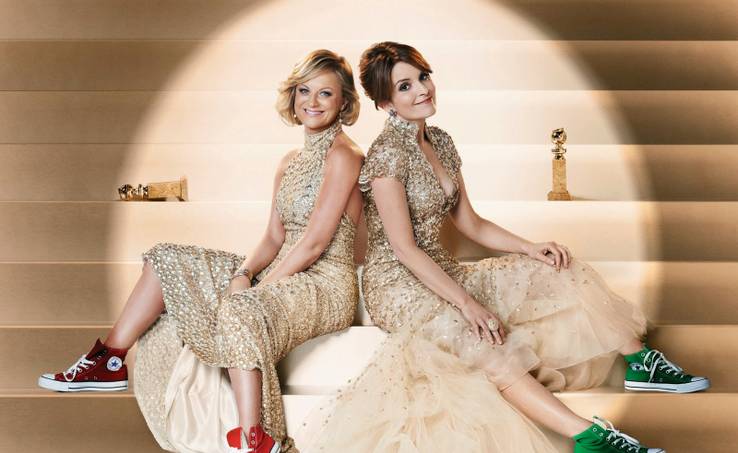 Even as Dan Aykroyd called Jane Curtin decidedly un-P.C. things, fans of Saturday Night Live have always liked to believe the Not Ready For Primetime Players were always good friends. That wasn't always the case, but Tina Fey and Amy Poehler were indeed extremely close, and have remained good friends for years as they pursued their own TV shows and movie careers. Part of what helps them remain strong is that Fey and Poehler regularly found time to star in movies together, including mild box office hits in Sisters and Baby Mama. More successful was their pairing as co-hosts of the 2013 Golden Globes, which brought their natural chemistry as friends to a global audience free from the filter of a script.
Tasked with explaining how their bond became so strong, Fey joked to Glamour that part of the puzzle is how rarely they see one another.
Poehler was more honest, calling the pairing "like a good marriage" largely because they'd known one another since before they were famous as students of Chicago's IO Theater. Citing advice from her mother, Poehler continued to say, "the older you get, the more you treasure that idea of someone knowing your family and were you came from," suggesting this comedy team and friendship will have plenty more to offer as the bond continues to grow.
3 CAN'T GET ALONG: The Cast of Grey's Anatomy Didn't Appreciate Isaiah Washington's Words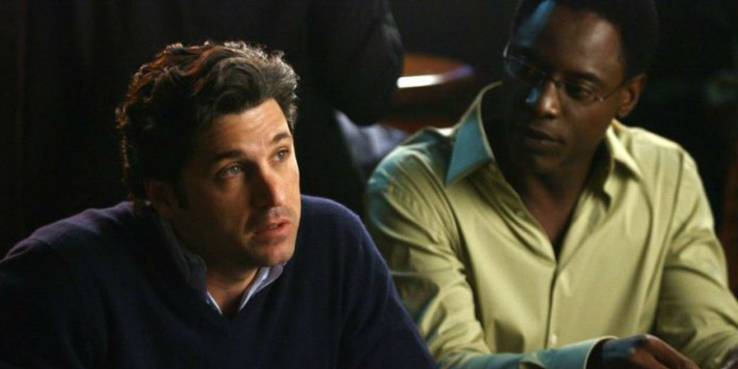 In all fairness to the actors on this half of the list, negative though some of their arguments and on-set relationships have been, little of the animosity extends beyond the everyday stresses of work. Not so with Grey's Anatomy star Isaiah Washington, who sealed the fate of his character Dr. Preston Burke near the end of season three after an explosive on-set incident involving co-stars Patrick Dempsey and T.R. Knight. During a heated argument, Washington insulted Knight with a homophobic slur, deeply offending pretty much everyone on the entire set. Nearby, lead actor Patrick Dempsey was reported to be particularly incensed, having a heated exchange with Washington of his own as a result.
Given his word choice was contrary to Grey's general message of acceptance, producers quickly decided to remove Washington and his character from the show.
To his credit, Washington accepted he made a huge mistake and made his best effort at righting the wrong through therapy and meetings with various gay rights groups. Grey's would eventually bring Washington back for a cameo in season 10, yet he unsurprisingly didn't have any scenes with the actors he had previously offended. Still, it's highly doubtful this comeback will ever lead to Dr. Burke getting his own spin-off after what Washington said.
2 BESTIES: Charlie Heaton and Natalia Dyer Will Never Be Strangers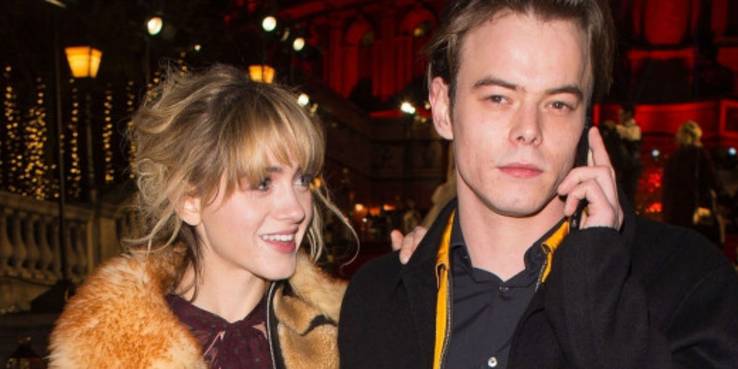 Bringing young characters together on a quest to find a missing friend, Stranger Things is in many respects a show about friendship growing out of the direst circumstances. Not only are many of the child actors having great fun joking around on set and developing what could be long lasting friendships, but some of the slightly older ones are matching their characters feelings by slowly falling in love. Throughout season one, Natalia Dyer's Nancy Wheeler was dating Steve Harrington, but after a year of filming, her character moved on to the quiet photographer Jonathan Byers, played by her real boyfriend, Charlie Heaton.
For the first few months of their romance, Dyer and Heaton were tight lipped about exactly how close they were, but now it's pretty clear the duo are dating. Speaking to Us Weekly about what she likes about Heaton, Dyer initially joked, "He doesn't mess up our scenes too much."
Even when pressed for a more serious answer, Dyer kept it professional and simply praised her beau's talent and poise on the set, noting everybody else in the cast shares these qualities, as well.
Presumably there's more to it than that, but it looks like the couple is keeping their private lives private for the time being.
1 CAN'T GET ALONG: Arrested Development Is Falling Apart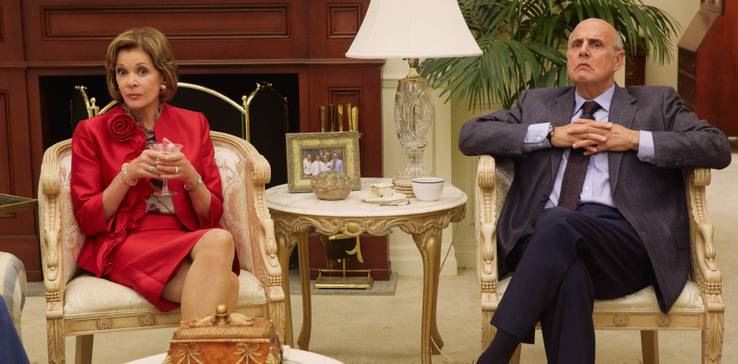 And now the story of a critically acclaimed family that had everything, and the one actor who couldn't stop himself from driving them apart. During the first three seasons, Arrested Development was heralded for a having a cast that seemed perfectly in tune with one another's comedic sensibilities. Naturally, this made many of them close friends, with Jason Bateman and Will Arnett sticking together for a number of outside projects. It also meant the whole cast was overjoyed when Netflix revived the series for a fourth season, and news of a fifth was even better until they actually filmed it, and expectations of continued glory were quickly shattered.
After several high-profile controversial incidents regarding his other series Transparent, Jeffrey Tambor kept the drama coming when he reportedly screamed at co-star Jessica Walter while filming a scene as George and Lucille Bluth.
Walter later told the New York Times, "in almost 60 years of working, I've never had anybody yell at me like that on a set." Strangely, the male portion of the cast seemed all too willing to stumble one another defending Tambor's behavior, with only Alia Shawkat standing up for Walter. Bateman, Tony Hale, and David Cross have all since apologized for misreading the situation, yet it's clear things are still uneasy between the whole cast, especially Walter and Tambor.
References: Vulture, Entertainment Weekly, People, CNN, Glamour, Business Insider, USA Today, Yahoo, Vogue, Daily Mail, US Magazine, The New York Times, Today, BBC, E Online, Cosmopolitan, Page Six, The New Yorker, Mental Floss, Variety, Huffington Post, Dish Nation, LA Times 
Source: Read Full Article