15 Men Who Wanted To Lock Down Angelina Jolie (And 1 Woman Who Tried)
We are all pretty much familiar with the love story that was Brad Pitt and Angelina Jolie, aka "Brangelina," and how they came to be after co-starring together in the film, Mr. and Mrs. Smith. After six children, three of Brad and Angelina's own, and a whopping twelve years together, it was a sad day for basically the entire world when Jolie filed for divorce, and the hottest couple in Hollywood was no more.
Now that the marriage is over and Brad is out of Angie's life, except when she gives him permission to see the kids, it's time we take a look back at some of the star's former flings, rumored romances, and two failed marriages that you might not have remembered. There was plenty of controversial rumored relationships that involved the gorgeous star, from affairs with other actors, like Colin Farrell and Antonio Banderas, to that time she kissed her brother, James Haven, on the Oscars red carpet and made everyone squirm, Angelina has made numerous headlines for her alleged affairs.
So let's take a walk down memory lane and revisit some of the former men and one woman who tried to lock down one of the most beautiful women in the world, but could not succeed. We think you'll be a little shocked to see all the scandal that surrounded Jolie and her love life!
16 Angelina Jolie Reunites With First Love, Anton Schneider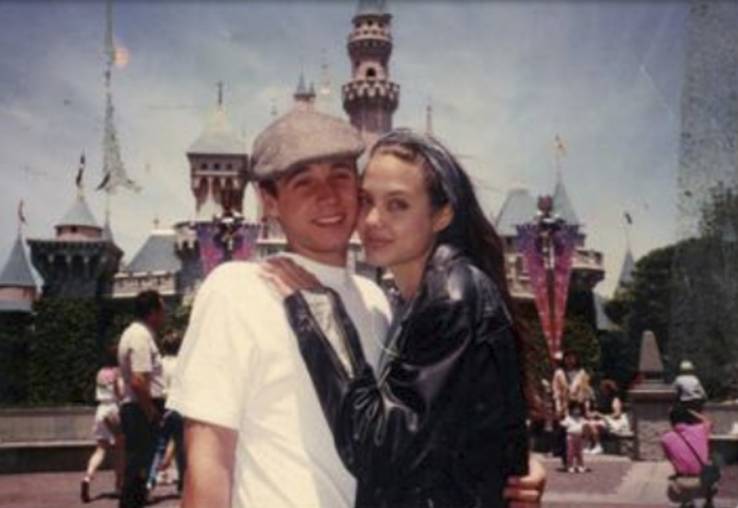 Before Angelina Jolie was the megastar we know of today, the actress was trying to find her foot in the door at a very young age. When she was about 14 years old, she met costume designer, Anton Schneider, while hanging out at a local mall. The couple's relationship reportedly blossomed because of their shared love of illegal substances and there was even some strange use of knives being used between the two. In a 2001 interview, Angelina did not name any names, but it seemed like she was talking about Anton. She stated, "Looking back, I think I was probably not good for him. He was somebody I wanted to help break me out, and I would get frustrated when he couldn't help me. Which was when the knives came in—he'd be asked to cut me or I'd cut him." Angelina has always been a bit odd, so we're not surprised about her weird knife and cutting obsession, what we are surprised to learn was that Angie reportedly reunited with a married Anton in 2014, while she was married to Brad Pitt. Reports suggested that he was her "secret lover" and reconnected with him when they spotted each other in a coffee shop. However, when we hear these rumors from National Enquirer and Radar Online, they're mostly and or entirely false.
15 Timothy Hutton Breaks Jolie's Heart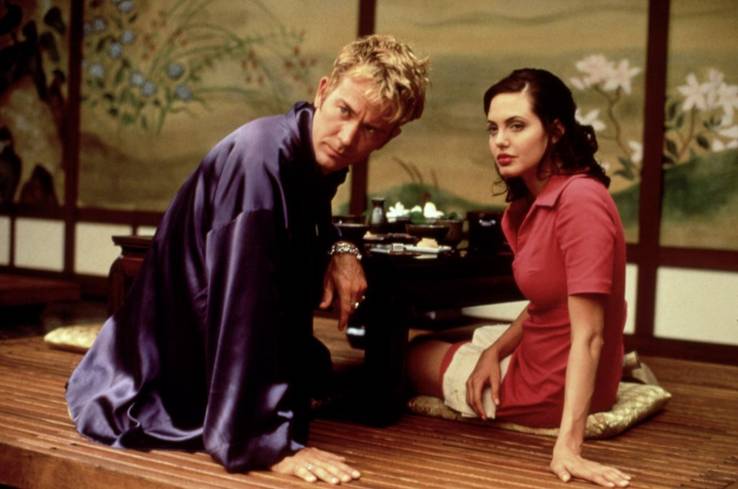 When Angelina Jolie and Timothy Hutton costarred in the 1997 thriller, Playing God, there were rumors that the pair was an item. The rumors grew when a tattoo of the letter, "H," was spotted on Jolie's wrist, making people believe that she got the tat for Hutton. However, Angie claimed that the tattoo was for her brother, James Haven, who has also had his fair share of tabloid gossip. After Haven shared a passionate kiss on the red carpet at the 2001 Academy Awards with his sister, which was uncomfortable for everyone, and people questioned if there was a deeper relationship with her brother. When Hutton and Jolie ended their romance, it was reported that the actress was left devastated. "Angie was very in love with Timothy and wanted to get serious, but he didn't," a source said, adding, "He broke her heart, and that led to a downward spiral for her in terms of her mental health." The source also shockingly revealed that after the breakup, Angelina started dating women and even had a stint with illegal substances. Hutton literally broke the heart of one of the most beautiful and gorgeous woman in the world, but that has to be his loss, right?
14 Jonny Lee Miller Was Angelina's First Husband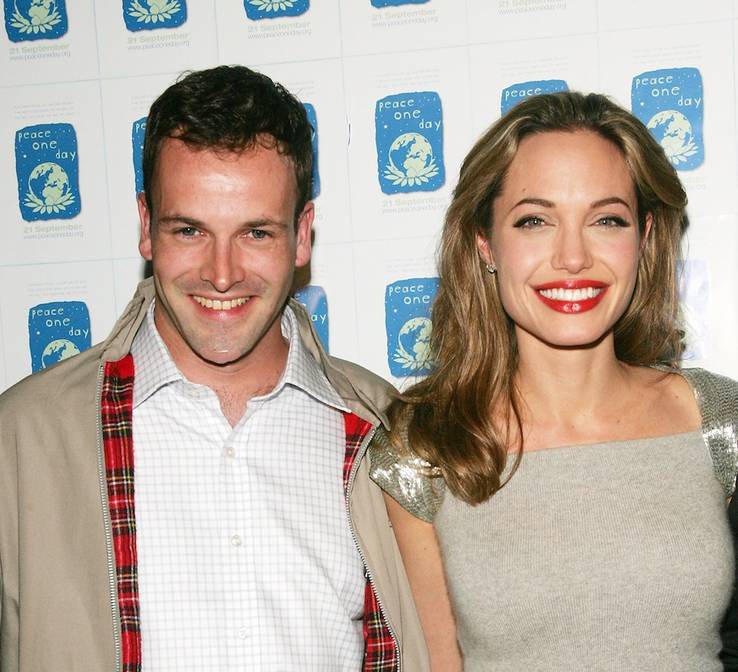 Angelina Jolie's first marriage was to the actor, Jonny Lee Miller. Many people may not have known that before marrying Brad Pitt, Jolie was married twice before, with her first marriage to Miller in 1996, three months before she turned 21. Miller and Jolie first met in 1995 on the set of the movie Hackers. About six months after filming ended, Jolie and Miller got hitched in a small, civil ceremony. Jolie married Miller in rubber pants and a white shirt that read, "Jonny Lee Miller" written on the back, in her own blood. The couple couldn't make it work, however, and split in 1999. Miller stated that the two remain friends despite the divorce. "There are no regrets and no bitterness," he said, adding, "Marriage is something that didn't work out, and I had to make the decision sooner or later. I decided to make it sooner." Miller even showed up at Jolie's 2011 premiere of her first film as a director for In The Land of Blood and Honey. In a 2014 interview with BuzzFeed, Jolie even stated that Miller is still a very close friend of hers. "That's where I met Jonny, who is still a great friend," Jolie said, addressing her movie Hackers, adding, "I think of him when I think of that. Although, I'm sure the movie looks so ancient now, but we had a lot of fun making that."
13 Billy Bob Thorton And Angelina's Wild Romance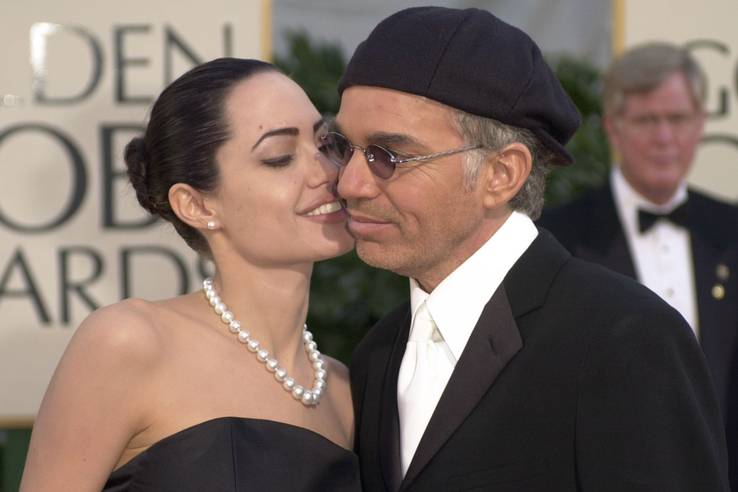 Angelina Jolie and Billy Bob Thorton have a 20-year age difference, but that didn't stop the actress from falling in love with him while on the set of the 1999 film, Pushing Tin. The pair started dating and two months into their relationship, they got hitched in Las Vegas in 2000. The couple constantly made headlines for their excessive PDA and for reportedly even wearing necklaces that contain vials of each other's blood. "We were apart a lot because she's off making Tomb Raider and I'm making Monster's Ball. She thought it would be interesting and romantic if we took a little razor and sliced our fingers, smeared a little blood on these lockets and you wear it around your neck just like you wear your son or daughter's baby hair in one," Thorton explained in a 2014 interview. Sadly, the marriage didn't last long and the pair went their separate ways in 2003. At the time, there were rumors that Jolie ended things because Thorton did not want more children. "We had a great time together," Thorton said, adding, "We had a great marriage, and I chickened out because I didn't feel like I was good enough. That's all that happened. It was no big deal; we never hated each other." And in 2012, he revealed that he still talks to Jolie from time to time to check up on her.
12 Mick Jagger Romantically Pursued Jolie While She Was Married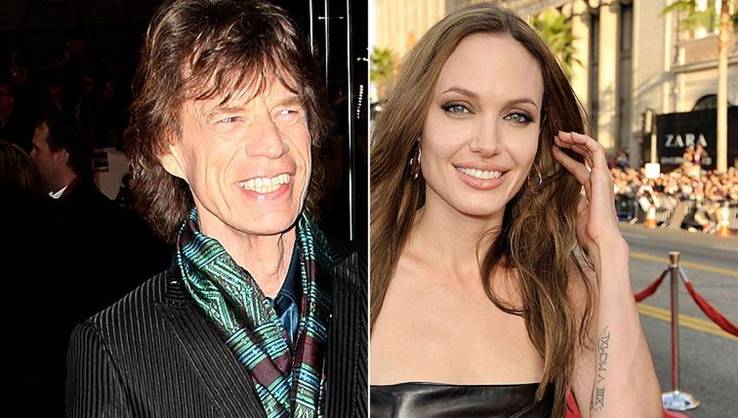 Angelina made hearts melt when she starred in The Rolling Stones music video for "Anybody See My Baby?" Jolie played the role of a dancer who flees the club where she is working while singer Mick Jagger tries to find her. Jolie is seen walking down the busy streets of New York City in a barely-there outfit, while Jagger frantically searches for her in the streets and on the subway. During this time, Jolie was married to Jonny Lee Miller, a television and theater actor, who she met in 1995 and married in 1996. The couple would later end up divorcing in 1999 but would remain close friends. In 2012, it was revealed in Mick Jagger's autobiography titled, "Mick: The Wild Life and Mad Genius of Jagger," that the singer wanted something more than a friendship with Angelina. In fact, Jagger romantically pursued Jolie after the video shoot, even though she was married to Miller at the time. However, Jolie stayed faithful to her husband and apparently resisted any of Jagger's moves. The actress wasn't a household name at the time, but she did appear in a couple of other music videos as well. You can see Jolie in Meatloaf's, "Rock and Roll Dreams Come Through," and the Lemonheads', "It's About Time".
11 Brangelina May Not Have Happened If Angie Stuck With Colin Farrell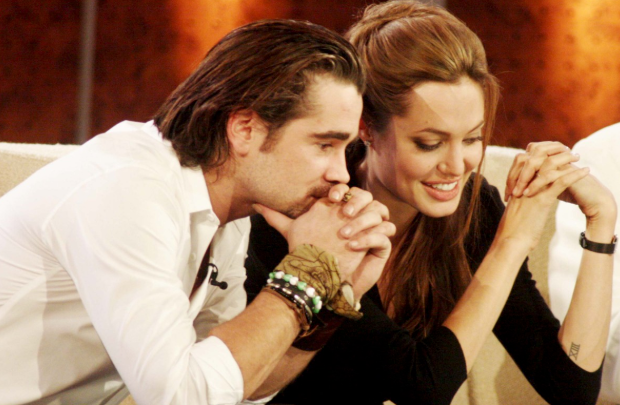 After Angelina Jolie and Colin Farrell worked on the 2004 film, Alexander, rumors were all over the web that these two good-looking stars were more than just friendly co-stars. According to Perez Hilton, Jolie was "desperately infatuated" by the Irish actor when they met on the set of the historical drama. While the film didn't do so hot at the box office, grossing only $167.3 million worldwide against a $155 million budget, everyone was talking about the possibility of a sizzling Colin and Angelina love affair. Perez Hilton was the first to report that Brangelina (Brad Pitt and Angelina Jolie) might have never happened if Jolie got her way with Farrell. It was the Irish actor that caught her eye and he was reportedly her first choice for a life partner. "Every week…her feelings for him [were] growing stronger and stronger. But…her emotions were not reciprocated!" Apparently, Farrell just wanted to stick to promoting his film, even though Jolie might have had stronger feelings for the actor. But, we all know what happened after that, Jolie went on to film Mr. and Mrs. Smith in 2005, with Brad Pitt, and we all know how that story went.
10 Val Kilmer's Quick Romance With Angelina Jolie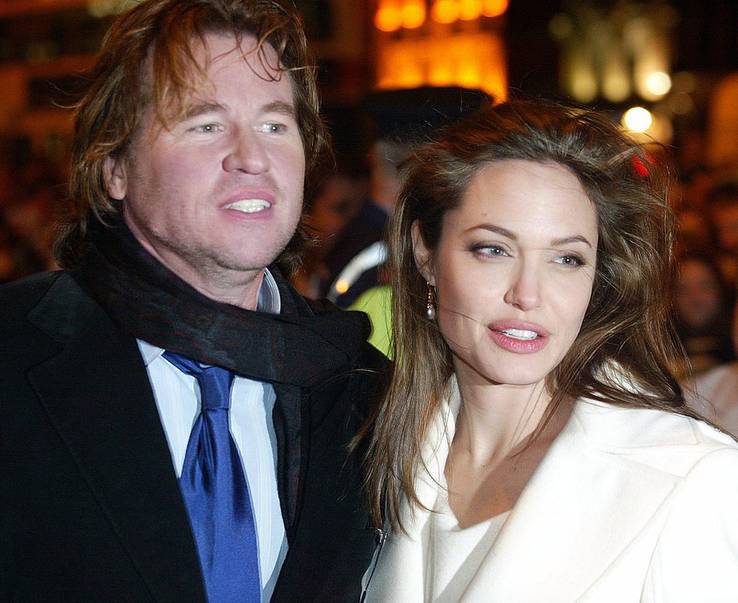 Angelina Jolie and Val Kilmer also starred alongside one another in the film, Alexander, and were rumored to be in a relationship right after they finished filming. Jolie seemed to be fond of dating older men at the time, with Kilmer being 16 years older than her. She was 29 years old at the time and he was 44 years old. Apparently, the stunning actress once revealed that she preferred dating older men because she liked having a father figure by her side. Jolie and her father have had a very troubled relationship, which may explain her fascination with older guys. However, in recent years, the actress and her father seemed to bury the hatchet and are somewhat getting along. And just like Kilmer, Angelina Jolie's ex-husband, Billy Bob Thorton, who she was married to from 2000 to 2003, was also a lot older than her, 20 years older to be exact. So it looks like there is a pattern with Jolie and her interests in older men. Her relationship with Val was reportedly her first since the major split from Thorton. There isn't much information about the romance, which was said to be pretty brief, but many reports did say the two stars did have something going on.
Featured Today
10 Characters From Marvel's Infinity War Who Will Return (5 Who Will Stay Gone)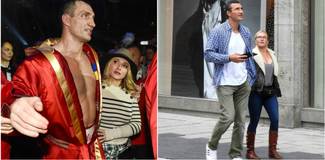 15 Ways Wladimir Klitschko Landed Hayden Panettiere (Even Though She's Half His Size)

20 Grey's Anatomy Actors Shonda Rhimes Dropped: Where Are They Now?

9 Nicolas Cage Spotted Kissing Angie At A Black Tie Event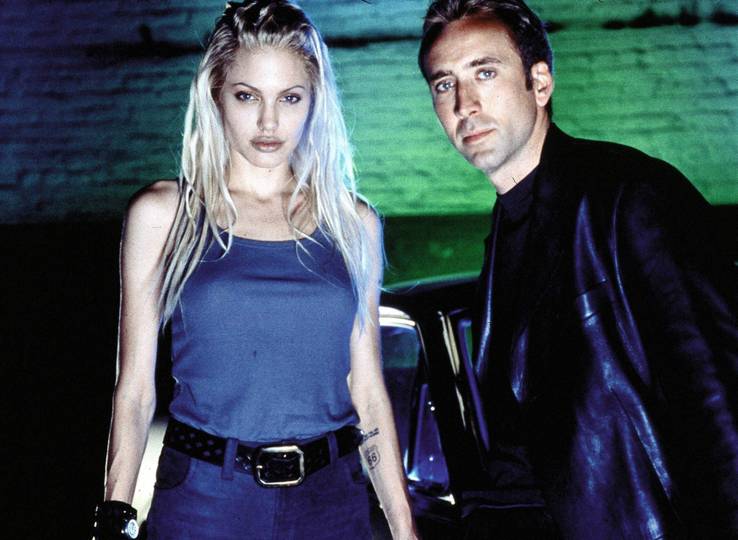 The rumors that Nicolas Cage snagged Angelina Jolie back in 2003 started when the two were spotted kissing at a black-tie event. After that, the report was coming in that the two actors were an item. While some say that the pair just had a quickie at the event, by just sharing a kiss, others reported that Jolie and Cage actually hooked up on the set of Gone in 60 Seconds. But like Val Kilmer, the romance between Cage and Jolie was reportedly very brief. At the time, Angelina was a wild child, and we don't think Cage could have handled the actress's straightforward attitude anyway. However, the National Treasure actor did end up dating and marrying some other women after his Jolie fling, which may seem surprising to some. His first wife was the actress, Patricia Arquette, his second wife was the singer, Lisa Marie Presley, the daughter of Elvis Presley, and his third wife, Alice Kim, was his longest marriage, lasting from 2004 to 2016. He was also rumored to have dated the Sex and the City actress, Sarah Jessica Parker, and had a romantic relationship with the former model, Brooke Shields.
8 Jenny Shimizu Could Have Been Angelina's Wife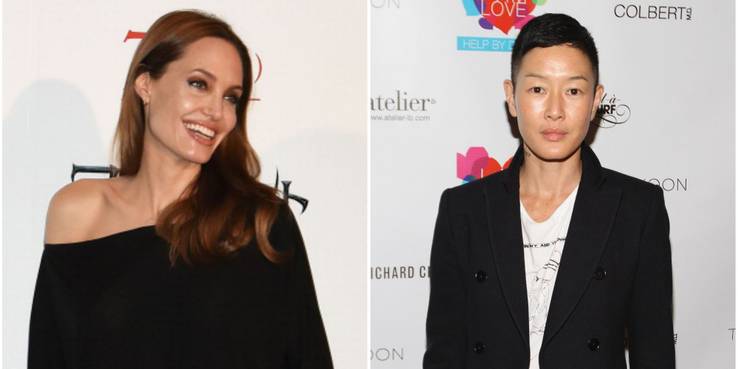 Angelina Jolie has acknowledged that she dates both men and women and in the late '90s to the early 2000's, the actress was involved in a romantic relationship with the model and actress, Jenny Shimizu. The pair met on the set of the film, Foxfire, and during this time, Jolie was still married to her first husband, Jonny Lee Miller. However, Jolie said in a 1997 interview that she "fell in love with her the second I saw her." In fact, Angelina said in the interview that she would have even married Jenny if she wasn't married to her first husband. During an interview with Barbara Walters, Angie admitted that she was surprised with how strong her feelings were towards Jenny. "[I was] surprised when I suddenly found myself having these feelings I always had for men, but for a woman," she said, adding, "And wanting to kiss her and wanting to touch her." Their relationship continued throughout the late '90s, even while Angie was married, and it is rumored that Miller and Jolie divorced because of her lesbian relationship. Even after Jenny, Angelina got involved with actor Billy Bob Thorton and married him after just two months of dating back in 2000, so it appeared that the actress was also seeing other men during her marriage to Miller, too. Today, Jenny is married to fashion guru, Michelle Harper, and we all know what happened between Jolie and Brad Pitt.
7 Antonio Banderas And Angeline's Movie Had People Talking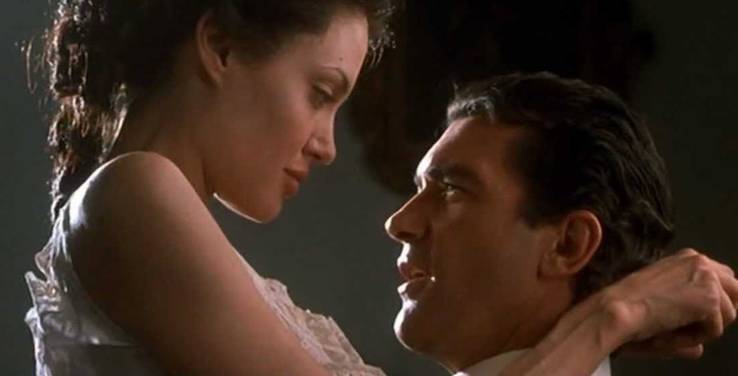 When Angelina Jolie and Antonio Banderas were filming Original Sin, many people wondered if the two were actually dating. The movie seemed so believable, that people started to ask on internet forums if Jolie and Banderas were the real deal. During the filming of the movie, Antonio was married to the actress, Melanie Griffith, who knew how good looking her husband was and understood other women's attraction towards him. Apparently, Griffith was also on the films set the entire time, which might have made Jolie and Banderas' scenes that much more uncomfortable. A film technician who was on set for the film mentioned that actors have to repeat a scene so many times, that it can get quite unattractive. "On a major feature film like Original Sin, the actors have to rehearse, block and do technical run-throughs of a scene. There are many angles and multiple takes where the actors are required to repeat their performances the same way multiple times. A lot of big stars use body doubles so they only have to do the dialogue close-ups. There are also a lot of techniques (flesh colored underwear) where there is no […] contact." We're guessing this is how the two stars filmed the movie.
6 Jared Leto Regrets Letting Jolie Slip Away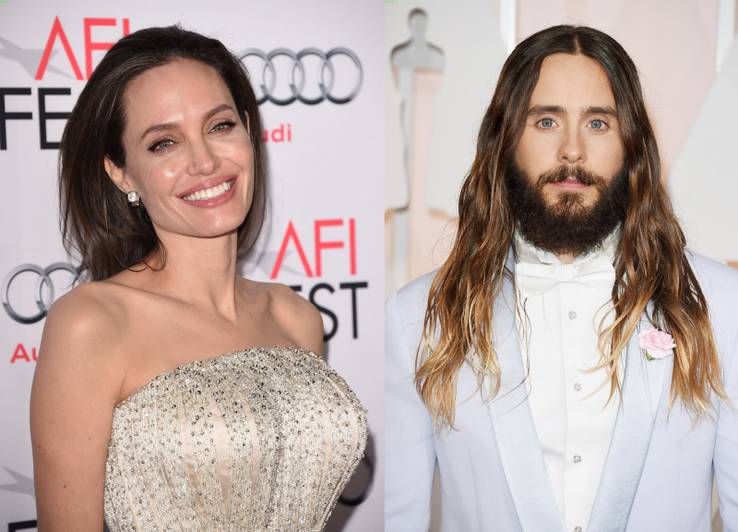 When Angelina Jolie and Brad Pitt called it quits, it was rumored that she was linking up with Suicide Squad actor, Jared Leto. Now, this was just a rumor, but if it was true, the two would have actually made a rather good-looking pair. Leto and Jolie have worked together in the past, working alongside one another for the films, Girl, Interrupted and Alexander, and during that time, there were also a lot of gossip of the two being "friends with benefits" but never committing to each other. According to a source, the two never got serious because Leto was a "player." "It might have turned into more but Jared was too noncommittal at the time, he just wasn't ready to be with one woman, not even Angelina. Then Brad came on the scene and she fell in love and that was that. I know Jared always had regrets about letting her slip away," a source said. So when Jolie filed divorce papers, it was reported that she was hooking up with the actor yet again. "Jared reached out to Angie after she filed divorce papers in September. The word is they spoke several times on the phone before meeting in L.A. for dinner, and they've been seeing each other whenever they can since then," a report revealed. While these rumors just stayed as rumors, we wouldn't mind seeing these two together.
5 Close Relationship With James Haven And Angelina Made Everyone Squirm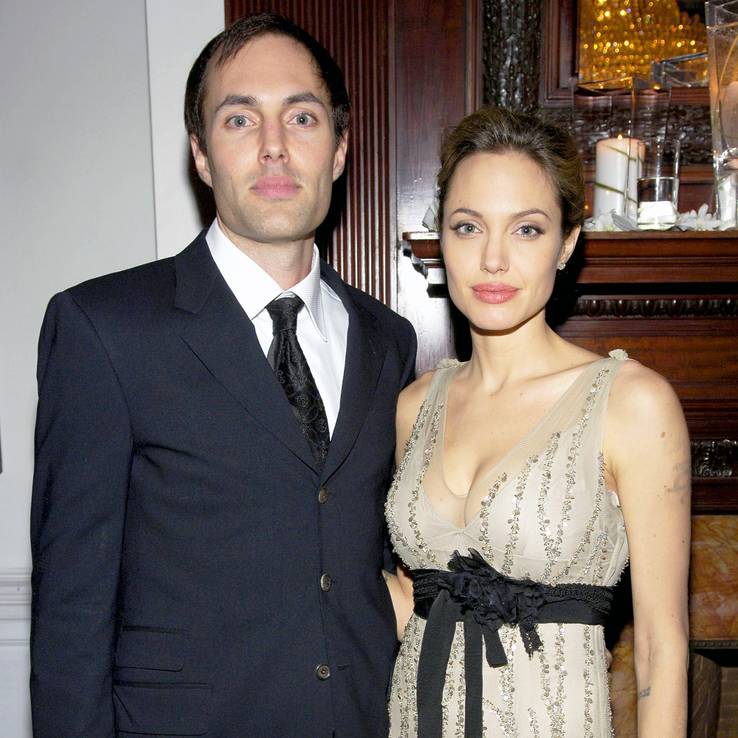 You couldn't help but squirm when Angelina Jolie shared a kiss on the Oscars red carpet in 2000 with her brother, James Haven. It got even more awkward when Jolie won the Oscar for Best Supporting Actress for Girl, Interrupted, and said during her speech, "I'm so in love with my brother right now." Rumors about the two siblings were all over the gossip magazines and with Jolie's known wild behavior, the rumor mills were running wild. It was later reported that Brad Pitt was extremely uncomfortable with James being around his wife and family and he was rumored to be a reason for the 2016 split. The theory that Haven had something to do with the Hollywood split was thanks to documentary filmmaker, Ian Halperin, and his new film, Broken: The Incredible Story of Brangelina, where he claimed to have talked to multiple insiders of the couple's inner circle who claim her brother was a major reason for the big split. According to Ian, James' presence around the couple and their kids was too much for Brad. James was reported to even be living with the couple, which "put Brad over the edge." It also didn't help that Angelina had some kind of weird relationship with her brother and it ended up being "too close for comfort for Brad," Ian reported. No one knows if James is to blame for the divorce, but one thing is for sure, that kiss on the Oscars' red carpet is by far one of the most bizarre things to ever happen at the award show.
4 Did Angelina Have A Thing With Her Late Mother's Live-In Boyfriend?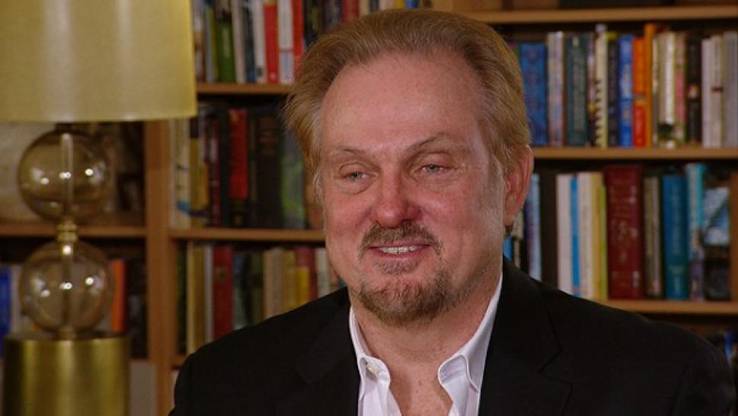 Angelina Jolie's past just keeps getting more and more scandalous. In 2009, controversial author, Andrew Morton, claimed that the Maleficent actress slept with her late mother's live-in boyfriend, Billy Day, when she was just 16 years old. In his tell-all biography about the actress, Morton reported that Angelina even confessed to having an affair with Day to her mother, Marcheline Bertrand, which caused her mother end the relationship with the man. The relationship caused much damage to Jolie's relationship with her mother and it was alleged that they struggled for years to repair it. "Marcheline had a live-in boyfriend whom she was very much in love with, but Ange slept with him when she was 16 and barely out of school," a source said, adding, "Her mother found out and ended her relationship with the man." When her mother passed away from cancer in 2007 at the age of 56, Jolie was said to be devastated and even looked gaunt and exhausted during that period of time. The controversial author has penned other unauthorized biographies on stars like Tom Cruise and even the late Princess Diana, but he felt that he needed to write one about Jolie because she is just so "fascinating." "AJ is one of the most fascinating women on the planet. Hers has been an extraordinary journey and an extraordinary story. I can't wait to tell it," he stated.
3 What Really Led Up To The Most Famous Divorce In Hollywood?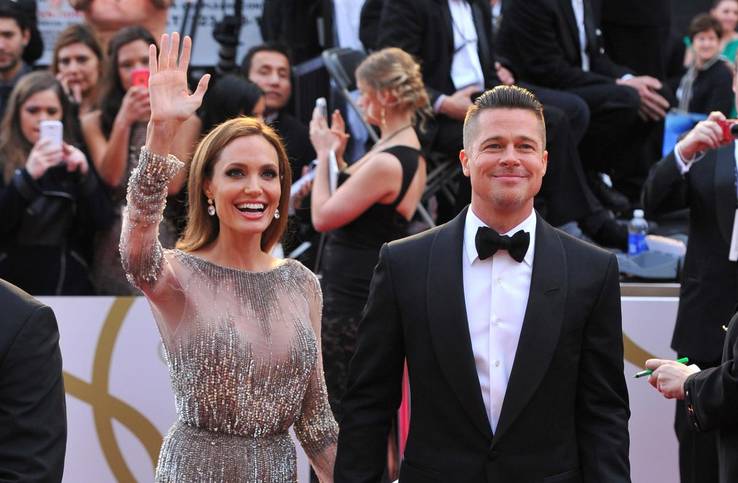 Angelina Jolie and Brad Pitt were Hollywood's "It" couple, but after being together for over a decade, we were all shocked when Jolie filed for divorce and custody of all her six children. The divorce reportedly stemmed from an altercation between Pitt and her son, Maddox, on an airplane that ended with physical contact. Last year, Pitt finally opened up about the divorce that literally shocked the world, and told GQ magazine that he had been drinking heavily around the time of the split, and had since stopped abusing illegal substances. "I was really on my back and chained to a system when child services were called. And you know, after that, we've been able to work together to sort this out. We're both doing out best," Pitt said about co-parenting with his ex-wife, adding, "You spend a year just focused on building a case to prove your point and why you're right and why they're wrong, and it's an investment in vitriolic hatred. I just refuse. And fortunately, my partner in this agrees. It's just very, very jarring for the kids, to suddenly have their family ripped apart," he revealed. Jolie hasn't been completely open about the divorce or what really led up to it, but she did tell Vanity Fair that she and her kids are still "healing." "We're all just healing from the events that led to the filing. It's just been the hardest time, and we're just kind of coming up for air … We're all trying to do our best to heal our family." At least the former couple is trying to make things work for their children.
2 PraCH Ly Takes Angelina's Son Under His Wing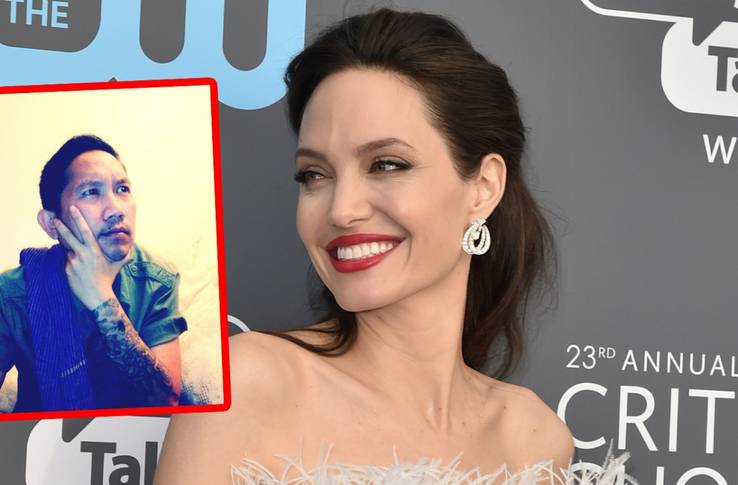 At the start of the year, rumors hit the web that Angelina Jolie was romantically involved with a man named PraCH Ly, a Cambodian filmmaker and lyricist. She was introduced to him by Loung Ung, a human rights activist and author of First They Killed My Father, which is the inspiration for Jolie's new Netflix movie. However, People magazine confirmed that PraCH Ly was just a friend and stated that Angelina "isn't dating anyone and won't be for a long time" because she is just focusing on raising her children. But, National Enquirer reported that the Cambodian rapper had taken her oldest son, who is also Cambodian, Maddox, under his wing, ever since Jolie split from Brad Pitt. Since they are both from Cambodia, a source revealed that PraCH has been a great role model for Maddox, who can "teach him about his homeland of Cambodia in a way he can relate to." The new man in her life has reportedly been making visits to her estate and even introduced the family to Buddhism. "Angelina and PraCH have a special bond. They're perfect for each other," a source said. We haven't heard much about this relationship, so we're going to guess that it's just a rumor.
1 The Mystery Real Estate Agent She's Currently Dating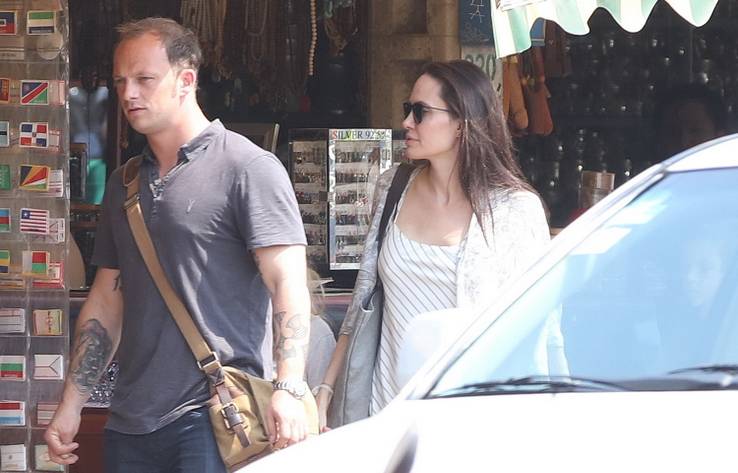 A recent story has surfaced that Angelina Jolie was secretly dating a very handsome and older looking real estate agent. It's a new venture for the star that has a history of dating men in Hollywood. "It's not serious," Entertainment Tonight reported, adding, "Brad and Angie are both very secretive about their dating life. Angie has told some friends she isn't ready to date, but she has been seeing a handsome, older-looking man who is a real estate agent. He isn't a celebrity or high-profile in any way." Maybe Angie will finally find love with a person who isn't constantly in the spotlight? Maybe the actress just needed a stronger, average man who works a regular job? Apparently, the star is also glad that there is another adult around. "Angie was in a very bad place after [her] split [from Brad]. Just having another adult to spend time with has been helpful," a source said. Brad Pitt is also said to be secretly dating and is just as private about his dating life as his ex-wife. "He's very private about who he's seeing, but he does continue to casually date. The women he sees are not in the public eye," a report said. We'll have to check up on Angelina to see if any more news about her love life comes to the surface. In the meantime, it was fun to take a look back at all of her past lovers, including the one woman who could have almost married her!
References: ranker.com, irishcentral.com, famousfix.com, ultimateclassicrock.com, heavy.com, usmagazine.com, quora.com, okmagazine.com, dailymail.co.uk, nydailynews.com, thesun.co.uk, nationalenquirer.com, elle.com
Source: Read Full Article