15 Photos Of Pia Mia That Show She's The Total Hollywood Package
Are you a fan of the bright and bold Pia Mia? She is just 21 years old, but she is making a name for herself in showbiz. Born in Guam, the stunner is becoming world-famous, proving that youth is on her side and a fresh pop of talent is budding.
Pia Mia was born Pia Mia Perez, and from an early start, she knew she was set out to entertain the masses. She is a singer/songwriter and model who got her start thanks to the power of YouTube. Since she gained popularity from her thousands of fans, she has made her way into the biz and she is only getting hotter.
The (sometimes) blonde beauty has almost 5 million Instagram followers, and it is no surprise why they love following Pia Mia. She posts fabulously flattering photos regularly, showing off her trendy and sultry side for all the world to enjoy. Pia Mia has a flair for fashion as she poses in the coolest of clothing from head to toe. Her makeup and hair always look amazing and her swimsuit figure is to die for. Heck, if we looked this good, we'd post as many pics as Pia Mia does too. And we'd probably rake in millions of followers to boot.
While she is only 21, Pia Mia is proving that she has got what it takes to be a Hollywood hottie. Some may even say she is the total package. She can sing like a star and has the looks of a supermodel. She's a go-getter with plenty of attitude, attributes, and acclaim. It is hard to believe that the beauty just became old enough to legally enjoy a glass of champagne to celebrate her achievements thus far!
Here are 15 pics of the pretty princess that prove she is the total Hollywood package. It will be hard to pic your favorite photo, so enjoy them all!
15 Glittering Grills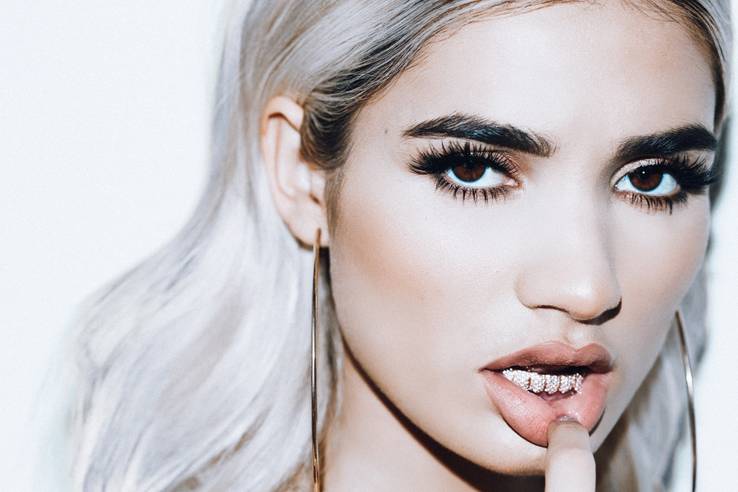 You've gotta love a girl with a glistening grill. The perfectly pretty Pia Mia shows off her "blingy" bottom teeth and her super-pouty lips. Look out Kylie Jenner! Not everyone can pull off a grill with such grace, but Pia Mia is not your average 21-year-old. Is it hard to bite into a burger with all those decadent diamonds getting in the way? Perhaps, but we can't blame Pia Mia for putting fashion before function. We are not sure if her dentist approves of her "accessories," but we are guessing that Pia Mia isn't too concerned about cavities or gum disease at this point. But aside from those seriously shining teeth, Pia Mia has brows that are beautiful too. Full and lush, those brows are bold and face-framing. This babe's whole face is fab, showing that she is a Hollywood hottie from cheek to cheek. Makes you want to get your own grill, no? Maybe just one tooth? As long as she flosses every night, we are sure Pia Mia's teeth will be healthy and happy. And we are guessing that grill doesn't come cheap, so we know Pia Mia is quite literally putting her money where her mouth is!
14 Famous Friends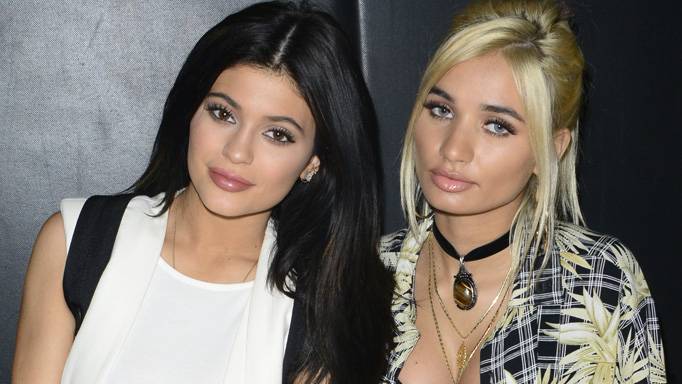 Pia Mia's got friends in high places. The Kardashian-Jenner crew is taking the world by storm, so if Pia Mia is part of their inner circle, you know she is someone special. Not every 21-year-old gets to chill with Kylie Jenner, so we know that Pia Mia is a close buddy to the family. She may even get to babysit for baby Stormi. Not that she's looking to babysit necessarily. But at least she has the option. We wonder if Pia Mia and Kylie go out on the town together, be it for lunch and shopping or to a nightclub to party. And is Pia Mia pals with Kendall too? What about the other older sisters? With Kim Kardashian's social media fame, perhaps Pia Mia can get some advice from an expert. But Pia Mia has a style all her own, so maybe Kim and the rest of the siblings can learn something from her. Surely "momager" Kris Jenner would love to jump on the Pia Mia bandwagon and earn a buck from her in some capacity. But it must be nice to have a friend who is famous. Pia Mia must get lots of people seeking her "friendship" just because she is well-known. She knows her relationship with Kylie is genuine since she is in the same boat.
13 Bombshell As A Brunette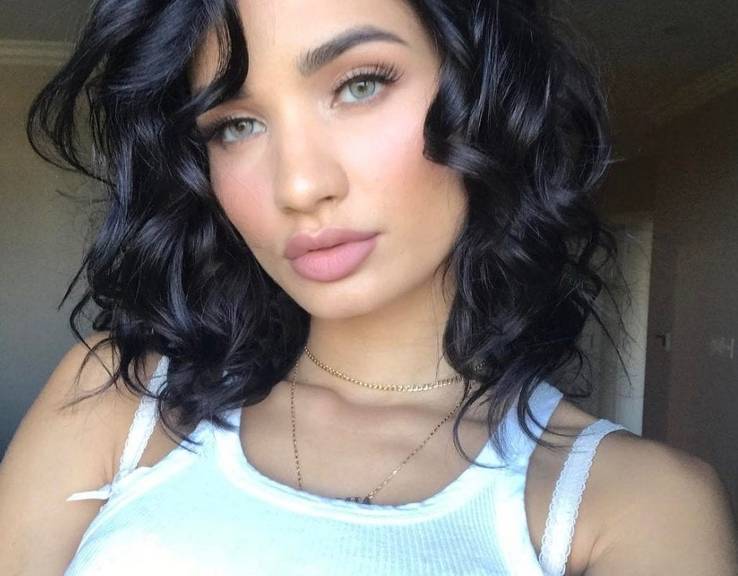 If you thought Pia Mia was a stunner as a blonde, just sneak a peek of her as a bold brunette. The darker hair really makes her light eyes pop. It must be fun for Pia Mia to change up her look every now and then, and this hair swap shows that she looks good no matter her hair color. Whether a blonde or a brunette, Pia Mia looks perfect. Not everyone can pull off a deep hair color when they are normally a blonde, but Pia Mia has that timeless look that suits any color. Paired with soft makeup and a plain tank top, Pia Mia's brown hair is the star of the show. Those loose curls are modern and soft, and her brows are "on fleek." We are so used to seeing Pia Mia as a blonde that we can hardly recognize her with this color, but she is just as beautiful with her rich chocolate shade. Leave it to Pia Mia to stun us yet again. Thanks to her hairstylist, this stunning "it" girl is making heads turn as she turns hers. We can't wait to see Pia Mia try out another color. Maybe she will take a turn as a redhead next time!
12 Cover Girl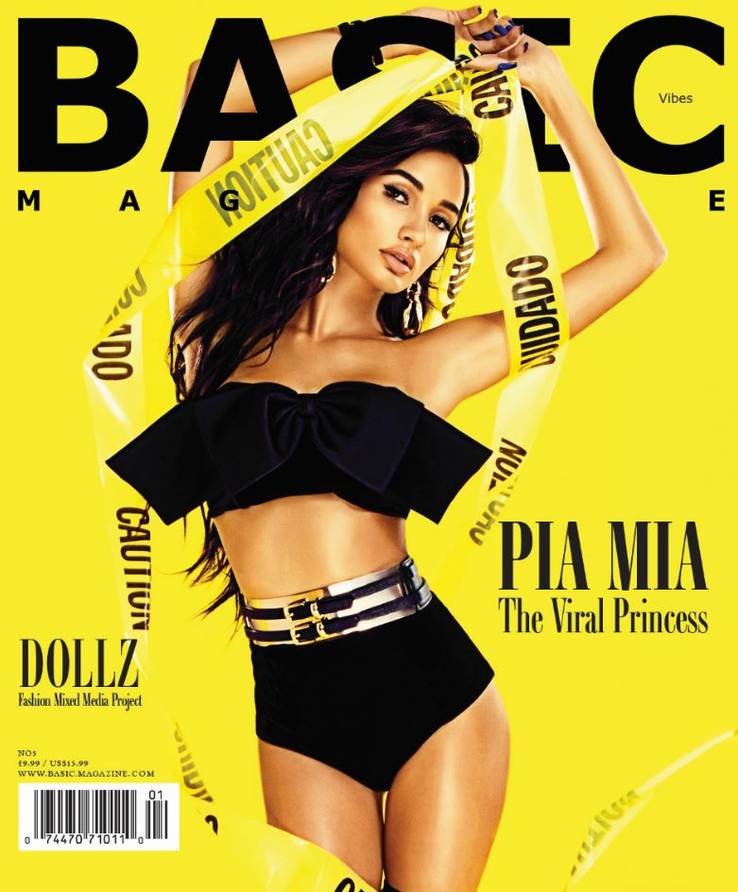 We can see that Pia Mia makes for the perfect cover girl as she shines on the cool cover of this glossy magazine. Again, she is sporting a bold brunette hairdo, showing her sultry side in all black and gold. The yellow background pops and Pia Mia is like a ray of golden sunshine as she poses provocatively for the camera. If anyone can get someone to grab a magazine off the stand, it is the powerful Pia Mia. She is so intriguing and interesting that you just want to flip through the pages to get to her main feature and centerfold. That pretty black bow and shiny belt accentuate Pia Mia's bomb body and her smooth skin is glistening with a bronze touch. Her pretty pout is always a standout as is her fab and fit physique. The mag dubs Pia Mia as "The Viral Princess" and we could not agree more. She has Internet fans flocking to her social media pages looking for her latest and greatest posts. Who wouldn't want to read more about Pia Mia? That is surely why magazines are featuring the amazing 21-year-old on their front covers. She's got the look fans adore and they only want more!
11 Fashion Forward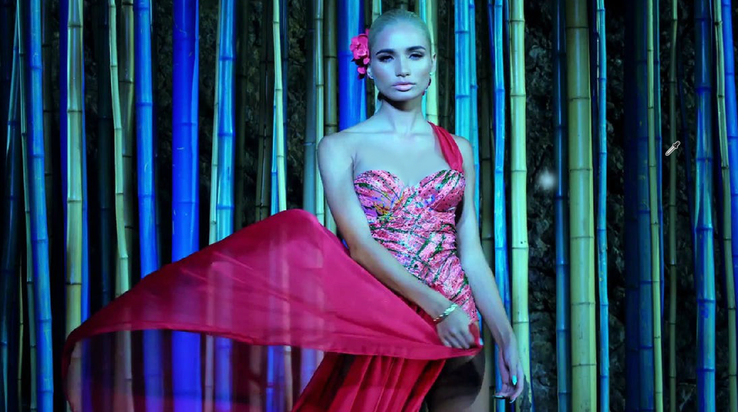 Pia Mia is really making a serious statement in this beautifully vibrant one-shoulder gown. It is flowy and fabulous, showing off Pia Mia's great body and evident flair for fashion. Her blonde hair is pulled back tightly, and her face is impeccable. That beautiful bright pink flower in her hair is feminine and fun, and the whimsical pattern on the bodice of the delightful dress is youthful and energetic. Pia Mia knows how to pose perfectly, showing off the intricacies of the dress while she gives her best angles to the camera. Looking like a spectacular supermodel, Pia Mia is stunning and sophisticated while still looking youthful, fun, and appealing to folks of all ages. Her collarbone is the star of the show as it catches the light, and her delicate stance paired with a fierce expression makes Pia Mia a model who knows what she is doing. She looks runway-ready, catwalk-chic, and she is the envy of the up-and-comers trying to be the next big thing. Twenty-one has never looked better. Pia Mia is killing it! We can't wait to see her next runway look. If it is even half as lovely as this gown, we are in for another treat.
10 These Boots Were Made for Walking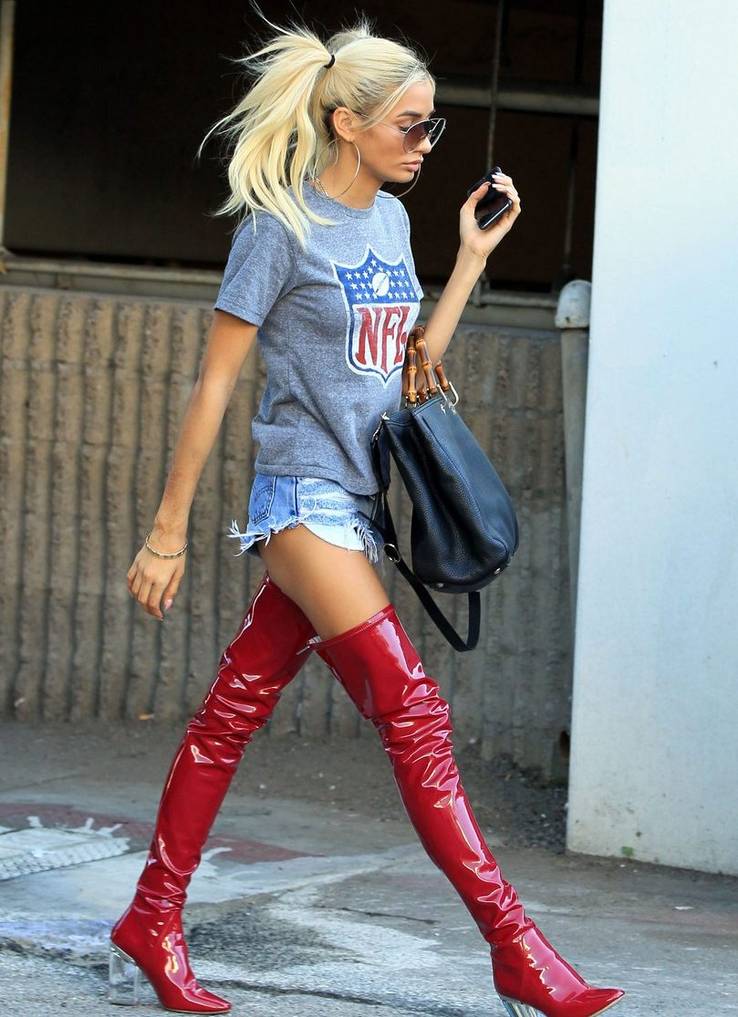 Legs for days! Pia Mia shows off her stunning stems in thigh-high shiny red boots with chic clear chunky heels. Paired with super-short "Daisy Dukes," Pia Mia is walking through town looking confident and cool. Well, you'd have to be super-confident to go out in this style. We are guessing she is a football fan due to her gray NFL T-shirt, but perhaps that's just being worn for style or comfort. Pia Mia's bleach-blonde hair is casually pulled back into a messy ponytail and her cool (and probably expensive) sunglasses help her from squinting from the bright rays of the sun. We love her trendy oversized bag and super-huge gold hoop earrings. But the real standout? Those amazing red boots.
Bright and bold, just like Pia Mia herself, these awesome boots are not for the faint of heart.
She knows how to rock 'em and not too many gals could be as fierce or fabulous. Pia Mia must turn plenty of heads as she walks towards her desired destination, with all eyes on those lovely and lean long legs. Let's just hope the drivers keep their eyes on the road, as hard as that must be when they catch a glimpse of this gal!
9 Hippy Chic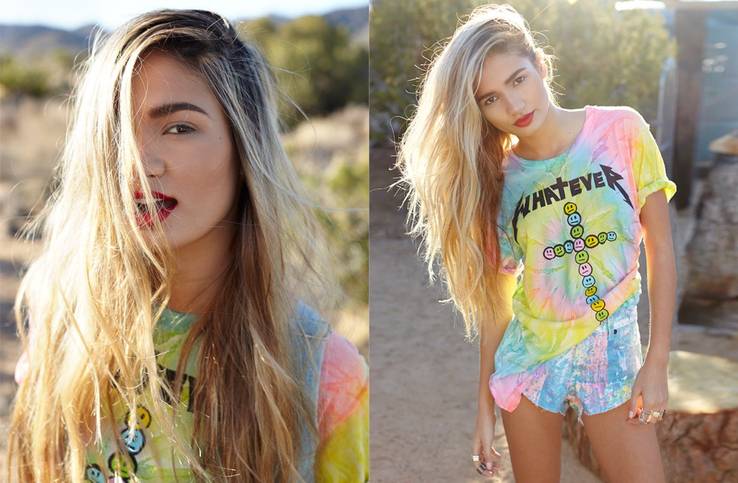 The precious Pia Mia is rocking her hippy look and she has never been hotter. With her loose and wavy long hair, the beachy babe is hippy chic and ready for some fun in the sun. Her tie-dye T-shirt is super-fun and flirty, paired with short shorts that are the perfect match. Pia Mia loves a pop of bright color and here we see her play up her luscious lips in a bold red. Who wouldn't want to be part of this hippy chic moment? While there is no one around, we are sure that Pia Mia was goofing off with pals before she snuck away to snap this pic for her fans to enjoy. While this is a recent photo, we can imagine Pia Mia back in the days of Woodstock. Her hippy vibe is natural and nice, letting us know she is not always about high fashion and expensive designer clothing. But even when Pia Mia dresses down, she still looks fresh, modern, and cool. When you are as foxy as this gal is, any outfit looks like a million bucks. Maybe we will see Pia Mia headline at an outdoor concert where her fans can take a fashion cue from their idol.
Featured Today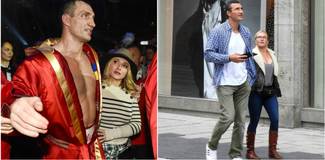 15 Ways Wladimir Klitschko Landed Hayden Panettiere (Even Though She's Half His Size)
20 Grey's Anatomy Actors Shonda Rhimes Dropped: Where Are They Now?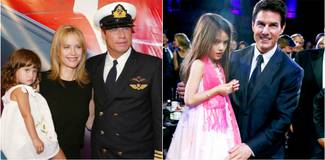 15 Surprising Celeb Kids Born Into Scientology Because Of Their Parents
8 Modern Muse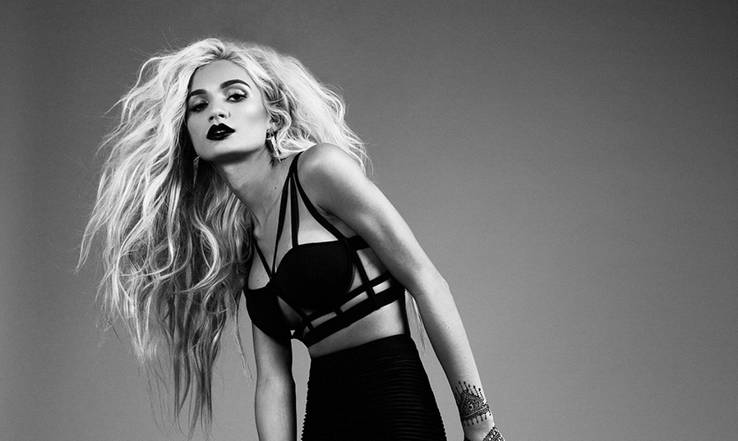 This fantastic black and white pic of Pia Mia is so modern and cool. We are in utter awe of her beauty and bold fashion look. Pia Mia's hair is long and wavy, and the light blond hue is a nice contrast to her sultry black ensemble. Those dark and decadent lips are daring, and Pia Mia's serious stare into the lens is alluring and mysterious. Pia Mia's modelling chops are on point and perfect. The cameraman/woman must have had a breeze of a day at the photo shoot since Pia Mia is such a pro at what she does. Imagine how great she will be in a year or two when at 21 she is already doing such a great job at her craft. As we can see in this interesting photo, Pia Mia has lots of moods and sides to herself she wants to share with the world. She can be flirty and fun, playful and youthful, and edgy and eccentric.
All of these killer qualities make Pia Mia a unique and interesting individual that fans are attracted to.
It is no wonder this fab female is the total package! Hollywood change-makers and movers and shakers are taking notice.
7 The Royal Treatment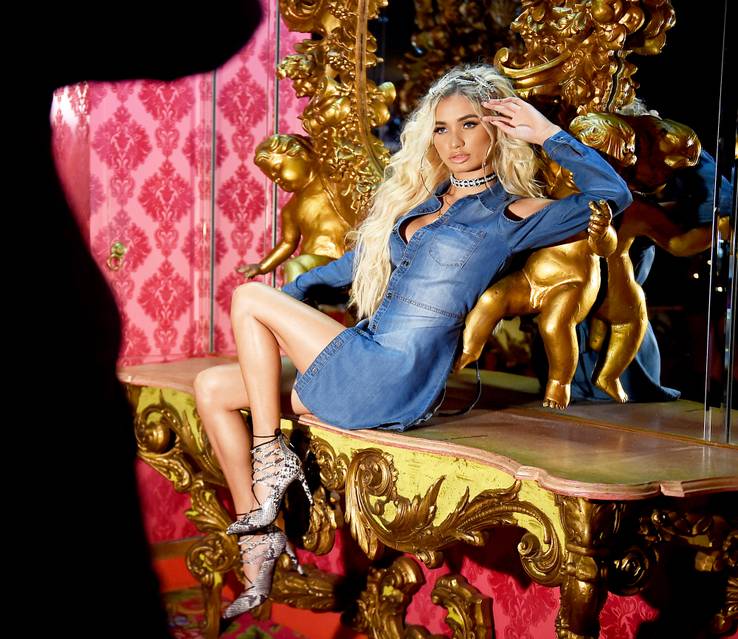 Denim has never looked so regal! The always-awesome Pia Mia is showing off lots of leg in her super cool denim mini dress paired with top-of-the-line snakeskin high heels. Her blond hair is long and lovely, and her pose is ever so pretty. Sitting on top of some fine furniture, Pia Mia looks like a real princess on a throne. She is the queen of her domain, and anyone who admires her knows she is like celeb royalty. Any time Pia Mia is photographed, she looks so gorgeous, but when she is surrounded by gold-embellished goods, she looks even better. Her denim dress is super-cute and fun, showing off her youthful and trend-setting side. That fierce choker necklace around her neck is edgy and exciting, adding a nice touch to an already amazing outfit. And those shoes — not everyone is bold enough to go for a pair of sky-high stilettos, but Pia Mia knows that she can rock anything, even hard-to-wear shoes such as these. It is all about fashion for this cool chick and she will go to any length to achieve the right look. Plus, when you must keep your Instagram feed full, the more pics taken, the better. Keep 'em coming!
6 Flower Power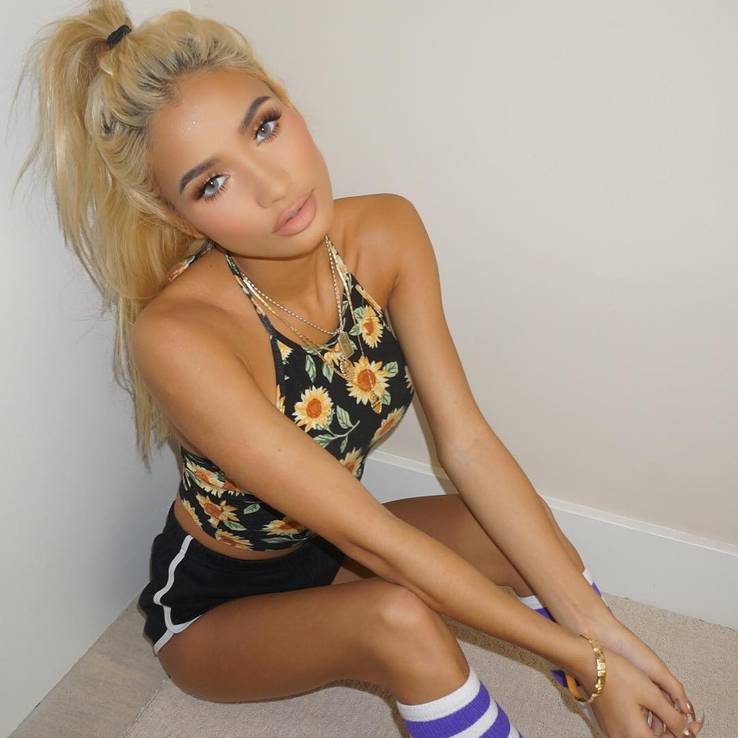 We adore the super cute style of Pia Mia. Here we see the stunner in a lovely floral patterned top which shows off her enviable figure to a tee. Her makeup is flawless and proves that neutral tones are the way to go this spring. Her blonde hair is pulled back to show off the model's lovely facial features. Her cute socks and itty bitty shorts show off Pia Mia's toned legs letting us know she keeps in shape, so she can flaunt those trendy outfits she loves to wear. Sunflowers are always fun to wear, and Pia Mia makes them look as lovely as ever. We love how Pia Mia has her own sense of style, showing that she is a standout in the biz. People are taking notice of Pia Mia's sense of style, unique qualities, and flirty fashion sense. She always looks camera-ready. She loves to post her pics on social media, so every photo must be Insta-worthy. We love how she does her makeup so professionally, especially those pillow-like lips and perfectly groomed brows. Simple gold jewelry rounds out this cool look and Pia Mia has an air of confidence that radiates from the inside out. We love this look. Pia Mia knows what's hot!
5 Pampered and Primped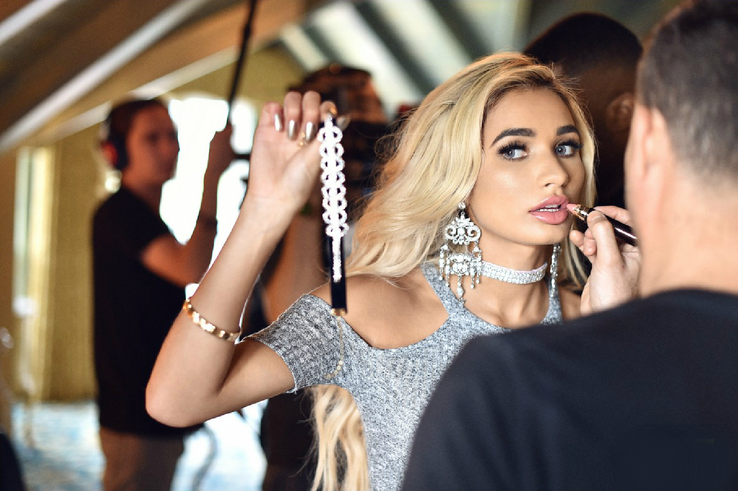 Sometimes a gal needs a little help in the touch-up department. Thankfully, Pia Mia has her talented makeup artist on hand to give her lips a little pinch of color while she is getting ready for her photo shoot. We adore Pia Mia's soft-looking blonde hair and smoky eye makeup. That precious pink lip color looks awesome against her skin tone and her gray top is modern and edgy with the "cold shoulder" trend everyone is currently loving. Have you noticed Pia Mia's shiny silver nails? What a cool way to add some flash to a look! Pia Mia makes sure to cover all the bases when it comes to looking her very best. Her blinged-out earrings are amazing, and her choker necklace is chic. When it comes to great style, this gal has it all going on, from head to toe. No matter when we see her on camera, Pia Mia looks put together and so pretty. She doesn't seem to ever have a bad moment or a "wardrobe malfunction." Pia Mia is a true fashionista who is at the top of her game. And she is only 21! Women decades older could take a style cue or two from this chic chick!
4 Selfie Star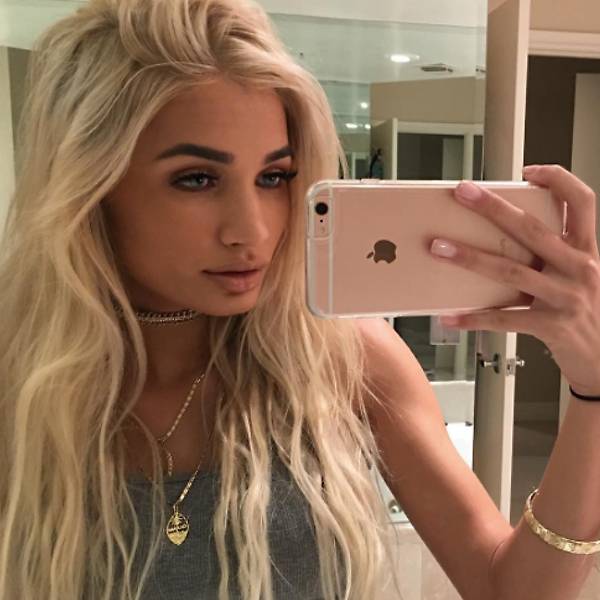 Anyone in Hollywood knows that the perfect selfie is oh-so important. What else would look as good on social media, after all? Pia Mia has taken the "art of the selfie" and has made it her own with the many gorgeous pics she posts on Instagram. She always knows the best angles and perfect poses to make for the best selfie pics. And her fans appreciate the time she takes out of her busy schedule to give them some "eye candy." Look at Pia Mia here in this stunning selfie. She has her hair done and her makeup looks amazing. She has the perfect eyebrows and her smoky eye makeup is so gorgeous. Those glossy lips are enviable, and her cool necklaces are modern and chic. Even Pia Mia's nails look like a million bucks. This gal is Hollywood hot and people are learning more about the starlet through her selfies. She shows off her personality in the pics, letting us in on what she is all about. With so many followers, she needs to keep it fresh. So, Pia Mia takes lots of pics, so she is always ready to post something new. We can't wait to see her next selfie sensation!
3 Singing Sensation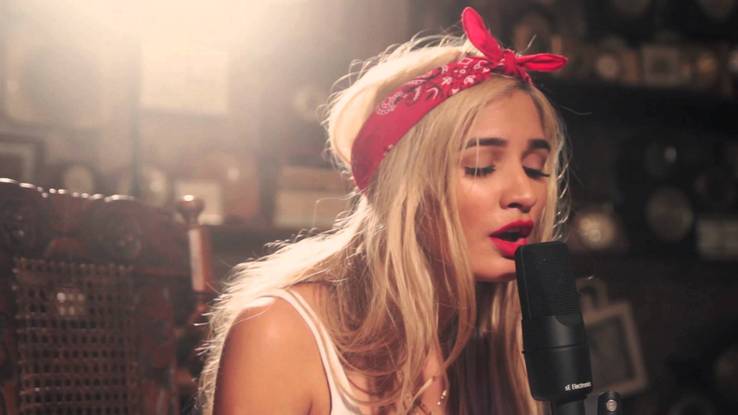 Here we see the talented Pia Mia singing one of her songs. She is a singer and a songwriter, putting her many talents to good use. She belts it out for her fans and they always want an encore presentation. Are you familiar with Pia Mia's songs? Some of her tunes include "Touch," "Mr. President," "I'm a Fan," "Do it Again," "Ocean Drive," "One Song Away," "I Got It," "Red Room," "On My Mind," "Red Love," "We Should Be Together," "Off My Feet," and "Last Man on Earth." With the popularity of her music, we are sure to hear many more hits from the star. She is only 21, so there is surely so much more to come from this talented gal. She is a natural on stage and her fans enjoy each and every performance. Have you ever seen Pia Mia in concert? She must give one heck of a show and fans must go wild from the moment the beauty steps on stage. And those who listen to her at home must feel a special connection to her music and lyrics. Pia Mia makes singing look simple, but we know it takes lots of talent and hard work to make a career out of a passion. Lucky for us Pia Mia wants to share her gifts with the world!
2 Flirty in Floral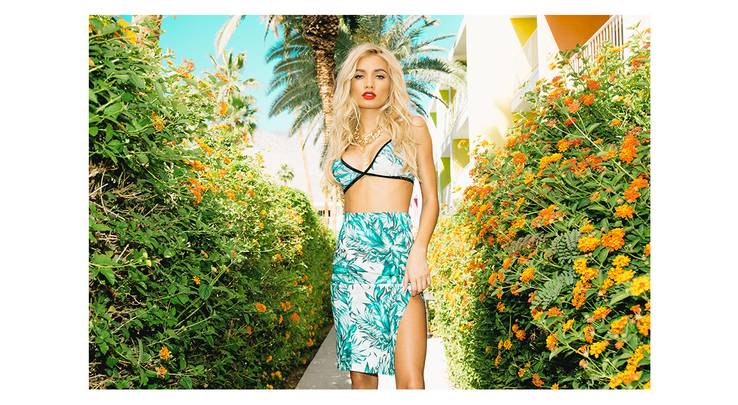 Have we landed on an exclusive tropical island? Because the pretty Pia Mia looks like a beach babe in this amazing turquois dress with a bare midriff showing off her awesome abs. Her blond hair is wavy and wonderful, and that thigh-high slit in her skirt is sultry and stunning. This bright and vibrant color looks so pretty against Pia Mia's skin and she has a bold pop of color on her lovely lips. We love the floral surroundings in this sweet photo which shows the beauty of nature in the area. The sky above is a vibrant blue and Pia Mia's dress is just as magical. Wouldn't you just love to be wherever Pia Mia is in this photo? It certainly looks like a lovely place to be, full of vibrant sunshine and tropical warm weather. She may be on vacation or at a photo shoot someplace truly special. It must be pretty nice to be a celeb! We notice Pia Mia's great flair for fashion as she rocks this two-piece ensemble like a champ. Her modelling skills are on full display here. After her fans saw this pic, we bet that outfit she is wearing was flying off the racks. But who could look as good in it as Pia Mia does?
1 Bandana Babe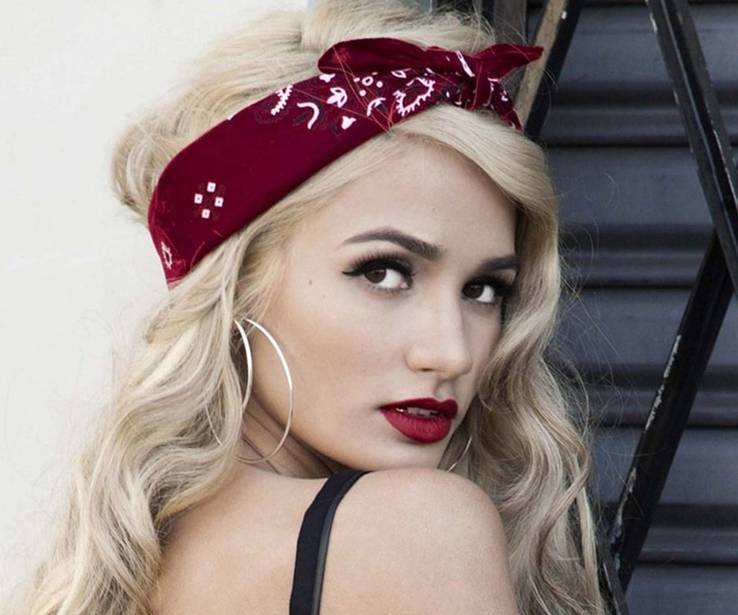 Who knew that a simple bandana could be so stylish? Apparently, Pia Mia knew how chic she could look with her hair styled this way. And her matching lips look so lovely too. Pia Mia's stare into the camera is alluring and exciting, making us wonder what the beauty is thinking. Her "cat eye" is fetching and her smooth skin looks like she has the perfect tone and texture. We love Pia Mia's blonde hair too. She is hot as a brunette, but it seems like blonde is her go-to shade. We'll take her either way though! Modelling is Pia Mia's strong suit as we can see in this simple, yet passionate pic. She has a knack for capturing us with her beauty, strength, and style. She has a unique look that is eye-catching and elegant. Her looks along with her talent are taking fans by storm and we know she will be an even bigger sensation as the years pass. Hollywood heavyweights are beginning to see the light, and Pia Mia is sure to be the next big thing. She is the total package and we couldn't ask for more. Where will this babe be in 10 years? We can't say for sure, but fans will be on top of it!
References: en.wikipedia.org, instagram.com
Source: Read Full Article