15 Surprising Facts About Dwayne Johnson That Even Fans Can't Ignore
It is no secret that basically everyone on earth loves Dwayne Johnson. He is a wrestler turned actor with a mega-watt smile, endless charisma, and infectious enthusiasm for just about everything. When he was wrestling for the World Wrestling Entertainment (WWE) under his ring name, The Rock, he earned thousands of fans because he knew exactly how to please the crowd and would always give them what they wanted. During his time at the WWE, Johnson started to foster his acting ability in the ring. Then, despite already having a successful career in wrestling, he decided to pivot and head to the entertainment industry to expand on his acting ability. Turns out, he is an even bigger star as an actor than he was as an athlete.
You probably saw his grinning face and gun shot on the cover of the May 2017 issue of GQ magazine. So yeah, things are going pretty well for Johnson. One of the reasons the superstar is so successful is because he does not actually act like a superstar. He has always been reported to be kind, and he is excited to chat and work with everyone and this ranges from random strangers to A-List celebrities, and he brings a passion to his work that not many others have. He knows how to hustle, and he realizes that he is lucky to be living his dream. So, if you are just as obsessed with Dwayne, The Rock, Johnson as the rest of us, here are 15 things you would find out about him if you spent the day with him.
15 He Played Football In College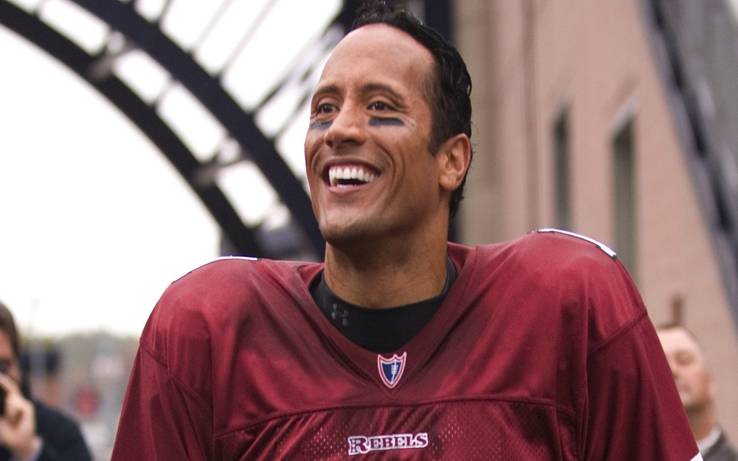 Unlike some other celebrities who came from families involved in the entertainment industry, or who were financially quite secure, Dwayne had a rockier upbringing. He lived with his mom, and he did not exactly grow up with a silver spoon in his mouth. When he reached his teenage years, his family started facing eviction problems. This was when he decided to step up, and the only way he knew how to do this was by becoming a man. He did this by becoming both mentally and physically strong and embracing his football career. Eventually, his training paid off because he ended up getting a football scholarship to the University of Miami. The reason he pursued athletics so passionately as a teen was because he knew that it was one of the only ways he would be able to get to college and add a formal education to his list of achievements. So, he rolled up his sleeves, worked hard and started to build the same work ethic that he still has today. The secret to his success is simply good old-fashioned grinding.
14 Wrestling Runs In The Family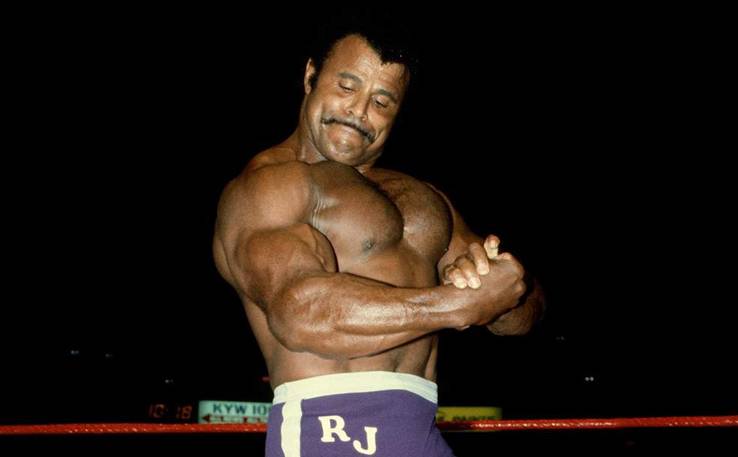 If you thought that Dwayne just decided to make the move from football to wrestling because he already had a strong enough physique and figured it would be fun – you would be wrong. It turns out, the sport runs in his blood because he is a third-generation wrestler! His grandfather, Fanene Leifi Pita Maivia, was a famous wrestler who wrestled under the ring name Peter Maivia, and his father, Wayde Douglas Bowles, also made it big in the WWE, wrestling under the ring name of Rocky Johnson. Beyond that, Johnson, also had cousins and uncles involved in wrestling, so it is safe to say that the world of wrestling expected a lot of him when he first stepped into the WWE ring. However, he really did not have anything to worry about. Not only did he live up to his family's wrestling legacy, most wrestling fans would argue that he far surpassed them and achieved the status of an absolute superstar. There are several wrestlers out there who got into it because their family members had been involved in the sport, but there are none quite like Dwayne.
13 He Made His Acting Debut On That 70's Show, Which Was In An Interesting Role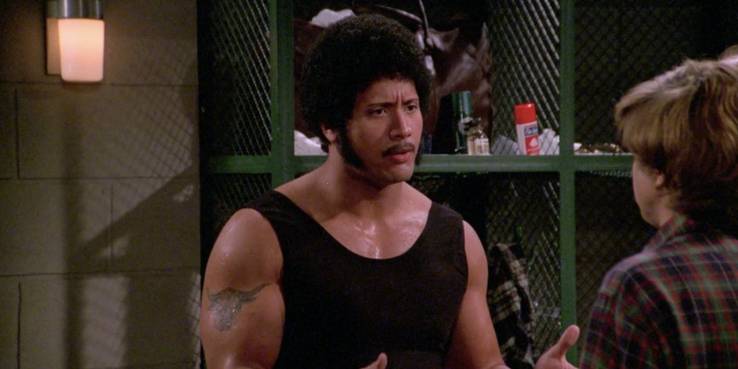 Everyone knows that Dwayne's big screen debut came when he played the buff Scorpion King in The Mummy, but that was not the first time he was on a set in Hollywood. Before that, in 1999, Johnson appeared in an episode of That 70's Show playing Rocky Johnson. That's right, he made his television debut playing his father's wrestling personality. Crazy, huh? Luckily, he has evolved far past those early roles, and he is a big enough star that he could easily do a cameo of himself in a television show now, and we would love to see it! Plus, the fact that he is an A-List actor with a gigantic fan base means he gets offered tons of interesting roles that range from comedic to serious ones and where he plays tough figures of authority. Seriously, Johnson has excelled at just about every role he has taken on so far and he created limitless opportunities for himself. Maybe one day, he will even throw it back to his early days and play a character whose entire family is involved in the wrestling world.
12 He Holds The Record For The Highest Paid Salary For A Debut Starring Role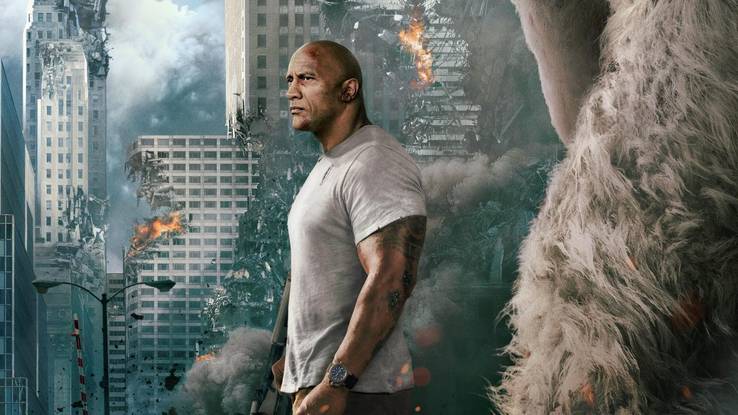 When Dwayne got the gig playing the Scorpion King in The Mummy, he likely thought it was just a minor role. He was probably right, as he did not exactly have a ton of screen time in that flick. He only had minutes on the screen. However, audiences loved him so much that he got his own spin-off film, The Scorpion King. In this follow-up film, Johnson had the starring role and received a whopping $5.5 million. Now, it may not seem like much in comparison to the type of salaries he commands today, but it was actually quite the pay check in 2002. In fact, Johnson holds a Guinness World Record for the highest pay check earned by an actor in their first starring role. That is right, he was breaking records like a champion from the very beginning of his acting career! We imagine getting that kind of salary to start out probably gave him a pretty good confidence boost.
11 He Once Accidentally Sent A Kid To The Hospital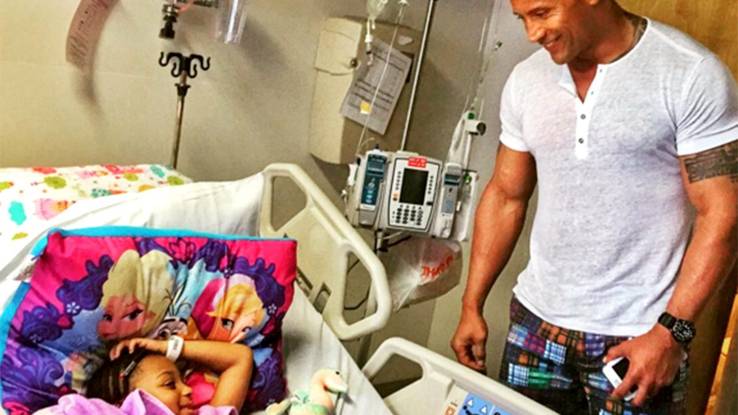 When Dwayne was a sophomore in high school, his family moved to Bethlehem, Pennsylvania. At that time Johnson was a typical teenage boy dealing with hormones. He tells Rolling Stone Magazine that when he got to Bethlehem, he was 15 and just angry. One day he got into a fight with another student in the hallway, but Johnson was unaware that the student had a special condition. The kid that he got into a fight with had some sort of brain issue. He was a real big boy and he worked out a lot, but nothing connected upstairs. He had a pre-existing condition and he had to be careful. So, after a while of fighting, Johnson hit him, his head hit the locker, and he went down. Things were not good. After the incident, Johnson got expelled. Eventually, the kid recovered and luckily, the school let him come back. That was the last fight he ever got into in high school.
10 College Was Crazy – His Classmates Used To Think He Was A Cop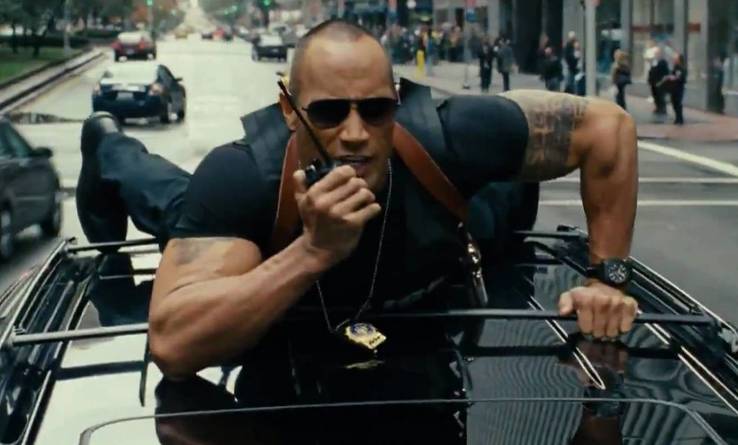 After Dwayne earned a football scholarship to the University of Miami, during his freshman year the team went undefeated, and they won a national championship. Johnson remembers getting into so many fights. He was a freshman back then and he says he was a bit of a jerk. Dwayne and his friends were doing all kinds of crazy things every night. Johnson mentions that those were weird times. Okay, we definitely feel like Johnson should do a movie about his younger years in the same way Channing Tatum made flicks (Magic Mike and Magic Mike XXL) about his past life. We are dying to know more about Johnson! As anyone who has seen Johnson knows, he is a pretty big dude, but that is not a recent development. Sure, his gruelling workout regimen means he has bulked up even more over the years, but as a high school student, he was already 6'4" and 225 pounds of lean muscle. In fact, his size was so unusual compared to his classmates that many people avoided him altogether because they thought he was an undercover cop. See, it is totally the plot line of a box office smash hit! That struggle led to fights, which got him expelled from four high schools by the age of 16. It is tough to imagine, given what a lovable, sweet giant he is today.
9 He Might Be An FBI Agent Now If He'd Enjoyed School More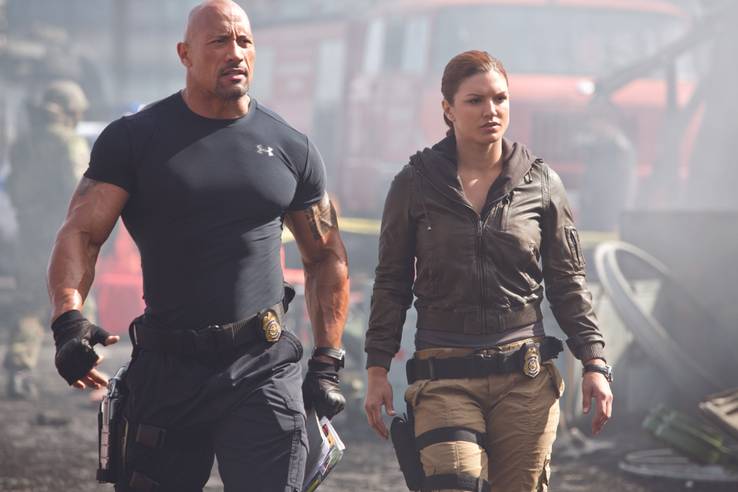 That's right, Dwayne considered being in the FBI. When he got to college, he started studying criminology, and he wanted to work for either the FBI or the CIA. Unfortunately, he did not realize how much effort and education really went into becoming a full-fledged agent. He had this phenomenal professor, Dr. Paul Cromwell. They spent a lot of time together, and he said that he really wanted this for his future. Then, the professor dropped a bomb on him. The professor said if he really wants to advance, he strongly recommended to Johnson to get a law degree. Dwayne was speechless. He was wondering how many more years of school he would have to take? The Rock changed his mind because he was ready to get out of school back then. How lucky for us! If Johnson had continued his education, we may have never gotten to see the amazing talent he has shared with us on the big screen, but we know he would have fit in perfectly getting a job as an agent, too. I mean, look at him!
Featured Today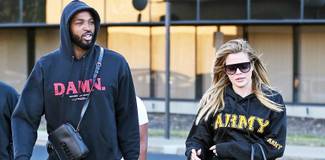 Khloé Kardashian Loses It On Tristan Thompson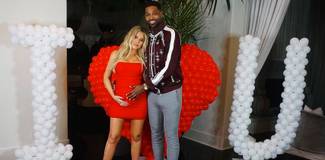 Khloe Kardashian Gives Birth To Baby Girl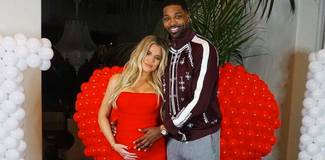 Tristan Thompson Caught Cheating On Khloe Kardashian

8 His Gym Is In A Bad Neighborhood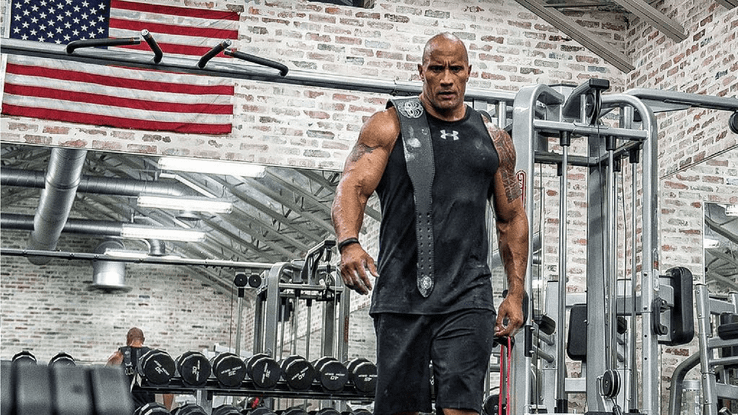 Unless you have been living under a rock, you know that Dwayne trains a lot. He has probably out-trained many professional athletes out there, and that is how dedicated he is to his fitness. However, if you imagine Johnson in a gleaming, sparkly, all-new fitness facility, you would be totally wrong. When a writer profiled him for a GQ piece, she came along to see his private gym in California, and it is apparently in an absolutely awful neighborhood. Johnson would not even let her drive to meet him at the gym; they drove together so that she wouldn't have to find a parking spot alone. It just goes to prove that despite his enormous fame, he is not a diva. Rather than trying to capture the paparazzi's attention after every workout session, he just wants a place where he can go and focus on getting his sweat on. You have got to respect that level of dedication.
7 The Characters He Plays Tend To Have A Few Things In Common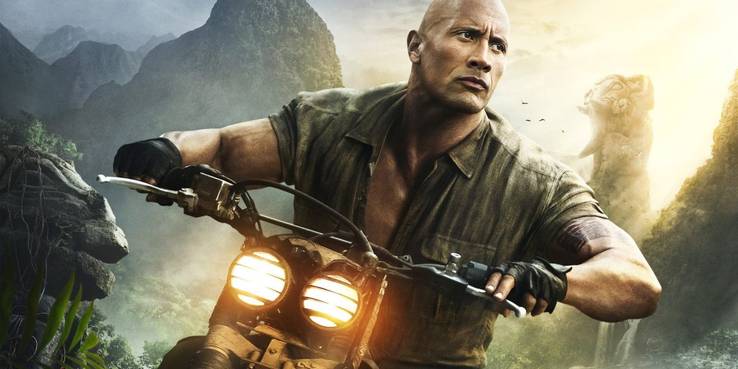 Over time, Dwayne has come to see similarities in his big screen roles. When he picks out characters to play, there has to be some flawed element. The veneer is that the character has his stuff together but might have messed up at some point and he has something to overcome. Then there's a down point, like in every script, but at this down point, there's something that happens around this particular character, having hope, having faith, things are going to get better, and that is when Dwayne says, "Come on, let's do this!" But this does not stop Johnson from enjoying his role. Another thing that Dwayne looks at when deciding to play a character is that generally, there's something people globally can relate to, a little bit of fun, little bit of drama, a little bit of getting knocked down and coming back. Finally, the character has to have heart and he has to have soul. The character has to be a decent human being. Now, we know why his characters seem so real.
6 He Has A Piano Once Owned By Benjamin Franklin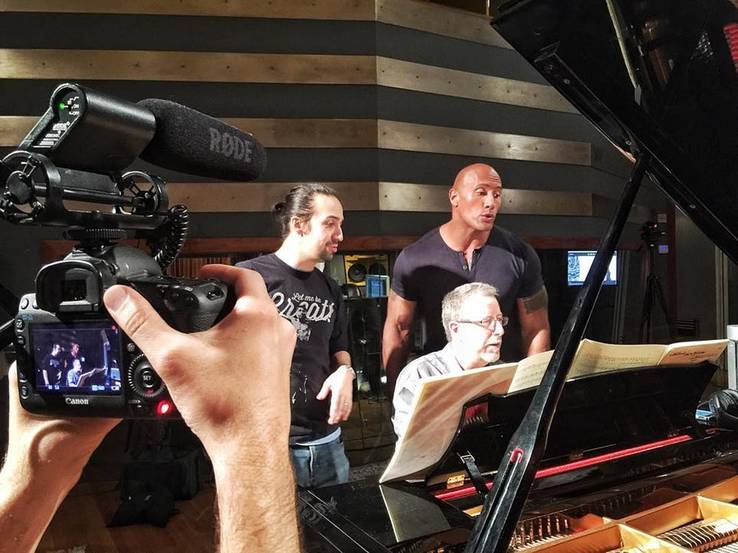 You would not think of Dwayne as a history buff, but it turns out that owning a piece of history comes along with accumulating property, which Johnson has been doing for the past few years. While his main residence is in Florida, he also has a farm property in Virginia where he keeps horses (seriously, this man has so many side hobbies and passions! Who would have imagined Johnson would be the type to love rural horseback riding?). When he bought his Virginia property, it came with a piano that was once owned by Benjamin Franklin. Uh, where do we sign up for sweet property perks like that? Not only did he snag a great chunk of land out in the country to relax if Hollywood ever gets too crazy, but he also snagged a little piece of history. Not bad, Johnson, not bad. Now the question is, has he learned to tickle the ivories, or does it simply remain a show piece?
5 He's A Big Cory Booker Fan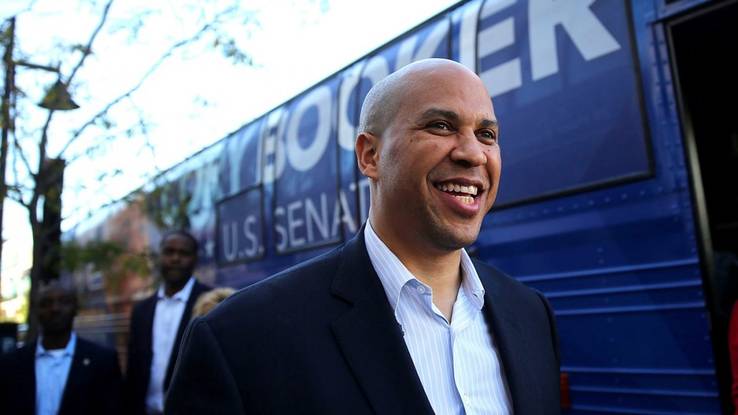 During one of The Rolling Stones meetings they begin to talk about politics, then Johnson takes out his phone to show the interviewer a photo. "Do you know who that is?" he asked. In the picture, he is smiling with Senator Cory Booker, D-New Jersey, whom he had recently had dinner with. Both Johnson and the Senator had a really good conversation at their meeting. Johnson explained his experience with Booker at that dinner to the person who was interviewing him. Senator Cory Booker is a guy who has an incredible amount of empathy. He did a documentary that Johnson really enjoyed. He mentions this to the interviewer and says that he should see it. The documentary gives a person a good insight into who Senator Cory Booker is all about. Dwayne thinks that Booker would be good for all of us. "Is that an endorsement for Booker in 2020?" the interviewer asked. Johnson laughed, "We have to wait and see who throws their hat in the ring," he says. "But he's a good guy." Maybe, we should take a look at that documentary!
4 He's A Big Fan Of The Notebook, But Not The Ending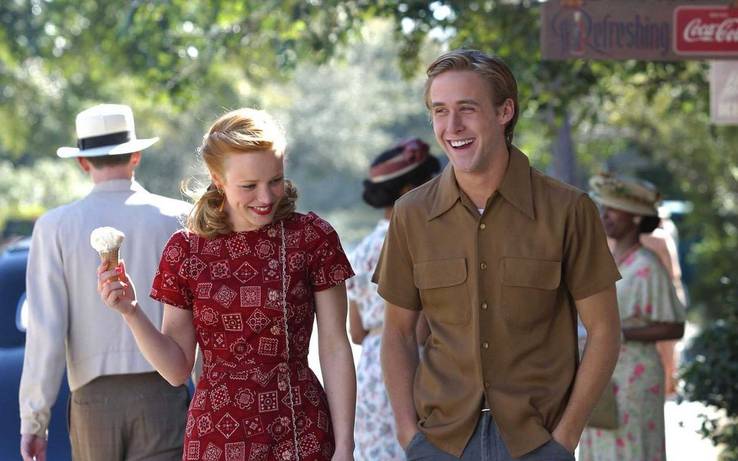 *Spoiler Alert* Surprisingly, Dwayne has a soft-spot for romantic comedies. Mainly, The Rock has avoided romantic comedies like the plague. Before the Notebook, those kinds of movies were not for him. Then one day he meets the director, Nick Cassavetes. Dwayne thinks he is one of the best guys out there in Hollywood today. Tatted up, hardcore, he is a man's man, a guy's guy and totally not what the average person is expecting. So, Johnson decides to give it a go and watches it and he loved it! The Rock thinks that everyone should watch that movie. However, he wasn't very impressed with the ending: "You're like 'Oh my word, this is amazing,' and then they flipping die! I looked at my girlfriend Lauren, she's bawling. Oh, my word. Don't give me a stupid ending like that." It is okay Dwayne, we completely agree with you! How could they do that to us? What kind of ending was that?
3 He Really Is A Super Nice Guy
Dwayne has a reputation for being a complete sweetheart. When the sound guy's son comes to the set to visit, Dwayne notices that and will go over and make time for him. He told this to Rawson Marshall Thurber, the director of Central Intelligence and the upcoming movie Skyscraper. Bringing the kid on the set is not a social media thing, Johnson sees so many times where he would bring young kids or kids with disabilities to the set and never post about it. He just did it because he's that kind of a guy. Every single movie that the sound guy is on with him, everyone does these events for the Make-a-Wish Foundation.
When you're shooting a $140 million movie, every day is super valuable, but Dwayne will spend the whole day with these kids. On Skyscraper, he gave the idea to the kids to make a Willy Wonka. He wants these kids to live out their greatest dreams with him. So, they went and got hundreds of pounds of candy. Their friends at Microsoft set up Xboxes for Dwayne and the kids to play. They had the five fastest race cars in the world, Lamborghini's and Ferrari's, and Dwayne took them each on a drive around the neighborhood. At the end of the day he gave this speech where he said, "I just want to tell you how brave you kids are. I'm blown away by your strength, and I wish I had half of it." The kids were saying to each other, who is this guy? They'll never forget that for the rest of their lives. Wow! After hearing that story, you know Johnson is a nice guy, but he really is an amazing one, too. Everyone was glad those kids got to meet an A-list celebrity like Dwayne.
2 He Really Cares About People's Nutritional Situations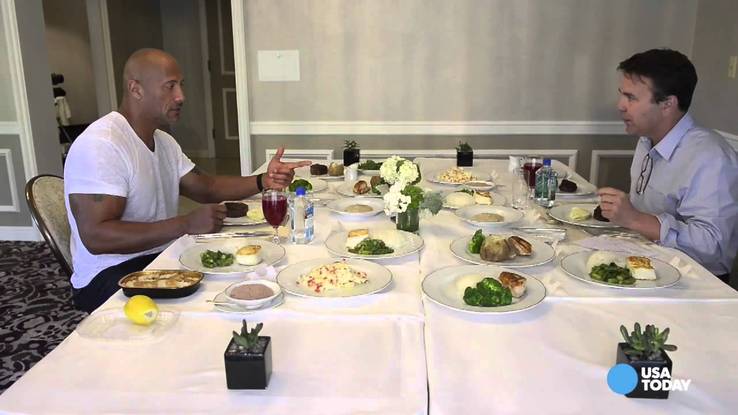 Do not forget, eating is important! Dwayne reminded Blair Rich, the president of marketing for Warner Bros, and Rich shared his story about Johnson's food-related empathy. When he came in for their first big Rampage meeting, it was 4:30. It had just been one of those days where they had nonstop back-to-back meetings. Rich hadn't been able to eat anything the entire day, and he was really starting to feel kind of shaky. So, Dwayne sits at the table next to him, and he's looking at him and at the unopened chicken salad in front of him. In front of everyone, he asks Dwayne if that was his lunch. It was, but Rick didn't have time to eat it. Dwayne was wondering if Rich was hungry. Rich says, "I am, but it's fine, don't worry, I'll eat after." Right after that in front of 50 people, The Rock opens the salad and takes the fork and starts feeding it to Rich. He turned beet red. He was so embarrassed by what Johnson did. However, it was the sweetest gesture. Johnson was actually worried. I do not think we would mind being fed some lunch by Johnson.
1 He'd Like To Win An Oscar Someday Or At Least Host The Oscars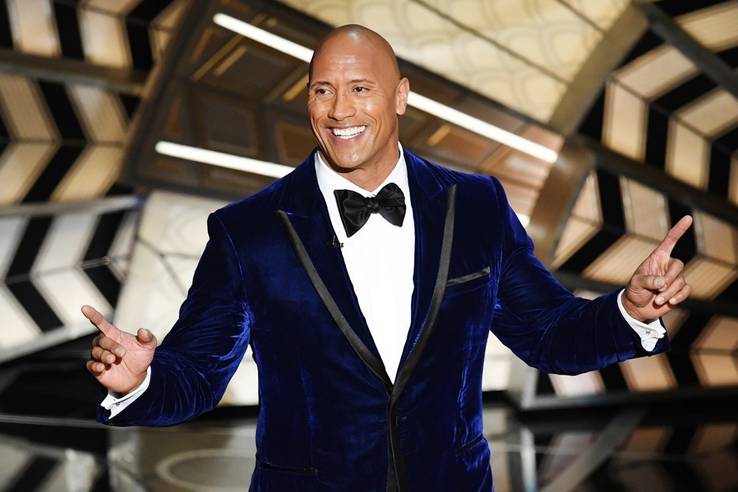 "I would love to win an Oscar," Johnson says. "Obviously so many things have to come together for that to happen. But I have faith that one day the right thing will come along, the kind of script that makes everyone feel good but also has these awesome elements to it." Every movie that Dwayne has been in has been a blockbuster hit. When he plays a character, the person just comes to life. He brings so much to a role. The viewer will never say that The Rock has not given his roles the full attention that they deserve. Another thing that he would like to do is to host the Oscars. With all of his charisma and flair, he would be perfect for that job. People love The Rock and they love all the movies he has been in. They keep the viewer glued to the screen and the viewer wonders what is going to happen next. It is long overdue, but The Rock should have won an Oscar by now. It is just a matter of time before it happens.
References: si.com, rollingstone.com, newstimes.com, screenrant.com, businessinsider.com, garagegymreviews.com
Source: Read Full Article