15 Unique Parenting Rules Chris Hemsworth And Elsa Pataky Make Their Kids Follow
The Melbourne-raised star may often play a Norse god in high-budget franchises, but he's certainly not like this when he's with his lovely family. The 34-year-old actor is not only a phenomenal movie star, but he's a fantastic dad as well. The Star Trek actor, who usually plays a badass in the films, is seriously committed to his parenthood. Even when he's snowed under with work, the Australian actor finds a way to spend more quality time with his family; and that's certainly what makes him a real-life superhero. The dad of three often shares adorable photos of Elsa and the kids, and we can't help but think how lucky and fortunate these guys are. Another thing we've certainly noticed about Chris is that he doesn't mind taking the kids to movie sets, and that's quite a creative idea to entertain the little ones. Besides, he won't feel guilty for being away from them for months, especially when there's a movie project underway.
Gladly for him, he's got quite an amazing and supportive wife who knows that being a movie star isn't really a piece of cake. So instead of being judgemental, Elsa is actually doing the exact opposite of that. She supports him, pushes him forward to be the best version of himself, even if it means being miles away from her.
As a superpower couple, they're also teaching their kids to support one another.  Scroll down below to find out what else Chris and Elsa are trying to teach their three kids. Indeed, you'd be surprised to know how unique their parenting styles are.
15 Be The Hero For Your Kids No Matter What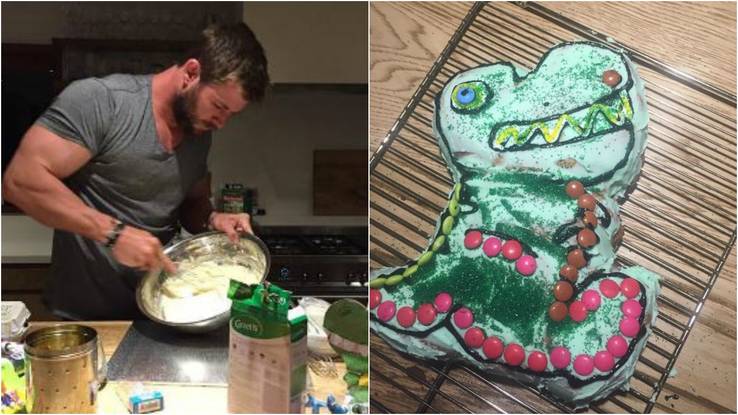 There's no need to be an awesome movie star to be a great dad. Take it from the Thor star: he may be playing badass roles most of the time, but Chris also has his weak spot, and that's his cooking adventures with the kids. For their beautiful daughter's birthday, Chris and Elsa made sure she'll get the best birthday present, and that's exactly what it was. The famous Avengers star later shared an adorable pic of himself and his daughter, India, with the following caption:
"What happens when the bakery says they don't have time to make your daughter a birthday cake? You get involved, and smash one out yourself ! I call it "La TRex al la chocolate."
By the look of things, Hemsworth wanted to get their little princess the most beautiful B-day cake in the world, but sadly, the local baker didn't have the time to make one before her B-day. USA Today reported that Hemsworth rolled up his sleeves to make her a dinosaur cake and it turned out to be quite the fun.
His wife, Pataky, didn't forget to post a collage of Chris either. Well, the cake may not have been that perfect, but Chris' commitment is swoon-worthy.
14 Only The Early Bird Gets The Worm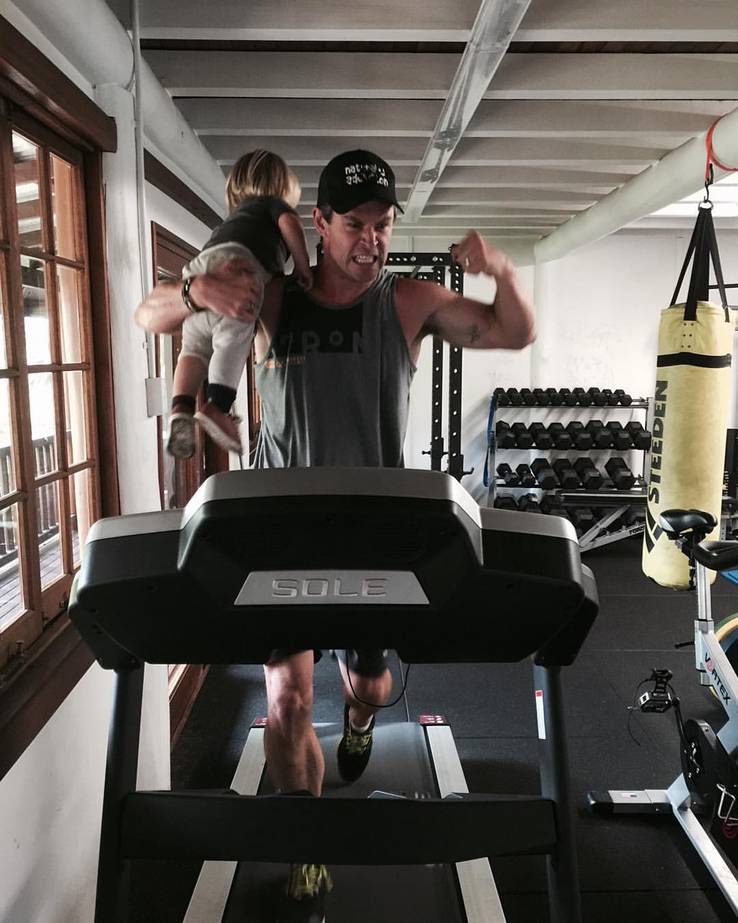 In another mega-cute Instagram shot, we can see Chris Hemsworth flexing his biceps while holding his kid in one hand. The Avengers star and his wife, Elsa, are known for their love of fitness, healthy lifestyles, and all sorts of high-intense activities, like rock climbing, boxing, etc. So, it's only natural that they also want their kids to pick up such a healthy hobby. In the above picture, Chris is shown carrying the kid while getting ready to bust some moves on the treadmill; he just captioned the post in the cutest way possible.
13 Chris Doesn't Mind Taking India To Movie Sets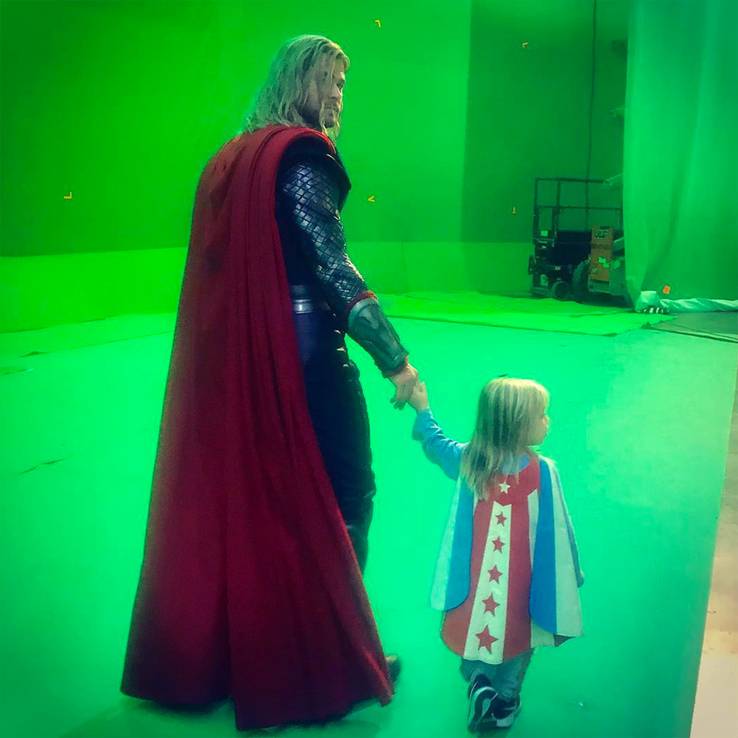 As one of the most attractive actors in Screenland, Chris Hemsworth has long captured the hearts of the ladies. He's famous, successful, quite charismatic, and husky, so it's clear that Elsa Pataky couldn't resist him either. But apart from his public image of a badass, Chris Hemsworth is, in fact, quite an average guy, and dad of three cute kids. They are still too young to realize what his father is actually doing on set, so Chris does his best to make sure they don't find it to be too strange.
Although not every celeb pair enjoys taking the kids to movie sets, it seems that Chris doesn't mind it at all. The 34-year-old actor, who portrayed the demanding role of Thor in the Marvel Cinematic Universe, shared a lovely photo, and it's too much to handle. Such little moments of togetherness speak volumes about his love and dedication to his family.
Taking the kids to the set of such a high-budget and long-anticipated franchise must've been quite an exciting experience for the little one. Apparently, it also sits well with his Spanish wife, Elsa Pataky. These two really boast some incredible parenting skills that most celebs need to follow asap.
12 Be The Cool Dad. They'll Love It!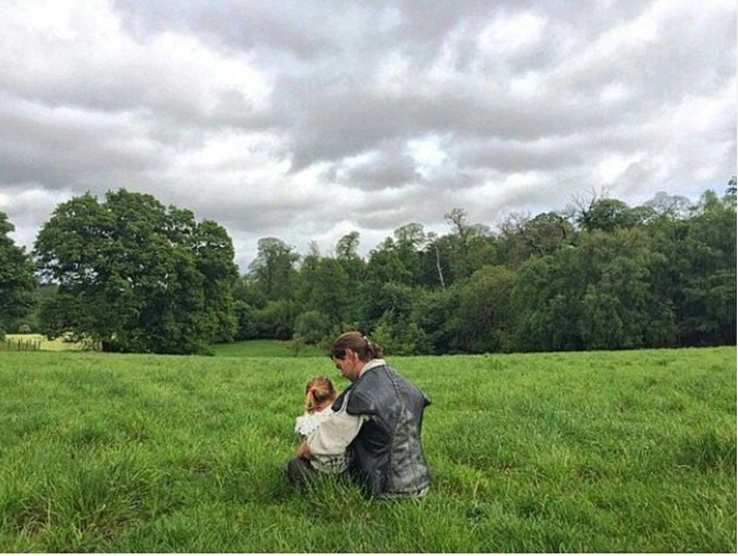 There's nothing more important than the family, and Chris Hemsworth is perfectly aware of this. He may be filming action-packed scenes in the other part of the world, but he'll always find time for his three little kids no matter how exhausted he's feeling after work.  Pataky and Hemsworth are just two incredibly charming people whose young love blossomed into a beautiful family; that's something Chris Hemsworth treasures the most. He may be thousands of miles away from home, but he always makes sure that the kids play a crucial part in every aspect of his life. For instance, India had previously dived into her dad's cinematic world when she arrived at the set of Thor. So, it was about time Chris put on the costume of the Huntsman for her.
Working actors often spend months away from home, but Chris and Elsa always make sure that their kids feel their energy and love. Besides, his career makes it pretty easy for him to portray their kids' most favorite characters, and it sure means lots, lots of fun together.
11 Spending Quality Time Together Is A MUST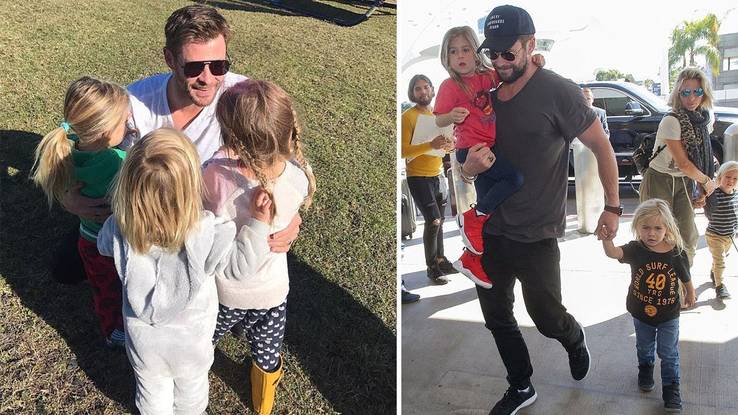 There's hardly a parent that wouldn't want to spend more time with the kids, and that certainly includes pairs like Chris and Elsa. They may be huge celebs, but they're also average parents who need to look after their children.
Maybe this is why Chris Hemsworth has recently hinted that he may be taking a huge break from Hollywood as early as 2018. Frankly, the actor absolutely deserves to take a step back from Hollywood for a while and live a healthy life far away from the tabloids. Speaking of his wife, Elsa, she even sacrificed her shiny career to focus on growing a family with Chris Hemsworth. Besides, it's the perfect time for him to sit back and just relax for a while. Hopefully, his "temporary break" from Hollywood will eventually come to an end. During an interview with E! News, Chris shared that he doesn't really want to be tied down to his career, and get worried if the phone suddenly stops ringing.
"There are other things in my life now — family, kids. I don't want to have to be in the position where I care if the phone stops ringing. I'm OK about potentially not acting."
10 Push Them To Get What They Want The Hard Way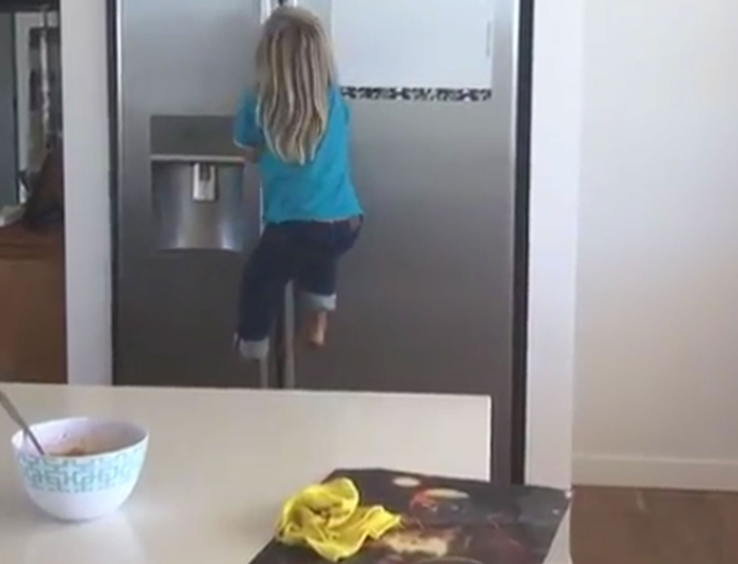 Teaching the kids important lessons in life is of utmost importance even at their young age. To make it more comprehensible for the little ones, Chris and Elsa came up with the amazing plan to store sweets, and candy in a cabinet above the fridge – where the kids wouldn't find it right away. Kids usually don't quit easily when they want another bar of chocolate, so their toddlers are hardly an exception.
The Avengers star stopped by the Tonight Show to promote his latest drama, 12 Strong, and talk about a hilarious video of his son scaling the fridge to reach the candy, and lollies stored in the cabinet above.
"We put the chocolates, and the lollies up above the fridge in a very high place, and he kept pushing the chair over and trying to climb up, so we'd move the chair away; and then my wife sends me this video and says, 'You're not going to believe what he's doing.'"
Climbing the fridge to get that candy can be lots of fun, and other famous parents need to try this as well. It's not only a great way to keep the kids occupied, but it helps them realize that working hard to get something pays off in the long run.
9 Make Home Your Happy Place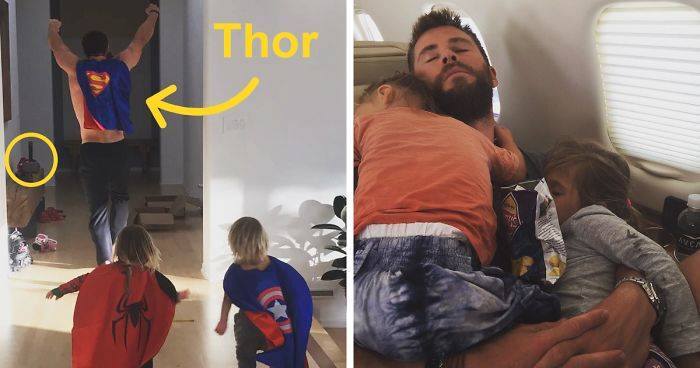 The Australian hunk admits that raising kids is never easy, especially when having such a hectic career that keeps him away from home for months. However, when he gets home, he says that he's the happiest there. The loving father shared that even though he tries to spend more and more time with them, it's never really enough for him.
"I want to be there more. My wife and I were talking the other day about how the years are flying by; our daughter [India Rose] is five and a half, and the boys [ Tristan and Sasha] are three and a half," the actor revealed. "And however much time you do have together, it never seems like enough. It's always exhausting, even when we have help with grandparents or a nanny."
Also, Chris Hemsworth confessed to USA Today that if he really retires from acting, he won't have the same busy schedules or the guaranteed workflow, and that's sort of intimidating.
"It's sort of a scary thought," Hemsworth confessed to USA Today. "This really seemed like this never-ending thing.
Featured Today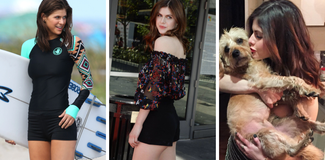 23 Photos Showing Alexandra Daddario Is Hollywood's New "It" Girl

25 Tumblr Posts That Made Us Rethink These Disney Characters

10 A-List Actors Dropped By Hollywood (And 10 D-Listers Who Are Still Hanging On)

8 Organize A Jump Rope Skipping Competition!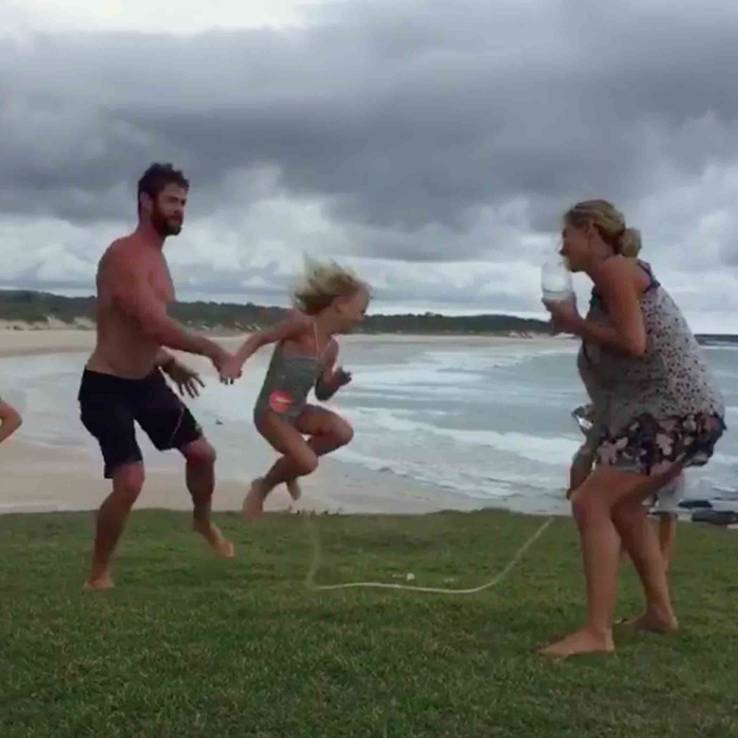 Even the God of Thunder, Chris Hemsworth, realizes that there's no need to be too serious all the time. Taking the pressure off his shoulders is a great way to relax after another day of intense work on set. And what better way to do so that with an exciting dancing or jumping session with the kids and Elsa?
This is just another cool rule that Chris and Elsa established in their Australian home. The famous couple, who absolutely traded in the lights of Los Angeles for the tranquility of Australia, shared a lovely video of their family having fun in a jump rope skipping competition.
"Make a space in your life for the little moments that count the most. Finding an activity to share with a child opens the door to plenty of opportunities for bonding", he says.
Hunky Thor actor displayed a killer physique while making some funny dance moves while dutifully holding his side of the rope, while his wife, Elsa, took the other end.
The glamorous pair looked relaxed, and carefree on the beach while having fun with their three kids. For their camping adventure, Elsa sported a floral dress, while Chris kept it simple by rocking a pair of swim shorts.
7 Letting Your Daughter Paint Your Nails Is Fun!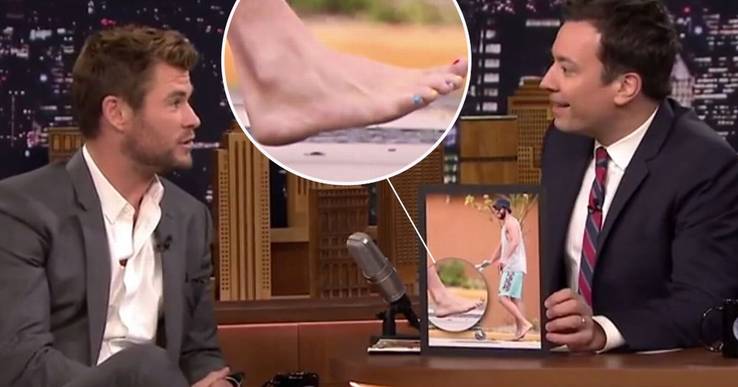 There's no doubt that the last thing his fans can associate him with is makeup and trendy paint nail. However, Chris Hemsworth isn't at all bothered by the thought of rocking a bold lipstick for his daughter, and nieces. Besides, it's quite a hilarious experience for everyone in his family, including his gorgeous Spanish wife, Elsa Pataky.
The Thor star went to visit Jimmy Fallon on his show, and he didn't forget to narrate the funny story where he actually lets his daughter paint his nails. Though it's really hard to imagine Chris wearing makeup, it won't be the first time he's doing something like this to entertain the kids. His nieces and daughter, India, had fun painting everybody's nails around Christmas time, so he thought it would be fun to have his painted as well. In the above picture, it's really not hard to notice that his toenails are actually quite colorful. Indeed, there's no better way to follow your kids' cute "orders," and desires no matter how goofy it makes you look.
6 Rules For Winners: Don't Be Self-Centered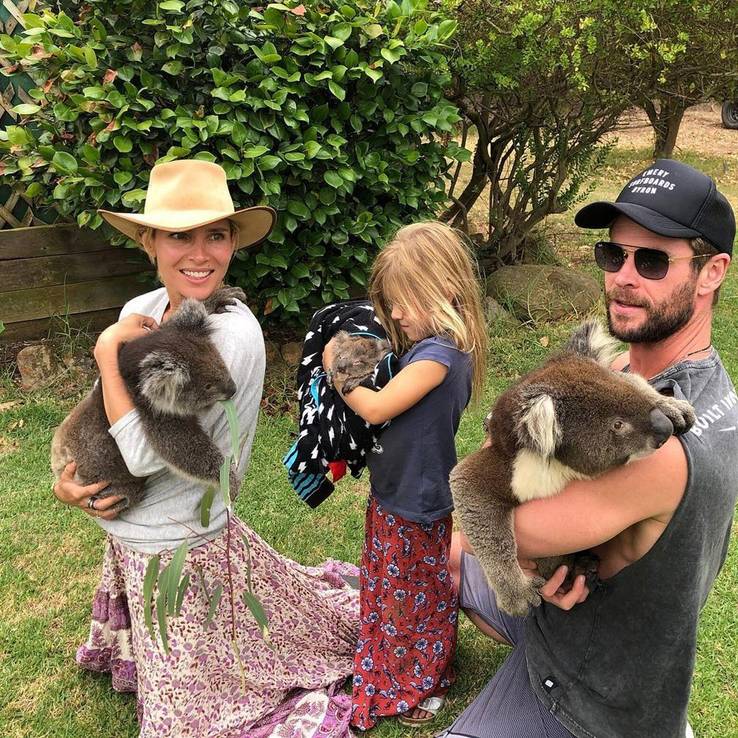 It's easy to feel pressured just from balancing your career and family while fighting to keep the home strong and financially stable. However, the Avengers actor has been starring in such a wild number of high-budget films that he can afford the luxury to take a break from Hollywood. Besides, Hemsworth has been playing for a living all his life, so he can definitely get that at home as well. In an interview with Parade, Chris suggested that now is the perfect time to play around with the kids before they grow out of it. The Australian actor went on to explain that playing with them changes him and reawakens a part of him that's been sleeping for years.
"I think [parenthood] brings out the child in all of us. That's what's so beautiful. It reminds you of the fascination you had with things, and how you can spend hours just being with someone. It's amazing." The Thor actor went on to describe how much his life has changed since he became a husband and father. 'For the first time, it's not about me anymore. This internal dialogue about my own boring story isn't at the forefront of my thoughts. It's about them now, their welfare. If I make a film, what is that going to allow us to do? What is it going to give them? That's been really refreshing, I've got to say, because it's so easy to become self-centered, particularly for me in this business."
5 Don't Be Afraid Of The New Challenges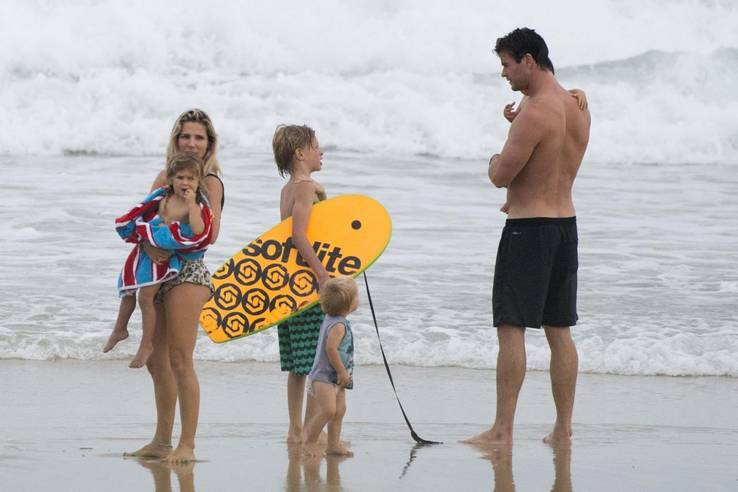 At first many were quite shocked that the pair decided to leave Los Angeles and settle down in Australia. Even his wife, Elsa Pataky, needed some time to get used to the more adventurous yet much calmer atmosphere of his homeland. Well, they may love their LA house as well, but it's really suffocating to build a family in a place that's full of paparazzi. Maybe this is why they finally decided to move to Australia and focus more on being a family than being just another famous pair in Hollywood. This big change in their lives also proves how adventurous and fearless Chris and Elsa are.
Frankly, that's certainly another great rule that they're trying to establish in their Australian home. Teaching your kids to take on new challenges is a valuable lesson that most celebs should also borrow right away.
'This welcoming attitude here in Australia is something my wife and I instantly responded to, and I wanted my kids to be influenced by that sort of philosophy as well. "
Chris and Elsa's parenting rules are indeed a great reminder of the strong impact of going above and beyond for kids.
4 Take Them To Exotic Trips Whenever You Can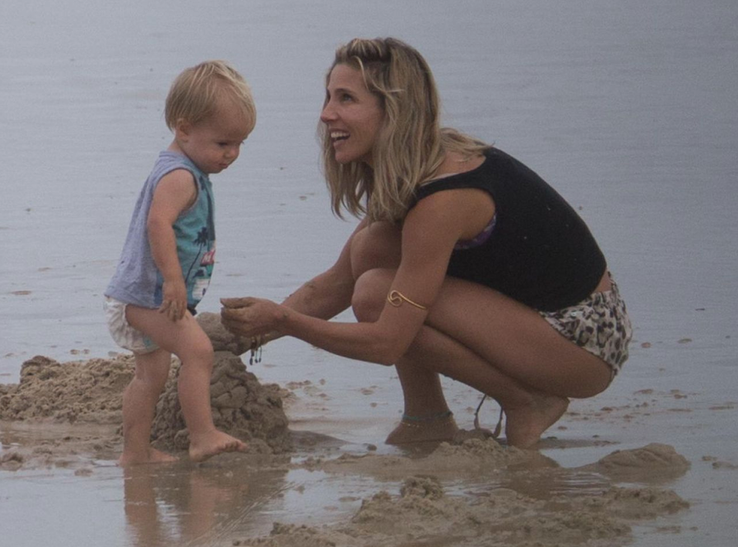 Attending festivals are great, but nothing can beat an organized trip with the little ones. The kids are just curious about everything, and that makes for a wonderful vacation no matter the destination. Chris and Elsa also believe that now is the perfect time to travel while the kids are still young.
The older their children get, the more challenging is to pack them for a vacation. Nothing is better than exploring a new place with your family, and the fabulous pair tries to take the kids to new places whenever they can. It may be pretty daunting or downright impossible to mobilize them all, but it's certainly worth it. The actor's wife, Pataky, often shares private photos of the kids, and it's such a wonderful family routine. This time the two stars picked a gorgeous coastal location in his homeland, and it looked like a fairy tale.
Chris Hemsworth and his wife/workout pal, Elsa Pataky, made the most of their exotic trip while sharing a string of adorable family pics, captioned: "Warning: if you don't like beautiful coastal locations stay away from @australia," Chris wrote in the first of a series of Instagram posts.
3 Don't Be Distant To Your Kids, He Says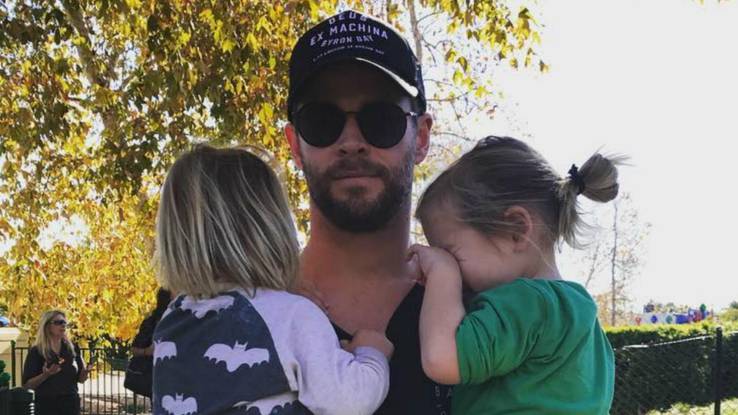 The charming Australian actor isn't at all bothered by the idea of leaving Hollywood for good and being an average dad. For a quick chat with Daily Life, the star confessed what his parenting styles, and those of Elsa, has taught him a lot about the kids.
"I think it makes you less selfish because it's no longer about you. It can't be. It's about someone else, which is refreshing. It's nice not to spend all your time thinking about your own problems and garbage up there, and I just have so much fun doing it. It's the best. And now I'm a bit more choosy, I think, with when I work and how I work because it better be worthwhile to take me away from them."
While most would instantly suggest that being such a huge star must feel amazing, Chris told Parade that he only cares about his three gorgeous kids, their daughter, India, and their cute twins. Of course, it sure feels nice to be featured in Marvel fight scenes, but it certainly cannot beat the happiness he feels when he gets home.
2 Making Trips To The Grocery Store Together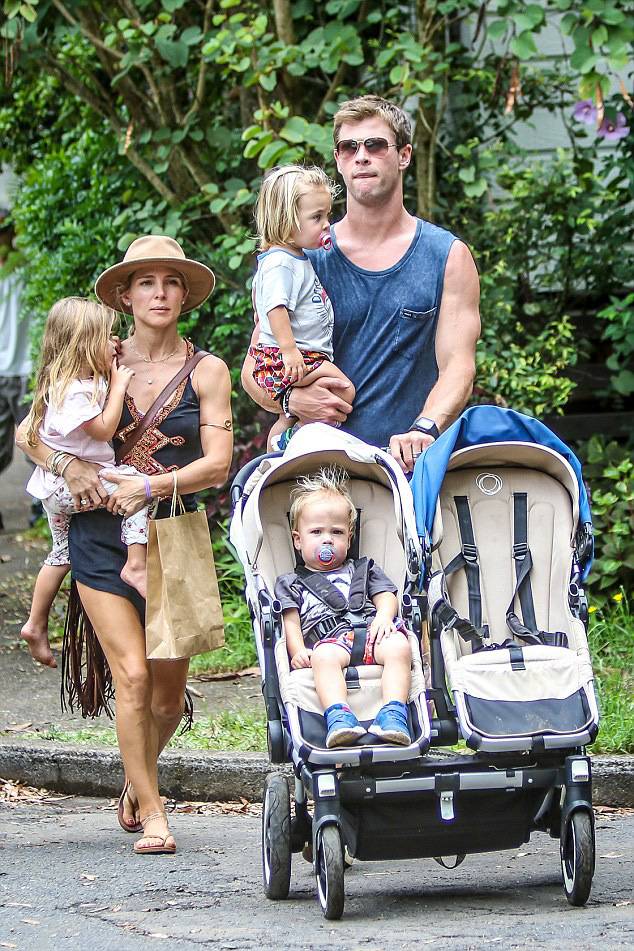 The charming actor, Chris Hemsworth, and his wife, Elsa Pataky, are happily married, and nothing in this world can bring down their kingdom. Whether they're going for a quick run before the kids wake up, or shopping together, Chris and Elsa always make sure that they engage in different activities together, like fishing, climb rocking, dancing, etc. Growing up in a healthy environment is the most important thing for the kids. So, Chris and Elsa are doing their best to provide it for their little angels. Maybe this is why they decided to trade in the bright lights of LA for the calmness of Byron Bay as well.
Making grocery trips with their kids is just a simple way to show them what the concept of togetherness actually looks like. During an interview with TheNational, the actor shared that he genuinely prefers spending most of his days in a quiet, warm place with his family. The 34-year-old star shared that these are the moments that make him feel lucky and happy. When asked about his successful life and career, Hemsworth shared that he definitely feels fortunate, but he reckons that his biggest reward is having a family of his own.
"My biggest success is having children and a family of my own. It's a lot of work, with kids, but it's the greatest thing in the world."
1 Start Visiting More Festivals Together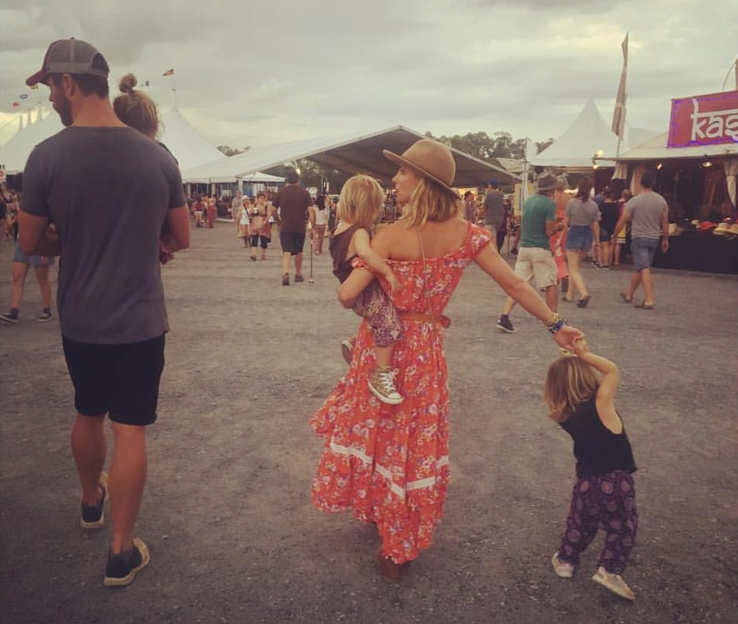 Earlier this year, Elsa Pataky lifted the lid on her romance with Chris Hemsworth by sharing that he was actually too young to be a dad when she got pregnant. However, the charming couple worked hard to build a stable family despite the challenges in their way. The lovely pair almost never misses the chance to travel or just explore a new place with the little ones. This sure includes attending lots of festivals together as a family, and their kids just love every second of it. The Spanish actress and the Australian star were seen at the Bluesfest Music Festival earlier this April, and they looked super fresh, happy and relaxed.
For the festival, Pataky wore a fashionable Bohemian-inspired dress with a plunging line. The beautiful actress looked stunning while posing for a pic alongside the youngsters, India, and twin boys, Tristan and Sasha.
The Spanish actress later shared a cute pic of them, captioned with words of love and gratitude: "Together everything is better!#bluesfest #family #dancing #love #kids#music ????"
Later in the day, his co-fellow actor, Matt Damon, joined their company as he kept it low-key while sipping a beer in the beautiful setting of Byron Bay.
References: dailymail.co.uk, thenational.ae, menshealth.com, romper.com, celebritybabyscoop.com, comicbook.com, parade.com 
Source: Read Full Article