18 Bizzarre Rules Kylie Jenner Makes Her Nanny Follow With Baby Stormi
When Kylie Jenner disappeared from social media last fall, it led to months of speculation that the 20-year-old was pregnant. The Keeping Up With The Kardashians star and makeup mogul left people guessing while she and her family avoided the question that the media would constantly ask: "Is Kylie really pregnant?"
Finally, on February 1st, Jenner and her 25-year-old boyfriend, Travis Scott, welcomed a baby girl, Stormi Webster, into the world, and just days later, she took to Instagram to explain why she controlled every aspect of her pregnancy and kept it private.
"I'm sorry for keeping you in the dark through all the assumptions. I understand you're used to me bringing you along on all my journeys. My pregnancy was one I chose not to do in front of the world. I knew for myself I needed to prepare for this role of a lifetime in the most positive, stress-free, and healthy way I knew how. There was no gotcha moment, no big paid reveal I had planned. I knew my baby would feel every stress and every emotion, so I chose to do it this way for my little life and our happiness," Jenner wrote.
But Jenner's control did not end on the day she gave birth. As soon as Stormi arrived, she hired a team of nannies and put in place a list of rules that everyone must follow to get near her daughter. Like any mom, Jenner is protective, but she has used her money and fame to take things to a whole new level. Some of them make sense, but there are some that indicate the reality star has taken things a little too far.
18 Don't Ask About The Baby Daddy
A post shared by Kylie (@kyliejenner) on
Ever since Stormi's arrival, rumors have swirled about who her daddy really is. At first, there was speculation that Jenner's ex-boyfriend, Tyga, was Stormi's dad. But, he quickly quashed those rumors. Then, thanks to some similar pictures, Jenner's bodyguard, Tim Chung, became the target of the baby daddy speculation.
Chung's eyes, nose, and skin color appear to be exactly the same as Stormi's, but Jenner has denied the rumor and sources close to her say it is "laughable." The reality star says that, without a doubt, Travis Scott is Stormi's dad. But, that doesn't mean he will be around much.
He has his music career to focus on and is planning to leave Kylie and Stormi at home while he heads out on tour, but the young mom knew this would happen. Insiders say that when Kylie was pregnant, Scott never pretended that he was going to be a model dad. He isn't going to put his career on hold so he can sit at home every night.
Kylie and Travis had only been dating for a couple of months when she got pregnant, so they still have a lot to learn about each other while they figure out a parenting plan for their daughter.
17 Must Stay Indoors
stormi webster ??
A post shared by Kylie (@kyliejenner) on
We all know that Kylie went off the radar during her pregnancy. She canceled all of her live guest appearances, left the house for just a handful of family photos, and rarely posted on social media. Then, when she gave birth to Stormi, she retreated even further into her nest and has made the rule that Stormi is to stay indoors.
This is a rule for the baby's health and to keep her away from paparazzi.
When she attempted to have a private baby shower, the paparazzi attempted to crash the event with helicopters. She decorated the garden with pink roses and entertained guests and close family members who all dressed in identical pajamas. There was no hiding the fact that she was having a baby girl.
Throughout Kylie's pregnancy, cameras only caught two full body shots of her, but she claimed that the pics had been photoshopped.
She even tweeted about the pics and wrote, "First of all if you're going to photoshop my photos blogs/paps!! Check for the crooked lines in the background. 2nd photo is clearly altered."
16 Mommy Is The Role Model, Nannies Are for Childcare
♥️
A post shared by Kylie Jenner (@kyliesnapchat) on
If there is going to be a role model in Stormi's life, it will be her mother. The KUWTK star has never felt restricted by the title and says it is all about being who you are, and it is too bad if people can't accept it. But instead of saying "role model," Kylie likes to think of herself as "an inspiration to young girls."
She says that she feels like she inspires them because she is always experimenting and changing her look. One week she will be glam and girlie, and then the next she will go punk with blue hair. Kylie sees girls following her trends, and because they are experimenting, they are becoming more comfortable in their own skin.
Kylie says she considers herself a feminist because she is a young woman who doesn't depend on a man. She makes her own money and has her own businesses, so she is an inspiration for girls who want to stand on her own.
There is no doubt she puts her daughter into that category.
15 You Must Wash Your Hands & Don't Forget The Medical Gear
3 months??
A post shared by Kylie Jenner (@kyliesnapchat) on
Kylie is taking every possible precaution with her newborn to make sure that she has a happy and healthy start in life. Insiders say that she has turned into a germaphobe and demands that everyone who comes to see baby Stormi thoroughly washes their hands first, and of course, that means nannies too!
The Lip Kit mogul has turned into an overprotective mom, and she makes sure that everyone follows her strict rules so that Stormi isn't exposed to anything harmful.
But, she has even taken things a step further by requiring everyone to wear medical masks when they want to cuddle her daughter.
"Kylie got boxes of medical masks for people to wear around Stormi because she doesn't want her exposed to any germs, she's still so brand new," says an insider.
Kylie and Scott even made a fashion statement with the masks and posed for a pic in the medical gear that the couple posted on Instagram.
Considering the level of privacy and protection that Kylie maintained throughout her pregnancy, it makes sense that she would continue some of that behavior now that Stormi has arrived. It is clear that she is concerned about her baby's health, and she has every right to regulate the people who come into her house.
14 Only Kylie Will Make Stormi A Social Media Star
mom life??
A post shared by Kylie Jenner (@kyliesnapchat) on
During the first month after Stormi's birth, Kylie continued to keep a relatively low profile on social media, compared to her pre-pregnancy presence. But recently, she can't quit posting pics and videos of her three-month-old and is quickly making her daughter just as big of a social media star as she is.
Kylie didn't reveal Stormi's face until about a month after she was born, but she did tease what she looked like by telling fans, "She looks just like me when I was a baby."
But now, we get to see Stormi on the regular, including one cute Instagram video where Stormi laughs in her sleep while she lays on her mom. Kylie has also posted mother-daughter selfies and pics of Stormi with various Snapchat filters.
Given the small amount of evidence we have from her first few weeks on Earth, Stormi seems to be a giggly baby, and Kylie has also posted a video of herself without makeup while holding her baby who is smiling and laughing. However, the new mom tends to go for a moody pout in the pics.
When Kylie shared the first image of her daughter to Instagram— an adorable pic of the baby reaching out and holding her thumb—it racked up more than 13 million likes in less than 24 hours. It currently has over 17 million likes which smashed Beyoncé's record of the most-liked Instagram photo of all time. She got 11 million likes for her pregnancy announcement.
13 You Can't Tell Anyone
best friends in the making
A post shared by Kylie Jenner (@kyliesnapchat) on
Another rule Kylie enforces is that everyone who comes to visit Stormi must sign a $10 million confidentiality and non-disclosure agreement. The Kardashian-Jenner clan has always been pretty strict about non-disclosure agreements (Kim and Kanye had them at their wedding), but once again, Kylie is going above and beyond to protect Stormi's privacy.
The new mom is pushing confidentiality contracts, so she can stop people from selling stories about Stormi, and if anyone breaks the promise, it could cost them millions. And, according to insiders, Kylie isn't messing around with this. If you don't sign the agreement, you can't see the baby.
Apparently, she did make one exception, though. Real Housewives of Beverly Hills star, Kyle Richards – who is a Kardashian family friend – told Andy Cohen that, "Friends just don't do that kind of thing," and instead, it was just a given. Obviously, as her friend, she wasn't going to say anything.
A rogue employee almost leaked the reality star's secret pregnancy to the press by attempting to take pictures of a heavily pregnant Kylie. So now, every person who enters her home to see the baby must hand over their cell phones.
Kylie's mom, Kris Jenner, explained that the invasion of privacy was stressful for Kylie and you want to be able to trust the people you are around. However, they must be alert at all times.
12 VIP Guest List
love you, mean it
A post shared by Kendall (@kendalljenner) on
At just three months and still in diapers, there is already a VIP guest list of people who want to meet Stormi. But since she was born into fame, she is going to have to get used to this level attention, just like her mom.
Kylie "maintains a very strict guest list," and so far, only her sister, Kendall, best friend, Jordyn Woods, and great-grandmother, MJ, have taken pics holding Stormi. We don't know if the guest list includes any of Scott's close friends or family.
One fan praised for Kylie's friends for being able to keep things quiet, tweeting, "Kylie Jenner's friends really went 9 months without saying a word about her pregnancy. Those are some real, loyal, down for you friends we all need in our lives. Those are the type of people we all need around us."
Featured Today
25 Blonde Actresses That Hollywood Just Can't Get Enough Of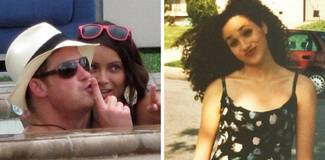 24 Rare Photos of the Royal Family Throughout their Reign

10 Co-Stars Who Dated In Real Life (And 10 We Wish Would Date)

11 Aunt Kendall Gets Special Treatment
@kyliejenner LOVE cover by me ❤️ @kegrand @thelovemagazine
A post shared by Kendall (@kendalljenner) on
The Kardashian family is forever growing, says Kylie's sister Kendall Jenner, "Every time I think it's eased up, someone's popping out a baby."
This is especially true of the past four months, during which Kylie and her big sisters, Kim and Khloe Kardashian, have all welcomed daughters. Kim was a bit more public about the news that she and Kanye were adding to their family via surrogate, while Khloe and Kylie kept fans in the dark about their pregnancies.
Kendall says Kylie's baby news was unexpected, and it is a "bit weird" when your little sister has a baby before you. The 22-year-old says she didn't expect things to happen like this, but it is beautiful. She also says that Stormi's arrival has had a welcomed effect because she has brought Kylie and Kendall closer together.
Kendall says they have always been close, but they would butt heads constantly. Now, as a new mom, Kylie is more loving towards her sister. Before Stormi was even a thought, the sisters would fight over silly things, like who was better friends with fellow model, Hailey Baldwin.
10 Body Check
stormi strolls ?
A post shared by Kylie (@kyliejenner) on
Since baby Stormi arrived, security at Kylie's house has gotten seriously intense. After signing the confidentiality and non-disclosure agreements, visitors must go through one more checkpoint that features a metal detector and a pat-down.
Security is so tight, that one guard didn't even recognize Kylie and wouldn't let her through the gates.
She told her fans on Snapchat, "So I just pulled up to my gate and I was like you know the normal routine— 'Hey it's Kylie Jenner…'" She added, "(The security guard) you know waits for the gate to open and he was like 'Are you with Kylie Jenner?' I was like, 'Oh, no. It's THE Kylie Jenner.'" Laughing off the incident, she joked about her blonde wig, "Maybe it's the hair. I don't know."
Kylie may have tight security, but she is down one guard since Tim Chung no longer works for her. After the rumors that he could be Stormi's father started to swirl, he took it upon himself to set the record straight.
"Out of deep respect for Kylie, Travis [Scott], and their daughter together and their families, I would like to set the record straight and say that my interactions with Kylie and her family have been limited in a strictly professional capacity only," Chung wrote on Instagram.
9 The Nannies' Have To Do It
angel baby
A post shared by Kylie (@kyliejenner) on
She may be a new mom, but that doesn't mean Kylie is going to take on the responsibility of child care by herself – if at all. Her job is to take fun pictures and videos, the other stuff is in her nannies' job description. Kylie caused quite a storm when fans found out that she was leaving the majority of Stormi's childcare to a team of nannies and a baby nurse.
People Magazine reported that Kylie has been a great hands-on mom with the support of nannies and assistants. When she first gave birth, her intention was to take care of the duties herself and ask for extra help from her sisters. But, since Kourtney and Khloe have their own kids, and her mom, Kris, being busier than ever, Kylie was "overwhelmed."
Despite the controversy surrounding Kylie having a baby so young, Kris says that she believes her daughter is a natural when it comes to parenting.
"I think she was just born to have kids. I felt like I was the same way. I wanted to have a baby when I was 16 years old. I thought about how many kids I would have. So, I think that some people are just…when you know, you know."
8 Vegan Only
Three generations
A post shared by Kylie Jenner (@kyliesnapchat) on
Kylie is following in her big sister Kourtney's footsteps and turning to a vegan lifestyle, and she is making this the standard in her home. Before she got pregnant, Kylie posted pictures of vegan tacos on her Instagram and told her followers that she was "going to try this whole vegan thing."
Now, it looks like Stormi is going to try the lifestyle, too.
Kourtney has already introduced a dairy-free diet to her three children, Mason, Penelope, and Reign, and she revealed on her app that she kept battling with herself, but she believes we have one life to live and she wants to live it feeling her best.
She says that she has noticed a great positive change in her children's behavior when she keeps them on a gluten-free and dairy-free diet.
Kylie's new diet has resulted in some positives for the reality star. She lost all her baby weight and showed off her new curves at the recent Met Gala. She rocked a black dress at the celebrity-filled event, and then, the next night, went out with her mom and sisters in a tight dress that hugged her in all of the right places.
7 Kylie Is In Control
?
A post shared by Kylie (@kyliejenner) on
There is no doubt who is boss in Kylie's home. The KUWTK star is in control of everything when it comes to Stormi, and some insiders say it is causing major problems with her and Scott. It all began when Kylie picked out the name Stormi and her boyfriend didn't have any say in it.
"They both have strong opinions about the name of their baby but Kylie refuses to compromise with Travis at all. She has a few names picked out and she is being stubborn with Travis who does not agree with her choices," reveals an insider.
They went on to say that Scott had his own thoughts on what their daughter's name should be and what it could represent, but Kylie didn't listen. Apparently, she is set on her choices and refuses to give in.
Fans have seen in many KUWTK episodes that Kylie will always get her own way.
But, it makes sense that she is in charge in her own house. Back in August, she bought a $4.5 million mansion in Hidden Hills, California, that features 5,000 square feet and four bedrooms. And, the home is right next door to her other house, which she bought last May for $6 million, and it has 7,000 square feet and six bedrooms.
6 Positive Vibes
?
A post shared by Kylie (@kyliejenner) on
From the moment she found out she was expecting, Kylie only wanted positive vibes for her daughter, and that is why she went into hiding. She has spoken before about the pressures she faces from being in the public eye and how she gets anxious when reading online comments.
When she announced Stormi's birth, she explained to fans why she chose to keep her pregnancy private, and she's planning to keep the negative energy away from Stormi now that she is here.
"Kylie's priorities have really shifted over the past nine months, she's matured a lot, and her focus now is on being a mom and working hard to provide for her daughter," says an insider.
The new mom is also devoted to keeping her little girl safe and happy in a private space because that is how she prefers it. Sources say that Kylie has never seemed happier and she is a natural mom. Now that she has a baby, you can tell she feels complete.
5 She Needs A Vacation
A post shared by Kylie (@kyliejenner) on
Even though Stormi is only three months old, Kylie organized the first big family vacation to Turks and Caicos, and she Instagrammed steadily throughout the trip. In just 12 hours, she added six pics to her permanent Instagram grid, with two of them featuring her and Scott enjoying the tropical vacation and showing how in love they are while doing rich people things. And one was of Stormi, who is already taking better vacations than most people.
The rest were all of Kylie, casually showing off her new body and showing fans that her diet and exercise plan has gotten her some serious results.
An insider said back in March that this kind of "Insta spamming" would happen because Kylie wants to be a hot, young mom, and she will make sure that happens. She is going to be flaunting her post-baby body more and more to let people know that she has her figure back. Apparently, she wasn't comfortable while pregnant.
Kylie didn't include pictures of Stormi's nannies or baby nurse, but chances are, the squad was on hand to perform their childcare duties while Kylie and Scott enjoyed their time in the sun.
4 Trendsetter
bff
A post shared by Kylie (@kyliejenner) on
Just twelve weeks after her arrival, Stormi already has a closet that rivals her mom's. Kylie recently shared pics on Instagram of her daughter's white high-top sneakers from shoe designer, Giuseppe Zanotti, who gifted the three-month-old with the $1,000 kicks.
Of course, baby Stormi doesn't realize the caliber of designer fashion she has already accumulated. But, as soon as she reaches North West and Penelope Disick's age, she will surely be rocking Fendi bags.
The shoes are already impressive enough, considering they came from one of the top runway-ready shoe brands in the world. But, the shoes are even more amazing because they are totally custom. In addition to the fact that the sneakers are a unique style that no one else owns, but Giuseppe also printed Stormi's name on them in his handwriting.
Fans can't wait to see all of the looks Kylie creates for her daughter this summer that will go along with the colorful shoes with a rainbow beach ball-inspired print. They will look awesome with everything from a little onesie to adorable sundresses.
3 No Group Photos
insert @kimkardashian
A post shared by Kylie (@kyliejenner) on
She may be all about selfies with her daughter, but when it comes to family photos, Kylie has already put her foot down. Family photos with Stormi aren't going to happen, and she is not even going to appear in the popular Kardashian "Kristmas Kard."
Sources claim that the family taped a Christmas special at Kris Jenner's house, but even though Kylie was there, she didn't ice skate. She was doing great, but she kept in the background. Now that her protective side has come out, it is likely that she won't pose at big family events anymore.
There is video evidence that Kylie has shared her bundle of joy with doting loved ones, but that is apparently all we are going to get for a while when it comes to the family.
They might not be taking pictures together, but one thing Kendall loves is that all the Kardashian-Jenner babies have a sibling or cousin to grow up with.
"We all grew up in twos: Kourtney and Kim grew up together; Rob and Khloé; Brandon and Brody; Burton and Casey, and then Kylie and I. So, to see my best friend growing up have a baby? It's already made us even closer."
2 Flower Gifts Only
Kylie's flowers for Mother's Day 5/13/18
A post shared by Kylie Jenner (@kyliesnapchat) on
If you decide that you want to buy baby Stormi a gift – because she doesn't already have everything she could possibly need – then you should start thinking about flowers. But, we aren't talking about a vase with a few dozen stems. Instead, it is all about living sculptures shaped into letters, hearts, or a fun object.
Once she gave birth, Kylie shared endless photos and videos of multiple flower arrangements friends and family sent her, and it even looked like there was a competition to see who could give the most extravagant bouquet.
Kourtney wrote on the card that came with her flowers, "My beautiful angel. Welcome to the world: you have a lot of cousins waiting to play with you. I love you, Auntie Kourtney."
Stormi's daddy even got in on the action and sent 443 roses, which symbolized the time Stormi arrived on February 1st, 4:43 p.m.
Following the births of North and Saint, Kim's kids received designer clothes. But, because Kylie has become a germaphobe, she only wants her daughter to wear clothes or have toys that she herself has selected.
1 Billionaire Baby
Happy 3 months babygirl the world loves you♥️
A post shared by Kylie Jenner (@kyliesnapchat) on
It is one thing to be born into money, but Kylie and Stormi are taking things to a whole new level. An insider says that before Kylie gave birth, she spent months drawing up a business plan to make millions. Her mom, Kris, advised her, and together, the ladies thought of every possible angle.
They trademarked Stormi's name before her birth, and Kylie plans on using her own brand to launch her daughter's empire. She recently launched a new Kylie Cosmetics line that Stormi inspired, and she included the name "Calm Before the Storm" for one of her palettes.
Kylie also has plans for a Stormi clothing line and is setting up millions of dollars worth of product endorsements. The 20-year-old is raking in the profits, but sources say that she is putting the money into a trust for her daughter. She is determined to make her daughter a billionaire before she turns 21.
The Lip Kit mogul is also planning on using one of the houses she purchased last year as an additional workspace for her business, so she can be close to her daughter but continue to make a ton of money.
References: thetalko.com, lifeandstylemag.com, ok.co.uk, romper.com, harpersbazaar.com, intouchweekly.com, eonline.com, wmagazine.com, elle.com, glamourmagazine.co.uk, tmz.com, teenvogue.com 
Source: Read Full Article