20 Bizarre Household Rules Celine Dion Uses To Raise Her Kids (But Shouldn't)
The exceptional singer may not have grown up in the lap of luxury, but her ambitions to become a prominent star helped her establish herself as a respected pop artist in North America and other English-speaking countries. As a woman of class and elegance, Celine's beauty and charisma eventually caught the eye of Rene Angelil, her beloved husband. She was first introduced to him in 1980 when she was only 12 years old, and Rene was already in his prime. Little Celine had written a demo tape of a song which she later gave to Rene, who eventually signed her. It's clear that Rene had sensed her colossal potential even at such a raw age. Indeed, it was him who began nurturing Celine's career, and by the end of 1987, the two were already a lovely pair. The charming couple was blessed with three boys, René-Charles Angelil, and fraternal twins Nelson and Eddy Angelil. Sadly, her husband died of cancer in 2016 and Celine had to take care of her kids as a single mom. In spite of the challenges, Celine managed to raise three wonderful boys who are slowly transforming into handsome young guys. As a single mom of three boys, Celine Dion had her own way of raising them. Scroll down below to take a look at Celine's unique parenting styles.
20 She Couldn't Be Bothered By Their Hairstyles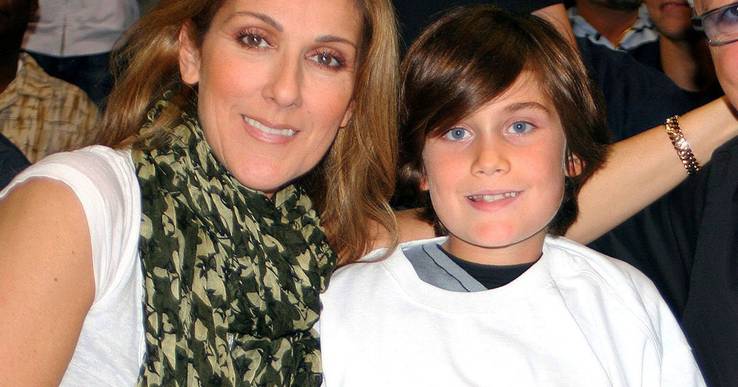 As the epitome of class and daintiness, Celine Marie Claudette Dion is indeed a remarkable blend of fineness, grace, and talent. The 50-year-old superstar was born into a large family from Quebec, where music was deeply appreciated, and with the support of her family, she continued pursuing a remarkable singing career. Little Celine grew up in a home of love and mellow tunes as she first rose to recognition after winning two significant singing contests, 1982 Yamaha World Popular Song Festival and the famous 1988 Eurovision Song Contest, where she represented Switzerland. Following another series of singing adventures, Celine Dion finally signed on to Epic Records, and only after two years, Celine already had her first debut English-language album, aptly named, Unison.
But apart from her successful career, Celine and her late husband were blessed with three handsome boys, René-Charles Angelil, and the twins, Nelson and Eddy Angelil. And despite the challenges in her way, Celine had her way of raising them, which is often described as pretty liberal. For instance, Celine's boys were allowed to keep their hair as long as they wanted. Her eldest boy, Rene-Charles, is known for his love of long hair as his signature mane would flow down his back. During an interview with Oprah, Celine admitted that he never really shaved it until he was forced by the school regulations.
19 Celine Uses Simple Approaches To Explaining Serious Matters To Her Kids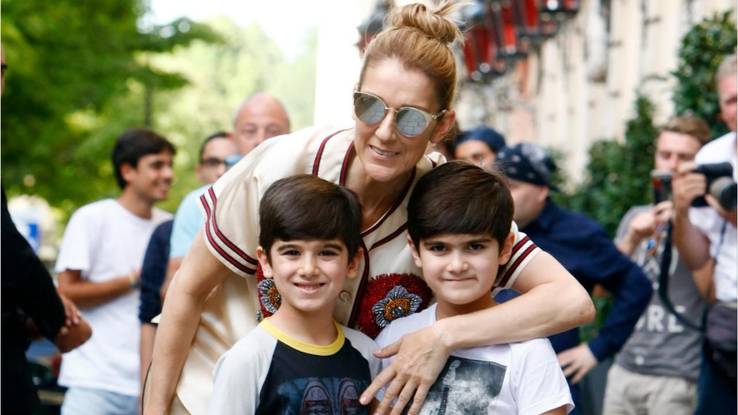 The charming songstress is not only a spectacular pop artist, but she's a lovely mom and parent to there handsome, and super smart kids. Everything was going just fine in Celine's marriage until one day when her husband, René Angélil, was diagnosed with cancer. After his departure from life, Celine had a pretty hard time explaining this concept to her five-year-olds. Above all, Celine may be one of the most successful singers of all time, but she's just as fragile when it comes to her family. Like any other parent, she, too, had her moments of despair and misery; however, she pulled herself together because she knew she had little kids to look after. Unfortunately, Celine's husband lost his battle with cancer, and the cherished singer had to take care of her kids as a single mom.
In a nutshell, Celine had her head buried in the books and even requested for reading materials for kids to guide them through the pain. The beautiful singer then remembered one of her son's favorite Disney movie, Up (2009), where the protagonist of the story, Ellie, passed away, leaving three kids behind. Following the storyline, Celine told her boys that their father was there with Ellie, so they shouldn't worry about him since nobody gets sick up there. Indeed, she handled this moment quite well.
18 Wishing Their Deceased Father A "Goodnight" Before Bedtime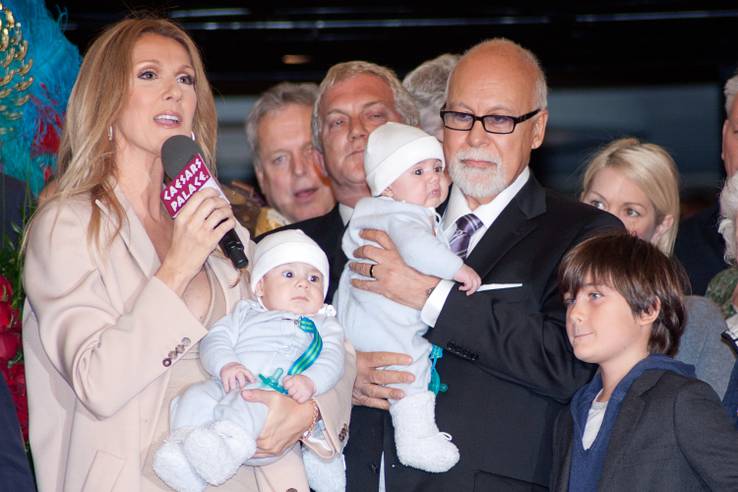 Their dad may be gone now, but Céline still believes that the deceased family members never actually leave us alone. To keep the memory of their father alive, Celine Dion established a lovely bedtime routine for her kids. The talented songstress shared that she encouraged the boys to wish him a goodnight before going to bed. The French-Canadian pop star also revealed that her little twins, Eddy and Nelson, kiss their dad's picture before bedtime. The 50-year-old singer deeply believes that the deceased family members may be physically gone, but they're still alive in our heart and mind.
When Rene passed away, it was an incredibly difficult time for her and the kids, but she channeled her last grain of hope and strength to help them cope with the grief and pain. It was really important for her to make them believe that their father will be watching over them. He may not be around anymore, but they still need to keep him in their daily conversations. Even to this date, it's like a beautiful tradition that isn't about mourning over him, but about remembering him.
17 Sharing A Bed With The Twins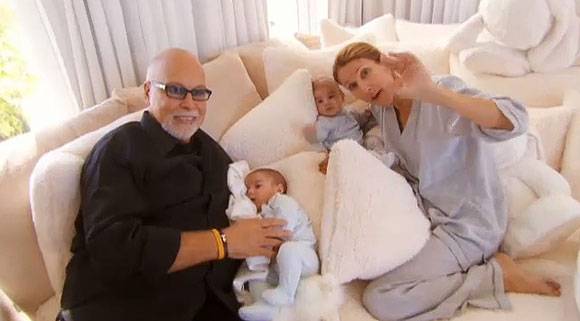 There's barely a parent that hasn't been through such stages when raising their kids. However, it was certainly something new for the gorgeous singer, Celine Dion. After her husband's demise, Celine decided that holding them close would be quite comforting for the twins. In most families, the kids often come to mommy's room either because they are afraid to sleep alone, or because they miss being close to mommy. Either way, Celine Dion believes that the kids will move to their rooms the moment they feel ready to take that step. When it comes to her opinion about it, she'd love to hold them close until they feel prepared to go to bed on their own.
Since they've discovered the beauty of the Disney films, the twins have been spending lots of time in front of the TV. Their togetherness, she recalls, is the most important thing in her life. Not only does it help her family grow stronger together, but the kids now see her as their unwavering symbol of strength, will, and hope. If she hadn't shown them the way, the kids would've started asking questions about good and evil, and frankly, nobody has the right answer to such elusive concepts.
16 Naming The Kids After Influential People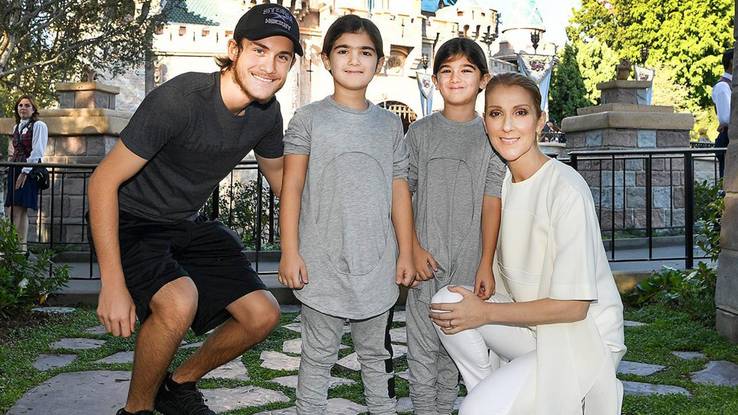 Picking a name for your kid is never an easy job for a few simple reasons. First, you need to have two lists of names that you like, and names that you openly hate. The idea is to minimize the risk of letting your partner pick a name that you actually loathe. So, as you can suggest, Nelson was named in honor of the former South African, Nelson Mandella, while Eddy was named after Eddy Marnay, the prominent songwriter of French-Jewish descent.
In 2011, Celine Dion made an appearance on Oprah, where she talked about her kids and how she's managing as a single mom. During the interview, Celine also revealed that she and her late husband couldn't really pick names for the twins for the longest time ever. Celine's husband had a list of the names that he liked, so they almost never reached an agreement anyway. Even when she gave birth to the twins, the babies were referred to as Baby A, and Baby 2 for quite some time. Celine had been privileged to meet Nelson before, so she finally thought that this would make a great name for Baby A. The second name that came to her mind was Eddy since a few of her first albums were actually in French.
15 They Need To Be Multilingual
There's hardly a person that doesn't know about Celine Dion's multilingual skills. The charming singer is French-Canadian, so it was only natural that she wanted her kids to speak French as well. But before they began speaking both languages to their children, Rene and Celine made sure to keep a healthy balance while communicating in either language. Interestingly enough, all of their three kids were aware of French even though they were only 4-year-old at the time. Being multilingual is, without a doubt, quite an advantage that works best for you when you're traveling abroad. In Celine's case, we strongly believe that she'll certainly find it a lot easier to explore the beauty of France with her kids when they're aware of French.
After all, their beautiful and talented mom is French-Canadian, so this explains why she also wants them to be multilingual. Another perk of speaking a foreign language is that the kids can make new friends so much easier. And last but certainly not least, Celine's kids really need to speak both languages since their lives are practically revolving around France, Canada, and the US.
14 Celine Wants Them To Be More Active In Sports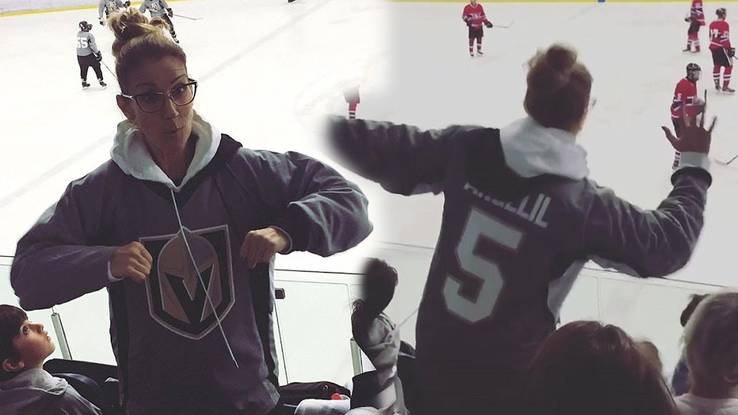 Céline Dion may be a huge phenomenon in the music industry, but she's also an average parent to three lovely boys. As a multilingual mom, and celebrity, Celine is quite the fan of all types of sports activities, especially hockey. Perhaps her Canadian roots are the reason why she's a real hockey fan; however, even if she hated this sport, she'd still encourage her kids to take on new challenges and be more physically active. Interestingly, her eldest son, RC, loves hockey and is part of Jr Golden Knights team. Apparently, Celine's boy, who's now a handsome young man, has inherited his mom's infatuation with all kinds of sports. Believe it or not, Celine Dion is not hard to see cheering for her son's team as well.
Her son, Rene-Charles, was also a former Nevada Storm Midget AAA player, and Celine is probably the happiest mom ever. The charming singer allegedly attended his son's game, as she later posted an adorable pic of them both making peace signs.  Even as kids, they were quite active in sports and it sure sits pretty well with their beautiful mom, Celine Dion.
Featured Today
15 Secrets Only Meghan Markle's Ex Husband Can Tell Us About Her

15 Reasons Why Hollywood And Jeremy Renner Don't Work Together Anymore

15 Actors Who Would Have Been A Much Better Choice For Deadpool

13 Taking Responsibility For Their Actions No Matter The Age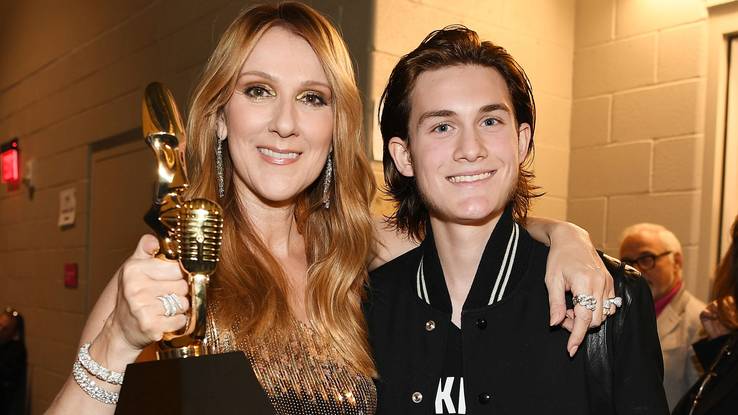 Taking responsibility for our actions and decisions is quite an important lesson we should all take seriously. But while many insist that we let the kids be frivolous and foolish, others firmly believe that they also need to take responsibility for their decisions. Apparently, Celine Dion is also a big supporter of this belief as she, too, wanted her boys to take life seriously as they grow up. Today, Celine's boys are no longer kids, but handsome young guys, who haven't forgotten their mommy's rules and lessons.
Much like their famous mom, Celine's eldest son and his siblings carry themselves with their mommy's air of dignity, elegance, and supreme class. When it comes to RC, he is so responsible that he was burdened with the difficult task of reading his father's eulogy, and the guy proved that he hardly ever disappoints his mother. During his dad's funeral in Montreal, Rene-Charles revealed that his father had left him with an incalculable number of memories to share with his siblings. However, he also shared that he'll always live by his parents' rules and standards while following his dad's legacy as well.
12 They Should Celebrate Their Grandma's B-day In Style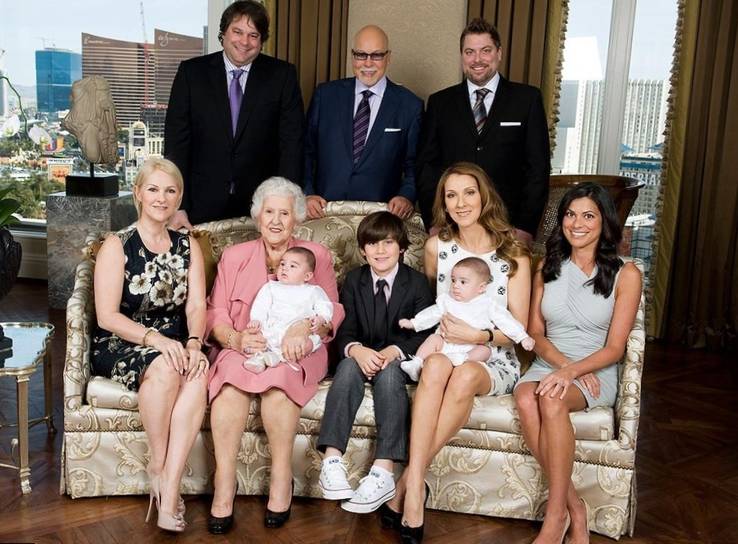 Unlike some of Dion's rules, which are indeed quite bizarre, this one is quite easy to follow even for her boys. Besides, their grandma deserves a proper birthday bash, and Dion's family is always there to make it happen. While Dion rarely parades the boys, unless it's really necessary, their grandma's birthday party happens to be one of those curious moments. The lovely singer, whose soft voice can warm even the coldest heart, posted an adorable family photo of her three sons posing next to their grandma. Celine's relatives and friends were also spotted at the party as they were no less elegantly dressed. Their lovely family photo had a French caption which basically expressed Celine's deep admiration for her mother.
Speaking of Celine's mom, she celebrated her 90th birthday surrounded by her beloved daughter and grandchildren. The charming singer ended her sugar-sweet message with words of love, respect, and admiration while adding a handful of cute emojis before tagging the photographer as well.
For the special day, Celine Dion had draped herself in a gorgeous dress that accentuated her mature beauty, supreme elegance, and class. Overall, the family looked lovely and happy at their grandma's birthday party.
11 Celine Dion Teaches Her Kids To Be Ambitious, Not Quitters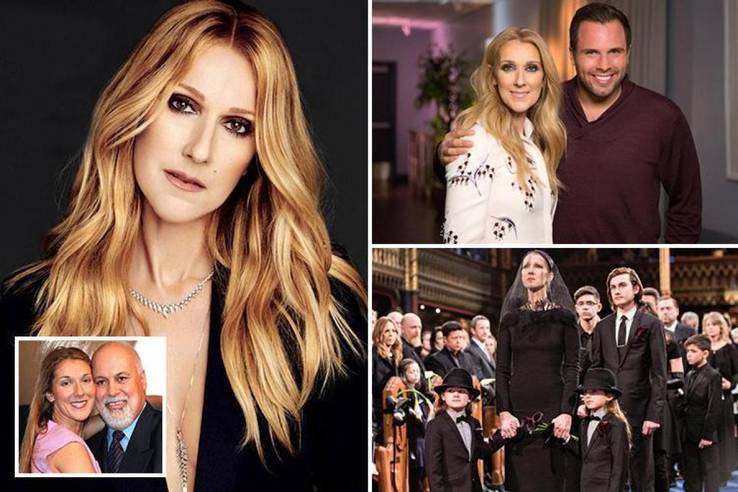 It's said that a bold life is a happy life, and it seems as though Celine Dion's perception of the world is pretty much the same.
The charismatic singer once shared that she'd love her children to follow their dreams and overcome any obstacle in their way like real heroes. Gladly, this lady has realized that she doesn't need to make her eldest son feel as if he has to fill his dad's shoes. After all, he's a different person, he's not his father, and that's perfectly fine. Besides, Rene-Charles doesn't need to feel the pressure of being the man of the house now that their father is no longer in the big picture. In fact, Celine wants all of her kids to be ambitious, not quitters who are easily scared of chasing their dreams.
Also, the five-time Grammy winner hasn't stopped teaching her kids important lessons in life although she had to teach herself how to be the family patriarch first. Today, Celion Dion's family looks stronger than ever, and her motherly efforts to step forward and set the path for the boys are to blame.
10 They Need To Be More Realistic In Life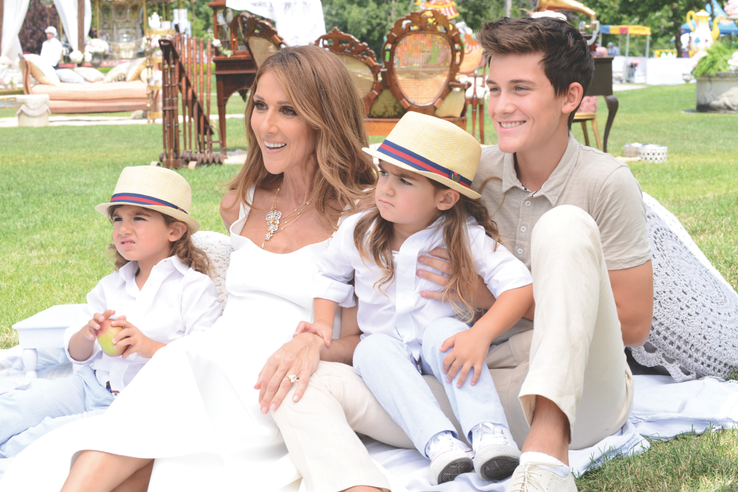 Dion admits that she'll do everything to help René-Charles and his siblings achieve their goals in life. However, they first need to understand that they must work hard and be persistent if they want to make it all work. Celine's fans may already know that her eldest son, Rene, is already chasing his dream of becoming a respected hockey player. René-Charles may still be a guy, but he's already displayed a humble and disciplined personality whether he's on his own or in the company of his gorgeous mom.
As the son of the fantastic Celine Dion, Rene catches the eye with his composure and humbleness. This guy has been carrying himself with his mother's discipline all his life. Even as a kid, Rene looked as though he'd grow into becoming a trustworthy man. Well, he's still on the cusp of manhood, yet he is already exhibiting spectacular sportsmanship. Indeed, Celine Dion has once again proved that her ways of raising the kids are the proper ones. A few years ago, Céline Dion was named the 20th best-selling Artist of the Decade after raking a whopping amount of over $700 million between 2000-2009. Unlike many other celebs with their unbelievably spoiled kids, Celine Dion's eldest son is a testimony that even such famous kids can also be quite amazing.
9 Always Together During The Holidays Or Family Events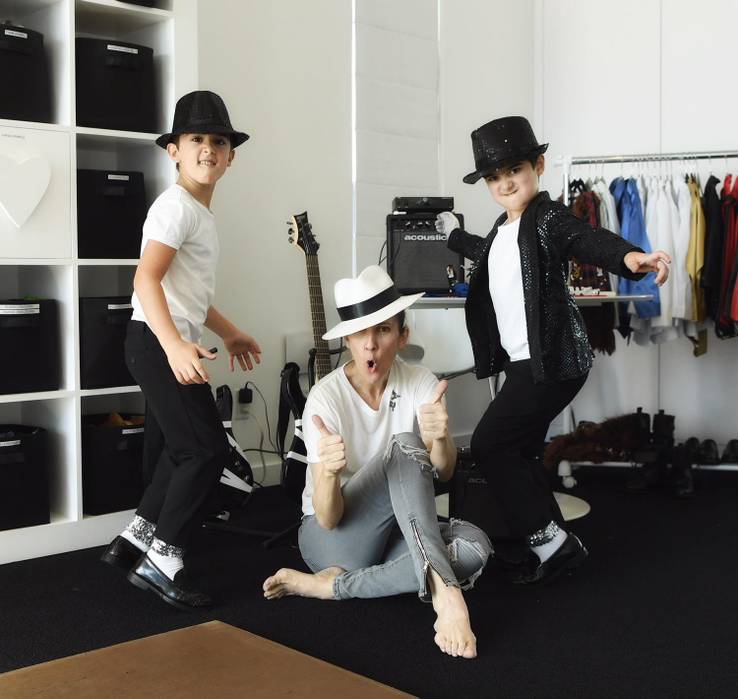 Spending the holidays together is one of the things that Celine Dion treasures the most. After all, you never know what the future has in store for you, so we all should appreciate the time we have with our families. It may sound quite dark, but it reflects the reality quite well.
Getting older together, gathering around the Christmas tree, or just sitting before the fireplace is just another cute family tradition that Celine Dion is quite fond of.
When the twins, Eddy and Nelson, turned seven, Dion couldn't help but express her joy by sharing a lovely photo on her Instagram. The adorable family photo was captioned with words of love and kindness. On their 7th birthday, the cherished singer decided to incorporate M. Jackson's signature style as well. As you can imagine, the twins looked incredibly cute in their shiny dance shoes while their famous mom wore a black and white hat.
Also, when Rene turned 17, Celine couldn't hide her joy either; the singer shared another photo of her eldest son revealing how proud he makes her feel. The 50-year-old star looked super fresh, relaxed and pretty as she had her arm around his shoulder. Such moments of togetherness are the perfect chance to show your admiration for your loved ones.
8 Disneyland Isn't Just A Place For Fun But A Symbolic Spot For Celine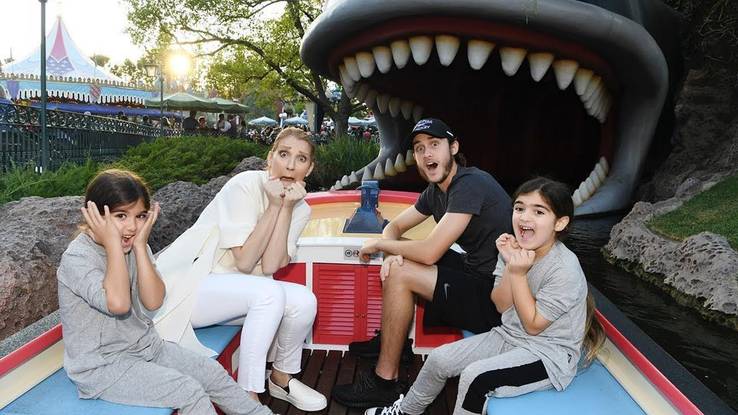 While most families and kids love Disneyland for the fantastic rides it provides, it's quite a symbolic, intimate place for Celine Dion. Her eldest son, Rene-Charles, was only six years old when her mom took him to Disneyland in Anaheim. They had quite a marvelous time exploring various attractions, like the surreal Sleeping Beauty Castle. Since their little vacation there, Celine has practically promised herself that they will start visiting Disneyland more often and will make a ritual out of it. In 2011, Celine had the whole Disneyworld come to her twins at their comfortable residence in Florida, and it was such an incredible way to celebrate their first birthday. The kids were on cloud nine when their most valuable guests (Donald Duck-clad clowns) visited them.
Eddy and Nelson looked cute in their matching outfits as they posed for another string of cute selfies and photos. Among the guests were Celine's close friends, family members, and doctors, who helped Dion conceive at the time. It might have been a birthday party for the guests, but Celine took it as an opportunity to thank everyone who was part of her life, including the doctors who helped her conceive at the time.
7 Celine Forbids Them To Complain About Anything In Their Lives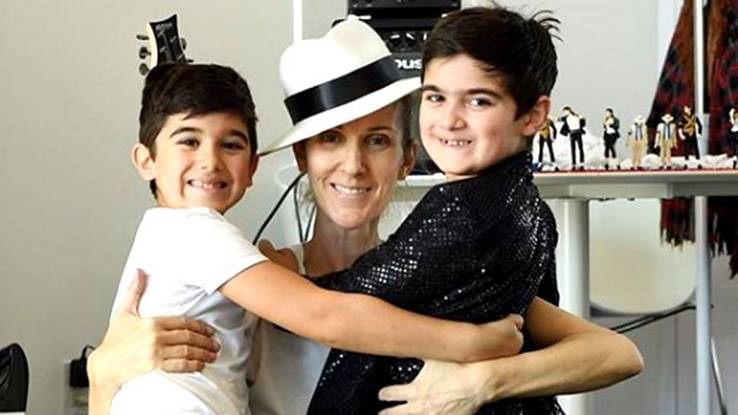 No whining is allowed in Celine Dion's residence, and that's just another cool rule she's established for the kids. The loss of her husband has practically turned her into a much stronger person who's not afraid of the future anymore. She might have lost the love of her life, but she hasn't stopped inspiring her kids to believe in good ever since. Instead of crying her eyes out in front of the kids, Celine admits that tried to keep a straight face without giving in to grief and misery. The French-American singer wants her kids to know that depression and misery aren't going to solve or fix anything. Sadly, there are things in life that are simply out of our control no matter how much we wish it were otherwise. The charming songstress has learned that such negative feelings can only make things worse, and as far as we know her, Celine doesn't really tolerate such negative and weak people. It may be hard at times, but Celine is still trying to be as much as positive for the sake of her kids, and in the name of her late husband.
Even though Celine lost her brother as well, she continued to keep a positive attitude and be a role model for her kids. Ultimately, she doesn't allow herself to hang her head in sorrow, so she'll also make sure that her kids follow her example.
6 Skiing in Montana Is An Unbreakable Tradition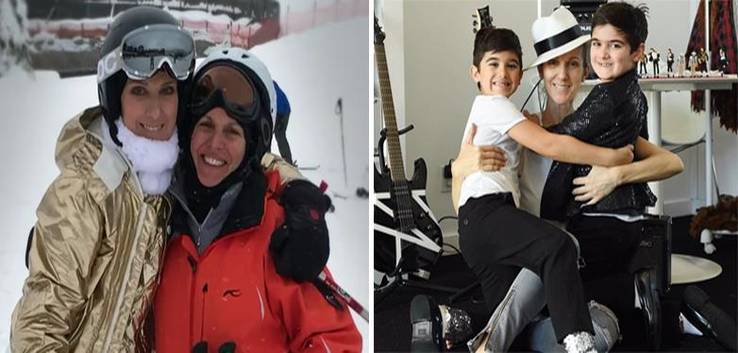 Celine Dion is not only a fantastic singer, but she's also a role model for all new mommies out there. This lady still finds her reasons to smile and be happy about life despite all the bad things that happened to her. It must have been another super hard period for Celine's family, but she had no other option but to be strong for the sake of the kids. So, instead of losing herself in pain that won't bring her brother back anyway, Celine tries to lift the spirits by taking her kids to their annual family winter vacation in Montana. In Dec 2016, Dion and her three boys were spotted in Montana where they supposedly spent the Christmas holidays as well. Celine believes that there's something special in the mountains, especially around Christmas time, so they regularly go there to enjoy a short but memorable ski vacation. Dion and her kids made the most of their winter vacation while hitting the slopes, warming up by the fire and sipping hot chocolate. According to the singer, her closest friends also wanted to join them, but Celine didn't really want any people around.
5 Celine Believes That Time Is The Key To Everything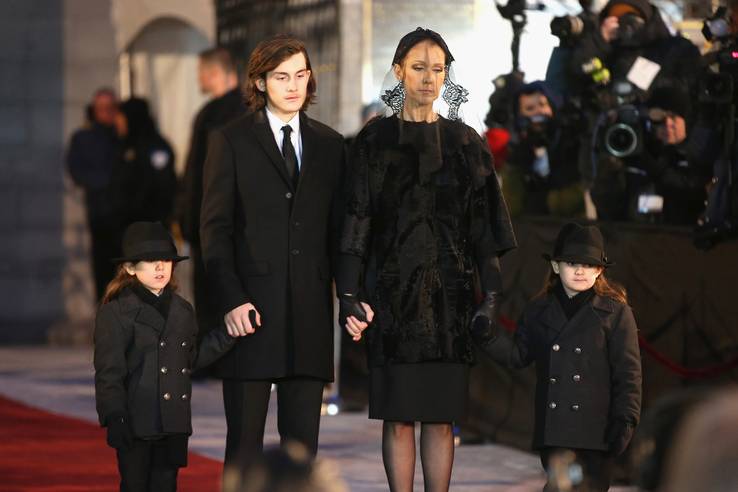 Celine Dion deeply believes that time has the answers to all questions about our existence. Even when she was just starting a family with Rene Angelil, she was aware of the complexity of this task. Starting a family together is like building a house for their kids; it sure takes lots of time and efforts to make it work.
Perhaps this was the reason why Celine announced that she'd be taking a break from her shiny singing career to focus more on her family and marriage. Before Rene-Charles was born, Celine had fertility problems. Therefore, she decided to walk out of the spotlight and focus on becoming a mother. Gladly for her, Celine welcomed three healthy baby boys, which has remained her most significant achievement in life. She was determined to have a kid and become a mom despite the stumbling blocks in her way. Eventually, Dion's determination to have a kid finally paid off when her first baby boy, Rene-Charles, was born in 2001. All of these challenges have definitely changed her as a person as she now believes that everything happens when you're ready for it. According to Celine, time is the key to everything, and that's certainly another rule she makes her kids follow as well.
4 Half-Siblings Are Also Part Of The Family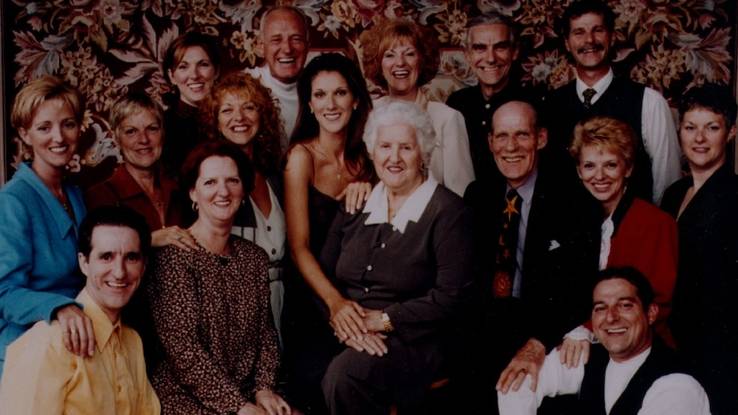 Most women would probably dislike her husband's previous relationships, especially if there are other kids involved in the story. However, Dion is not like most women, and she's proved it by showing her respect and appreciation for her children's half-siblings as well. When the singer paid her heart-wrenching tribute to her deceased partner, she didn't forget to mention everyone who assisted in the funeral in one way or another. The list of the names inevitably included her three kids alongside their half-siblings.
The memorial took place at the Colosseum at Caesars Palace in Las Vegas; among the attendees were many of her partner's family, friends, and acquaintances. The moment she stepped on stage, Celine talked about Angelil's goodheartedness and the ways he helped her build their family. As she spoke about him, Celine was joined by Anne-Marie Angelil, Jean Pierre, Andre, Patrick. Although Celine did not sing at the memorial for obvious reasons, her soft music and voice floated through the air the entire night. Ultimately, Celine Dion proved that her kids' half-siblings are also part of her family.
3 Celine's Eldest Son Had To Grow Up Before She Could Have Another Kid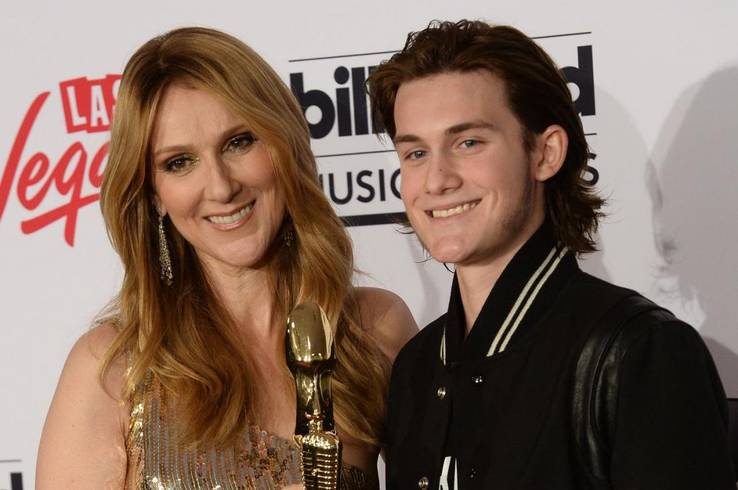 Frankly, that's the least bizarre or shocking rule that Celine Dion has made her family follow. Parenting is quite challenging at times so she purposely waited for her eldest son to grow up before she could try again. Celine's eldest son, Rene-Charles, was born in 2001 and only after six years, the singer was already ready for another baby. The curious part of the story, though, was that Celine Dion hadn't started selling out shows around the world until 2007. The lovely singer was indeed in the midst of her fame when she suddenly decided to take a step back and expand her family. So, she waited until the end of her tour so she could finally return to Florida where she finally commenced her IVF treatment. As you've probably heard, Celine Dion had difficulty conceiving, so she kept in touch with Dr. Rosenwaks who helped her have another baby. Eventually, Celine underwent a few blood tests, hormone injections and lots of other procedures as a part of her preparation for having another little angel. Happily, the singer got lucky and had the twins, Eddy and Nelson, but she purposely spaced out the pregnancies, and her children are now almost ten years apart.
2 Family Should Always Come Before Work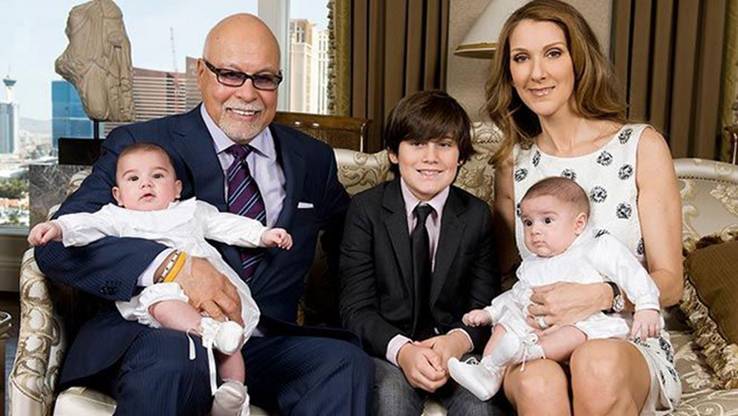 Nobody understands this better than the lovely Celine Dion. She, too, had challenging periods in the past and it inevitably affected her career as well. For instance, Celine has canceled many tour dates and gigs to focus on her family. In 2014, Celine announced that she would be taking a break from music for quite a while. The cherished singer wanted to channel all of her energy and strength to raise her kids as a single mom. At the time, Celine was also having a health problem that caused her throat muscles to swell badly. Maybe Celine really needed to take a step back from her career and spend more time with her kids. Also, her stressful life might have taken a toll on her voice, which eventually prevented her from performing. The phenomenal singer also shared that she would be out of the spotlight for an indefinite period for the sake of her family. Interestingly, around that time, it was reported that the management of Celine's career was in the hands of Aldo Giampaolo, a longtime friend of her late husband. Eventually, Celine thought that it would be wise to cancel her scheduled tour of Asia alongside all of her LA shows that should've run until March 2015. Well, her fans may miss her, but Celine needs to do what's right for her family even if it means cutting back on her LA shows.
1 Be There For Your Family And Always Show Your Support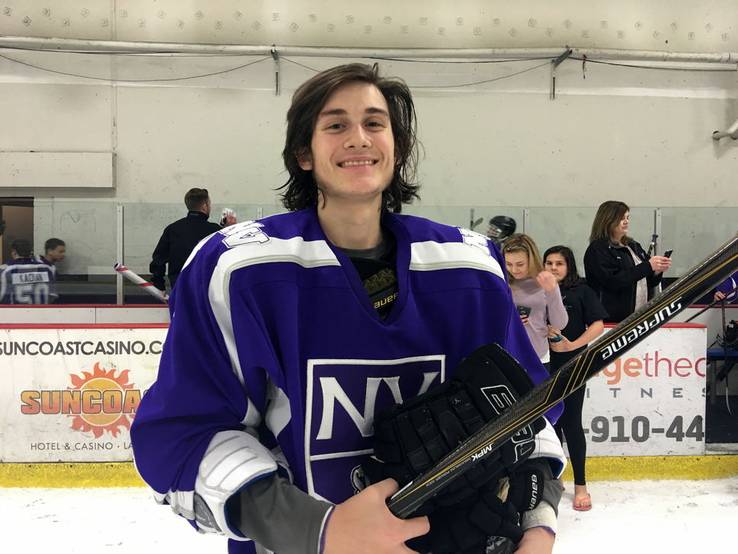 Celine Dion has already proved that there's nothing more important than her family, but there's one more thing that she's trying to implement in her kids' mind as well. Her kids need to support one another no matter what happens. As a lovely mom and pop artist, Celine Dion is aware that being famous is a double-edged sword, and it often turns out to be quite the challenge. But even though it's quite hard to find the balance, Celine never complains about certain phases of her life. The singer is a real hero, who's been through a lot, but she's also an ordinary mom, so she, too, needs to look after her family and support them no matter what happens.
The charming singer is often spotted at various hockey events, especially when her eldest son is playing. But unlike most moms, who'll just sit there and clap calmly every now and then, Celine goes the extra mile by cheering and jumping around while attending Jr. Golden Knights games. Apparently, Celine Dion is not only a gifted singer, but an incredible mom, and a pretty devoted sports fan. Indeed, this lady knows how to be there for her children no matter whether they're still boys or independent young men.
References: pagesix.com, ca.hellomagazine.com, etonline.com, dailymail.co.uk, huffingtonpost.ca, us.hellomagazine.com, sheknows.com
Source: Read Full Article