20 Celeb Wives Who Make Way More Money (And Wear The Pants In The Relationship)
The wage gap between men and women in Hollywood has been discussed for quite some time, and it's no secret that these men have been making a ton more money than their women counterparts. So, it's worth mentioning the few hard working women who have outshined their significant others when it comes to bringing home the bacon.
From getting her start on American Idol, to becoming one of the most successful singers in the music industry, Carrie Underwood reportedly has a net worth of $85 million, compared to her former NHL husband, Mike Fisher, who apparently brings home $1 million a year and has a net worth of $30 million. You would guess that the NFL athlete with the most Super Bowl titles and rings would beat out his wife when it comes to earnings, but you'd be totally wrong. New England Patriots quarterback, Tom Brady, has a mere net worth of $180 million, compared to his supermodel wife, Gisele Bundchen, who has an insane net worth of $340 million. Sometimes, it doesn't hurt for your woman to be the breadwinner, gentleman!
Let's take a look at the 20 celebrity wives who are making way more than their star-studded husbands. Who says women can't make more than men anyway? It's 2018, and we should start recognizing women for their talents and hard work just as we have done with the men in Hollywood. Check out this list and see which Hollywood starlets are working hard for the money!
20 Nicole Richie And Joel Madden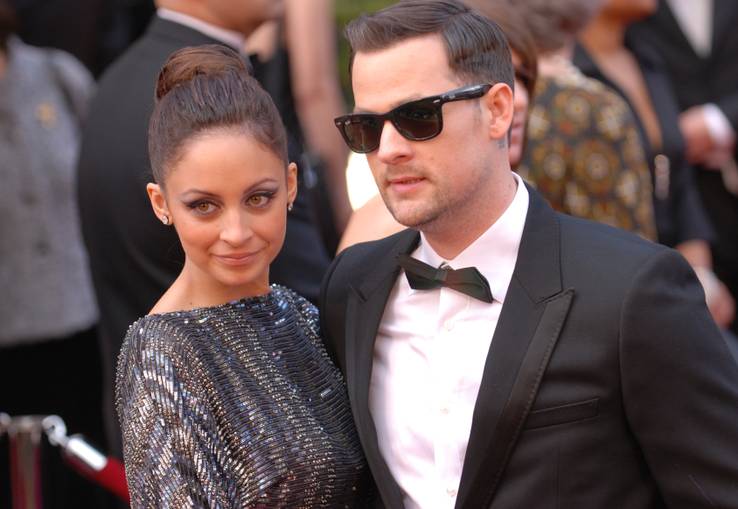 Nicole Richie may be the adopted daughter of the Lionel Richie, but that doesn't mean she isn't working hard to support her family. Nicole rose to fame after tagging along with Paris Hilton and landing the television series, The Simple Life, which actually did extremely well on the Fox network, premiering with 13 million viewers. Since then, she's made a name for herself in Hollywood as a fashion designer, author, and actress and has come a long way since her hard-partying days. Richie owns her own fashion line named House of Harlow 1960, which began with jewelry and grew to include clothes and shoes. The collection sells in online shops like Revolve. She also had her own television show on VH1 called Candidly Nicole and has had guest star roles on shows like Project Runway, Eve, Six Feet Under, and Chuck. Let's not forget that Richie also landed the role of a quirky TV actor on the NBC comedy, Great News, which revealed that she's actually very good in sitcoms and not just reality television. "I was intimidated on every level," Richie told Refinery29, adding, "So I was really walking in not only as the girl who just got her first acting role as a regular on a series but also as just the new kid on the block." So how much money does Nicole Richie make than her husband Joel Madden? Remember that guy, the lead singer of Good Charlotte? Richie is said to have an estimated net worth of $48 million, while her husband has a cool $16 million.
19 Gisele Bundchen And Tom Brady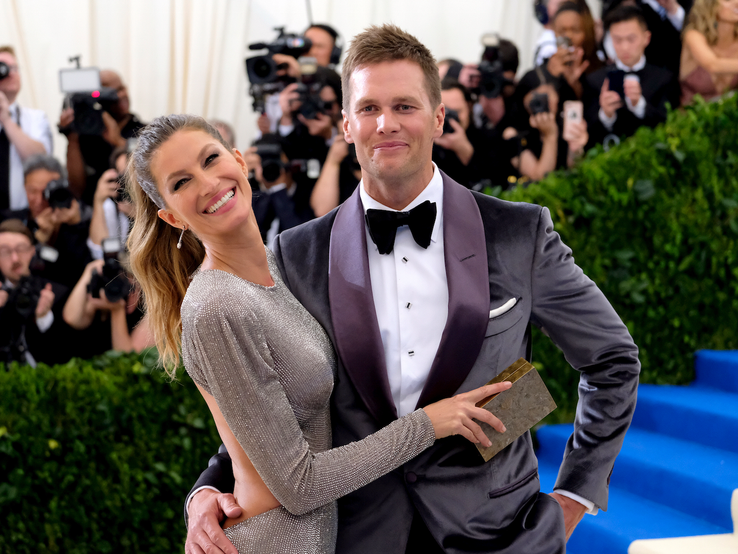 Tom Brady has won five Super Bowls, has won four Super Bowl MVP Awards, and is constantly being debated as the best quarterback in the NFL. You'd probably take a guess that this athlete is making way more than his wife, but you'd be so wrong. Brady is married to top supermodel, Gisele Bundchen, who has been in the modeling business since she was a teenager. Now, at the age of 37, Gisele is still killing it in the modeling industry and has been among the highest-paid models in the world, if not the highest-paid model in the entire world. In 2000, Gisele signed a massive $25 million deal with Victoria's Secret, and in the same year, Rolling Stone magazine named her "The Most Beautiful Girl in the World." By 2004, this beauty became the top earner among models, and even after ending her relationship with Victoria's Secret in 2007, was still extremely sought after. In 2012, the top model made news for appearing sans-clothing in Vogue Paris magazine, proving to the world that at the age of 32, she was still one of the most beautiful and hard-working models. Let's just say that Tom Brady is one lucky man. Bundchen reportedly makes more than $40 million a year and has an insane net worth of $340 million. The New England Patriots quarterback reportedly has a net worth of a mere $180 million, compared to his stunning model wife.
18 Jessica Simpson And Eric Johnson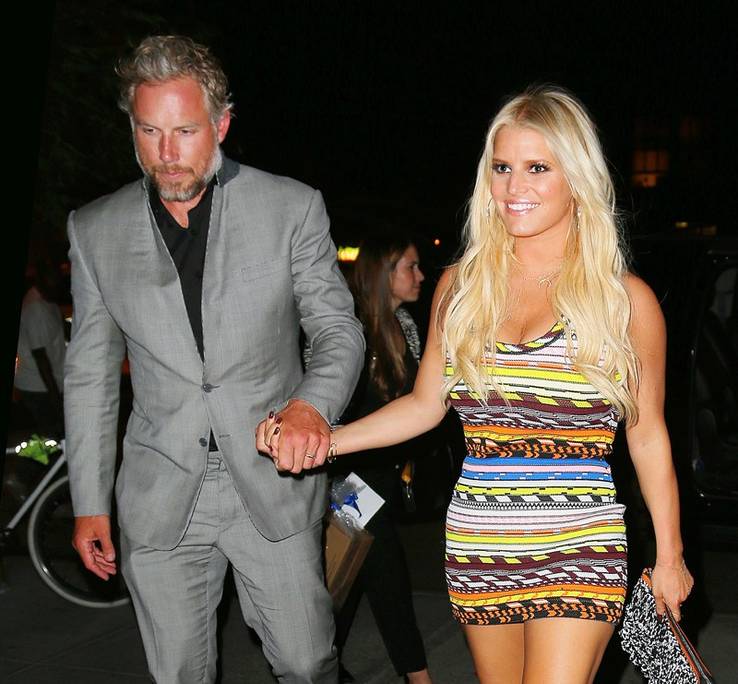 Jessica Simpson may not be in the studio recording songs and albums anymore, but that doesn't mean she isn't bringing home the bacon— and lots of it. Simpson is a smart businesswoman, thanks to her fashion and beauty lines, which is sold in numerous stores like Macy's, Nordstrom Rack, and Dillards. In addition, her million dollar Weight Watchers deal and her stint as a judge on NBC's, Fashion Star, have the blonde beauty living quite comfortably. Simpson married former NFL tight end of the San Francisco 49ers, Eric Johnson, in 2014. While athletes are known to make a large sum of money, Johnson is a retired NFL football player and it's reported that he embarrassingly has a net worth of only $100,000, which is less than 1% of his wife's. Simpson is reported to have a net worth of $150 million, and according to Fame10, her clothing and beauty line brings in $1 billion in sales annually! While the superstar isn't bringing home a billion dollars, she's on the right path to securing her net worth and even making it grow. We're also going to take this opportunity to mention that Simpson's former flame, 98 Degrees boy band member, Nick Lachey, has a net worth of $20 million, and even if it's more than her current husband's, Simpson is still making more bank than both of them combined and more.
17 Kylie Jenner And Travis Scott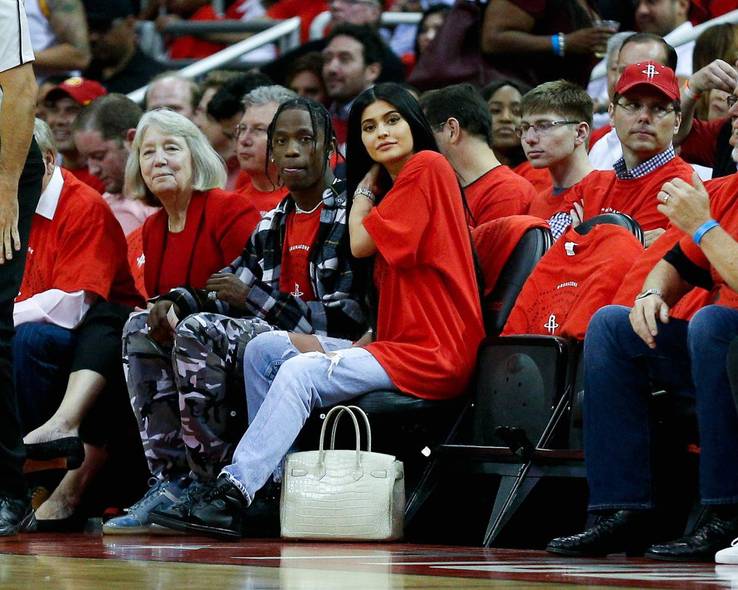 While Kylie Jenner and rapper, Travis Scott, haven't tied the knot just yet, we had to mention the couple on this list just to compare the two celebrities' net worths. Reality television star and businesswoman, Kylie Jenner, reportedly has a net worth of $2o million, which we believe is a lot more thanks to her extremely successful makeup line, Kylie Cosmetics and her other business endeavors. At just 20 years old, Jenner has literally created an empire, and she's become a huge influence on young women, whether you hate her or love her. She's literally the queen of all social media platforms, including Instagram, where she is the second most followed person behind The Rock and Snapchat, where she falls second to DJ Khaled. Besides her makeup line, Jenner receives income from her lucrative sponsorship with Puma, has her own fashion line with her older sister, Kendall Jenner, and has her own E! Network series called Life of Kylie. According to Time, the young mom, who started off the 2018 year welcoming her daughter, Stormi, in February with Scott, is expecting to see a 25% increase in makeup sales, earning $386 million in 2017. They also report that the star's successful line is on track to be worth more than $1 billion by 2022! It's definitely safe to say that Travis Scott's mere $8 million is nothing compared to Kylie's gigantic growing empire.
16 Julia Roberts And Daniel Moder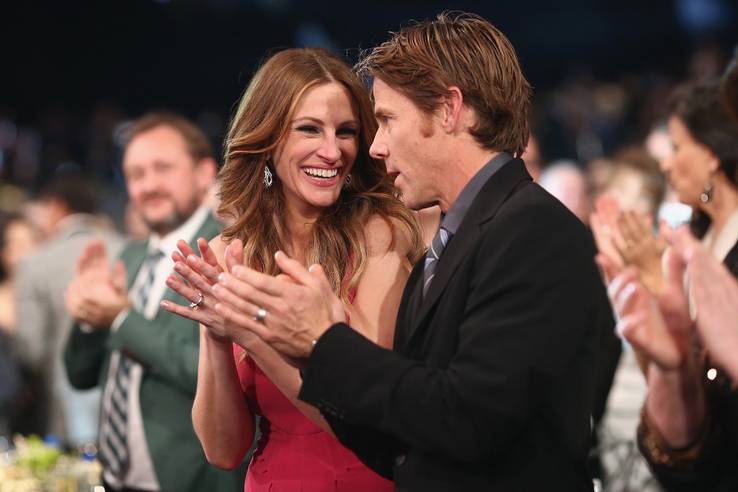 Julia Roberts became Hollywood's leading lady after her performance in everyone favorite 1990's movie, Pretty Woman. Since then, she's been in numerous blockbusters and is known for being one of the highest-paid actors and biggest box-office earners in Hollywood. Roberts has been on the top ten of Forbes World's Highest-Paid Actresses constantly and is currently sitting at number eight on the list since 2017. Movies aren't the only way she earns her money, though. She made one of the best decisions of her life after signing a $50 million endorsement deal with Lancôme. She was obligated to promote the brand for 5 years and according to a report, the company made double their usual profit with Roberts as the face of the makeup line. Roberts has a net worth of $140 million, and even though her career as an actor has slowed since the '90s, she is still making a ton of money with her other endorsements. Roberts and her husband, Daniel Moder, a cameraman, met on the set of The Mexican in 2000. The couple tied the knot in 2002 and together, they have three children. Moder doesn't make nearly as much as Roberts makes, but who says a woman can't earn more than her husband and support her family?
15 Oprah Winfrey And Stedman Graham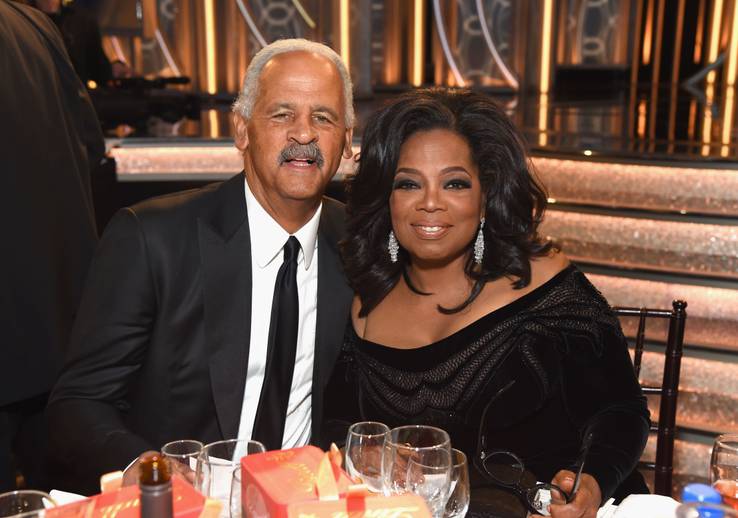 Obviously, we all know that Oprah Winfrey is a billionaire, with a net worth of $2.8 billion to be exact. Oprah sits at the 660th place on Forbes list of billionaires, which is a pretty big deal, as she was the first black woman billionaire in world history. She has constantly been named the wealthiest self-made woman in America and has received countless awards for her charity and hard work. Oprah isn't married, however, she and her partner Stedman Graham have been together since 1986. Graham is an author of several self-help and business books and has delivered speeches at many public and private schools on topics of self-identity and self-awareness. The couple was engaged at one point of their lives in 1992, however, decided that they would rather have a "spiritual union." Since being with Oprah for over 30 years, her success and power don't seem to bother Graham one bit. He's supported his partner throughout her career, and who wouldn't love that in their partner no matter how much more money they make? Oprah has defied the odds not only as a woman but as an African American woman and all women of the world should remember this quote by her: "Think like a queen. A queen is not afraid to fail. Failure is another steppingstone to greatness."
14 Gwen Stefani And Blake Shelton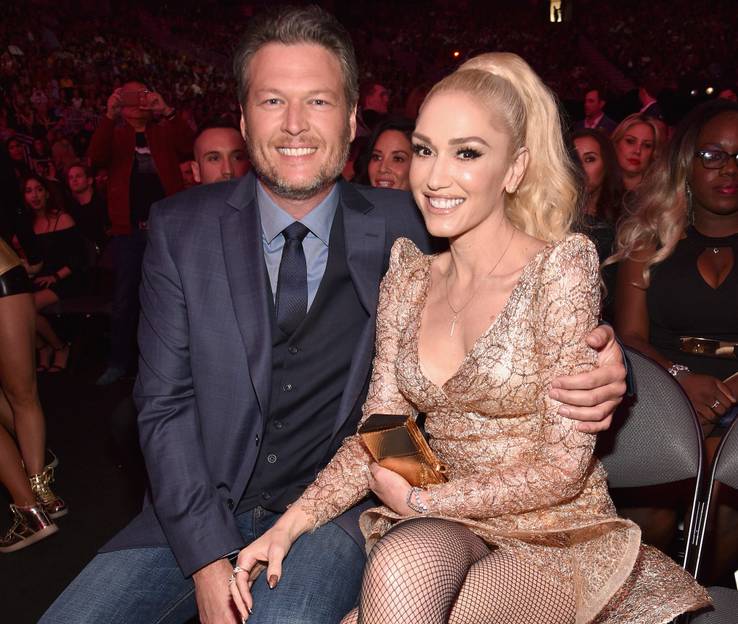 Gwen Stefani has been exposed to music since she was a kid, growing up with two parents who were big fans of folk music. Stefani was basically born to be a rock star, and those dreams came true when she became the lead vocalist for the major successful band, No Doubt. Being in such a successful ska-pop group lead Stefani to eventually make her solo debut and her own clothing line, L.A.M.B. Even though she parted ways with No Doubt in the early 200o's, she continued to create her own music. She rekindled with her old band in 2012, and they even debut an album after 11 years. Stefani is a huge influence in the music world, and her net worth is said to be $100 million. Even with a very successful country music star boyfriend like Blake Shelton, and both stars working on The Voice, Stefani still makes way more money than him. Her career in Hollywood spans almost 30 years and besides music, she's a fashion designer, television personality, and just an overall powerful female figure in the industry. According to Bankrate.com, as a country musician and TV personality, Shelton has earned a net worth of $60 million.
Featured Today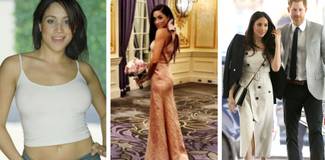 20 Photos Of Meghan Markle Doing A 180 (In Order To Please The Queen)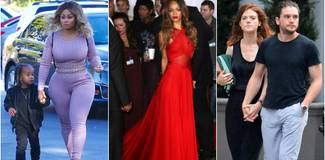 25 A-Listers Reveal Their Real Names (And It Totally Surprised Us)

10 Co-Stars Who Dated In Real Life (And 10 We Wish Would Date)

13 Teresa Giudice And Joe Giudice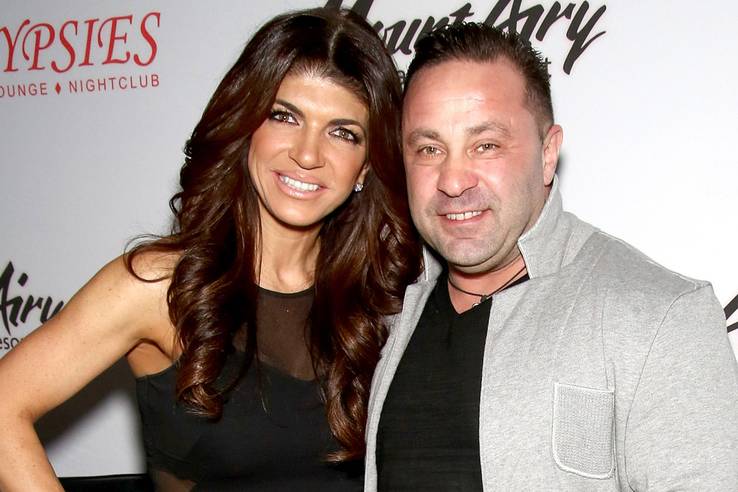 The Real Housewives of New Jersey stars, Teresa Giudice, and her husband, Joe Giudice, have been through more than most couples. They're known for their extravagant lifestyle but are most famously known for their publicized legal troubles, which landed Teresa in prison for fraud, where she served 11 months and was released on December 23, 2015. Joe is currently serving a 41-month sentence, which began in March 2016. With Joe in prison, Teresa has been extremely busy keeping her posh lifestyle in tack. She's written multiple New York Times bestseller books and cookbooks, including three successful cookbooks that include recipe handed down from her mother, and a memoir, Turning Tables: From Housewife to Inmate and Back Again, and continues to partake in Bravo's, The Real Housewives of New Jersey, which she has been on since season one. Talking about Joe being in prison, Teresa told Bravo's The Daily Dish, the two "still talk every day" and that he is "doing well." Teresa even mentioned that with Joe transferring to another facility in Pennsylvania, he has a more likely chance of getting out early. As a mother of four daughters, Teresa definitely has her hands full, but we commend her for working hard to support her family. Teresa reportedly has a net worth of $1.5 million.
12 Natalie Portman And Benjamin Millepied
Academy Award-winning actress, Natalie Portman, has been called one of the most "bankable" actresses in Hollywood. Even though her husband, Benjamin Millepied, who she met on the set of Black Swan, landed the role of director of dance at the Paris Opera Ballet, Portman is still bringing home way more money. The beautiful actress has a net worth of $54 million, thanks to her roles as Jane Foster in the Thor movies and as Queen Amidala in the Star Wars prequel trilogy, as well as countless other films. Her husband, who is a famous dancer and choreographer, makes significantly less than his wife, with a net worth of $900,000. Besides her career as a top Hollywood actress, let's not forget that Natalie is also a very smart woman. She is one of a few Hollywood women that continued their education. Portman received a degree in psychology from Harvard University. She's also an award-winning actress, winning the 2010 Best Actress Oscar for her portrayal of a troubled ballerina in Black Swan and received an Oscar nomination in 2016 for her portrayal of First Lady Jackie Kennedy in the biopic, Jackie. We're sure Natalie has a lot more up her sleeve in the coming years, and she's even mentioned that she's up for a return to the Marvel Cinematic Universe.
11 Kim Zolciak-Biermann And Kroy Biermann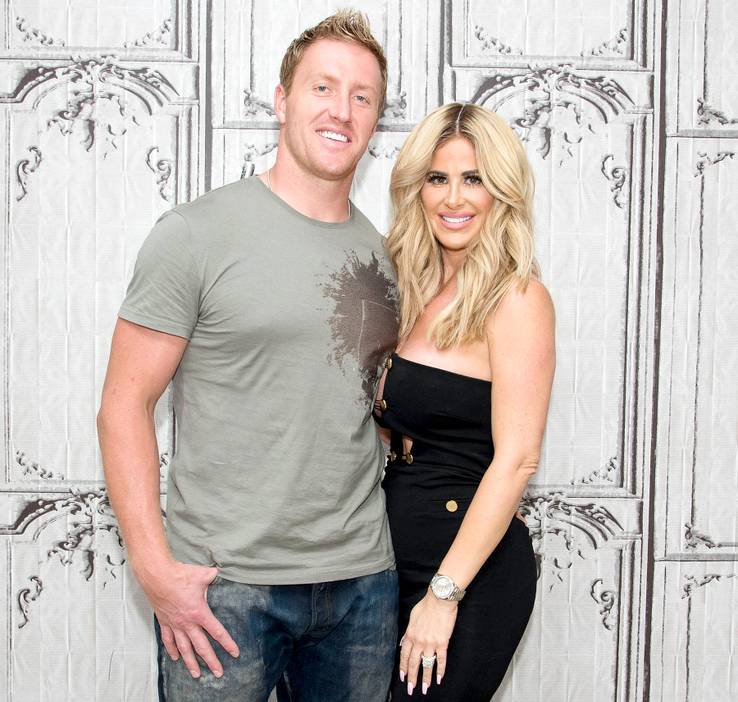 Although Kim Zolciak and her unconventional family are no longer involved in The Real Housewives of Atlanta, fans still wanted an inside look in her extravagant life with her and husband, Kroy Biermann, and their six children. The couple and their family have filmed, Don't Be Tardy, for six seasons already, and the show seems to be going strong. According to Daily Mail, Kim rakes in about $80,000 per episode, while her husband is reportedly being paid just about $20,000. Besides starring in the reality television show, Kim earns her money from online endorsements with Fab Fit Fun boxes, Fit Tea products, and she's also the owner of a skincare line called Kashmere Kollection. It isn't really known how much the star makes from her company, but with stars like Kim Kardashian praising it, you know it should be a big hit. Kim's net worth is said to be $1.5 million, but we believe it could be a lot more with having her own television show, which looks to be doing extremely well on Bravo, and new skincare company. Kroy was raking in $5.5 million, but this may have changed since he's no longer in the NFL, where he played as an outside linebacker for the Atlanta Falcons. However, Kim and Kroy seem to have a great relationship and work together to earn their money, even if Kim's making $60,000 more per episode. She is the star, isn't she?
10 Nicole Kidman And Keith Urban
Nicole Kidman is an A-list actress who is one of Hollywood's most highest-paid stars. Some of her most acclaimed films include The Hours, Moulin Rouge!, The Others, The Stepford Wives, and Dead Calm. Kidman earned her first Oscar for her lead role in the 2002 film, The Hours, as well as several other major honors. In 2016, the star was nominated for an Academy Award for her role in the film, Lion. Kidman also won an Emmy and Golden Globe Award for her work in the HBO series, Big Little Lies. Kidman is constantly working and it shows, having a net worth of $130 million. Kidman met country superstar Keith Urban in early 2005, and the duo wed a year later. Urban has done quite well for himself in the music business, claiming 11 number one singles and four Grammys. He continues to work on his music, but has not made nearly as much as his Australian wife. Keith's net worth is a reported $75 million and that also includes his work as a reality show judge on American Idol. What makes Kidman even stronger is that she stood by her husband's side when he entered a rehab facility for problems with alcohol just a few months after they got married. It looks like the couple is better than ever even welcoming two kids, Faith and Sunday, and proving that they can make it through anything, even with Kidman earning more than Urban.
9 Jessica Alba And Cash Warren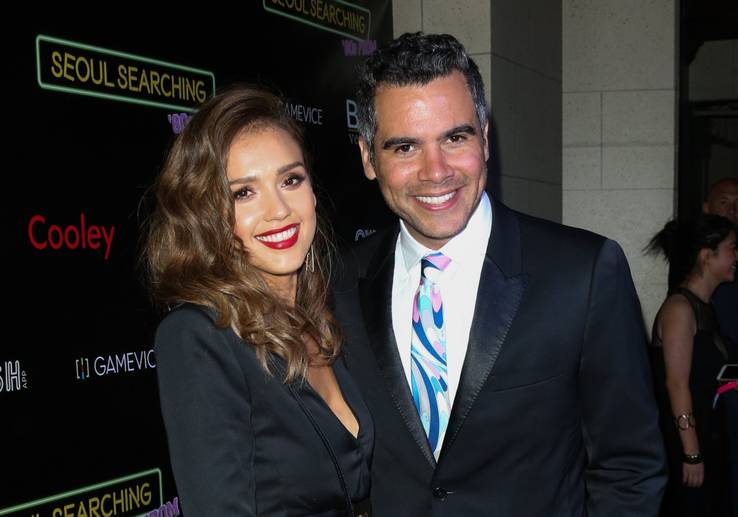 Jessica Alba shot to instant Hollywood fame with her role in the 2000 science fiction show, Dark Angel. Since then, she went on to star in a bunch of films, like Into the Blue and Good Luck Chuck, and she portrayed Sue Storm in the Fantastic Four movies. Besides making millions as an actress, Alba's primary source of wealth comes from The Honest Co., an environmentally friendly brand that started with diapers and quickly expanded to around 100 non-toxic and green items. Forbes named Alba, the co-founder of the company, one of America's richest entrepreneurs under 40. According to a report by Fast Company, Alba's successful company is now a 400-person company that is valued at an insane $1.7 billion. While Alba isn't earning all the billions, she still is earning a large profit from the eco-friendly brand. While her husband, Cash Warren, is a Yale graduate and film producer, he can't outshine Alba's driving work ethic and her net worth, which is reportedly $350 million. However, Alba does admit that her husband deserves credit for her success, stating, "My husband, Cash, has been integral in my development as an entrepreneur."
8 Melissa McCarthy And Ben Falcone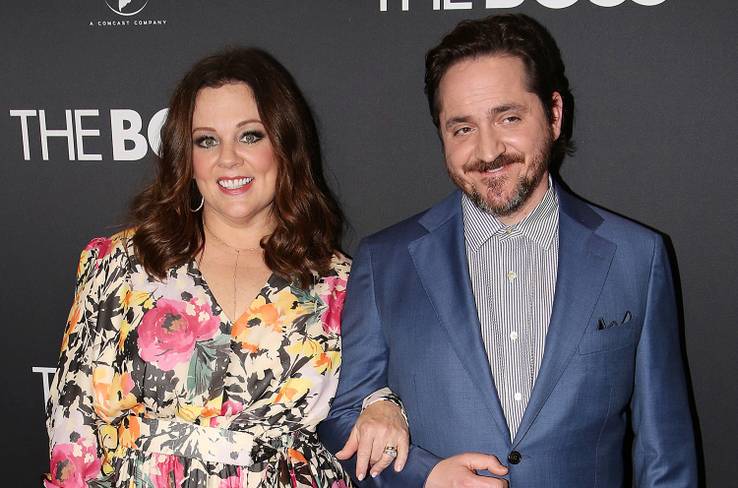 Comedic actress, Melissa McCarthy, shot to fame after her breakout role in the hilarious film, Bridesmaids, and later, receiving her own sitcom on CBS called Mike & Molly. According to Celebrity Net Worth, the star made $33 million alone, thanks to her appearance in the film, Ghostbusters, in 2015. During that year, Forbes also named the starlet the third highest-paid actress in the world. McCarthy has starred in several films, including The Back-Up Plan, The Heat, The Boss, Tammy, and Spy and currently has a comedy due to be released this summer titled The Happytime Murders. McCarthy has become one busy actress and is one of the most sought-after stars in Hollywood. Besides acting, McCarthy has taken the role of fashion designer, launching a clothing line called Melissa McCarthy Seven7. She holds many titles: an actress, comedian, writer, fashion designer, and producer, so it's no wonder that this woman is making a ton of money. Her husband, Ben Falcone, who is also a comedic actor and screenwriter, even appeared in the film, Tammy, alongside McCarthy. However, he doesn't earn as much as McCarthy and has played minor roles in comedies, including The Heat and Identity Thief. McCarthy reportedly has a whopping net worth of $60 million, while Falcone has a net worth of just $2 million.
7 Carrie Underwood And Mike Fisher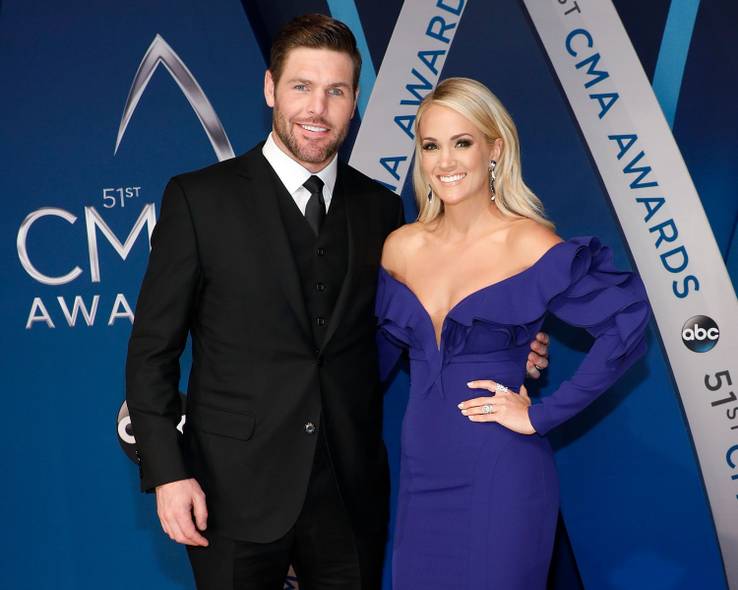 Not every winner of American Idol ends up with a successful career in the music industry. However, Carrie Underwood, who won the fourth season of the show, back in 2005, continues to defy those odds, creating hit after hit in the country music scene. Her debut album, Some Hearts, was a huge success, and it became the best-selling solo female debut album in country music history. She went on to make four more albums, all of which were prosperous. Underwood is recognized by Billboard as Country's reigning Queen and by Rolling Stone as "the female vocalist of her generation of any genre." Even if you're not a fan of country music, you have to give Underwood props for continuing to be a huge influence in music and creating country hits. Her husband, Mike Fisher, definitely won the jackpot when he married Underwood in 2010 in Georgia. Fisher is a former Canadian ice hockey center who played for the Ottawa Senators and Nashville Predators in the NHL. During his time in the rink, Fisher was one of the highest-earning players, receiving an annual salary of $4.2 million in 2014. Today, it's reported that Fisher has a net worth of $30 million, which is still high for a former athlete. However, that does not compare to his wife's $85 million. Plus, we're pretty sure she's going to continue rocking it in the country music scene.
6 Kelly Ripa And Mark Consuelos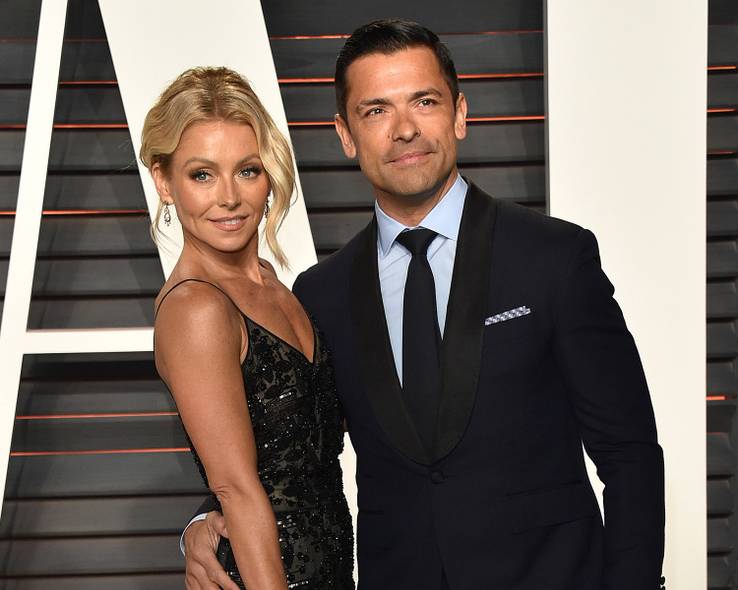 Kelly Ripa has been in Hollywood since the early '90s. She began her career as an actress on the daytime drama, All My Children, and in 2001, she joined co-host, Regis Philbin, on the talk show, Live! With Regis and Kelly. After Philbin retired from the show, former NFL star, Michael Strahan, was chosen to co-host with Ripa. However, after some tension between the two and Strahan leaving, the star worked solo for quite some time until it was announced that American Idol host, Ryan Seacrest, would become her co-host. Ripa is recognized as one of the most powerful women in media, juggling many jobs, even with her hosting gig. From 2003 to 2006, she starred in the sitcom, Hope & Faith, and she has also been the spokesperson for brands like Tide, Pantene, and TD Bank. She is also the brand ambassador for Electrolux, a Swedish home appliance manufacturer, and Ryka, a brand of athletic shoes. As of last year, Ripa's net worth is estimated to be a whopping $100 million. While her husband, Mark Consuelos is also very rich, acting in many movies, and even appearing on a few hosting gigs with Ripa, he is reported to only have a net worth of $40 million.
5 Jennifer Lopez And Alex Rodriguez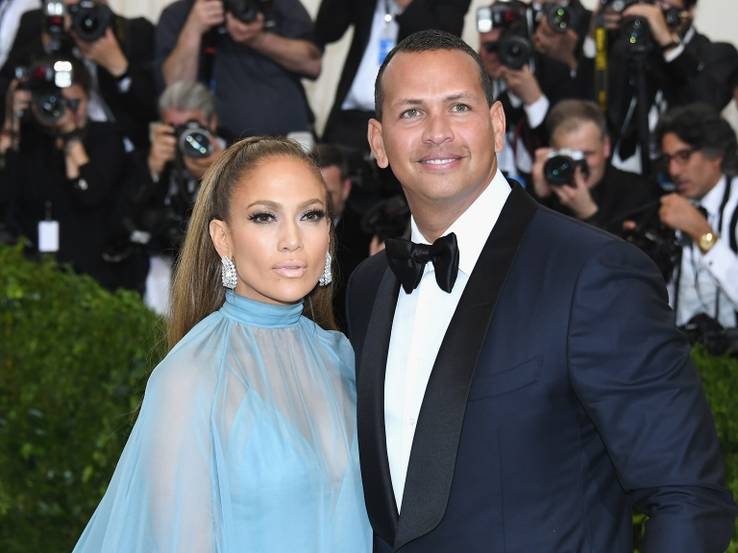 Alex Rodriguez is one of the most recognized baseball players in the MLB. When he signed a 10-year deal with the Texas Rangers in 2001 for an insane $252 million, it was the biggest contract in MLB history. In 2003, he was traded to the New York Yankees until his retirement in 2016. Even though the former All-Star athlete retired in 2016, his contract lasted until 2017, and the guy still got paid $21 million for that remaining year! According to Celebrity Net Worth, A-Rod is considered the highest earner in the MLB, making a whopping $452 million alone. So, how much is Alex really worth? It's reported that the former baseball star has a net worth of $300 million. Do you think his girlfriend Jennifer Lopez beat his net worth? Because she sure did! J-Lo has been in the music business for quite some time. Not only is she one of the most popular songstresses, she's a terrific dancer, an actress, and a producer. Jennifer's breakout role was when she portrayed the late Selena Quintanilla-Perez in the film, Selena. In 1999, Jenny from the Block released her first album, which hit platinum in just two weeks. According to Bankrate, Lopez made a lot of her money from the films she starred in, however, she also earns her money in music sales, TV appearances, and has endorsement deals with Gucci and L'Oreal. Let's not also forget that Lopez was a judge on American Idol for many seasons and was paid $12 million per year. So how much more does Lopez make than her man A-Rod? Lopez's current net worth is an outstanding $360 million. Just think about what a crazy power couple these two are if they put their net worth's together!
4 Anne Hathaway And Adam Shulman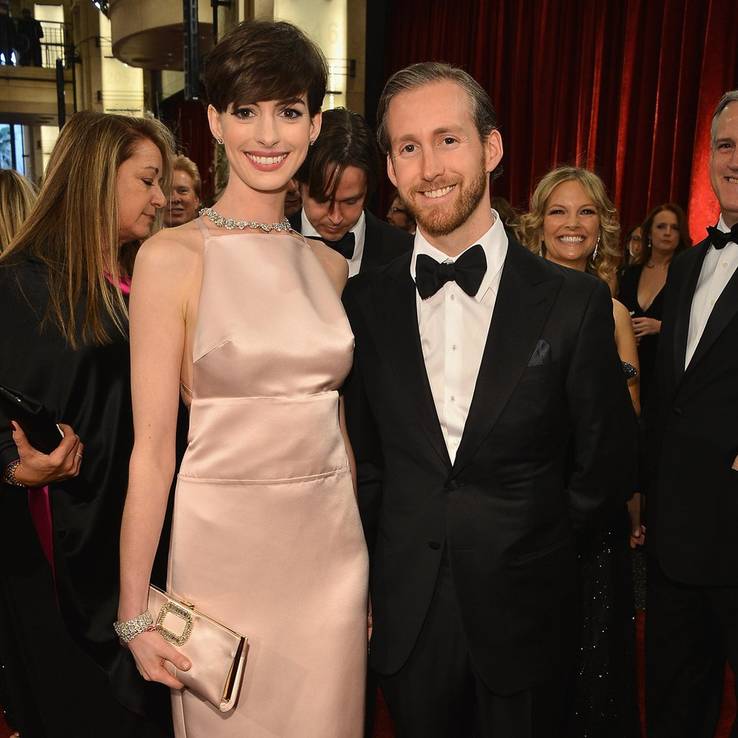 Anne Hathaway's acting career skyrocketed after her role in the 2001 Disney film, The Princess Diaries. Ever since then, she's landed some major roles in films like Brokeback Mountain, The Devil Wears Prada, The Dark Knight Rises, Interstellar, and Les Miserables, which she won the Academy Award for Best Supporting Actress in 2013. According to Entity mag, Hathaway makes the list of 10 of the richest and highest-paid actresses of today. Besides her successful career as an actress, Hathaway has made money from endorsements for brands like Tods and Lancome. So with all of her success, the starlet's net worth is estimated to be $35 million. Her net worth is $34 million more than her actor and producer husband, Adam Shulman. The actor landed a few small roles in television shows and movies, but his real passion is, reportedly, jewelry. Shulman makes his money as the co-founder of the handcrafted James Banks jewelry line, which was established in 2011. The jewelry line is said to be very successful, thanks to its one-of-kind pieces and delicate hand-crafted work. "Jewelry is a beautiful piece of poetry," Shulman told the LA Times, adding, "It's a love letter that someone has given you or that you've written." Shulman's net worth is just a mere $1 million, however, he's still living a pretty good life with Hathaway on his side.
3 Cameron Diaz And Benji Madden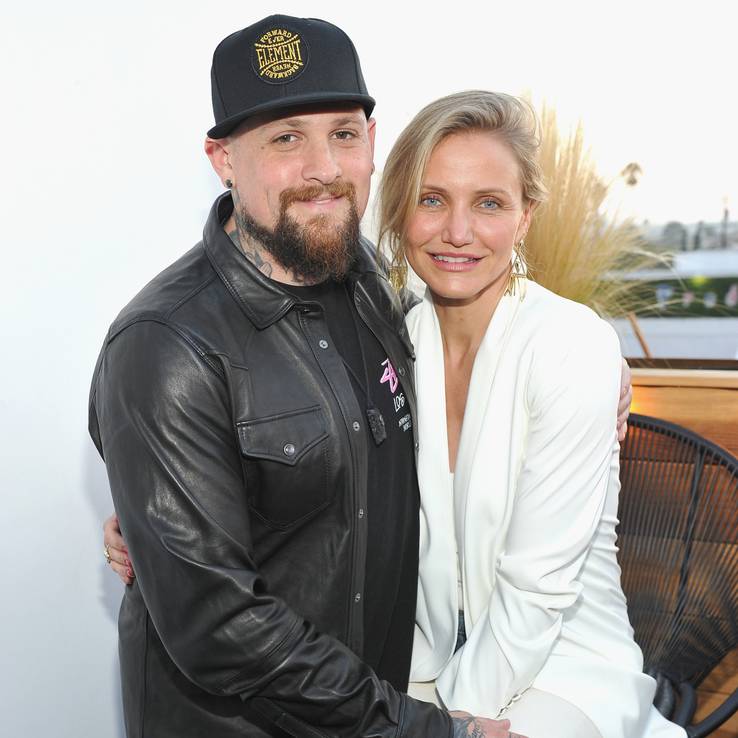 Cameron Diaz had no experience as an actress when she landed a role opposite Jim Carrey in the 1994 classic, The Mask, which grossed $343.9 million in worldwide box revenue. The movie put Diaz on the map, and the next few years would be extremely promising for her as an actress. She starred in My Best Friend's Wedding and There's Something About Mary, which earned her her first Golden Globe nomination. Diaz has been in a bunch of successful films that did insanely good at the box office, including, Being John Malkovich, Charlie's Angels, Gangs of New York, and was the voice of Princess Fiona in the very popular, Shrek, films. The blonde beauty has a number of movies under her belt, and, while we haven't seen her in many films these past few years, Diaz still makes her millions with endorsements and is the author of two health books, including one that made the New York Times bestsellers list. It's pretty easy to guess that Cameron Diaz has a large bank account. Her net worth is reportedly a cool $140 million. The successful actress is earning way more than her husband, Good Charlotte singer, Benji Madden's. While he is most known for being one of the founding members of the band, he's done several screen appearances, but nothing that adds up to his wife's. Benji reportedly has a net worth of just $14 million.
2 Miley Cyrus And Liam Hemsworth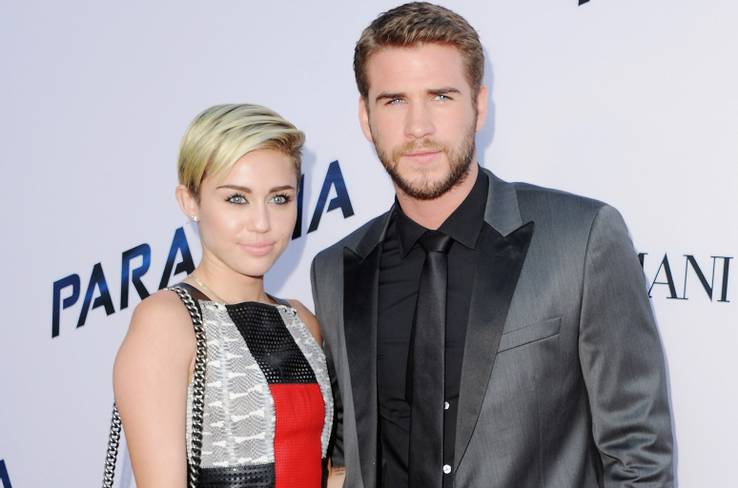 We all know Miley Cyrus has Disney to thank for her big break in Hollywood. The singer starred on the very popular show, Hannah Montana, from 2006 to 2011. Since then, Cyrus' fame continued to grow rapidly and her debut album, Meet Miley Cyrus, reached quadruple-platinum status. According to Celebrity Net Worth, five of her albums have reached number one on the Billboard 200, and even with all the controversy that the singer has stirred in the past few years, she still is making bank. Besides a very successful music career, Cyrus has been in a few movies, including LOL, So Undercover, and The Night Before. Cyrus' concerts pretty much always sell out, and her Hannah Montana clothing line was also a big reason why she has earned her millions. The star's net worth is reportedly $160 million. Cyrus' on-again, off-again boyfriend-turned-fiance, Liam Hemsworth, also makes a fairly decent amount of money as an actor. We've seen him in films like The Hunger Games and The Last Song. The Australian actor reportedly has a net worth of just about $16 million, which trails pretty significantly behind Miley. His brother, Chris Hemsworth, who we all know plays Thor in the Avengers movies, surpasses his brother, with a net worth of $60 million.
1 Erin Andrews And Jarret Stoll
Erin Andrews earned her millions in an industry headed mostly by men. As a sideline reporter for the NFL, NBA, and NHL, she grew to be a respected sportscaster and has worked in the field for over 20 years. She's been a guest on several talk shows, including The Oprah Winfrey Show and The Tonight Show with Jay Leno, and even appeared on the tenth season of Dancing With the Stars. Andrews's popularity grew as a sportscaster, and she even landed endorsement deals with Reebok and CoverGirl. Erin Andrews also suffered a very scary stalking incident when a man filmed her in her hotel room through peepholes back in 2008. After the incident, Andrews sued the man, the hotel, and five other entitles for negligence. The jury in the case awarded her $55 million in 2016. Of course, with working in the sporting world, it would only take a matter of time for Andrews to have her eye on an athlete. Andrews wound up marrying hockey player Jarret Stoll in 2017, who reportedly has a net worth of $16 million, which still doesn't beat out Andrews' $20 million.
References: washingtonpost.com, celebsnetworthtoday.com, fame10.com, time.com, kiwireport.com, townandcountrymag.com, bankrate.com, bravotv.com, dailymail.co.uk, latimes.com
Source: Read Full Article