20 Female Celebs Who Should Play These Disney Princesses In Live Action Movies
It has already been publicly revealed that there are plans for a number of well-known Disney fairytales to be remade as live action movies. Beauty and The Beast last year proved that live action is still able to capture the magic of Disney and now there are going to be a number of other princesses following Belle's lead.
Becoming a Disney princess is an honor; it's on the same level as being cast as a hero or a villain in the Marvel or DC Cinematic Universes or even playing James Bond and a Bond girl. It's also a role that will shape a number of actresses careers if they are given the role while they are young or help relaunch the careers of the actresses who are currently floundering.
The casting for the stories that are known better than any others won't be an easy process, but many directors will already have a vision for the person they want to play their pivotal role from the beginning and that will then help them when it comes to casting. There is no doubt that these will be the biggest films of the year and almost every actress will want to throw their hat into the ring for consideration.
The following is a list of just 20 actresses that we think would be perfect to slip on that iconic glass slipper or take a bite of that poisoned apple. There are so many women in Hollywood right now who could bring something unique to these roles, and there are some who already look the part without even trying.
20 Amanda Seyfried as Rapunzel
There isn't an actress in the world who would be able to bring Rapunzel to life quite like Amanda Seyfried. The actress's break out role was almost 15 years ago in Mean Girls, but over the past decade she has become known for her singing just as much as her acting because of roles in Les Miserables and Mamma Mia.
Seyfried is an adaptable actress and she already has the right look for Rapunzel, if a Tangled live-action film was ever to be created.
Seyfried fits the role so well that PopSugar even wrote an article about the actress and how much she looks like the Disney princess. There are currently no plans to turn Tangled into a live action movie and the producer of the 2010 animated version of the fairytale Robert Conli told Collider last year that he didn't want the movie to be turned into a live-action movie anytime soon: "Tangled re-opened the door, I think, to what a princess is and I want it to be there for a while before it becomes something else." Tangled is only a recent addition to the Disney world, but if there were any plans to make the movie a reality in the future than Seyfried would be the perfect candidate for the lead role.
19 Gina Rodriguez as Esmeralda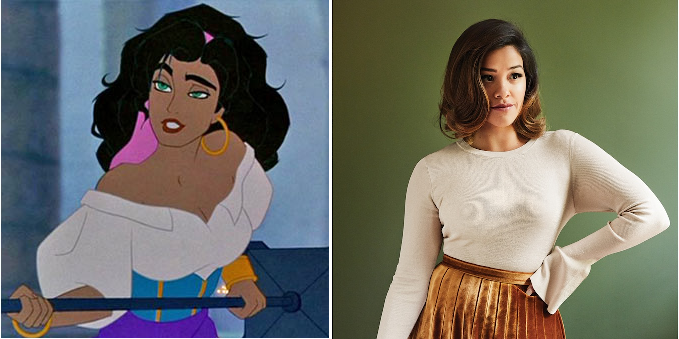 Gina Rodriquez is perhaps best known now for her role on Jane The Virgin where she has become a household name. She is one of the most successful Latina actress herself, and she is proud of her Puerto Rican roots. Rodriquez has definitely been typecast in this kind of role throughout her career, which is why she would be the perfect fit for Esmeralda. The main star of The Hunchback Of Notre Dame is revealed to be of French descent towards the end of the story, but it's nothing that Rodriquez couldn't adapt to.
Esmeralda was known for her sass and her ability to attract male attention using her dance moves, which is something that Gina has shown off a number of times on Jane The Virgin.
She knows how to steal focus and how to ensure that the camera is always on her. It was reported by Den Of Geek last year that The Hunchback of Notre Dame was definitely on the list of remakes to be made as live action movies as soon as Aladdin and Mulan have finished in post-production. It will be interesting to see which actress is chosen for the iconic role of Esmeralda since she has such a dominant on-screen presence.
18 Lucy Hale as Snow White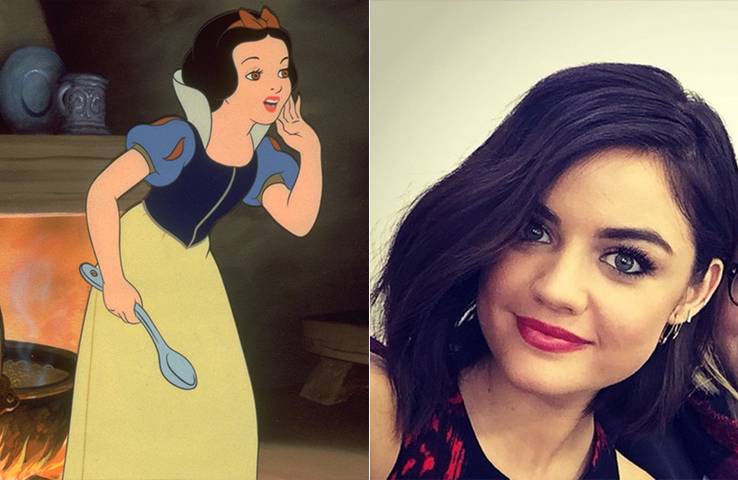 Lucy Hale first made an impact in the acting world as Aria Montgomery in Pretty Little Liars but since the show came to an end last year, the actress has moved onto much bigger projects, including her most recent outing in Truth or Dare alongside Teen Wolf's Tyler Posey.
Hale is becoming a household name all on her own. Considering the fact that the actress has recently changed her hair into a bob and has a habit or wearing red lipstick with her dark locks, is there anyone more perfect for the role of Snow White?
Snow White And The Seven Dwarfs was first released back in 1937 and has become a story that many parents have told to their daughters throughout the last few generations, which would make it one of Disney's most treasured projects. The Hollywood Reporter revealed back in 2016 that there was a live-action version of Disney's first ever feature film in the works and that The Girl on The Train screenwriter Erin Cressida is the woman who's currently writing the script, which is set to include some original songs. Hale doesn't appear to be attached to any roles as big as this one right now, so it would be interesting to see if she's factored into the casting process when it happens.
17 Bella Thorne As Ariel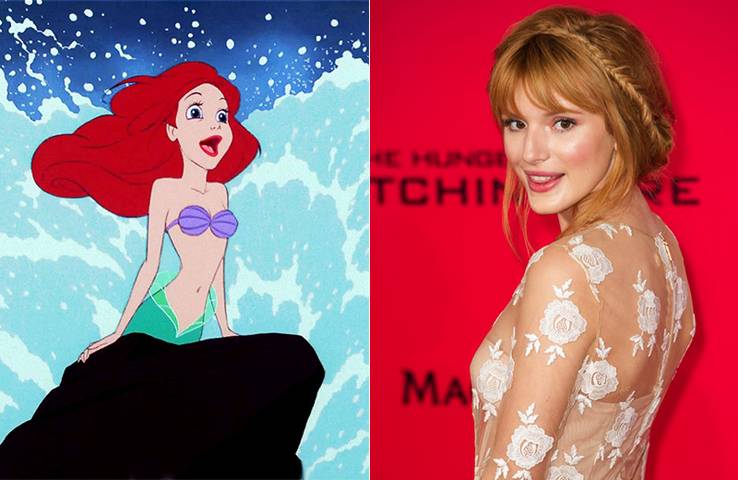 Bella Thorne started her acting career on Disney Channel as part of Shake It Up and over the past few years, she climbed the ranks in the acting business to become one of the best known female actresses in the world right now. Bella's most recent movie Midnight Sun was only recently released in theatres and proves that many directors are asking for the actress personally to be part of their projects.
Bella's small frame would make her perfect for the role of Ariel in The Little Mermaid if she was able to dye her ginger hair a more vibrant shade of red then she would be the perfect person to bring one of the most recognizable Disney Princesses to life. Harpers Bazaar reported last year that there are three live-action Little Mermaid movies planned in the future and Chloe Grace Moretz was the woman who was cast in the role at the start of the project. Moretz then dropped out when she decided to take a break from filming and the project has since been in limbo. Bella Thorne could be the woman to step into Moretz's shoes and help the planned movies go ahead if producers are still struggling to find the perfect Ariel.
16 Dakota Fanning as Elsa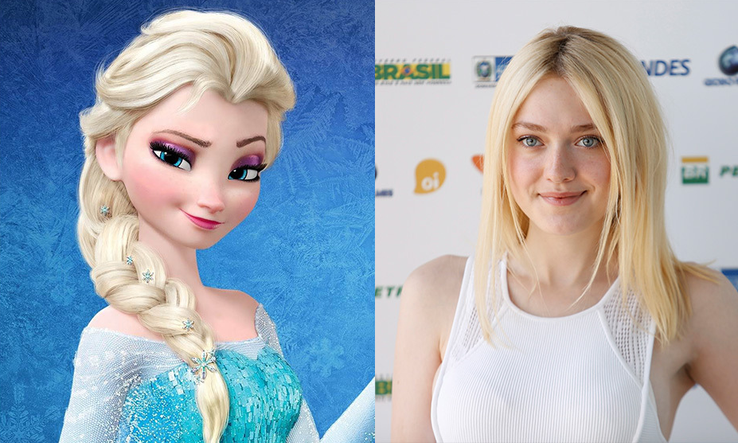 Dakota Fanning has more experience in the acting world than any other stars her age, as she got started in the business when she was just five years old. The blonde, fair-skinned star has the perfect complexion to play one of Disney's most recent additions to their princess collection who has become recognizable for her icy white appearance.
Fanning played the role of Jane Volturi in the Twilight Saga a few years ago, which allowed her to show that she can work as a villain and if her sister was to play Anna, then their chemistry would be undeniable.
Frozen was a huge hit when it was first released and would be a wise investment if it was made into a live-action movie, but Den Of Geek revealed last year that despite Disney having plans for a large number of live-action remakes over the next few years, Frozen definitely isn't one of them. None of the Disney movies that were released after 2010 are set to be part of these plans, which is a shame since Dakota would have been the perfect choice to step into that iconic dress and gloves and become Elsa in a live-action remake of one of Disney's biggest movies.
15 Elle Fanning As Anna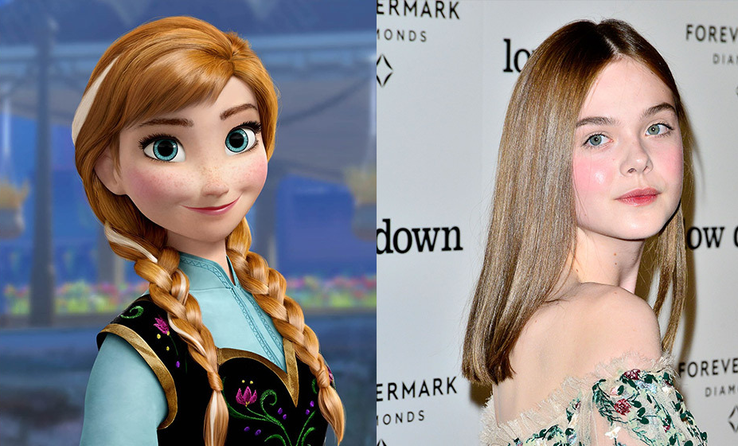 The younger sister of Dakota Fanning would be the perfect fit for the role of Anna if Frozen was ever set to be made into a live-action movie. If Dakota was cast as her older sibling in the movie then the duo's chemistry on-screen would definitely add something impressive to the project.
Elle is four years younger than her sister and followed her into the acting business and the duo have been able to work together on a number of occasions, but never as part of a project that would be this big. Anna is seen as the needy younger sister at the beginning of the movie, but she grows into the heroine when she is needed to help her sister. This is a kind of emotion that could only be invoked by real-life siblings. As already stated above, there are currently no plans for a Frozen remake, but if there was ever a duo that fitted the two characters perfectly, then it would have to be Dakota and Elle. The Express reported last year that Kristen Bell who was the voice of Anna in the animated movie wanted to wait at least 15 years for a reboot of the Oscar-winning production.
14 Blake Lively As Aurora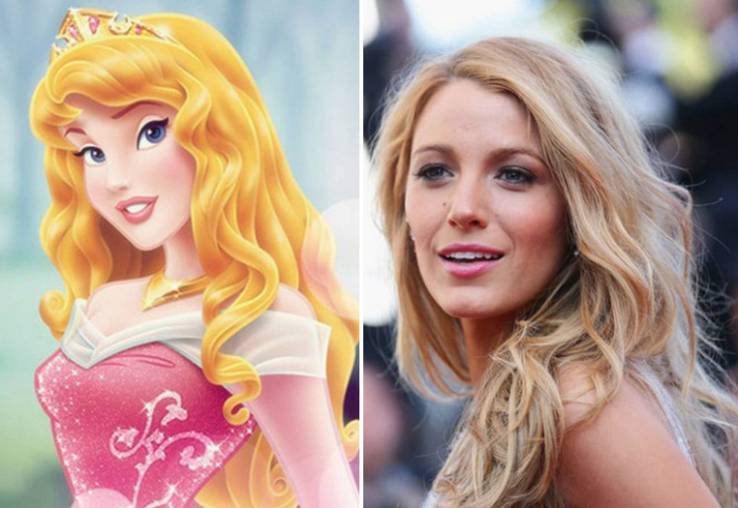 Blake Lively is best known for her role as Serena Van Der Woodsen on long-running teen drama Gossip Girl, but ever since the show came to an end in 2012, she has been able to retain her place in the acting world with a number of interesting roles.
Lively's best work came in The Sisterhood of The Travelling Pants and Age of Adaline but it could be argued that the actress is looking for something to push her career forward since she hasn't stood out in any of her most recent roles. Lively has the distinct advantage of already looking like the animated version of Aurora, which would definitely give her a shot at being cast as the princess if a live-action remake was put on the table. The Telegraph reported back in 2017 that a remake of Sleeping Beauty was in the works but it would be in the distant future. The movie, which was created in 1959, wasn't as successful with viewers as many other Disney animations at that time, but its longevity over the past six decades has allowed it to be added to Disney's list of all-time classics. Who better than Blake Lively to bring the retelling of this classic fairytale into the 21st century?
Featured Today
25 Facts About Heath Ledger's Joker That Fans Still Choose To Ignore

15 Tumblr Posts That Made Us Rethink These MCU Characters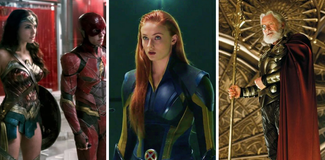 15 DC Characters (And 5 Marvel Characters) Who Could Singlehandedly Take Down Thanos

13 Margot Robbie As Cinderella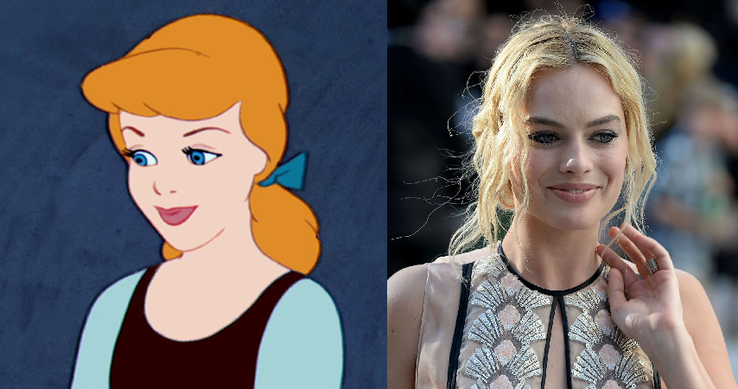 Margot Robbie rose to fame after roles in The Wolf of Wall Street and Suicide Squad, but the woman who is now best known as Harley Quinn has already shown how much of a chameleon she can be on-screen. Robbie is unrecognizable from role to role and has already become a household name after less than a decade in Hollywood, which is why she would be the perfect choice to step into those famous glass slippers.
Cinderella is the original fairytale, the story that mothers still read their daughters before they go to bed and if there is going to be a live-action movie made that allowed adults to indulge into a fairytale that they have long since forgotten then Disney need to ensure that the roles are cast perfectly. The 2015 adaptation of the iconic tale didn't recieve the reaction that many hoped Kenneth Branagh's work would, and according to a recent report by Collider, there are no plans to remake Cinderella in the coming years, because the latest adaptation was so recent. Hopefully, Robbie is given her shot if the fairytale is given another modern upgrade in the near future because it appears that she was born to play this role.
12 Shay Mitchell As Pocahontas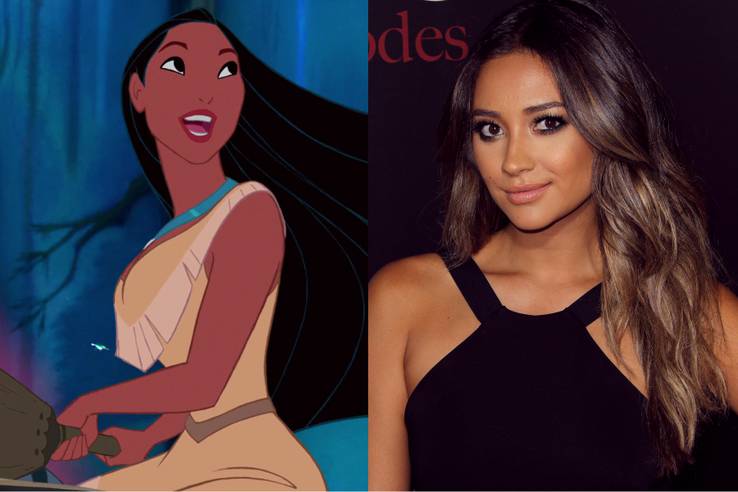 Pretty Little Liars star Shay Mitchell once dressed as Pocahontas for an episode of the teen drama and many fans have been unable to picture any other actress playing the role over since. Not only does Shay look like the Native American Princess, but she would also be able to bring her unique acting skills to the role. Shay is already 31 years old but has been able to portray a teenager in Pretty Little Liars over the past few years without any fans noticing the age difference between the actress and her character.
This Is Insider reported last year that there were 20 live action Disney films set to be created and released over the next few years, but the sad part of this report is that Pocahontas wasn't on this list. It is unknown why one of Disney's best creations hasn't been added to a long list of movies like Dumbo and The Jungle Book but hopefully, if fans continue to push the company into giving Pocahontas a fair shot in the current era then the project could be renewed in the coming years and Shay Mitchell could be given a chance to dress up as the princess on-screen for real next time.
11 Felicity Jones As Jane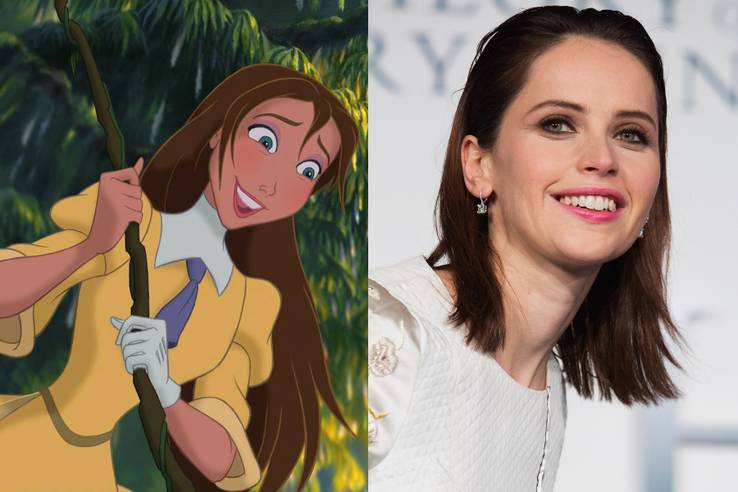 Felicity Jones roles in Rogue One and her portrayal of Jane Hawking in The Theory Of Everything back in 2014 have definitely put the star on the map and proved that she has the uncanny ability to steal the show from whoever she's on screen with.
Jones had great chemistry with Eddie Redmayne in The Theory of Everything, which was one of the reasons that allowed the movie to be met with critical acclaim. The role of Tarzan would need to be cast appropriately so that Felicity could work her magic and make this remake a classic as well since it's obvious that she would shine in the role of Jane. Sadly, Tarzan has already been remade so many times that even WhatCulture believes that Disney would be wasting their time creating a live-action version of the movie since The Legend of Tarzan was only released back in 2016 and wasn't as popular as many of the producers had hoped. There will always be a market for these kinds of movies and it's likely that decisions will be changed in the future, which would allow Jones to step into a role that she could easily make her own.
10 Natalia Dyer As Tinkerbell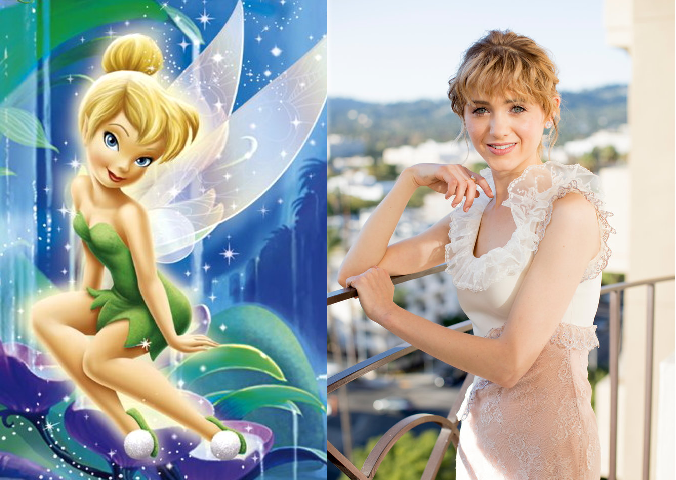 Natalia Dyer is best-known for her role as Nancy Wheeler in Netflix series Stranger Things where she has proven that she can play the delicate feminine female role, but when she needs to show that she can fight for what she believes in then she can step up.
Tinkerbell may just be a fairy but she is also one of the biggest characters in the Peter Pan movie and the ability to step into her delicate shoes is something that not many women can say that they have done in their career.
Slash Film revealed earlier this year that David Lowery was the man who had been tasked with bringing the 1953 animated movie into the 21st century and he confirmed that it will be "a big, rollicking adventure." The cast for the upcoming movie is currently unknown, but it's easy to see Dyer stepping into those tiny fairy shoes when she has finished filming season three of Stranger Things in the coming months. Natalia may not be a well-known actress outside of her role in the Netflix show, but a role as big as Tinkerbell could definitely launch her career and open her up to a wider audience.
9 Kristen Stewart As Meg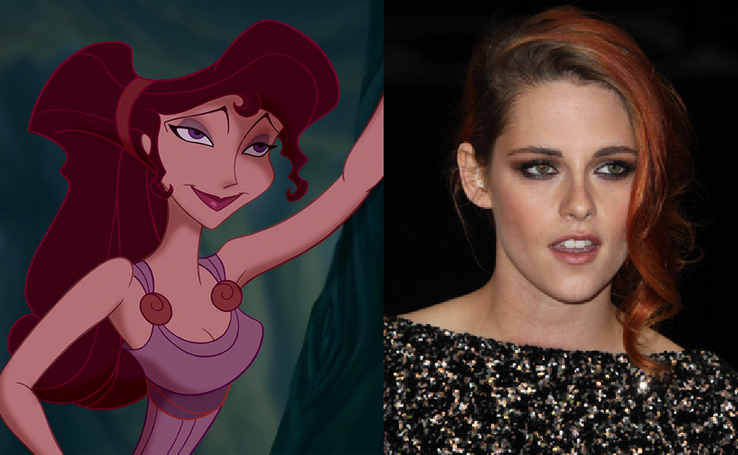 Kristen Stewart may have gained a lot of negative attention for her role as Bella Swan in the Twilight Saga, but that was so many years ago that the world has now forgotten and the actress has proved that there is a reason she is still on the acting radar. Stewart is the only actress in the world who could pull off the sass needed to portray Meg.
Hercules is one of Disney's movies that is often overlooked and even though it recently turned 20 years old, there are no reports that Disney wants to turn the classic tale into a live action movie in the future.
Teen Vogue recently released their list of potential cast members for a live action adaptation, hoping that Disney will change their minds. Stewart is someone who is able to own the screen when she needs to, or as she has shown in a number of her roles, she can also blend into the background when needed. Meg isn't really considered to be one of Disney's princesses, but she's still a character that many young girls grew up with when they read the Greek myth or watched Hercules, the Disney adaptation. Meg deserves the right to be immortalized in the 21st century along with all the other Disney princesses as well.
8 Frieda Pinto As Jasmine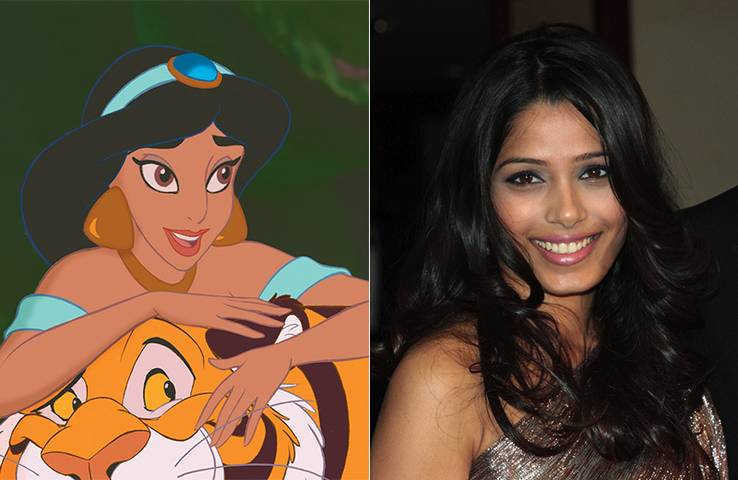 Frieda Pinto is perhaps best known for her role as Latika in Slumdog Millionaire, a role that was her first in the acting business. This role has since launched the 33-year-old's career, but despite her age, she is easily able to pass for a character who is much younger.
Jasmine is one of the best known Disney Princesses in the world and the honor to play her in the live action version of Aladdin would be something that many actresses would want on their CV. Aladdin has already been remade as a live-action movie and has an estimated release date in the spring of 2019 and even though Naomi Scott was chosen for the role of Jasmine in this production, it's easy to see the cast being changed if the film was to be remade in the future and Pinto would then be the obvious choice. Huffington Post even agrees that Pinto should have been one of the front-runners for the role when it was cast a few years ago. Scott was the actress that was chosen for the iconic role and now the 24-year-old who is best known as the Pink Power Ranger will have some huge shoes to fill on the silver screen next year.
7 Kiersey Clemons as Tiana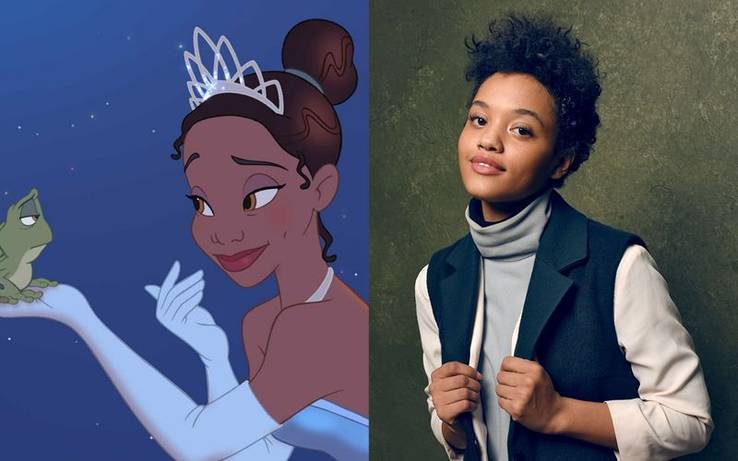 Kiersey Clemons is a relatively new addition to the acting world, but her profile has definitely been raised over the past few years after she was cast as Iris West in the DC Extended Universe. Clemons first landed the role in The Flash when it was slated to be made into an action movie, but the filming was delayed when director Rick Famuyiwa left the project.
Clemons retained her role in The Justice League, which was released back in 2017 and despite filming scenes for the movie, her character was cut. It obviously hasn't been a great few years for the actress who would be a perfect fit for the role of Tiana in The Princess and The Frog. Clemons obviously has experience in working on action movies and the live action Disney format would be something that she could easily adapt to if she was given the chance. Tiana is a princess that is often overlooked and not seen as on the same level as the original princesses, but Clemons could definitely do the role justice even though there are currently no plans to remake The Princess and The Frog as a live action movie according to Den Of Geek, since the studio has ruled out remakes of any films released after 2000.
6 Rose Leslie As Merida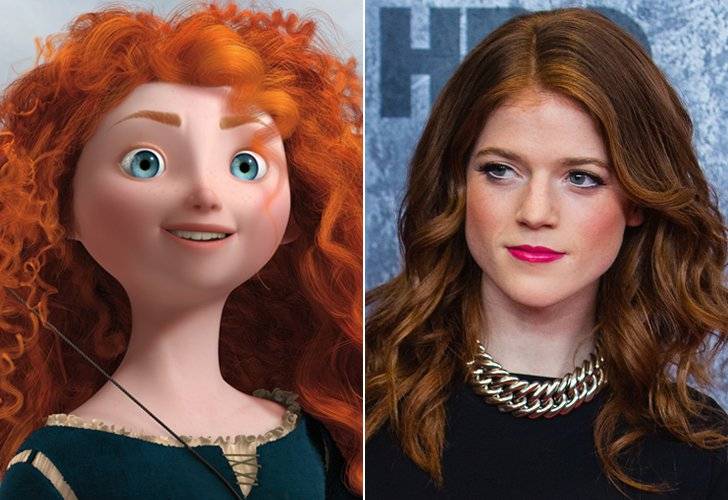 Game of Thrones definitely launched the career of Rose Leslie, who was best-known for her role in Downton Abbey before she stepped into Westeros. After her character was no longer included in the fantasy drama, Rose has moved on to be cast in the main role of CBS's The Good Fight. 
Leslie's career is just getting started and it's hard to argue that there is another red-headed star who could do the role justice especially since Leslie already learned how to use a bow and arrow for her role as Ygritte in Game of Thrones. Since Brave is another recent Disney movie that was released after 2010, Den of Geek revealed that there are no plans to make any of these movies as live action films in the near future. Princess Merida is seen as quite a young woman in the animated movie which means that the window that would allow Leslie to portray one of Disney's biggest tough girls could pass soon. This would be a real shame since there is no other actress who could step into the fiery red-heads shoes quite like the woman who put Jon Snow in his place so many times on Game of Thrones. 
5 Constance Wu As Mulan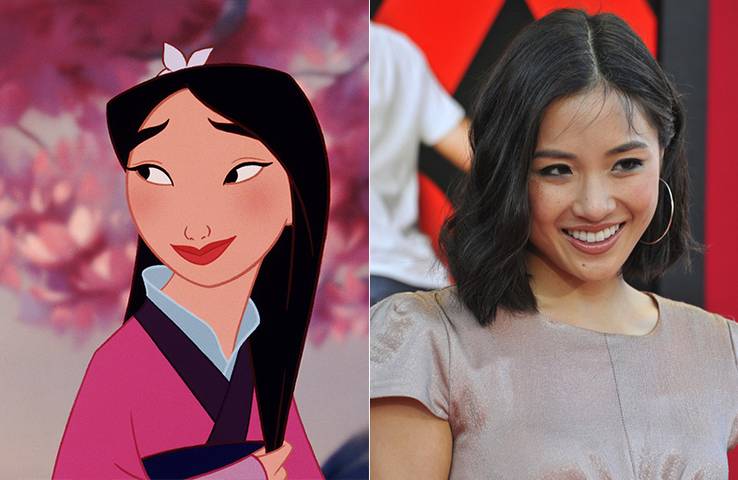 Constance Wu is the perfect Asian actress to step into the role of Mulan after rising to fame in her role as Jessica Huang on the ABC comedy, Fresh Off the Boat. Constance may already be 36 years old and Mulan is written as a teenager in the original story of the Chinese heroine, but the actress has proved her adaptability throughout her career. Wu looks a lot younger than she actually is, which would make her perfect for the part of a character who is often seen as a woman who is more mature than her years.
The Insider reported last month that the live-action adaptation of the 1998 animated movie is now slowly coming together with Liu Yifei cast in the role of the titular heroine. Yifei has been making a lot of waves recently following her role in The Chinese Widow and appeared to be the obvious choice for the adaptation. The movie has an expected release date of March 2020 but there is more than one Mulan movie in Disney's collection and if the cast isn't retained for the sequel and the decision is made to give that movie the live action treatment as well, then it's easy to see someone like Constance being brought in to be part of the production.
4 Natalie Dormer – Alice In Wonderland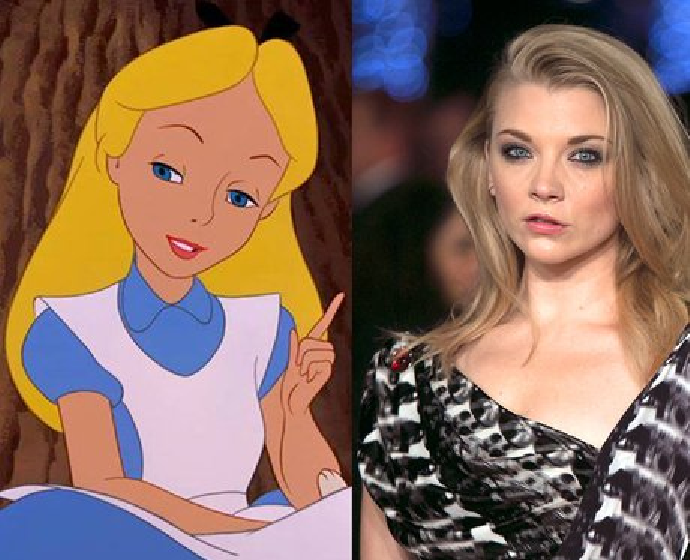 Natalie Dormer is another actress who has been around the business for a while, but she really found her feet when she was made part of the Game of Thrones universe as Margaery Tyrell. Dormer also made a splash in the Hunger Games movies alongside Jennifer Lawrence where she proved that action films were definitely an area in which she excells.
Heart Radio revealed back in 2015 that they believed that Natalie Dormer would be the perfect person to step into Alice's shoes as part of the sequel called Through The Looking Glass that was released back in 2016, but Dormer obviously wasn't cast. Since Alice was given a live-action adaptation back in 2010 and the sequel to this was only released two years ago, it's highly unlikely that there are any plans for another Alice in Wonderland movie to be made in the near future. Incredibly, it seems that Alice is one of the best known Disney characters, but she has been so overdone in recent years that it could be worth studios allowing the classic tale to take a break for a while. Dormer would be the perfect person for this role in the future, and she will still be there when the film is ready to be remade and the time is right.
3 Jessica Alba As Kida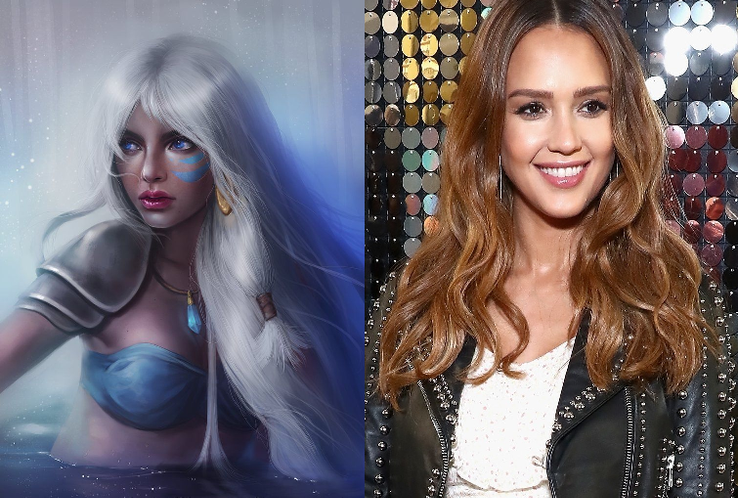 Jessica Alba is an actress that could carry any movie that she is cast in, so if Disney made the decision to make an action remake of the 2001 animated film Atlantis: The Lost Empire, then she would be the perfect candidate for the role of Kidagakash "Kida" Nedakh.
Kida was always supposed to stand out above all other Disney Princesses and she was never supposed to be seen as a damsel in distress. Since Alba is known to have played The Invisible Woman in Fantastic Four and shown that she isn't a pushover in a number of other action movies over the years, who better to bring Princess Kida to life? Slash Films confirmed last year that there is a live action adaptation of the movie on the cards in the future, but the movie is still yet to be cast, which means that Alba still has a chance of playing the role. Slash also confirmed that the likes of Treasure Planet and Lady and The Tramp are also being considered which means that it could be a while before many fans of the movie see Kida brought to life since Disney definitely has their hands full right now.
2 Selena Gomez – Princess Elena Of Avalor
Selena Gomez is someone who is already relatively well-known to younger audiences thanks to her time on The Disney Channel portraying Alex Russo on Wizards of Waverley Place up until 2012. Gomez has continued her acting career in recent years, but could easily be convinced to return to her roots if the role of Disney's first-ever Latina princess was being cast.
Princess Elena of Avalor is only 16 years old when she stars her magical adventure as part of the show that is based on her exploits. The TV show only premiered on Disney Channel back in 2016 so it's unlikely that there are any plans in the near future for this to be adapted into a live-action movie. If the popularity of the show continues in the coming years then it's easy to see Disney cashing in on this and pushing for a movie to be made with a cast that could include one of their alumni. While it's a fantastic concept, it could be argued that the story is relatively new so if a film was made now there wouldn't be as much of a buzz around it as there could be in the future. Geeks of Colour have been pushing for the show to be made into a live-action movie, so never say never.
1 Lily James – Princess Eilonwy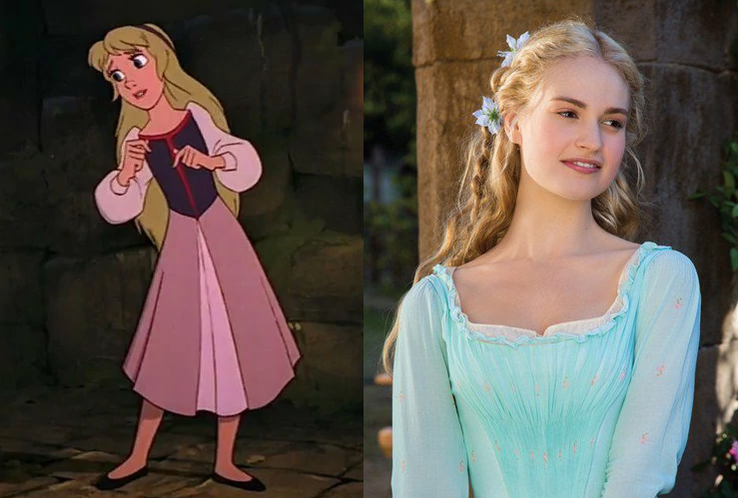 Lily James isn't a stranger to playing the role of a princess since she was cast of Cinderella in the live-action remake of the original fairytale back in 2015. James background would make her the right candidate to fill the shoes of Princess Eilonwy if the 1985 animated movie The Black Cauldron was ever on the list of live adaptations.
Elionwy is portrayed as witty and talkative and even though she's just 12 years old, the age would obviously change if her story made it to the big screen. Yahoo revealed back in 2016 that Disney was set to stir The Black Cauldron once again and allow the series to be made into a live-action franchise. This isn't one of Disney's best known animated movies and would be seen in the same light as The Sword In The Stone, but Disney wants to push forward and reboot a lot of their classic tales with the new technology so that they are all now seen to be relevant to this era of children and tweens. This means that Lily could become Eilonwy in the future if the film was to be made in the next few years while she still looks young enough.
Source: Read Full Article