20 Images That Show Emily Ratajkowski Is Not A One Trick Pony
Ever since we saw Emily Ratajkowski in Robin Thicke's "Blurred Lines" music video, she's received a reputation as the model that went naked in Thicke's video. In 2015, the model turned actress even called having to go topless for the music video the "bane of my existence," because even after it's 2013 debut, people were still talking to her about it. However, while "Blurred Lines" might have given Ratajkowski a foot in the door, it's not what she should only be known for.
Emily Ratajkowski is not a one trick pony. The 26-year-old brunette beauty is well known for her amazing physique, modeling for a ton of fashion designers like Marc Jacobs and DKNY and walking down numerous catwalks for both Paris Fashion Week and Milan Fashion Week. She's been on the cover of magazines, including Marie Claire, Vogue, Harper's Bazaar, GQ and Cosmopolitan, and is constantly flying to meetings or to an audition. Emily is a busy woman. She's been in movies like Gone Girl and received her first leading role in the film We Are Your Friends. But, when the beautiful star isn't at the airport or running around L.A. and New York, she's a big advocate for women's health issues. While she has caused a little stir about her platform as a feminist, Emily speaks her mind and is comfortable with who she is.
So before you judge Emily Ratajkowski and her stint in one music video five years ago, you should check out this list of 20 images that prove the multi-talented star is not a one trick pony.
20 Emily Ratajkowski Is More Than Just That Girl From The "Blurred Lines" Music Video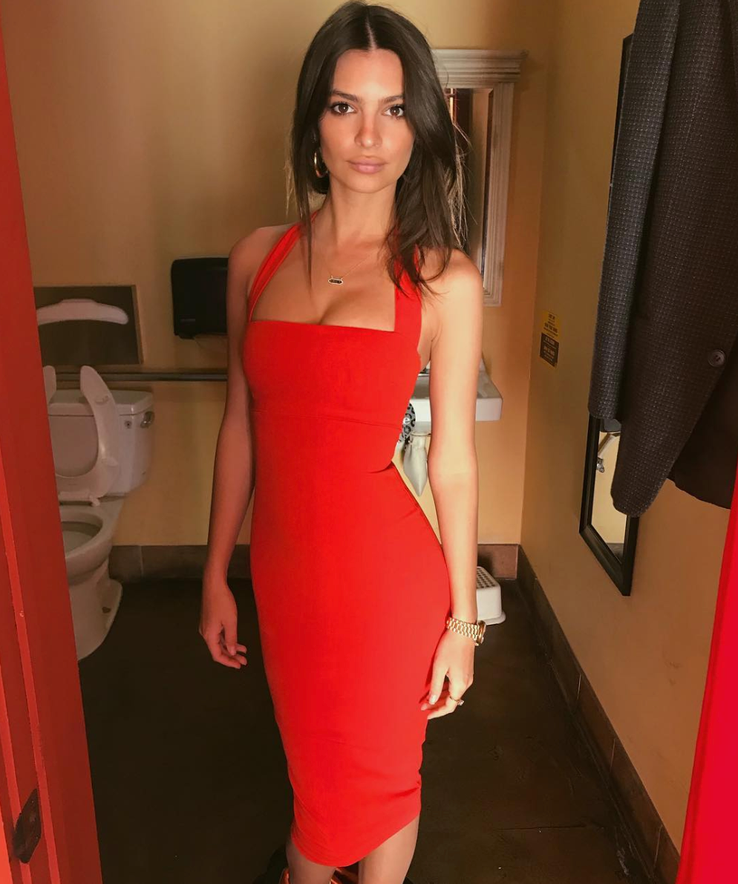 Emily Ratajkowski may have gotten noticed after baring it all for Robin Thicke's 2013 music video for the song "Blurred Lines," but she's more than just that video girl who went topless. Ratajkowski is a 26-year-old fashion model and actress who starting acting at a young age. Her first role was Elsa in The Little Match Girl. She studied acting and drama at the North Coast Repertory Theatre School in southern California and pursued acting religiously, however, when she got signed with Ford Model Agency at the young age of fourteen, Ratajkowski started modeling and landed her first job as a catalogue model for Kohl's. The star has mentioned that her parents, Kathleen Balgley and John David Ratajkowski, were reluctant to let Emily start modeling. "My mom would snap back, 'She's going to be a brain surgeon,'" Emily once told The New York Times. However, since appearing in Robin Thicke's music video, people couldn't get enough of her and her career as a model skyrocketed. Emily wasn't just that hot model flaunting her body; she built herself a career landing numerous fashion photo shoots, magazine covers and walking the catwalk for designers like Miu Miu and Marc Jacobs. Ratajkowski is a hard workingwoman who, having grown up in a very progressive household, is comfortable in her skin and is more than just a one trick pony.
19 Emily Works Her Way Up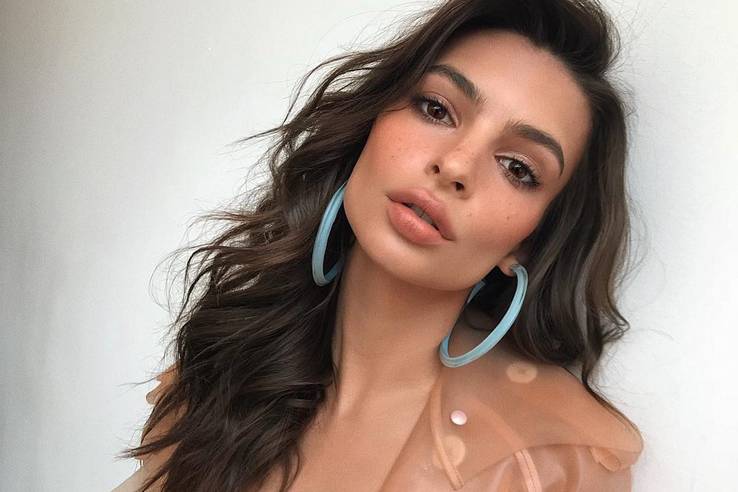 Emily worked her way up since appearing in Kohl's and Nordstrom catalogues at the age of fourteen. At fifteen, the brunette beauty landed the role of Tasha, in the Nickelodeon show iCarly, but that only lasted for two episodes. Emily went on to audition for many other roles, however, she seemed to be typecast as the "cheerleader" or "mean girl." While her manager encouraged her to be more selective in the roles she auditioned for, she didn't really land her dream role until we saw her in the psychological thriller Gone Girl, based on a novel by Gillian Flynn about a wife (Rosamund Pike) who goes missing, while her husband (Ben Affleck) becomes the prime suspect. Emily portrayed Andie Fitzgerald, Affleck's mistress and student. "Talking about acting, Emily stated, "I didn't want to act in high school because I was sick of auditioning for Nickelodeon, Disney mean girl, or the cheerleader. I came back to it when I had enough leverage to pick and choose. I got a dream role in a dream film." Besides acting, we've seen Emily's modeling resume grow since her catalogue days. She's been on catwalks for Miu Miu and Marc Jacobs, has been on dozens of magazine covers and has been on plenty of photo shoots for top designers.
18 Emily's Got A Good Eye For Interior Design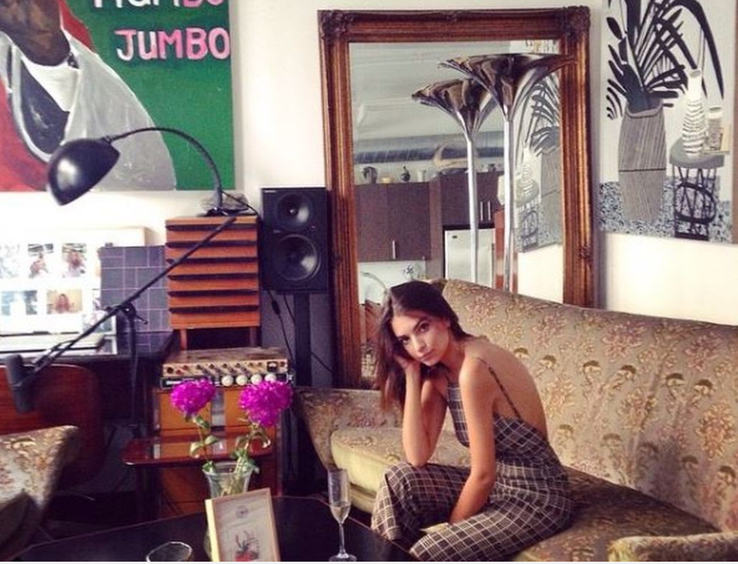 Have you seen photos of Emily Ratajkowski's L.A. loft? Aside from modeling, acting and being an advocate for women's health, she's got a great eye for interior design. Her loft is filled with art and unique, eclectic items and furniture, bohemian rugs and pieces you wouldn't see in anyone else's home. The model lives in what was once a factory, but she's turned her home into literally a work or art. Emily even has a blown-up Instagram photo of herself from a 2014 Sports Illustrated shoot, which hangs next to a colorful, abstract painting. How many people can you say have a blown-up image of them hanging on their wall? She's managed to make this large and very open space homey thanks to her collection of rugs, from cowhide to Parisian, which she piles on top of each other, splitting the space out into multiple seating and dining areas, and of course, we can't forget all the art she's hung up on her walls. If Emily wasn't busy modeling or acting, we think she'd be fantastic at decorating people's homes. Her taste is quite different than others and she's managed to make a large empty room into a art-filled paradise.
17 And Knows A Thing Or Two About Art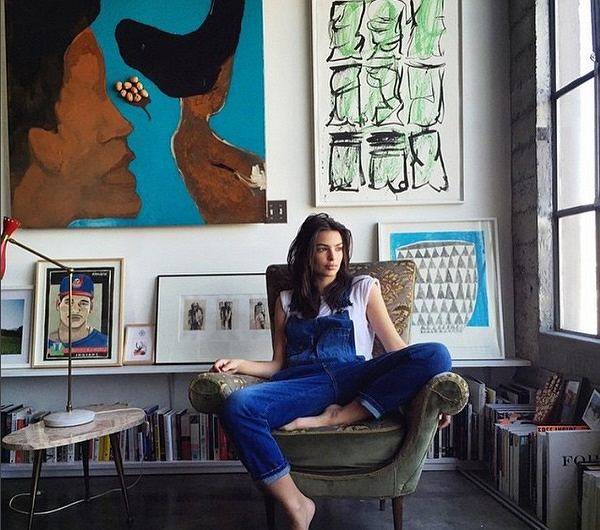 Emily's father, J.D. Ratajkowski is an accomplished painter, so it makes sense that the model knows a thing or two about art. Her walls are filled with a mix of well-known and local artists, including paintings by her own father. "I think my interest in art started with my father, he's a painter, we also traveled a lot when I was younger and it was always a priority to go to the museums. I'm interested in all kinds of art. Art should be something you feel an emotional response to and connection to, memory to," Emily shared, adding that she's a big fan of feminist art. "The bourgeois is one of my favorite pieces. I really am interested in feminist art. I love the idea of something being pink but also very tough and demanding of your attention." Ratajkowski even gave her own advice for first time art collectors. "I think it's really important not to listen to too many other people, to do your own research, to understand art history and what you like and don't like, and keep that in mind always when purchasing works because ultimately you should be happy with what you live with." Does this prove that Emily isn't just a one trick pony? We think so.
16  She's An Actress And Has Some Big Roles In 2018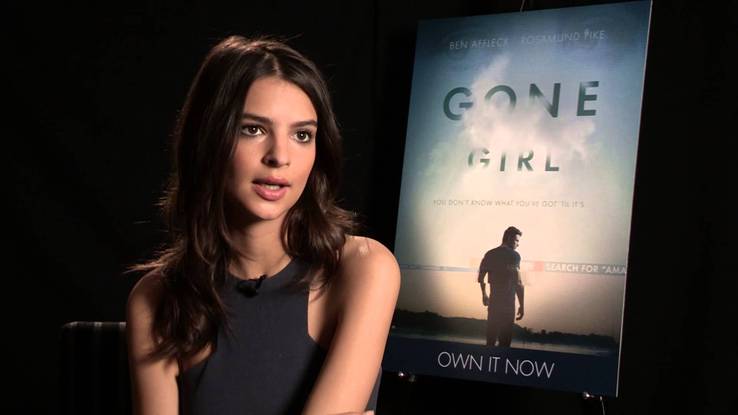 After landing a role on the thriller Gone Girl, Emily landed her first leading role alongside Zac Efron, in We Are Your Friends, a musical drama released in 2015, where she portrayed Sophie, a Stanford University dropout and the love interest of Efron's. Emily revealed that she almost did not take the role, but ultimately did because her character "offered some subversive surprises that spoke to young women." Emily told Vogue, "She's not the failed model/actress who's moved in with her older, wealthy boyfriend and become his personal assistant, she's more interesting than that. I really hope, more than anyone, that young women see that, because it's so easy to write off any young person, I think, especially a young woman." Since then, we've seen Emily act alongside the very funny Amy Schumer in the comedy I Feel Pretty. Ratajkowski also has a lot planned for this year. She will play Jessica Weintraub, the female lead opposite Spencer Boldman in the film Cruise and was hired as part of the cast in the film In Darkness. In March, Emily was also cast as a series regular in the NBC pilot Bright Futures. We can't wait to see what else Emily has in store for her fans!
15 She Kills It On The Red Carpet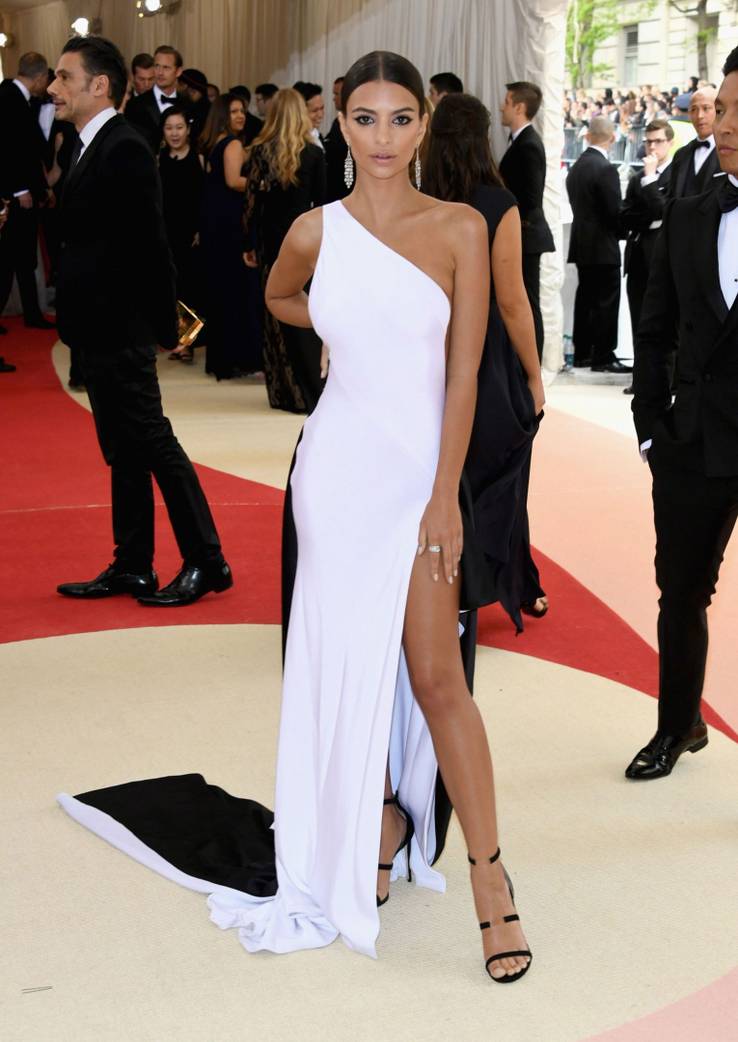 Emily Ratajkowski always looks drop dead gorgeous on a red carpet. Whether it's for the Met Gala, a movie premiere or award show, Emily seems to always know what looks perfect on her and how to make heads turn. She's known for her perfect body and clearly enjoys showing it off as well. Like that time she wore a $9,000 Michael Kors dress that exposed her toned stomach and featured a thigh-high slit or when the star wore a black gown to a New York Fashion Week 2016 party that featured a plunging neckline that reached her belly button and cutouts on her side. Fashion guru Tim Gunn was not impressed at all about her choice of dress that night. "If I saw this at a party, all I could do would be to drink. I couldn't eat. There's absolutely no way," Gunn said, adding, "This dress is so appallingly vulgar and revealing. Why wear anything? Why not just take it all off?" We all know Emily is very comfortable with her body, and when she heard this, she immediately clapped back on her Twitter, stating, "Western men in 2016: Want to ban women abroad from voluntarily covering themselves at the beach, then want women to cover up their "vulgar" bodies at home. Who control's women's bodies in 2016? It's 2016. Why keep trying to dictate what women can wear?" Gunn's comments didn't bother Emily one bit because she continues to look amazing no matter how little fabric she's wearing.
14 She Keeps Up With Trends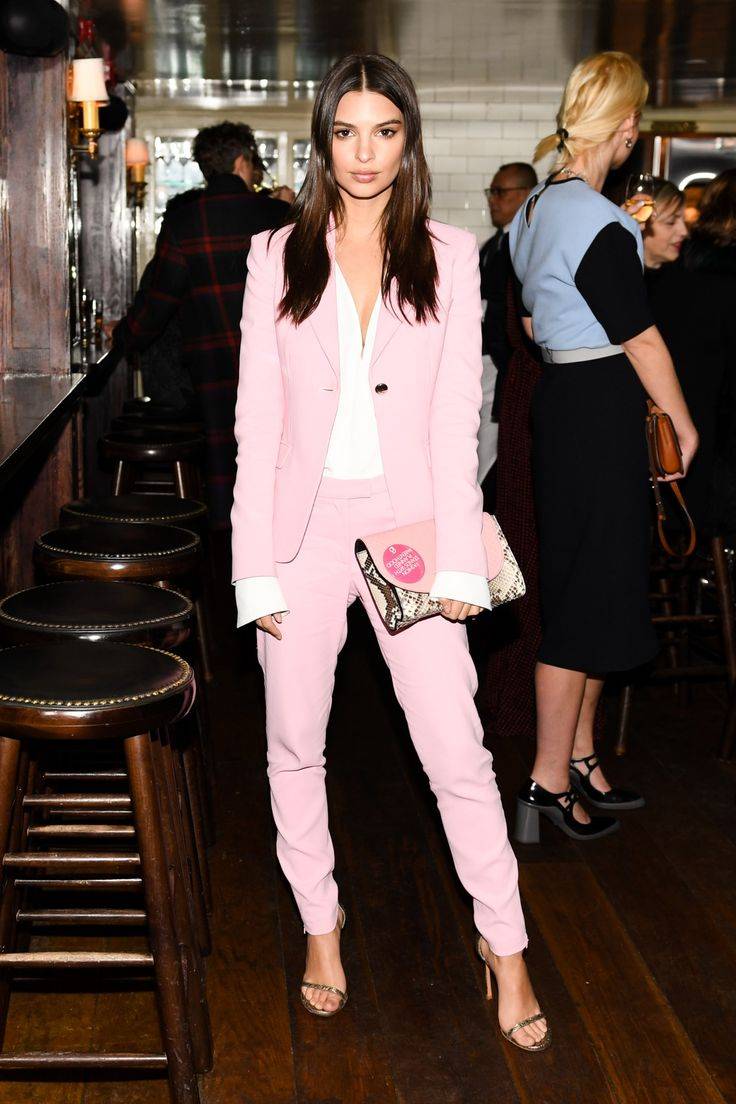 Emily is definitely a fashionista and keeps up with the latest trends. In an interview with Editorialist magazine, the model admitted that her fashion icons are Natalia Vodianova and Bianca Jagger and she loves how men's clothing looks on her. "I evolved out of the '90s floral dress and lace-up boots era," she said, adding, "It's all about being a little sexy but also being comfortable. I like how men's stuff looks on me and I play with that a lot." While other celebs are dressed to the nines in sky-high stilettos, Emily prefers a good boot. "I love boots because I want to feel that I'm ready to go anywhere, whatever the night or day brings me. At the same time, I like height and I don't want to be in a sneaker. A boot is the perfect balance between a stiletto and a sneaker." And even when Ratajkowski is not in a glamorous dress while on the red carpet, she's out and about in L.A. in a casual pair of jeans and a crop top or wearing flirty dresses with her favorite pair of boots. Emily seems to always keep it simple when it comes to fashion, wearing pieces that will always be in style.
Featured Today
25 Blonde Actresses That Hollywood Just Can't Get Enough Of

10 Celebs Who Fit Their MCU Role (And 10 Who Clearly Don't)

10 Co-Stars Who Dated In Real Life (And 10 We Wish Would Date)

13 She's Managed To Successfully Transition Between Modeling And Acting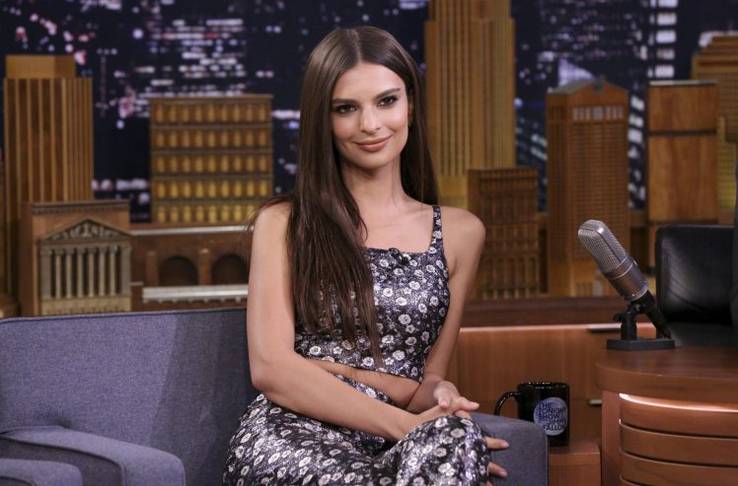 Transitioning from being a model to becoming an actress is no easy feat, however, Emily has managed to make a name for herself in Hollywood. When Vogue asked the star if she experienced any pigeonholing from her transition, she admitted, "Definitely there's pigeonholing. I mean, if you look at a casting breakdown when I first started to act, the first thing it said about me was that I was also modeling, and I think that it's maybe less and less that way every day, but Hollywood likes to sort of understand who you are in a sense. And part of who I am is the modeling and it's so hard to work against that. I think it's especially hard as a woman, where you have so many men who are behind the studios, behind projects, and you have to go into the meetings and you have to surprise them with who you are. And I'm okay with that. I like that. It's sort of what I want to do with all my characters." We are also eagerly looking forward to more projects that Emily has coming up this year, with two movies already on the way. When asked if she found acting more fulfilling than modeling, Emily responded, "One hundred percent."
12 Yes, She Does Enjoy Eating
Believe it or not, Emily does enjoy eating and starts her morning with a sugary treat, which she buys at her local coffee shop. "Every day … I get this pastry called kouign-amann with my black coffee. I always pretend that I don't know what I'm getting. I'm like 'Umm, hmm, I guess I'll get a kouign-amann?' They're like, 'Uh-huh,'" Emily told Harper's Bazaar. When it comes to lunch, the model keeps it simple opting for a sandwich or a salad. "If I'm off set, I'll have catering but I'm well behaved with that stuff. It's easy to go crazy – they know how to feed you." Finally, when dinner time arrives, Emily prefers to go out and her dinner always involves some kind of meat. "Dinner is my time to be social and catch up with people. I love this Italian restaurant downtown…they have good cocktails and wine," the brunette beauty said, adding, "You know, I'm a carnivore. I really like to eat meat. I crave iron…I like to keep it balanced to give my body energy and also be healthy." Don't think this model just dines on pastries and steaks all day; she's got a tough workout routine that will talk about in a few.
11 Making The Best Dressed List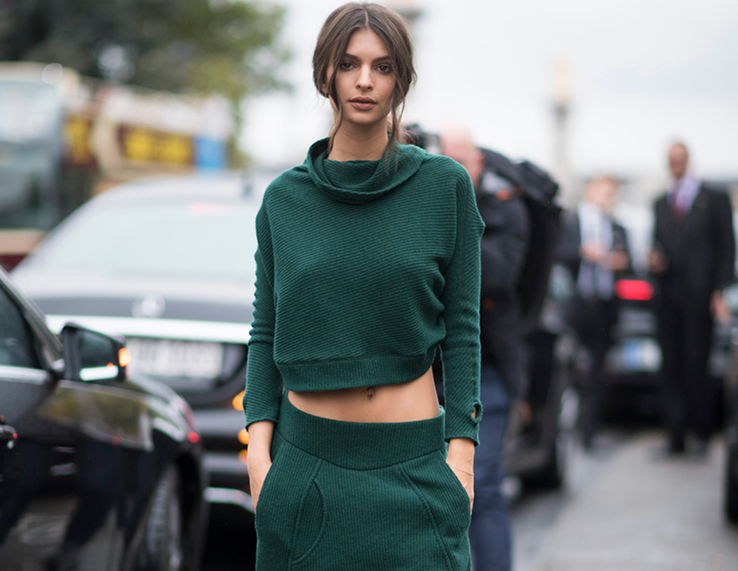 Emily Ratajkowski has been named in plenty of lists that rank her beauty. She was ranked number 2 on the Maxim's Hot 100 list in 2015 and has always been on some kind of list that praises her good looks and physique. However, Ratajkowski isn't just famous because of her stunning features. Besides her acting and modeling gigs, she's become well rounded in the fashion world. Emily made Vogue Italia's Best Dressed List of 2015 and Harper's Bazaar placed her atop of its best dressed list at the February 2016 New York Fashion Week. "Ratajkowski continues to prove she has it in spades – whether she's in a bodycon dress or a menswear-inspired suit," Harper's Bazaar wrote. When she's out on the town you'll spot Emily in a cool pair of straight cropped jeans with a crop top bearing her toned midriff, paired with a heel or track pants, a fitted tank top with sneakers when she's going for a more casual look. But, when the model is going out at night, you can bet she's wearing something a little less conservative, yet still always fashion forward. Emily always keeps up with the latest trends whether it's wearing the latest Yeezy boots or rocking a grungy leather jacket.
10 She's Constantly On The Go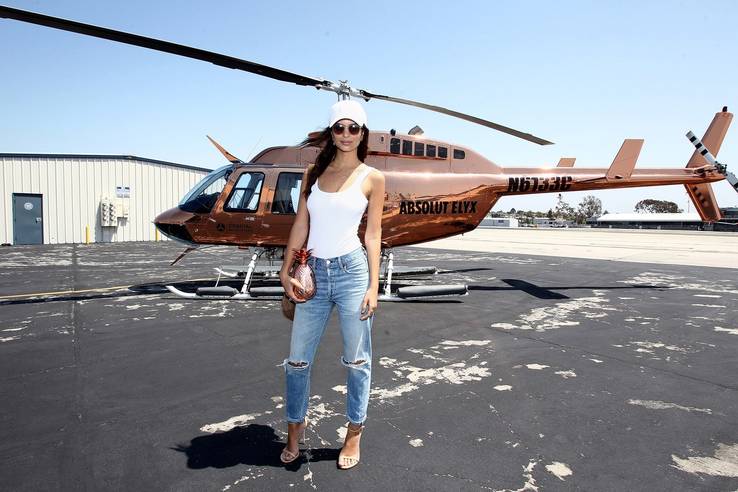 When Emily has a job to get too, she always makes sure she's on time. Her work is important to her and a day in her life is definitely not easy. "There are basically three categories of days: I'm going to the airport, to work, or to a meeting. If I'm going to the airport, I'll have packed the night before, so I grab my suitcase, get in my car, and go. It's nice living downtown, because the airport's only 30 minutes away, and I'm in New York probably every two weeks. When I'm going to a meeting or to an audition, I'll run my lines in my car. I make voice memos on my phone of scripts, so it's almost like reading with myself. It was a game changer when I figured that out," Emily shared. When she's at photo shoots, Emily likes to multi-task, and get things done when she has some free time. "Every shoot is different. Marc Jacobs, whose campaign I was just shot for, takes what he does seriously but is always fun. If I have downtime on set, I read scripts, answer e-mails, and talk on the phone about deals, decisions, or travel plans. The people I call most often are my agent, my best friend, and my mom. Weekends don't really exist. I'll randomly have a Monday off, then work Saturday and Sunday. Days off, I'll get some time to exercise, maybe go on a hike or take a yoga class," the model said.
9 She Models For Major Brands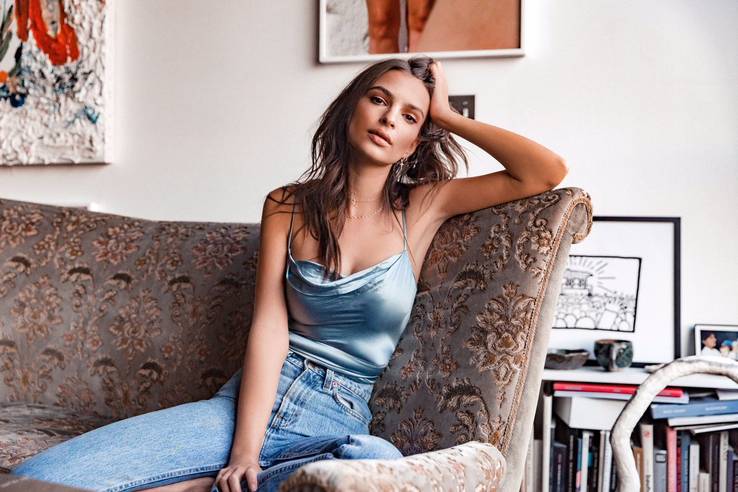 Since gaining massive fame after her appearance in the 2013 music video "Blurred Lines," Emily has become the face for many fashion brands. She's appeared in campaigns for DKNY, Jason Wu, Express, Frye and DL1961. While shooting for DKNY last year, you probably remember Emily's commercial for the Spring 2017 campaign titled #GoodMorningDKNY, where she wakes up in her apartment and then walks her dog in the streets of New York City in nothing but a bra and briefs. In her new campaign for the brand, titled, #UnderneathmyDKNY, Emily is more playful, yet still racy, but there's a stronger message behind the ad. "I am most comfortable when I'm naked," Emily says at one point. Emily also became the new face for DL1961, a vintage jean company known for their easygoing styles. "In general, I'm really inclined to wear vintage stuff. You see me in different brands that aren't even recognizable because they are older," Ratajkowski said. Last year, the model also released her bag collaboration with The Kooples. When designing her perfect bag, Emily said, "I was looking at all my purses and being realistic about what I really love and what I really wear. It came down to combining my favorite-looking purse with my most useful purse." There's no way you can say this model-actress doesn't keep busy.
8 She Wore A Pantsuit At Her Wedding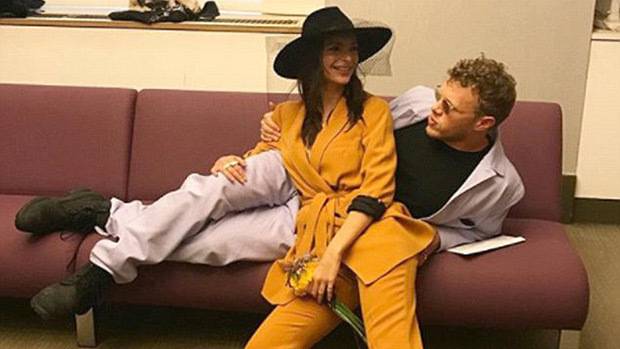 Emily surprised everyone when she revealed in February that she got hitched in a New York City courthouse to her boyfriend of only a few weeks, Sebastian Bear-McClard. The model invited only a couple of friends, including her husband's good friend and social media star, The Fat Jewish. She shared the exciting news on her Instagram story, saying, "Sooo I have a surprise. I got married today." In Emily fashion, she decided not to wear the typical white dress and opted for an orange trench, matching orange pants and black hat. Her mustard ensemble was straight off the rack from Zara and cost her a total of less than $200. Her photos also gave us a peek of her wedding ring, which was a thick gold band that also matched her husbands. The couple also appeared to have matching gold rings that spelt out each other's names. The wedding was very surprising since Emily reportedly separated from her long-term boyfriend, L.A.-based producer Jeff Magid just a few weeks before she got married. Sebastian is an actor and producer as well, listed as a producer on indie films including Good Time, which starred Robert Pattinson, Heaven Knows What, and Still Life.
7 Emily's An Express Campaign Model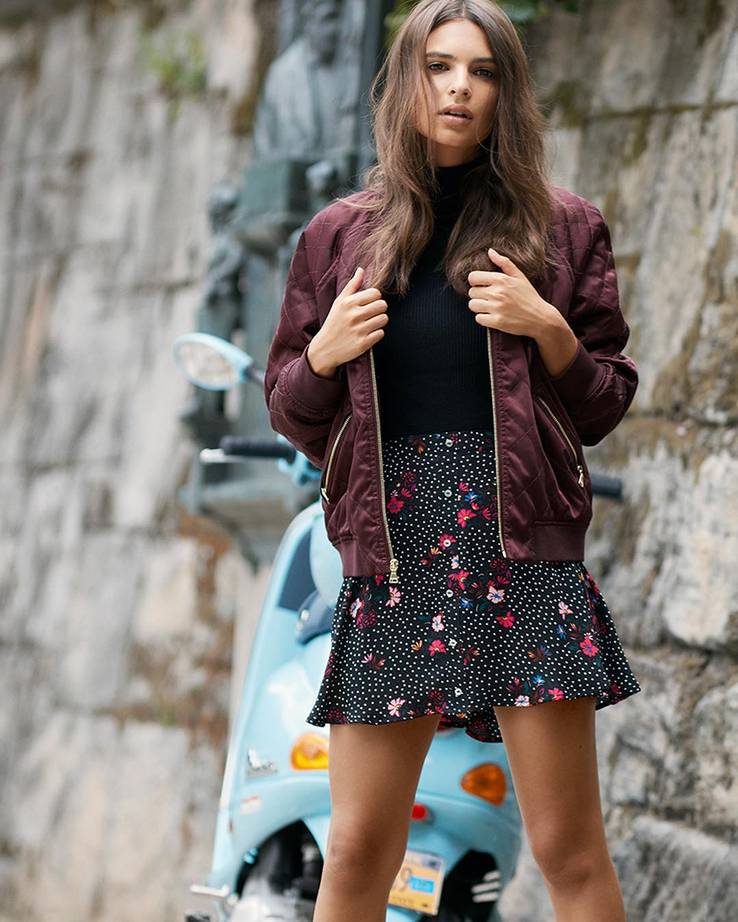 Emily has come a long way since starring in music videos. She's the face of clothing brand Express and stars on the collection alongside models Devon Windsor and Cami Morrone. "I have a lot of older cousins who are, like, 10 years older, and I always pictured them in Express," she said, adding, "One of them lived in New York and she was the 'cool girl.' When I was 13, she was 25, and this seems like what she would wear. Some of the dresses are really great, really wearable, but still cool and chic… A dress or a good pair of jeans are my go-to's." Emily is a pro to being the face of many campaigns, but she admitted that she wasn't always this confident girl we see. "I developed super early, I was probably 13. And that was really overwhelming, because I was one of the first girls in my class and I think I basically looked the exact same way I do now, and that kind of overwhelmed and created a lot of weird scenarios in my life. But in a lot of ways, it defined me in a good and positive way," Emily revealed.
6 Emily Has Her Own Swimsuit Line
Emily is the queen at taking swimsuit selfies and it makes sense that the model would create her very own swimsuit line. Her line, named Inamorata Swim launched the end of 2017, and features six different swimsuit styles, ranging in price from $75-$160. There are one pieces and bikinis and include styles that Emily is known to wear, including high waisted cuts, cut-outs and cheeky bottoms. The patterns of her swim line include leopard, polka dots and solid prints. "I grew up in San Diego and I basically wore a bathing suit every day on the beach," she told Vogue, adding, "When I was 16, sometimes I would literally wake up, not out on any clothes, and I'd out on a bathing suit and get coffees and burritos for the day." Of course, Emily took to her Instagram to share a few snaps of her in her swimsuit line. While the model-actress has collaborated with designers before, like her handbag collection with The Kooples, her swimsuit line was the first time Emily designed something all on her own. Since the launch, Emily has come out with a few new patterns, like snakeskin and a few more colors to her collection, which are all available on her site. Everyone wants to look like Emily, so we're pretty sure she'll be coming out with more styles and concepts in the future.
5 She Keep's Her Body In Shape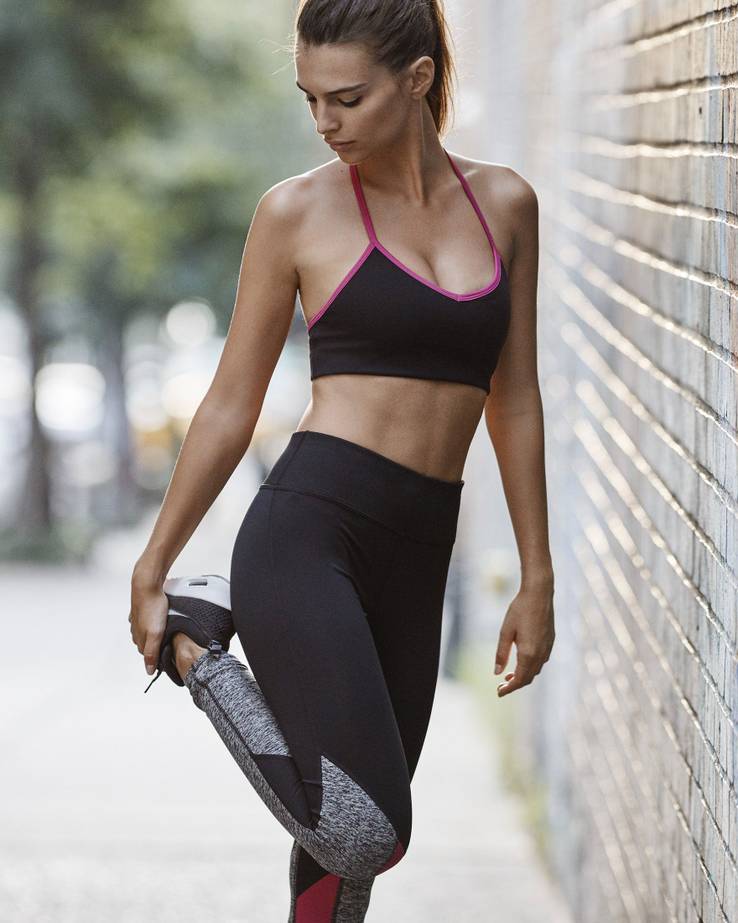 As we mentioned before, Emily is not afraid to indulge, even having a good cupcake form time to time, but she makes sure that the things that are going into her body aren't harmful. "I think it's really important to gibe yourself a break," she said, adding, "And also just really think about where things are coming from and what kind of ingredients are going into your body." While she eat out a lot, she does find some time to workout, whether it's hiking or taking a yoga class, but she doesn't stress when it comes to eating. "You know, I'm a carnivore. I really like to eat meat. I crave iron so I am definitely not the kind of person who you will find eating a salad. I like to keep it really balanced to give my body energy and also be healthy. I cook a lot, so that really helps: You know how much salt and sugar and all of that kind of stuff you are putting in your body," she said. So when it comes to finally finding some downtime she enjoys hiking in Los Angeles. "I really like to hike. L.A. is a great place for that. And doing yoga a couple times a week is a really big part of my regimen.
4 She's On Dozens Of Magazine Covers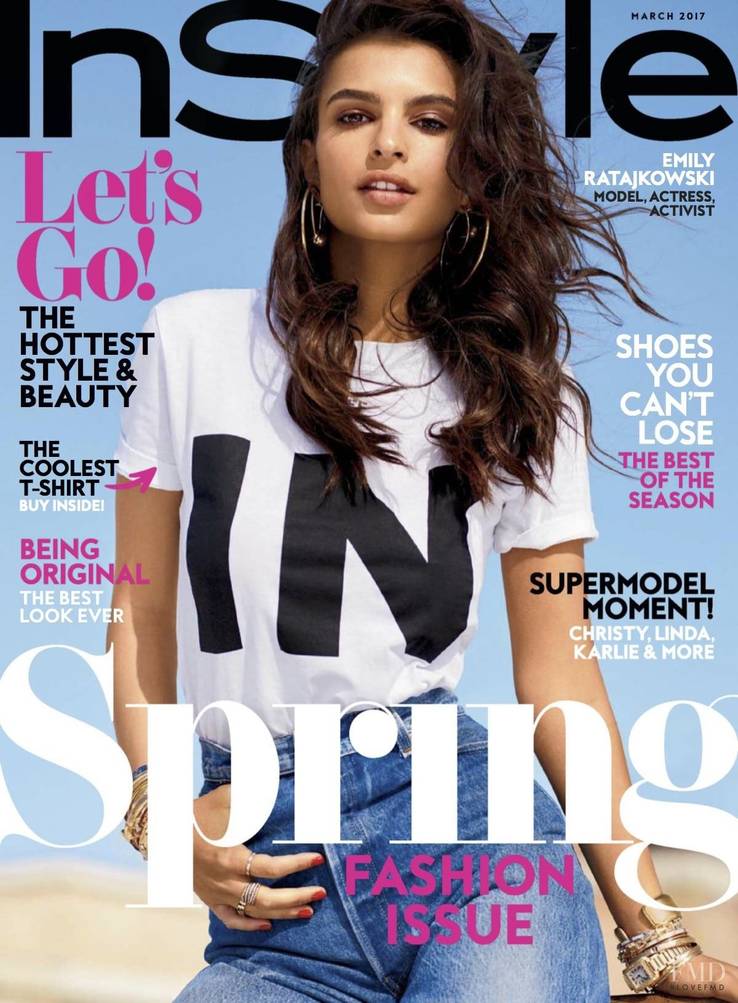 You've probably seen Emily Ratajkowski on plenty of magazine covers. She's been Hollywood's "it" girl for quite some time. She's been featured in Vogue, Elle, Marie Claire, GQ, Cosmopolitan, InStyle and dozens more. Emily is also not afraid to call out magazine for photo shopping. When she was featured on the cover of French magazine Madame Figaro, she blasted them in an Instagram post about editing her body. "Everyone is uniquely beautiful in their own ways. We all have insecurities about the things that make us different from a typical ideal of beauty. I, like so many of us, try every day to work past those insecurities," she stated. With being on so many covers, Emily has opened up about her personal life, what she stands for and her acting. In Glamour magazine's August 2017 issue, Ratajkowski opened up about wanting to move away from the "hot girl" role and becoming more versatile. "That's basically my strategy…and part of the reason I'm so grateful I have modeling and so many other things that I'm doing – because if I didn't have other ways of making money, I'd be like, 'OK, I guess I'm doing the bathing-suit-girl role.' You really have to prove yourself in this industry and I'm very much open for the challenge," Emily shared.
3 She's Involved In Politics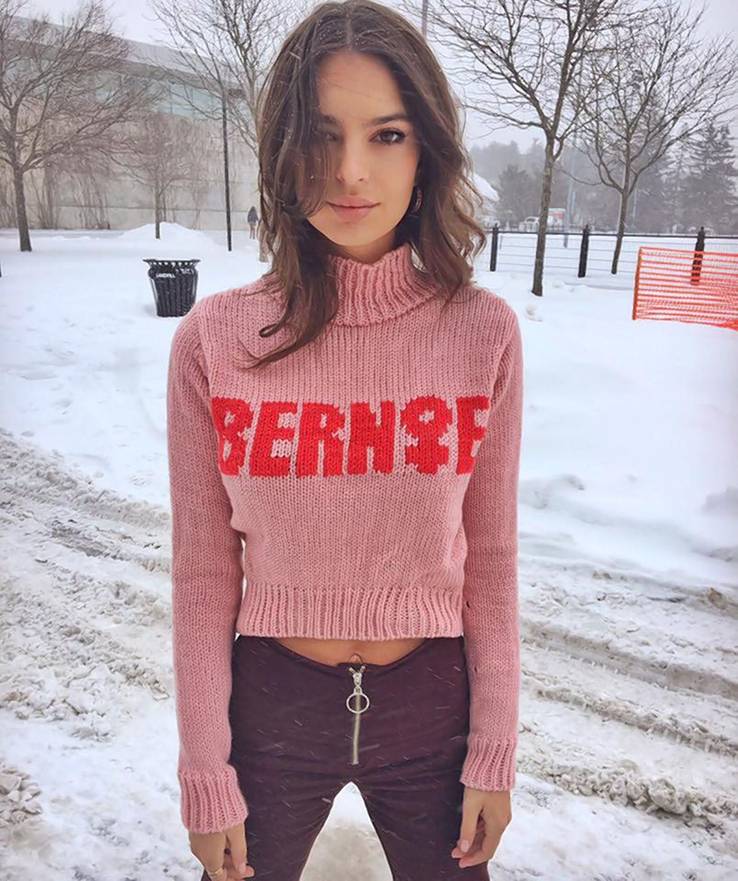 Emily isn't afraid to get political and she's very vocal about being a liberal. She participated in the Women's March and even spoke at a Bernie Sanders rally. While he was campaigning in New Hampshire, Emily took to the stage to state why she supported Bernie rather than Hilary Clinton. Emily said, "I want a female president so that I can say to my daughter one day, you too can become the president of the United States. I believe in that symbolic importance. But I have seen symbolism in election, symbolism that fails the people that so desperately need the action to make change. I've been so impressed by the Sanders campaign. How he has remained dignified in this political climate. In doing so, he has reminded us that this election is not about who you'd want to hang out with." Speaking with The New York Times, Emily said, "I think if you are a public figure, you have a responsibility to say something for a cause you truly believe in and help it on its course." Looking at her Instagram, Emily participates in many marches, and proudly took part in the Women's March on January 21, 2017, where she shared a photo of the scene in Los Angeles and captioned her picture, "This is what democracy looks like." Emily even made her own mark on Washington, in which she advocated for public funding for the arts back in 2016.
2 She's A Feminist And A Spokesperson For Planned Parenthood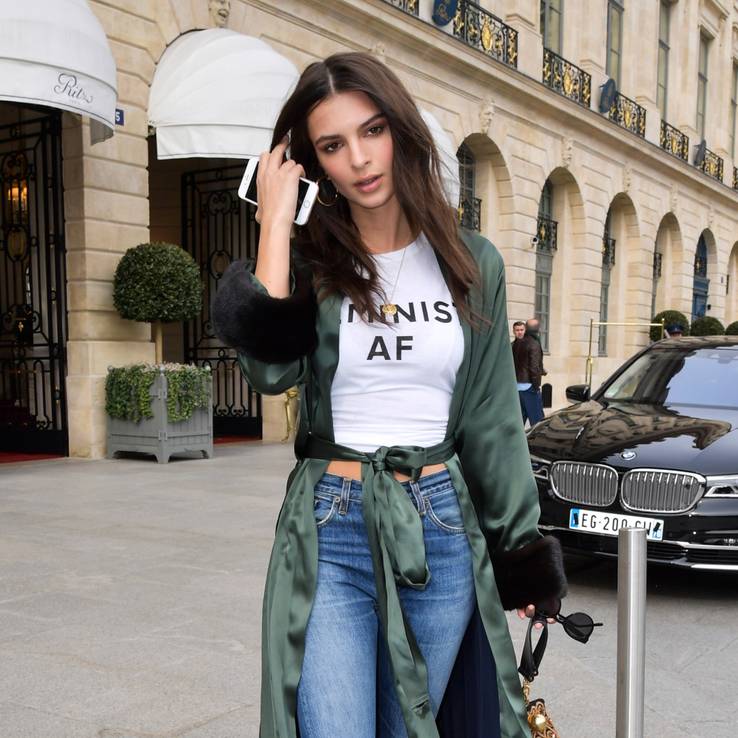 Many media outlets have questioned Emily as a voice of feminism because of her scantily clad photos and constantly posing nude. However, the model doesn't think there's anything wrong with it and the more power to her. In an interview with Grazia magazine, the 26-year-old star mentioned that her clothes shouldn't define her. She insisted that the way she dresses "should in no way inform how seriously she should be taken on serious issues." In an interview with Elle magazine, Emily shared her concept of feminism, stating, "Feminism is about the choices we make, and the freedom we have to make personal choices without judgment or retribution." Emily has also been a huge supporter of Planned Parenthood, stating, "I chose Planned Parenthood and continue to work with them because I think they're one of the most hands-on women's health organizations in the country. I think women's healthcare is a fundamental right that every woman in this country, and hopefully the world, eventually, should have access too." Emily added that every woman should be able to go to a safe place for their health, stating, "It's really important for young girls and women of every age to have a safe place where they can go and get healthcare no matter what their insurance is, or what their background is."
1 She's A Social Media Queen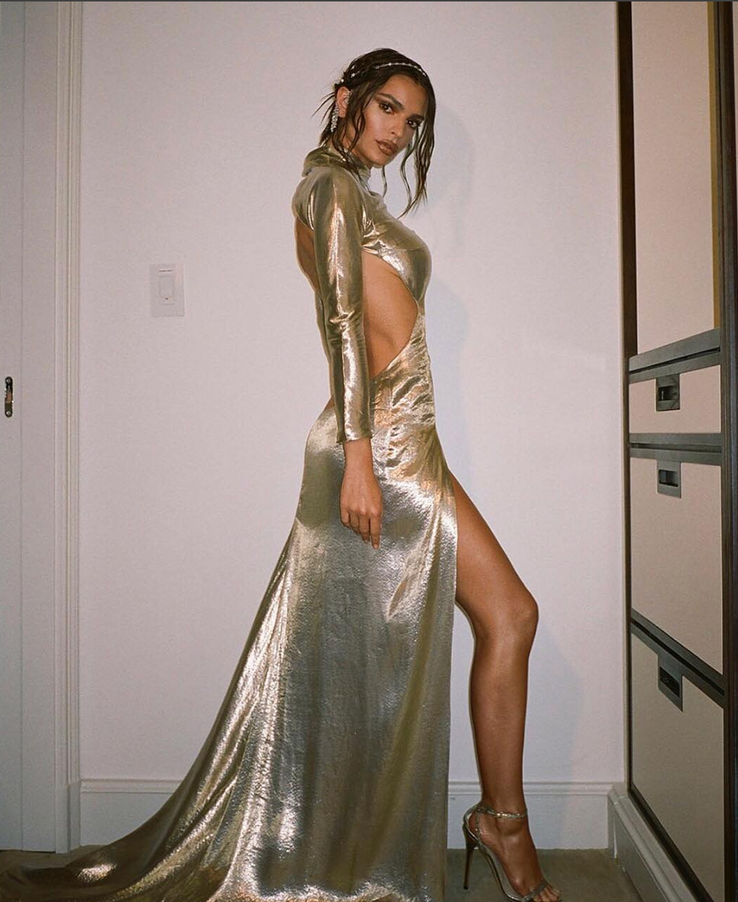 Emily Ratajkowski can easily be named a social media queen. She has about 17.6 million Instagram followers and 1.2 million Twitter followers. She's always been very vocal on her social media accounts, whether if it's to defend herself from her haters who dislike something she's wearing or expressing her political beliefs, Emily uses her social media accounts to express herself. We love seeing her share her fashion moments and of course, all the bathing suit pictures she takes, and her fans love how open and honest she is with herself and being a woman. Like Vogue put it, Emily Ratajkowski is the "queen of the patriarchy clapback." She "frequently uses her Instagram and Twitter to stand up for herself and subvert any assumptions people may have about her image." Emily even teamed up with another social media queen, Kim Kardashian, to respond to criticism over posing nude. Both Kim and Emily took an Internet-breaking selfie in a bathroom with their middle fingers up and no top on. "We are more than just our bodies," Emily captioned her image with Kim K.
References: vogue.com, web.archive.org, mydomaine.com, pedestriantv.com, sothebys.com, usmagazine.com, people.com, elle.com, refinery29.com, harpersbazaar.com, dailymail.co.uk, wmagazine.com
Source: Read Full Article