20 Rare Images Of Victoria Beckham Showing Facial Expressions
When it comes to Victoria Beckham's face, there is one multi-million dollar question that the media hasn't been able to crack yet: is Victoria posing in all the pictures taken of her or does she simply have resting mean face?
In 95% off all pictures that can be found of the former Posh Spice, Victoria looks relatively the same — not one strand of hair is ever out of place, her makeup is flawless and her skin is positively radiant. The same goes for her facial expression, which tabloids nearly always refer to as a "permanent pout."
It might be easy to call her a slew of not-so-nice names as a result of her modelesque and "posey" facial expression. But behind closed doors, Victoria Beckham isn't the woman that we have been envisioning ever since she first stole our hearts singing "Wannabe," "Spice Up Your Life," "Say You'll Be There," and all the other iconic songs that we can't help but sing along to whenever they come up on the radio.
Although she might come across as a cold-hearted ice queen, those are words that her friends and family would never in a million years think to associate with her. In real life, Posh Spice is the life of the party and here are 20 pictures to prove that she isn't the stone-faced queen that everyone thinks that she is.
20 Still Posh Spice At Heart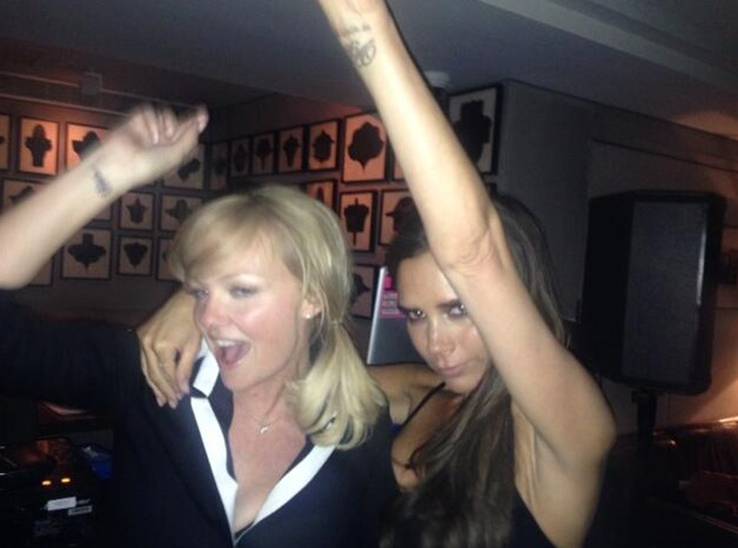 She may have been a Posh Spice in her 20's, but it's clear that she has never actually stopped playing the role of the ultra-stylish fashion icon. Not only that but at 44 years old, she also isn't immune to throwing back to her old Spice Girls days.
In that same interview, she described the last time that she danced: "It was at Christmas, on holiday in the Maldives. By total coincidence, Melanie C was performing, so obviously I got up and joined in. The place we were staying at had hired Melanie to sing on New Year's Eve. It was reported that it was my party and I'd hired her, which wasn't quite right. I got up and sang with Melanie. We had the best night because all the kids were there, David was there, and a few friends, too."
That's great to know, especially since the Spice Girls are set to go on tour once more in 2019. But sadly, Posh Spice might not be apart of the short revival. When responding to a TMZ paparazzi question as to whether Victoria Beckham had signed off to do the tour yet, the Spice Girls manager, Simon Fuller, said, "It may be four, not five. Possibly."
Noooo! There is still plenty of time for her to change her mind.
19 Rare Parenting Moment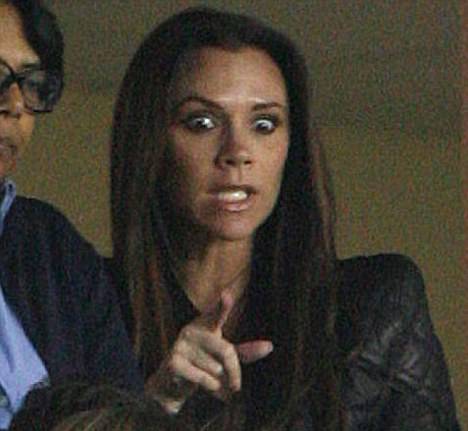 Victoria definitely wasn't having any of her kids' antics at a LA Galaxy game. This is probably one of our absolute favorite picture of Victoria because it's so humanizing. Whereas she usually walks around stone-faced or posing for the pictures, here, she was pictured absolutely losing her marbles, an incredibly rare moment that was never captured on camera again.
As reported by the Dail Mail, this eye-bulging and finger-wagging moment came, "As Cruz grabbed Brooklyn's ears and yanked on them, the 36-year-old fashion designer pointed her finger and told them to cut it out and pay attention to their father's football match."
The amazing moment happened back in 2011 and shows the crazier side of parenting. Even as celebs try very hard to keep up their carefully crafted personas and appearances in public, kids are pretty much the only ones that can crack that tough exterior.
She is often described in the media as balancing her working and motherhood life, but it's clear that her relationship with David and the way kids fit into that, are also equally as important to her. "I wouldn't be where I am without David. He gives me the security and encouragement to do what I do. I do the same for him," she told Vogue.
18 Fleeting Moment Of Happiness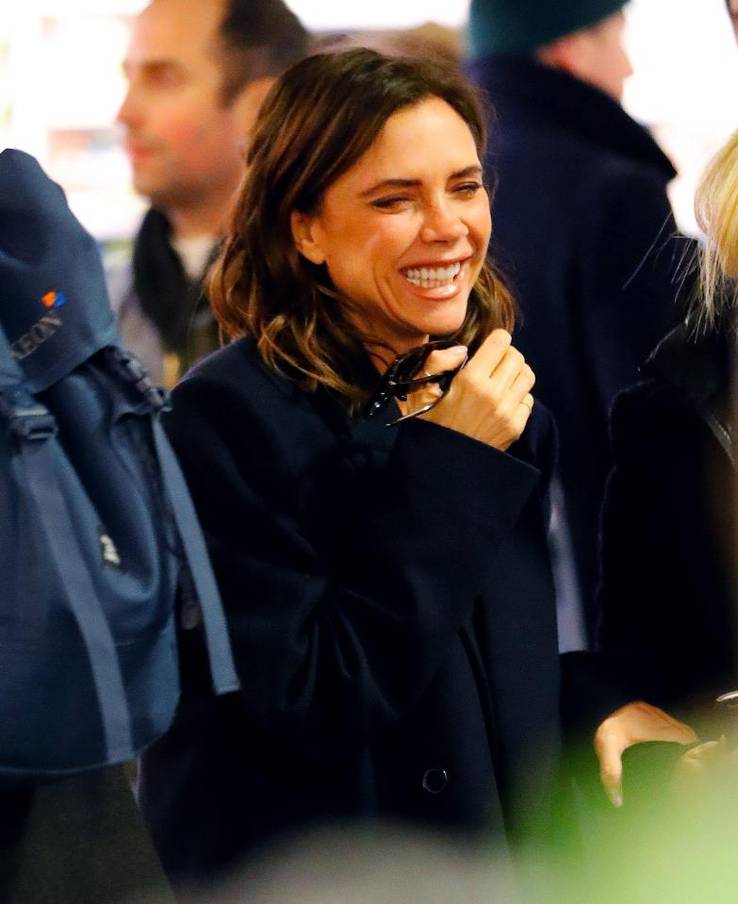 As much as her losing her marbles with her kids was a unique moment caught on camera, so was this moment of pure joy. No one has ever been able to uncover the reason for the intense smile and laugh, but The Telegraph reported that it happened as she was grocery shopping at Whole Foods and stocking up before a storm hit. Yeah, believe it or not, but the fashion-forward star does her own shopping sometimes!
Not only that, but she also has a sense of humor about the media's obsession with her usual pouting face. Back in March 2017, she was photographed at LAX in Lost Angeles cheekily wearing a white t-shirt with "Fashion Stole My Smile" emblazoned in huge letters at the front.
She also later revealed to Vanity Fair that although she smiles for family pictures, she feels silly smiling for paparazzi. "When you're in a position to be paparazzi-ed just walking down the street, you'd look a little daft if you were smiling all the time," she said.
She does have a point. With how much photographers follow her and undoubtedly shout provoking questions at here, it would definitely be hard to always look happy. She also added, "I'm smiling on the inside. I feel that I have a responsibility to the fashion community."
17 Livid Spice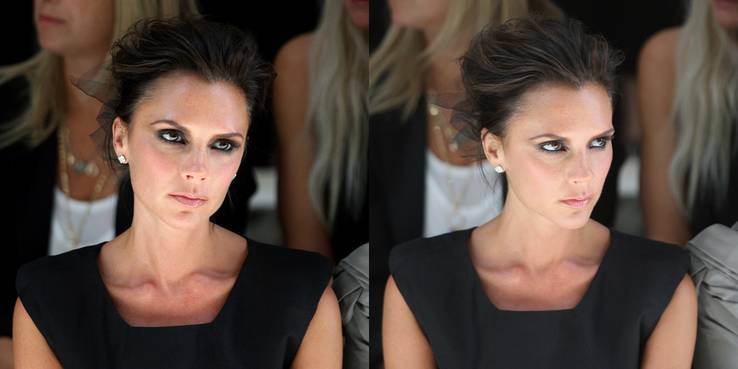 Although she may look stone-faced, Victoria is clearly very ticked off about something in these pictures. Even this facial expression is a rare one for her because other than her resting "b" face and the rare moments of happiness, she is never photographed looking angry about anything. Yet, for some unknown reason, she was obviously fuming while at a fashion show.
But does she read every little bad thing that is said about her in the press? Actually, she does, but luckily, she has thick skin. She told The Telegraph, "I read absolutely every­thing. I [read them] as soon as they come in, so I am very aware. I think people who say they don't read everything are probably lying, people who say they don't care are probably lying. There's nothing wrong with constructive criticism, and I learn from that and better myself. I'm not expecting anyone to be sycophantic in any way, I never expected that." Is that maybe why she has taken a lot more smiley pictures lately?
As British Vogue pointed out, although she was the queen of the bob from about 2006-2008, she drastically changed up her hairstyle starting in 2008, when she started putting her hair up in dramatic up-dos.
16 Posh Mommy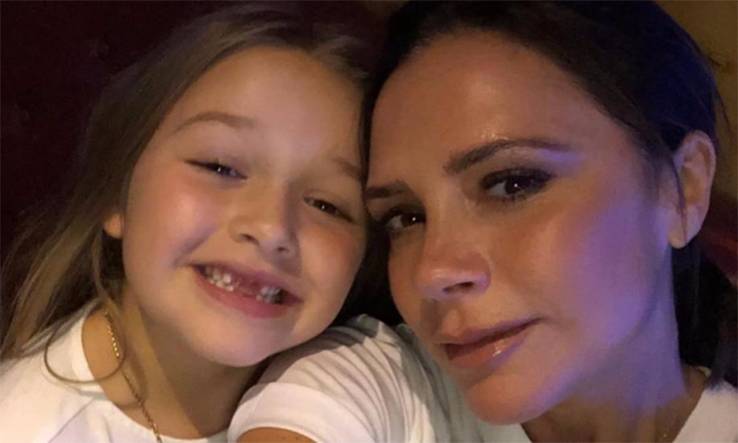 Victoria is a lot more fun at home with her kids than she appears in the media. She actually frequently shares her little mommy-and-me moments on her social media accounts, giving fans a glimpse into her motherhood life, which is unlike what most of us might envision of fashion-obsessed Posh  Spice.
The Daily Mail just recently posted about a series of snaps, showing Victoria's and David's youngest daughter doing both of their makeup. In one of them, Victoria's asks, "future make up artist?" as her daughter turns her into a kitty cat.
The snaps are definitely super endearing, especially since their youngest is seen washing her dad's hair in a professional-looking hairdressing sink.  It's no secret that David Beckham loves to get pampered, but to the point of training his youngest to wash and style his hair? #kidgoals
Just kidding, of course, but it's still great to see the Beckham family enjoying some family time amidst their extremely busy schedules. Still, it's evident that Victoria just couldn't stay off social media since she posted relentlessly about their day together. Then again, she posts often, even going so far as to ask her fans for fashion advice every now and again.
15 Shedding Tear 1/2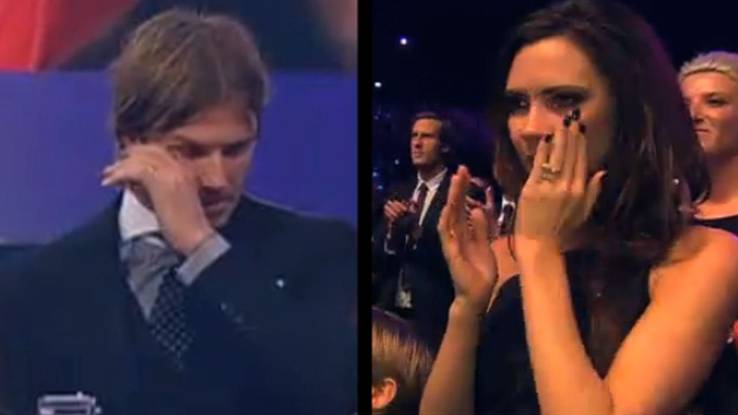 There is only one thing that has ever made Posh Spice cry in public and that's her husband, David Beckham, accepting awards. Seeing Victoria Beckham shedding a tear is about as rare as seeing her flash a grin, but it does happen! Just one tear though, never more than that. She wouldn't want to risk ruining her flawless makeup.
Both Victoria and David Beckham shed a tear back in 2010 when he proudly accepted a Lifetime Achievement Award at BBC's Sports Personality of the Year ceremony.
Victoria got especially emotional when David paid tribute to her and the kids in his speech. As reported by BBC America, he said, "Of course, I want to thank my wife and my children. Not only has she given me three amazing boys but the support she's given me and she is truly and inspiration for me every single day. So Victoria, Brooklyn, Romeo and Cruz – thank you."
Interestingly, he had also paid homage to the Armed Forces in his speech, saying, "This year I went to Afghanistan and I saw the bravery of our troops out there. And what they do day in and day out, they risk their lives to save other people. I dedicate my award to the men and the women who are serving our country in Afghanistan. Be safe and have a great Christmas."
14 Proud Mama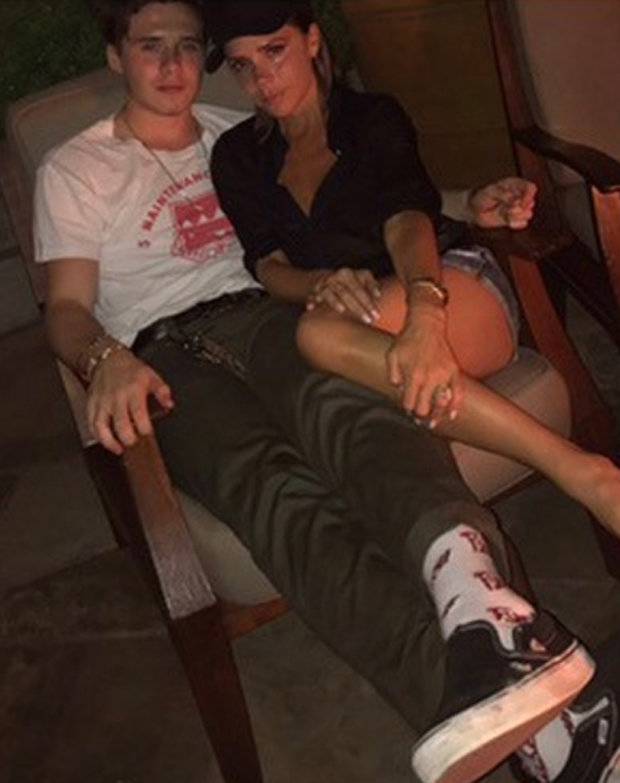 Victoria rarely gets emotional. The only times that she truly lets anyone see her vulnerable side is when she gets emotional about something relating to either her husband, David Beckham or any of her kids. Her eldest son, Brooklyn, has been particularly making her teary-eyes the past couple of years, especially amidst him turning the big 1-8.
Back in 2017, proud mom, Victoria posted the above picture to her Instagram, with the caption: "We are all so proud of you Brooklyn. Amazing A level results and off to college. We love you so much and will miss you. #yesiamcrying #emotional."
Without the caption, it would have been easy to attribute Victoria's shiny face to some botchy makeup, bad lighting, or anything else because of the picture's lower than usual quality. It's really because of the caption that every tabloid immediately picked up on Posh's rare display of emotion, but even her son was nervous about the upcoming change. He told GQ, "I'm nervous, and my mum's upset about me leaving. But it's really exciting. I kind of live in the moment. I don't think people in New York will annoy me, and I feel like when I go there, I'll meet lifelong friends."
Featured Today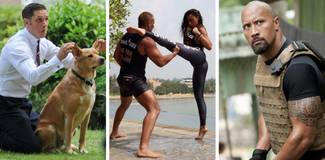 10 Actors No One Wants To Mess With (And 10 Who Only Act Tough)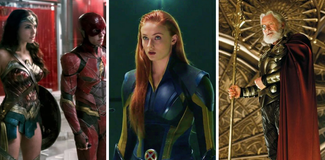 15 DC Characters (And 5 Marvel Characters) Who Could Singlehandedly Take Down Thanos

20 Grey's Anatomy Actors Shonda Rhimes Dropped: Where Are They Now?

13 Tired Posh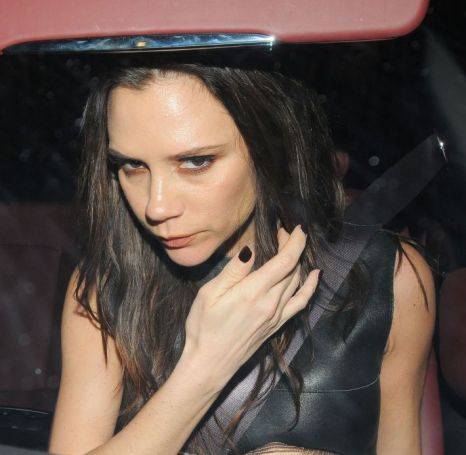 As we all know, Victoria Beckham always ensures to look absolutely flawless when out and about, but this picture isn't what you might be thinking. Even though it appears as though she may  have been partying a little too hard, this picture of a tired-looking Posh Spice was actually taken in 2011, on the heels of her fourth pregnancy.
The good news is that, as reported by the Daily Mail, her fourth pregnancy actually treated her a little better than her previous ones: "And although she looked a little peaky last week, she's not having morning sickness like she has done before," revealed a friend at the time.
Speaking of partying, the Spice Girls reunion didn't come without controversy. After a picture of the five women reunited went vital in February 2018, fans were insanely quick to point a tiny detail about the picture that would have otherwise easily gone unnoticed. In the background of the picture of the five of them posing together, there appears to be a suspicious white line on one of the girl's iPhones.
Fans were quick to assume the worst, in terms of the little partying boost, but as Metro has pointed out, it's just the way that the light was hitting the phone at that exact moment. It still looks kind of suspicious, but for now, intense fans have backed off.
12 Fake Or Real Smile?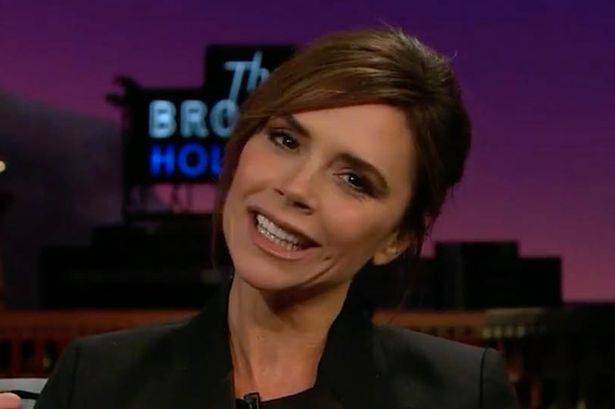 She may have admitted in an interview with America's Late Late Show that she is often viewed as "an ice queen," but that couldn't be further from the truth for the former Posh Spice. She is actually a huge joker, often posting silly and funny snaps to her social media accounts. As PopSugar reported, "she's not ashamed to poke fun at herself, either, be it taking part in Carpool Karaoke or throwing back to some old Spice Girls moments."
So why does she smile as rarely as she does? When Vogue's 73 Question asked, "Why don't you ever smile?" she answered, "I'm smiling on the inside, but I feel that I have a responsibility to the fashion community."
Her statement goes hand in hand with the aforementioned, "Fashion Stole My Smile," t-shirt that she once wore, but is that just a front? Blaming a lack of facial expressions on fashion is a stretch, especially since fashion is supposed to be all about creativity and expressing oneself.
It's quite a revealing answer, especially since it definitely explain her more "posey" moments. In that same interview, which is available for viewing on YouTube, she also admitted that "daily ritual" is that she's "up at 6am working-out." Talk about dedication!
11  Happily Ever After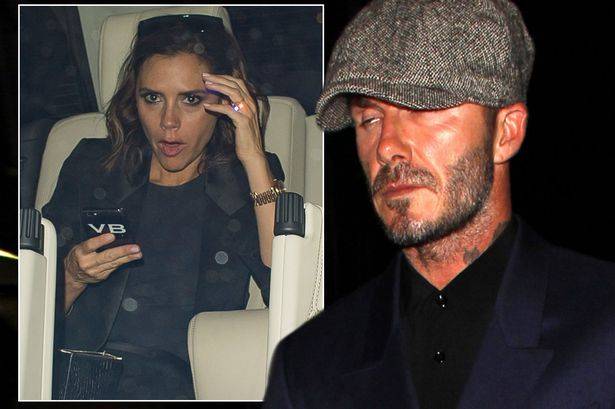 Although the pair may not look all that happy there, Victoria and David Beckham are surprisingly on the verge of celebrating their 20th marriage. Staying married for that long is quite a rarity in Hollywood, but it turns out that she pursued him. In response to how they met in an interview with W Magazine, he answered, "She stalked me." Not to worry though, as he also admitted, "I fancied her." Eventually, at a later date, Victoria wrote down her number for him on her plane ticket. Fun fact is that he still has this plane ticket to this day.
It's really quite cute when you think about it that they would fancy each other, but with both being too shy to do much about it. Still, it's a great thing that they finally opened up and eventually married in 1999! Despite all that, they had a pretty expensive wedding at the time, costing them $800,000, according to CBS News.
Apparently, they had everything from a gold throne, all the way to nude figures of themselves as their cake toppers. Then again, is this all that surprising with their wealth? Surprisingly, they're both individually worth about the same amount: $450 million.
10 An Oldie But A Goodie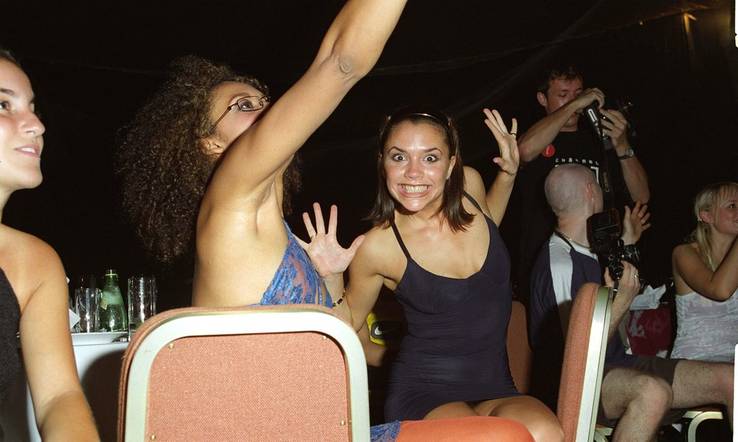 Although Victoria Beckham has refined her resting posing face since the disintegration of the Spice Girls, she used to be a lot more free-spirited and dare we say, kooky? Even on-stage, she used to be quite serious, posing all the time, but off-stage, Posh Spice showed her true colors with less reserve than now.
With regards to whether Victoria is simply posing or if she has resting "b" face, the answer is probably a combination of both. In some pictures, she is seen definitely posing it up for the cameras, while in others, she looks ticked off without necessarily having anything making her mad. Whichever the case, it's something that mostly developed after the Spice Girls as she worked on branding herself as a fashion icon.
Speaking about her altered image, she confided to The Telegraph, "I think we have grown in confidence. I dress differently now to how I did then. I wear looser dresses, flat shoes. I can express myself in a different way. I want to evolve each season. I never want to be one of those brands where people know what they're going to see. I always want an element of surprise. One thing I never want to do is copy what anybody else is doing. I have a signature, and it's very important to me to stay true to that."
9 Shedding Tear 2/2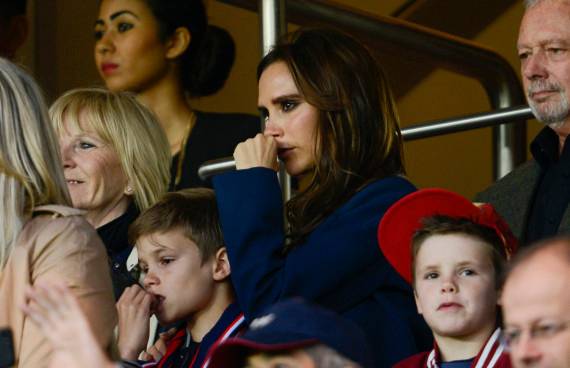 Not too many things make Posh Spice tear up in public, but her husband, David Beckham's, success continuously does! In another rare display of emotions, Victoria cried during David's final soccer game, but who could blame her? According to Huffington Post, he later said, "To end my career in front of a crowd like that, with players like that, it's very special," he said. "It started about 20 minutes before that, to be honest. I started thinking and then, you know, I couldn't concentrate by then, and it was difficult. You know, you try to hold the emotion back because it is what it is, but it's difficult."
Seriously, we're crying just reading that. Can you imagine actually hearing it?
Yet, there might be trouble in paradise. According to Radar Online, they're increasingly leading separate lives. A source told Heat Magazine, "David is still determined to relocate to Miami and commute between there and their place in LA. Victoria is happy to visit him in Miami but isn't keen to move there."
We would still love to believe that they're going to stay together, but you just never know with Hollywood couples. Just look at Chris Pratt and Anna Faris, as well as Channing Tatum and Jenna Dewan.
8 Candid Spice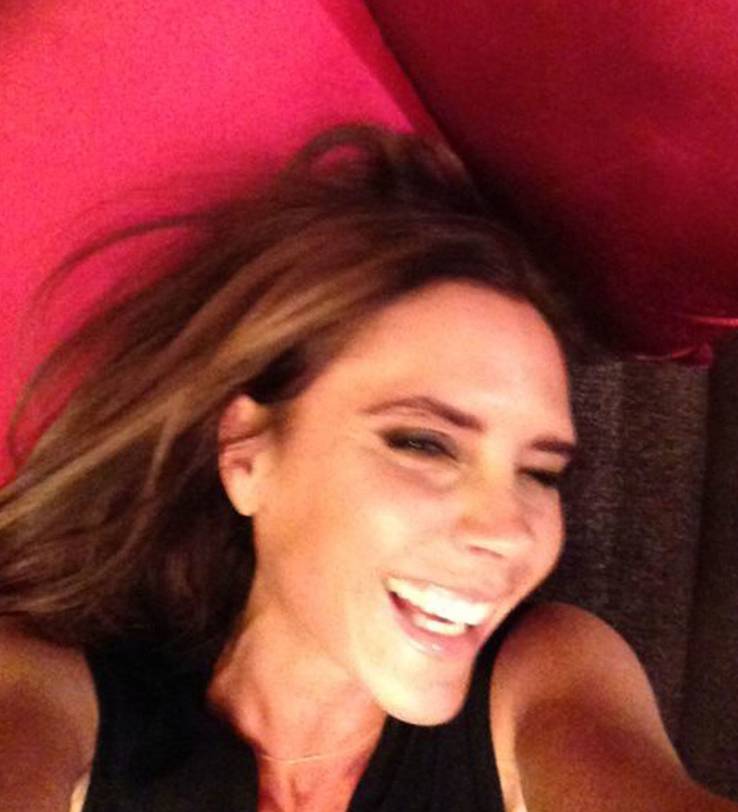 She has lots to smile about. Despite being a celeb mommy and having more than enough cash to hire cooks, her hubby actually cooks as well! He definitely treats her right, despite there being more than enough rooms in their mansion to retreat to and spend lots of alone time if they wanted to. She recently posted a snap of a pot of prawns, with the caption: "Life changing prawns!!! Cooked in tequila!!!"
She also added: "Daddy cooked dinner!"
What's even more surprising is that according to Hello Magazine, it "appeared to be a pasta bake topped with meatballs and a rich tomato sauce." With an increasing number of celebs jumping on the Keto diet, we would have been willing to bet that Victoria would be the conductor of that train and yet, she apparently doesn't shy away from carbs!
Don't let that fool you though. She once posted a snap of a bottle of vinegar, with the caption: "Two tbsp first thing on an empty tummy! x"
There are lots of health benefits to drinking apple cider vinegar, but it just goes to show that Victoria definitely still isn't immune to obsessing over her waistline.
7 Carpool Spice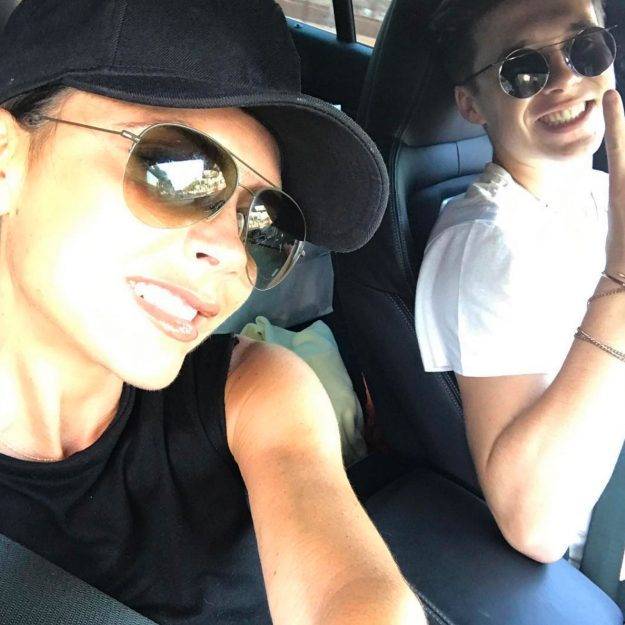 Victoria is one proud mama. In her interview with Vogue's 73 Questions, she admitted that "one rule her kids consistently ignore is: "Don't play football in the house." Ha! With that being said, she also answered another question rather hilariously. When asked, "What's the greatest thing you've learned from your kids?" she replied, "How to play football in the house and how to love unconditionally."
She has always answered pretty much the same way in all her interviews when talking about her kids. Then again, who wouldn't want to show off their kids as much as possible?
A couple of videos of her son, Cruz, singing have already gone viral, making fans speculate whether he might be pursuing a career in music one day. Yet, another video of him singing an unknown track, but this time was slightly different. As reported by ET Online, she tagged Rodney "Darkchild" Jerkins, "a popular record producer and songwriter who has worked with the likes of Michael Jackson, Britney Spears, Beyoncé and Victoria's former girl group, the Spice Girls."
It definitely looks like the mama Posh is trying her hardest to secure a deal for her second born. At the time of the first video of him singing going viral, David had confided to ET, "He came to us five weeks ago, and we realized that he has a cute little voice — a good little voice — and a passion and he said, 'You know, why don't I do a Christmas song? Why don't I, you know, do a Christmas song and give the-the funds to a charity of his choice?' And we said, 'Great. Great idea.'"
6 Busy Busy Spice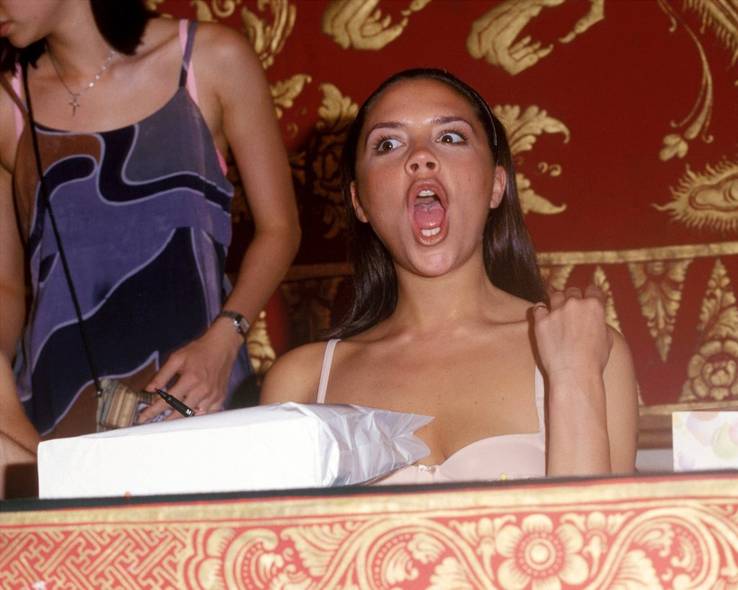 No idea what had her so riled up, but things have definitely changed significantly since this extremely loud-looking picture of Posh Spice was taken over a decade ago. Since the demise of the Spice Girls, Victoria maneuvers around succumbing to a nervous breakdown with impeccable time management and scheduling skills.
Well, her "people" probably take care of that, but it's still something that she is very proud of, especially as she strives to be a lot calmer-looking than she was in this pic. She told The Telegraph that she basically just never has a day off, "When some designers go into the studio and say they weren't inspired and didn't get anything done, that's great [for them]. We don't have the luxury of having a day where we're not coming up with something because we know what we have to achieve throughout the year to tick all of those boxes."
"It's a juggling act, but we have great people around us to make sure it all works. I know what I am doing this time next year," she added. Kind of explains her stoned-faced pictures now, doesn't it? She is obviously just reserving her energy and smiles for meetings and brain-storming sessions. After all, maintaining a smiling and radiant face for the cameras all the time is bound to be an impossible task, especially if the tabloids are going to flip your good mood around and make up stories about what may have been behind that "fake smile." Victoria undoubtedly learned that it's much easier to just show no emotion whatsoever and leave the media's speculation grasping for even fewer straws.
5 Hard-Working Victoria
In an interview with Glamour, Victoria said, "Nothing ever came naturally. I had to work for everything."
David Beckham also added, "For me, one of the most attractive things about her is the way she works and how much she actually wants to improve."
Her hard work was definitely recognized as she was awarded an OBE (Order of the British Empire) for her work in fashion.
BBC reported at the time that she said, "It was an absolute pleasure to be at Buckingham Palace today. I'm proud to be British, honoured and humbled to receive my OBE from the Duke of Cambridge."
"If you dream big and work hard you can accomplish great things. I'm so happy to share this very special occasion with my parents and husband; without their love and support, none of this would be possible," she also continued.
Even more curiously is that in that same Glamour interview, Victoria actually said, "As a little girls, I was quite shy. Happy, I was a really really happy kid, always singing, always dancing, very outdoorsy. A little bit of a tomboy actually, which would probably surprise a lot of people."
Would she have made a good Sporty Spice? Given her love for high heels, probably not!
4 Definitely Not An Introvert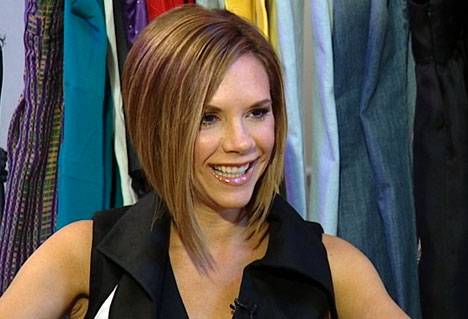 In an interview with Elle, she recently said, "Yes, I'm not one of these antisocial, awkward sorts. I'm really good value at a dinner party – I want to relax and have a laugh. I like to have fun, and I think that often surprises people."
Color us surprised! But then again, is it really that surprising when you look at this kind of throwback picture of Victoria? It's easy to tell that she is easy going, but aside from fashion stealing her smile, there is a good chance that paparazzi played their hand in the theft as well. It's 100% certain that the Victoria we see in paparazzi pictures is not the same Victoria at home. All of her interviews paint a completely different picture of Posh Spice and it's one that anyone us would want to be friends with without hesitation! All the potential style tips wouldn't hurt either.
Despite claiming to not be antisocial, she nonetheless also confided to Elle that she doesn't have a lot of friends. "I am never, ever lonely. I don't have a lot of friends, but I'm surrounded by people I genuinely like to be with." Something we should all be striving for! It's not about quantity, but quality.
3 Radiant Spice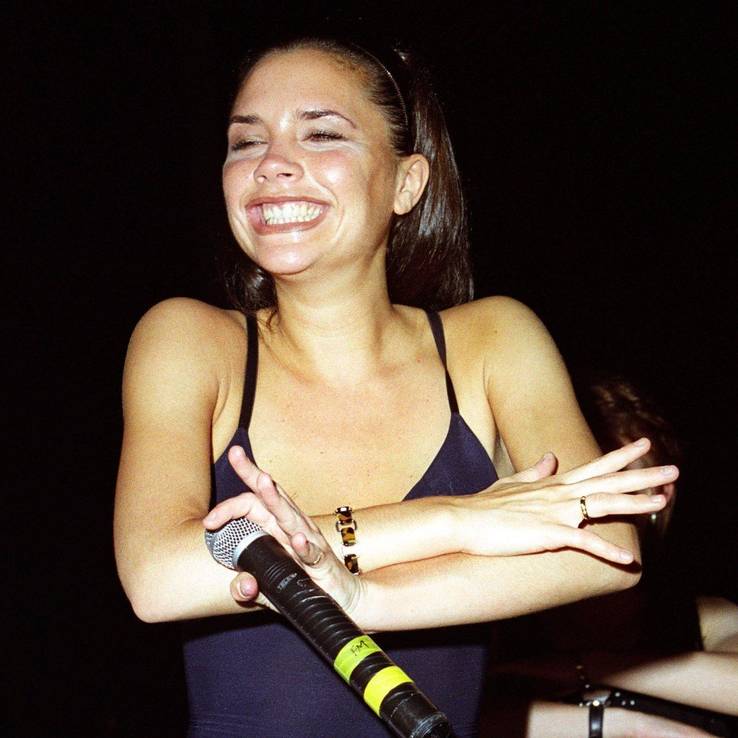 Seriously, how rare is this sight? It's 99% certain that Victoria will never dare be caught with this facial expression nowadays! Back in the Spice Girls day and age, it wasn't that uncommon for her to be free-spirited. Whereas Posh Spice at 20 years old probably wasn't too worried about wrinkles just yet, Victoria at over 40 years old definitely cares enough to make sure that she is almost as stone-faced as possible. You can bet that she does plenty of neck exercises in front of the mirror every single day, if not numerous times per day!
The question on every fans' mind has always been, how does she stay looking as youthful as she does? Having half a billion net worth helps, but so does a very pricey beauty routine. She told Into The Gloss, "When I'm traveling, I make sure to take off my makeup, cleanse my face, and then cover myself in the Sarah Chapman Stem Cell Collagen Activator Duo." In case anyone is curious, that cream costs about $265. A quick video of "Victoria Beckham's Five-Minute Face" can also be found on YouTube for anyone looking for quick beauty tips from a pro.
2 Fun, Fun, Fun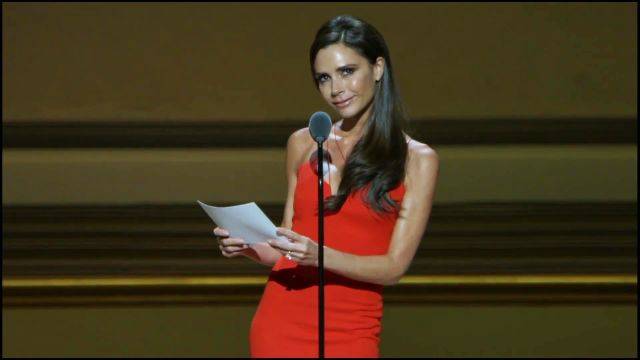 That little smile was actually followed up by her doing the peace sign as she made a reference to the Spice Girls and Girl Power in her speech while accepting the Glamour Women of the Year Award. She received it in 2015 for the work she did as a UNAIDS Global Goodwill Ambassador.
Although it was a rather ordinary speech, it's actually an earlier speech that she made while accepting the Glamour Woman of the Decade Award in 2013 that particularly stands out. Whereas so many people around the world might think of Victoria Spice as being serious and not fun, she has actually shown time and time again that she is rather hilarious. As she started off that speech, she was quick to make many on the spur of the moment jokes, even throwing in a reference to Harry Potter!
In a recent interview with Glamour, her former bandmate, Mel C, said, "If I had to use three words to describe Victoria: determined, fun, sophisticated." Her pal, Eva Longoria, followed up with, "Funny, funny, funny. Elegant, beautiful, charming, classy, loyal."
Although their choice of words may come as a surprise to many, it certainly speaks volumes that the one word all her friends have in common for describing her is: fun.
1 Rare Acting Moment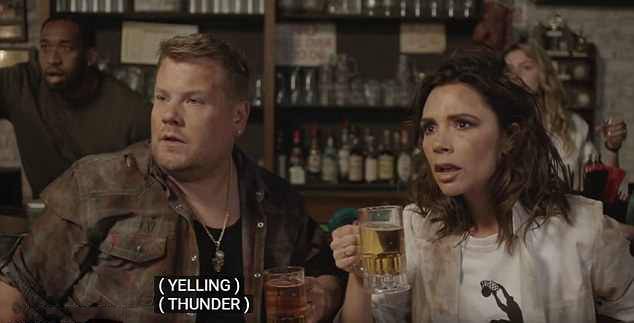 Although she hasn't starred in too many movies since her iconic role in Spice World, Victoria actually starred in a nearly four-minute long video with James Corden called "Shaqnado." In the weirdest parody on the real movie, Sharknado, Victoria plays Dr. Poshowitz, who is trying to stop a tornado of Shaquille O'Neil figures. As crazy as the fake movie is, it actually showcases her acting talents quite well. Although many might think that Posh Spice is incapable of moving her muscles, in the fake movie, she masters lots of facial expressions, most notably, the very shocked one as they stumble upon the tornado and try to throw basketballs at Shaq. In case you haven't seen it, yes, she does also smile a little at the end while enjoying a nice cold one with Corden.
It's clear that the trio is good friends, as both Victoria and Shaq recently appeared on The Late Late Show with James Corden once again, but this time just to talk. Shaq told the funny story of how he actually found David Beckham's wallet on the floor and rather than returning it to the front desk, simply called David up and pretended to want $1 million for it. David's response? "Shaq, stop playing!"
References: Daily Mail, Metro.co.uk, Telegraph.co.uk, Daily Mail, Vogue, Telegraph, Vanity Fair, Vogue, Daily Mail, BBC America, Radar Online, InStyle.co.uk, Daily Mail, Mirror.co.uk, PopSugar, Mirror.co.uk, WMagazine, CBS News, Elle, ETOnline, TMZ, Daily Mail, Allure, YouTube, Glamour.
Source: Read Full Article