20 Things Fans Should Know About Every Chris In Hollywood
Unless you've been living under a rock for the past decade, you've heard about the "Chrises"; Chris Evans, Chris Hemsworth, Chris Pratt, and Chris Pine.  All four are leading men in Hollywood, and all four have played superheroes.  Three of the four are Marvel superheroes; Captain America (Evans), Thor (Hemsworth), and Star-Lord (Pratt).  Being the odd man out of the group, Pine went the other direction and played "Steve Trevor", in DC's Wonder Woman.  That being said, with Pine's new film A Wrinkle In Time, all four of the Chrises are employed by Disney.  Three of the four Chrises auditioned for the role of "Captain Kirk", Pratt, Hemsworth, and the winner Pine.
The Chrises also share similarities in their birth months, Pratt and Evans were both born in June, while Hemsworth and Pine were both born in August.  In his opening monologue, Chris Pine poked fun about the confusions of the ChrisesThree of the four Chrises.
Audiences can't wait to see three of the four Chrises join forces in the highly anticipated, Avengers: Infinity War, set to release in the United States on April 27.  It will be the first time we get to see Captain America, Thor, and Star-Lord in the same film and the excitement is palpable.  One thing is for sure, we all hope these four leading men continue their successful careers.  Here are 20 Things that you may not know about the Chrises.
20 Chris Evans didn't want to be captain america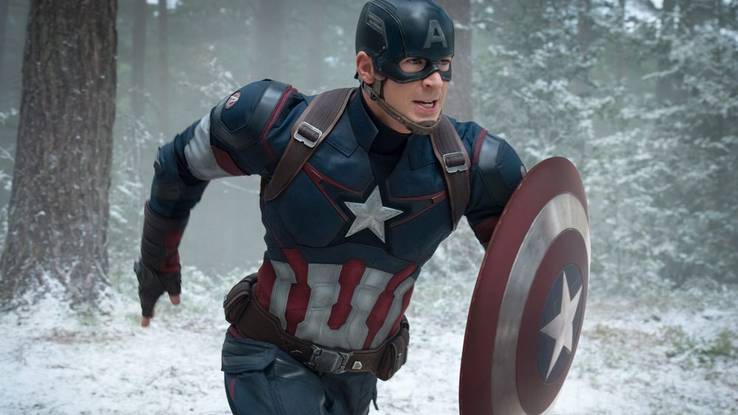 Most cannot imagine anyone else in the role of Captain America, and thanks to Robert Downey Jr, we don't have to.  Chris Evans turned down the role not once, not twice, but three times before finally accepting the role.  Evans suffers from anxiety and was concerned about how the sudden fame that this role would bring would affect his private life.
Evans was offered what was initially a nine-movie deal with Marvel as Captain America.  He went into therapy to help him rationally think about the major decision. 
Marvel then lessened the deal to six movies but Evans was still reluctant.  In an article with Variety,  Robert Downey Jr discussed making a call to Chris Evans;
"I remember getting on the phone with him and strongly suggesting that he not shrink away from the offer," Downey said. "I said, 'Look, man, you might not like the fact that you've played one of these guys before (in 'Fantastic Four'), but you know, the thing is this can afford you all sorts of other freedoms.' I also thought he was the perfect guy for the job."
19 Chris Hemsworth as chris pine's dad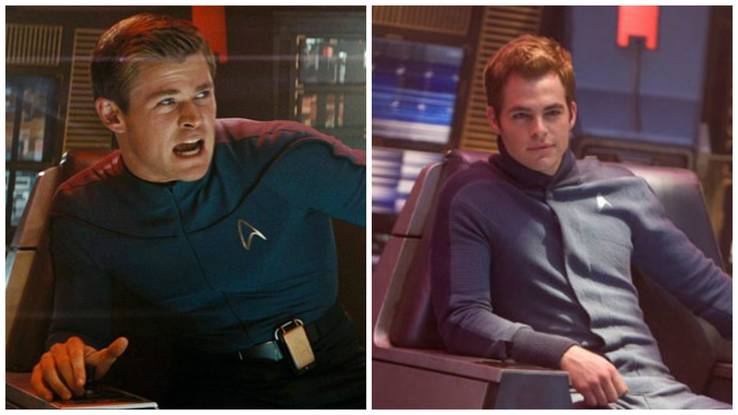 Chris Hemsworth had his first breakout film role in Star Trek (2009). Hemsworth's role was brief but meaningful as George Kirk, father of James T. Kirk.
Chris had auditioned for the part of Captain James T. Kirk early on in the casting process but was passed over.
When J.J Abrahams was trying to find someone to play the role of the father, he remembered seeing an actor that looked similar to Pine. J.J. tracked Hemsworth down and had him come back in to read for the part of "George Kirk", and the rest is history.
Hemsworth is rumored to be reprising the role of "George Kirk" in the upcoming Star Trek film. (Source: Trekmovie)
18 Chris Pratt the Painter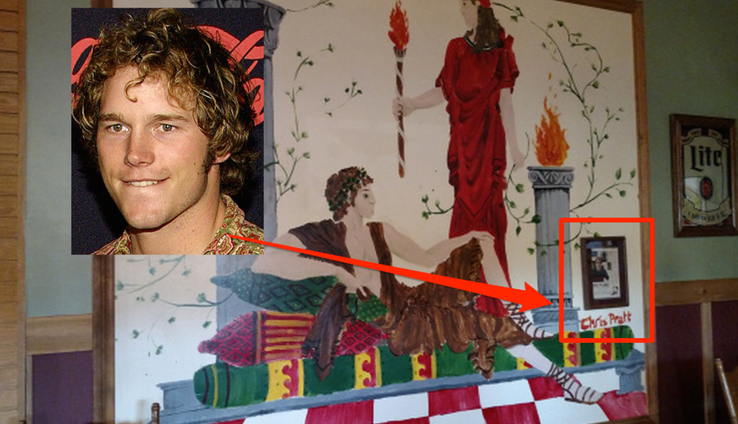 Chris Pratt was an aspiring artist as a teenager. He painted murals in his high school weight room and a restaurant.
His artwork resides in a Granite Falls, Washington restaurant named, Omega Pizza & Pasta.
Chris was best friends with the owner's son, and he used to be a dishwasher at the restaurant. In an interview with Teen PEOPLE in 2003, Pratt said:
"I only [paint] when I need to get my emotions out. It's like therapy" and explained that as well as landscapes, he had "even painted girls I know and secretly long for." Pratt also mentioned that he had painted a "Greek scene on the wall of my friend's restaurant".
17 Chris Pine's Hollywood Roots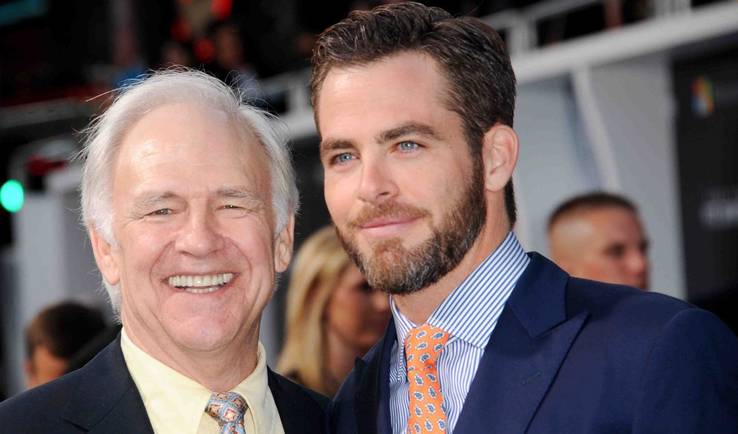 Chris Pine comes from a long line of talented Hollywood alum. His maternal grandmother, Anne Gwynne, who was widely known as one of the foremost "scream queens", because she was frequently cast in horror movies.
Pine's maternal grandfather, Max M. Gilford, was an actor, lawyer, producer, and a president of the Hollywood Bar Association.
Chris Pine's father is most notably known as, Sgt. Joseph Getraer, from the hit NBC TV series, CHiPs. Pine's mother, Gloria Gwynne Gilford, acted in several television series, as well as the film Masters of the Universe, before retiring from acting to become a psychotherapist. His sister, Katherine, is also an actress, and a psychotherapist.
That's some very talented genes. (Source: IMBD)
16 Chris Evans the real superhero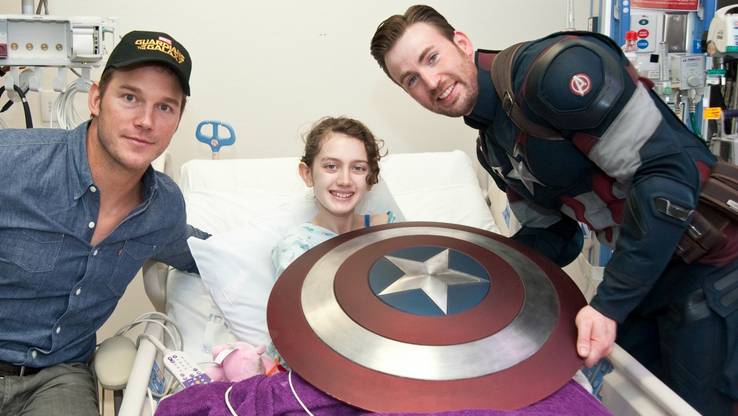 Chris Evans loves to spend time with real-life superheroes at children's hospitals across the country.  In 2015, he and fellow Marvel superhero, Chris Pratt made a bet on the Superbowl.  Pratt's Seattle Seahawks were playing Evans' New England Patriots and instead of wagering money, the two decided to bet charity visits to children's hospitals as their Marvel characters.
The Patriots won but Evans being the awesome guy he is, showed up at Pratt's charity of choice, Seattle Children's Hospital.
Evans once partnered with Omaze, a trap room experience company, to raise money for Christopher's Haven.  Located in Boston, Christopher's Haven consists of nine temporary apartments and community recreation area for families of children being treated for cancer. Evans had mad multiple visits to children and their families living here, including after the Patriots Superbowl win, accompanied by Star-Lord.
Chris truly enjoys meeting these young real-life superheroes. (Source: HollywoodReporter)
15 Chris Hemsworth and his body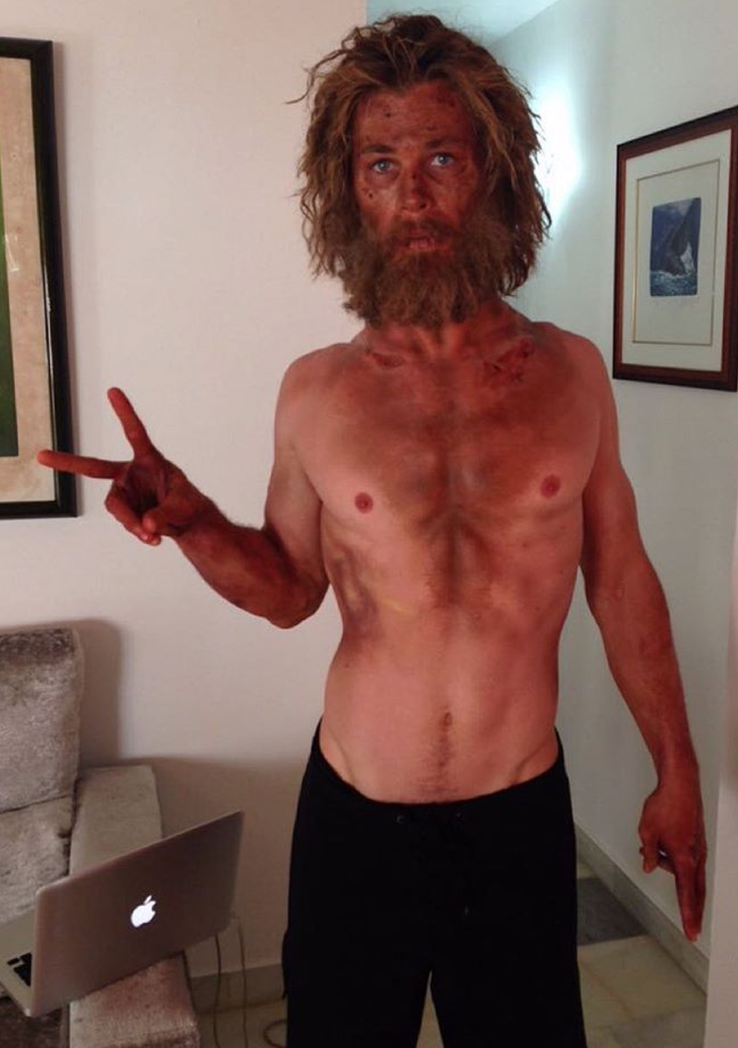 When Chris Hemsworth was cast to play the almighty Thor, he was told to get as big as he could before filming started. He took training very seriously and actually packed on so much muscle that he was too big for his leather and chain mail costume that had been made from measurements just three months prior. Hemsworth had put on 30 lbs of muscle in six months.
In a dramatic change from the huge muscles Chris had in his Marvel films, for In The Heart Of The Sea, he became extremely thin for another role.
The director Ron Howard insisted that the actors go on a strict diet of just 750 calories a day while filming, to get that authentic adrift-at-sea look.
The movie had to be shot in chronological order, with the actors losing weight at the same rate as the characters they played. Minimal CGI was used for the last scenes when the men are on the verge of dying.
It's safe to say that Chris Hemsworth doesn't do anything half-ass. (Source: dailymail)
14 Chris Pratt and the Star-Lord Costume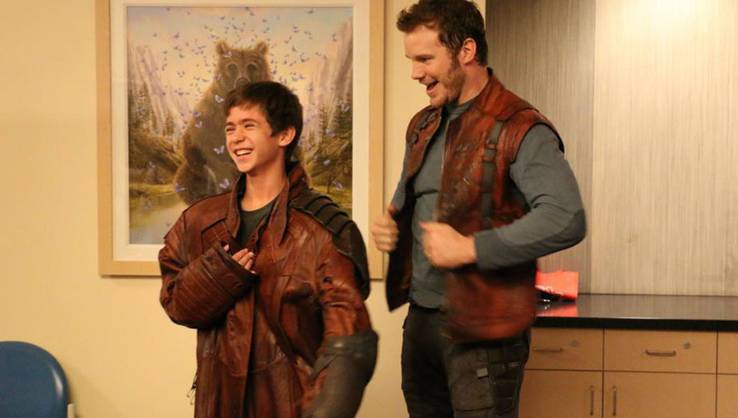 Chris Pratt loves to visit kids in the hospital in his Star-Lord costume. He often spends time with sick children as his Marvel character to help brighten their days. Pratt and his good friend, Chris Evans made a Superbowl bet to help raise money for kids and Chris honored the wager after the Seahawks lost to the Patriots.
Apparently, Chris Pratt stole his Star-Lord costume from the Guardians of the Galaxy set so he could visit sick children in the hospital in character.
In an interview with Panzer TV, Pratt opened up about taking the costume:
"I stole the jacket and some of the wardrobe so that, if this movie comes out and does what everyone hopes it can, I can follow the example of someone — say, like, a Russell Wilson — and go visit kids. If it was a big enough movie to where it would mean something to a kid who's sick in the hospital for Peter Quill or Star-Lord to come visit them, I'll do that. I think that's awesome, man. That would give me real meaning for this movie, you know?
Chris Pratt also donated $500K to a teen center built in honor of his late father and gave a touching speech about his son, Jack, who was born premature, at a March of Dimes celebration.
Featured Today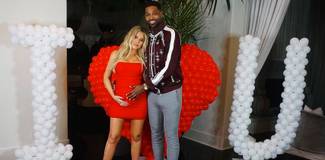 Khloe Kardashian Gives Birth To Baby Girl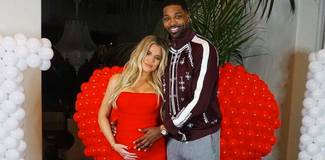 Tristan Thompson Caught Cheating On Khloe Kardashian

Jesse Williams Ex-Wife Wants More Child Support

13 Chris Pine and his Phobias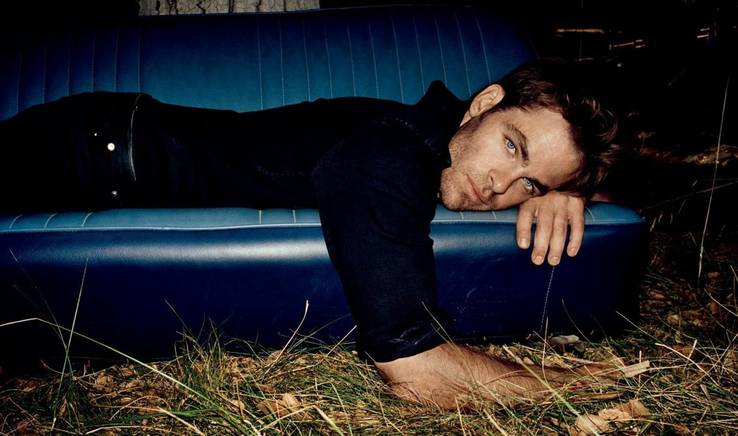 We all have things that frighten us and Chris Pine is no different. In fact, he has a rather common phobia that most people can understand. Spiders give him nightmares. In addition to fessing up to a childhood fear of the dark (which he joked didn't end until about age 24), Pine recently copped to the one thing that always strikes fear in his heart.
"Not a fan of spiders," he said to The Huffington Post. "I saw the movie Arachnophobia which was single-handedly rated in the top three [worst] choices of my life."
The film Arachnophobia, made everyone's skin crawl. It focused on residents of a small town in California as they fight to annihilate the deadly offspring of a large South American spider.
We're right there with you Chris.
12 Chris Evans the tap dancer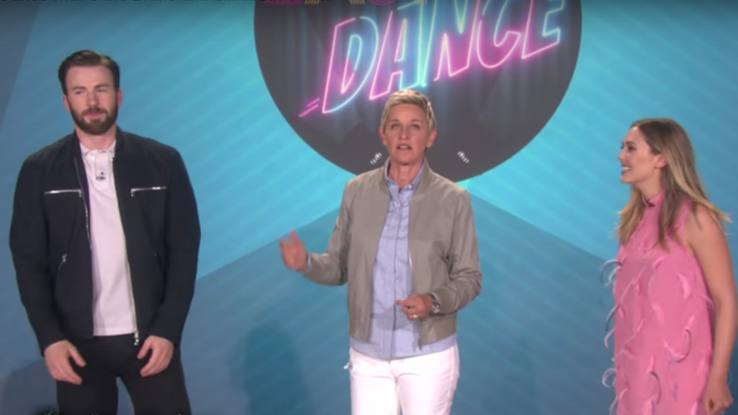 Chris Evans has a multitude of talents and one of those just happens to be tap dancing.  He learned to tap at a young age.  His mother was a tap dancer and along with his siblings grew up with an understanding of tap dancing.
They even had a tap floor in their basement.  Chris still puts that floor to use and taps to help release stress at times. 
Chris has even taken to working up a sweat in private lessons taught by a friend. He enjoys clearing his mind and feeling like he is a part of the music.
Apart from tap, Chris Evans has some great dance moves as showed us on an episode of Ellen.  Chris was also presented with a check by Ellen for Christopher's Haven.
11 Chris Hemsworth's best friends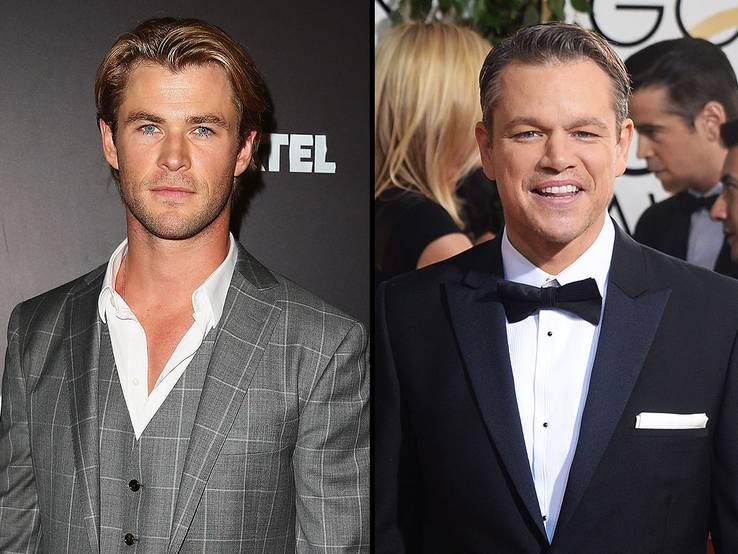 One of Hemsworth's closest friends is actor Matt Damon.  For an article on the star in 2014, a writer from GQ met up with Hemsworth to go mountain biking and found himself at Matt Damon's house. He wrote this hilarious anecdote about the actors and their friendship:
"I follow Hemsworth inside, through the living room, into the kitchen, and it's only then that I realize I'm standing in Matt Damon's house. The giveaway is Matt Damon, perched on a countertop in his kitchen, sipping coffee as his family buzzes around."
He continued with, "Despite the thirteen-year age difference, Hemsworth and Damon are tight—like, annual-family-trip-to-Costa-Rica tight. 'We became friends around the time I started to work, and I've really benefited from watching how he handles himself," says Hemsworth. "Matt's just a normal guy who has the movie-star thing figured out.' And now Matt is our bike guy."
Matt Damon had a cameo in Thor: Ragnarok, playing the part of "Loki" in the play that was being performed when Thor returns to Asgard.  Hemsworth's big brother, Luke, cameoed as "Thor" in the play as well.
10 Chris Pratt's Personal collection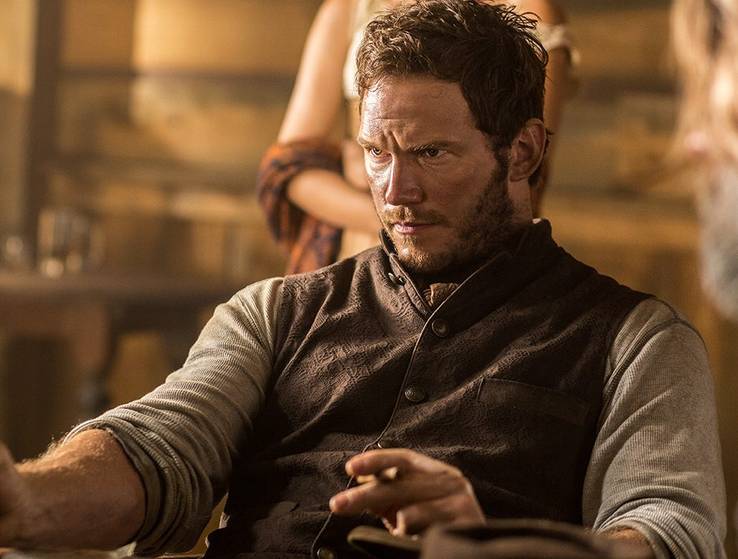 Chris Pratt is very open and vocal about his beliefs. Something that is unusual for an actor in Hollywood today. In an interview with Esquire magazine's Anna Peele, Pratt discussed his gun collection as well as his firm belief in background checks, firearm regulation and having them for self-defence:
"He bought Faris [actress Anna Faris, Pratt's wife] one in the event that crazy person comes to their house while he's in Louisiana."
But it's not just for fun, he is very serious about it and does not believe that everyone should have one just for the kick of it. Mostly it seems that Pratt is just a guy who is worried about his family.
9 Chris Pine and Captain Kirk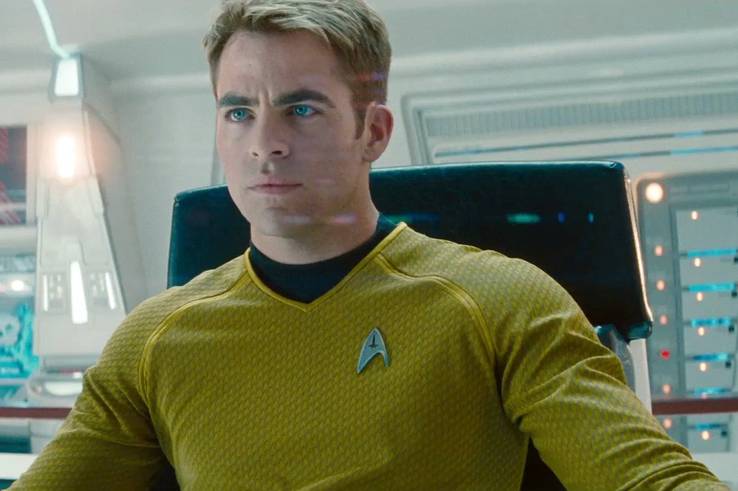 When Chris Pine was cast to play the legendary "Captain James T. Kirk", he accomplished something that had never been done before in the world of Star Trek.
Pine is the youngest actor to ever play the lead in a Star Trek film or series at the age of 28. When Chris was cast as Captain Kirk, he sent William Shatner a letter.
"I wrote William Shatner a letter and explained who I was because I heard there was bad blood between him and the studio. I said, 'I'm just an actor who happened to get a role that happened to be James T. Kirk, and I'm not trying to usurp your status or anything'. He replied, 'Thank you very much for the letter. I wish you the best of luck.' I have it on my fridge." (credit IMDB)
8 Chris Evans and his family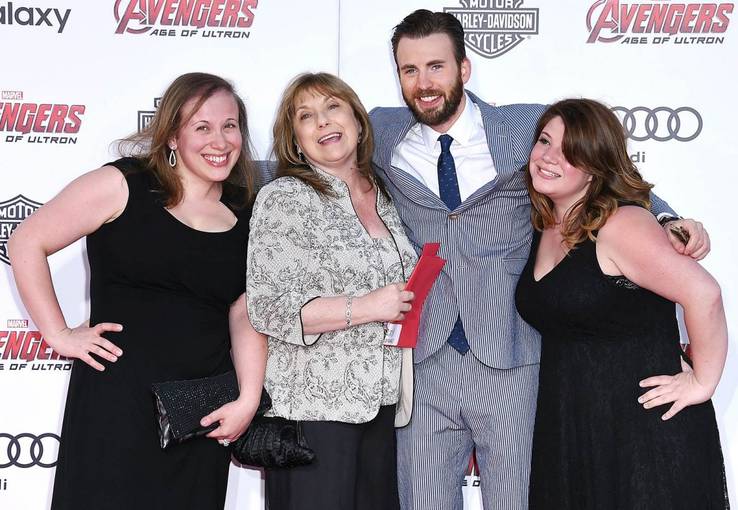 Chris Evans is a elf-proclaimed "mama's boy". In a hilarious interview with Variety, his mom stated, "You always tell me when you think a girl is attractive. You'll call me up so excited. Is that okay to say?"
Evans revealed that he doesn't just tell her when he thinks someone is attractive. The first time he took the step into really being a man, he raced home to tell his mother right after. 
Chris also has some amazing views on relationships and family; "The family only works if it's built off the extension of the love you feel for a person," he explained to USA Today. "If you all of a sudden want the kid more than you want the relationship, you may be on shaky ground."
7 Chris Hemsworth and surfing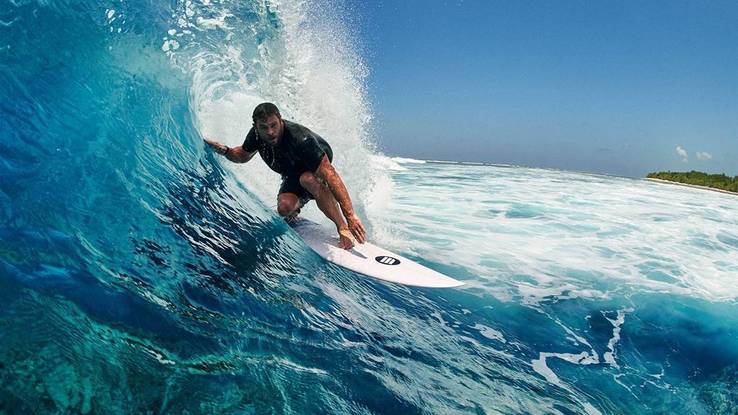 Chris loves being outdoors and being active.  He has a true passion for surfing above all else.
In a video with Surfing Life entitled, "The Man Who Only Dreams of Surfing," Hemsworth revealed that one time his dad went out surfing and ended up surfing with superstar surfer Kelly Slater.
Chris was so upset that he didn't go that he cried when his dad told him. Aside from that, he still says his favorite place in the world to be is surfing with his brothers in Australia. "Sitting on our boards out in the ocean beyond where the waves break waiting for the next set, you can forget about everything. It's a great place to talk and have a laugh."
6 Chris Pratt Speaks German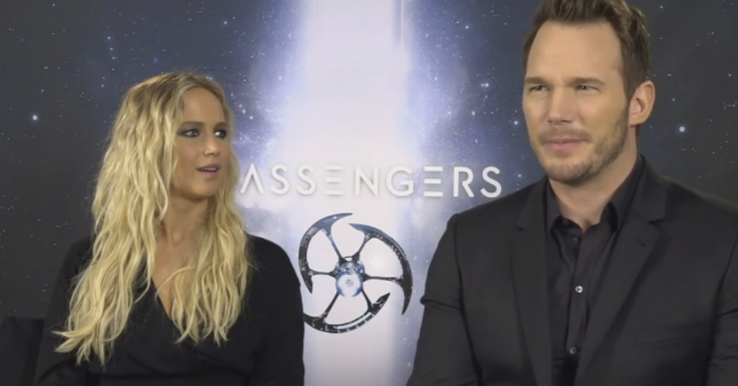 Among Chris Pratt's many talents is his ability to speak conversational German. Chris learned how to speak German in high school. He still remembers enough to carry on a conversation with others.
This even surprised co-star Jennifer Lawrence when he broke into German during a press junket interview with a Berlin entertainment website, while promoting Passengers.
The interviewer asked Chris if understood her German, and he responded to her in German. Jennifer commented that she had no idea what Pratt was doing, and he remarked in true Chris Pratt style saying, "This is called another language."
Remembering a language you learned back in high school is pretty impressive.
5 Chris Pine and what he thinks about Karma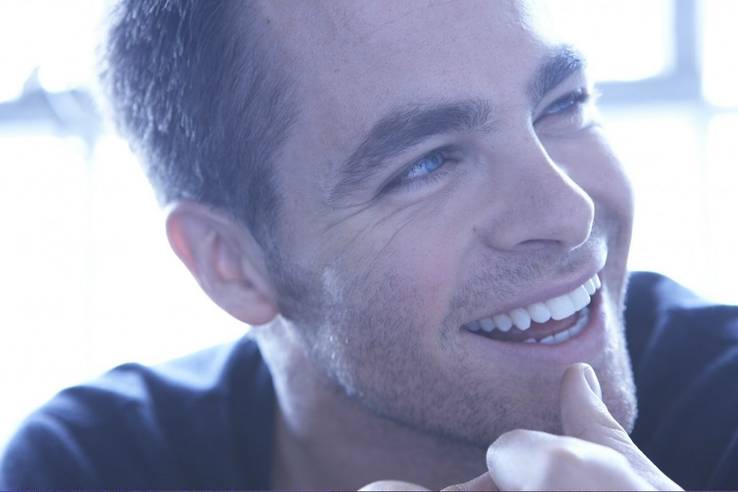 Chris Pine is a firm believer in karma and positive energy.
"I believe in luck and fate and I believe in karma, that the energy you put out into the world comes back to meet you. So if you have positive good energy, hopefully, good things will come to you from the universe."
He went on to say, "I definitely have a spiritual outlook… I am not a religious guy, I am probably agnostic. The more you are positive and say I want to have a good life, the more you build that reality for yourself; by creating the life that you want. It is not always the case that things will fall into your lap or that life will be great, but it is all about perspective and having a positive outlook. If something goes wrong, you say, 'That happened for a reason, what can I learn from that and how can I do to grow?'" (source: IMDB)
4 Chris Evans and his meaningful tattoos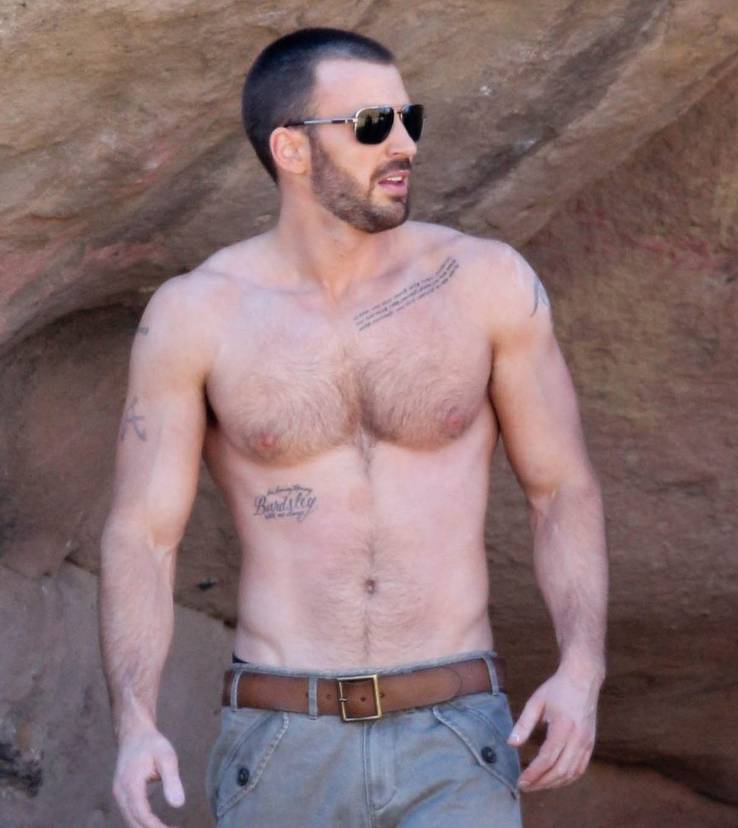 It should come as no surprise that Chris Evans has some tattoos; after all, the star of Captain America: The First Avenger, Gifted and Avengers Infinity War is young and in shape.
One of his tattoos is a tribute to his best friend (who unfortunately passed away in an accident) that he has inked on his ribcage. The tribute says "In Loving Memory of Bardsley With Me Always", and is a touching sentiment.
On on his chest is a quote of a Buddhist teaching. Chris studied Buddhism to help deal with fame and to keep him grounded. On his right bicep, Chris did have the Kanji symbol for "family" but had it removed in 2010. On his right shoulder, Chris has the word "Loyalty". On his left shoulder, he has a tribal design of the Taurus zodiac symbol. He got this tattoo for his mother whose zodiac symbol is a Taurus. As the sweet brother that he is, Chris also has a tattoo on his right ankle that says "SCS", the initials for his siblings; Shanna, Carly, and Scott. (Source Ranker)
3 Chris Hemsworth's nickname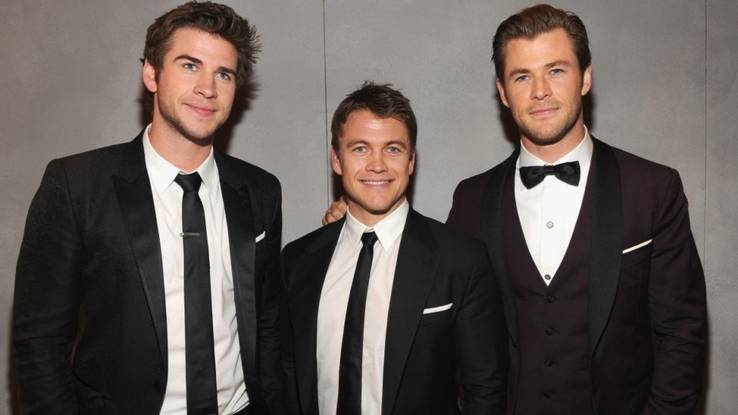 As the middle son of three brothers, it's safe to that Chris more than likely was given nicknames that we probably can't mention here.
The childhood nickname that has stuck through the years is, "Kip".  This nickname comes from when he was little and tried to say his name. It came out "Kiptader" instead of "Christopher" and the nickname stuck. 
Not a nickname that you would think the A-list celebrity would have.  Those closest to him eventually shortened it to the simple and straightforward "Kip".
Chris Hemsworth was also given the nickname "Hammer" by one of the directors of the Home and Away series.  This prophetic nickname was not for the reason you think.  It was due to Hemsworth's dancing on set that he earned this MC Hammer nod.  Hemsworth starred on this Australian soap opera in the role of "Kim Hyde", from 2004 to 2007. (Source: Uselessdaily)
2 Chris Pratt when he was Discovered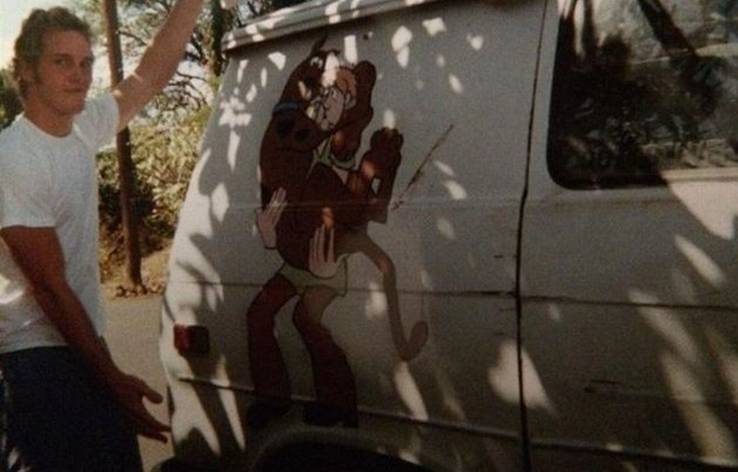 After moving with a friend to Hawaii at 19, Chris Pratt was working as a waiter at the Bubba Gump Shrimp Company restaurant in Maui, and living out of his van. Pratt was a server for Rae Dawn Chong, the daughter of Tommy Chong, and she was so impressed by his humor and charismatic ways that she cast him for a role in her directorial debut, Cursed Part Three.
Pratt immediately moved to Hollywood and, although the project was nowhere near a masterpiece, it began his career, although Chong never directed again.
After attending many auditions, Pratt got lucky again by landing the role of Bright Abbot for the hit teen series Everwood. (Source: Businessinsider)
1 Chris Pine and Social Media
While almost everybody from Hollywood stars to your grandma has a social media account, Pine has shied away from sharing his private life online. "I have no interest in that," he told USA Today. "With Facebook and Twitter, everyone wants to publicize their innermost truths. In 2014 we are seeing the true dissolution of public and private."
He was even more candid with The Hollywood Reporter. "What am I going to tweet about? My sneakers? Or, 'I have 140,000 friends on Facebook.' What does that even mean? I find it to be a waste of time."
While social media can be a powerful tool, it is refreshing to see a Hollywood actor who's not obsessed with seeking online attention from fans on a daily basis. Pine also likes to trash talk, so maybe it's for the best that he stays away from the internet. Plus there are those nutty fans of his.
Source: Read Full Article