20 Times Bernadette Outdid Penny On Big Bang Theory
Bernadette Rostenkowski-Wolowitz and Penny Hofstadter are the two best-known female characters on the popular comedy show The Big Bang Theory, but even though the two former colleagues are best friends on the show, they are constantly part of a fashion battle in the eyes of the viewers.
Kaley Cuoco was the original female on the show when she was introduced as Penny in the first episode. She was Leonard and Sheldon's attractive new neighbor and played the main antagonist throughout the first few seasons. Melissa Rauch then arrived as Bernadette, a colleague at the Cheesecake Factory and began a relationship with Howard, which led to the couple now being married with two children.
Penny herself has always been linked to Leonard, so it came as no surprise when she finally married him and the couple is now happily living in the apartment that used to be Sheldon's home. Sheldon has since moved across the hall with this own girlfriend Amy Farrah-Fowler. A lot has changed over the ears when it comes to the main basis of the show, which has now been running for almost eleven years.
It seems that over the past few years Bernadette and Penny have always been the two most attractive female characters on the show and many fans have seen them in competition with one another when it comes to their outfits. The following list looks at just 20 times that Bernadette has been able to outdo Penny when it comes to her incredible outfit choices.
20 Bernadette's Choice Of Nightwear
Bernadette and Penny have become two of the most popular women on The Big Bang Theory over the past few years and in recent seasons it seems that Bernadette has been open to showing her much more feminine side, which includes wearing clothes in her bedroom scenes like the above outfit that she decided to show off in a recent episode of the show.
Penny has always been the stunning female amongst the four nerds, but adding a beauty like Bernadette who also has brains has added a new dimension to the cast.
Bernadette looks stunning in the above outfit, which is memorable since the scientist doesn't usually dress in this way. The above outfit was seen on the later seasons of the show when it seems that Bernadette has finally been able to reveal that she has a more feminine side when she and her husband are alone.
19 Classic Bernadette
Bernadette has always had her own sense of fashion and she has shown it off many times on The Big Bang Theory and shown that she has the widest collection of cardigans of any actresses on any TV show. Bernadette knows how to dress for her shape and is able to ensure that even though she is completely covered up, she still looks incredible.
When Bernadette first came to the show, she was dressing the same way that she does now so even though she has evolved into a mother and a wife in the most recent episodes of the show.  
She hasn't changed when it comes to her fashion sense because she is still able to dress the same and still look incredible. This photo shows Bernadette when she first appeared on the show and the contrast from then to now isn't actually all that different.
18 Bernadette At Work
Bernadette is one of the smartest women in The Big Bang Theory and came into the show before Amy Farrah-Fowler. She has a PhD in microbiology and has a lucrative job at a pharmaceutical company, something that she has worked towards throughout her time on the show.
Bernie has mentioned a number of times throughout the show that she earns more money than her husband, most notably when she wanted to go back to work after the birth of her first daughter Halley.
It seems that their love of science is something that bonds Howard and Bernadette together. The couple recently welcomed their second child, and it seems that their small family is now complete. Bernadette is someone who has always been pushed forward by her job, which is why she has found it so hard to raise her family away from her work on the most recent episodes of the show.
17 When Bernadette Does Date Night
Throughout her time on the show, Bernadette has always been linked to Howard Wolowitz. Unlike Penny who was indecisive when it came to her romantic life for a number of seasons, it seems that Bernadette was someone who always knew that Howard was the one for her.
This image is from when Bernadette and Howard finally went on a date night. After the couple first met there was confusion when Howard didn't call her back after their first date, which then led to him playing a song for Bernie at the Cheesecake Factory. She eventually forgave him and the two have continued to date ever since. They are the only couple in the show that has children and their own house, which they inherited when Howard's mother passed away back in season eight. The other two couples live in the apartment building across the hall from one another.
16 Bernadette The Beauty Queen
Bernadette revealed in the earlier seasons of the show that she was part of beauty pageants when she was a teenager and this then led to the group of friends looking at videos of Bernie from when she was taking part in the Miss California Quiznos of 1999. Bernie doesn't look that much different in these dresses, but it seems to be something that embarrasses her when it's brought up by Penny and Amy.
Penny was more of a tomboy that Bernadette and has revealed this many times when she has been the only member of the group of friends who can do things that the others would find sickening. Much like Penny, though, Bernadette is close to her father and he has been a guest star on the show many times.
15 When Bernadette Had An Allergy
In season six of the show, Howard goes off to space and Bernadette is then left waiting for him to return and they exchange video conversations. When he does finally return in the fourth episode of the show, he's upset that his friends aren't there to see him at the airport. Bernadette asked them not to so that they can head straight off to their apartment to celebrate their honeymoon since Howard was forced to leave straight after their wedding.
Bernie dressed up for her husband, and even though she's struggling with allergies, she tries to follow through on her promises. However, she then falls asleep because she's taken Benadryl.
This is one of the most alluring dresses that Bernie has worn throughout her time on the show and it seems that even though Penny dresses this way all the time because Bernie doesn't, fans are much more impressed by her when she does.
14 Bernie Isn't Scared To Show Her Strange Side
There have been a number of occasions throughout the past few seasons where Bernie has shown that she is just as strange as her husband. Howard and Bernie are one of the cutest couples because it seems as though they are both on the same level.
During the sixth season of the show, Bernadette and Howard both decide to dress up as Smurfs for a Halloween Party with the rest of the group. While Penny also dressed up and decided to be a "Bad Cop" and Leonard was Albert Einstein, Bernadette and Howard went all out for the party since they painted themselves blue and became Smurfs, which shows just how weird they are willing to get around one another. Bernie looks incredible as a Smurf, while Penny is once again dressed in a short cop uniform, which shows she was only worried about looking as attractive as possible while Bernie wanted to dress up properly.
Featured Today
Nikki Bella 'Devastated' Over John Cena Breakup

20 Celebs We Want To Become Superheroes In The Next Phase Of The MCU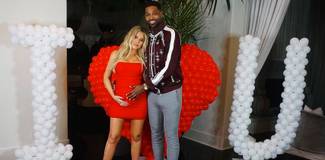 Khloe Kardashian Gives Birth To Baby Girl

13 The Belle Of The Ball
Throughout the show, it has always been hinted that even though Penny was raised as a tomboy, it's Bernadette that has a tough side and if ever pushed by any of her friends, she would definitely snap and show that she can fight.
During this episode, all of the women wanted to be Cinderella, but Bernadette is the one who is able to become the belle of the ball and even brings the costume back home with her so that her husband can see her in it as well. Penny dresses up as Sleeping Beauty and Bernadette decided that she was going to be the princess in the big gown because it was her idea to skip work and head to Disneyland in the first place.
12 Bernie's Prom Dress
In season eight, the group decides to reenact their high school proms on the roof of their apartment building because they all reveal that they didn't have memorable experiences at their first proms. Bernie and Howard go to the prom together and the issue throughout the episode is that Howard is worried that Stuart will bring his mother after he's invited.
Things get tense between the group when they're in the limo on their way to their prom and it's revealed that Stuart has actually brought Howard's cousin with him, the same woman that Howard took to his own prom. Regardless of the issues that the couple have throughout, Bernie is seen wearing a stunning white dress, while Penny is seen in a cut-out red dress. The above image is taken at the end of the episode after Howard has been provoked by his cousin.
11 Bernie At The Cheesecake Factory
Bernadette's first appearance in The Big Bang Theory is in season three when she is seen working alongside Penny at The Cheesecake Factory. Bernadette was then asked out by Penny so that she can do on a double date with Penny and Leonard as Howard's date. When it seems as though the couple has nothing in common, they finally manage to have common ground when they start talking about when they reveal that they both have overbearing mothers.
Bernie later revealed that she was working at the Cheesecake Factory to afford her PhD, something that she achieves in the later seasons of the show. Working alongside Penny helps Bernie to pay for the fees for her education and allows her to meet both Penny and Howard and become part of the show. Bernadette is the one member of the group who is able to change her career path throughout and even offers Penny a job at the company that she works for in the later episodes.
10 Bernie's Much Smarter Look
Penny and Bernadette are colleagues at the beginning of the show when Bernie makes her first appearance and throughout the show, they are seen getting closer when Howard and Bernie become a couple. Penny and Bernie are close friends with Amy as well, even though Amy tries to convince everyone that Penny is her best friend.
As shown from the image above, Penny doesn't have an actual distinct style. She is just seen in a range of different outfits, while Bernadette has her own unique fashion sense. The great thing about Bernadette's sense of style is that she always looks smart no matter what she is doing, which is why most of the time she is able to upstage Penny without even trying. The above image is taken from season five when Amy brought Penny a portrait to celebrate their friendship.
9 Bernie's Unique Fashion Sense
Bernadette and Howard's relationship has been at the forefront of The Big Bang Theory throughout the last few seasons because the two got married and recently welcomed two children. It was stated that children were not originally supposed to be part of the show, but because of how popular it has become over the past few years, the show execs changed their minds.
Bernie and Howard have one of the most envied relationships, and she is always able to be herself around her husband. 
Penny has to lie to Leonard throughout their time together when it comes to the fact that she dropped out of community college, but it seems that Bernie is happy with the way that she is and never has to hide anything about her past from her husband.
8 Bernadette Looking Smart In A Suit
Bernadette is often seen in a dress or in her white coat when she is at work, but it seems that she is only ever spotted in a suit once and that was in season 11. Bernadette has the unique ability to be able to look incredible in everything she wears, but it seems that even when she dresses professionally she looks stunning.
Throughout season 11, Penny is seen dressed in a suit for her job at the pharmaceutical company, but it seems that because Penny dresses that way often, it loses its attraction. Bernie is rarely seen in a suit and this is the only image online of the microbiologist dressed that way, which is why this is seen as one of Bernie's most attractive looks. It seems that her wardrobe has definitely become much more creative in the later seasons of the show.
7 Bernie's Green Christmas Dress
The Big Bang Theory often puts the group of friends into situations where they are able to dress up or dress down, depending on the episode, but it seems that Bernadette and her gree Christmas dress definitely stole the show as part of their holiday episode a few years ago. Bernadette is described as short and very cute as well as very attractive, which could be why Melissa Rauch was chosen to play her.
Not only is Melissa smart and beautiful, but she is also able to put on a voice that makes Bernie one of the most iconic stars on the show.
Even though she doesn't show that is is all that bothered about her appearance throughout the show, there are times when Bernie is able to dress up and show off and this is where many fans are able to see just how stunning she really is.
6 Bernadette Without Makeup
Throughout the show, Penny is rarely seen looking like she has rolled out of bed, but it seems that even when Bernadette is looking rough after the birth of her first daughter, she is able to still look amazing. Bernie's choice of attire when she is in the house relaxing with her husband is something that allows her to stand out, since Penny always has to be on point when she is seen by the rest of the group.
Bernadette often hides her figure in modest clothing, but this photo proves just how beautiful she really is. 
She isn't trying to look attractive here and hasn't even applied a lot of makeup. This is something that Kaley Cuoco would never have been OK with if she was asked to do the same on national TV.
5 Bollywood Bernadette
Bernadette's dresses have become so popular with fans of the shows over the past few years that many people actively try to find out where her clothes are form.
There are many women who have the same kind of job as Bernie, and her fashion sense reflects the way these women are expected to dress.
Penny's style is very different. She is either seen in a suit, in her Cheesecake Factory uniform or in fancy dress. It seems that while Penny has an incredible figure, her sense of style isn't something that has continued to evolve throughout the show. Penny just wears whatever she wants as a character since she doesn't have a lot of motivation in the first few seasons. Bernie is shown here wearing her infamous style of a knee length dress with black tights and open shoes.
4 Cocktails With Amy
Penny is the character that talks about going out to clubs much more than the other two women. This means that it isn't very often that Bernadette is able to show off her figure in dresses, but when the women all head to Vegas in season eight, Bernie is finally able to slip into a short black dress where she shows off her legs for one of the first times and enjoys some cocktails with Amy.
Penny goes with the women to Vegas but has to remain in the hotel room because she is studying for an important work milestone. The two women have a blast without Penny and are able to finally let loose.
3 The Blushing Bride
Howard and Bernadette meet in season three and begin their relationship after Penny set Bernie up with Howard as part of a double date and despite a number of ups and downs, Bernie accepts Howard's marriage proposal in season four, before the couple finally tie the knot in the season five finale.
Bernadette and Howard are the first to get married in The Big Bang Theory and Bernadette definitely upstages everyone when she walks down the aisle in her stunning wedding dress.
The group has learned Klingon so that they can all be part of the wedding and officiate and Howard's mother is even able to attend, even though she isn't actually seen on camera. She is just heard like she is for most of the series. On her wedding day, it is obvious that all eyes are on Bernadette, who looked incredible.
2 Bernie's Little Black Dress
As already mentioned, in season eight Bernadette, Amy and Penny all head to Las Vegas where Bernie is finally able to let loose alongside her friends. She gets all dressed up and has a night out with Amy, leaving Penny behind to get on with her work. Bernie isn't a character who does this often, which is why she suffers for it the following day when both she and Amy have hangovers, but she looks incredible while she's doing it.
Bernadette was raised as a Catholic child and even attended Catholic school, which is why she doesn't make a habit out of going out with her friends dressed this way. Penny has always been able to dress this way and has been the star of the show since day one when she appeared in a short skirt, but Bernie is able to turn heads in her own way.
1 Bernadette In That Red Dress
Bernadette's wardrobe over the past eight seasons has mostly consisted of petite cardigans, knee-length floral skirts, nylons and black flats.
It's very rare that Bernadette deviates from her usual uniform, but in this episode, the women try to show their men what they are missing by playing Dungeons and Dragons instead of hanging out with them.
Bernie shows off a short red dress that Penny says is from Forever 21. Amy is also seen in a longer dress which Penny amusingly says is from Forever 63 since Amy has always dressed in a much more conservative way, which is a testament to how she was raised. The duo continues to wear these outfits when they head to the club and Raj admits that he was once attracted to Bernadette when he first met her.
Source: Read Full Article