25 Photos Of Christina Applegate (From Married With Children Until Now)
Christina Applegate was one of the most beautiful women of her time. As a teen in the '80s, she had it all— Jordache, scrunchies, oversized earrings, shoulder pads, bright eyeshadow, and everything else that made '80s chicks so fab. Many stars stay where they are comfortable, never making it to the latter decades or even centuries. We hate to break it to the newer stars, but Christina Applegate is not one of those women. She passed on through to the '90s…'00s, and now today, she is looking just as good as she always has.
Christina entered Hollywood when she was nine with a little movie called Beatlemania. Soon after, she guest starred in the series, Charles in Charge. Though it wasn't her first or last, the 1987 series, Married with Children, is where Christina Applegate first shined. There, she played the dipsy teen, Kelly Bundy. It may not have been her first job, but it most definitely launched her career. These days, she's still kickin' with the Bad Mom movies and various others. But even more than that, she's looking good, battling health conditions, and showing us that you don't have to lose your relevance just because you're no longer 22.
Not very many people can say that they are relevant every single decade, but here Christina Applegate is killing it. Props to her! To honor Miss Applegate, we are showing her off with twenty-five of her best photos that focus on everything we love about her.
25 Lady In Red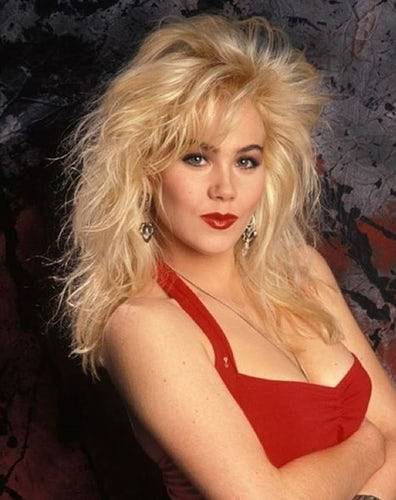 Red lips, red dress, and big '80s hair—Christina Applegate had it going on. Kelly Bundy only had that bright, white hair in the first two seasons of Married With Children, which makes us think that this promotional image was taken in '87 or '88! It's like a little piece of history in the making. The year it all began, was the year that Christina Applegate became one of the world's brightest blondes and the woman that all women wanted to be and all men wanted to be with. This was at a time when most of the world had no idea who this beauty was! But after taking one look, it's easy to see that she had more potential than most of us can ever dream of.
Red was definitely one of her colors, and boy, was she a natural when it came to poses. No one in the '80s seemed as natural as she did.
24 Everyone's Crush In The 80s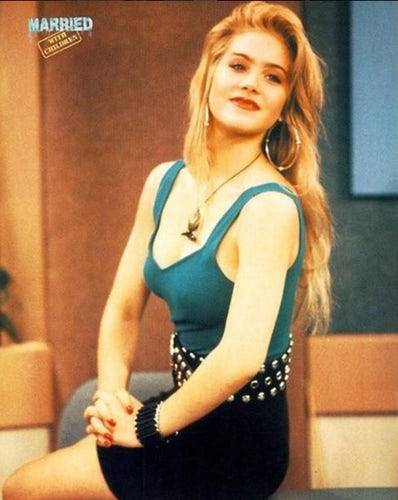 If producers were looking for the best way to promote Married with Children, they found the perfect pitch. It was well worth the time. All they needed was to share a few photos of the bubbly, Kelly Bundy. This technique isn't used as much as it was before, but maybe that's a good thing. We love to bask in the beauty of actors and actresses, but these days, there's hardly any finesse. In the '80s, there was a certain class that let us see more than her looks, but her personality too.
This photo, in particular, amazes us. The dark turquoise does something awesome to her eyes and her blushing cheeks. Her ever-present poise and grace enchant us! But then again, she may fall off her seat backward at any moment. That's the power of Kelly Bundy, folks. Dare we say that Christina Applegate is the perfect epitome of the ditsy, blonde '80s babe?
23 Relaxing With Some Tea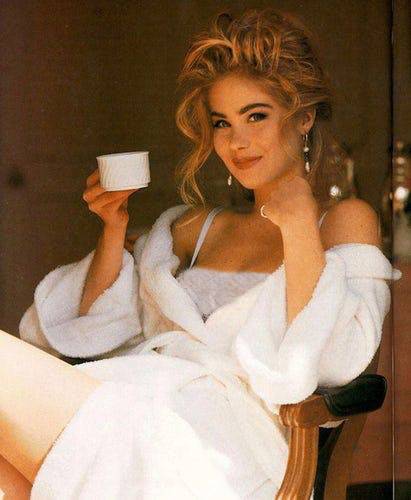 Has anyone ever looked so good while drinking coffee? This lounging photo of Christina with coffee was likely taken in the late '80s to early '90s. The probable date? 1989. It could very well have been during the time when Don't Tell Mom the Babysitter's Dead came out. During this time, she admitted that she went through a hippie phase, but taking a better look, we get a Thelma and Louise vibe. This was during the time she was dating Brad Pitt.
The fact that this photo fits her lifestyle so well is what really amazes us. "My dream is to have a house on the beach, even just a little shack somewhere so I can wake up, have coffee, look at dolphins, be quiet and breathe the air," she has said. That sounds like a dream anyone could latch onto.
22 Looking Like An Angel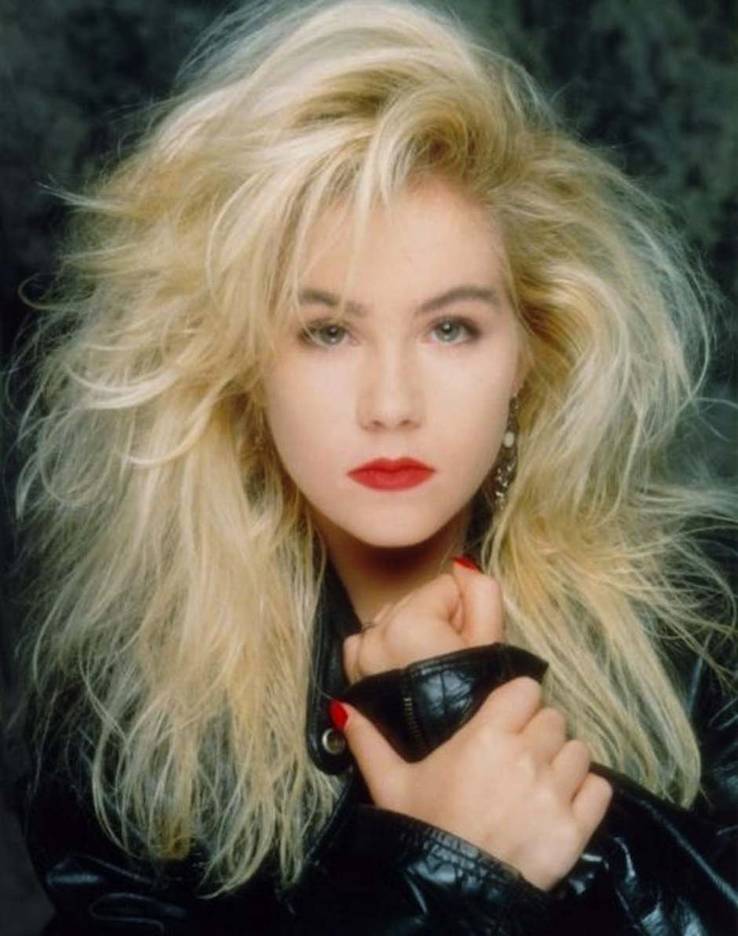 Does it get better than this? Every time we see a photo of Christina Applegate, we ask ourselves if it gets better. This is the most angelic stance you've ever seen a celebrity in. Is it the white blonde hair, or simply her nature? We don't know. All we know is that she's so '80s and so divine.
It's hard to capture a celebrity looking this innocent, mystical, and mesmerizing. Whatever is mesmerizing her is contagious because we can't stop looking at this one.
She may have been a great Kelly Bundy, but she should have auditioned for Touched By An Angel because she would have done an amazing job as one of Della's prodigies. But of course, how can you be both? It's hard to balance the two diverse roles, but if anyone could have done it, it would have been Applegate. Angel of a day, Bundy of a night.
21 Two 90s Icons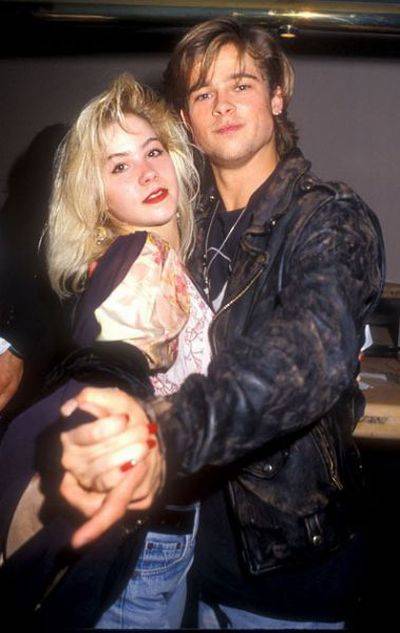 In 1989, Christina Applegate went to the MTV Movie Awards with Brad Pitt. We all know that! But what isn't known by those who weren't alive then was that she left with another man! In 2015, she finally revealed what happened that night she ditched the current "hottest man in the world."
She didn't reveal who he was, but she said that he wasn't an actor, but he was famous. The two didn't end up dating, but she did admit to ditching Brad. She didn't give us much info, but the mystery is even more satisfying. Not many women can say they've dated Brad Pitt, but next to no women can honestly say that they've left him out in the cold. And for who? Someone who never became an important part of your life. Does that hurt, Brad? Because we'd like to see Jennifer's reaction to this revelation. Oh, Christina.
20 What Can You Say?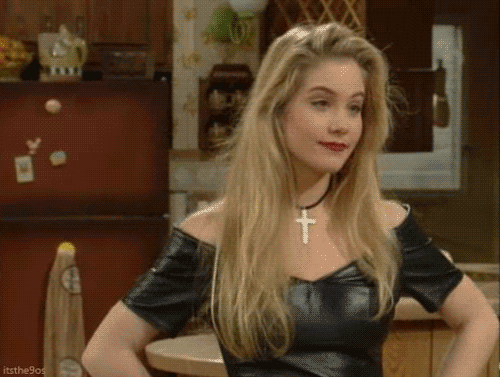 This shrug is completely relatable. We feel this feeling so many times a day. If someone said, "I thought you were dieting…" while you shove a soft pretzel down your throat, this is the shrug you would give. If you check your bank account and realize you have 32 cents due to your shopping addiction, this is the shrug you would give. Kelly Bundy had the resting face before it was cool, before it was viral, and before viral was a good thing. She was everything before it was cool.
And to top it all off, she wore leather like a champ. She wasn't a biker chick, she just knew how to wear a potato sack. You may say, "Who can pull off that much leather anyway?" Christina Applegate, that's who. If you need inspiration on how to make anything look good, this is the woman you go to. That chunky necklace says it all!
19 A Leg Up On The Competition
Is this a Venus commercial? Because I've never seen such beautiful legs before! They could spend weeks on the average woman's legs and never come close to this beauty. She was young, we'll give her that, but it's really no excuse. If you remember the episode, you're lucky. The context is that Kelly was showing a football player that she likes her legs. She says, "you're a football player. I get cramps in my leg right here. Do you think you can take that out?"
It reminds us of the purple dress she wore in Season 5, where her boyfriend, Vinnie, was told not to touch her by Al. The best part is? Matt LeBlanc is the one guest starring as Vinnie! That's right, it's Matt LeBlanc from Friends starring in the fifth season of Married with Children in an episode called "Oldies but Young Uns." One to put on your watch list, for sure.
Featured Today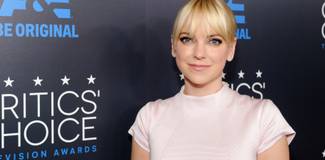 Anna Faris Responds To Chris Pratt's 'Divorce Sucks' Comment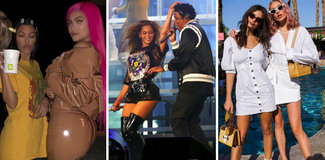 16 Coachella Photos Of Celebs We Can't Ignore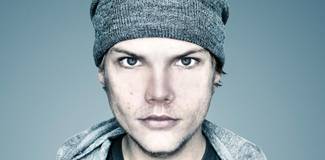 Avicii: DJ & Producer Dead At 28 Years Old
18 The Scarlet Witch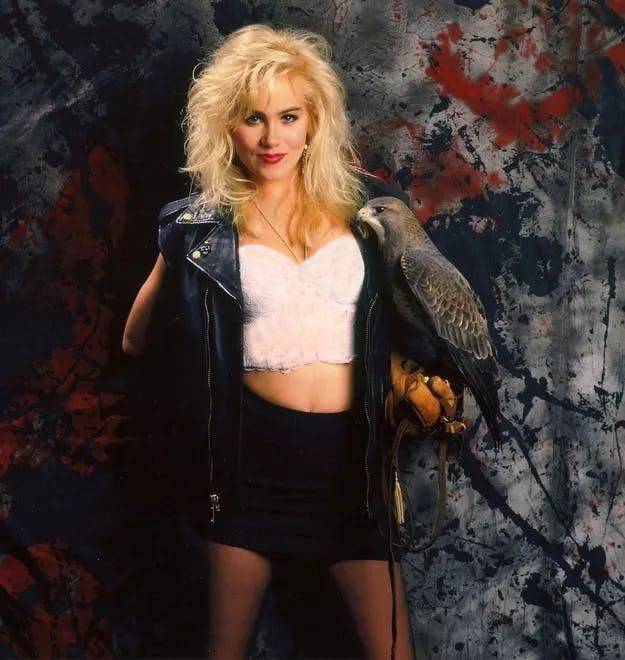 Or is it Hawkeye? This girl is fearless. How can you actually be cooler than Christina Applegate with a falcon? This photoshoot with her holding the falcon also featured her with a real…live…snake! The shoot was done in 1988 when Married with Children was in their first season, working on promoting the show. What better way to do that than present a "biker chick" image? The actual conversation that led to the shoot was recorded!
In the end, she looks like a superhero from the Avengers. Only this time, she isn't undercover. Her powers must be to control animals, or at least she's a Druid and that hawk is her familiar. Either way, this brings out a tougher side to Christina that we never knew she even had!
17 Before We Said Whatever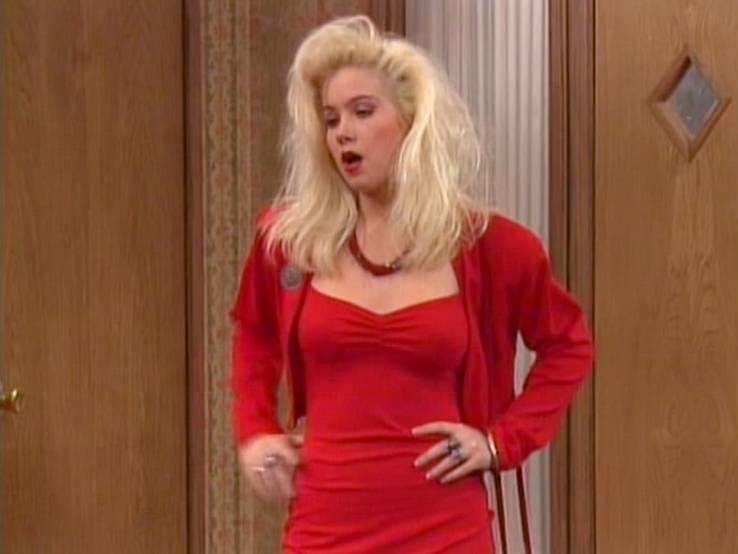 She is literally a bona fide hipster. Truly, before we even started saying, "whatever," regularly, Kelly Bundy gave us this face. We already said that she did everything before we did it. She was like the internet before we had the internet— not the brains of Google, but the personality of Meme Center, that's for sure. She was Facebook News Feed in human form. Full of relatable, dumbed down, revelations that give us life. Some call it useless, but we'd say otherwise. It fights off depression by letting us know there's someone else out there suffering the way we are.
And may we say…if anyone can wear red better than her, let us know. This is so typical of her that we can't compare anything else to it. Christina has come a long way since this time, but since this epitomized everything that she was, we will forever be attached to it.
16 Looking Sweet And Innocent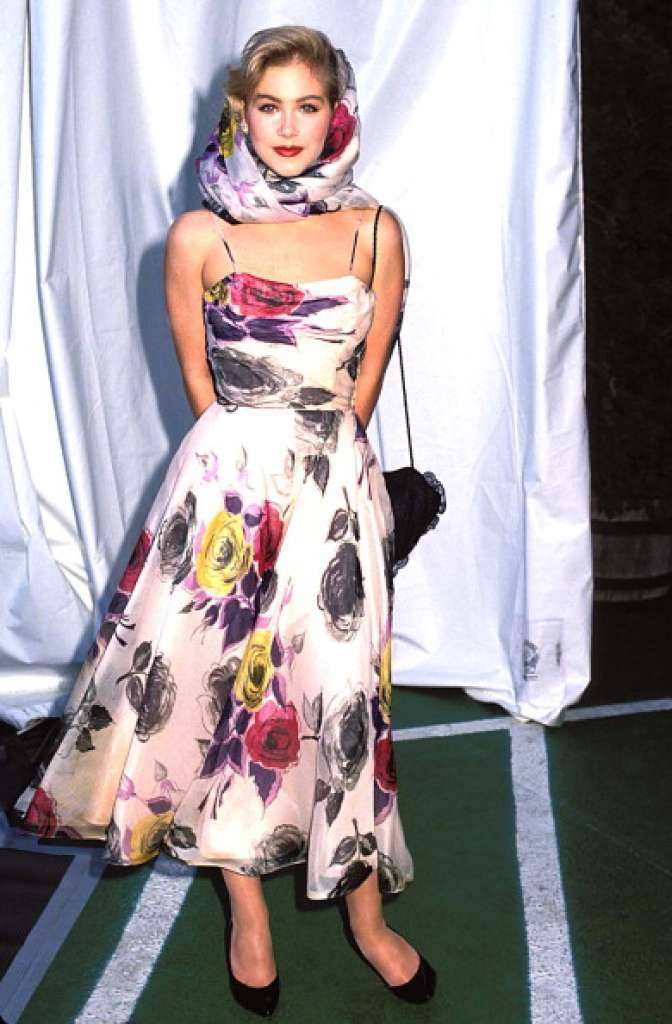 This photo was taken at those MTV Awards we were talking about when Christina ditched Brad. That puts the year at 1989. She looks so young, yet so mature. She even did a few shots with Alice Cooper that night, doing an interview with him as well. What makes this even better, is that it wasn't long after she was spotted with Johnny Depp as a teen. It was two years before she was seen with Brad, one year before the two started dating. It was never confirmed that she dated Johnny Depp, though, rumors got around.
The funny thing about it is that at the time, Christina was more popular than Johnny Depp was. He was just some kid from a few flicks like Nightmare on Elm Street. He hadn't had any breakthrough roles and truly didn't for another three years. If only he could have guest starred in Married with Children.
15 How Do You Like Them Apples?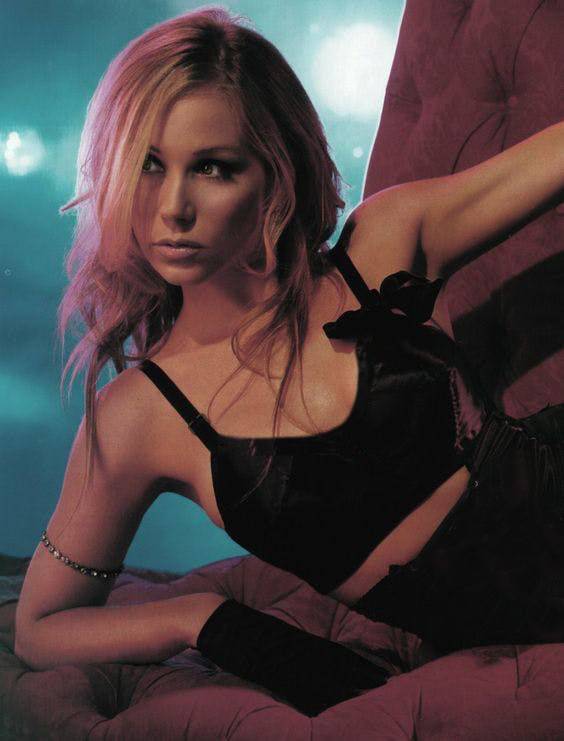 This crazy attractive image of Christina Applegate is hard to compete with— corset, deep gaze, diamond armband, and flawless hair! Given the vibe and toned-down hair, we're going with mid-nineties here. The hair is way too smooth and flat to be in the '80s but her age is definitely under 30. That leaves the mid-nineties or possibly anywhere in the '90s.
Anyway, it's almost as if Christina Applegate was the first one to give us this dark aura that is so alluring. It's used over and over again these days in Maxim and other modeling magazines. So we really need to thank Miss Applegate here for bringing the darkness…to light. Another thing that is so special about this one is that it's about as risqué as Christina gets. She's always been a more modest actress, never posing for centerfolds, and never posing without her clothes. To see her at the edge of her comfort zone is rather intimate.
14 Chilling With Alyssa Milano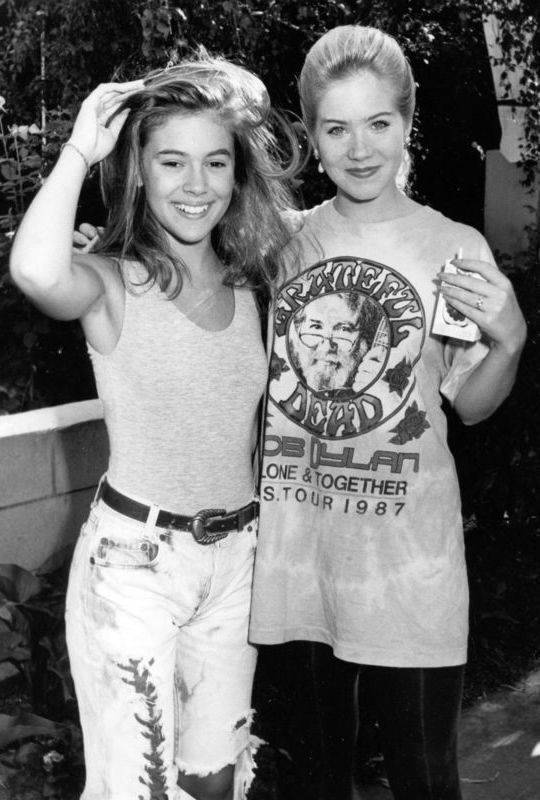 Every girl needs an old rock t-shirt they wear around the house, but not every girl can look as good as Christina does in hers. Most of the time, you see these women all glammed up when posing together. But here, she is slaying the modeling world with the simplest outfit; one that she probably wore to bed the night before. She stands here next to Alyssa Milano (another gorgeous actress) as the two pose for Dance 'Til Dawn, where they starred together as teens. With only a year between them, you can see how the two would become close friends during the filming.
In the movie, they were rivals who both wanted to be prom queen at one time. No one really liked Christina's character, Patrice, anyway, who was a typical snotty student. But in real life, the two are besties. Hopefully, they still are to this day! We can totally see it given their personalities.
13 Going For A Goth Vibe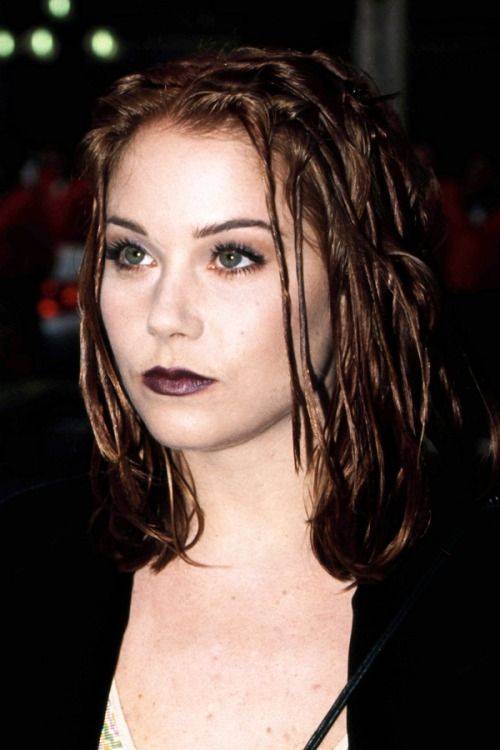 Every kid goes through that dark goth stage, and Christina Applegate is no exception. "I chopped off my hair when I was about 23 and dyed it six or seven different Manic Panic color-including red, black and purple," InStyle quotes her. She pulled off this look rather well and actually looks better than most of us do regularly. I don't remember her doing any movies at this stage in her life but since she wasn't filming Married with Children at the time, it seems she took advantage of her break and did something wild. Most actresses are too scared to do something like this, but not Applegate. She wore it with pride and even pitched in the attitude as well.
This may make you want to Manic Panic your hair, but before doing so, you might want to take a look at other people's tries. We can't all be as successful as this bored 23-year-old.
12 Desert Photoshoot
Every actress who is anyone, or has ever been anyone, has been in Maxim. It's sort of like a Hall of Fame for female stars. You get in there, and you're destined for a successful career. It's almost as if the magazine can spot stars before they have even peaked. Thankfully, Christina gives us a taste of her beauty without going so far that we lose respect for her. She's never once done anything to lose our respect, which most actresses can't say. She has lines and she doesn't cross them— simple as that!
Taken in 1999, she shows off her assets in a red tank and '90s jeans— an outfit every '90s girl needed to have. Cool for school, cool for family outings, cool for dates, and cool for lounging at home! It's no surprise that this girl's even listed as one of the Hot 100 in 2003, according to Maxim. On top of that, she has her own Maxim page online, devoted to her best shots of all time.
11 The Sweetest Thing With Cameron Diaz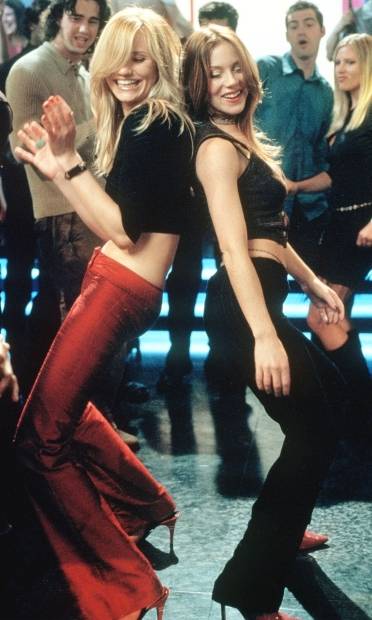 The shot was taken from Christina's movie, The Sweetest Thing, in 2002. The movie she starred in with Cameron Diaz, who she grew close to during filming. In the movie, she is given the task of teaching Cameron Diaz (ironically named Christina in the movie) all about men when her friend meets Mr. Right and has no experience attracting the opposite gender. She is also taught how to move, walk, and dance. As you can see by the screenshot, she's doing an amazing job, thanks to Christina Applegate's character.
Most of us had no idea that Applegate could dance, but the fact of the matter is, this isn't the last time she dances publicly, wowing us in the process. That's not the end of it though, because later on, you'll see her dance in ways you never thought possible. With a certain wanted "condition" she takes to the pole with some incredible moves.
10 Touchdown From Applegate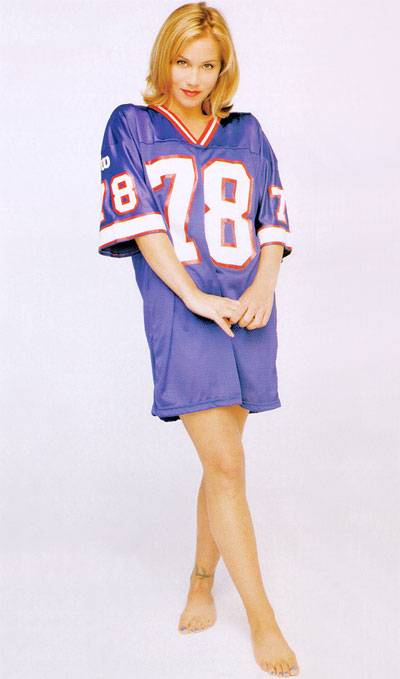 Does it get better than a beautiful soul in a football jersey? We'll take a number 78, please. This Christina Applegate is one of our favorites because it's so raw, so simple, and so perfect. It's every man's dream to get a woman who can pull this look off and every woman's to be able to pull off said look. It's almost elegant the way she wears it, yet, so comfortable looking at the same time.
Christina shows us that you don't need to be overdone with makeup and glam to show everyone else up. She does so with one item of clothing. Just one item! If only she had funky socks to go with it, then we'd all be doomed next to her. And she doesn't even show off too much skin. It isn't about that with her. It's about natural beauty and that personality full of fearless fun. Do we love her or hate her?
9 The Greatest Show-Woman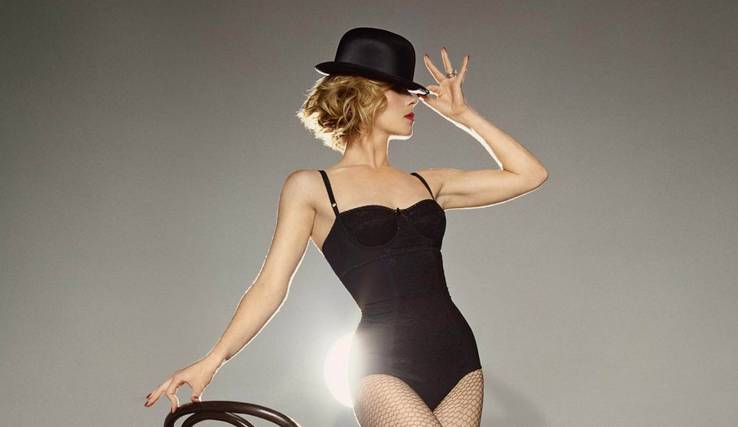 This gorgeous shoot was done by Andrew MacPherson in (probably) 2004. Her short bob was a new look for her and look so fitting for her. By this time, she was well into her thirties and was ready to show us a more mature look. This is no doubt one of our very favorite shoots Christina Applegate has done. We don't see her this poised very often. So when we do, we add it to the books. It's amazing how she doesn't try to show off or glitz up. She gives us a different take on beauty with this showman look. She brings out the femininity in the style of clothing and does so well.
Hugh Jackman did a fine job in The Greatest Showman, but we finally found someone who might have been able to do an even better job. Maybe for the sequel? Casting our vote now!
8 Looking Chic
Even as a business woman named Samantha, Christina Applegate is flawless. Her series, Samantha Who? ran from 2007 to 2009 and was a pretty big success, considering its length. During the filming of the show, the actress was fighting cancer and the death of her ex. It was a big year for her between seasons, but she came back with a big boom.
The show's summary really does go hand-in-hand with Christina's life. the woman named Samantha suffers form amnesia and must find out who she really is. There's a lot of finding one's self when it comes to cancer. Getting a diagnosis like that forces us to re-evaluate our lives, which is likely why the following year, she got pregnant. Life is short, and it seemed like her best choice a few years later. Not too long afterwards, she had her ovaries removed. She hit her window just perfectly!
7 Going The Distance Premiere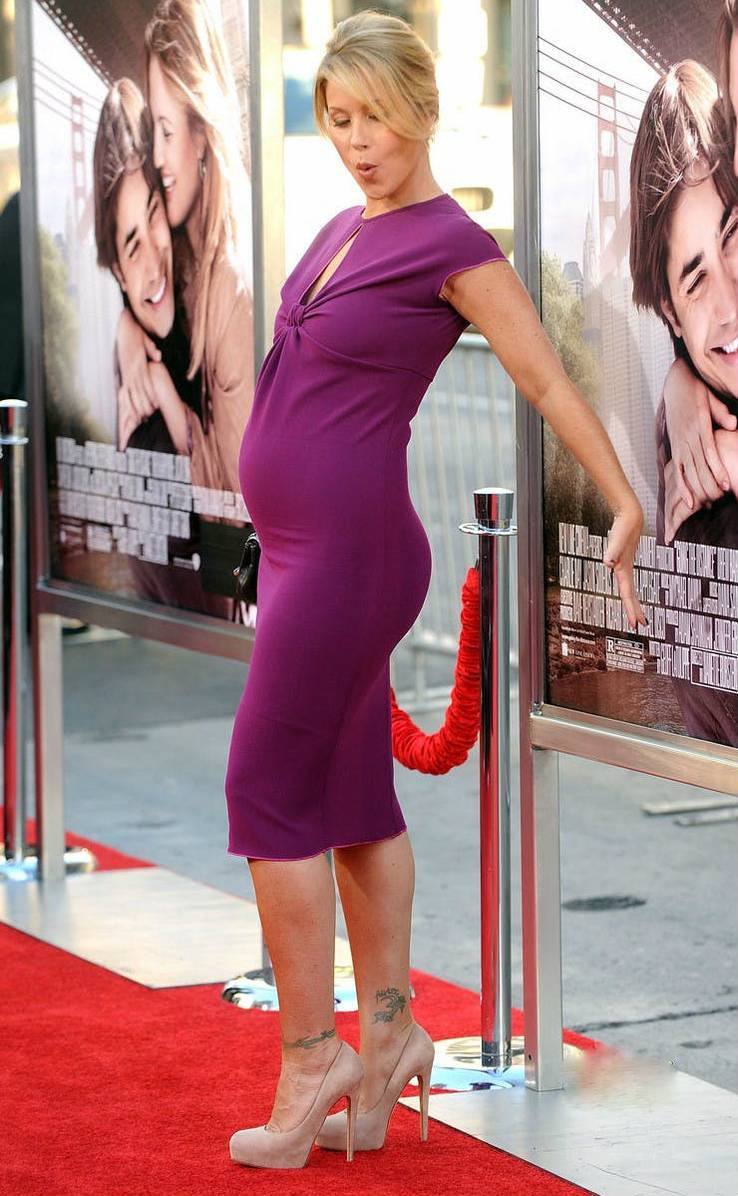 No one looked as stunning as this pregnant woman at the Going the Distance premiere in 2010. Even Drew Barrymore (the star of the movie) could hardly compete, though, they both looked amazing. It must be Christina's ability to not care how foolish she looks that makes her look not foolish at all. It takes some confidence to get there. Though Barrymore was the star, Christina played a big role in the movie as well.
Christina played Drew's sister that is terrifying, gives bad advice, has unruly children, and in the end, cares more about her than the man in her life ever could. That's what sisters are for though, right? Christina herself has one sister named Alisa. The two are rather close, despite the six-year age difference. While Alisa was going to college, she stayed with Christina! Though Alisa isn't famous, according to her Twitter, you can see she thinks Jane Fonda is gorgeous, Jennifer Lawrence is her soul sister, and Ina Garten's love life is the bomb.
6 Prenatal Workout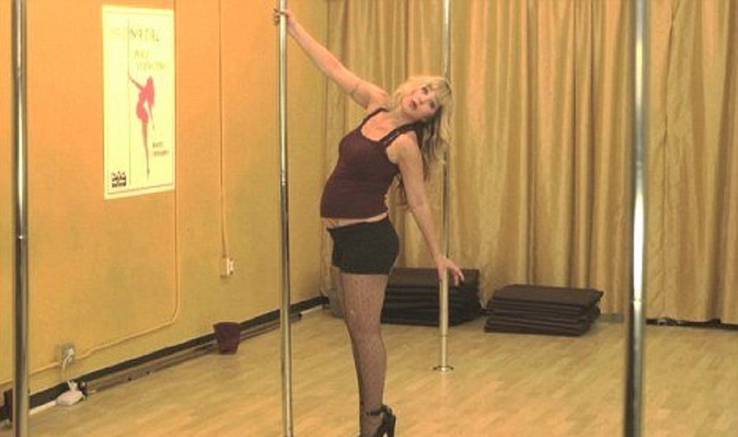 We know that this girl can dance, but did you know that she can dance…while pregnant? Now, that's a feat! When she was pregnant with her first child in 2010, we guess Applegate thought it would be funny to release a Prenatal Pole Dancing DVD— or at least pretend to. She was instructor Roxy Fedaro who did a skit for Funny or Die.
She was hilarious with lines like, "I can use these pole dancing moves anywhere. A lot of men seem to like it, which is good because I actually don't know who the father of my baby is." We don't know if it was Applegate's jewel or someone else's, but either way, she played the part far too well. We applaud her and at the same time are totally freaked out.
5 Christina With Her Daughter
In 2010, Christina Applegate gave birth to her daughter, Sadie Grace. A couple years later, she was spotted taking Mommy and Me classes with her daughter. What is so significant about it? She actually takes time out to do something for her daughter, and Sadie Grace seems more than pleased to be in her mother's presence. For a celeb to actually take care of their child is quite rare, and when they do, they seem to be strangely overbearing. Christina seems to have a good balance. She looks tired here as any mom should, which just goes to show us that she's the real deal.
Sadie Grace is a pretty special little girl, considering her mother just recently had her ovaries removed. Her birth really was a miracle. We hope she grows up to be just like her mommy! The talent and beauty are unmatched by many, as Sadie Grace will soon learn.
4 Hosting SNL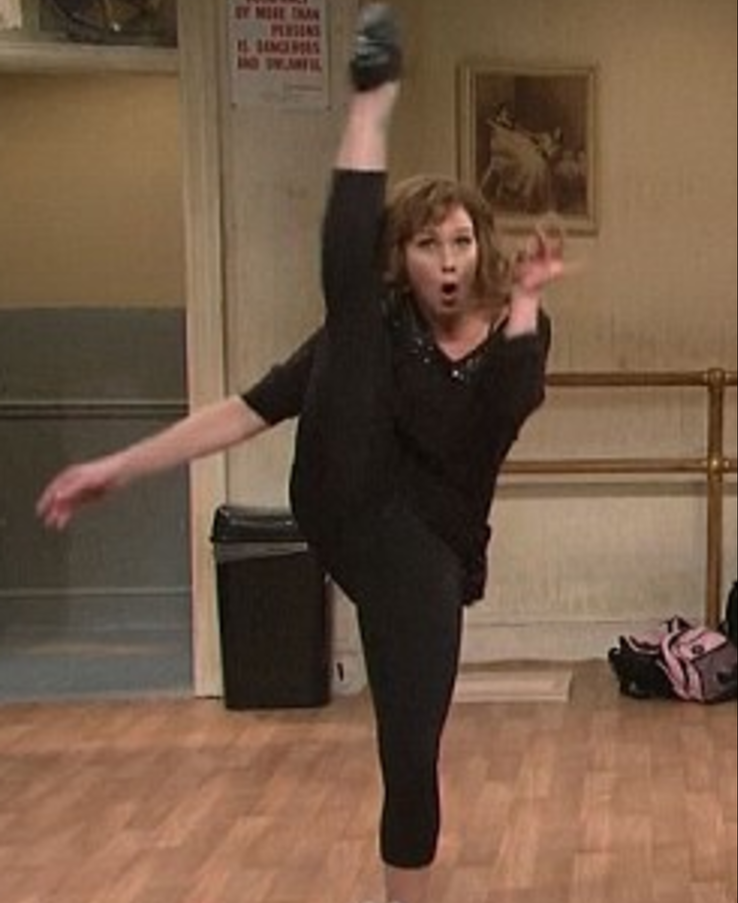 Christina Applegate is beautiful, with more talent than she needs. That's why she's shared her talent with Saturday Night Live on so many occasions. One of her best skits was done in 2012 when she posed as a dance instructor. She modeled her character using the late Bob Fosse. While it was done satirically, it ended up showing off her real moves and flexibility at the age of 40. It wasn't her only skit of the night, but it was the most impressive.
Later on, she did a hilarious Californian married couple, followed by a take on Odysseus' Sirens. Or rather, the songs they sung during the Trojan war. It's as if every single sketch of hers goes big. But none as big as the time she touched her own forehead with her leg. This girl must be an alien because no way a woman her age has moves like that naturally.
3 Selfie With Normal Reedus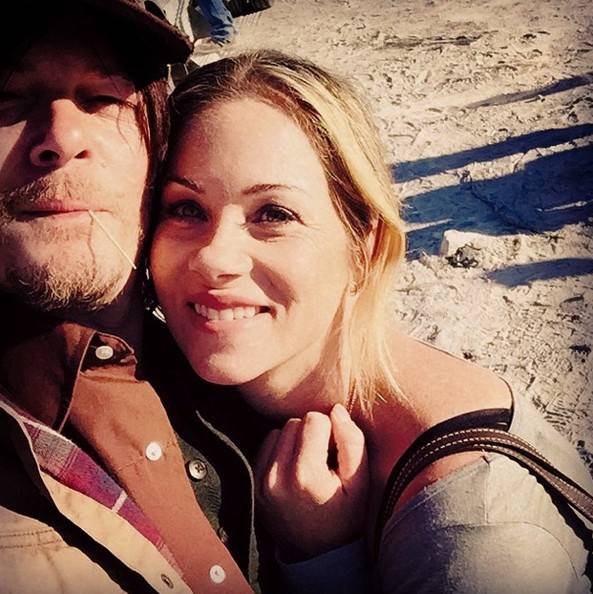 When this photo popped up on the internet of Norman Reedus (Daryl Dixon of The Walking Dead) and Christina Applegate, the world was sure that the two were dating. Because, of course, no one believes in male-female friendships that are completely platonic…come on! This romance was never denied or confirmed in 2015, but we did find out that Norman made a cameo in her movie, Vacation, that same year. So more than likely, it was just a friendship during the filming.
If only we could move onto this century and actually see that friends can be just friends, the world would be a better place. Jealousy would be an all-time low and rumors wouldn't spread so quickly. Now, we'd like to thank Christina Applegate for getting us going in that direction. Look…it's a completely platonic relationship between a straight male and a straight female…whoop de doo! Deal with it!
2 Looking Adorable In Glasses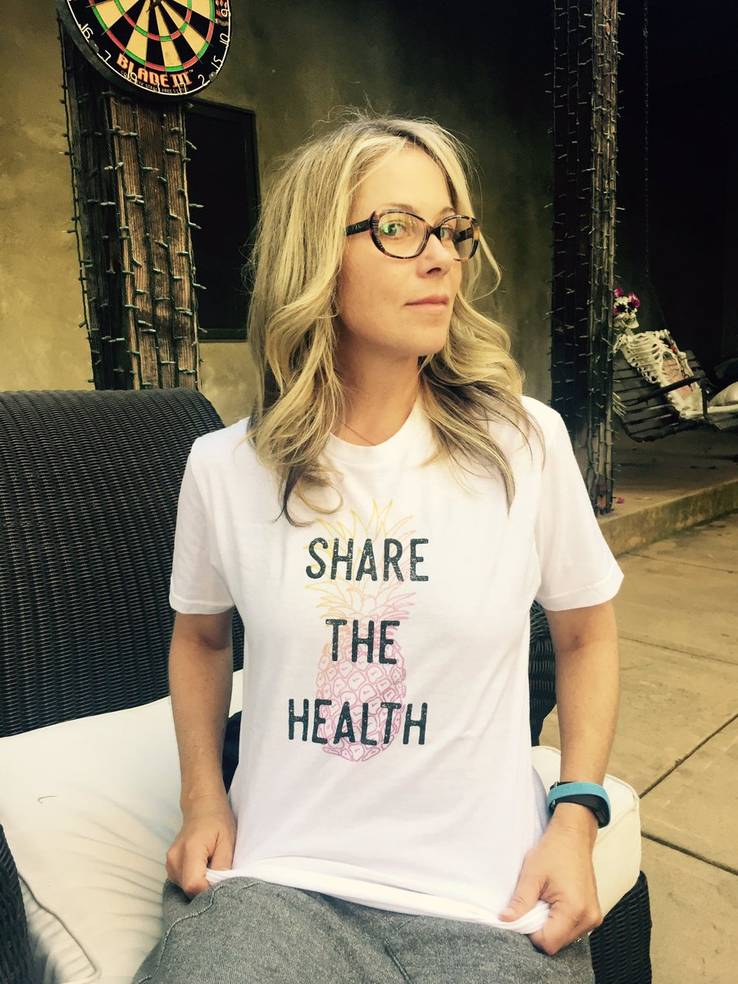 This is a rather recent picture of Christina Applegate showing off something more important than her stardom or beauty. She posted it to her Twitter in 2016 to promote awareness of childhood hunger. The movement was led by her friend, Kristen Bell, whose pitch was, "Every kid needs to grow up smart, healthy and strong. I love being a part of No Kid Hungry's mission, and now that you're here, we can make a real difference together."
It was a beautiful movement and it was nice to see everyone working together to raise awareness. The shirts were sold through Omaze for a limited time, and Christina Applegate was sure to snag one before the campaign was closed. So, after all this time, she's a seasoned star, and makes time to fight for those who don't have the resources that she does? That only makes her a hundred times more beautiful!
1 Airport Style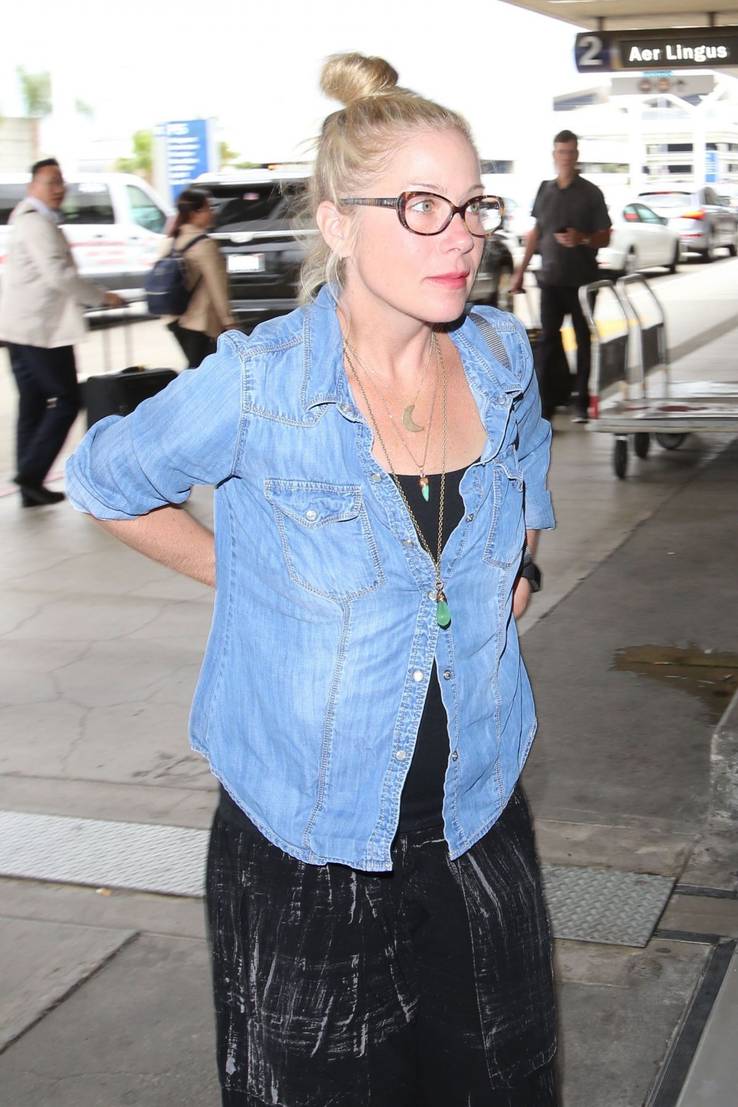 She does look good in glasses! Not everyone can look even better with glasses than without them, so that's a gift in itself. Without them, she looks like a supermodel we can relate to. With them, she looks like a female superhero in disguise. The classy look was captured at the Los Angeles Airport in May of 2017. That means she was 45-years-old at the time, even though she doesn't look older than 30. Lucky to be born in Hollywood, she hasn't had to do a lot of traveling during her time as an actress.
But when she does travel, she goes looking like she just got out of bed, and at the same time, better than we look after hours of working on ourselves. We are not-so-low-key jealous, but that's okay. Stars get a free pass when it comes to that. Our jealousy does nothing to deter us away from liking them. What's not to like about Christina Applegate anyway?
Source: Read Full Article