25 Photos Of The Marvel Women Totally Out Of Character
The Marvel franchise is so popular since everyone can't get enough of their movies and TV shows. There are so many films from Iron Man to Captain America and Avengers and then there's also TV shows like Agents of Shields and Jessica Jones. The men, like Chris Hemsworth and Chris Evans, are known for their roles as superheroes in the hit movies but the women are worth mentioning as well. Scarlett Johannson's role as Black Widow in the Avenger movies is highly popular and everyone loves her character. Other leading ladies like Zoe Saldana and Brie Larson are also making a big name in the famous franchise. The costumes the women have to wear are normally suits that shine and it makes them look strong.
The actresses look completely different, though, when they're not in character. Gwyneth Paltrow for instance has been snapped in denim dungaree's and the street style choices often consist of a casual laid back style with jeans and sweaters which Natalie Portman and Zoe Saldana wore while out and about. Other Marvel stars like Krysten Ritter and Elizabeth Henstridge were seen in their workout attire and they were even make-up free. These photos show the actresses as normies just like us instead of the characters they act as and the differences are quite astonishing.
25 Zoe Saldana Wearing Glasses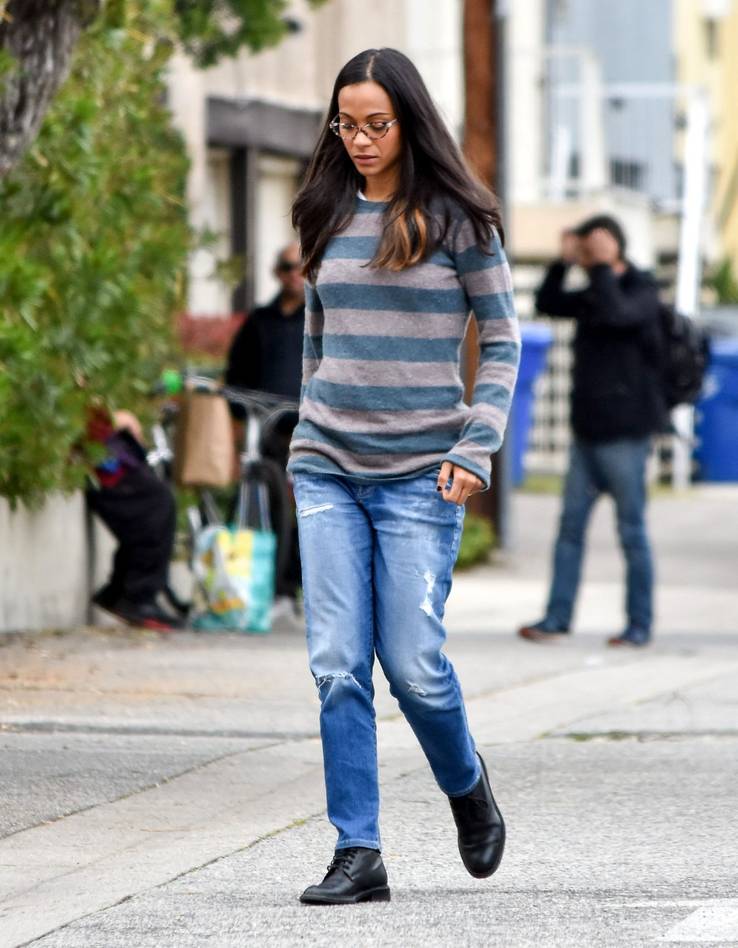 The Guardians of the Galaxy star's character, Gamora is unique because she is green with bright red in the franchise and Gamor's outfit consists of leather black pants and tank top and a long overcoat, so it's odd seeing Saldana like this. The actress decided to dress casually for a stroll in Studio City but still managed to look chic in the torn jeans and striped sweater. The black boots give the style edge and Saldana dons the preppy glasses look.
24 Elizabeth Olsen's Day At The Spa
The Olsen sister plays Wanda in the hit franchise Avengers and in Infinity War, Wanda's main outfit is a red and black one-piece suit with a fiery red coat. Elizabeth's hair is also auburn red, so seeing this picture of Olsen is really strange. Elizabeth had a day at the spa in a plain black dress and a grey silk blazer. Olsen opted for sandals and she was make-up free and used the retro dark sunglasses to hide it.
23 Brie Larson's Bizarre Patterns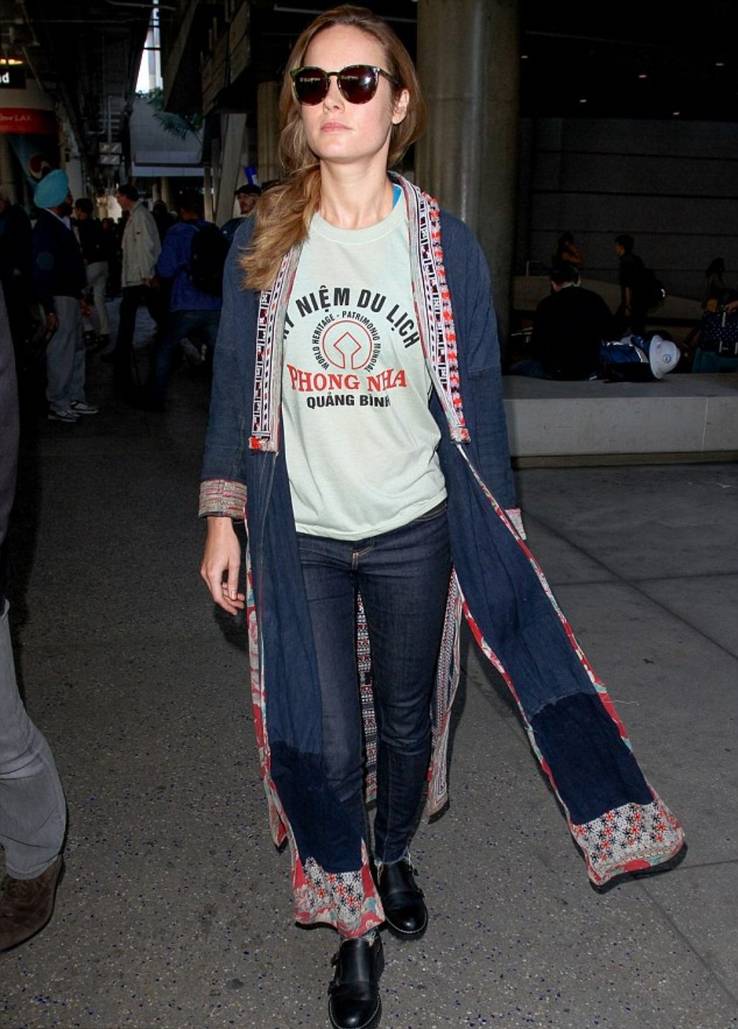 Larson will completely transform in the new Captain Marvel movie which is set for release in March next year and in the film Brie will be wearing a blue and red pantsuit and will look like a superhero. In this image, though, I don't know what Brie was thinking because of the weird patch work designs at the edge of the coat. Larson did just arrive back from Vietnam which explains the shirt. The skinny jeans and wide-rimmed sunnies is the outfit's saving grace.
22 Natalie Portman's Old-Fashioned Knit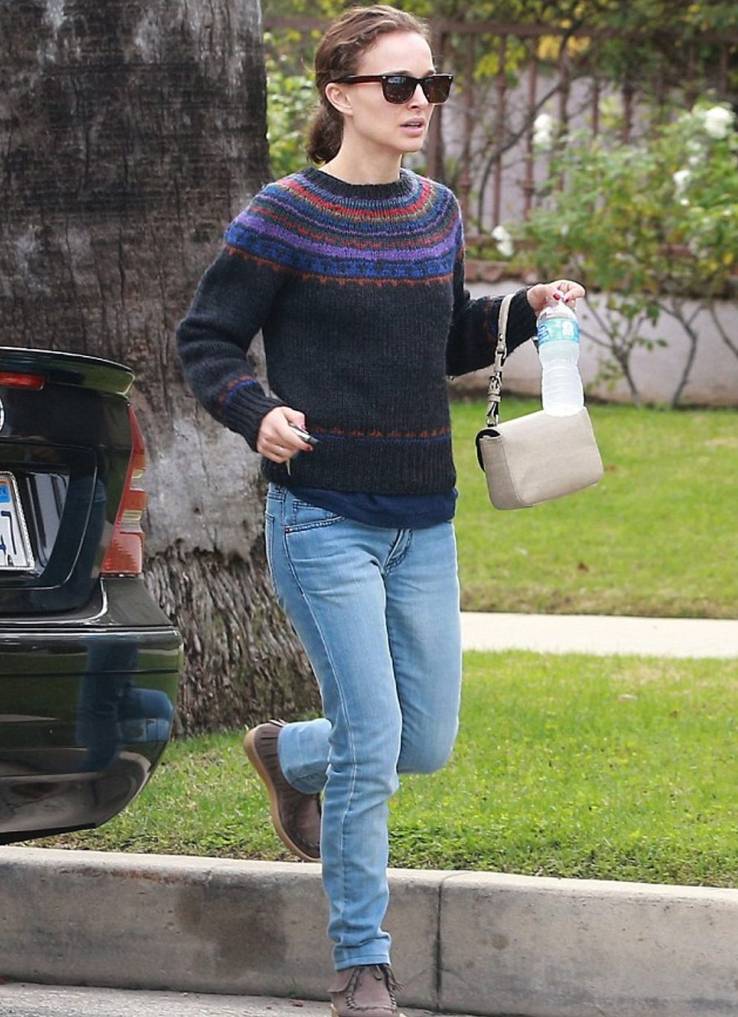 Natalie's character Jane in Thor wore an vintage robe with metal armor and in this image, Portman maintains the old vintage look thanks to the knit sweater. Portman decided to go natural by not wearing wearing any makeup and she kept it simple in the faded denim. Natalie was grabbing some takeout in West Hollywood so the outfit is okay for just a quick stop. Jane's hair in Thor has volume and is never tied up, but Natalie's hair here is messy and in a low ponytail.
21 Danai Gurira's Fancy Getup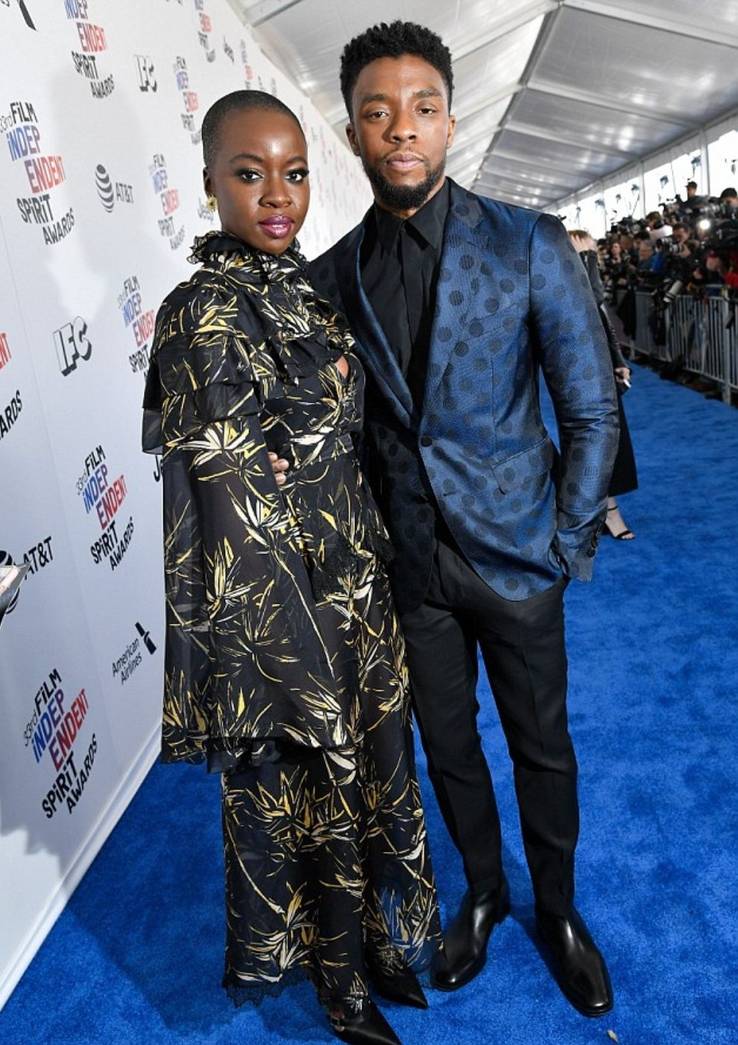 Everyone went crazy when Black Panther was released because it was so different to what Marvel has released in the past. Danai's character, Okoye, looked like a warrior with the red costume and gold armor and jewelry and really stood out. The outfit looks like a dress, but it's actually a silk top and trousers. Danai is completely covered and all the layers are completely confusing and you don't know where to look but Danai still managed to impress with the unusual look though.
20 Krysten Ritter's Workout Gear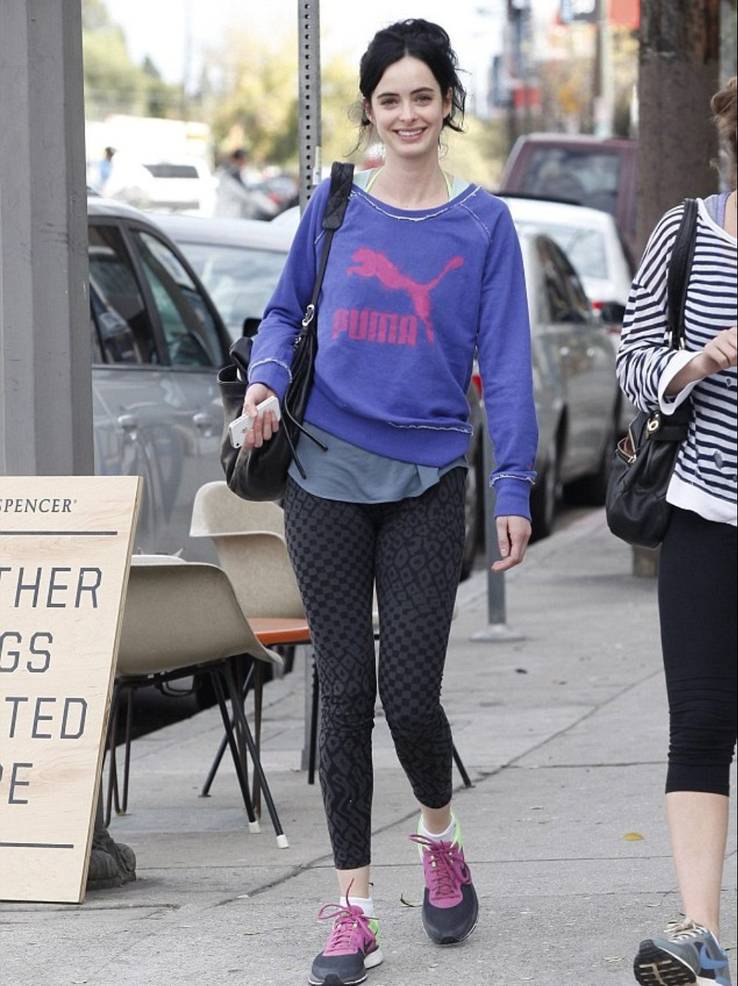 The actress is known for her roles in comedy films and TV shows but now Ritter is mainly known for her role as Jessica in the Marvel series Jessica Jones. Krysten isn't dressed in a superhero outfit, but instead a pair of denim jeans, a plain T-shirt and a black leather jacket. Jessica does look edgy and chic, but here Krysten looks comfortable in her workout leggings and pink sneakers. Ritter is make-up free and looks fresh while on her way to the gym.
19 Gwyneth Paltrow's Dungaree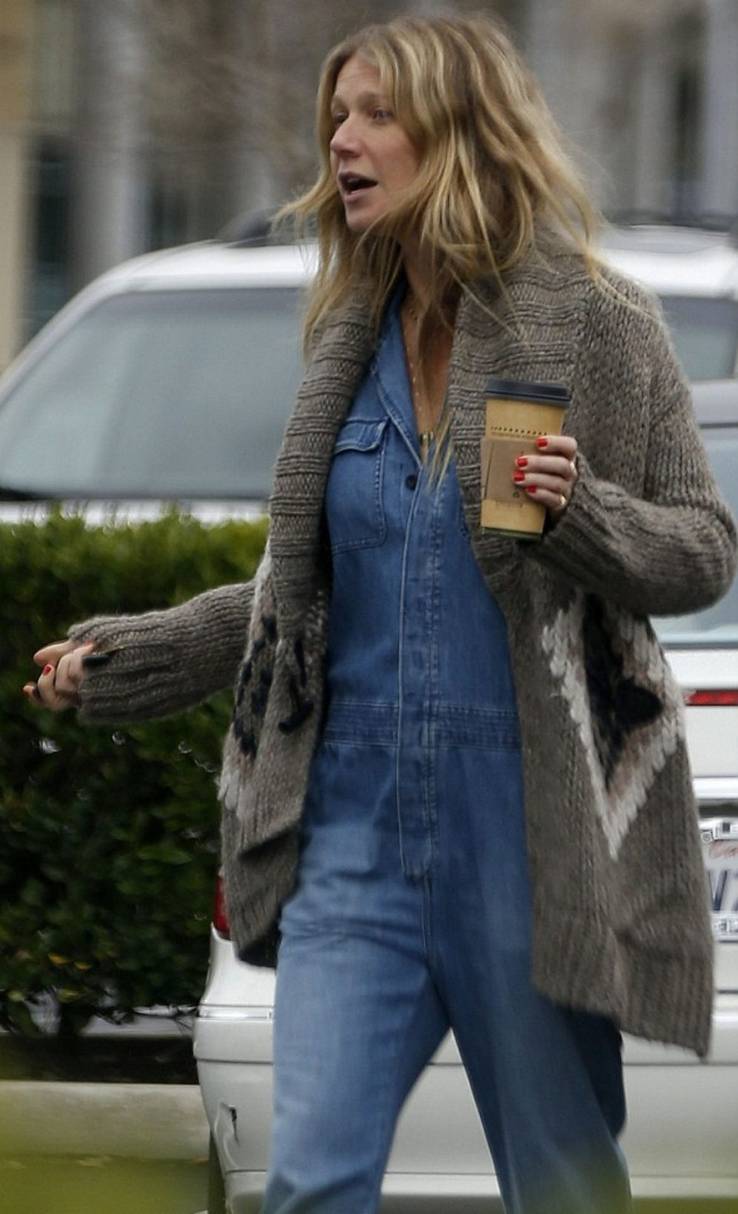 Paltrow played Pepper Potts in Iron Man and went back to her character in the latest Avengers movie, Avengers: Infinity War. Pepper is Iron Man's love interest so she doesn't have a superhero suit, but Potts regular outfit is business like and professional so that's why Gwyneth is completely out of character in the denim dungaree. Paltrow was enjoying a cup of coffee while out and about and make-up free. Pepper's hair is always immaculate, but Paltrow went for the messy look.
Featured Today
20 Royal Rules Kate Middleton Broke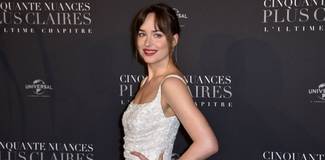 20 Reasons Why Hollywood Isn't Embracing Dakota Johnson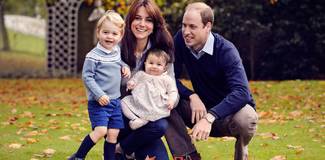 12 Things The Royal Babies Can Do (12 They Can't)

18 Gina Carano Travels With Superman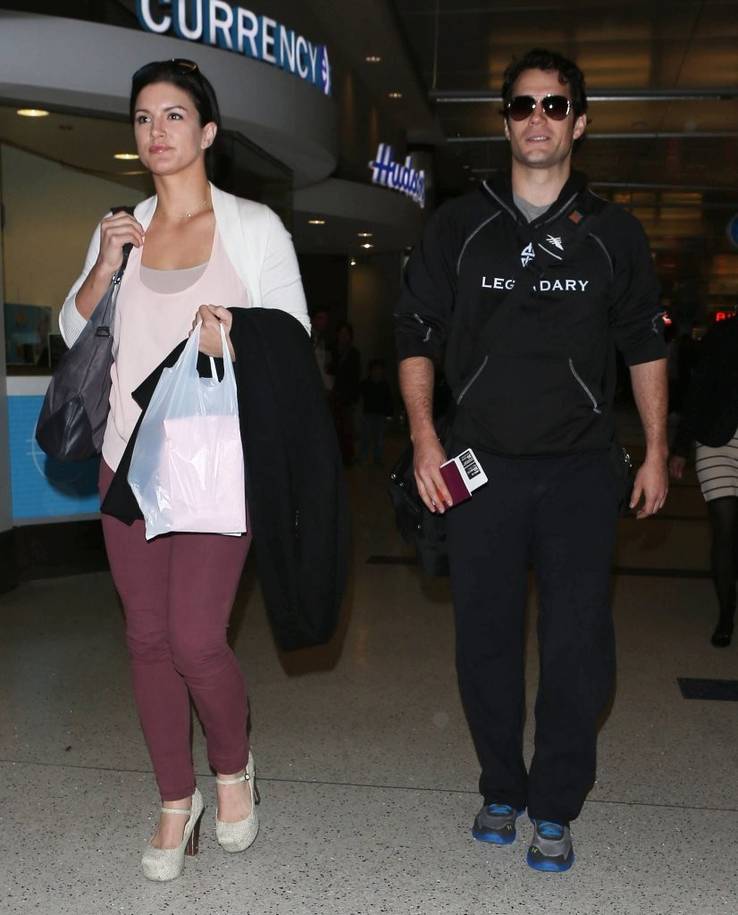 Carano is known for her action roles and used to be a professional fighter with mixed martial arts which explains why she lands all the action-packed roles. Gina acted alongside Ryan Reynolds in Deadpool and her outfit was quite simple with a black top and pants with a vest for protection. The awesome thing was the military combat boots. In this image, though, Gina is more girly with the pink selection and Carano was even wearing heels instead of boots.
17 Pom Klementieff's Professional Suit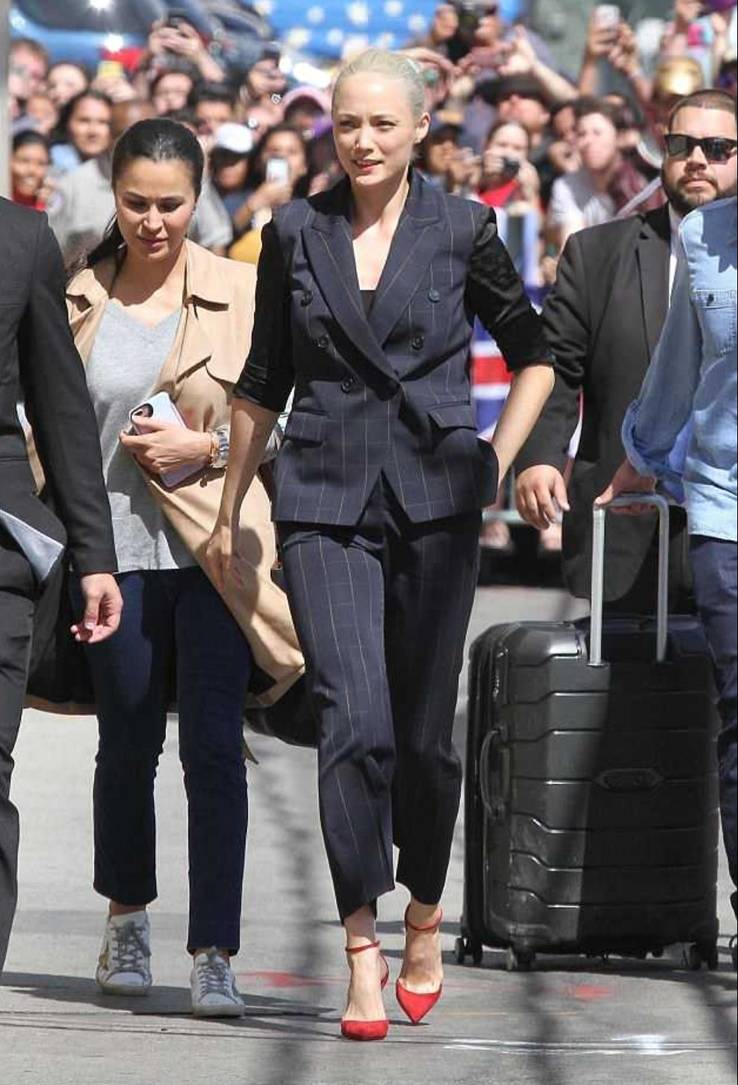 Another Guardians of the Galaxy actress who acts alongside Zoe Saldana and Chris Pratt. Pom's character, Mantis has a unique costume. It's a green two piece to highlight the features of the insect and Pom's hair color is black in the film. In this photo, Pom was promoting the latest Avengers movie with the rest of the cast and instead of the black hairstyle, Pom was blonde and tied her hair into a bun. Pom also opted for a professional look with the striped suit and high heels.
16 Scarlett Johansson Loves Her Denim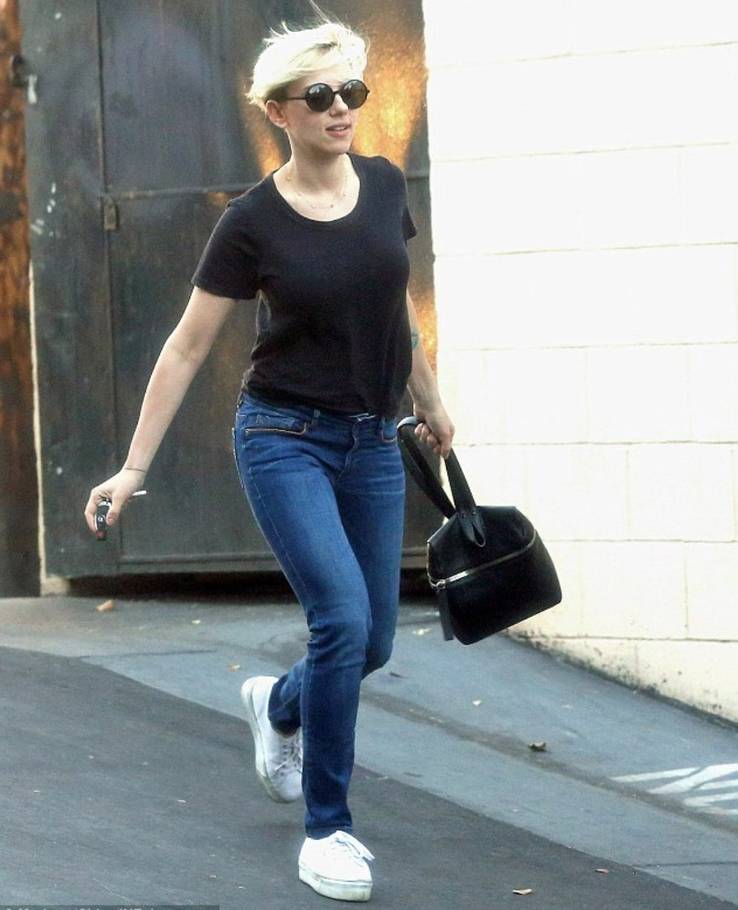 The Avengers actress always looks good in her street-style getup, but this image is one of the looks where Johansson is surprisingly plain. The black T-shirt and denim is simple and Scarlett paired it off with a pair of sneakers. In the Avenger movies, Johansson's signature outfit is a black one piece suit which accentuates her lean figure so this is really different to what Black Widow would wear.
15 Evangeline Lilly Brings Edge At An Interview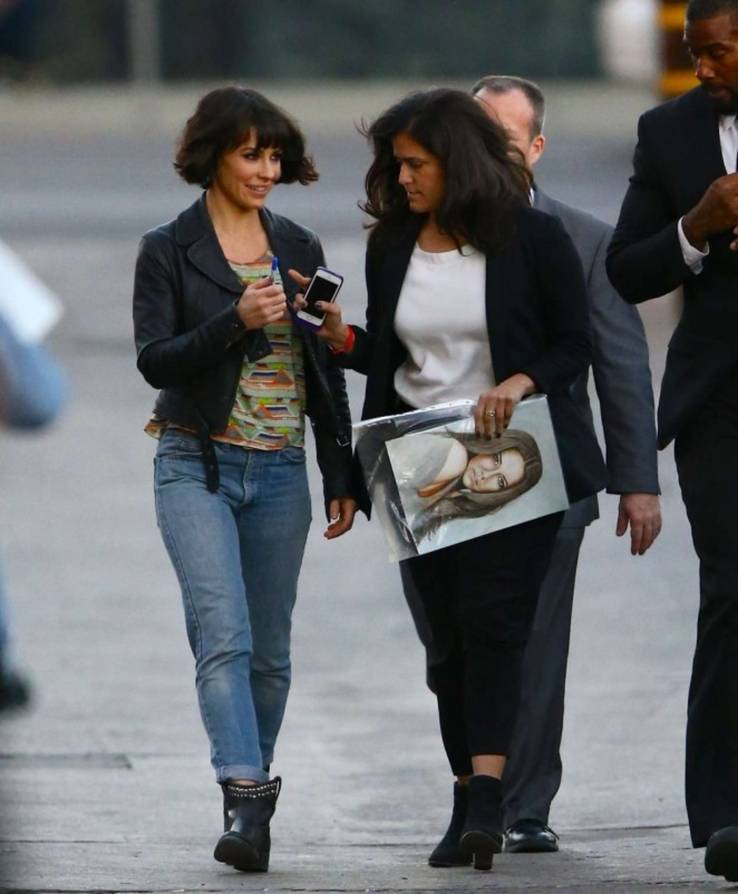 Before Marvel, the Ant-Man actress was well known for her role in Lost. Now Evangeline has a recurring role on the Marvel movie series Ant-Man. Lilly plays Hope Pym and her pant suit is something a futuristic space traveler would wear and Hope's hair is also long and tied up. In this image, Lilly was snapped before doing a live interview on Jimmy Kimmel in black leather jacket and denim jeans with low-cut boots that give the look an edge. Plus Evangeline's hair is short and wavy.
14 Emily Vancamp's Relaxing Day Out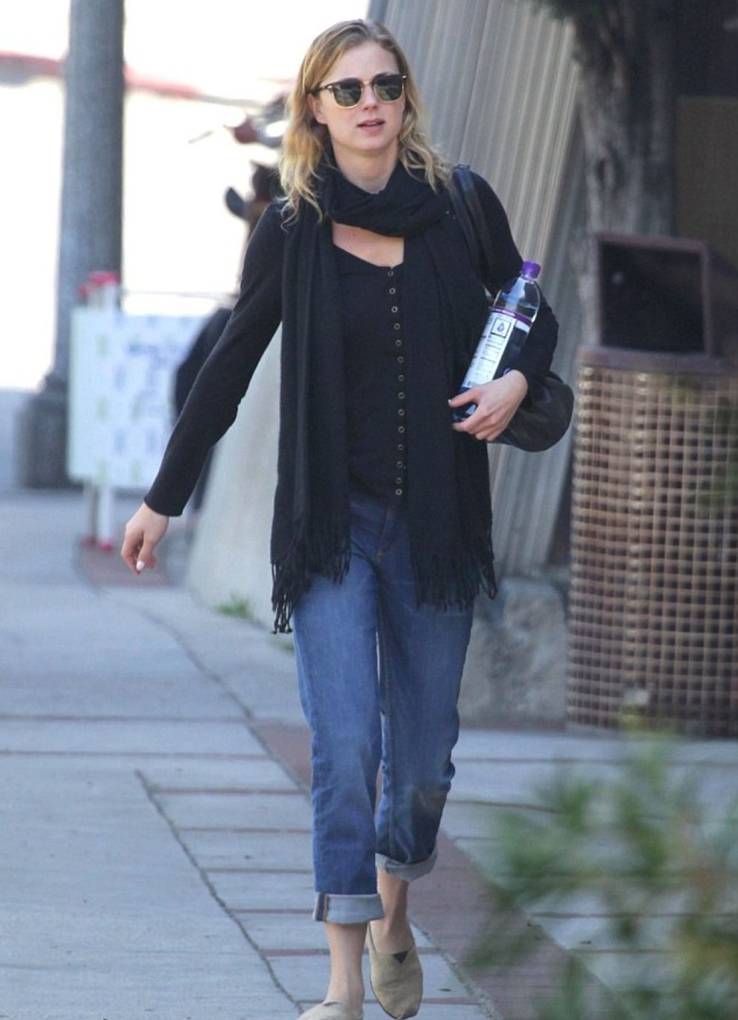 The Resident actress is also a Marvel actress as she plays Sharon Carter in Captain America and the costume Vancamp wears in the iconic movie franchise is a black leather jacket and skin-tight pants fit for a warrior. In the picture, Emily looks nothing like a warrior while having a lazy coffee date day with friends. Vancamp wanted a chill style so opted for cropped jeans, loafers, and a black jersey and scarf. It is perfect for a relaxed day though.
13 Rachel McAdams Out Shopping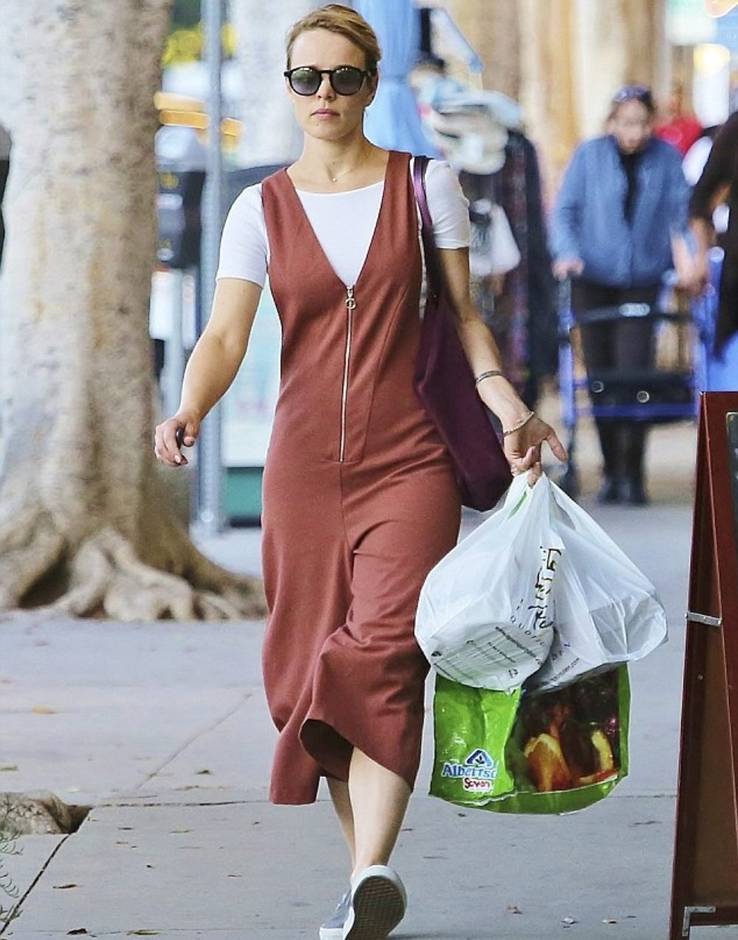 Yes, Rachel isn't a Marvel superhero, but she does play a doctor, Christine Palmer, in Doctor Strange. McAdam's wardrobe in the film mainly consisted of hospital scrubs and her hair was always messy, which you expect since working in the hospital is a time consuming job. Rachel chose a red flowing dress with a zipper in front over a white shirt for a day out shopping and instead of having a messy hairstyle like Palmer's, Rachel's is tied up neatly.
12 Cobie Smulders Is Chic In A Leather Jacket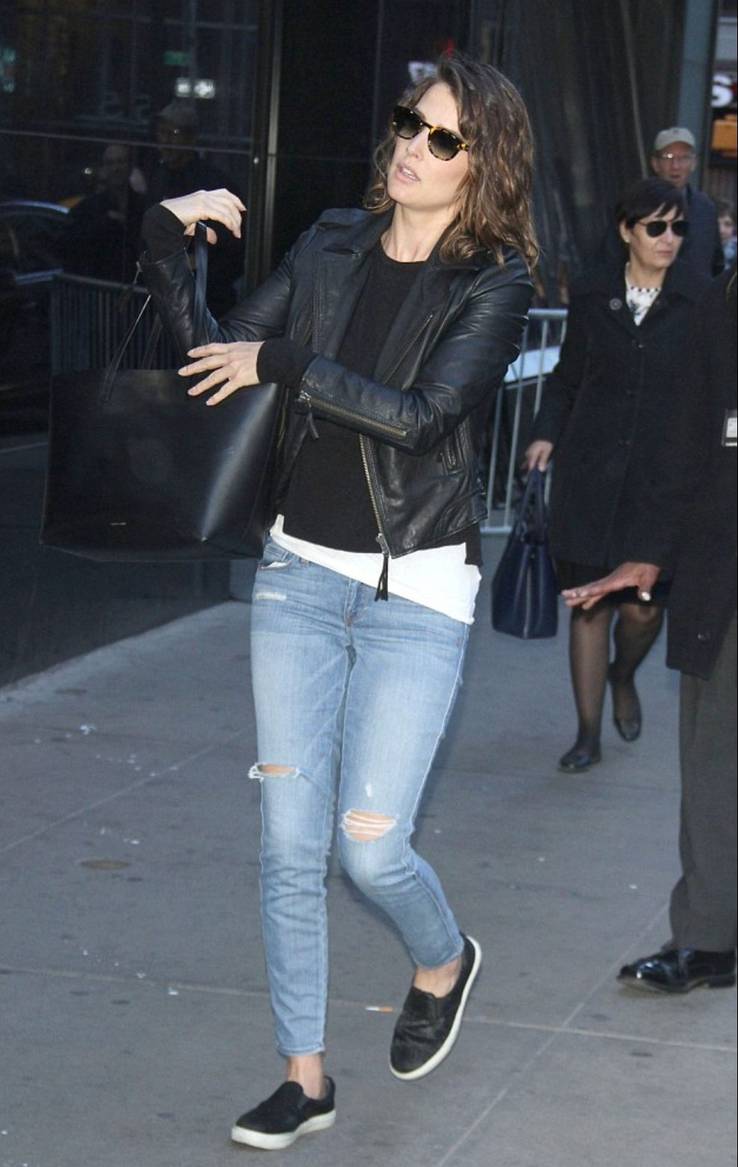 The former How I met Your Mother actress is now a Marvel actress with her role as Maria Hill in Avengers and Captain America. Maria wears a tight fitting full-length suit with black boots. In this image, Smulders maintains an edgy style with the leather jacket and torn skinnies. Instead of the black boots, Smulders opted for loafers. Cobie's hair is also sleek and normally tied up in the movie but Smulders opted for a wavy style while out of character.
11 Karen Gillan Is Completely Different In Guardians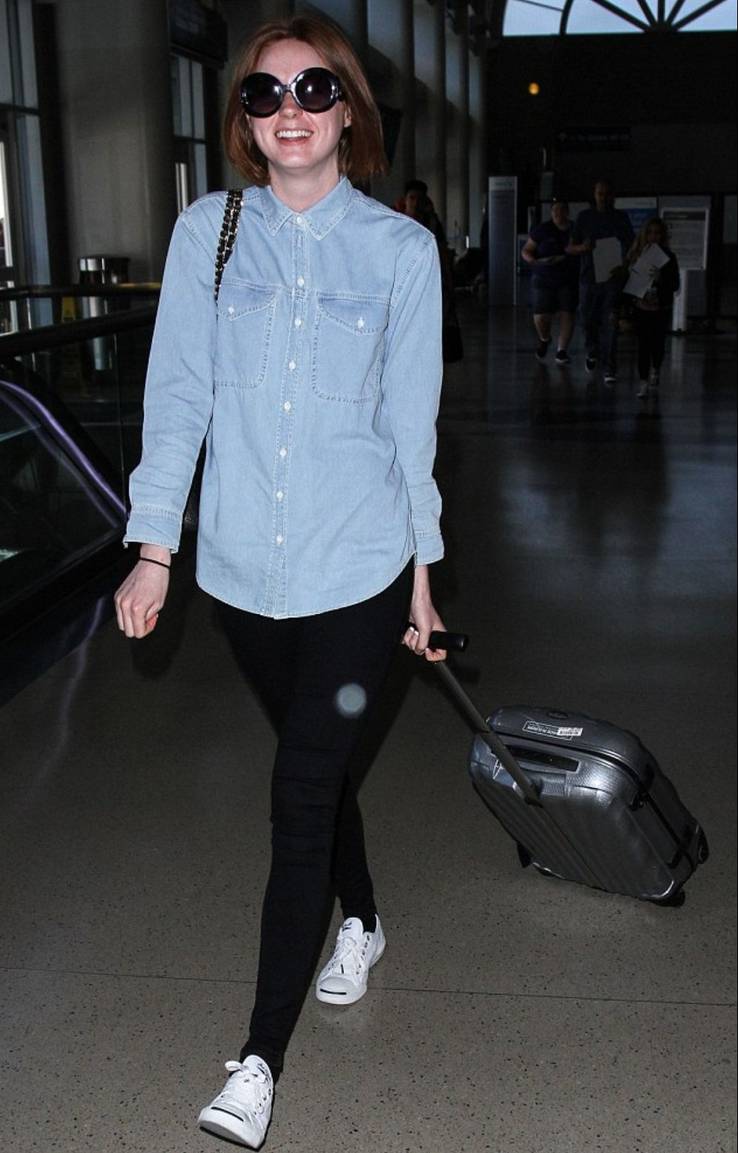 Gillan is well known for her role in the latest Jumanji, but the actress acts as Nebula in Guardians of the Galaxy. It is hard to tell that it's her because she is blue and bald in the film. Nebula's suit is purple and she wears black military style boots. Karen looks completely different from Nebula in this travelling get up. Gillian opted for comfort but still remains stylish in the black skinnies with white sneakers and denim-collared shirt.
10 Hayley Atwell's Casual Night Out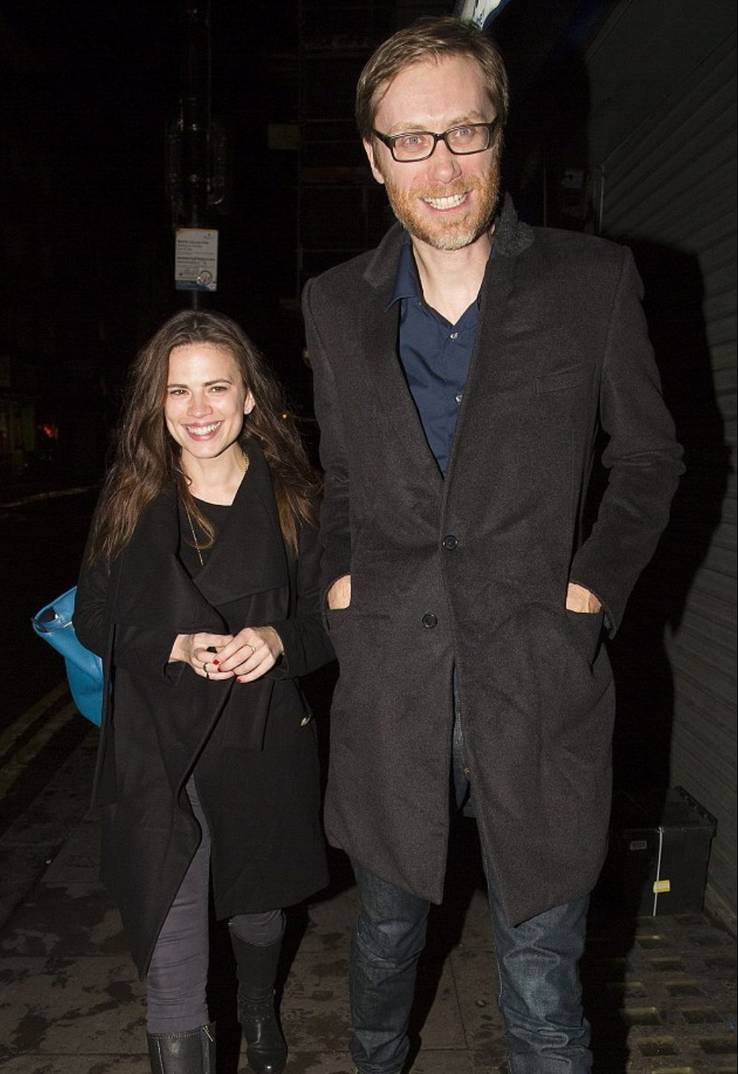 The actress plays Peggy Carter in the Avenger movies and her uniform is military style. Hayley's hair is curly and red in the films. In this photo, Atwell was snapped on a night out with Stephan Merchant in a more modern look than the uniform from Avengers. Haley wore grey jeans with boots and a long black thick coat. Atwell's hair was also long and wavy instead of curly.
9 Chloe Bennet's Plaid Dress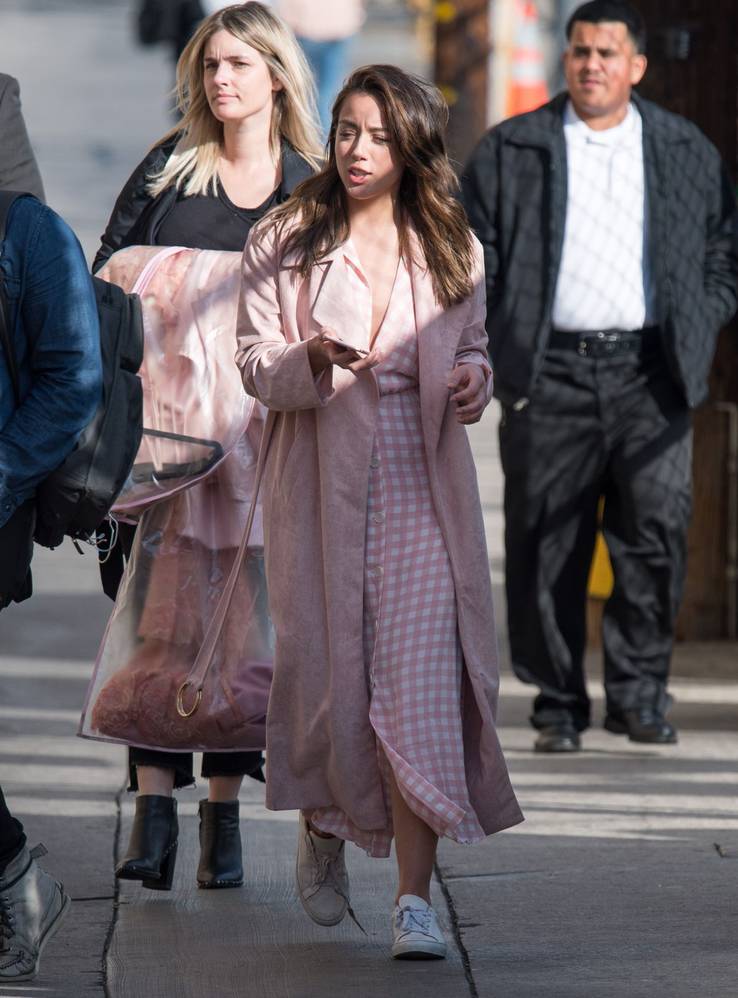 This is a very unusual dress as it looks like a dish towel more than anything else. It's pink and it completely hides Chloe instead of accentuating her body shape like her costume does on Agents of Shields. Bennet plays Daisy on the popular TV show. Daisy's costume is a black jumper with a zipper and it's fit for a spy. Chloe definitely doesn't look like an agent in this pink dress.
8 Elizabeth Henstridge In Sweats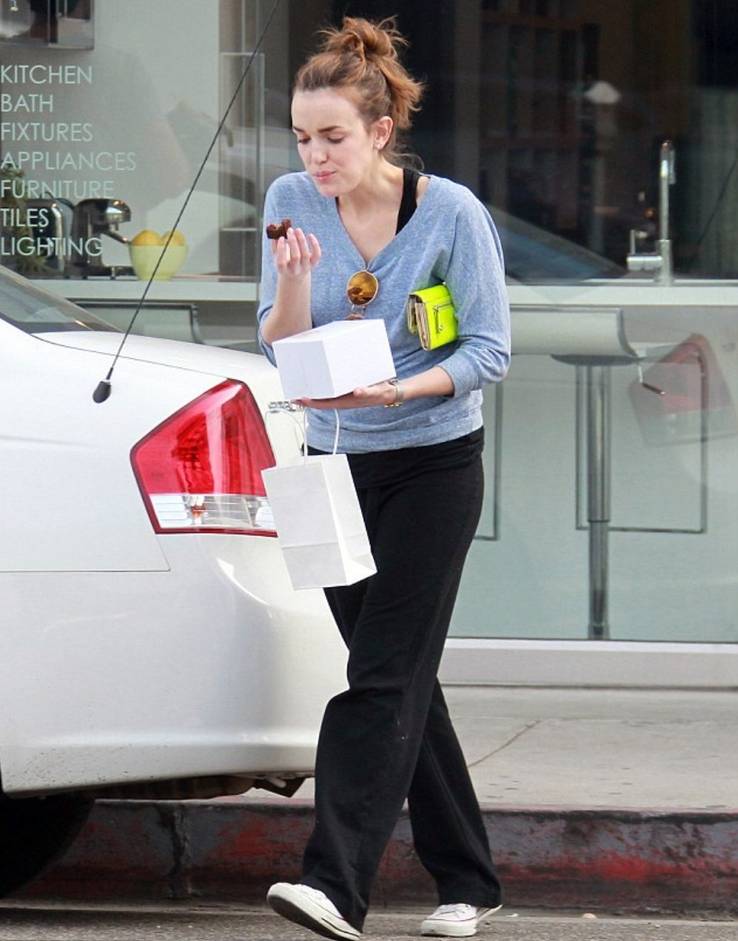 Henstridge acts in Agents of Shield as Jemma Simmons. Unlike Elizabeth's co stars who wears superhero type suits, Jemma is more nerdy as she wears preppy clothes which you would wear in a really expensive school. In this image, Elizabeth was caught eating while out and about and instead of wearing the usual clothes Simmons wears, Elizabeth went for comfort in the grey sweats and top. Jemma's hair is either in a wavy bob or tied up in a ponytail and Elizabeth went for the messy bun here.
7 Kat Dennings is all about comfort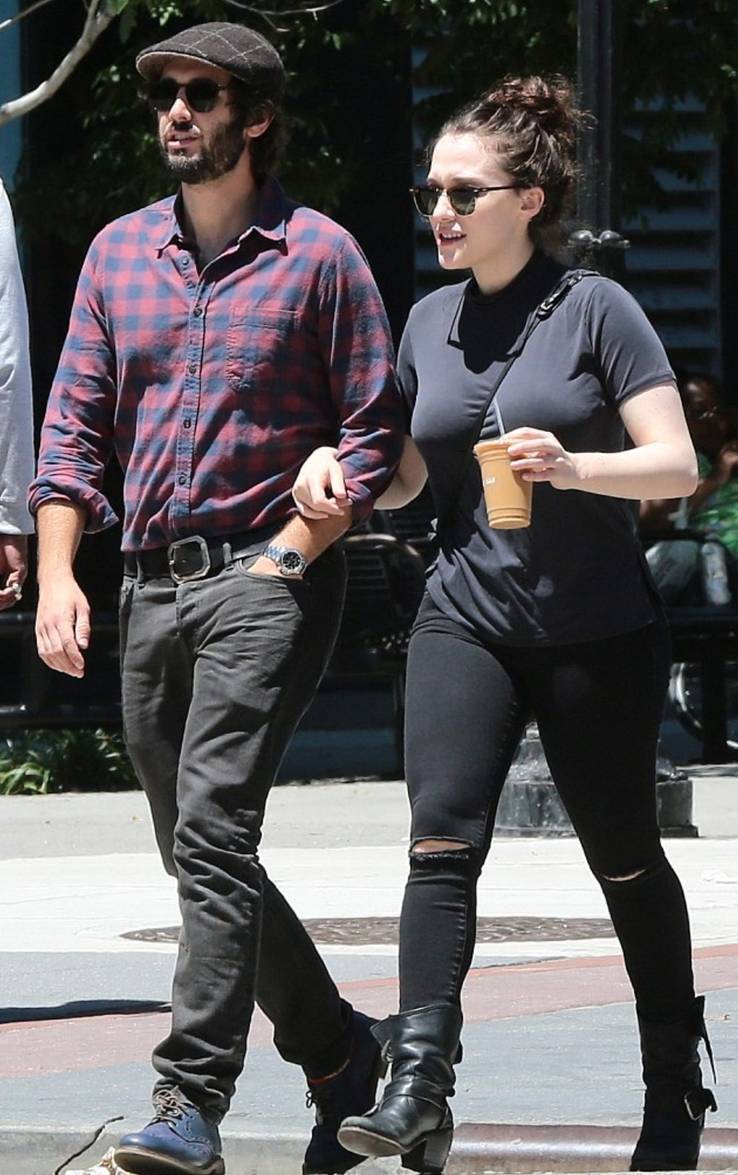 Instead of having a superhero costume in Thor, Kat has a simpler look in the movie franchise as Dennings' character, Darcy Lewis, wears a beanie with sweaters or scarves and sometimes, Lewis wears glasses. Kat's look while enjoying a day out for her birthday is darker than her Darcy outfits. Kat donned an all-black style with the torn denim and plain shirt and instead of prescription glasses like Darcy, Kat wears black sunglasses. Lewis also likes black boots which Kat seems to like as well.
6 Ming-Na Wen is more casual than sophisticated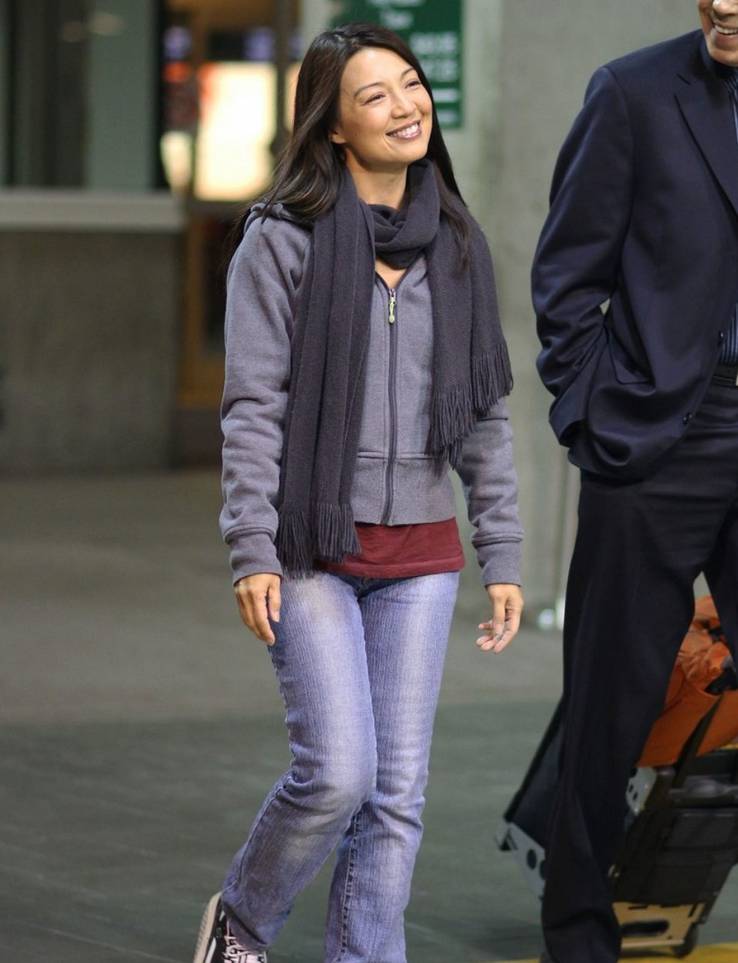 The Agents of Shield actress is normally seen in a dress instead of jeans or a sweater but this image was taken in 2010 and it's strange seeing Ming-Na like this especially since Melinda, Ming's character is so fierce in the show. Melinda normally wears a black jacket over skinny jeans or business suit pants with killer boots. In this photo, Ming-Na has a no-muss, no-fuss attitude in her hoodie, sneakers, and jeans. She definitely doesn't look like she's about to save the world.
5 Leslie Bibb Ditches The Blazer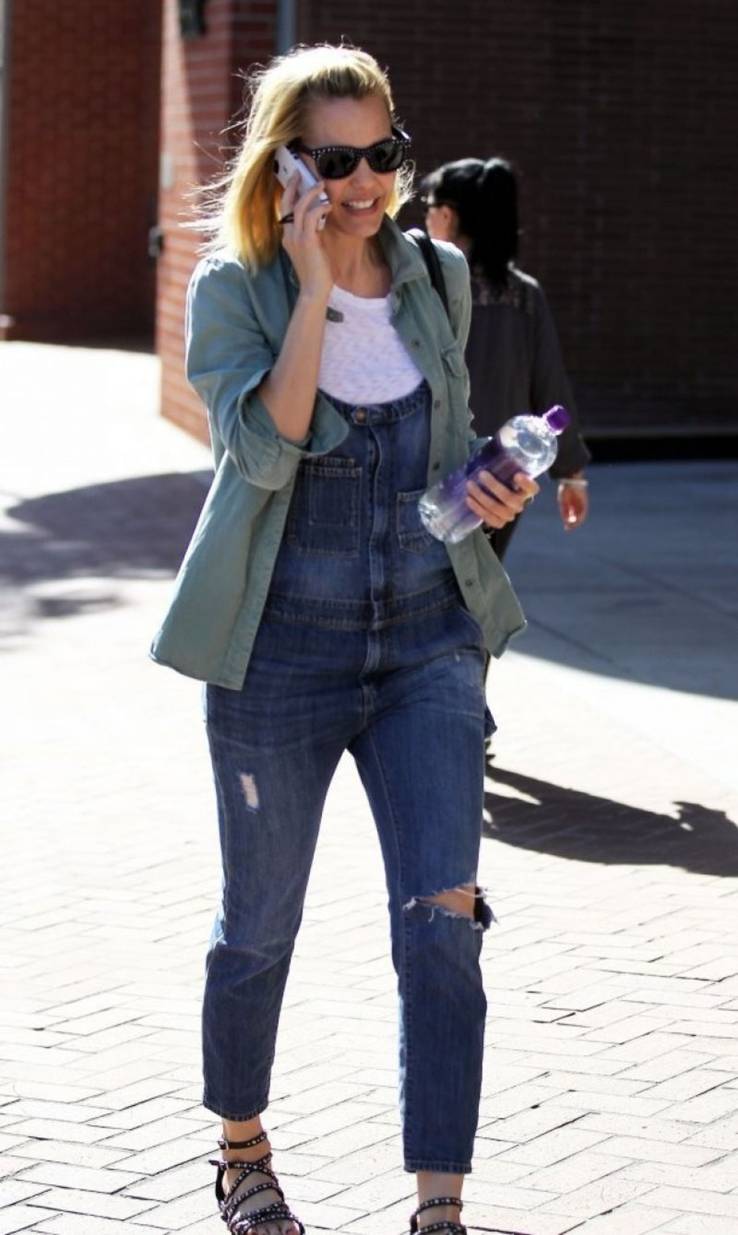 Bibbs' character in Iron Man was Christine and the superhero costume wasn't evident as Christine preferred the professional office wear look with the blazer and white-collared sleeve shirt and when she wasn't in a business suit, Christine wore elegant dresses so that's why this picture of Leslie is odd because instead of professional attire, she opted for a denim dungaree with sandals and a green-sleeved top instead of white. In Iron Man, Leslie was all about work, but here she looks like she's having fun during a day out.
4 Famke Janssen's Floral Dress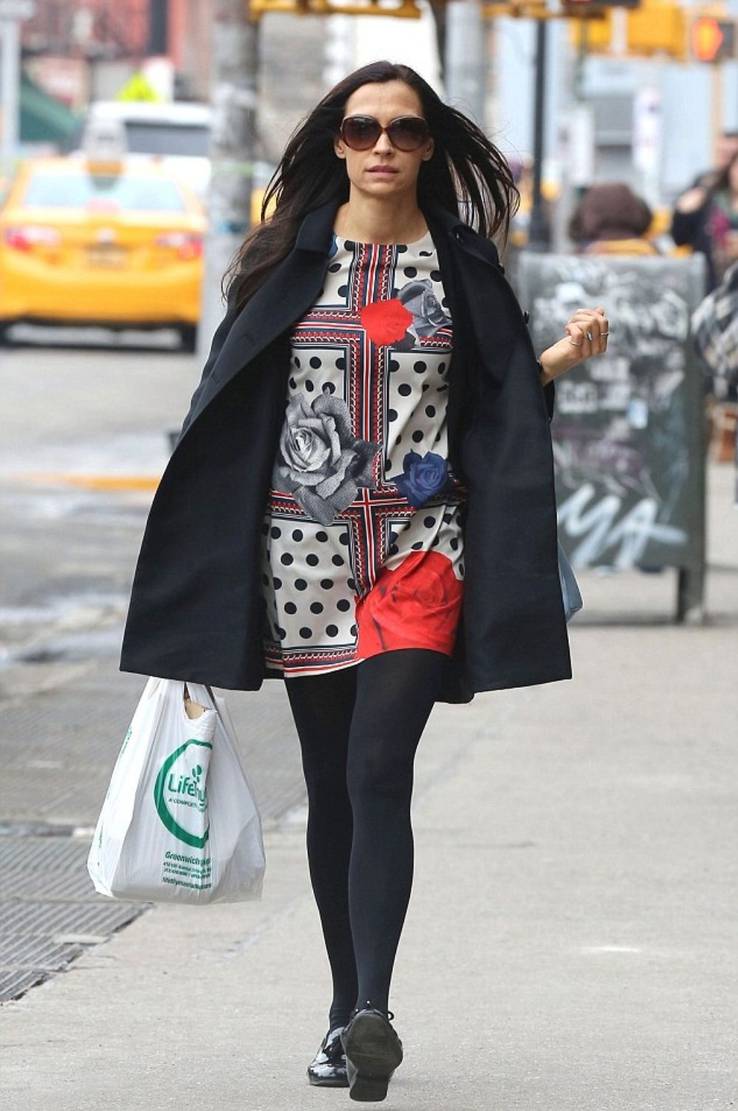 In the X-Men franchise, Famke plays Dr. Jean Grey and in the films, Jean wears red pants with a matching trench leather coat and knee-length boots. Jean's hair is bright red in X-Men. Famke ditched the leather pants, though, for a floral and polka-dot knee-length dress and stockings while walking the streets in New York. Famke still shines even without the X men costume, though.
3 Tilda Swinton Boho Chic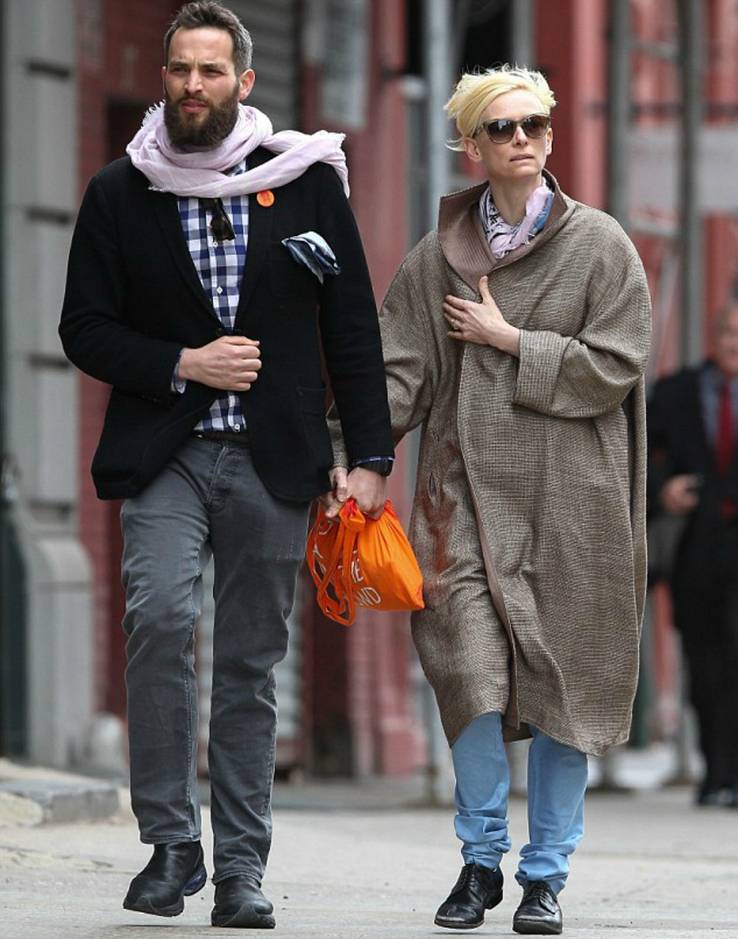 Swinton plays the ancient one in Doctor Strange and is a spiritual helper. In the movie, Tilda has no hair and wears a white or blue monk-like suit so this image of Swinton is strange as the actress has short blonde hair and Tilda wore a long brown plaid coat over a pair of jeans and shoes which is suited for the office. Swinton and her partner were walking in East Village which is the perfect location for boho style.
2 Jaimie Alexander's Sophisticated look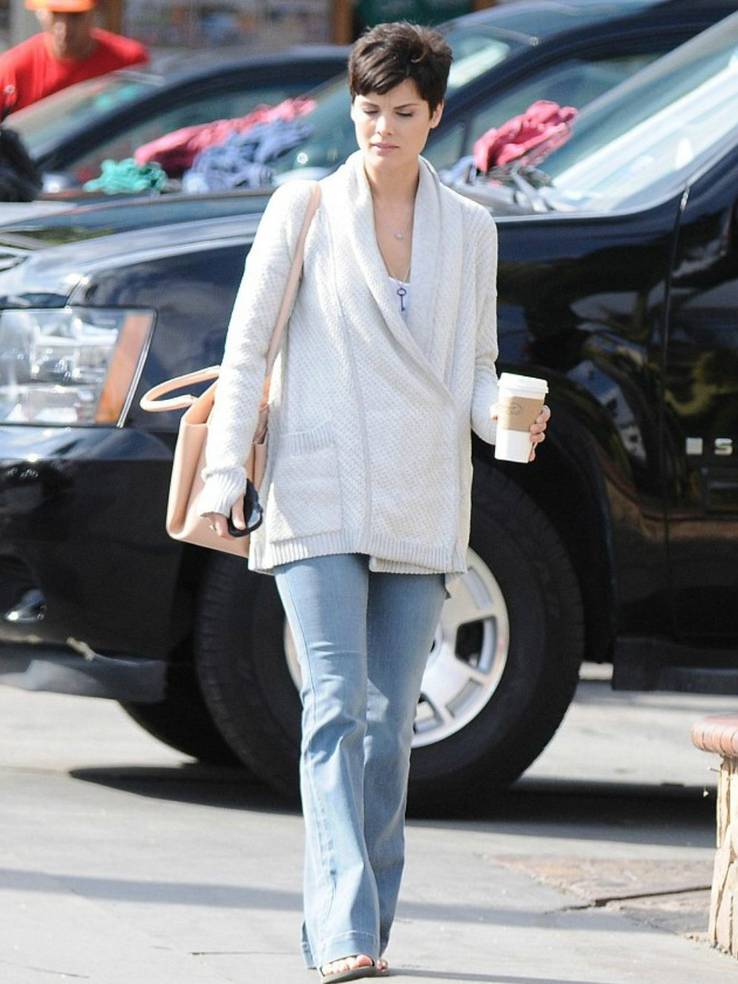 The actress is in Thor and plays Sif who dresses in a red skirt and armor which is essential for battle. Sif's hair is also long and normally tied up. Jaimie is different to Sif in this picture because her hair is a lot shorter with a pixie cut. Instead of dressing for battle, Alexander dresses for public outings. Sif's outfits is more warrior-like whereas Jamie's is polished with the white cardigan and denim bootleg jeans.
1 Tessa Thompson's Looking Sharp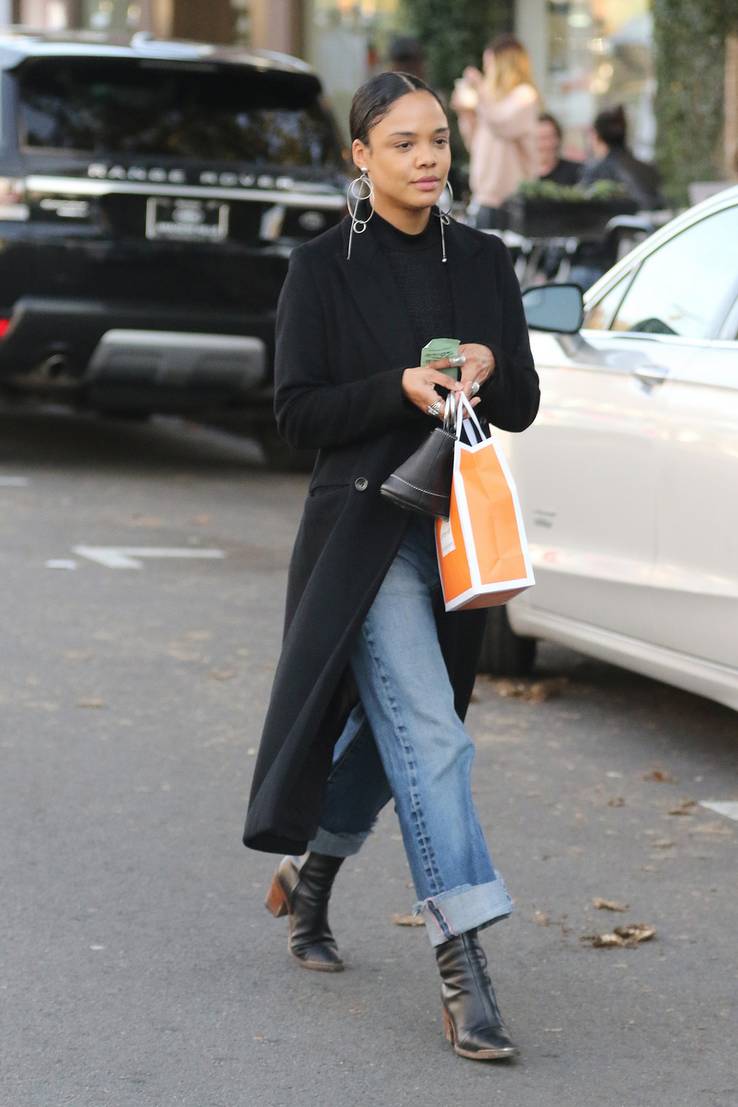 Thor has a lot of leading ladies and since Natalie Portman left they needed someone to fill the shoes which Tessa has done as Valkyrie. The costume is amazing because of the white costume which makes Tessa appear as a futuristic robot and Valkyrie even has a cape like Thor. Thompson was snapped here looking so stylish in the boot cut jeans and blazer like cotton coat. Instead of having knee length boots like Valkyrie Tessa opted for boots with a heel and point.
References: Daily Mail.co.uk, Business Insider.com and Just Jared.com.
Source: Read Full Article