25 Of The Most Surprising Duggar Family Social Media Posts Of All Time
The Duggar family – former stars of 19 Kids & Counting and current stars of the spinoff Counting On – can't do much on social media without a strong reaction from fans and critics. Whether it's an innocent pic of the family or a controversial political outburst, the chances are that if a Duggar posts it, there is going to be some backlash.
The rule in the Duggar house is that you can't have any social media accounts until you are engaged. So, this means that the social media activity in the family is currently limited to: parents, Jim Bob and Michelle Duggar, Josh and Anna Duggar, Joseph and Kendra Duggar, Josiah and his fiancée Lauren Swanson, Jill and Derick Dillard, Jessa and Ben Seewald, Joy-Anna and Austin Forsyth, and Jinger and Jeremy Vuolo.
Some members of the family cause more trouble online than others, but every one of them is responsible for irritating fans at least once. Sometimes the issues are a big deal, while other times they seem rather petty. But, one thing is for sure, this reality family knows how to surprise fans with their online activity. And, there isn't a week that goes by without a headline about fan outrage over something one of them posted.
Sometimes, they deserve it, but other times the heat from fans seems a bit nitpicky. They don't appear to ever catch a break, but they have riled people up on the internet so often, that at this point it seems there is a group standing by waiting with pitchforks looking to skewer a Duggar the moment they start typing.
25 Dillard V. Jennings
In one of the most controversial Duggar posts ever on Twitter, Jill's husband Derick Dillard started an online campaign against transgender teen and fellow TLC star Jazz Jennings when he called her show an "oxymoron" and claimed it was a reality show that followed non-reality.
In multiple transphobic posts against Jennings, Dillard consistently referred to the teenager as "he" or "him," and accused her parents of taking advantage of her. He wrote that he pitied Jennings and went after the media for using her to promote an agenda.
The tweets outraged fans, and they accused him of online bullying and being hateful. Dillard denied being a bully and claimed he simply disagreed with propaganda on television. He also stated that people should be skeptical of Jennings' decision to transition so young, because you can't even vote until your 18, and the brain doesn't stop developing until 25.
24 Derick Dillard Claims TLC Never Paid Him
Of all of the Duggar family members, Derick Dillard causes the most problems – by far. He loves to share his extremely conservative political views online with anyone who will listen, and it ended up costing him his job on Counting On.
TLC eventually fired him because of his transphobic Twitter rants against Jennings, but Dillard continued to outrage fans with messages of hate against other groups. He again criticized the media for allegedly using kids for their own agenda, but when a fan called him out for hypocrisy, Dillard's response shocked his followers.
A follower pointed out that Dillard used his own kids to make money on a reality show, and he replied that he never did that. He wrote that TLC never paid him for his time as a regular on Counting On, and he also requested money from the network for his son Samuel's hospital bills because they profited from his birth.
23 Duggar Diss
Jinger's husband, Jeremy Vuolo, is a pastor at Grace Community Church in Laredo, Texas. And, one Sunday he took to the pulpit and said some very interesting things that many believed was a diss against his in-laws.
In his sermon, he bashed people who have blind faith and profess Christianity, but "reject the engagement of the mind." He went on to say that "as a result, we have a whole generation conditioned to go on to believe what Mom and Dad believe. They're not challenged to discern the truth or question what they have been told."
One Redditor immediately asked, "Is that not what the Duggars do?" Another suggested that the family were hypocrites, but they just didn't realize it.
In the sermon, Vuolo made one thing clear – he has different beliefs from the Duggar family and isn't afraid to let the differences shine through.
22 Jinger's Sunday Pants
Jinger is known as the Rebel Duggar, and she was the first of the daughters to start wearing pants, something that was a clear violation of the family dress code. When she married Vuolo, her style quickly changed, and she wore jeans in multiple social media posts.
After she announced her pregnancy earlier this year, fans were eager to see what her maternity style would be, and she didn't disappoint. She has continued to rock pants and high heels, and she even did so on a Sunday trip to church.
Her fans absolutely loved it and told her she looked "stunning" and "amazing."
Jinger isn't just a rebel when it comes to her clothing, but also when it comes to her baby. All her sisters have had little boys so far, but the 24-year-old is having a little girl.
21 Photoshop Fail
When Jessa married Ben Seewald in November 2014, the couple had not had any physical contact or alone time – per Duggar rules. The newlyweds even chose not to kiss during the ceremony. Instead, they saved their first kiss for a private moment after they said: "I do."
But, when they posted a picture of the kiss, fans were quick to notice that something didn't look right. When they looked closely they could see that Jessa's nose is an oddly shaped triangle, and the couple's lips aren't even touching. Fans were quick to post comments and ask questions about what was really going on in the pic.
Apparently, without a little practice, Jessa and Ben didn't quite know what they were doing. Or, it was just an epic photoshop fail.
20 Jill's Piercing And Tattoo
Another Duggar rule covers the topic of body modification. Jim Bob and Michelle do not allow any body piercing or tattoos of any kind. But, after Jill got married, the former Counting On star decided she wanted to stand out from her siblings and opted to get a nose piercing and a henna tattoo on her hand.
Of course, the tattoo wasn't permanent, but the fact that she even dabbled with body art made it appear that she was attempting to distance herself a bit from her family.
She also started wearing pants like her sister Jinger, which was a real shocker, because she used to be so anti-pants that she went to great lengths to alter her volunteer firefighter uniform, so she could wear a skirt.
19 Jinger And The Family Instagram Account
When you scroll through the Duggar family Instagram account, there are always fun and adorable shots of the younger siblings. But, on many occasions, there are Jinger selfies. It seemed as though she was taking the pics and posting them herself, which led many to believe that she was in charge of the family social media feed.
All the evidence seems to point to the fact that Jinger Duggar had control – and not Michelle or Jim Bob – before she was engaged. This is a huge violation of Duggar family rules since the parents do not allow their kids to have any social media accounts until they are planning on walking down the aisle.
But, she obviously did get online, because who else would caption this pic "car auction with daddy."
Featured Today
20 Celebs We Want To Become Superheroes In The Next Phase Of The MCU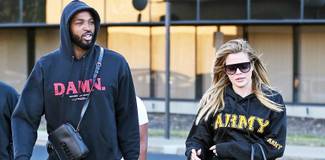 Khloé Kardashian Loses It On Tristan Thompson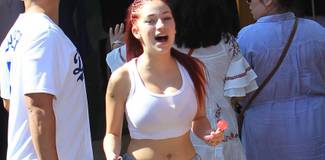 Cash Me Outside Girl Brawls With 9 Year Old

18 Single Josiah
Speaking of Duggar kids on social media who aren't engaged, Josiah Duggar has had an Instagram and Twitter account since 2015. However, he just got engaged last month. The 21-year-old did start courting Marjorie Jackson three years ago, but the relationship ended after just a few months.
However, Josiah didn't shut down his social media. Instead, he took a break. But, this past August, he started posting again, leading fans to believe that he was courting or engaged. But, it wasn't until January that he started courting Lauren Swanson. Then, just six weeks later, he asked his 18-year-old girlfriend to marry him, and his social media quickly became a love letter to her. According to the latest preview of Counting On, the show will feature their courtship and engagement in the upcoming season.
17 Still Very Pregnant
As soon as Joy-Anna married Austin Forsyth last year, rumors of a shotgun wedding started to swirl. As Romper reported, the couple had moved their wedding date from October to May, and less than three months later the couple announced a pregnancy.
In the announcement photo, her baby bump looked a lot bigger than many people expected, and even some doctors claimed she looked to be four to five months along. This added fuel to the fire and convinced many that Joy-Anna had relations before marriage and would give birth by the end of the year.
However, in January, the 20-year-old posted a picture of herself and showed off her big belly, letting fans know that she was still "very pregnant."
Eventually, Joy-Anna gave birth to her son Gideon on February 23rd – exactly 40 weeks after she tied the knot.
16 Anna's Back
In 2015, Josh Duggar, the oldest son in the family, found himself in the middle of a molestation and cheating scandal that resulted in TLC canceling 19 Kids & Counting. News broke that as a teenager, Josh had molested five young girls – including four of his sisters – and he had also cheated on his wife using the infidelity-promoting website Ashley Madison.
Josh ended up losing his lobbying job in Washington D.C. and entered a faith-based rehab program. And, according to In Touch Weekly, his wife, Anna, decided to stand by her husband, but both she and Josh disappeared from reality TV and social media.
Over two years later, Anna reappeared on Instagram and started posting pictures of her five kids. Her return prompted rumors that she would appear in the new season of Counting On, but she ended up just sticking with social media.
15 Cecil The Lion
2015 was a crazy year for the Duggars, and Jessa didn't help the situation when she used the Cecil the Lion controversy to push her own agenda. The Duggars are notorious for being so pro-life that they don't even use birth control. And, while they are entitled to their opinions, it is the way they try to get across their message that often leads to criticism.
Jessa attempted to provide commentary on world events as it related to ending pro-choice, but it didn't relate at all. From the cartoon that she posted, it appears she is saying that people care more about saving a lion than "saving" babies.
The post resulted in brutal comments because a trophy hunter killing a lion in its natural habitat and the pro-choice movement aren't even remotely connected.
14 For Straight Couples Only
Like the family's stance on pro-choice, the Duggars have also been extremely vocal about their opposition to same-gender marriage, and this post from Jim Bob and Michelle made that crystal clear. In the caption, the Duggar parents write that they believe marriage is between a "husband and wife," and they went as far as to delete all of the comments and photos that gay couples shared.
Jim Bob and Michelle also wrote that "marriage is where romance belongs," and they were grateful that their daughter and son-in-law waited until they said "I do" before sharing their first kiss.
They were attempting to stand up for their Jessa and Ben Seewald after they received abuse online for posting a kissing photo, but many fans didn't think this was the right way to go about it.
13 Babysitting
Derick Dillard is not known for choosing his words carefully when it comes to his social media posts, and this time he really stepped in it. Surprisingly, it didn't have anything to do with his politics, but how he referred to himself when it came to his son, Israel.
In a 2015 Instagram post, the 29-year-old captioned this pic by writing that he was "babysitting" his son and fans absolutely lost their minds because obviously, you can't babysit your own kid.
In the Duggar's culture, it is the expectation that the women take care of the children while the men are out making money, but fans were hoping that at the very least, he could accept the role of Israel's dad and not his babysitter.
12 Josh's Anniversary
Since Josh's molestation and cheating scandal, he has all but disappeared from TV and social media. The exception is the occasional post from his wife Anna and sometimes his parents. When Jim Bob and Michelle posted a pic of Josh and Anna's wedding to wish them a happy anniversary, people were not happy, and a bit peeved that they dared to bring him up after he molested four of their daughters and cheated on his wife.
However, they are proud parents, and there is no way in Duggar world that they would pretend he doesn't exist. But, the fact that Jim Bob and Michelle choose to put the spotlight on their son for any reason at this point simply baffles many fans.
11 Passing Of Jubilee Shalom Duggar
In another post, Jill Duggar went to the extremes when she shared pictures of her sister Jubilee Shalom, who soon passed away after she was born. To mark the five-year anniversary, Jill commemorated the day by captioning photos with the message that on the same day her mom gave birth to Jubilee, Jesus welcomed her home to Heaven.
"She is a testimony to every life being beautiful; at 18 weeks gestation, she was a beautiful baby with little blue eyes, 10 fingers & 10 toes! She weighed 4 oz. and was 6 inches long," wrote Jill.
She finished up the post by writing that she missed her little sister and looked forward to meeting her in Heaven. However, if you look at the comments, not everyone wanted to see the pics.
10 Post-Marriage PDA
Fans know that the Duggar children can't have any physical contact with the people they are courting. However, once they tie the knot, it's more than OK to pack on the PDA. Once Jill married Derick and Jessa married Ben, the two started sharing a ton of PDA-filled pictures, and it grossed out a lot of fans.
It's amazing to many how quickly the couples turned from side hugs to fornicating like jackrabbits, and it often appears that the men take things too far. And, since the women in the family are supposed to submit to their husbands, the PDA often comes across as awkward and creepy.
But, there are many fans who think it's "cute," and a reflection of Duggar kids finally being able to do something that average people get to do.
9 Blanket Training
One of the biggest controversies to ever surround the Duggars has to do with their parenting techniques – specifically the alleged use of blanket training.
The method comes from the book To Train Up A Child – Child Training for the 21st Century written by Michael and Debi Pearl, and it is a parenting guide used by evangelical Christians to teach obedience. The book suggests using corporal punishment to train children to obey.
The authors offer blanket training to parents as a way to start the training process. The method consists of parents placing their baby on a blanket, and if they attempt to roll over or crawl off the edge, the parent is to hit their child with a flexible ruler or another instrument.
8 No Paying It Forward
A few years back, Jessa took to Instagram to share the story about how she and her husband Ben were the recipients of a random act of kindness after purchasing coffee in a drive-thru. The 25-year-old shared a photo of Ben with his coffee and then included a long post about salvation.
"Sorta made me think of Salvation! It's offered freely to all those who by faith believe, but only because it was paid for by someone else!" she wrote, and then shared an excerpt from Romans 5:6-11.
But, the post started a debate among fans and critics as they questioned if Jessa and Ben paid it forward. She originally wrote in the post that the couple "didn't pay a dime," but later deleted it, making people believe that they didn't keep the chain going.
7 The Carseat Incident
Jessa may have a popular Instagram account, but she can't even post a cute picture of her baby without causing outrage. In this pic, her husband Ben sits and reads a book in a coffee shop while their son Spurgeon sits in his car seat and plays with a stuffed giraffe.
Apparently, the fact that Jessa's son was sitting in a car seat really ticked off some fans, and a few of them started commenting about the problem of letting a baby nap in a car seat because it runs the risk of restricting their airway or the baby becoming tangled in the straps.
Even though that is a legitimate concern, some critics took this a little too far, since Spurgeon is awake, and his parents are right there next to him.
6 Orlando Prayers
After the 2016 shooting at the Orlando Pulse nightclub – a prominent LGBT hotspot –, Jessa and Ben chose to speak out against it, but their response to the tragedy faced immediate scrutiny. Since the family is known for their stance against same-gender marriage, the fact that the couple posted multiple quotes to mourn the victims didn't sit well with critics. However, even though the Duggars are against same-gender marriage, it doesn't mean they condone violence against members of the community.
In some of their posts, they did choose to use quotes from religious leaders who are known to call for boycotts of gay weddings, so it would have helped if the couple would have been more sensitive when choosing their quotes. Or, instead, just issued their own statement.
5 Paying For Mission Trips
Jill and Derick are known for their various mission trips, but the question on many fans' minds is: how do they pay for their frequent travel? The couple no longer receives money from Counting On since TLC fired Dillard, and they have often attempted to solicit money from fans on GoFundMe, so there are a lot of questions about how these two make ends meet.
When they were living in El Salvador as missionaries, Derick posted a pic on Instagram of local women selling jewelry, and the wording he used to caption the photo led many to believe that it was a money-making scheme.
"Jewelry on the display table this weekend made by local women to sell as part of our ministry. #economicempowerment #praiseJesus," Derick wrote.
The caption implied that the couple was pocketing a portion of the profits and followers started asking for clarification.
4 Separation Of Church And State
During the 2016 presidential election, Derick wasn't shy in sharing his views on who should be the next Commander in Chief. But, it was when he posted this Bible verse that got people riled up – especially those who believe in the separation of Church and State.
In the caption, he wrote that he didn't find hope for America in the next President or a political party. Instead, his post implied that our next leader should have a strong faith in God.
Derick eventually revealed that he was voting for the current POTUS but clarified that his vote didn't mean he was condoning his lifestyle. Instead, it just meant that he agreed more with his policies than he did with Hillary Clinton's.
3 Shaming Those Who Enjoy To Drink
When Jill was pregnant with her first son, she and Derick attempted to spend a romantic Valentine's Day together. The young couple posted an innocent picture on Instagram that featured a candle, some sweets, an open Bible, a picture of the couple, two champagne glasses, and what many fans thought was a bottle of wine.
The contents of the bottle sparked an intense debate, with some claiming it was wine, while others said it was sparkling cider.
In the pic, it is clear that it is cider, but that didn't stop fans from arguing, and some were clearly confused about women drinking alcohol while pregnant and the Duggar family's views on adult beverages.
For the record, the Duggars are against drinking alcohol because they believe it is a forbidden indulgence.
2 Jessa Is Confused About History
In one of Jessa's most controversial anti pro-choice posts, this is even worse than Cecil the lion. After she visited a holocaust museum, the mom-of-two immediately made the comparison of the persecution to planned parenthood.
For the 25-year-old, they were similar things, even though they are not in the same category. In the caption, she wrote, "Millions of innocents denied the most basic and fundamental of all rights – their right to life." Jessa then said that we must be a voice for those who can't speak for themselves because every life is precious.
This post enraged a lot of fans. It was shocking to many that anyone would equate anything to the holocaust because nothing compares to it.
1 Baby's First Christmas
When Jill and Derick Dillard's oldest son Israel celebrated his first Christmas, his parents took a lot of pictures and posted them on their social media account. But, their followers freaked out because they didn't baby-proof the electrical sockets, and Israel had a bruise on his eye.
"Look out for that electrical outlet, neglectful parents," wrote one follower. But, another defended the couple by writing that it is pathetic that people today want children wrapped in bubble wrap.
The comments section on this pic make one thing clear: either you think Derick and Jill should have a meeting with child protective services, or you believe the couple can do no wrong. There really is no in-between.
Could there be some middle ground? Of course. But, fans and critics always seem to opt for the extreme when it comes to anything the Duggars do.
References: sheknows.com, thethings.com, intouchweekly.com, romper.com, okmagazine.com, etonline.com, thestir.cafemom.com
Source: Read Full Article