26 Paparazzi Pics That These Celebs Will Never Live Down
Celebrities, they eat like us, breathe like us, bleed like us, but unlike us, they have a swarm of flashing cameras capturing their every move.
From leaving the club at 6 AM to pumping gas and picking up groceries, the paps give us "normal" or "less glamorous" people inside access to every moment of our favorite stars. The paparazzi typically hide and hunt lurking for scandals, inappropriate behavior, ridiculous ensembles or a snap of what may appear to be a hidden baby bump. In the mix of their investigative journalism, are some pretty crazy moments that happen to make history.We've scrapped through some paparazzi portfolios, the good, the bad, and most importantly, the ugly.
Despite glow-ups and career transformations, public apologies, almost every celeb has had some highs and lows with the paparazzi. It's moments like these that remind the public these talented superstars are still human. We've selected the 25 most epic paparazzi pics that these celebs won't ever be able to live down.
Some you may recall, others we've dug up to resurface. Take a look at the images on our list below and the wacky stories behind these ridiculous celebrity moments captured on camera.
26 Kim Gets Flour'd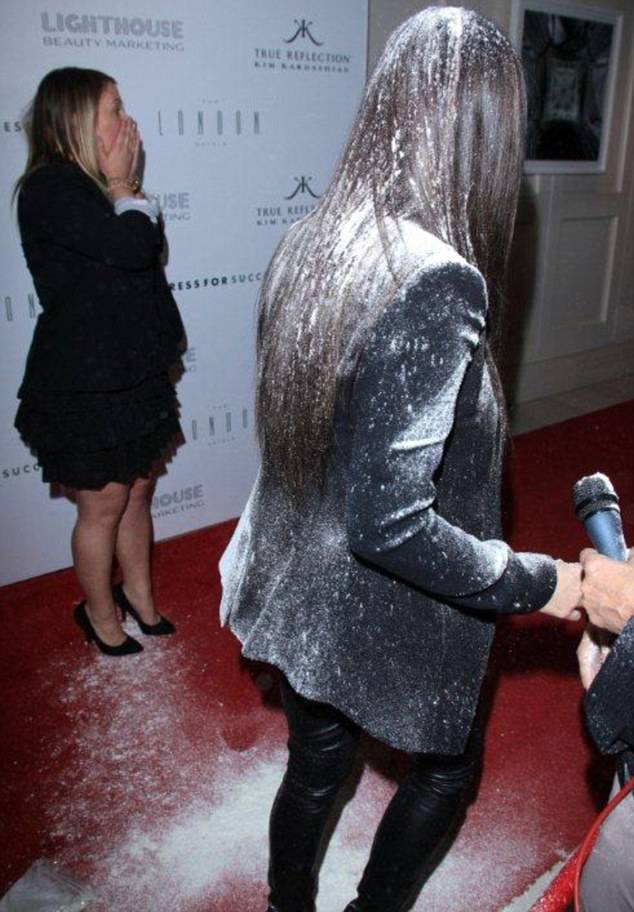 An animal rights activist wreaked havoc at the launch of Kim Kardashian's "True Reflection" fragrance in London, under her eponymous perfume line, back in 2012. While walking the red carpet with her momager Kris Jenner, Kim stopped on the press line for a quick on-camera interview. Little did she know, an assailant was hiding among the press and paparazzi with a sack of flour, ready to douse Kardashian and the red carpet in flour. Witnesses from the event claim the culprit who attacked Kim screamed out "fur hag" while she threw the sack of flour, covering Kim's long black hair, blazer and leather pants. This was one of several incidents where Kim was under criticism for wearing fur and animal-made fashion at her public appearances. There had been an X on her head from PETA for months.
Moments after Kim was escorted out by security, police and fire departments were called to the scene to investigate the incident. After the coast was clear, Kim returned to her event and even laughed about it in follow-up interviews. Today, Kim continues to wear fur and is still an enemy of the PETA state and animal rights activists.
25 Ariana Grande Glazed Donuts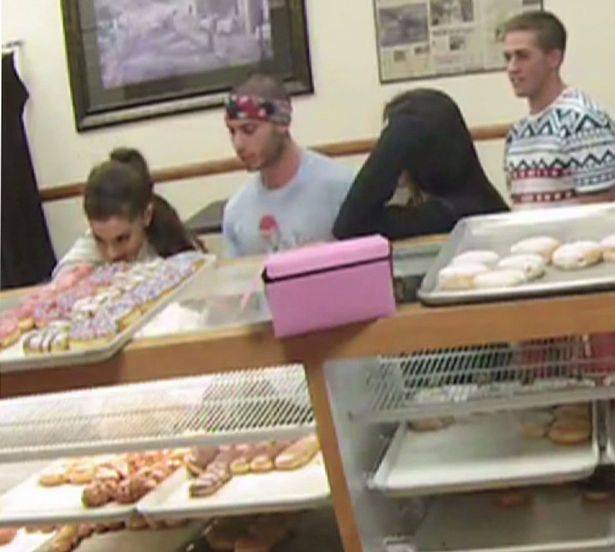 We know every good girl has a wild side, and sometimes, when nobody's watching, they need to let that wild side loose. 
In 2015, Ariana Grande proved she wanted a taste, quite literally, of what it's like to be bad. That summer, a security camera video caught 22-year old Ariana at a donut shop in Los Angeles with one of her back-up dancers.
Presumably, Ariana didn't think anyone was watching when the vocalist snuck her tongue across a fresh tray of donuts (that she did not later purchase). Awaiting her donut order, Ariana went on a rant about "hating America." She later apologized and said she was referring to the nation's issues of childhood obesity.
She assumed the shop's employees did not see her sneak a lick, but the security cameras did, and then the paparazzi got a hold of it and the media went wild. The whole endeavor struck fans by surprise, as her innocent pop star image was now tarnished. Many celebrities chimed in to comment on Ariana's behavior, calling her rude and disrespectful, with clearly no regard for bakery health code violations!
After the video and pictures leaked, Ariana publicly apologized, twice! She claimed her comments were taken out of context, affirming she loves being an American. She made another video apologizing again for the licking incident. She revealed how embarrassed she was of her behavior and vowed to be positive influence moving forward.
24 Ben's Back Tat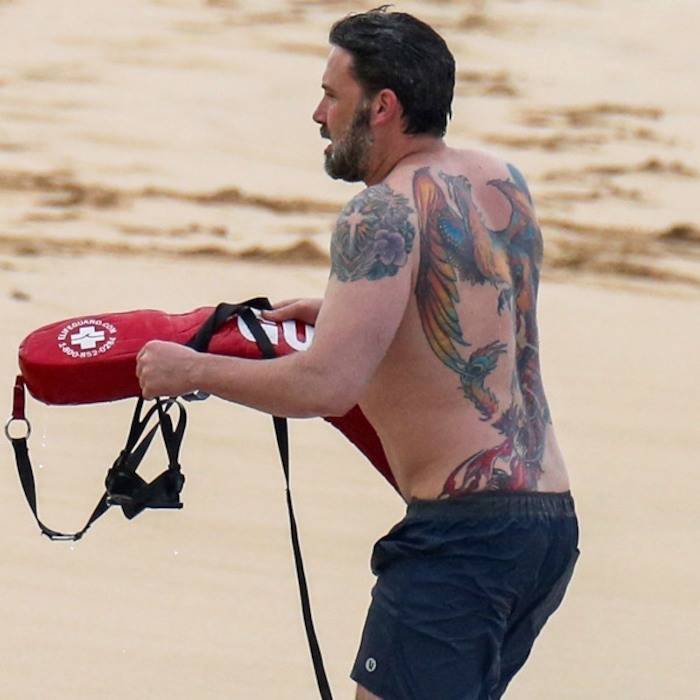 Like a Phoenix from the ashes, Ben Affleck has risen from this back tattoo saga that has lasted over 3 years! 
The paps first spotted Affleck's ginormous back tat back in 2015. Months later, Mario Lopez asked the star in an interview if the large body artwork was real. Affleck responded "no" claiming it was a fake tattoo for a movie he was filming.
When that back-tat movie never rolled around, the paps caught sight of the tattoo still on Affleck when he was surfing in 2018. The image validates that the tattoo was, in fact, real and permanent. The media went wild, and in true 2018 fashion, the image of Affleck's tat became a viral internet meme. However, fans were pretty bummed that Affleck needed to lie to Mario Lopez about something so trivial.
Was he embarrassed? Ashamed? Many publications began to worry about Affleck, assuming his downward spiral and egregious back tat were cries for help, possibly the reason for his divorce from actress wife Jennifer Garner.
Affleck took to Twitter to defend his emotional and mental health state. Admitting to having "thick skin from such garish tattoos," poking fun at his own body art.
23 JLaw's Oscars Stair Slip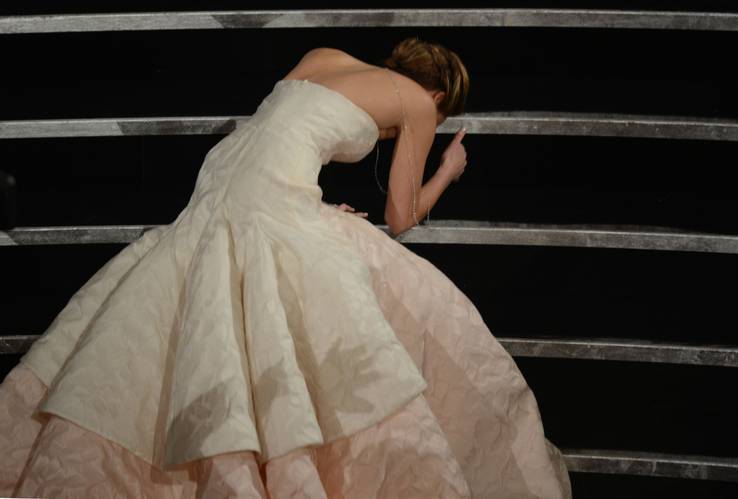 For some reason, someone tripping and falling on a staircase is always either hilarious or frightening. But, when a celebrity does it, at the Academy Awards, it's both, and that's exactly what happened to Jennifer Lawrence in 2013, when she won her first Oscar at age 22.
On her way up to accept the award for Best Actress for her role in Silver Linings Playbook, the stunned starlet made her way to the stage in complete shock.
Still startled by the win, the movie star briefly tripped and toppled down over her light pink voluptuous Dior couture dress when walking up the stage stairs to accept her award.
Mortified at the moment, Lawerence froze for a second to hide her face, while celebrities across the room gasped. An audience usher lunged to help her, but she sprang up quickly enough and made it to the microphone. She was okay. The incident could've gone much worse, imagine if she fell on her face on the stair and chipped a tooth? THAT would've been a performance.
Pushing aside her embarrassment, her blushed face laughed off her acceptance speech. This humble moment made Jennifer Lawrence Hollywood's favorite girl-next-door.
22 the not so fresh prince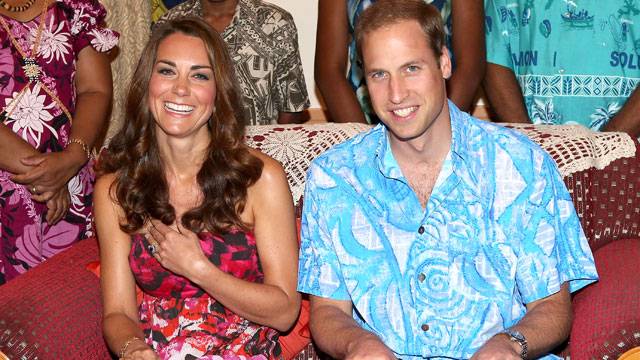 Since most of us will never be a royal, we just like to watch from afar, and when they mess up we'll laugh and thank our lucky stars we weren't born into a monarchy.
This throwback from 2012, captures the Duke and Duchess of Cambridge, on their Diamond Jubilee tour of the South Pacific. Despite the happy smiles on their faces, this was a massive fashion faux pas for their visit to Honiara, Guadalcanal Island, of the Solomon islands.
The two were gifted traditional clothing to wear to attend the island's cultural celebration. Except, one thing happened, the traditional attire they were intended to wear was somehow swapped or mistaken for what you see them wearing in the photo, Kate's pink strapless dress and Will's blue button up. The worst part of it all is that Will and Kate believed they were wearing traditional clothing to relate to the people of the Solomon Islands. While the difference between outfits might be visually indiscernible to a Western eye, the Solomon government was outraged with the British Royals who seemed to be mistaking the two separate islands, which seemed highly insulting.
Eventually, someone got to the bottom of it and a member of the Solomon Island welcome staff admitted she had placed the outfits they wore on their beds, as gifts from a Cook Island designer. The traditional Solomon Island outfits they were supposed to wear, were folded next to their beds. Once they uncovered the silly mistake Will and Kate were off the hook.
21 Drew Got 'Made Up' In The Dark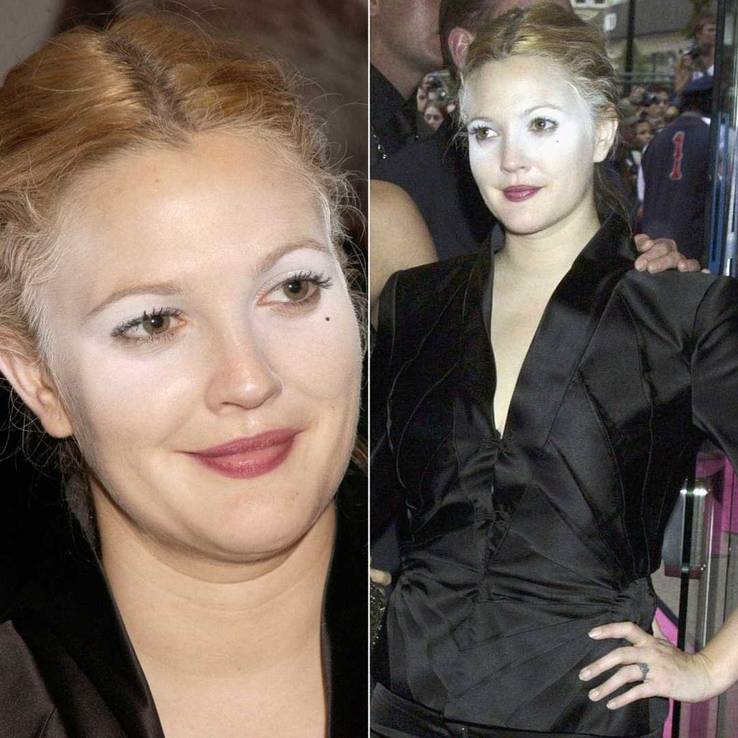 At the London premier of Charlie's Angels: Full Throttle, Drew Barrymore showed up looking a little, washed out? Her appearance seemed rather ghostly. It is still unclear what the exact look the actress was going for. Considering the Hollywood star has been in the limelight since she was just a small child, starring in Spielberg's 1982 classic E.T. Extra Terrestrial.
Barrymore had captivated audiences as Dylan Sanders, the reckless street savvy angel of the trio. When Barrymore showed up with this face of makeup to the film's premier, cameras began rapidly clicking.
Drew's look is almost like Geisha meets phantom of the opera? Her powdery eyes were paired with a hot red pout. The then 28 year old was possibly trying to make a statement? Looking at it again today, this look echoes Helena Bonham Carter's computer generated face as the Queen of Hearts in Tim Burton's Alice in Wonderland. Maybe Drew was paying homage to powerful female film characters?
While we've seen worse, the veteran movie star has definitely seen better red carpet looks. Since it was the early 00's, I suppose we can let this slide. However, I don't think this powdered face trend will make a revival like the Matrix sunglasses have. Although, Ariana Grande might be interested in sporting the powered look next time she walks out of a donut shop.
20 Poot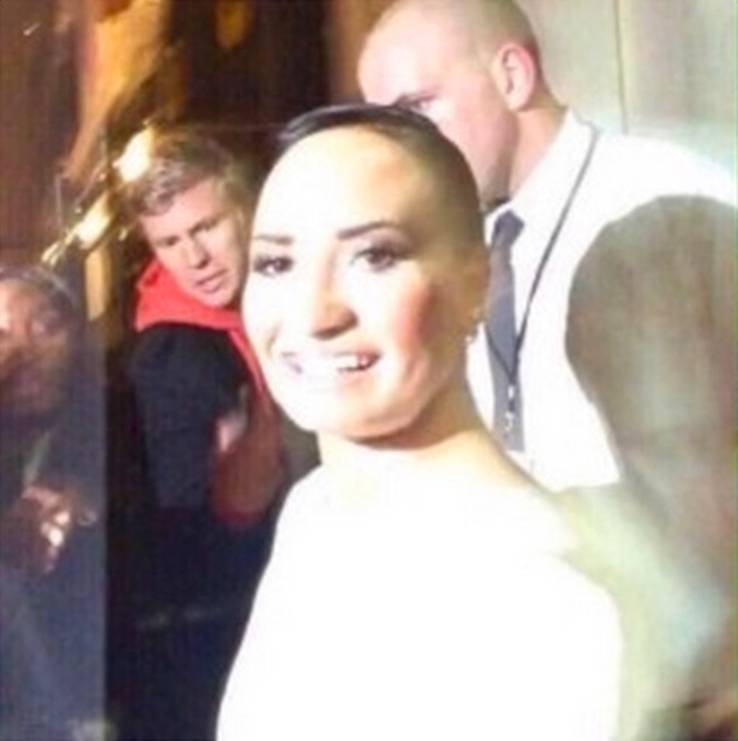 This is what happens when hilarious fans get ahold of photographic magic, the by-product? Poot, a fictional character created by the internet.
Poot, refers to this image of Demi Levato, taken back in 2015. The camera caught Levato smiling, however, she is almost unrecognizable from the glare of multiple camera flashes reflecting her face. A creative Levato mega fan took this image as an opportunity to create "Poot" Demi's secret twin sister.
The user originally posted this picture on Tumblr with the caption "Demi's twin sister. She was locked in a basement her whole life. This picture was taken the first time she went outside. Her name is Poot."
From there, social media went crazy, users were creating hundreds of memes starring Poot on instagram, someone launched @OfficialPoot Twitter account.
A Wikipedia page about Poot's fictional life as Demi's twin sister went into ridiculous details about Poot's childhood. This sparked viral hashtags across twitter and instagram where fans around the world united, seeking #justiceforPoot. Like most social media trends, Poot eventually died down, but just last week a fan tweeted at Demi asking if she remembered Poot and Demi actually responded! Playing into the joke Levato tweeted: "Poot is locked up. She's allergic to sunlight."
Featured Today
25 Reasons Why Marvel Characters Outshine DC Characters

8 A-List Celebs Who Are Actual Sweethearts And 7 Who Are Total Divas IRL

BFFs No More: 15 Surprising Celebs Who Openly Dated Their Friend's Exes

19 Lenny's Lengthy Scarf
The Talented Mr. Lenny Kravitz has maintained his signature bohemian style for over the last two decades. The musician's daughter with actress Lisa Bonet, Zoe, 29, has also seemed to inherit Kravitz' fabulously laid back looks.
Lenny Kravitz is almost always spotted in sunglasses, light wash distressed jeans, a knitted beanie and just the right amount of male jewelry accessories to make his look appear effortless. Yet, every year since this look particular accessory made headlines the image of Lenny's iconic scarf has resurfaced. The photo of Lenny causally grocery shopping in New York, was snapped by the paps back in 2012. Every fall, someone seems to bring it back, the most ridiculous Autumn accessory known to man.
Editorials could not get enough of this hilarious scarf. Questions like where did it come from? Why is it so big? Is it actually a blanket? Are all still awaiting answers!
Hilarious renditions of this image have been reproduced by meme accounts across instagram, expanding the scarf to somehow look even larger than it already does!
This scarf will never die. We haven't spotted Lenny sporting it recently, but we know it must be out there, and if it's still out there, there maybe more of them. Will be see the mega scarf trend take off next fall? Stay tuned.
18 Ariel's Assets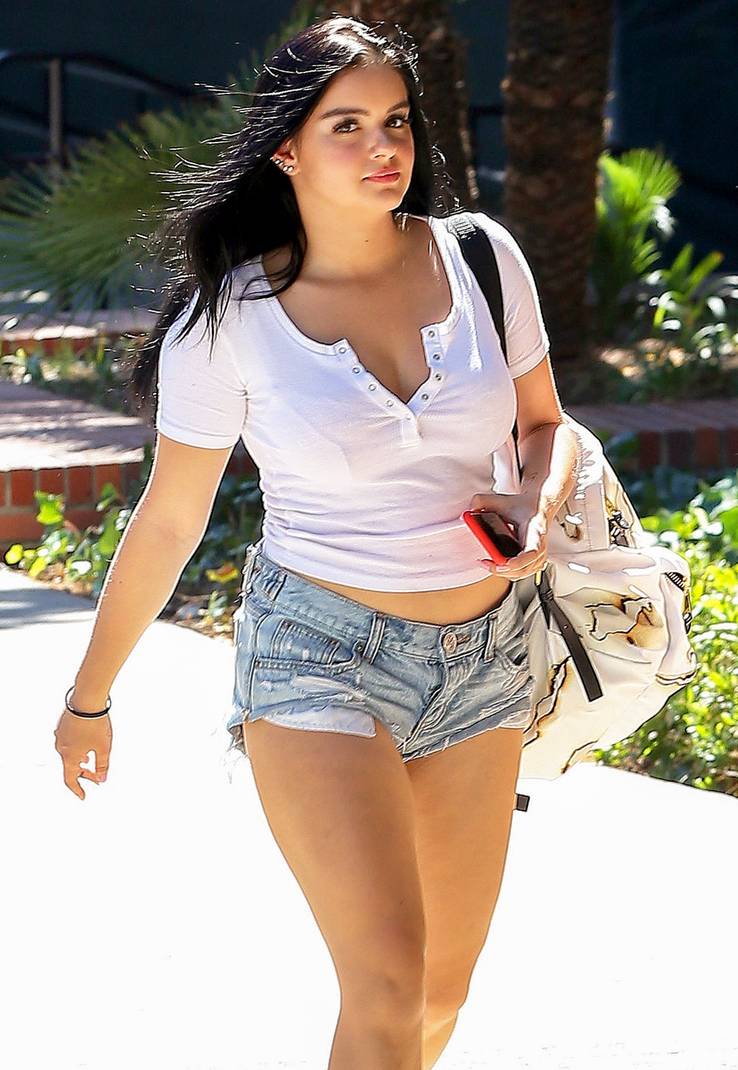 Modern Family star, Ariel Winter, has been getting slammed by paparazzi photos for the last two years. Her scantily clad looks have been making her the focus of tabloids around the country. Whether she's stepping out to the gym or out with friends, the paps seem to find her no matter where she goes. In late 2017, this picture was the straw that broke the camel's back-side, when the 19 year old stepped out with on a trip to the grocery store with her boyfriend, in a pair of denim daisy dukes, cowboy boots and cropped turtleneck tank top.
After this mishap hit headlines, Ariel took to social media to voice her frustration with being shamed for her "in-appropriate" attire, Winter tweeted, "I literally do not try and show my ass when I wear shorts. My a** just eats them up and then I don't notice…awkward af."
Following the mishap, the booty-short pictures of Winter continued to spread. Almost everyday she was getting shamed by some news outlet for her salacious outfit choices.
She turned to instagram two weeks after her tweet to showcase a longer rant, saying, "I'm not trying to show you my ass in shorts when I go the grocery store," she said. "I'm trying to live my life. People wear shorts. People have wardrobe malfunction. No one is perfect."
17 North's No Photos!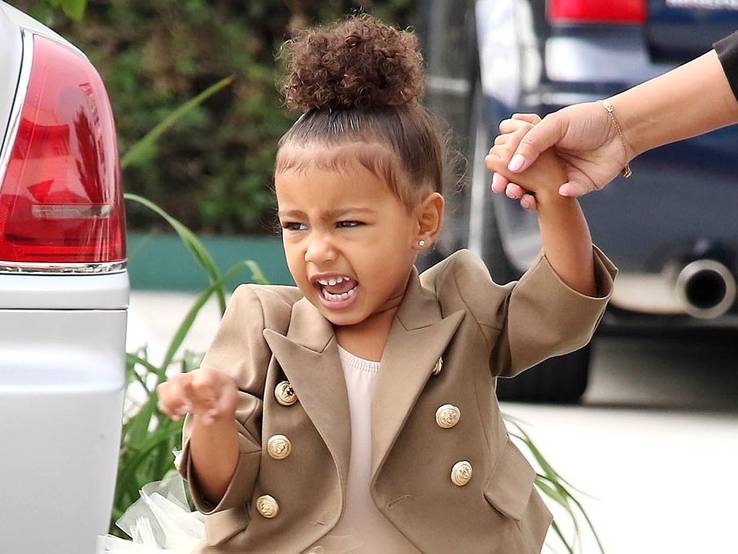 The world knew the first born child to Kim Kardashian and Kanye West would be a superstar. Fans have had the pleasure of watching little North West grow up before their eyes. Growing up famous comes with a lot of perks, you're decked in designer clothes, get to have the sickest birthday parties and most likely, all of your friends are also the kids of other famous people. While Kim and Kanye have been very vocal about shielding their children from the public eye and trying to provide them with a normal upbringing, when it comes to being a member of the Kardashian-West family, there's really no avoiding the paparazzi no matter how hard you try.
From a young age, little North has learned to naturally hate the paparazzi. Taking after her father, she is often seen angrily screaming at the swarming cameras, yelling as loud as she can "no pictures!"
Although she is visibly angry here, her demands are so adorable it only makes photographers want to record her more. While the cameras will likely continue to follow her as she grows older, North has set a precedent for her siblings and new baby cousins. She's got a voice of her own and when she tells you to respect her privacy, much like when her father does it, you better listen.
16 Emma Stone and Andrew Garfield Caring Cardboard Signs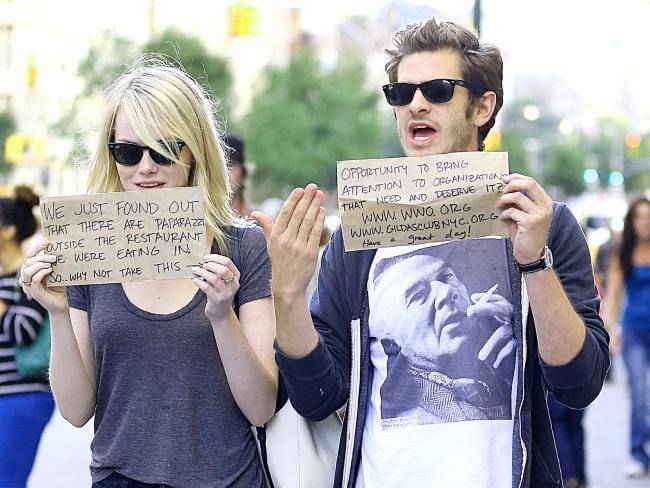 When two celebrities of a similar caliber begin dating, the magnitude of their star power increases. If those two celebrities happen to have played a couple on camera, that star power drastically multiples. Case in point, Emma Stone and Andrew Garfield. The two had an on-screen romance in The Amazing Spider Man, which quickly turned into an off-screen romance.
Every time the paps spotted these two together, they'd be casually enjoying each others company, dining out in New York or exploring the city streets in casual jeans and tee-shirts, much like their Marvel comic characters would.
Fed up with having their dates sabotaged by a sea of cameras, Stone and Garfield decided to take a stance against the paparazzi, for the good of humanity, how admirable?
For over two years, the couple would hold signs up in front of the cameras attempting to snap a shot of their faces, with the hopes of redirecting the attention to important causes. Their first sign reads:
"We just found out that there are paparazzi outside the restaurant we were eating in. Why not take this opportunity to bring attention to organizations that need and deserve it? www.wwo.org, www.gildasclubnyc.org. Have a good day!"
After the two split last year, but continued to stay friends, rumors have spread that these two are in fact back in full action. We're ready for more paparazzi signs!
15 Mckayla Maroney Was Not Impressed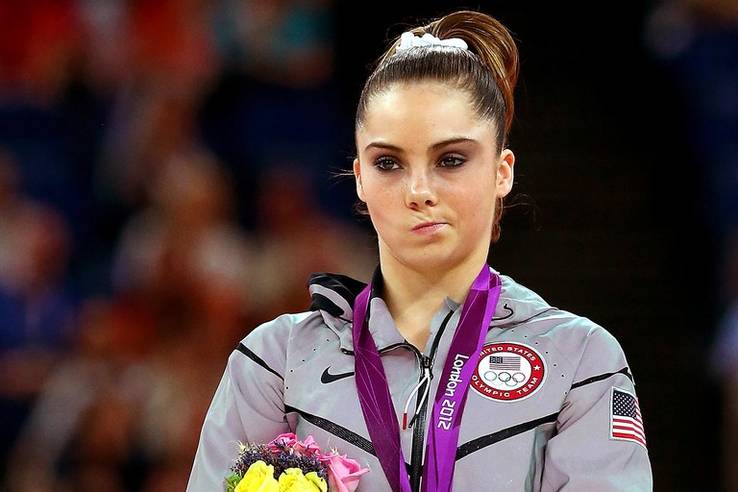 During the 2012 Summer Olympics in London, the world watched as the American gymnastics team known as the "Fierce Five" made up of Gabrielle Douglas Jordyn Wieber Alexandra Raisman Kyla Ross and McKayla Maroney approached every event with fierce confidence, impeccable style, and astounding grace. These young women made it clear, they came for the gold, and nothing was going to stand in their way of winning. Securing the gold for the U.S. in the "Team All Around, Gabby Douglas for the Individual All Around and Aly Raisman for the "Floor Exercise" all eyes were on the last event, the Vault. Slated to win was the defender, Mckayla Maroney from the 2013 World Championships. After the Fierce Five took home the team all around, all eyes were on Maroney to secure one more gold for the nation.
The world watched 17-year-old Maroney get silver, losing the gold to the Romanian gymnast Sandra Izbașa. When posing for the cameras with their Gold, Silver and Bronze medals on the platform, Mckayla unknowingly made this famous face of disappointment. Instantly, Maroney would be on the cover of magazines, the topic of every news outlet and across the internet for what onlookers deemed "Mckayla Maroney Is Not Impressed."
Her scrunched pout was everywhere, making her more famous for her visual cue than her performance as an Olympian. I guess winning isn't everything, it's the only thing.
14 Is It Cold In Here Or Is It Just Anne?
Back again, at the 2013 Oscars, hours before Jennifer Lawrence took a tumble, the stars began strutting the famous red carpet. Actress Anne Hathaway was nominated for 'Best Supporting Actress' for her role in the film rendition of the Broadway classic, Les Misérables, where she played Fantine.
Her performance in the film was truly magnificent, belting song notes while hysterically crying as she sells her body to support her baby, Cosette. Anne's scenes in the film were truly heart-wrenching.
Almost as heart-wrenching as when Anne showed up to the red carpet.
I personally think she looked stunning, with a short fringe pixie cut and a stunning silk powder pink Prada gown. The simple, yet elegant dress was designed with chest darts, a sewing technique that provides an angular and fitted shape to the dress. The paps started snapping and once the flashes hit the sheer sheen of the light silk dress, the internet, as per usual, reacted. 
While this was one of Anne's more risky looks, most stylists assumed she had it in the bag. But, no one can predict what will happen when the cameras are rolling the paparazzi starts flashing.
To date, it's hard to forget the buzz around Anne's bosoms. While a fashion malfunction could have definitely been worse (do you remember Tara Reid's tragic dress slip that same year!?) Hathaway's gorgeous look sadly became a running joke.
13 Prince Charles Needs Some Spice in His Life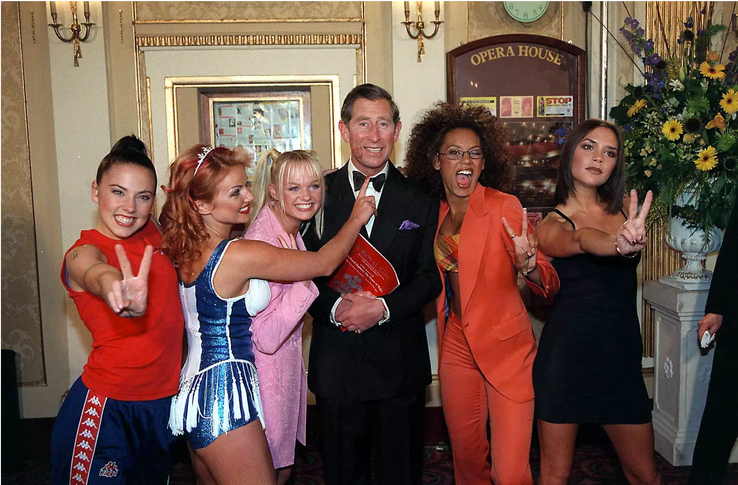 It was 1997 and the world had Spice Girl fever. "Girl Power" was the mantra and eargasmic songs about love, friendships and just having a good time were consistent number 1's across the globe. The group made up of Posh, Baby, Sporty, Crazy and Ginger Spices were ubiquitous from Tulsa to Timbuktu. That May, the British girl group was given the opportunity to perform for Prince Charles, at a Royal Gala event, celebrating the 21st Anniversary Of The Prince's Trust Charity.
The aftermath was just like a scene out of Spice World. The flirty fivesome was allowed a photo op with His Royal Highness, Prince Charles. The women gathered closely around Charles, centering him in the middle. They held each other closely posing for this iconic photo. As you can see, Prince Charles is visibly moved by the Girl Power. He dawns a bright red face of embarrassment, with a few lipstick kiss stains on his right cheek. Apparently, Mel B and Halliwell breached royal protocol when they laid a big smooch on Prince Charles' cheeks, but hey they saw an opportunity and they took it.
Tabloids reported the girl group called Prince Charles "Very S*xy" and one publication even claimed resident bad gal, Ginger, allegedly pinched his royal bum. It's hard to confirm the events that went down at the Royal Gala, but we do have this amazing moment in pop culture saved for the books.
12 Christina Gets Dirty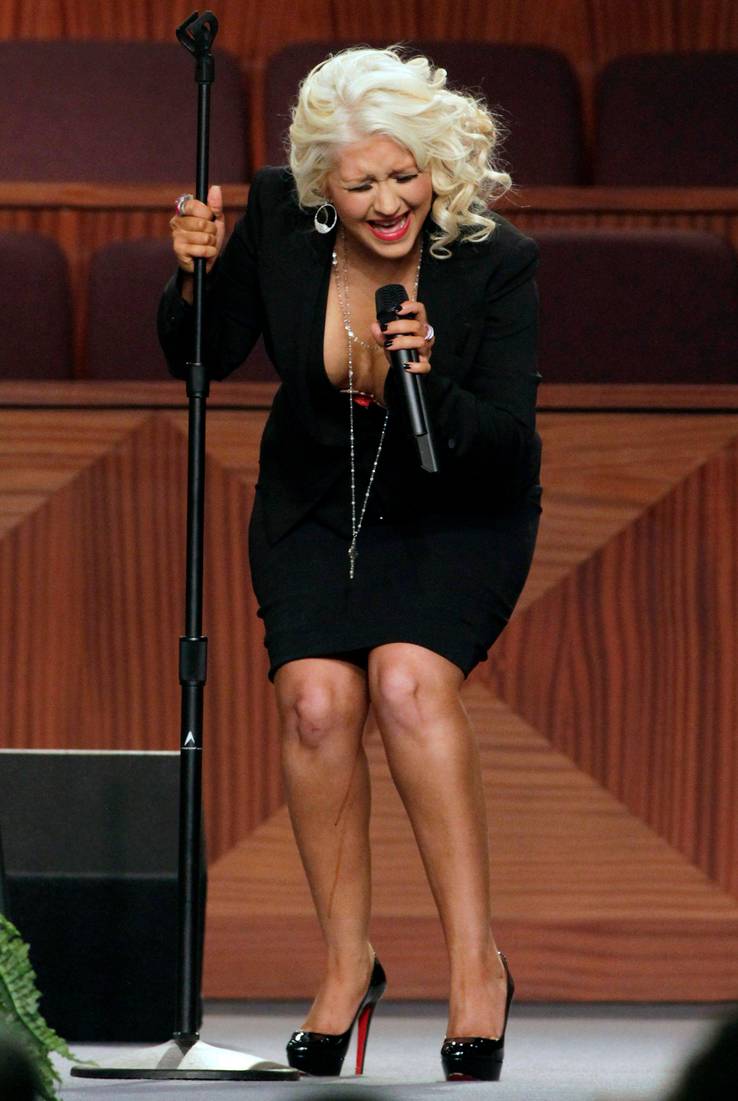 In 2012, the world lost music icon Etta James at the age of 73. Stars from all walks of life gathered in Southern California to honor the lost music artist. The televised event featured a sermon by Reverend Al Sharpton, and tasteful James' covers by Stevie Wonder and Christina Aguilera.
The songstress approached in a fitted black suit dress and black Louboutins heels, singing James' most famous single "At Last." In typical X-Tina fashion, she belted her sultry voice, echoing the breathtaking rendition throughout the church.
Little did Aguilera know, her note-hitting effort caused her freshly coated spray tan to drip. The media got tons of zoomed in close-ups of the singer's legs with a trail of liquid running down. Watchers questioned, did she relieve herself?
Thankfully not. The Diva made the mistake of getting sprayed down too close to the event. By not allowing the tanning formula to properly dry and set, any sweat or water that comes in contact with the tan will cause it to drip, much like a coat of wet paint.
While it will be hard for the country to forget the legacy of Etta James, it will be equally as difficult to forget this embarrassing spray tan incident.
11 "Oh Kate Moss, Kate Moss, Let Down Your Long Hair"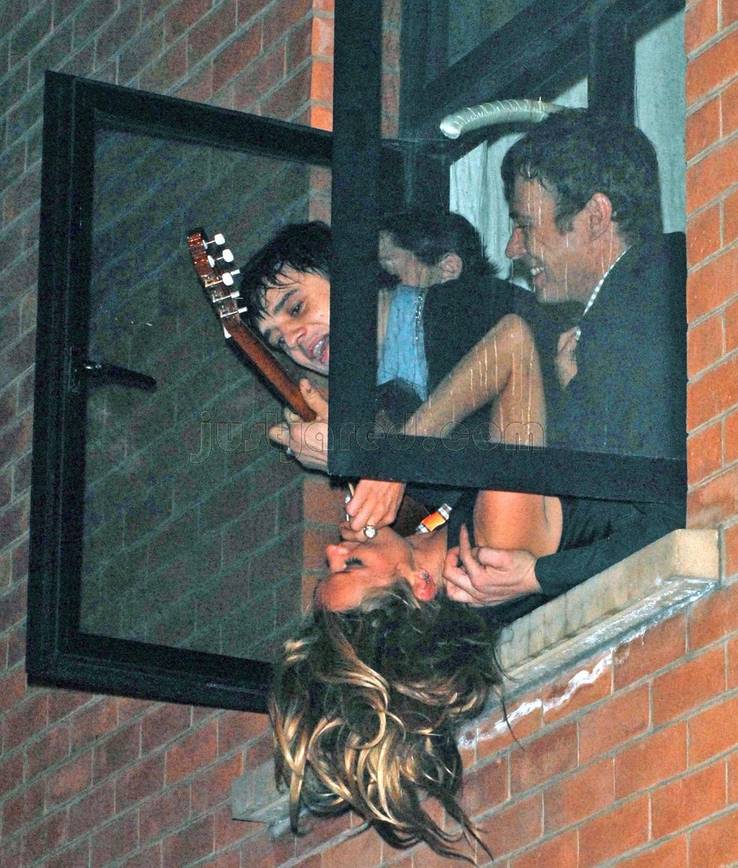 Known as the supermodel of our century, Moss has enough paparazzi pics to never live down we could make a list of 25 with only her.
Back in 2007, Kate Moss and her then-fiance, rock star Pete Doherty, frontman of the British band The Libertines, partied the night away at the Hackney Empire Theater. Partying? That's what models and rock stars do, right? Well, the night got a little crazier than expected, when the paparazzi lurking outside captured this famous photograph.
For some reason, Moss is seen hanging upside down from the hotel window, being supported by another unidentified gentleman. Doherty is then seen leaning above her, serenading her with a guitar? Another cohort tries to see from behind Doherty's right shoulder. Kate of course, is seen nonchalantly hanging her blonde tresses from the window, looking casual.
It's pretty unclear what the gang was attempting here, maybe they were just looking to stir up some commotion with the paps? Regardless. The image circulated its way around the globe, adding to the model's portfolio of paparazzi snaps of being caught in the act of partying. Thankfully, no models were harmed in the making of this image.
10 Carrey's Role Reversal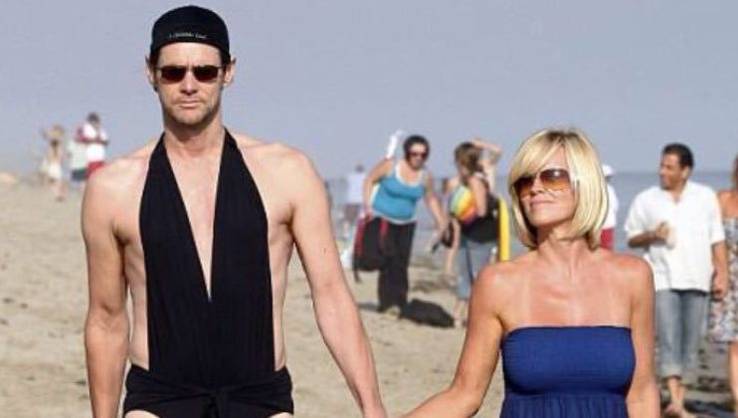 The world was filled with joy when we discovered our favorite funny and attractive actors, Jim Carrey and Jenny McCarthy started dating in 2008.
This comedy couple pranked the paps extra hard over the 4th of July weekend in Malibu that summer. A day on the beach turned into a day for the books, when the hollywood stars stepped out sporting these reversed bathing suit ensembles. Fans and spectators had to do several double takes for this look.
First, Jenny is seen in a black plunge one-piece bathing suit, hugging her fit curves as she holds hands with Carrey. The two walk down to the shore and venture off for a romantic stroll down the beach.
After a quick switcharoo, back at their private lounge chair cabanas, Carrey appears later on with McCarthy headed for another stroll, sporting the same black one piece, previously seen on McCarthy. Keeping his iconic deadpan face, Carrey and Jenny naturally go for another walk down the shore. Malibu beach goers and the paparazzi went wild at this hilarious swap.
The two comedians did a great job holding back laughter to keep the joke running. The image was everywhere, all people could talk about was Carrey's seductive black one piece. This tabloid treasure makes us said these two aren't still together.
9 Kimye steps over Amy Schumer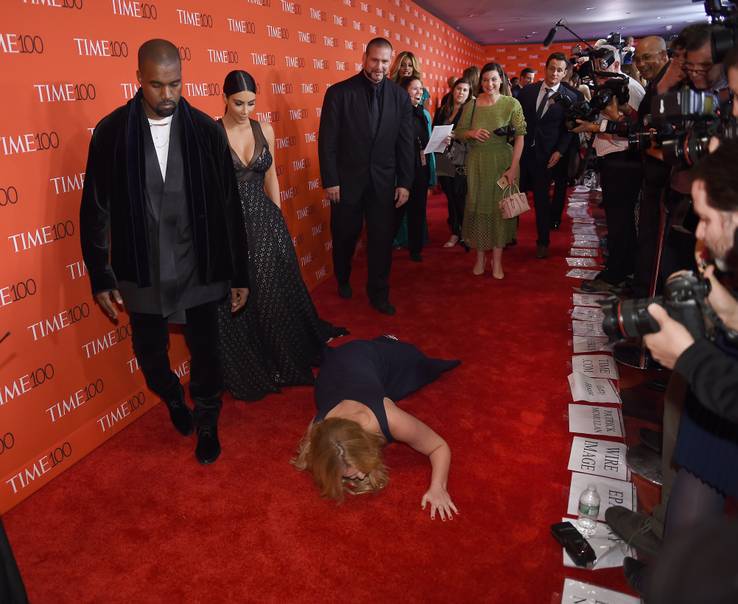 At the 2015 Time 100 Most Influential People Gala, Amy Schumer decided to prank the world's most famous couple, Kimye on the red carpet. As you can see from this photograph, they were not amused, to say the least.
Moments before, Schumer, a guest of the gala, was walking the red carpet alongside other attendees. While she posed for shots, she noticed the crowds going wild for the guests entering right behind her. Of course, it was none other than Kim Kardashian and Kanye West, arriving together in their elegant gala attire. Recognizing the photographers no longer wanted snaps of Schumer and continued to focus on Kim and Kanye. Schumer took the moment as an opportunity to display some slapstick comedy, dramatically faking a fall at the feet of Hollywood royalty, Kimye.
To no surprise, the cameras went crazy, laughing and snapping, while Kanye did not even crack a smile. Rather, he stepped over Schumer's splayed out body, as if she were red carpet roadkill and continued his way down the red carpet, with Kim following behind.
Later on at the Gala, Schumer admitted to walking up to Kimye at the end of the night to say hi and introduce herself. She claims, the two had no idea who she was, making her prank fall, that much funnier.
8 Tinkle, Tinkle, Little Star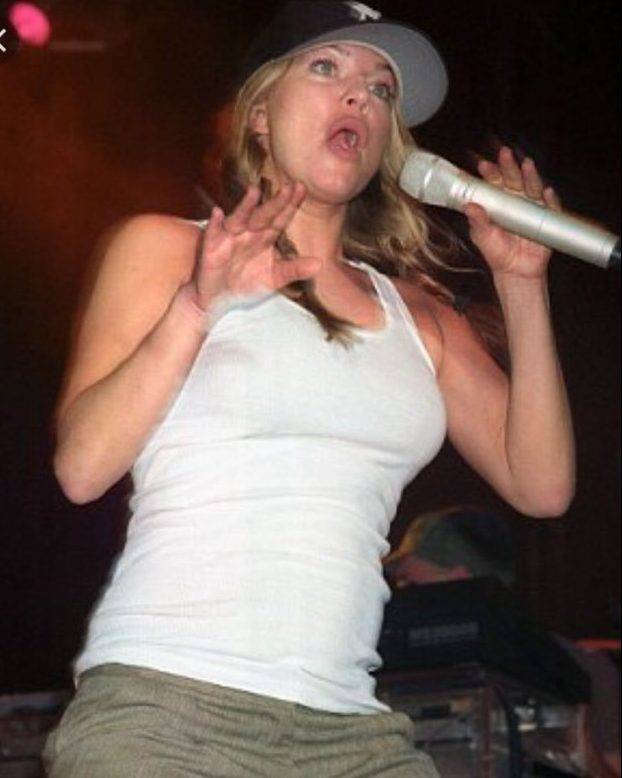 Stacy Ferguson, better known by her celeb alias, "Fergie" is a music icon. Her impeccable voice and other-worldly back flips and dance moves keep fans in awe when she performs. Long before her solo pop career, Fergie was a singer in The Black Eyed Peas. The group's countless number 1 hit singles had them topping the charts for a majority of the new millennium.
Throughout the early 00s, the band continued touring the globe, garnering enough memories for a lifetime. Yet, one moment during a tour performance in 2005, Fergie admits, wished never happened. This was reportedly, 'the most unattractive moment of my life,' says the superstar.
Tour life is often rushed with little time to get yourself together before a big concert. Fergie, didn't have time to hit the bathroom before she stepped on stage. Unfortunately resulting in this photograph that ended up circulating around the tabloids. Hey, we're all technically animals. We get it, when nature calls you have to answer, and sometimes when you gotta go, you gotta go.
Several low angle shots from the crowd were captured of Fergie's pants during her performance of "Let's Get It Started." Most speculated this was a case of just messing up, and years later fans came to find out it was true, when Fergie confirmed the embarrassing moment for herself on a radio show interview in 2014.
7 Brit Goes Bald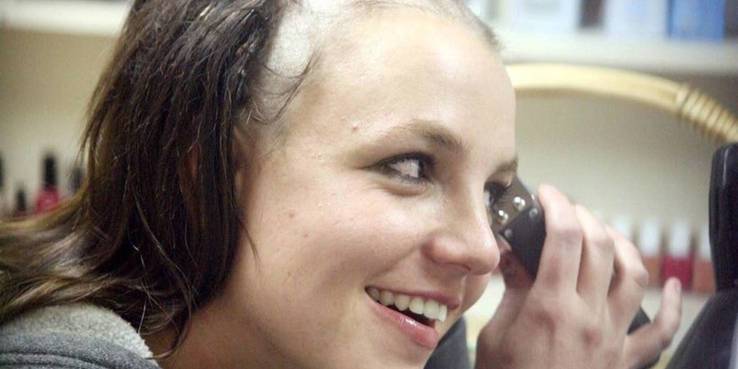 2007 was a very hard year for pop star diva Britney Spears. Having grown up in front of the camera from her days on the Mickey Mouse Club to launching the most memorable solo career of the century, selling millions of albums and sold out shows. The mother of two was 27, and recently checked into a psychiatric ward, when paramedics were called after she locked herself in the bathroom with one of her sons. The star was on the cover of newspapers and magazines almost every day for her erratic behavior.
One night in downtown LA, Spears was caught by the paps walking into a hair salon asking to shave her head. When the employees, refused, Spears grabbed the clippers herself and began buzzing her head, with an erie smile on her face. This image was on the cover of every newspaper and magazine, with the caption "BRITNEY SHEARS."
Many of those close to the star speculate the shave was due to a potential test using her hair that would decide if Spears would be able to keep custody of her children.
While many today are sporting the bald is beautiful look, this sudden head shave seemed to spark the largest controversy of the decade. Spiraling into what the paps called the "bald Britney" meltdown days.
6 Bad Looks for LiLo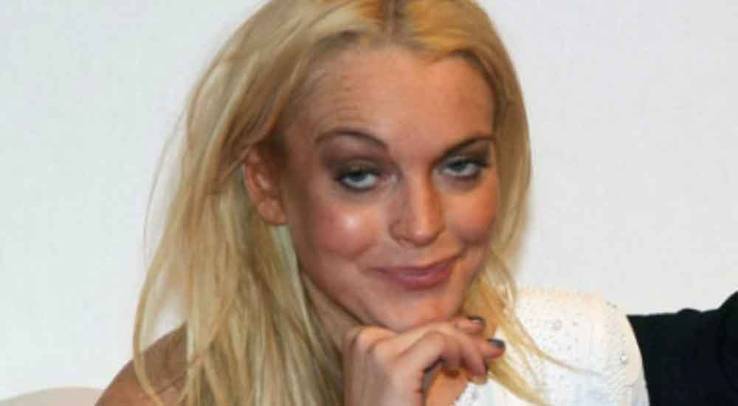 Lindsay became known as an early 00's bad girl, with one of the most tumultuous track records in Hollywood history. The child star struggled with many problems, multiple issues with the law, and public family feuds with her estranged father. And who could forget her brief stint as a salacious pop star?
After Lohan's several run-ins with the law, she attempted to reclaim her image by changing her famous long red locks to platinum blonde.
Known for her wild partying with socialites in Hollywood, Lohan was still making appearances at nightclubs and parties, despite a controversial and very public track record of problems, landing her in and out of rehab.
When Lohan appeared back on the scene, her face looked frozen presumably from the work she was having done. Her spray tan was overdone and she often looked dazed and confused trying to navigate through the camera flashes and paparazzi screams. Her style choices also seemed questionable, along with the odd forced pose you see in this snapshot.
Now, Lohan has uprooted to a new life in Dubai, but we know she likely won't live down these wild Lindsay days as a stamp in early 00s pop culture.
5 Justin Leans In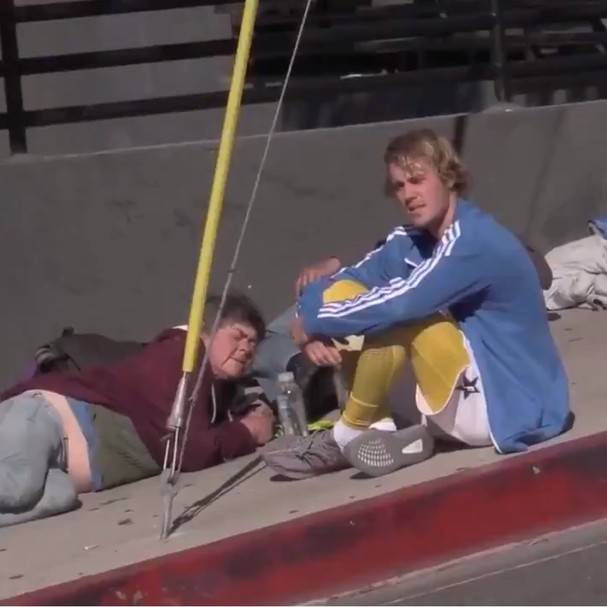 Just a few short days ago, the paparazzi spotted J Biebs sitting on the side of the road in Los Angeles, chatting with two homeless people. This odd scene was actually a gracious act of kindness. Bieber, 24, was providing the two people you see here food, water, and snacks. He also sat down on the curb to chat with the recipients for a while.
In the last few months, aside from being on again and off again with longtime ex Selena Gomez, Justin has turned around his behavior. Previously, it was not uncommon to see Justin fighting with the paparazzi, breaking cameras, punching strangers, fans, and other stars. Remember when got into multiple scuffs with Orlando Bloom and Post Malone? Along with multiple problems with the law, Justin has publicly apologized for his reckless behavior, promising fans he will do better. He's turned to his social media writing about his devotion to Jesus Christ, counting his blessings and hoping to make positive changes in the world.
We're excited for Justin's new work as a celeb missionary. We just hope along with cleaning up his act, he cleans up his look. Anyone else not a fan of this greasy bowl cut?
4 Wobbly Wendy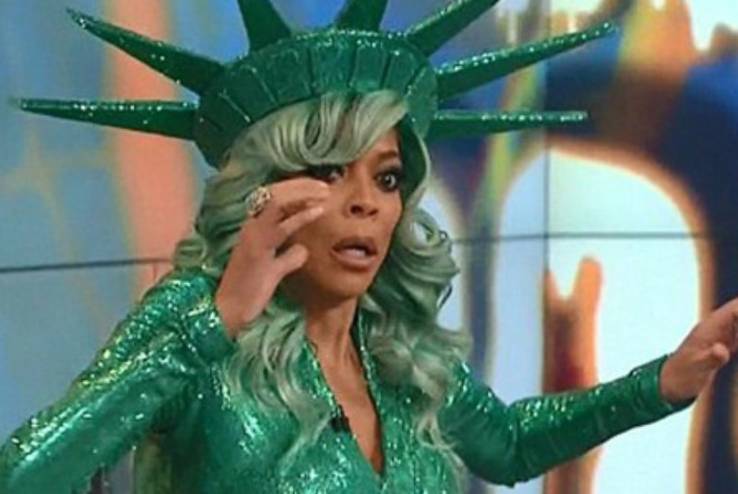 During a Halloween 2017 taping of her daytime talk show, celebrity gossip queen, and talk show host, Wendy Williams, 53, suddenly fainted on camera during her opening segment.
Dressed in costume as the Statue of Liberty, Wendy began her show, reading from the teleprompter staring directly at the camera. Suddenly, Wendy loses control of her words, looking extremely shocked and startled, she stands up, takes a few steps back and drops to the floor. The show fades to black and cuts quickly to commercial.
When the show returns after a brief 4-minute break, Williams reappears calming addressing her collapse earlier. Wendy to viewers she had "overheated in [her] costume and did not pass out." She ended her explanation with "But you know what? I'm a champ and I'm back." 
Many supporters took to Twitter, praising Wendy for getting back up and finishing her show's segment, a true champion. While fans and audiences were concerned with her health and safety, Wendy's dramatic fall paired with her extravagant get-up turned the snippet into a hilarious video loop meme.
In February 2018, Wendy announced she would be leaving her show for health reasons, suffering from hyperthyroidism and Graves' disease. We are all wishing Wendy a healthy recovery!
3 Hough's Horrible Halloween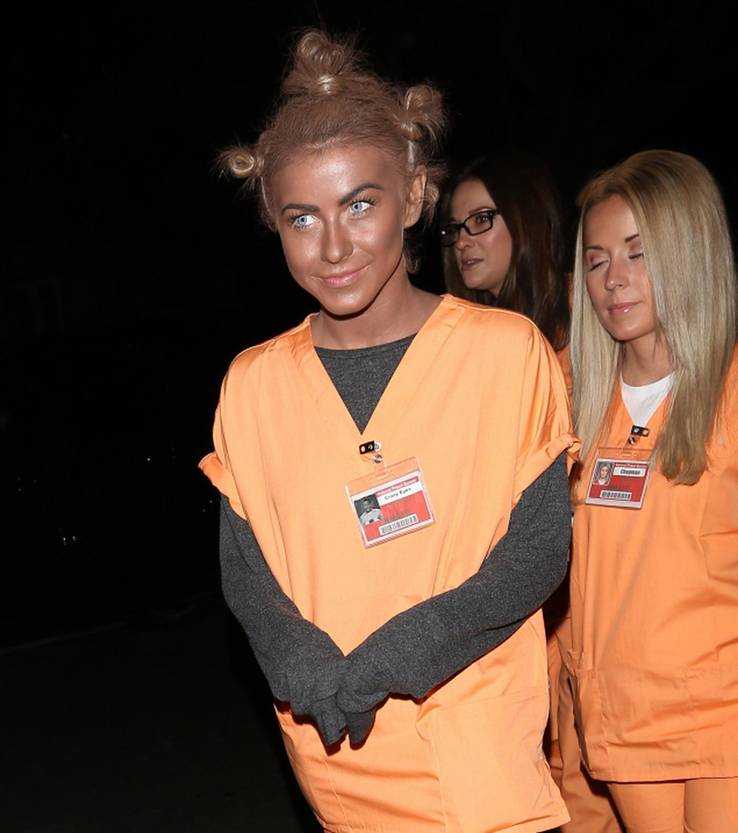 Tsk, tsk, shaking my head. This was one of the biggest Halloween no-nos we've seen in awhile.
The holiday often sparks turbulence in the public eye, when celebrities step out in highly offensive Halloween costumes (Remember that time Prince Harry did it?). You'd think after witnessing others make these dreadful mistakes, stars would learn their lesson. Unfortunately, this was not the case for
Dancing with the Stars cast member, Julianne Hough. Hough showed up to a party dressed as the character Crazy Eyes from Netflix's Orange is The New Black, played by Black actress Uzo Adubo.
As you can see, she covered her face in brown make-up to appear as African American, echoing the injustice of Hollywood's racist history of blackface performance on stage and in major films.
E! News reported that Isla Fisher went up to Hough at the party and told her to wipe off the make-up. Later on, Hough apologized after she was criticized for wearing blackface. Hough tweeted, "It certainly was never my intention to be disrespectful or demeaning to anyone in any way. I realize my costume hurt and offended people and I truly apologize."
Adubo later said she doesn't hold any ill will against Hough's costume, after she apologized. Hopefully, something like this doesn't happen again!
2 Beyoncé Bringing Looks
A surprise contender for this list, everyone's favorite megastar, Miss. Beyoncé Knowles. Despite so much time in the limelight, the singer has managed to avoid any damning run-ins with the paparazzi and rarely is she ever in the tabloids, except I guess there was that one time in the elevator
For over a decade, Beyonce has been one of the most influential and beautiful women Hollywood has ever seen. As we know, the Beyhive typically does everything in their power to keep their queen protected.
When Bey performed as the 2013 Superbowl halftime show, the paps managed to get this hilariously unflattering angle of Bey, performing as Sasha Fierce. Apparently, super fans did their best to remove this photo from the internet.
While Bey is almost always looking perfect, who can't chuckle a little at this funny snap of her face, getting in formation? This image goes to show us all that Sasha Fierce knows how to deliver her diva. She can make it ugly, but still make it fashion.
Now the mom of 3 has taken a step back from performing to care for her family, but made a resurgence this year at Coachella. We can't wait for this face to come back around, maybe next Superbowl?
1 It's Britney B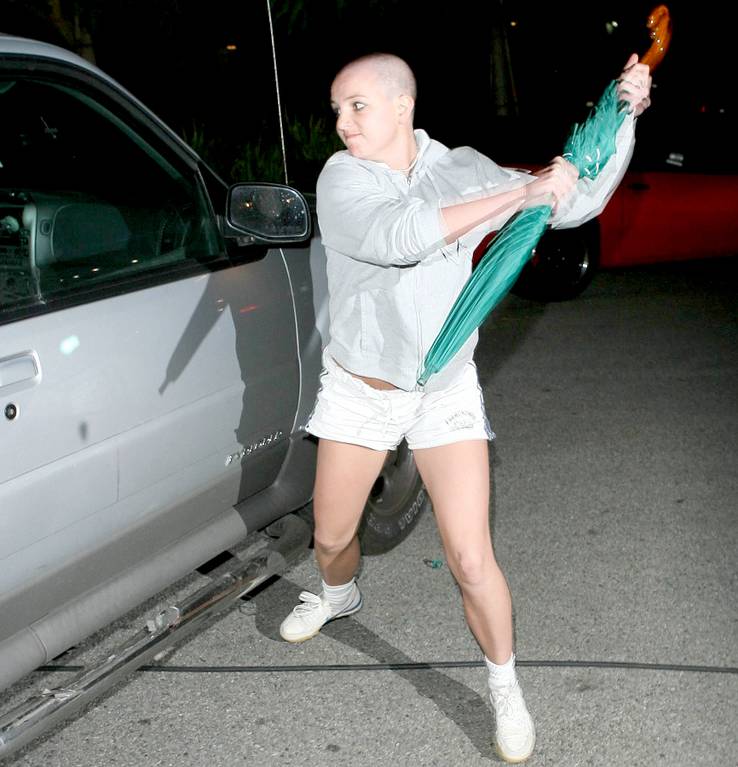 How could this not be the #1? Can anything compare to this infamous image of a bald Britney Spears attacking the paparazzi with an umbrella? The pinnacle of her 2007 meltdown, the press had a field day when Britney let loose her frustrations with being constantly followed and defamed in the public eye. The mother of two, physically attacked cameras and cars at a gas station one evening in late February.
Last year, one paparazzo, Daniel Ramos auctioned the actual green umbrella Britney used, which he saved from the scene 10 years prior. Ironically, it was the same paparazzo who got into a physical scuff outside of LAX with Kanye West in 2013.
This was by far Britney's lowest point in her career. Fed up with the stress of life in the public eye and a messy divorce from Kevin Federline, Britney needed to release some pent-up anger. She attacked the paparazzi SUV with the large umbrella allegedly screaming at the onlookers.
This very public cry for help was captured and publicized across the world. Spawning the birth of internet celebrity, Chris Crocker with his mega fan mantra "Leave Britney Alone" youtube video. Thankfully, Britney bounced back and is looking better than ever.
However, it's hard to think she'll ever live this down.
Sources: People, EOnline, EntertainmentWeekly, ENews
Source: Read Full Article