8 Photos Of The Jersey Shore Cast That Show They Haven't Changed And 7 They've Grown Up
When The Jersey Shore first premiered in 2009, no one could have guessed how hugely popular the show would become with television audiences. MTV had a huge amount of success with the reality series, The Hills, but this was a completely different theme and the cast of characters was in a different category than Lauren Conrad and Heidi Montag. Rather than showcasing a group of highly privileged kids with seemingly endless amounts of money to spend, The Jersey Shore revolved around characters like Angelina Pivarnick who showed up with all of her belongings packed in garbage bags. Yet, that didn't stop audiences from becoming completely enthralled with their antics and a number of catchphrases seemed to dominate in the world of pop culture. From the "MVP" squad to the "GTL" outings and the "meatball" antics, the entire world seemed hooked on The Jersey Shore during their initial run.
While the series ultimately came to an end in 2012, that didn't mean the main cast of characters were completely forgotten. Practically everyone made their way onto spin-off shows, from Vinny hanging out with Little Wayne to Snooki and JWoww showcasing their new lives as married women with children. Pauly D embarked on a successful run as a professional DJ and was seen on other reality shows as well. Yet, people still wanted to see the entire gang back together for a reunion series. The public got their wish with Jersey Shore: Family Vacation, but the most interesting part was to see how much they've changed and how much they've remained the same. Check out our list of the 8 photos of The Jersey Shore cast that prove they haven't changed and 7 that make us think they grew up.
15 Sammi "Sweetheart" Giancola's Birthday Party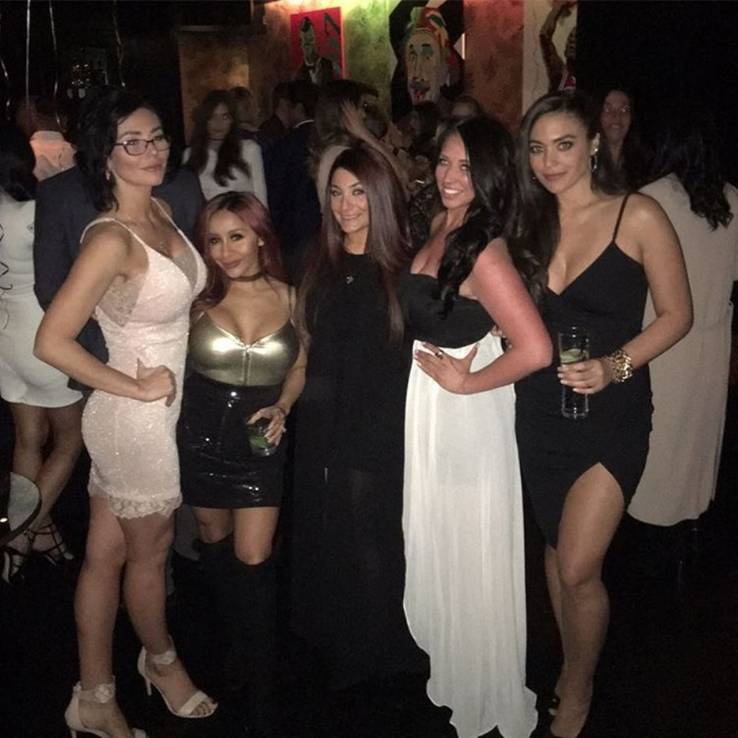 When The Jersey Shore series came to an end, people wondered whether or not they would still be able to see the crew go out to a nightclub together. While JWoww and Snooki embarked on some spin-off episodes on their own, it seemed like Sammi "Sweetheart" Giancola was completely left out of it. Yet, that didn't mean that she wasn't going to remain close to her former roommates from The Jersey Shore. When Giancola was celebrating her 30th birthday party, she didn't hesitate to include her former gal pals from the show.
Photos emerged of the girls from the show all hanging out at a nightclub and posing for a group photo. Giancola looked stunning in her black birthday dress and Deena must have also got the memo to wear black. Yet, it was Snooki and JWoww that really stole the show in this picture. Snooki wore an ensemble that was reminiscent of something she would have worn from the beginning seasons of The Jersey Shore, complete with a metallic plunging top and some knee-high boots. JWoww looked a tad different with her shorter hairstyle and glasses but she continued to maintain her ultra-sexy persona with a deep plunging dress that looked almost like lingerie.
14 Vinny Is A Proud Italian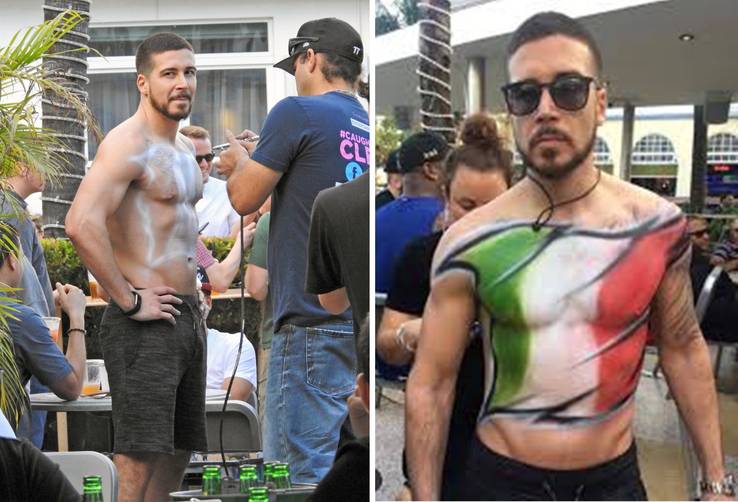 When Jersey Shore: Family Vacation premiered, people wondered whether or not the gang would still have the same magic they had during the first season of The Jersey Shore. The crazy antics that the entire cast embarked on during their run on MTV were part of the driving force behind the success of the show. Each of the cast members seemed to have their own niche that built their public persona. Snooki was seen as a raging party girl with a few sloppy tendencies, JWoww loved to flaunt her foxiness and Ron and Sammi were always fighting.
When it came to Vinny, it seemed like he was more of the fun-loving type that had a boyish sense of humor. He often gave comical confessionals during The Jersey Shore episodes and everyone remembered his signature eyebrow raise. When Jersey Shore: Family Vacation made it onto the small screen, fans loved seeing that the cast still loved to let loose. While in Miami, they often went out to various areas that featured live dancers and plenty of drinks. During one episode, Vinny was amazed by a few women that wore nothing but body paint. His immediate reaction was to find out where he could get his body painted as well and, of course, he chose the Italian flag.
13 Promotional Photos That Prove They're Still The Same Gals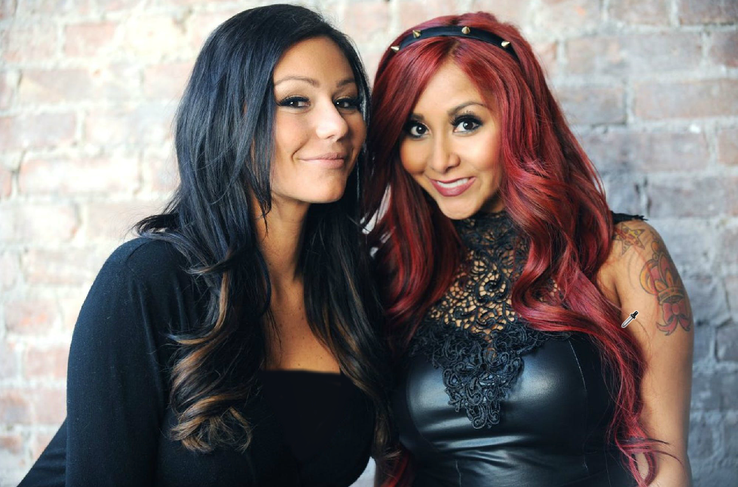 When the reunion series for The Jersey Shore still hadn't been fully worked out yet, there was an incredible amount of speculation in the media. It seemed like every time any of the former roommates posted photos on their social media pages, people began speculating as to whether or not they were trying to tease the public with an upcoming reunion series. In 2017, the hype was really starting to build and there were reports that it was completely in the works but the name of the show hadn't been worked out yet.
A promotional photo was being used and it featured Jennifer "JWoww" Farley and Nicole "Snooki" Polizzi seemingly happy and still the best of friends. These two had an incredible amount of success after the end of The Jersey Shore and much of it revolved around their supposed friendship.
The photo showcased their friendship but it also showcased how they still have the same sort of style that they had when the public first fell in love with them during the premiere season of The Jersey Shore. JWoww had a hairstyle that featured some of her signature highlights and Snooki featured a beet red hair color that definitely made her features pop. On top of that, Snooki wore leather and some spikes to prove that she's still as savage as ever.
12 The Sammi Sweetheart Doll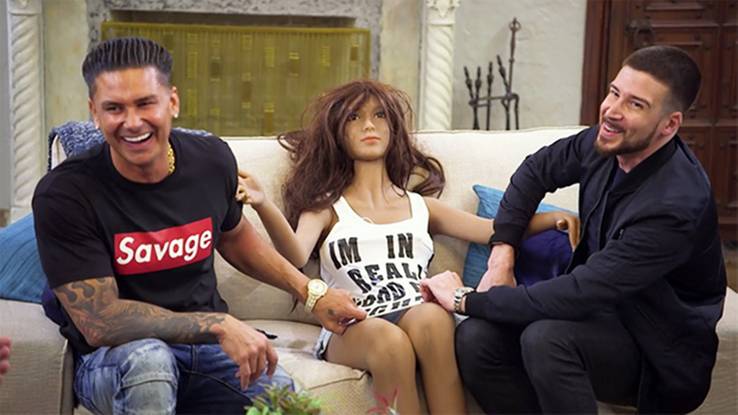 When it was revealed that the entire cast of The Jersey Shore was being reunited to make their way back to the small screen, people were super excited to see what would come from it. Yet, leading up to the premiere episode of Jersey Shore: Family Vacation, there were reports that came out that not all of the cast mates were going to make it onto the show. While Sorrentino was eventually given leave to tape with the rest of the cast in the reunion series, Sammi Sweetheart was nowhere to be seen. She explained her decision not to join the show in a post to Instagram where she wrote,
"I have chosen not to join the show this season because I am at a completely different place in my life right now focusing on my businesses and relationship. I am not the same person as I was when I was 22. At 31, I am currently extremely happy in every aspect of my life and want to avoid potentially toxic situations.
However, it was a difficult decision as I love my roomies. I've decided to focus on me, my future and what truly makes me happy." Yet, the real savage part came when the cast decided to replace Sammi with a sex doll and interacted with it as if it were her.
11 JWoww Rocked The VMAs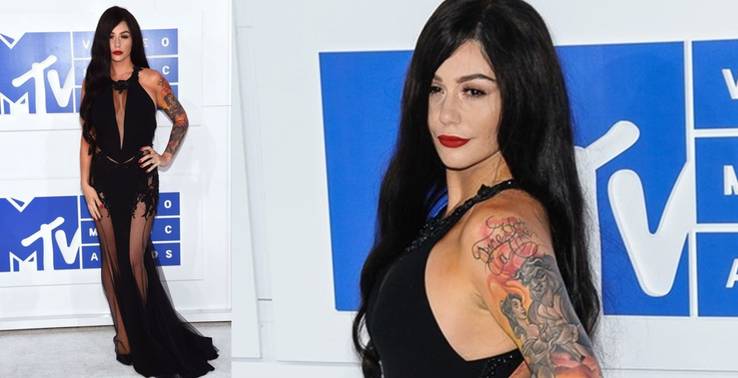 When JWoww arrived at the 2016 VMAs, people couldn't help but remark on her appearance. JWoww had previously been known to really show off her amazing body when she first appeared in the first season of The Jersey Shore. She often wore shirts that had huge draping portions to reveal major cleavage and it was clear that everything was undoubtedly help together with some double sided tape. She was often portrayed as the foxiest cast member of The Jersey Shore and was known for showing off some major skin. To prove that she still had the body that she used to flaunt all the time, JWoww appeared on the red carpet at the 2016 MTV VMAs and put a different twist on her signature look. She was still able to flaunt a lot of skin through the cut of her gown and the illusion mesh but she was also sporting quite a lot of ink with her tattoos. People thought that it was a stellar look for her and it proved to some people that she still had it. This was a new version of the steamy JWoww that television audiences had come to know and love and people loved seeing it as an updated twist.
10 JWoww's Impressive Magazine Spread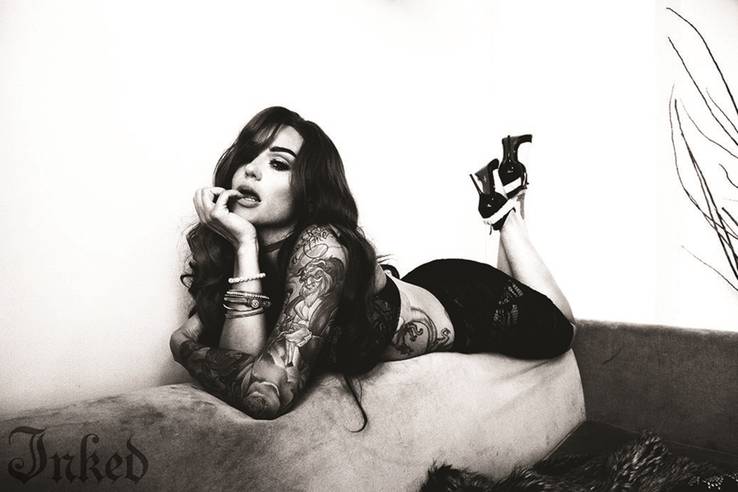 When JWoww settled down and started having kids, people wondered whether or not she was still going to be that same sexy woman that they remembered from The Jersey Shore. Oftentimes, women find it difficult to shed the weight after having a baby and the public wondered whether or not JWoww would be able to bounce back. She was able to put all the public's worries to rest when she posed for Inked magazine just four months after giving birth to her son, Greyson Valor Mathews. Her spread for Inked magazine was filled with some amazing photos of her, from the fishnet stockings on the bed to the lingerie shot in black and white.
The photos showed JWoww as incredibly foxy and proved that she still had it, even after becoming a mother. In the magazine, she stated, "I'm a hot Millennial mom. It wasn't easy to shed the baby weight. I told the owner of 310 Nutrition that I don't want to be a 'frumpy mom' anymore — I want to feel foxy. I lost 40 pounds in three months. I'm actually five pounds lighter than I was before I became pregnant with my daughter [three years ago]." With the incredible weight loss and the brand new tattoos, JWoww definitely proved that she's still savage in her look.
9 Snooki And Her Late-Night Party Snacks
During The Jersey Shore, Snooki was the obvious breakout star from the cast. From the moment she yelled out "Party's here" during the very first episode, it seemed like the world found their favorite "meatball." Ratings for The Jersey Shore weren't doing very well but that all changed with the episode where Snooki was punched in the face by a random guy at a bar. Audiences continued to tune in with each new week and the public started to really enjoy seeing Snooki and her chaotic ventures from drinking. From peeing in random spots to falling down to getting arrested on the beach, audiences loved seeing her behaving badly after a few too drinks too many.
Yet, her public persona began to evolve and change over the years and she stopped being viewed as the sloppy party girl that couldn't seem to hold it together.
From getting married to having children to her incredible weight loss, it seemed like Snooki was all grown up and no longer the same "meatball" that the world fell in love with during The Jersey Shore. Yet, the world saw that she's still the same old Snooki with the premiere of Jersey Shore: Family Vacation. She took shots like a pro, jumped in the pool to pee and fell asleep while eating a pizza.
Featured Today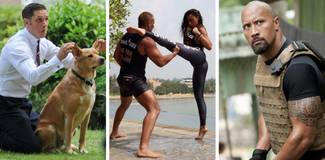 10 Actors No One Wants To Mess With (And 10 Who Only Act Tough)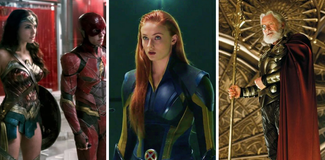 15 DC Characters (And 5 Marvel Characters) Who Could Singlehandedly Take Down Thanos

15 Times Celebs Pushed Themselves To The Extreme To Snatch An Oscar

8 Ron's Hilarious Maternity Photo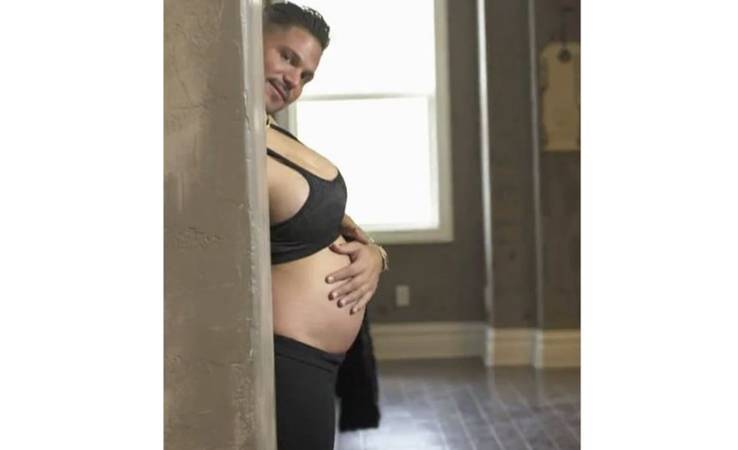 When it was revealed that Ronnie Ortiz-Magro was dating a girl that wasn't Sammi "Sweetheart" Giancola, no one really paid that much attention. There had been so much relationship drama surrounded Ronnie and his love life that it seemed like the public was finally done with paying him any attention when it came to matters of the heart. Yet, interest started to peak when it was revealed that his new girlfriend, Jen Harley, was pregnant with their first child. Harley didn't seem like the typical type of woman that Ronnie would gravitate toward, especially since she was already a single mother. Yet, the public had high hopes that perhaps this was going to be the catalyst to a real change in Ronnie.
Television audiences saw the dysfunction that occurred when he was in a relationship with Sammi Sweetheart on The Jersey Shore and there were high hopes that he changed his ways with his new girlfriend.
However, it didn't seem like he was truly taking his new pregnant girlfriend that seriously when maternity photos surfaced online. This particular picture showcased Harley's very pregnant belly but her face was hidden behind a wall and Ronnie replaced it. Perhaps the photo was meant to be funny but it really didn't help people to think that he was taking his new responsibility seriously.
7 JWoww's Family Halloween Outing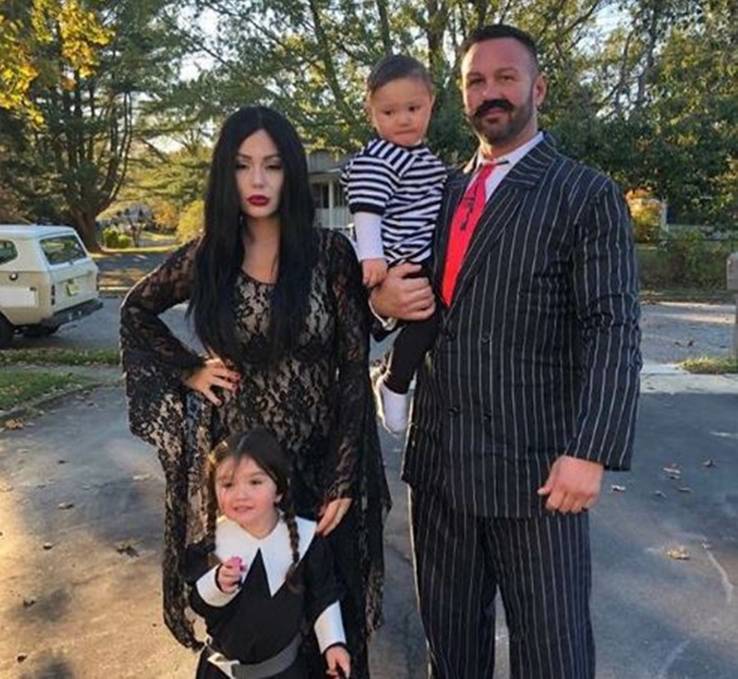 Celebrities are known for going a bit overboard when it comes to Halloween since it's often seen as a day that people use as an excuse to wear the skimpiest costume they can find. On any given Halloween, celebrities can be seen in everything from Bella Thorne's see-through cowgirl costume to Kim Kardashian's Wonder Woman ensemble. JWoww was often guilty of this as well since she donned a school girl's costume one year, complete with pigtails and a bright red bra displayed for all to see. Yet, things have definitely seemed to change once she started a family. Rather than using the Halloween holiday to flaunt off as much skin as possible, JWoww opted for a family portrait that included an Addams family motif. Her husband, Roger, looked perfect as Gomez in his pinstriped suit and even donned a moustache to complete the look. Their son was Pugsley and their daughter was an adorable version of Wednesday Addams. Of course, JWoww was the stunning Morticia, but she didn't choose an outfit that would show off a lot of skin. Instead, it featured a tasteful neckline and a lace material that was perfect for the Halloween theme. The Mathews family posted the picture to Instagram and captioned it, "Goals."
6 JWoww's Grown-Up Family Christmas Pic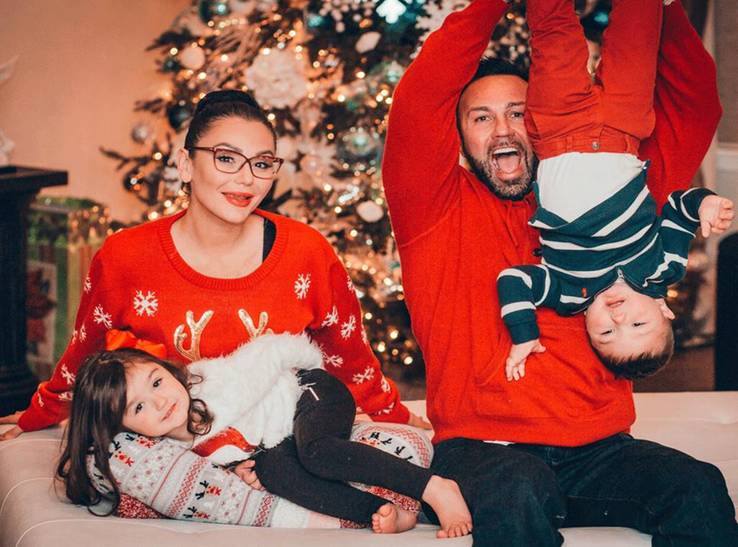 When Roger Mathews was first introduced as JWoww's newest boyfriend on The Jersey Shore, he seemed like just another meathead. Yet, people got to see a softer side to him when he was featured on Snooki & JWoww. From the way he catered to JWoww when she was pregnant to the tears he shed during the birth of their first child, it was clear that there was more to Roger than his tattoos and his muscles. This is a photo that he shared to Instagram for a holiday family portrait that had people loving the life they made together. JWoww swapped her usual scantily-clad ensemble for a red Christmas sweater and some holiday leggings and Roger even put a holiday flare in it with a bright red hoodie. The decorated Christmas tree was in the background and the kids looked adorable while their parents smiled happily. In the post, Roger wrote,
"We are the Mathews. Strong willed, not overly bright, opinionated humanitarians, ever changing, ever learning, passionate parents,
A-hole friends but loyal and forever aspiring to be better humans. And a partridge in a pear tree. Merry Christmas/Happy Holidays everyone. See even trying to be more politically correct."
5 Making DIY Music Instruments For Their Kids
When The Jersey Shore series came to an end in 2012, it became clear that there were a few breakout stars from the main cast of characters. While Paulie D created a huge fanbase through his talent as a DJ, Snooki, and JWoww made a name for themselves as the best friends that everyone wanted to watch. The two even got a spin-off series together entitled, Snooki & JWoww. People loved seeing their friendship continue after The Jersey Show concluded and it was great for television audiences to see both of their pregnancies and the way they were evolving into new mothers. While the spin-off series ultimately came to an end, that didn't mean that people had seen the last of these two women. They constantly seemed to pair up together and a bunch of their videos inevitably made it online.
When the two paired up for the Moms With Attitude movement, people couldn't help but feel content in seeing them throw themselves into their role as moms. This particular photo was taken during a segment where they were making DIY music instruments for their kids and it really seemed great to see them put so much enthusiasm in making a special item for their kids.
4 Grown Ups Celebrating A Disney-Themed Party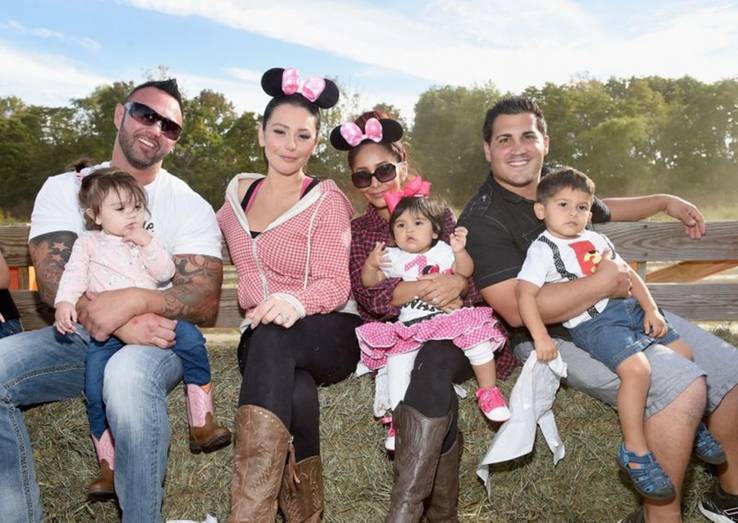 There is a huge difference between someone having a baby and someone becoming a parent. Reality shows have become notorious for showcasing young people having children and trying to navigate parenthood along with their troubled relationships and the result is typically a broken home and the general public shaking their heads. Yet, that definitely wasn't the case with Jennifer "JWoww" Farley and Nicole "Snooki" Polizzi. Both of them got married to men that were actually featured on episodes of The Jersey Shore and they remained in each other's lives. On top of that, it seems like their husbands have remained friendly with one another and there have even been family trips and events that have involved the two couples.
Motherhood seems to have had a positive change on both JWoww and Snooki and both of them have been able to embrace their new status as a mother. While they were once both known for their club-hopping tendencies, their day-to-day routine has greatly changed.
This particular photo was taken while celebrating together at a Disney-themed party and it seems like two best friends taking their families for a fun day outing. It's completely kid-focused and it really shows how grown up they have become over the years.
3 Mike "The Situation" Sorrentino's Grown Up Engagement Pics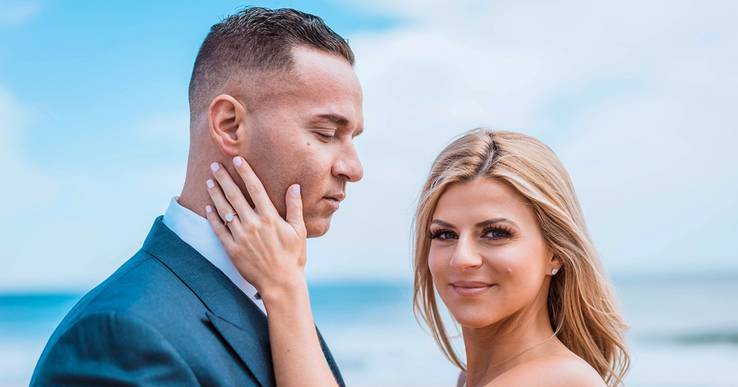 When Mike "The Situation" Sorrentino was first featured in The Jersey Shore, he didn't seem like he was at all ready to settle down. The nights out with the gang were filled with desperate attempts to make it to the "smash room" and each new episode seemed to feature a brand new batch of random women they met at the nightclub. Yet, it seems like all that has changed for Sorrentino. Lauren Pesce is Sorrentino's college sweetheart and he approached the producers of Jersey Shore: Family Vacation because he wanted the proposal to be captured by the cameras. In an April 2018 interview with US Weekly, Sorrentino stated,
"Once we got the chance to do Family Vacation, I approached the executive producers and I let them know, 'Listen, I really want to do this. This show is really special to me. This is the show that introduced me to the world.' It was really special for me to do this, to get down on one knee on Jersey Shore."
When the engagement photos were first released, people couldn't believe how grown up Sorrentino looked since he seemed far more mature and much more ready to settle down and start a family.
2 The Girls Tease A Reunion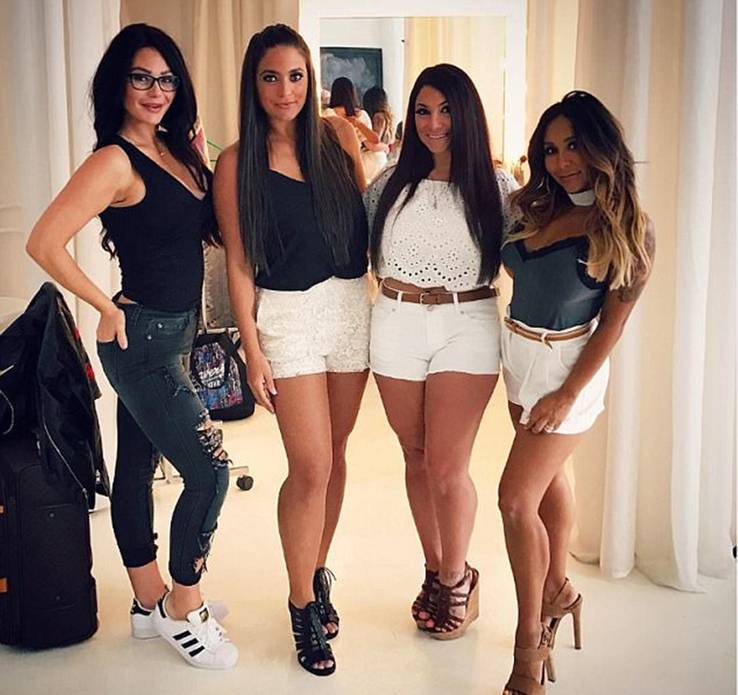 Long before the cast of The Jersey Shore returned to television through the new series, Jersey Shore: Family Vacation, it seemed like the female cast mates wanted to return to the limelight. In June 2017, the former roommates from The Jersey Shore reunited and posted their happy photos to social media. Snooki, JWoww, Sammi Sweetheart, and Deena Cortese all got together and posted to Instagram. People couldn't help but comment on how different they looked and how amazingly they had all changed. JWoww paired a simple tank and jeans with sneakers, which was a completely different look for her. She wore her new signature glasses and her hair completed her tasteful and casual look. The other three girls wore shorts with some heels and wedges and everyone looked so different from when they first starred on The Jersey Shore.
These four women didn't look like the party-hopping girls that were known for drinking, falling, and peeing. Instead, they all looked extremely beautiful and understated in a way that made them look quite mature and grown up. The photos on Instagram created a huge frenzy amongst fans of The Jersey Shore and people started speculating on a return of the series.
1 Snooki Looks Elegant At The 2016 VMAs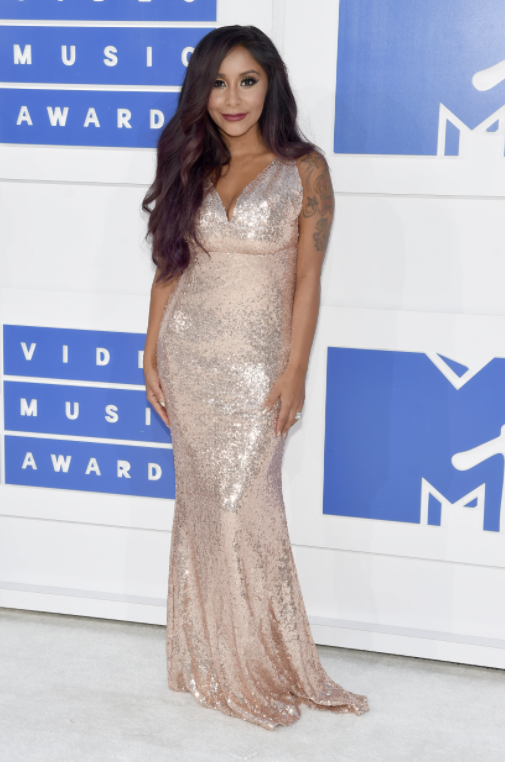 When Snooki was first featured in the premiere episode of The Jersey Shore, she introduced herself by screaming out, "Party's here!" the second she walked into the door. She donned an oversized pouf hairstyle and her clothes consisted of neon colors and jogging pants with something written on either her pants or shirt. Yet, she has definitely evolved over the years and it's not just her over-the-top personality. When she arrived at the 2016 MTV VMAs, people were stunned at how elegant and toned down she looked in a glittering floor-length gown. The cut of the dress was quite flattering on her and it showcased her great new figure. On top of that, her hair didn't feature the same bold highlights and jolting colors. Instead, she opted for something far more natural and she did away with that pouf hairstyle. The overall tone was dark and she finished off the hairstyle with a few loose curls and a side part. Her makeup was also quite understated and she kept earthy tones that showcased her natural beauty rather than a clown-like appearance. While she did show off a few tattoos on her arm, the overall look seemed quite elegant and all grown up.
Source: Read Full Article