The only album you'll hear this year about Indonesia's purge? Probably
Karina Utomo was 16 years old and living in Canberra when she received an e-mail from Magic Dirt frontwoman Adalita. As an aspiring singer who was accustomed to having people "go out of their way" to tell her she couldn't hold a tune, the message came as something of a revelation.
"My guitarist gave our first ever high school band demo to Magic Dirt without my knowing, and I'll never forget receiving that e-mail with her words of encouragement," says Utomo, who now lives in Melbourne. "That was really special, she was very encouraging. And then she said again in a Rolling Stone feature that I had a really good scream, and I was like, 'I'm going to keep trying to work on that'."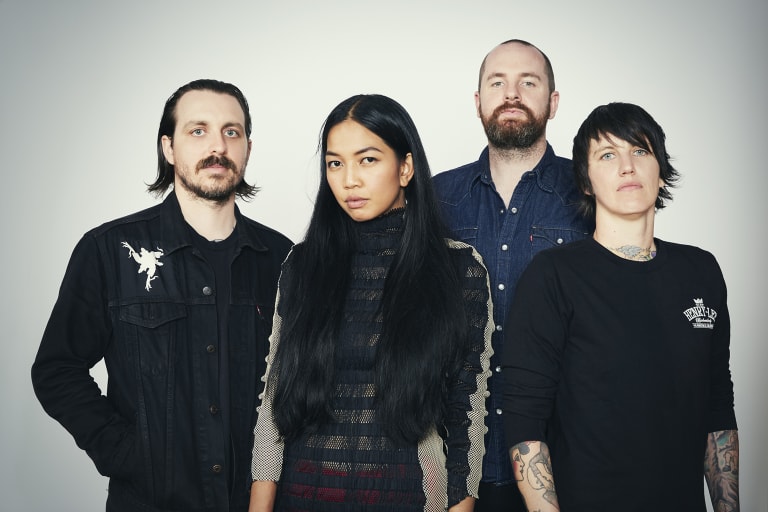 Mike Deslandes, Karina Utomo, Matt Weston and Lauren Hammel are High Tension.
As will be attested by anyone who has seen or heard High Tension, the band Utomo has fronted since 2012, the 34-year-old's determination in this area has left her with a fearsome roar, a guttural sound that's hard to reconcile with her chirpy, cheerful speaking voice.
"I didn't think I could sing in that way or had the ability, but I had the desire to figure out if I could," she explains. "So I spent a lot of time practising, experimenting, finding my own methods."
It's a fitting match for the band's equally intense sound, a powerful melange of brutal riffing and cacophonous rhythms that they take to new extremes on latest album Purge.
Of the myriad records released this year, it's a safe bet this will be the only one to address the anti-communist purge in Indonesia in the mid-'60s. Though it's a subject that Jakarta-born Utomo has touched on in previous LPs, it forms the lyrical centre of the Melbourne quartet's third album.
"I think the reason why I keep writing and referencing this era is because it's still unresolved," she remarks. "It's something that's still in suspense and I have not yet done everything I can."
Several hundred thousand pro-communist Indonesian civilians were slaughtered during the 1965 purge, under the orders of General Suharto. Despite the scale of the bloodbath, Utomo never learned about it in school as a child in Indonesia, and to this day discussion of the events is still discouraged.
"The history books were very thin," she recalls. "It wasn't a history lesson, it was just propaganda."
Utomo first heard of the purge via her father, and in an attempt to uncover more details visited Indonesia in early 2017 to document the experiences of survivors. It's these stories that informed her latest lyrics.
"One of my friends I grew up with told me her uncles were taken, and she recalls every time her mother had to fill out a government form her hand would shake because there was a box to indicate whether or not your family was affiliated with the Indonesian Communist Party.
"That era really has affected present-day Indonesia," she adds, noting that those with communist affiliations remain stigmatised.
Plans are under way to have Purge released on cassette in Indonesia, though Utomo says there is already some awareness of the LP there.
"A colleague of my sister's was in this very remote village in Java, where this guy read an article about the album [that had been lifted from an Australian website and translated into Indonesian] and was really excited and keen to listen to it somehow, because he's a victim of the 1965 purge, his family.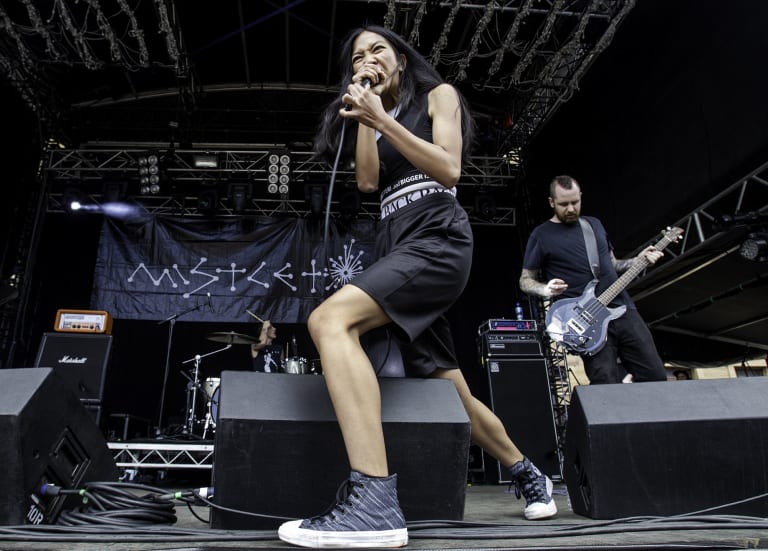 High Tension live at the Laneway Festival. Sydney in 2016.
"But it's just so heartbreaking. When he told my sister's colleague to pass on the message to the band, he asked to not mention specifically which village he is from because he's still so afraid that people might find out that there's a 1965 victim in that village."
Purge marks the recorded debut of guitarist/producer Mike Deslandes and drummer Lauren Hammel, who joined the band following the release of 2015's Bully. Given that female performers are sorely under represented in the extreme music scene, the fact that High Tension have two strong women in the fold is, says Utomo, indicative of a wider change that's occurring.
"We're seeing more women at shows, we're seeing more women participate in a genre that has always had very few women as protagonists, and without making any sort of manifesto we're seeing clear progress. There's so much to look forward to."
Purge is out now through Cooking Vinyl. High Tension play at The Lansdowne Hotel, Chippendale 29 June; the Crowbar, Fortitude Valley 30 June; and the Tote, Collingwood 7 July. Details: hightension.com.au
Source: Read Full Article