The Backstreet Boys Are Making Their Own Tequila
Hey, Kids! Backstreet's back… again. Only this time, they're bringing a friend with them. We don't know the name of their said pal, but we have it on good authority that the individual is closely related to the likes of  Jose Cuervo and Don Julio.
For those tired of reading between the lines, here's the kicker, best administered with a slice of lime and a lick of salt. The '90s lads, best known for a multitude of hits from "Shape of My Heart" to "Larger Than Life," are introducing their own line of tequila for their fan base to imbibe once their favorite vinyl drops down the spindle.
Lest you think the boy band, who had adolescents swooning during their salad days, might spark a scandal of underage drinking, take heart. It's safe enough to assume their gaggle of followers are of legal age by now to swill tequila or any other potent concoction of choice.
The boys dished out the details, sketchy as they still are, on Wednesday during a two-nighter at Cancun's Moon Palace. However, everything's pending on finding a partner in Mexico. Complicating the process is the country's federal regulations stipulating that tequila can only be made in the state of Jalisco, ensuring that any publicity surrounding a celebrity involvement in the industry would bolster Mexico's economy.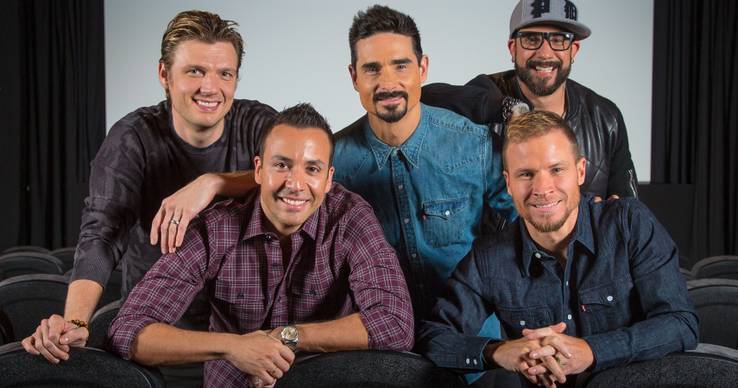 As novel as it is for a group that melded impressionable minds with their tunes during their prime only to potentially get that same following gassed with their own liquor brand, Backstreet isn't the only batch of celebrities trying to cash in on the tequila trade. George Clooney demonstrated his business savvy by selling his Casamigos product for a million big ones (as in dollars, not pesos) to Diageo, who also stock shelves with notable liquor names like Johnny Walker and Smirnoff.
Justin Timberlake's been marketing his Sauza 901 brand, while Carlos Santana has been pushing his Casa Noble brand. Then there's Real Housewives of New York's Bethenny Frankel, who's absolutely got a built-in market with her forever-swilling castmates via her own line of Skinnygirl Margarita mixes. Also hopping on the spirits bandwagon are Adam Levine, Sammy Hagar, and P. Diddy.
Once it's out, there's probably no shortage of Backstreet hits to kick back to between sips. For starters, how about "I Want It That Way"?
Source: Read Full Article