Beyoncé and JAY-Z's Relationship: A Detailed Timeline
"Crazy in Love," indeed!
Throughout their nearly 15-year relationship, Beyoncé, 36, and JAY-Z, 48, have seen it all. From elevator incidents and infidelity rumors to smash collaborations and adventures in parenting, the fiercely private pair continue to claim the throne of music's First Family.
Below, a detailed timeline of Bey and Jay's life together, from "'03 Bonnie and Clyde" to Lemonade.
1999 – 2000
They first meet. Beyoncé previously told Seventeen that they met when she was 18, which would be between September of 1999 and August of 2000.
2000 – 2001
They begin dating when Bey is 19, after getting to know each other. "We were friends first for a year and a half before we went on any dates," she later told Oprah Winfrey in an OWN interview. "We were on the phone for a year and a half, and that foundation is so important for a relationship. Just to have someone who you just like is so important, and someone [who] is honest."
Fall 2001
The pair appears on the cover of Vanity Fair's November 2001 music issue. JAY-Z later told the magazine, "we were just beginning to try to date each other" at the time, adding: "Well, you know, you've got to try first. You got to dazzle . . . wine and dine," and that he had his work cut out for him pursuing her. "She's a charming Southern girl, you know, she's not impressed. . . . But I would have definitely had to be this cool."
October 2002
JAY-Z releases "'03 Bonnie & Clyde," featuring Beyoncé. The next month, they filmed the music video in Mexico.
May 2003
Beyoncé drops her "Crazy in Love" music video featuringJAY-Z, and they go on to win the Best R&B Song and Best Rap/Sung Collaboration awards at the 2004 Grammy Awards.
Despite rumors and the track's obvious hints and their explosive onscreen chemistry, the pair still hadn't gone public with their romance at the time — advice they fielded from Oprah! "I remember the first time you were on the Oprah show, I told you, 'Don't go around telling people who you're dating,'" the talk show legend recalled in her 2013 catch-up with Beyoncé.
August 2004
Bey and Jay make their red carpet debut at the MTV VMAs in Miami, where they both took home Moonmen.
September 2006
Beyoncé drops her second solo LP, B'Day, on her 25th birthday. The chart-topper included two more collabs with JAY-Z: "Déjà Vu" and "Upgrade U."
November 2006
JAY-Z releases Kingdom Come, which includes yet another Beyoncé duet, "Hollywood."
April 2008
Jay and Bey get married in a top-secret, super-intimate ceremony on April 4.
"It was a very emotional wedding — lots of crying — and really very spiritual," a source told PEOPLE at the time of the soirée, held at the rapper's 13,500-sq.-ft. Manhattan penthouse and decorated with 70,000 dendrobium orchids flown in from Thailand.
While the pair kept their marriage under wraps at first, Beyoncé later opened up about their nuptials — and their relationship leading up to the big day.
"There was no rush — no one expected me to run off and get married," she told Seventeen. "I really don't believe that you will love the same thing when you're 20 as you do at 30. So that was my rule: Before the age of 25, I would never get married. I feel like you have to get to know yourself, know what you want, spend some time by yourself, and be proud of who you are before you can share that with someone else."
August 2008
JAY-Z finally confirms his marriage to Bey in a September '08 Vibe cover story — and opened up about why they kept it quiet for so long.
"That's ridiculous for me to confirm," he told the mag. "I don't have … I'm gonna say, I think that was a ridiculous question. I just think it's really a part of your life that you gotta keep to yourself … You have to, or you'll go insane in this type of business. You have to have something that's sacred to you and the people around you … I shared so much of my life, my childhood, and my family, the death of my nephew with the world. I should have something to hold on to. You need something for your sanity to say, 'Okay, I could chill out, and this is it.'"
November 2008
Beyoncé finally talks about her marriage in her December-January 2008 Seventeen cover story.
"I guess probably that we're all human," she told the mag of what she's learned from her relationship. "I don't care if you're picture-perfect on every magazine cover, and you're the most handsome, successful, coolest guy — you still get sad, and you still get your feelings hurt, and you still get confused and vulnerable and nervous and scared. You have to find a person you can make it through the tough times with."
January 2009
Jay and Bey attend President Barack Obama's first inauguration, singing "America the Beautiful" at his swearing-in ceremony then the Etta James classic "At Last" for POTUS and Michelle Obama's first dance at his inaugural ball.
2010 – 2011
Rumors swirl that Beyoncé is pregnant. In her 2013 HBO documentary Life Is But a Dream, she revealed that she had once been pregnant but miscarried.
"About two years ago, I was pregnant for the first time," she said in the doc. "And I heard the heartbeat, which was the most beautiful music I ever heard in my life … Being pregnant was very much like falling in love. You are so open. You are so overjoyed. There's no words that can express having a baby growing inside of you, so of course you want to scream it out and tell everyone. [Early into the pregnancy], I flew back to New York to get my check up — and no heartbeat. Literally the week before I went to the doctor, everything was fine, but there was no heartbeat."
August 2011
Beyoncé reveals she is pregnant at the MTV VMAs in L.A., cradling what appeared to be a bump on the red carpet before telling the audience during her "Love on Top" performance, "I want you to stand up on your feet. I want you to feel the love that's growing inside me."
October 2011
Beyoncé andJAY-Z are dogged by an Internet conspiracy that she is not actually pregnant herself and is using a surrogate.
Bey addressed the rumors in Life Is But a Dream, calling the reports a "stupid rumor, the most ridiculous rumor I've ever heard about me … To think that I would be that vain…"
January 2012
Beyoncé and JAY-Z welcome daughter Blue Ivy Carter in New York City on Jan. 7, and the proud parents' friends and family — from sister Solange to Gwyneth Paltrow, Rihanna and Russell Simmons — offer their congratulations on social media.
February 2012
Bey and Jay introduce Blue Ivy, sharing the first photos of their daughter on Mom's Tumblr. "We welcome you to share in our joy. Thank you for respecting our privacy during this beautiful time in our lives," the Carter family wrote online.
January 2013
Jay and Bey attend President Obama's second inauguration, where she performs a controversial rendition of "The Star-Spangled Banner."
February 2013
Beyoncé's Life Is But a Dream documentary airs on HBO, giving fans a rare glimpse into her private life with JAY-Z, from celebrating her pregnancy and singing Coldplay's "Yellow" to each other to enjoying a secluded, exotic vacation (on a yacht!) and her toasting him at a birthday party.
July 2013
JAY-Z drops Magna Carta Holy Grail, featuring the Beyoncé duet "Part II (On the Run)."
December 2013
Beyoncé surprise releases her epic self-titled visual album, complete with videos for each of the 14 tracks. JAY-Z lends a verse to "Drunk in Love" and appears in that video, in addition to making a brief cameo in the steamy clip for "Partition."
January 2014
Jay joins Bey onstage at the Grammys in L.A., where they gave a passionate performance of "Drunk in Love." #surfbort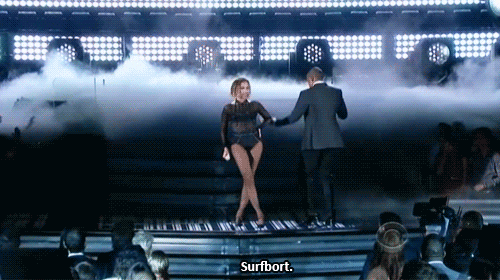 May 2014
JAY-Z, Beyoncé and Solange attend the annual Met Gala on May 7 in N.Y.C. Five days later, video footage of Solange seemingly attacking Jay in an elevator at an afterparty leaks online. None of the parties involved have ever spoken out about what caused the altercation, but tabloids reported that Solange was upset with Jay over alleged cheating rumors.
Days after the incident, the trio released a statement: "There has been a great deal of speculation about what triggered the unfortunate incident. But the most important thing is that our family has worked through it. Jay and Solange each assume their share of responsibility for what has occurred. They both acknowledge their role in this private matter that has played out in the public. They both have apologized to each other and we have moved forward as a united family. The reports of Solange being intoxicated or displaying erratic behavior throughout that evening are simply false. At the end of the day families have problems and we're no different. We love each other and above all we are family. We've put this behind us and hope everyone else will do the same."
In an August 2014 Lucky cover story, Solange addressed the incident, calling it "that thing." "What's important is that my family and I are all good," the singer, 28, told the now-defunct magazine. "What we had to say collectively was in the statement that we put out, and we all feel at peace with that."
Splash News
June 2014
Jay and Bey embark on their On the Run Tour, kicking off the 21-date spectacle in Miami on June 25.
Summer 2014
The couple is plagued by rumors that their marriage is in crisis and they are heading toward a divorce.
"Word around the industry has been that things are rocky at home," a music source who has worked with JAY-Z told PEOPLE at the time. "If they split, no one would be surprised." But a JAY-Z friend insisted: "They are a great couple. They are soulmates and perfect for each other."
August 2014
Beyoncé drops her "***Flawless" remix featuring Nicki Minaj, seemingly nodding to the Met Gala incident with the new lyric: "Of course sometimes s— go down when it's a billion dollars on the elevator."
On Aug. 24, JAY-Z and Blue Ivy take the stage at the MTV VMAs in L.A. to present Beyoncé with her Video Vanguard Award.
"Thank you. I have nothing to say, but I'm thrilled with so much gratitude," Bey said in her acceptance speech. "I just thank God for this moment. I love y'all so much," she tearfully told the crowd. "My beloved, I love you. My fans, I love you. MTV, I love you. Good night!"
November 2014
Solange marries Alan Ferguson in New Orleans on Nov. 16; Beyoncé, JAY-Z and Blue Ivy attend.
The following week, Beyoncé releases two new songs, including "Ring Off." While there was initial speculation the infidelity-fueled track was inspired by troubles in her own marriage, it was actually about her parents', which ended when they split in 2009.
April 2015
JAY-Z posts a video of his and Beyoncé's wedding on Instagram. The clip showed them exchanging vows – he in a dashing black tux, she in a voluminous white gown — before Jay slid a wedding ring on Beyoncé's finger and they walked down the aisle.
However, Jay has since deleted his Instagram account.
May 2015
Beyoncé, JAY-Z and Solange all attend the Met Gala in New York City, one year after the afterparty elevator incident at the Standard Hotel.
February 2016
Beyoncé performs with Bruno Mars and Chris Martin and Coldplay during the Super Bowl halftime show, while JAY-Z and Blue Ivy watch from a private box with Martin's ex Gwyneth Paltrow and their kids Apple and Moses.
April 2016
Beyoncé's Lemonade special airs on HBO and the album goes on sale after a mysterious, week-long promo campaign. The lyrics in songs like "Hold Up," "Don't Hurt Yourself" and "Sorry" hint at infidelity and a marriage in crisis, while "Sand Castles" and "All Night" are about redemption, forgiveness and a renewed bond. Critics and fans flooded social media with commentary on the visual album, many interpreting it to be autobiographical while others thought it a was a self-promotional creative endeavor.
Days later, Bey kicks off her Formation World Tour in Miami. Despite reports that their marriage was still on the rocks, the pair were photographed — with Jay's arm around his wife —  at the concert venue, and she closed the show dedicating her hit "Halo" to her "beautiful husband."
Eventually, Bey's mom Tina Knowles Lawson weighs in on the meaning of Lemonade, saying: "It could be about anyone's marriage. I think that everybody at one time or another has been betrayed and lied to and it's about the pain and it's about the healing process and it's about, 'How do you get past that and move on.'"
May 2016
Beyoncé attends the Met Gala sans JAY-Z just eight days after the release of Lemonade, spurring more questions about the status of their relationship.
That same month, Fat Joe and Remy Ma release a remix of "All the Way Up" featuring JAY-Z, in which he raps: "You know you made it when the fact your marriage made it is worth millions / Lemonade is … a popular drink and it still is." Then, that evening, Jay and Bey met up in New York for a date night at Italian hotspot Del Posto.
July 2016
Jay and Bey are photographed in good spirits at a Wimbledon match in London, where they cheered on pal Serena Williams, who made a memorable cameo in Lemonade's "Sorry" video.
August 2016
Beyoncé attends the MTV VMAs with Blue Ivy in tow, performing a medley of songs from Lemonade and taking home eight awards, including Video of the Year. JAY-Z wasn't spotted at the show, but he later joined Bey to celebrate at a star-studded afterparty with couple pals Kanye and Kim Kardashian West and Alicia Keys and Swizz Beatz.
October 2016
Beyoncé invites JAY-Z onstage during the final show of her Formation World Tour in New Jersey, telling the audience to "give it up for my man" and giving him a smooch before launching into "Drunk in Love."
On Oct. 31, Jay and Bey adorably celebrate Halloween with Blue Ivy, dressing up as Barbies and Ken.
November 2016
Just days before the election, JAY-Z and Beyoncé stump for Hillary Clinton at a rally in Cleveland.
December 2016
Beyoncé releases a standalone video for "All Night" from Lemonade, which includes footage from their 2008 wedding.
On Dec. 3, Beyoncé throws JAY-Z a private surprise bash in L.A., where they celebrated with Kelly Rowland, Tina Knowles Lawson and more.
Feb. 2017
Beyoncé reveals she and JAY-Z are expecting twins.
"We would like to share our love and happiness. We have been blessed two times over," she captioned a photo of herself cradling her baby bump. "We are incredibly grateful that our family will be growing by two, and we thank you for your well wishes. – The Carters."
Later that month, the couple attended both the Grammys (where Bey put on a show-stopping, goddess-inspired performance) and a pre-Oscars party, where the singer showed off her growing bump in multiple fitted ensembles.
April 2017
JAY-Z and Beyoncé celebrated nine years of marriage, with the mom-to-be sharing a series of photos and a sweet montage video — set to her song "Die With You" — to mark the occasion.
"I don't need air in my lungs. If I can't sing your song," one image read — showing the couple's matching ring finger "IV" tattoos (Beyoncé was born on Sept. 4; JAY-Z on Dec. 4; they tied the knot on April 4).
That same month, the longtime lovebirds jetted off to Bora Bora for a South Pacific babymoon — likely their last big vacation before the twins arrive. (Beyoncé had been scheduled to perform at Coachella in April, but postponed her appearance until 2018 on doctor's orders.)
RELATED VIDEO: Beyoncé Didn't Let Near-Wardrobe Malfunctions Stop Her Coachella Momentum
June 2017
A source confirmed to PEOPLE that Beyoncé and JAY-Z welcomed their twins in mid-June.
Later that month, JAY-Z dropped his 13th solo studio album, 4:44. In the title track, the rapper references his relationship with Beyoncé, apologizes for womanizing, says his daughter and newborn twins changed his perspective, mentions a series of miscarriages, and confesses he's undeserving of the relationship.
"I apologize, our love was one for the ages and I contained us," he raps, later adding, "And if my children knew, I don't even know what I would do / If they ain't look at me the same / I would prolly die with all the shame."
July 2017
Beyoncé makes her super low-key public debut since welcoming the twins for an event alongside JAY-Z celebrating Roc Nation artist Vic Mensa July 13 in L.A. Hours later, the mom of three shared the first photo of the couple's new additions, confirming they welcomed son Sir and daughter Rumi the previous month.
August 2017
After house hunting for two years, Jay and Bey settle into an $88 million Bel Air mansion.
September 2017
The A-list pair kick off the month at the Made in America Festival" in Philadelphia, where Jay led the crowd in singing "Happy Birthday" to Bey, one day before she turned 36.
On Sept. 14, the couple make their first red carpet appearance since welcoming the twins at pal Rihanna's Diamond Ball in N.Y.C.
A week later, on Sept. 23, they enjoy a family outing with Blue, dancing and singing along at Bruno Mars's Madison Square Garden 24K Magic Tour stop.
At the end of the month, a source confirms to PEOPLE that Jay and Bey have purchased a $26 million waterfront estate in the Hamptons.
October 2017
On Oct. 17, Jay headlines his third annual Tidal x Brooklyn benefit concert, raising money for those affected by Hurricanes Harvey and Irma. While Bey attended, walking the carpet in support of the event, she didn't join her rapper hubby onstage when he performed their duet "Bonnie and Clyde."
Later in the month, at pal Kelly Rowland's Halloween party, Jay and Bey dressed up as another powerhouse duo: Lil' Kim and The Notorious B.I.G. The couples that wear couples costumes together stay together.
November 2017
On Nov. 29, T: The New York Times Style Magazine releases an extensive, deeply personal interview with JAY-Z in which the rapper admits to infidelity, explains why he cheated and reveals how they got their marriage back on track.
"You know, most people walk away, and like divorce rate is like 50 percent or something 'cause most people can't see themselves. The hardest thing is seeing pain on someone's face that you caused, and then have to deal with yourself," he told the outlet, revealing therapy helped him in tough times. "So, you know, most people don't want to do that. You don't want to look inside yourself. And so you walk away."
The rapper also told the outlet that their marital strife informed both Lemonade and 4:44, but playing that music for one another was painful and "very, very uncomfortable," but: "We were using our art almost like a therapy session."
At the end of November, Jay received the most nominations, eight, for the 2018 Grammys.
January 2018
On Jan. 27, Jay and Bey attended Clive Davis and the Recording Academy's annual pre-Grammys gala in N.Y.C., where the rapper was honored with the 2018 Salute to Industry Icons Award. In his acceptance speech, Jay revealed he ended his six-year boycott of the Grammys to support Bey in 2004, "when a beautiful young lady, whom I love dearly, had a solo album, and it was the breakout — she was nominated."
Earlier that day, Hova sat down with CNN's Van Jones for a wide-ranging interview in which he discussed everything from Trump's presidency to his marriage to Beyoncé, further opening up about how they fixed their relationship after he cheated. Jay said "the best apology is changed behavior," adding: "The other side is beautiful — at least for us."
In the same interview, Jay also spoke about 7-month-old twins Rumi and Sir. "We are in a beautiful time now because they are seven months and they can't move," he sdaid. "They can just coo … they just coo and you don't have to 'wait, wait, wait, wait.' … You know, they're not running anywhere yet. We are going to enjoy these couple of months until they start running, and then it's over."
On Jan. 28, Jay and attended the Grammys at Madison Square Garden, where they sat front-row with Blue.
Blue stole the show throughout the night, whether she was adorably shushing her parents — or noshing on snacks and a juice box.
March 2018
On March 2, Jay and Bey's latest collaboration dropped: DJ Khaled's "Top Off," also featuring rapper Future. On the track, Jay raps about everything from incarcerated hip-hop star Meek Mill to "me and Blue having a sing-off."
Meanwhile, on Bey's verse, she raps: "If they're tryna party with the queen / They gon' have to sign a non-disclosure." (Fans on social media speculated this line was about comedian Tiffany Haddish. The month before, the Girls Trip star said that at a party, "[An actress] touched JAY-Z's chest and Beyoncé came walking up like…'Biitttchhh!' But, she didn't say that.")
March 2018
The Beyhive buzzed into overdrive as Beyoncé and JAY-Z announced a joint summer tour on March 12. The jaunt is a long-awaited sequel to their blockbuster 2014 duel headlining trek, On the Run.
A source previously told PEOPLE that the music super-couple planned to return to the stage together. "They are incredibly excited. It took a lot of work to make this happen. It's the best choice for their family."
On March 17, 2018, Beyoncé, JAY-Z and Blue Ivy Carter attended the 2nd Annual Wearable Art Gala in Los Angeles before the pop icon was awarded a humanitarian award by her mother, Tina Knowles Lawson — and Blue did some bidding on behalf of her famous parents.
Blue held her paddle high and bid $17,000 on an acyclic painting of Sidney Poitier during the event's live auction, emceed by Star Jones, according to Vanity Fair. Despite JAY-Z jokingly trying to snatch the paddle from his daughter, she bid again when the item's asking price shot up to $19,000, the outlet reported. However, director Tyler Perry beat out the bid and won the art piece for $20,000.
"I got the painting. I could not be outdone by a 6-year-old," he joked.
Work hard, play hard. In late March, the couple headed to Jamaica with their children, reportedly shooting promos for their upcoming tour.
"It was a work trip, but they also got to enjoy the island," a source told PEOPLE. "Beyonce is preparing for Coachella. Together they are rehearsing for the tour. It's a lot of work for them, but they are very excited. Things are great."
June 2018
Jay and Bey kick off their On the Run II tour in Cardiff, England, on June 6. Throughout the two-hour set, the couple performed 37 tracks — and gave fans a rare glimpse into their private world.
The pair appeared to hint that they recently renewed their vows. In a video taken at the tour opener, both musicians could be seen on a screen in all-white attire joined by Blue Ivy and twins Rumi and Sir for what appeared to be a vow renewal ceremony. The message "THIS IS REAL LOVE" is projected during the film at the concert as the power couple sings their 2009 duet "Young Forever."
Before Bey and Jay shared the footage of the ceremony, photos of the pair holding two babies was shared along with the words "LOVE IS UNIVERSAL" and "LOVE NEVER CHANGES." The Bey Hive presumably thought the children are Rumi and Sir (who will celebrate their first birthday on June 13), however, the babies are not.
"At the end of the show the Carter babies were included in a family collage [however] the babies in the film clip at the beginning were not their children," a source tells PEOPLE.
June 2018
A week later, the superstar couples stunned fans in London and around the world by releasing a new joint album called Everything Is Love. The nine-track LP, which lists the powerhouse couple simply as The Carters, is currently only available to stream on Tidal.
A video for new track "Apes—" was shot by Ricky Saiz on location at The Louvre in Paris in May dropped simultaneously.
The couple announced the album during their concert in London on Saturday, with "album out now" text appearing on a screen.
"You've all given so much love every time we come here — thank you. Because we love you all so much we have something special for y'all," Beyoncé told the crowd. "We want you guys to be the first to experience this new project. And we have a new visual for you guys. We want you all to count down — 10, 9, 8…"
While fans had no idea the album would be dropping on Saturday, during an interview with the New York Times last year, JAY-Z revealed that both he and his wife had been working on new music together for a while but took a break so that she could focus on Lemonade instead.
"Her album came out as opposed to the joint album that we were working on," he said, explaining that Lemonade was closer to being completed at the time.
Teasing their future collaboration, he added, "We still have a lot of that music."
RELATED: Did JAY-Z & Beyoncé Renew Their Vows? New Video & Photos from On the Run II Tour Shows Ceremony with Twins
While the pair's album came as a surprise to their fans, many had previously assumed the new music would be released to coincide with their 10th wedding anniversary in April.
Source: Read Full Article