BTS Announce Next Album 'Proof' Is an Anthology Album
BTS just revealed new details about their upcoming album. The Korean septet previously teased a new release following the completion of their Permission to Dance On Stage tour in April. On May 4, BTS announced their next album is titled Proof and that it is an anthology album.
BTS will release an album named 'Proof' in June
On May 4 at 11 a.m. EDT and May 5 at midnight KST, a video premiered on the BANGTANTV YouTube channel. The YouTube video ended up being a trailer that revealed the album's title, Proof.
The trailer began with BTS' debut single album 2 Cool 4 Skool and took fans through the band's most recent Permission to Dance era. Each period showed the era's cover art and release date while the lead single from the album played.
At the end of the trailer, the title of BTS' upcoming album was announced. Proof will be released on June 10.
A press release about the album reads, "The anthology album Proof celebrates the nine years of BTS' journey since their debut, and opens a new chapter upon their 10th year as artists. The new album will include various tracks that presents BTS' thoughts on their past, present and future including three new tracks."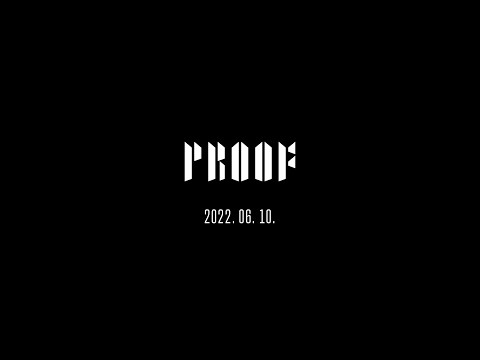 Big Hit Music shared more information about BTS' album 'Proof'
On the fan communication platform Weverse, Big Hit Music provided more details about the album for ARMY. The label also shared information about how fans can pre-order the album.
In the Weverse announcement about Proof, Big Hit Music wrote:
"After ceaselessly sprinting forward since 2013, BTS is celebrating their 9th anniversary this coming June. It is all thanks to ARMY who have sent us your unwavering love and support.
The BTS anthology album that embodies the history of BTS will be released as they begin a new chapter as an artist that has been active for nine years to look back on their past endeavors.
The anthology album 'Proof' that consists of three CDs includes many different tracks – including three all-new tracks – that reflect the thoughts and ideas of the members on the past, present and future of BTS.
We hope that you look forward to BTS' anthology album "Proof", and relive the history that BTS and ARMY made together so far, and will continue to make in the future to come."
Pre-orders for BTS' album Proof began on May 5 at 11 a.m. KST. More information about purchasing Proof can be found on Weverse.
BTS previously teased the album
On April 16, Jin, Suga, J-Hope, RM, Jimin, V, and Jungkook concluded their Permission to Dance On Stage tour with Permission to Dance On Stage – Las Vegas.
When the final concert ended, a surprise video presentation was shown to concertgoers. The video teaser was later shared on Big Hit Music's official Twitter account for BTS.
The teaser showed multiple black-and-white clips of past BTS eras and ended with the tagline "WE ARE BULLETPROOF" and the date "2022.06.10."
Source: Read Full Article