Cardi B Offered Collab by Fantasia Barrino After Posting Cover of 'When I See U'
The New York native takes to her social media platform to share a video of her singing the RnB artist's classic as she celebrates her new track 'Tomorrow 2' success on the Apple Music chart.
AceShowbiz –Cardi B is indeed one of the talented rappers that many artists want to collaborate with, one of which is Fantasia Barrino. The "Bodak Yellow" rapper has been offered a collab by the R&B singer after she posted a rendition of the latter's classic "When I See U".
On Saturday, September 24, Cardi turned to her Instagram Story to post a video in which she sang "When I See U" as she celebrated her latest song "Tomorrow 2" success on the Apple Music chart. The "I Like It" spitter tried her best to bring off the verse, which left fans very amused, to say the least.
Then on Sunday, Fantasia reposted the video on her Instagram Story with a caption that called for the two women to collaborate. Grammy-award-winning R&B singer wrote, "I love me some Cardi B I'd do anything for a song with you. Love your story and your truth. We are a lot alike @IamcardiB. Let's give them a soulful hip hop Bop. What chu say queen?"
In a following Story, Fantasia added, "@Iamcardi you jacked those words baby girl you can do no wrong!" The 38-year-old songstress continued asking the New York native to make "A Song Queen" together.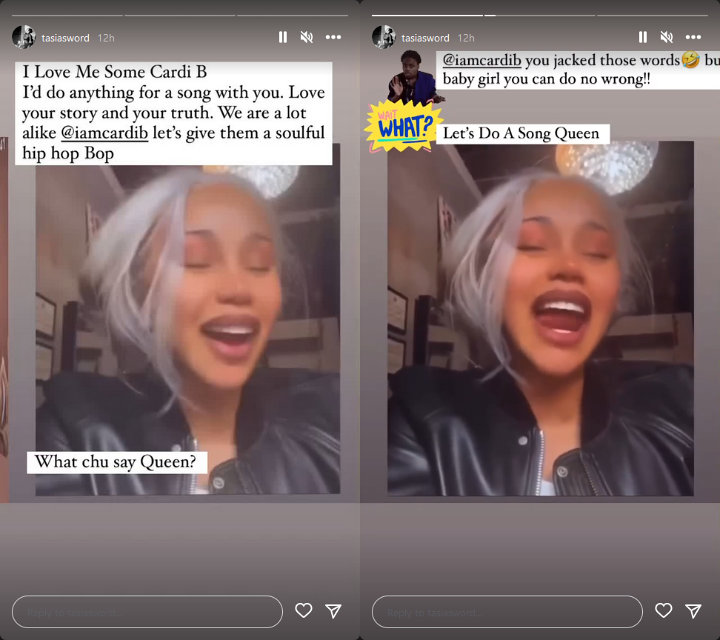 Fantasia Barrino asked Cardi B for a collaboration after Cardi posted a cover of her song 'When I See U'.
Fantasia is an 11-time Grammy-award nominee and she previously won Female R&B Vocal Performance in 2011 for her track "Bittersweet" from her album "Fantasia Barrino". Cardi, who is also a Grammy-winning artist, has much to celebrate herself. Her recent "Tomorrow 2" collaboration with GloRilla earned her another No. 1 track to her growing record.
A day after its release on Saturday, the track extended Cardi's record as the female artist with the most No. 1 songs on the U.S. Apple Music chart. Expressing her excitement over her new milestone, the 29-year-old femcee turned to Twitter, writing, "BUT THATS WHY I LOVE TOMORROWS!!!!!!!!!" In a separate tweet, she added, "THANK YOU EVERYBODY ….most important BARDIGANG."
Source: Read Full Article