Chris Brown Slapped With Restraining Order After Abuse Claims Surface
A Los Angeles woman, who accused Chris Brown of stalking and hitting her, has been granted a temporary restraining order against the singer. Brown has been ordered to stay 100 yards away from the woman, whose name is listed as Cassandra.
According to Brown's lawyer, Mark Geragos, the singer has never met the woman in question. "This is sad because it's obviously the disjointed ranting of someone Chris doesn't know who has mental health issues," Geragos said. "This just creates celebrity meet and greets with deranged fans, and perhaps the court may want to engage their Mental Health Department."
Despite his attorney's denial, Brown's history of physically and emotionally abusing women is well-known. In 2009, the Virginia singer pled guilty to felony assault after brutally attacking Rihanna. He eventually accepted a plea deal of community service, five years of probation, and domestic violence counseling.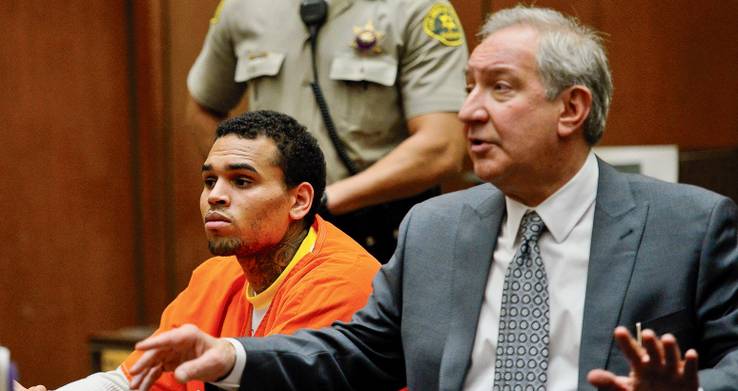 This did little to deter Brown, who was also ordered to keep his distance last year from his ex-girlfriend, Karrueche Tran after she accused him of threatening to kill her. She was granted a five-year 100-yard restraining order against the singer. And last month, he was sued by a woman who claimed he had repeatedly assaulted her inside his home.
According to a statement given by Los Angeles Police Detective DeShon Andrews in the Rihanna case, Brown punched the Barbadian star repeatedly, choked her, and threatened to "beat the s–t" out of her. He reportedly also bit her ear and her fingers.
In 2016, Brown was involved in a stand-off with police after a woman called 911 and reported he threatened her with a gun at his home. When the police arrived, Brown refused to let them enter. While he was held up inside, Brown posted several videos to Instagram, in which he called the police "idiots" and "the worst gang in the world." He was later arrested, though the case was eventually dismissed due to a lack of evidence. As of 2016, Brown is banned from entering Australia, New Zealand, and the United Kingdom, as a result of his criminal past.
Despite his history of violence against women, Brown continued to enjoy commercial success. His last album, Heartbreak on a Full Moon, debuted at number three on the US Billboard 200, becoming his ninth top 10 album in a row. The singer currently has an estimated net worth of $50 million. He begins the Heartbreak on a Full Moon Tour next week with guests 6lack, Rich the Kid, and H.E.R.
Source: Read Full Article