Ed Sheeran And BTS Are Teaming Up Together. Here's Why
Ed Sheeran and BTS are teaming up to create more musical magic. The "Shape of You" singer previously gifted the K-pop sensations with the song "Make It Right," which was featured on their album "Map of the Soul: Persona." In a 2019 Instagram post, Sheeran wrote that it was "the first K pop song I've had the honour of helping write."
Sheeran's first collaboration with BTS came about when he reached out to the group. While talking to radio host JoJo Wright at KIIS FM's 2019 Jingle Ball, RM recalled how the British singer-songwriter contacted them out of the blue. Sheeran told BTS that he "had a present" for them and serenaded them with the song (via Meaww). He had previously teased the collab in a 2018 Heatworld video, saying that he thought the group "might be messing with" a track that he wrote for them.
RM described Sheeran as one of BTS' "idols" during an interview with Rolling Stone, and he said that "Make It Right" is "a really great song." It's evident why RM, Suga, Jimin, Jin, J-Hope, Jungkook, and V want to record another Sheeran song, but why is he so eager to work with them again?
What Ed Sheeran said about BTS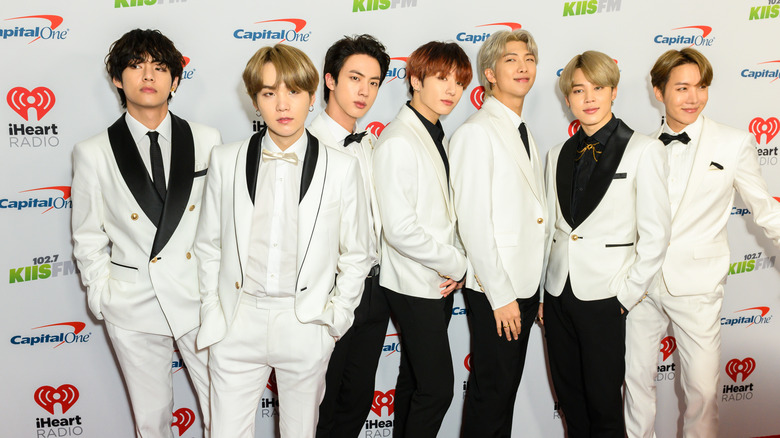 Ed Sheeran revealed that he was a true ARMY member while speaking to Most Requested Live about the new song that he's written for BTS. After casually breaking the big music news, he praised the group. "I've actually worked with BTS on their last record, and I've just written a song for their new record. And they're like super, super cool guys as well," he said.
As reported by Metro, BTS is set to release a second track on the single CD featuring their smash hit "Butter." BTS' record label, Big Hit Music, described the mysterious new tune as having the incredible ability to "make your heart beat to the rhythm of BTS's positive energy." Fans will just have to wait and see whether it turns out to be Sheeran's song when the CD drops on July 9.
If this is the case, it could be like hitting the musical lottery for the "Bad Habits" singer. "Butter" was such a massive success that it broke five world records, according to Guinness World Records, so it's safe to assume that its two-song CD will sell well. One record it smashed, the most streamed track on Spotify in the first 24 hours, was previously held by Sheeran and Justin Bieber's song "I Don't Care."
Source: Read Full Article