Frances McDormand's Oscar Stolen
Frances McDormand's Oscar was stolen shortly after receiving her Best Actress award.
McDormand's Oscar win for best actress turned from triumph to tragedy after a man stole her golden statuette at the Governor's Ball, the formal dinner held after the Academy Awards ceremony.
According to KTLA, McDormand wasn't separated from her Oscar for long. Shortly after, Los Angeles Police officers arrested 47-year-old Terry Bryant for allegedly stealing the shiny statue. He's being held on a charge of grand theft with bail set at $20,000.
Apparently the fare at the Governor's Ball wasn't exactly to McDormand's liking as she celebrated the statue's retrieval with fast food takeout. "I can confirm that, after a brief time apart last night, Frances and her Oscar were happily reunited," McDormand's rep said. "They celebrated their reunion with a double cheeseburger from In-N-Out."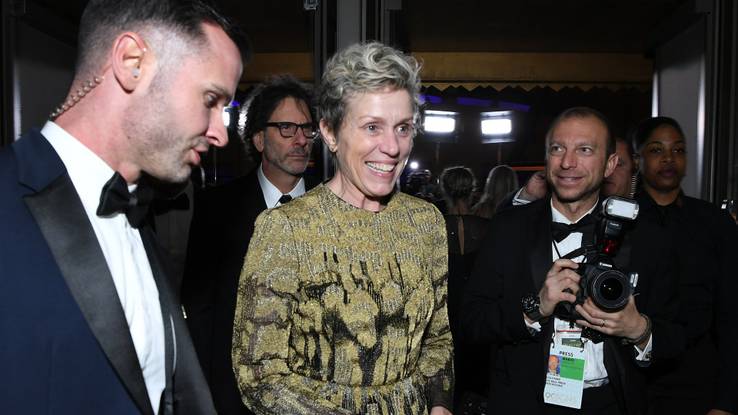 Even if the thief had gotten away with it, it's unlikely he would have profited from the dirty deed. The Oscars are already inscribed with the winner's names following their announcement, and no fence in the world would take an already named Oscar.
McDormand won Best Actress at the 90th annual Academy Awards for her role in Three Billboards Outside Ebbing, Missouri where she played a revenge-seeking mother completely abandoned by police and authorities after her daughter is raped and murdered.
The award is actually her second Best Actress win, with the first being for her role in the 1997 classic Fargo. In that movie, McDormand plays a pregnant police chief in the small town of Fargo North Dakota investigating a string of roadside murders.
During her acceptance speech, McDormand drew praise and accolades as she demanded more inclusivity in Hollywood. After asking all female Oscar-nominees to stand she gave a rousing speech applauding their work. She ended the speed by saying, "I have two words to leave you with tonight – 'inclusion rider'."
Backstage she later explained what an inclusion rider is: "[It] means that you can ask for and/or demand at least 50% diversity, not only in casting but also [in] the crew."
Source: Read Full Article