George Harrison Said The Traveling Wilburys Wouldn't Have Happened if They Planned It
In 1988, George Harrison accidentally formed The Traveling Wilburys. Somehow, he wrangled four of the best singer-songwriters, Tom Petty, Bob Dylan, Roy Orbison, and Jeff Lynne, into the recording studio. George and Lynne were there to record a new song. All five of them ended up recording "Handle With Care."
It was a spontaneous thing. Soon after, George officially formed The Traveling Wilburys, and they went on to record two albums. The ex-Beatle claimed that the supergroup wouldn't have happened if they'd planned it.
George Harrison formed The Traveling Wilburys by accident
In 1988, shortly after he released his 1987 album Cloud Nine, George was in a bit of a pickle. He told Count Down in 1990 that the international sector of his record company wanted an extra song for a 12-inch single.
So, he had to record a new song quickly. That night, he told the story to Lynne and Orbison. George asked Lynne for help, but Lynne didn't know where to get a studio and engineer so quickly. Orbison told the guys to call him when they found a recording studio. He wanted to watch them.
Then, George remembered that Dylan had a studio in his garage and called him to see if they could use it. Dylan agreed. George then went to Petty's house to pick up his guitar. Petty wanted to join the group after he heard what was happening.
They all arrived at Dylan's garage, and George and Lynne started writing the song. George began to think it was silly having all the guys there but not on the record. It was a once-in-a-lifetime moment having all five of them in one studio. So they all joined in.
Looking around Dylan's garage, George saw a box that said, "Handle With Care." So, they formed the lyrics around that phrase. When they finished recording, George knew "Handle With Care" was too good for a European 12-inch. He kept hold of it until he decided to get everyone to record a whole album.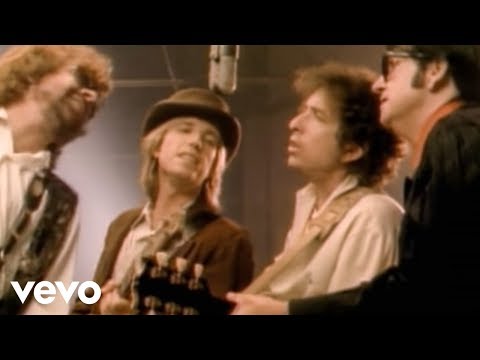 George Harrison said The Traveling Wilburys wouldn't have formed if they planned it
In a video about the making of The Traveling Wilburys Vol. 1, George explained that The Traveling Wilburys wouldn't have worked if they'd all planned it. It happened by fate.
George explained, "The thing about the Wilburys for me is if we'd have tried to plan that, or if anybody had tried to say, 'Let's form this band and get these people in it,' it would never happen. It's impossible.
"The thing happened completely just by magic, just by circumstances. Maybe there was a full moon that night or something like that. It was quite a magical little thing, really."
Somehow, all five musicians were available. Lynne was available. Petty was home at the particular moment George came to pick up his guitar. Orbison was on stand-by, idling with no plans. And Dylan, who George mentioned was often hard to get a hold of on the phone, picked up instantly when George called him to see if they could use his recording studio.
By the time The Traveling Wilburys accidentally got together for the first time, George had already read I Ching, the Chinese classic Book of Changes. He knew of the Eastern philosophy that everything is relative to everything else. There are no coincidences. The Traveling Wilburys is a perfect example.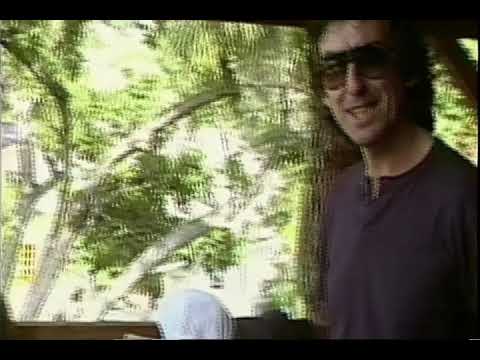 The supergroup only planned when they'd get together and record an album
When George asked the four legends if they'd be willing to record a whole album, everyone said yes. George explained that they didn't plan much else.
The only thing George and the others planned before recording The Traveling Wilburys Vol. 1 was when they wanted to record. They allotted nine days to work on the album before Dylan went on tour.
"All we planned was which weeks that we were all available to get together," George explained. "But apart from that, there was no other plan. We set up a room where we were gonna be and then we walked in and started writing tunes."
Petty said the whole experience was some of the best days of his life. He explained why the entire thing worked out so well. "The thing I guess that would be hardest for people to understand is what good friends we were," he said. "It really had very little to do with combining a bunch of famous people.
"It was a bunch of friends that just happened to be really good at making music. None of this would have happened without him. It was George's band. It was always George's band. And it was a dream he had for a long time."
George added, "From my point of view, I just tried to preserve our relationship. I worked so hard to make sure that all the guys who were in that band and consequently on record and film, their friendship wasn't abused."
George took his friendships very seriously, so getting everyone together was a dream come true for him. Petty said George considered himself a Wilbury for the rest of his life.
Source: Read Full Article