Hailey Bieber Breaks Her Silence On Justin's Behavior
Hailey and Justin Bieber are no strangers to turning heads, but his alleged recent behavior towards his wife is raising eyebrows.
The pair married in 2018 and followed up with a bigger ceremony in South Carolina in September 2019, per Insider. When it comes to life as a married couple, Justin hinted at how hot things get when it's just the two of them. He told E! News in February 2020, ​​"When I'm with my wife, we like to … You guys can guess what we do. It's gets pretty crazy … that's pretty much all we do." While they like to "Netflix and chill," the couple admitted that marriage isn't without struggles, as Hailey told Vogue in February 2019, "The thing is, marriage is very hard." Despite the ups and downs that come with a high profile marriage, she said, "There is no one else I would have ever wanted to spend my life with except him," per a February 2020 Elle interview.
Now Hailey has something to say about all the recent drama that hasn't Justin in the best light — keep reading for more details.
Hailey Bieber is coming to her husband's defense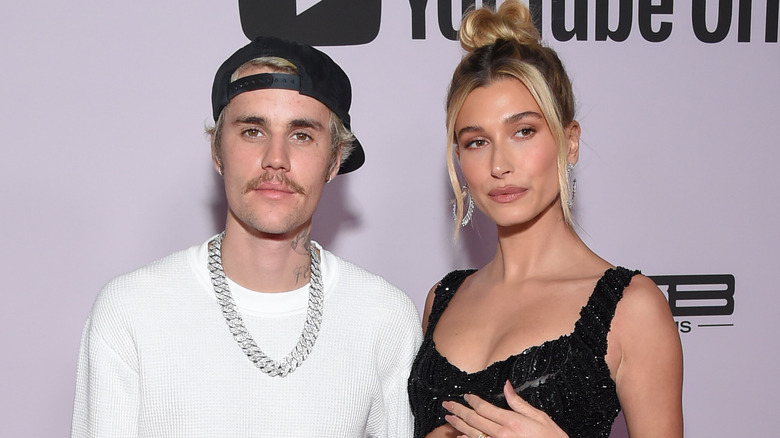 Hailey Bieber responded to a clip that seemingly showed her husband Justin Bieber "yelling" at her, according to the Daily Mail. She's soaking up the sun in Venice, but took to her Instagram Stories on July 14 to say a few kind words about her man. "Reminiscing on how amazing last weekend was. Had the best time surrounded by so much love. Any other narrative floating around is beyond false. Don't feed into the negative bulls**t peeps," she wrote.
Her comments come after a video surfaced of Justin allegedly yelling at her after a performance on July 11, but fans claim that is not the truth and say Justin was "hyped" after he appeared with Diplo in Las Vegas. In this clip, he can be seen throwing his hands up in the air as he speaks to Hailey.
However, one onlooker insisted there was no fighting going on as they tweeted, ​​"He was not yelling and we were there to witness what went down. He was all adrenaline." Hailey hasn't directly mentioned the video by name, but it seems like she's over the critics.
Source: Read Full Article