From headbanging to Bernstein: Jose Luis Gomez's spectacular rise
Conductor Jose Luis Gomez knows a thing or two about expectation. The Venezuelan-born Spaniard is part of a pedigree of world-class maestros of Latin descent – including the likes of Gustavo Dudamel and the Mexican director of the Queensland Symphony Orchestra Alondra De La Para – who are amongst the most electrifying figures on any orchestral podium today.
Jose Luis Gomez in Melbourne.
But aside from the musical mantle of his cultural heritage, Gomez's breakneck ascent from relative obscurity to international recognition has also given him a lot to live up to.
Originally trained as a violinist, beginning his studies with Venezuela's El Sistema program and eventually going on to attend the Manhattan School of Music in New York, Gomez decided in early 2010 to try his hand at conducting.
[Bernstein] represents one of the last artists who was a truly complete musician.
Extraordinarily, after a mere six months tuition, he won first prize at the International Sir Georg Solti Conductor's Competition, one of the most prestigious awards of its type in the world, receiving a rare unanimous decision from the jury.
"It makes you immediately shine in the musical landscape," Gomez says of winning the Solti competition.
"I was very happy as a violinist, but all my life I have strived to be a better musician in any way I can. Conducting felt like a very natural part of that process. But the immediacy of winning the Solti was an incredible gift."
Following his win, Gomez received an invitation from American-Estonian maestro Paavo Jarvi to become the assistant conductor of the Frankfurt Radio Orchestra, a position created especially for Gomez.
"Suddenly I was not only well recognised, but I had the opportunity to work with a brilliant musician (Paavo Jarvi) who also became my friend and mentor," he says.
"Of course, competitions give you an amazing platform and very good credentials, but for me it was everything that came in the wake of that success that was the real prize."
In the eight years since that career-making victory, Gomez has certainly made good on the expectations of the Solti judges. In addition to his tenure in Frankfurt, he has conducted orchestras across Europe and America. Today, he is the music director of the Tucson Symphony Orchestra.
But Gomez is also no stranger to defying expectations. His passion for music extends far beyond the limits of the classical sphere; as a teenager he was the lead singer of a heavy metal band alongside his brother.
"My father is a professional musician, so we were brought up to love all forms of music, not just classical," he says.
Given this unexpected duality, it's perhaps no surprise that Gomez should feel an affinity for the legendary conductor and composer Leonard Bernstein.
Best known for his iconic musical theatre blockbuster West Side Story, Bernstein's artistic identity was similarly double-hinged. A towering bastion of classical music, he was also drawn to the syncopations and toe-tapping energy of jazz and Broadway.
Bernstein's creative viewpoint pivoted seamlessly between the austere and the playful; the vim of his much-loved musicals was equalled by the artistry and gravitas of his symphonies and operas.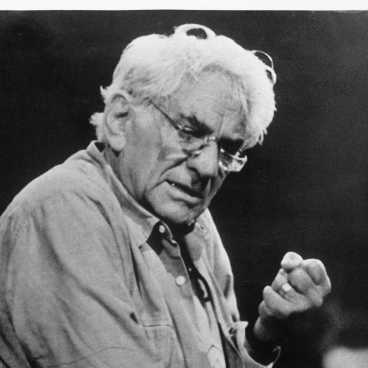 Composer and conductor Leonard Bernstein.
Gomez will helm the Australian National Academy of Music orchestra in a celebration of Bernstein's music to mark the 100th anniversary of the composer's birth.
On the bill are works that perfectly capture the dual importance of the classical and the popular in Bernstein's canon, such as the suite from the musical Candide, alongside important works of 20th-century Americana, including Copland's Fanfare for the Common Man and Barber's Adagio for strings.
"Bernstein believed that to conduct a piece of music … you have to get inside the score on a deeply personal level. That's one of the things that I really identify with," Gomez says.
"For me, he represents one of the last artists who was a truly complete musician."
The 2018 ANAM Orchestra performs A Bernstein Celebration at Melbourne Recital Centre on April 27.
Source: Read Full Article