Justin Bieber and Poo Bear Recruited by Bryson Tiller for Christmas Track Collaboration
'Lonely Christmas' will be featured on the 'Don't' hitmaker's 'A Different Christmas' album, and its newly-released promo video presents the three singers in animation.
AceShowbiz –Justin Bieber and Poo Bear are getting into the festive spirit – they've teamed up with Bryson Tiller for new track "Lonely Christmas".
The "Don't" hitmaker shared the promo for the downbeat holiday tune on Friday, November 19, which features Bieber and his frequent collaborator and co-writer. The song will feature on Tiller's "A Different Christmas" album and the two also appear in an animated video for it.
"The Lonely Christmas Video is Out Now. had so much fun working on this video with super creative people! Enjoy! Happy Holidays," Tiller tweeted on Friday, adding a cactus emoji.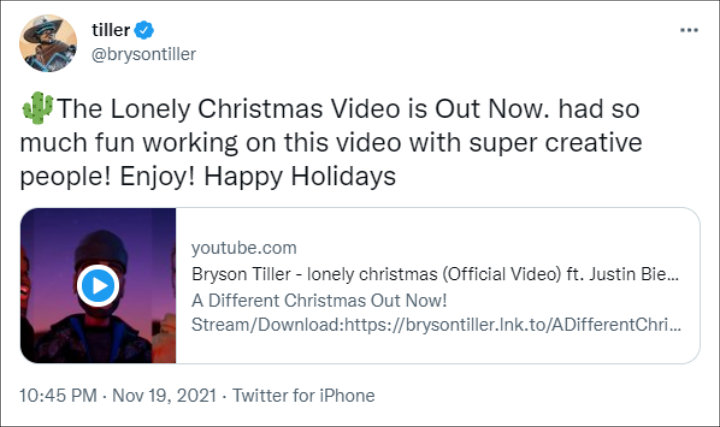 Bryson Tiller announced that 'The Lonely Christmas' video is out.
In the video, Tiller veers off an empty desert road to Los Angeles and wakes up to find himself in an Old West claymation town, "Lonesome Valley," where a clay hoodie-clad Bieber is strumming a guitar and singing, "It's gonna be lonely Christmas/A lonely broken-hearted Christmas/ No mistletoes, no givin' kisses/It's gonna be a lonely Christmas, yeah, yeah."
And Tiller croons, "It was almost like every holiday/Could never ever outdo the last/And even though it ain't snowin' in the desert, girl/Still the coldest winter I've ever had."
The video ends with the three musicians around a campfire in the desert, beside cacti strung with Christmas lights as snow starts to fall.
Last week (ends November 12), Bryson previewed the project by dropping the track list and writing, "Before we get into my next album, i wanted to share another special project i worked on for you guys. This one was really fun to make. Inspired by Bieber, Ariana (Grande), and by one of my loneliest holiday seasons ever."
Source: Read Full Article