Lil Nas X Praised for His Mature Response to TV Host's Criticism of His Grammy Performance
Greg Kelly takes aim at the 'MONTERO (Call Me By Your Name)' hitmaker by sharing a photo of the rapper taking the stage at the Sunday, April 3 annual event.
AceShowbiz -Fans love how Lil Nas X handled a TV host's criticism of his 2022 Grammy performance. After giving such a mature response to Greg Kelly's diss on Twitter, the "(MONTERO) Call Me By Your Name" hitmaker earned praise from his online devotees.
Kelly randomly attacked Nas X by sharing a photo of the rapper onstage while performing with his "Industry Baby" collaborator, Jack Harlow. In the snap, the Grammy-winning emcee wore a sequin crop top and black pants.
Alongside the picture, the conservative pundit wrote, "Lil NAS has a BIG PROBLEM (And so does America)–knock yourself out NAS. You're a little FOOL with zero talent!!!!" Taken aback by the sudden attack, the 22-year-old musician replied, "damn greg all i did was wear a crop top this time," adding two crying emojis.
Kelly then clarified, "It's not the shirt NAS—it was the PUBLIC LEWDNESS. You know there are LAWS about that in certain 'jurisdictions'—but then again you were in VEGAS so who the hell knows. Bottom line: SING AND DANCE but no public self GROPING. DECENCY!" Avoiding a debate, Nas X simply responded, "apologies. have a great night."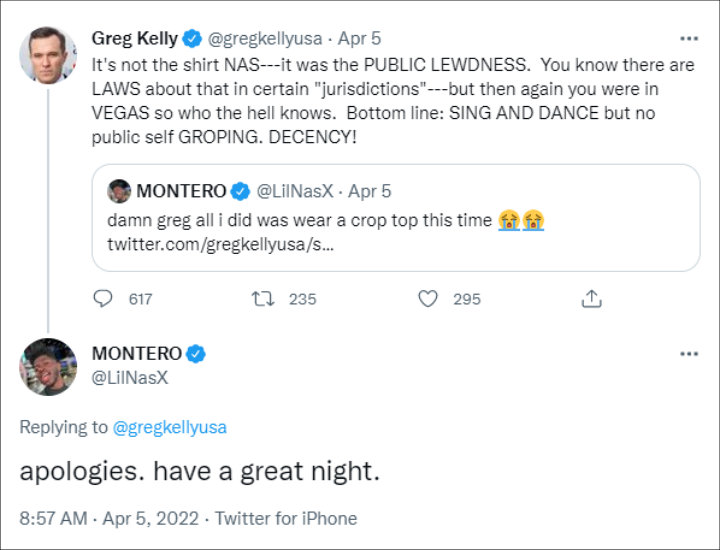 Lil Nas X gave a perfect respone to Greg Kelly's diss.
Many applauded Nas X for shutting down Kelly. "Lmao you're smart for disengaging. Not even worth your energy, love!" one person wrote, with another adding, "Lmaoo you're so awesome @LilNasX kill em with kindness, and also am I blind or does every woman singer grope herself on stage and this dude has no problem with them…?"
Others, meanwhile, believed that Nas X didn't owe Kelly an apology. "Do not apologize to this insecure man. You do you," a fan stressed. A different user chimed in, "Don't apologize, your performance was GREAT! Greg's issues are NOT your issues!"
Kelly himself has retracted his statement about Nas X having "zero talent." In a follow-up post, the 53-year-old explained, "I didn't like the performance. That shouldn't have been on prime time television. BUT, I can't deny you have real talent. And it's not nice to Call anyone a fool! You called me out in a 'good natured' way. NP. Good luck, continued success, just tone it down a notch Next year !"
Source: Read Full Article