The Strange Drake Vs. Pusha T Feud Explained
The latest rap feud, aside from Everyone vs. Kanye, has been brewing for awhile. The rivalry between Pusha T and Drake, however, has gained new momentum with the release of Pusha's album, Daytona, which features a diss track naming Drake. To understand the bad blood between the two, though, it is necessary to look back at their history.
This means we have to go back all the way to 2006 when Pusha T had issues with Lil Wayne. Clipse—the duo of Pusha T and his brother No Malice—released "Mr. Me Too" in which they came at Wayne for supposedly copying his style. "Wanna know the time? Better clock us / N****s bite the style from the shoes to the watches," Pusha rapped. In response, Wayne told Complex, "You talking to the best. Talk to me like you're talking to the best. I don't see no f****'n' Clipse. Come on man."
After Drake signed with Wayne's label, Young Money Entertainment, Pusha T baited him with the track "Don't F*ck with Me," where he samples Drake's "Dreams Money Can Buy." "Rappers on their sophomores / Actin' like they boss lords / Fame such a funny thing for sure / When n****s start believing all them encores," Pusha rapped in reference to Drake.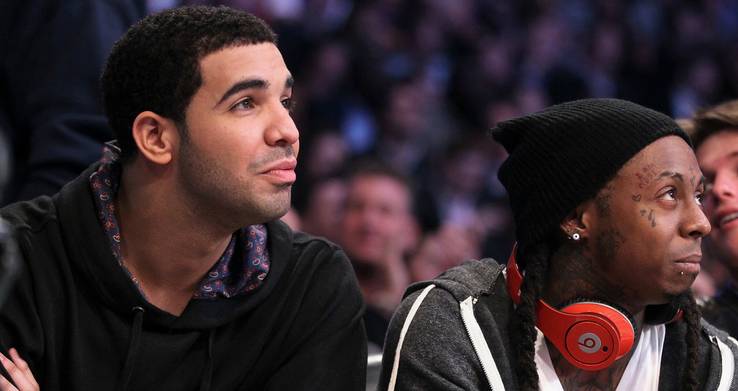 Then, in 2012, on his track "Exodus 23:1," Pusha addressed Drake's contentious contract with Young Money Entertainment. "Contract all f*cked up / I guess that means you all f*cked up / You signed to one n***a that signed to another n***a / That's signed to three n***as / Now that's bad luck," he rapped. Wayne responded on Twitter: "F*ck Pusha T and anybody that love em."
A year later, Drake responded to Pusha, rapping "Bench players talkin' like starters / I hate it" on the track "Tuscan Leather" from Nothing Was The Same. Adding, "I'm just as famous as my mentor / But that's still the boss, don't get sent for / Get hype on tracks and jump in front of a bullet you wasn't meant for."
Pusha shot back in 2016 implying that Drake had used ghostwriters on his debut album, So Far Gone, on "H.G.T.V." saying: "It's too far gone when the realest ain't real / I walk amongst the clouds so your ceilings ain't real / These n***as Call of Duty 'cause their killings ain't real / With a questionable pen so the feelin' ain't real," he rapped.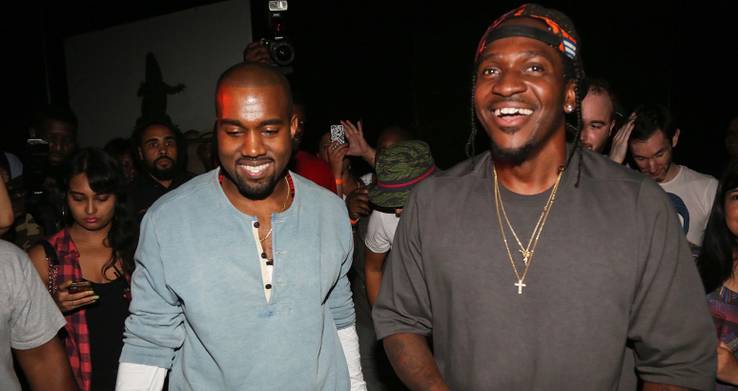 On 2017's More Life, Drake called out Pusha on the track "Two Birds, One Stone" for boasting about his drug-dealing past. "But really it's you with all the drug dealer stories / That's gotta stop, though / You made a couple chops and now you think you Chapo… You middle-man in this shit, boy you was never them guys / I can tell, 'cause I look most of you dead in your eyes / And you'll be tryna sell that story for the rest of your lives."
Yet, the feud reaches its boiling point with the release of Pusha's critically acclaimed album Daytona. On "Infrared," Pusha compares Drake to Donald Trump for using Quentin Miller, a ghostwriter, rapping, "The lyric pennin' equal the Trumps winnin' / The bigger question is how the Russians did it / It was written like Nas but it came from Quentin".
A day after the release of Daytona, Drake dropped "Duppy Freestyle," where he raps, "I had a microphone of yours but then the signature faded / I think that pretty much resembles what has been happening lately." Drake also goes in on Kanye West, who produced "Infrared," saying: "What do you really think of the n***a that's making your beats? / I've done things for him I thought he never would need / Father had to stretch his hands out and get it from me / I pop style for 30 hours, then let him repeat," he raps. Drake then asks Pusha for publicity fees, posting an invoice online.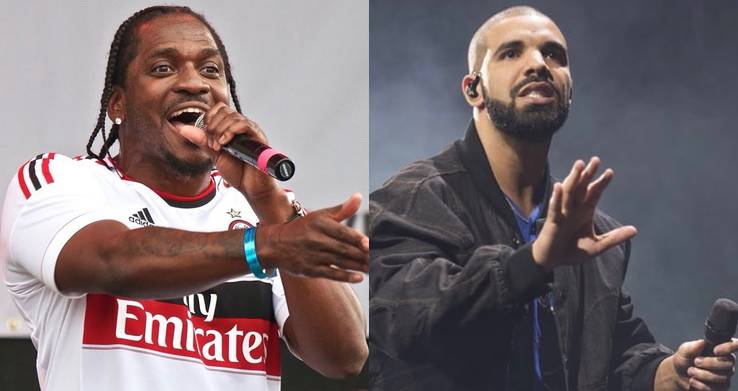 Pusha's response was already in the pipeline. On "The Story of Adidon," which features a cover shot of Drake in blackface from an old photoshoot, which was meant to be a statement against racism, Pusha T brings up the rumor that Drake has a child with adult film actress Sophie Brussaux, while also bringing up Drake's own fatherless childhood. "Adonis is your son / And he deserves more than an Adidas press run, that's real / Love that baby, respect that girl / Forget she's a pornstar, let her be your world," he raps before calling Drake a "deadbeat"
Drake's response addressed the blackface image but not the diss track. "The photos represented how African Americans were once wrongfully portrayed in entertainment. This was to highlight and raise our frustrations with not always getting a fair chance in the industry and to make a point that the struggle for black actors had not changed much," he wrote in a statement.
Pusha wasn't having it though, telling Los Angeles' Real 92.3, "That does not change my view at all. You are silent on all black issues, Drake…. You don't stand for nothing, you don't say nothing about nothing."
As we wait for a response from the Canadian rapper, one thing remains clear: this feud is far from over.
Source: Read Full Article