The Real Meaning Behind Kacey Musgraves' 'There Is A Light'
Kacey Musgraves' new album "Star-Crossed" takes listeners on the emotional journey the "Follow Your Arrow" embarked on in the wake of her divorce from singer-songwriter Ruston Kelly. Their romance inspired most of the love songs on her previous record, "Golden Hour." "The whole damn record is basically about him," Musgrave told Pop Culture of "Golden Hour" in 2019. However, her heartbreak seemingly made it impossible for her to stay in that same mindset while penning tracks for "Star-Crossed."
Musgraves is of the opinion that other musicians have covered the topic of adoration and devotion thoroughly enough, anyway. "The world probably doesn't need more love songs," she said during an interview with Zane Lowe for Apple Music 1. However, this doesn't mean that all of the songs on "Star-Crossed" are emo tracks about feeling miserable and lonely after ending a relationship. "It's a feeling of confidence and empowerment mixed with extreme fear and sadness and guilt and depression, but hope for the future," she told NPR of the wide range of emotions that she explored during the songwriting process.
"Star-Crossed" is structured like a Greek tragedy and divided into three parts. "There's a feeling of resolution at the end. I was inspired by that," Musgraves told Rolling Stone. The first two parts chronicle the beginning and end of Musgraves' relationship with Kelly, and the third is about finding the strength to move on (via the Los Angeles Times). So, where does the song "There Is a Light" fall on the album?
Kacey Musgraves found herself in a dark place during her marriage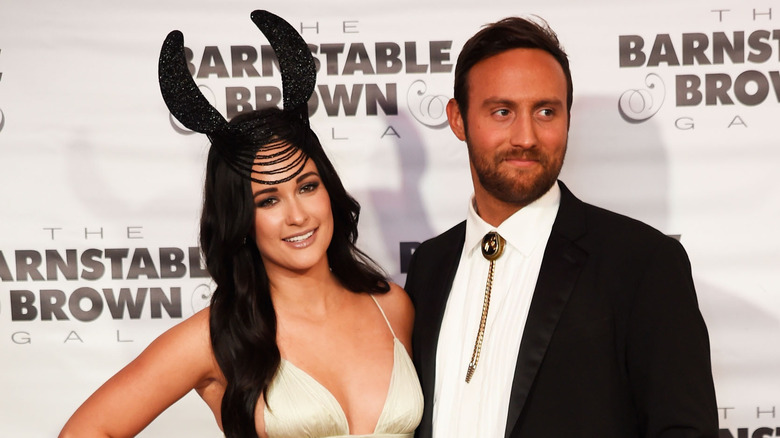 In May, Kacey Musgraves spoke to Elle about the feelings that made her realize it was time to end her marriage to Ruston Kelly. "I felt like I was dying inside. I was crumbling. I was sad. I felt lonely. I felt broken," she said. In "There Is a Light," she refers to the dark time in her life by revealing that at one point, she felt the need to hide her "light." "Tried not to show it / To make you feel good / Pretended I couldn't / When you knew that I could," she sings. For some reason that is not explained, she wanted to deny someone the pleasure of basking in the glow of the part of her that burns the brightest.
"Keep me in your glow," Musgraves begs her lover in "Golden Hour." However, by the end of "Star-Crossed," she's singing a much different tune: one that's about no longer needing someone else's glow to shine. 
"There Is a Light" is the second-to-last song on the record, and its lyrics indicate that Musgraves has discovered something important about her newly rediscovered inner light. "There is a light at the end of the tunnel / There is a light inside of me / There was a shadow of a doubt / But baby, it's never going out," she sings. It sounds like she finally started feeling herself again when she was working on this self-love anthem.
The visuals for "There Is a Light" are trippy
When Kacey Musgraves dropped "Star-Crossed," it coincided with the release of a full-length companion film on Paramount+. As reported by InStyle, the visuals for "There Is a Light" are "psychedelic flashing lights and quick edits to mimic an acid trip." This isn't surprising, considering the fact that Musgraves has experimented with psychedelics. On the "A Slight Change of Plans" podcast, she said that she came up with the entire concept for her new album after a guided trip.
Musgraves listened to a playlist while tripping, and she described how the music affected her once the drug was in her system. "You feel it in your bones, your cells. It's running through you in a way that I've never experienced before," she said. She also revealed that she encountered her nine-year-old self, which may have played a role in her rediscovering her inner light.
So, will Musgraves ever resume writing love songs like "Butterfly" and "Love Is a Wild Thing?" Perhaps, but one "Golden Hour" has passed, and she said that she's in a "nighttime period" right now. Thankfully, something good came out of the darkness in addition to her new music. "I feel a little bit more connected to humanity through my pain," she told NPR. We can already see that Musgraves' light is starting to shine brighter — possibly thanks to the new man in her life, poet Cole Schafer — so maybe fans won't have to wait long for the dawn.
Source: Read Full Article