The Real Meaning Behind Normani And Cardi B's 'Wild Side'
Cardi B knows what it takes to make a hit collaboration. Just take a look (and listen) to "Big Paper" with DJ Khaled or "WAP" with Megan Thee Stallion. Of course, Cardi did it again when she teamed up with Normani for "Wild Side," which Genius notes "marks the beginning of Normani's highly-anticipated era for her upcoming debut album."
While fans are surely beyond ready to hear what Normani will come out with, she seems pretty thrilled that she was able to work with Cardi. "She really showed up for me and brought this record to life by simply doing what Cardi does best," Normani said in a press release (via People). She added, "I love that woman down and I'm forever grateful." As for Cardi, she's just as excited about the situation. "I feel like this is Normani's big comeback and … this song, this everything, is amazing and I am just so proud of her," a clearly supportive Cardi wrote in her Instagram stories (via Normani Updates). 
So what exactly is Cardi so proud of? Well, the two have released a song, and video, that's just as fiery as you might expect. However, there's much more to this tune than just an untamable vibe. Read on to find out the true meaning behind "Wild Side."
Normani and Cardi B don't want to wait to get wild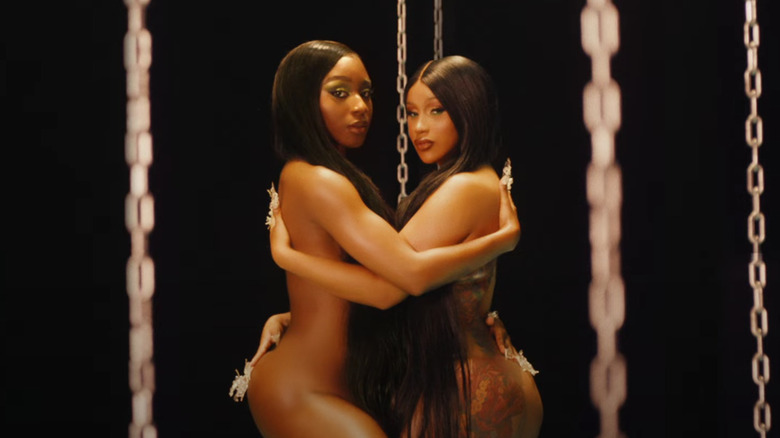 Both Cardi B and Normani seem to be feeling their "Wild Side." And that's understandable! Not only is the video — which was directed by Tanu Muino, partially responsible for Cardi's "Up," according to Rolling Stone — just as eye-popping as you might expect, but the lyrics give us a glimpse at the duo's tendency to know what they want and when they want it.
"I'm ready to pull up on you / I'm ready to do what I do / … Shoot your shot 'cause I'm bulletproof," Normani sings, per Genius. A little later, she goes on to add, "Ain't no 'If, ands, buts and maybes' / Don't be laid up in that sh*t likе you lazy." She then tells whoever it is that she's singing to that she "need[s] you to roll up in that sh*t like you skatin'," before continuing with, "…I hate waitin' / Doo-doo-doo-doo-doo, shoot your shot, I'm impatient."
While Normani is obviously not in the mood to wait around for what she wants — which, in this case, is her lover and some, er, action — she also blatantly addresses the situation and prompts that certain someone again when she sings, "We can't just keep talkin' about it / We think too often about it / We can't just be cautious about it / I wanna get wild / Take me for a ride, boy / Show me your wild side, boy."
Source: Read Full Article