The Untold Truth Of The Kid LAROI
Virtually unknown at the beginning of 2020, The Kid LAROI has since established himself as a major force in the music scene. The Australian rapper, who turned 18 in 2021, has already collaborated with some of pop's biggest hitmakers as his own star continues to rise. Born Charlton Howard in Sydney, Australia, he began rapping at age 10, and never looked back. In addition to racking up millions upon millions of views on YouTube (as of this writing, his videos for "Without You" and "Stay," for example, boast 72 million and 121 million views, respectively), he's also become one of the most-streamed musicians of all time: as Forbes reported, by March 2021, his "F*CK LOVE (SAVAGE)" mixtape had been streamed on Spotify over 1.28 billion times.
Speaking with Forbes, The Kid LAROI reflected on his meteoric rise. "I do sit back sometimes and say, 'D**n, this s**t is crazy,' but I've kind of been wanting to do this my whole life, so it's amazing to finally get the opportunity to do this because not a lot of people where I'm from get this kind of opportunity," he mused. 
Despite the massive success he's achieved within such a relatively short period of time, there's a lot about this talented young rapper that fans of his music may not be aware. With that in mind, keep reading for a deep dive into the untold truth of The Kid LAROI.
How The Kid LAROI's debut mixtape became a No. 1 album — a year after its release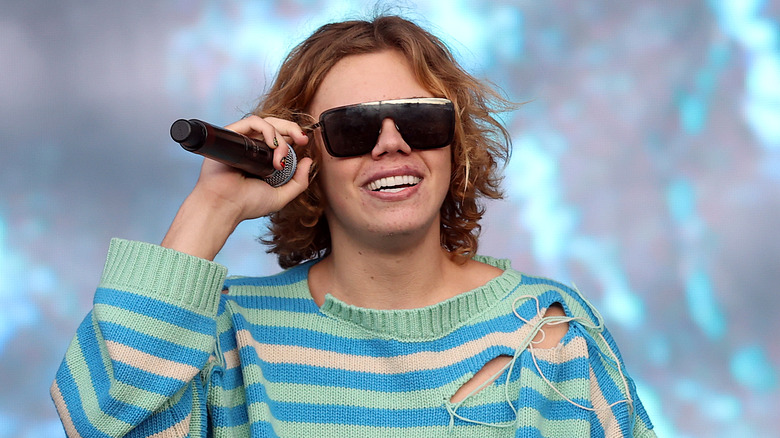 When The Kid LAROI released his debut mixtape, "F*CK LOVE," in 2020, it debuted at No. 8 on Billboard's album chart. As The New York Times pointed out, under normal circumstances that would have been the peak; however, the rapper's label embarked on an unusual strategy of releasing subsequent "deluxe" versions of the album, adding new songs to each version. The second version, titled "F*CK LOVE (SAVAGE)," added an additional seven tracks, and hit No. 3 on the Billboard chart.
Two more versions followed, one with seven new tracks and then, a few days later, another with six. All told, noted The Times, the "full package" of The Kid LAROI's debut boasts 35 songs. "Since the newer versions are updates to the original album, they are counted as one collection on Billboard's chart — a tactic that took hold last year, particularly in hip-hop, and has proved a successful chart strategy," the paper explained, noting that this scheme ultimately pushed the album to finally hit the No. 1 spot — more than a year after its initial release. 
The success of the mixtape also led The Kid LAROI to set a long-held chart record in his native Australia. According to Billboard, when "F*CK LOVE (SAVAGE)" hit No. 1 on Australia's ARIA Albums Chart, the artist made history at age 17 as the youngest-ever Australian solo artist to hit that chart peak.
His uncle's haunting words have never left him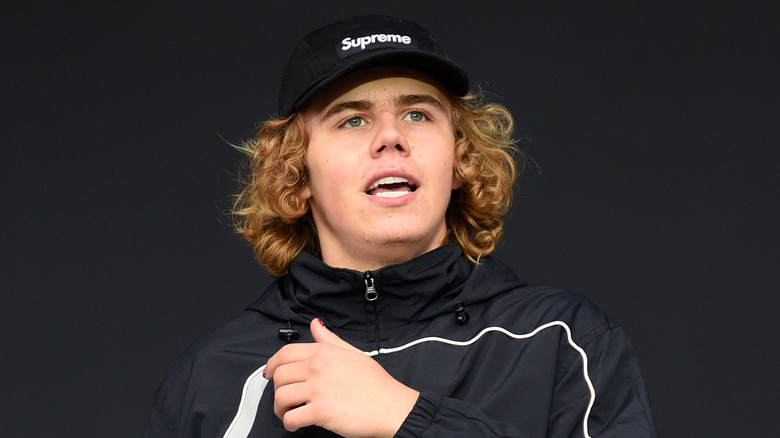 As a child, The Kid LAROI's father wasn't in the picture much after his parents split up. "In the early stages of my life, my dad was always in and out, so my uncle was a really big like male figure in my life," he explained in an interview with Sidedoor. When his uncle was murdered, it crystallized his drive to succeed as a rapper. "'Cause he would always tell me, 'Stick to rapping, don't ever do no dumb s**t,' 'Don't become like me, don't do the things that I do, I want you to stick to rapping,' so I was like, 'D**n I wanna take it seriously now.' That was the main thing that fueled me at like 10, like, 'Yeah I want to do this now.'"
Even years later, The Kid LAROI's late uncle's words have continued to provide inspiration. "Before my uncle was murdered, he would stress to me how important it was that I keep rapping and stay focused," the rapper wrote on Twitter in June 2020. "When I was little I told him 'but I want to be like you,' to which he replied 'if you turn out like me, I'll be disappointed.' Those words have stuck with me forever." 
Juice WRLD was a mentor and musical influence to The Kid LAROI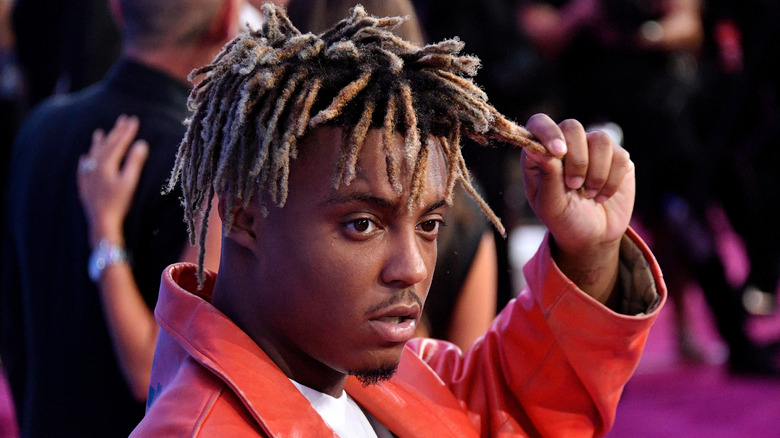 At age 21, Juice WRLD was poised to become one of the world's top rappers when, in December 2019, he died of an accidental overdose not long after his flight landed at Chicago's Midway International Airport.
The loss was felt especially hard by The Kid LAROI, for whom Juice WRLD was a friend, musical collaborator, and mentor. "That was my big brother. I learned a whole lot from him; I'm super-duper inspired by him, if you couldn't tell," The Kid LAROI explained in an interview with Hot New Hip Hop. Describing Juice WRLD as "the greatest," he added, "There's not a lot of people, I think, that can do what he did, and especially in such a short amount of time. You know, he was so young, like, f**kin' 19 when he broke onto the scene or whatever."
Speaking with Billboard, The Kid LAROI reiterated, "I learned a lot from him in terms of his recording process and stuff like that." However, the Aussie native also admitted that he tries to take it in stride when his music is compared to that of his mentor. "So I can't be that mad at that s**t," The Kid LAROI said. "And I got to see a lot of things in terms of the way he would work that a lot of people might notice. And I do use that stuff when I record."
The Kid LAROI is a Spotify superstar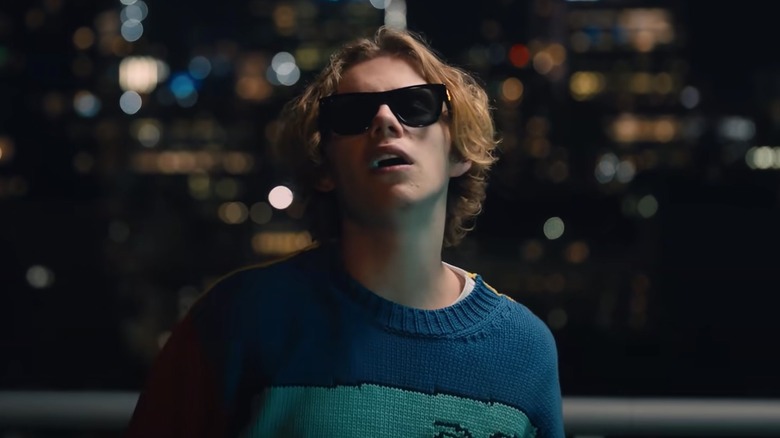 When it comes to music-streaming platforms, it didn't take The Kid LAROI too long to establish himself as a force to be reckoned with. As of August 2021, he could boast of more than 58 million listeners on Spotify each month — more than massively popular K-pop group BTS, and even more than The Rolling Stones and The Beatles combined.
According to a May 2021 profile in Time, a Spotify rep confirmed that The Kid LAROI's songs were already on 485 Spotify editorial playlists, in addition to "almost 20 million user-generated playlists." Meanwhile, his "F*CK LOVE" mixtape had been streamed more than 1.6 billion times, and the single, "Without You," had been streamed well over a half-billion times.
While those numbers may seem incredible, for the ambitious young rapper, it's all part of the master plan. "I want to be one of the biggest artists in the world before I'm 21," The Kid LAROI declared in an interview with Billboard.
He conquered TikTok by name-dropping Addison Rae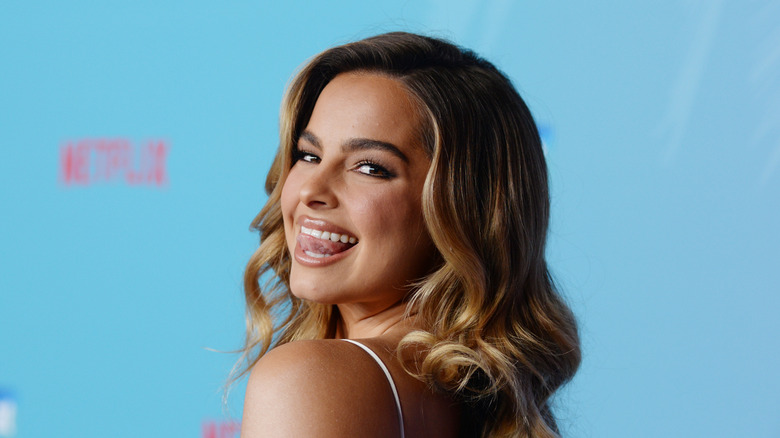 In 2020, The Kid LAROI released his single, "Addison Rae," an ode to TikTok sensation Addison Rae. In an interview with Genius, The Kid LAROI explained how the song came to be, first as a snippet that he shared on TIkTok and then later as a full-fledged tune. As he recalled, someone laid down a beat that immediately sent him rapping about Rae. "It was only like literally three or four lines, and then I was like, 'Bounce this s**t out, I'm gonna make a TikTok to it,'" he recalled. 
The rapper's TikTok video racked up more than 14 million views — and attracted the attention of Rae. "I woke up the next morning and she had made a TikTok to the sound," he said in an interview with Hollywire, revealing that he responded by sending her a DM of a laughing emoji. The attention his TikTok video generated, he explained, made him realize that everyone was expecting an entire song to follow. 
Before releasing that tune, The Kid LAROI sent it to Rae for her approval: "She was like, 'Yeah, I love it.' I was like, 'Alright, cool.'" Subsequently, the musician revealed, he met Rae in person, describing her simply as "super cool."
How he singlehandedly shaped the Australian hip hop scene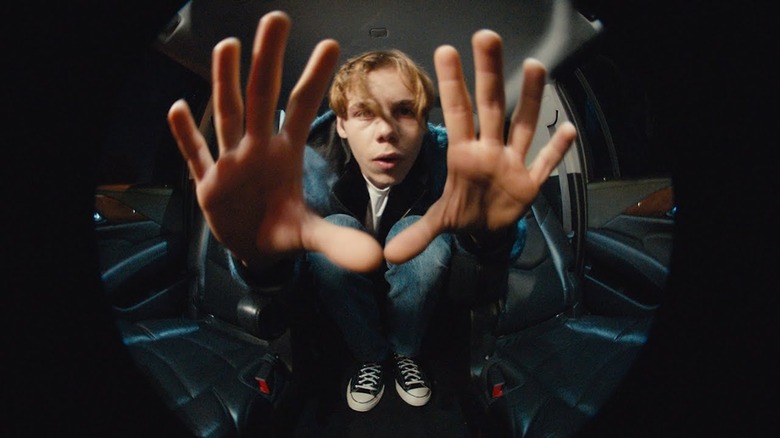 Australia is famous for many things, but rap music is not one of them. When The Kid LAROI landed on American Billboard charts in 2020, and topped the ARIA charts in his native Australia, his success proved to be a game changer that put Australian rap on the international stage. 
"It's extremely rare," Billboard Australia correspondent Lars Brandle said in an interview with Red Bull. "The truly big deal in all this is that The Kid cracked the top 10 on the Billboard 200. It's a rare feat for an Australian act to go so high on the main U.S. albums chart, let alone for a teenager from Sydney. You won't find a male solo Aussie rapper who has enjoyed such a huge start in the U.S."
Speaking with Vice, The Kid LAROI opened up about how much he'd witnessed the rap scene in his native Australia change over a relatively brief period of time, and he proudly acknowledged his role in that. "I was talking to somebody about this the other day because I was like, 'When I was living in Australia, there was only a small group of people that was making music and rapping.' Now I get sent a new kid every day in Australia who's making music and it's crazy. I love it," he said.
The Kid LAROI's proud of his indigenous heritage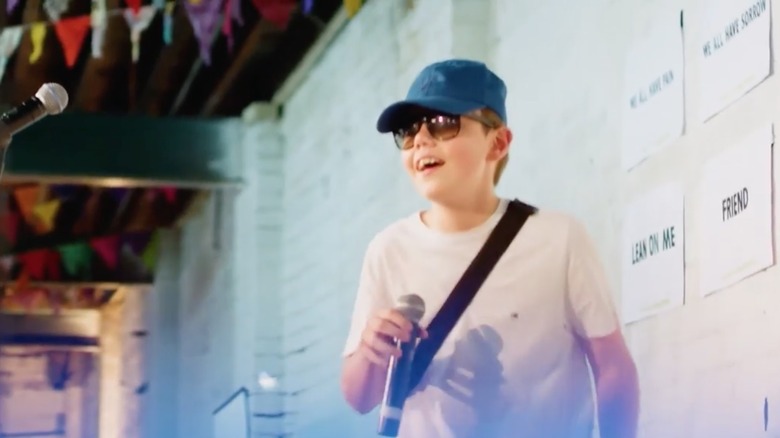 Fans of The Kid LAROI may not be aware of his indigenous Australian heritage, but it's actually right there in his stage name. As Australia's News.com explained, LAROI is a reference to him being a member of the Kamilaroi, the second-largest indigenous nation on Australia's east coast. 
In an interview he gave to Australia's National Indigenous Television when he was just 14, The Kid LAROI shared some of his family history. "My great-great-grandfather was part of the stolen generation," he said. "He was taken from his Aboriginal family and placed into a white family, and he was always told that he was Spanish because of his darker skin. So he eventually found out, when he turned 18, that he was aboriginal." As his stardom grew, The Kid LAROI has remained proud of his indigenous roots. "[Knowing] your background and where your family comes from is very important," he told Billboard of his rap name. "It's super important to carry that and be proud about your heritage." 
The Kid LAROI's phenomenal success has also allowed him the opportunity to shine the spotlight on the vast array of untapped talent in his homeland. "One of my biggest goals in this whole music s**t from the beginning has always been to show the rest of the world what Australia has to offer, and how much raw and unseen talent that we have," he tweeted in February 2021. "It's not an overnight process, but I can feel it slowly happening."
A legendary rock icon is a big fan of The Kid LAROI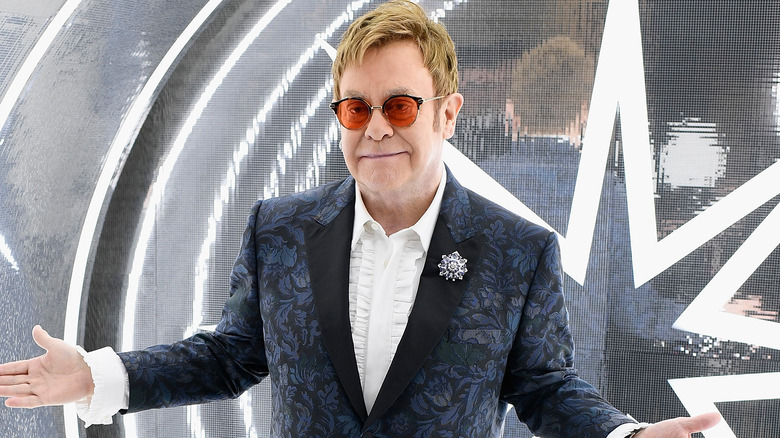 The Kid LAROI has legions of fans around the world, but one of them also happens to be a legit music legend: Sir Elton John. That came through loud and clear when the rapper appeared on the "Rocket Man" singer's Apple Music radio show, "Rocket Hour," in January 2021.
"Congratulations to everything that's happened to you from the word go," John told The Kid LAROI during their conversation, as reported by NME. "You're already huge, but I hope you realize what's gonna happen to you in 2021. You're gonna be one of the biggest artists in the whole wide world." Not surprisingly, the Australian rapper was taken aback by such high praise from such a celebrated source. "It means so much coming from you," he told the rock icon. Following the interview, The Kid LAROI tweeted a video clip featuring an excerpt from the interview in which Sir Elton made those remarks. "One of the craziest moments of my life," he wrote in the caption. 
The Kid LAROI shared more about his reaction in an interview with 102.7 KIISFM. "The first thing I did was go and tell my mom, because my mom and my grandparents are the biggest Elton John fans ever," he said. "… Deep down, I was definitely freaking out. I was trying to play it cool in front of him, but deep down, I was super freaking out, because, you know, it's a legend, so to hear those words coming from him is insane."
The random way The Kid LAROI ended up partnering with Miley Cyrus on a remix of his hit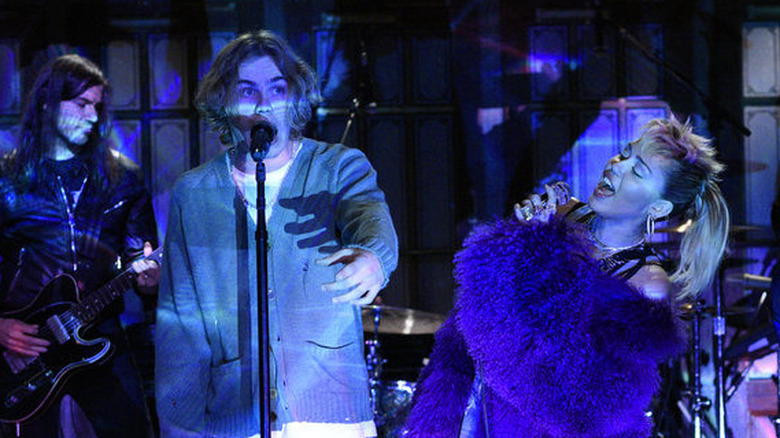 The Kid LAROI worked with guitarist and producer Omer Fedi on "Without You," and it was Fedi who introduced him to Miley Cyrus. "Omer came to me and was like, 'Hey, would you want Miley to do the remix?' And I was like, 'Yeah, that would be dope,'" The Kid LAROI explained in an interview with Variety. "So we just linked up, met in the studio, she cut the record and then we went and hung out and had a little party. She's cool as f**k. I remember when my cousins used to force me to watch 'Hannah Montana,' so collaborating with her was pretty cool."
The resulting single brought the Australian rapper to the attention of Cyrus' devoted legion of fans, and hit the No. 1 spot in Billboard's Hot Rock and Alternative Songs chart.
Discussing his experience working with Cyrus during an interview with "The Kyle & Jackie O Show," the hosts referenced her short-lived marriage to actor Liam Hemsworth by joking that she is "partial to the Aussie boy," and asked whether there was any whiff of romance between him and Cyrus. The Kid LAROI insisted there was not, declaring, "That's my big sis!"
The 'great' financial advice he received from Elon Musk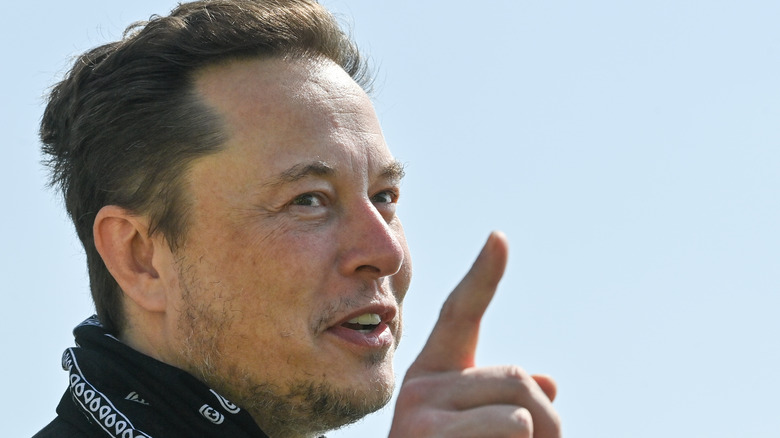 The Kid LAROI celebrated a very specific musical rite of passage when he made his debut on "Saturday Night Live," invited to share the stage with musical guest Miley Cyrus for a live performance of their hit collab, "Without You." Interestingly enough, the host of that week's episode wasn't a typical Hollywood celebrity, but Tesla tycoon Elon Musk. 
In an interview with Australia's ABC News, The Kid LAROI revealed that he used the opportunity to meet Musk to seek a little financial advice. "I asked him, I'm young and making money and I want to spend money, so where would you spend or invest if you were me? He told me, 'I would put it in a product or something you love and you believe in and that you're a fan of,'" he said. "He goes, 'Yeah, because if you're not a fan of it how do you expect anyone else to be a fan of it.'"
As The Kid LAROI explained, Musk's response "was not necessarily the answer I was looking for, but the answer I needed. Because that is the correct answer, no-one can tell you, guaranteed, where to put your money and it's going to be great, but they can tell you the things to look for. It's a great piece of information."
The Australian rapper teamed up with a Canadian pop heartthrob for his first No. 1 hit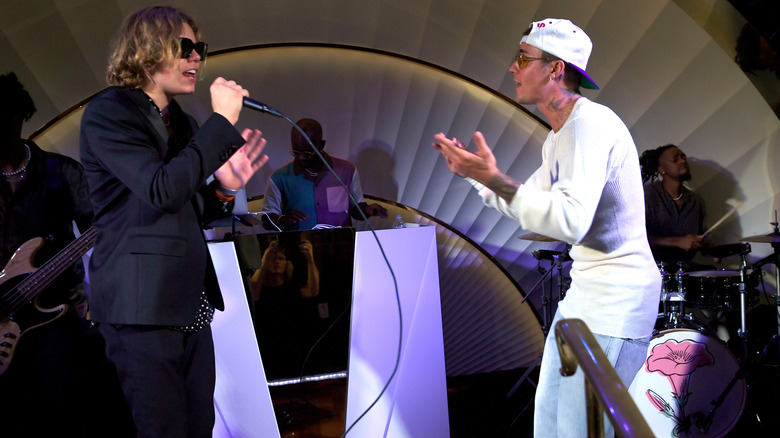 Miley Cyrus and Elton John aren't the only music stars to be blown away by the talent of The Kid LAROI. During the summer of 2021, the rapper teamed up with Canadian superstar Justin Bieber for their single, "Stay," which instantly rocketed to the No. 1 position on the Billboard Hot 100. Not only did this mark the rapper's first No. 1 on that influential chart, but he was also the first Australian male to top that chart in nearly 40 years.
As The Kid LAROI told Variety, the collab never would have happened had Bieber not slid into his DMs. "He DMed me and he said, 'You got the sauce.' I responded like, 'Thank you, I'm a big fan.' He just liked my message and that was it for a month or two," he explained. "Then he just hit me up like, 'Hey I think I have a song for us to do.' He sent me his number and I texted him while I was in the shower. I remember being like, 'Oh f**k, I hope he doesn't Facetime me or anything while I'm in the shower.' He did."
The Kid LAROI first discovered Bieber when he was seven and his cousin took him to see the "Never Say Never" concert film. "I remember after watching that movie I was like, 'Yo, this is the coolest kid in the f**king world,'" the rapper told Variety.
The Kid LAROI and his TikTok star girlfriend celebrated a milestone anniversary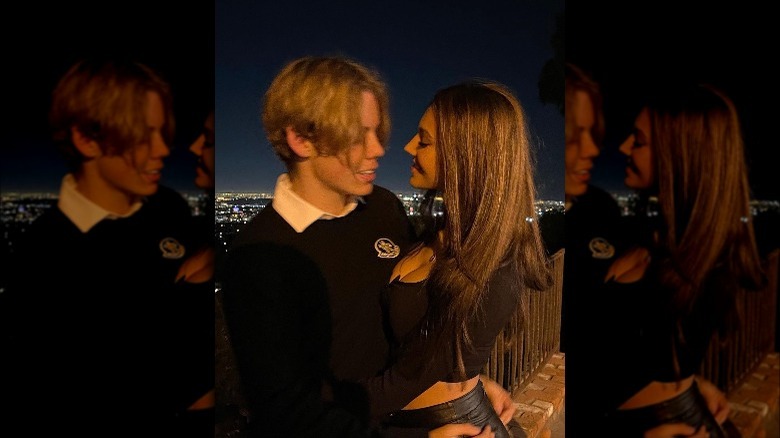 The Kid LAROI may not be romantically involved with Miley Cyrus, but he has been in a relationship TikTok star Katarina Deme. In July 2021, the rapper took to Instagram to share a sweet tribute to his girlfriend in celebration of their first anniversary as a couple. "1 year with you and I'm happier than ever," he wrote in the caption, adding a heart emoji, before signing off with, "Time flies kid." Deme responded in the comments section by writing, "I love youuuuuu."
Meanwhile, The Kid LAROI has made several appearances on Deme's Instagram, including pics of the couple on a yacht, celebrating Valentine's Day, dressed up in some swanky finery, and enjoying what appears to be a tropical vacation. 
In an interview with "The Kyle & Jackie O Show" (via the Daily Mail), The Kid LAROI opened up about how he and Deme came to become a couple. "We met through a mutual friend," he revealed, noting that he wasn't looking for romance at that juncture. "Around the time that I met her, I just put out the whole 'F*ck Love' project and was not in the vibe of love. But I guess … you can't control some of that type of stuff. It was so ironic."
This rapper's financial future looks bright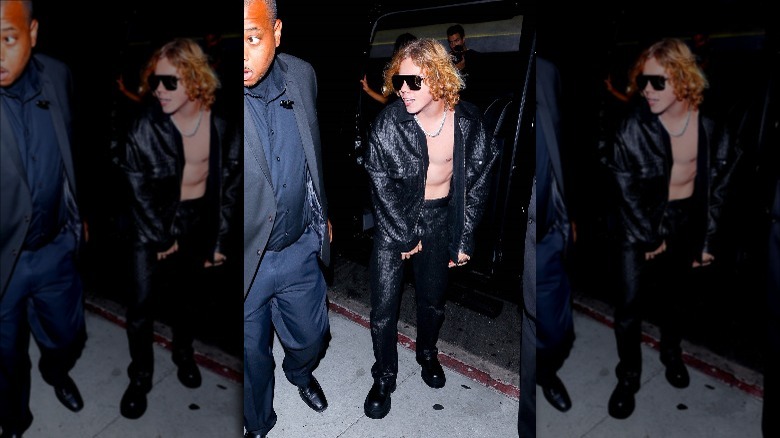 The Kid LAROI has come a long way since his hardscrabble childhood in Sydney. In a Spotify RADAR documentary, the rapper is seen in 2018 in his squalid bedroom at the time, featuring holes in the wall, an inflatable mattress, and a small space heater for warmth. 
That's a far cry from the situation The Kid LAROI found himself in 2021. While estimates of The Kid LAROI's net worth range wildly — anywhere from $300,000 to $4.35 million — there's no debating that massive financial success is right around the corner. One big source of revenue has been music streaming. As Forbes pointed out, he had 13,000 listeners on Spotify in early 2020, a number than jumped to 27 million — and topped a billion streams — by the end of that year.
In June 2021, NME reported that The Kid LAROI signed with Scooter Braun's SB Projects, the management firm that guides the careers of pop stars Justin Bieber and Ariana Grande. Speaking with Variety, SB Projects president Allison Kaye shared her belief that The Kid LAROI was on the cusp of becoming one of the biggest music acts in the world. "I'm really excited about signing him. The music excites me," Kaye declared. "He's bound to be a superstar if it's done right."
The Kid LAROI credits his success to his mom's support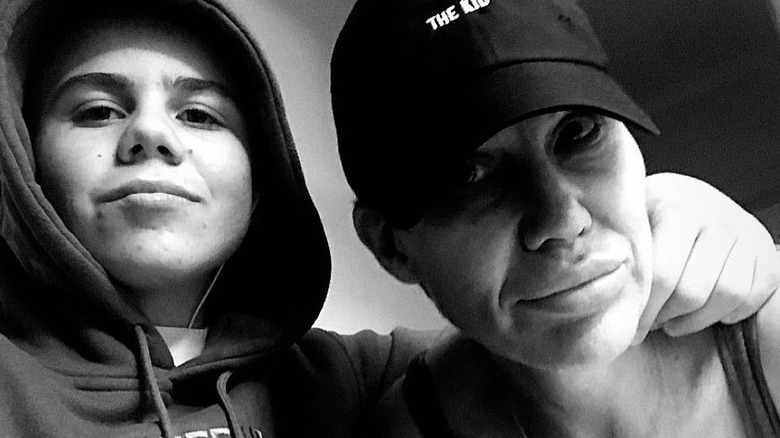 When he was still a youngster, The Kid LAROI had a burning desire to become a famous rapper, and had the drive and talent to achieve that dream. One key component in his journey to success has been the unwavering support of his mother. "She never said, 'You can't do that; it's impossible!' Because you know, when you look at [those dreams], it seems impossible for a 10-year-old Australian kid out in the desert … achieving something like this," he told Forbes. "If she had told me I couldn't do it, I don't know, I might still be back in Australia."
What fans might not realize is that his mother, Sloane Howard, is an Australian music executive and talent manager. Back in 2004, when her son was still a toddler, she presciently predicted the future of Australian rap that her son would one day embody. "A lot of rappers come out of Harlem and have real stories to tell. In Australia they are mostly just copycats," she told The Sydney Morning Herald.
Howard subsequently went on to form her own company, Mama Capone Management, and was instrumental in setting her son on the right path during his early days. Back in 2016, for example, she shared a Facebook photo of her beaming son — then going by the name Charlton Laroi — posing with rapper Tyga, who "describe[d] the 12-year-old's rap performance and songwriting skills as DOPE!"
Source: Read Full Article