U2's Bono and the Edge Play Surprise Set in Kyiv Bomb Shelter
U2 members Bono and Edge played a surprise concert in Ukraine on Sunday. The duo performed acoustic music at Kyiv's Khreschatyk subway station, a location used as a bomb shelter during the Russian invasion of Ukraine. The Irish rockers have been advocating for Ukraine on social media since the conflict began.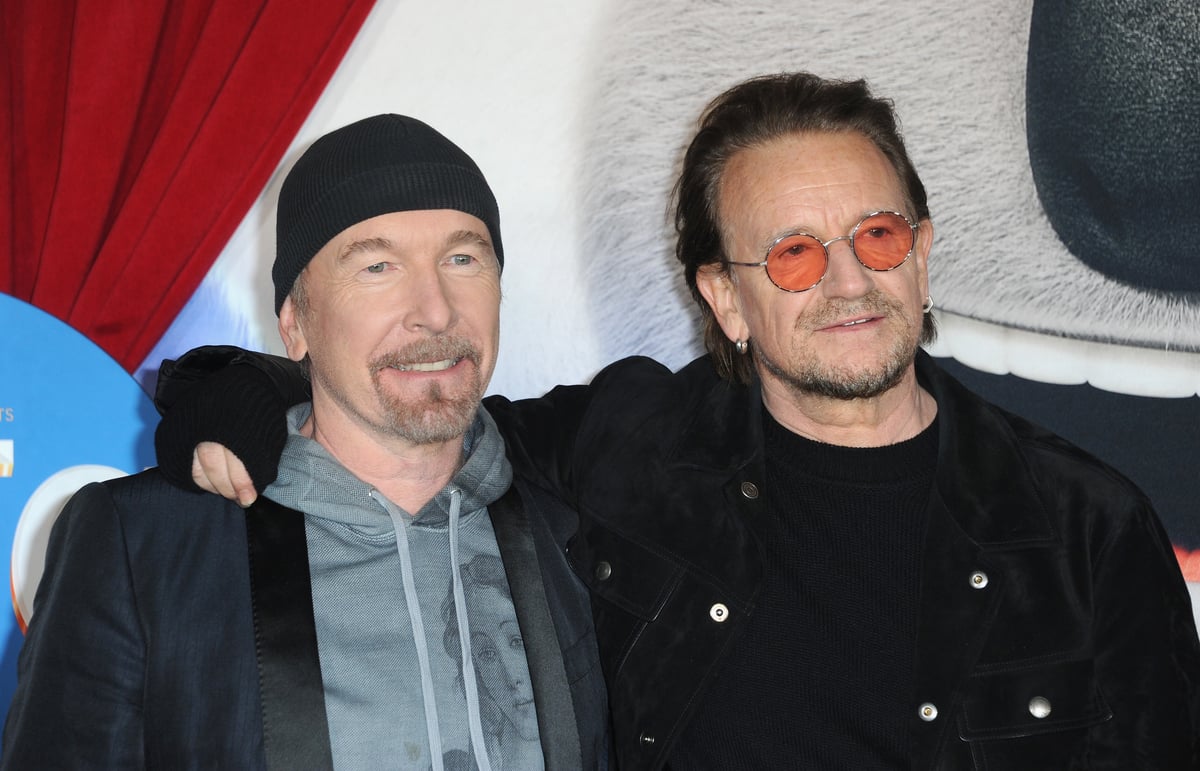 Bono says, 'The people in Ukraine are not just fighting for your own freedom, you are fighting for all of us who love freedom'
On Sunday, May 8, U2 members Bono and The Edge played an intimate music set for around 100 people in Kyiv. The group tweeted that President Volodymyr Zelensky invited them. "President @ZelenskyyUa invited us to perform in Kyiv as a show of solidarity with the Ukrainian people and so that's what we've come to do. — Bono and The Edge #StandWithUkraine"
The Irish-born rockers played "With or Without You," "Angel of Harlem," "Desire," "Vertigo," and Ben E. King's "Stand By Me." During the cover, they replaced "Me" with "Ukraine."
Ukrainian band Antytila joined U2 for a few songs. Group member Taras Topolia joined the country's military when the conflict began and is seen wearing military fatigues singing along with Bono. Other soldiers were also in attendance for Bono and The Edge's surprise performance. 
Bono told the audience, "The people in Ukraine are not just fighting for your own freedom; you are fighting for all of us who love freedom." He continued, "We pray that you will enjoy some of that peace soon."
President Zelensky urged musicians to speak up at the Grammy Awards
During this year's Grammy Awards, President Zelensky made an impassioned plea to musicians to speak up for Ukraine. "Fill the silence with your music." Zelensky said. "Fill it today to tell our story. Tell the truth about this war on your social networks, on TV. Support us in any way you can. Any, but not silence. And then peace will come."
Zelensky commented, "Our musicians wear body armor instead of tuxedos. They sing to the wounded in hospitals, even to those who can't hear them. But the music will break through anyway."
When the President finished, a performance by John Legend followed. The "All of Me" singer performed a new song called "Free." Ukrainian musicians Siuzanna Iglidan and Mika Newton joined him on stage. Ukrainian poet Lyuba Yakimchuk also performed with Legend.
Bono wrote a poem about Zelensky
In March, to celebrate St. Patrick's Day, Bono wrote a poem mentioning the conflict and comparing Zelensky to Saint Patrick. The Irish rocker traditionally writes a humorous poem on the holiday, but this year went with a more serious tone. 
The singer shared his poem in a tweet saying, "This year the limerick is irregular & not funny at all. We stand with the people of Ukraine & their leader."
Oh saint Patrick he drove out the snakes
With his prayers but that's not all it takes
For the snake symbolizes
An evil that rises
And hides in your heart
As it breaks
And the evil has risen my friends
From the darkness that lives in some men
But in sorrow and fear
That's when saints can appear
To drive out those old snakes once again
And they struggle for us to be free
From the psycho in this human family
Ireland's sorrow and pain
Is now in Ukraine
And Saint Patrick's name is now Zelensky
Bono and The Edge previously performed a special song on Twitter for Ukraine
On April 8, Bono and The Edge performed the U2 song "Walk On" in a tweet encouraging support for Ukraine.  
They tweeted, "The brave people of Ukraine are fighting for their freedom — and for ours — in the face of unspeakable violence and an unjust invasion."
The message continued, "More than 4 million people, mostly women and children, have had to flee for their lives — a population nearly the size of Ireland."
The message ended with, "World leaders must stand up and stand by Ukranians now … those who are fighting and those who have fled … and stand with refugees everywhere who have been forced from their homes and their lands."
Source: Read Full Article