Watch Jennifer Lopez, Cardi B and DJ Khaled's Dinero Video
Jennifer Lopez has it all in "Dinero"—designer clothes, expensive jewelry, Cardi B. In her new music video, directed by Joseph Kahn and featuring DJ Khaled, J.Lo does everything from burn money (and use it to make s'mores) to take her pet ostrich for a walk. As one does, apparently!
The video is so extravagant it makes even the richest Real Housewives stars look poor by comparison. (Bethenny Frankel wishes. NeNe Leakes could never. Lisa Vanderpump…who?) But, like the Housewives, Lopez is anything but a kept woman—she's a boss. She can barbecue, she can dance, she can gamble—and she does it better than anyone else. Throughout the video, there's prominent product placement—Jersey Mike's, Lyft, Mig Vapor, etc.—which is intentionally ironic. Because Lopez is in on the joke, and she's clearly having fun. Heck, there's even a unicorn in her bathroom—and if you could afford to make that happen, wouldn't you?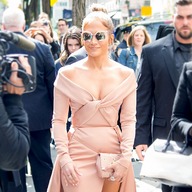 Photos
Jennifer Lopez's Best Looks
The video is full of high-fashion moments, showing J.Lo in feathers, fedoras and furs. At one point, Lopez even wears a bedazzled jersey with her boyfriend Alex Rodriguez's number on it.
E! News got an exclusive sneak peek of Lopez's "Dinero" music video over the weekend, just before the 2018 Billboard Music Awards on NBC. "It's so much fun," the global music superstar told Jason Kennedy on Live From the Red Carpet. "I'm a lucky girl. They are both] are on fire right now. I sent them the song and they both loved it. Khaled's like, 'I know exactly what to do with that record!' He did some production stuff on it, and then Cardi came on and just blazed the whole thing. It just came together really easily and fun. I'm so excited about it."
Source: Read Full Article