Yes, Dixie D'Amelio Has a Fave Song on 'a letter to me'…Plus Some Intel on Her Dream Collab 👀
When Dixie D'Amelio set her sights on pursuing music, she chose not to hesitate. Though the 20-year-old was traversing new territory, she refused to be at the mercy of critics and music execs alike, and instead did what felt right for her. Scrapping two EPs because they felt disingenuous? Fine. Including "Be Happy" as a song in the final tracklist of her debut album despite it sparking harsh criticism in 2020? Absolutely.
This first album, a letter to me, explores new sounds, styles, and subjects that are, first and foremost, timely for Dixie. It's an acceptance of her past, sure, but mainly it's an ode to her present—the good, the bad, and the more nebulous moments. It helps that Dixie has the support of two industry titans to help see her vision through: Jenna Andrews and Stephen Kirk, the two of the creators behind BTS' "Butter." TL;DR: a letter to me is set up to succeed.
With a finished debut album that's already amassed affirmatory reception and a 23-date tour with Big Time Rush slated for the summer, Dixie is ready for the next phase of her career trajectory: pop stardom. Cosmo sat down with the singer to hear all about a letter to me and talk about everything from Dixie's favorite track to what she has to say to those who doubt her success. Read on for the full conversation.
Cosmo: Off the bat, you found success with "Be Happy"—within a week you were in the Top 40 charts! How did that initial 'oh my gosh, this is actually happening' feel?
Ah, thank you! I feel like I didn't understand it at the time. When it's your first time doing something and it goes really right, it's kind of hard to grasp that. I didn't have anything to compare it to, but now I definitely know the path and I just love every moment of what I'm doing.
There are obviously so many people who are rooting for you and your music. How do you, on the flip side, face criticism from people who relegate you to only the things you've done on TikTok?
I think it's just…everyone hates someone. It doesn't bother me as much as it used to. I feel like everyone has to hate someone, I guess. And it is what it is.
You've had a lot of cool collaborations and co-songwriters, like Liam Payne and Wiz Khalifa. What has been your favorite collaboration so far?
My favorite collaboration is probably with the writer and producer I worked with for this album, Jenna Andrews and Steven Kirk. They're like, the best people ever. They were so kind and welcoming and really helped me grow so much as an artist in a matter of months. It would never be where it is without them.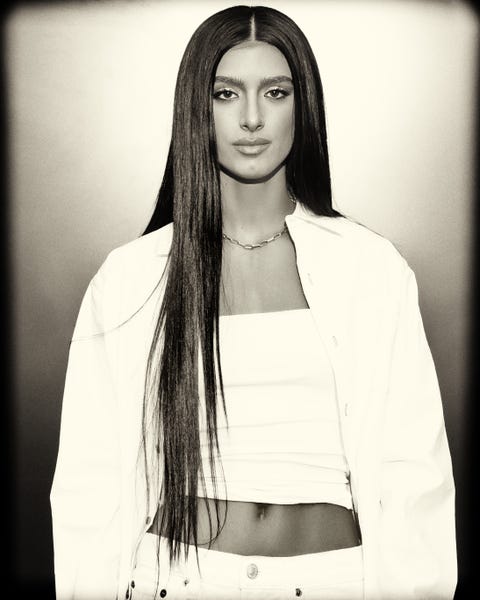 Do you have a dream collaboration, someone you'd love to work with in the future?
I always say Shawn Mendes. I love Shawn Mendes, yeah.
Oh my gosh, don't we all? You are a co-writer on this album, which is amazing. Obviously, a lot of the lyrics are very near and dear to your heart. Do you happen to have a favorite song or one that means the most to you?
I love…I don't know, I really can't pick! But probably if I had to pick one, I love the interlude* because it has my grandma's voice in the beginning and in the end, and the song in the middle is a cover of "Who I Am," which is my family's favorite song. My grandmother's name is Rosemary, and I'm Rosemary's granddaughter. It's very meaningful.
*The interlude refers to the track "Who I Am (Interlude)" on the album.
Oh, wow! So it's very meta.
Yeah! So even though I didn't write that one, I was like, 'Yeah, but this is my song that describes me perfectly.' And I love it, so yeah!
This interview has been lightly edited for length and clarity.

Source: Read Full Article