10 Amazing National Parks Your Family Must Experience This Summer
As you plan your family summer vacation this year, consider checking out one of the United States' amazing national parks. The country features a gorgeous array of national wonders that offer everything from hiking, to kayaking, to simply driving around seeing the sights. Whether you enjoy outdoor activities or want to take it easy, everyone can find something to love at a national park. Put all of them on your list, but definitely don't miss the stunning vistas at the last option (page 7).
10. Acadia National Park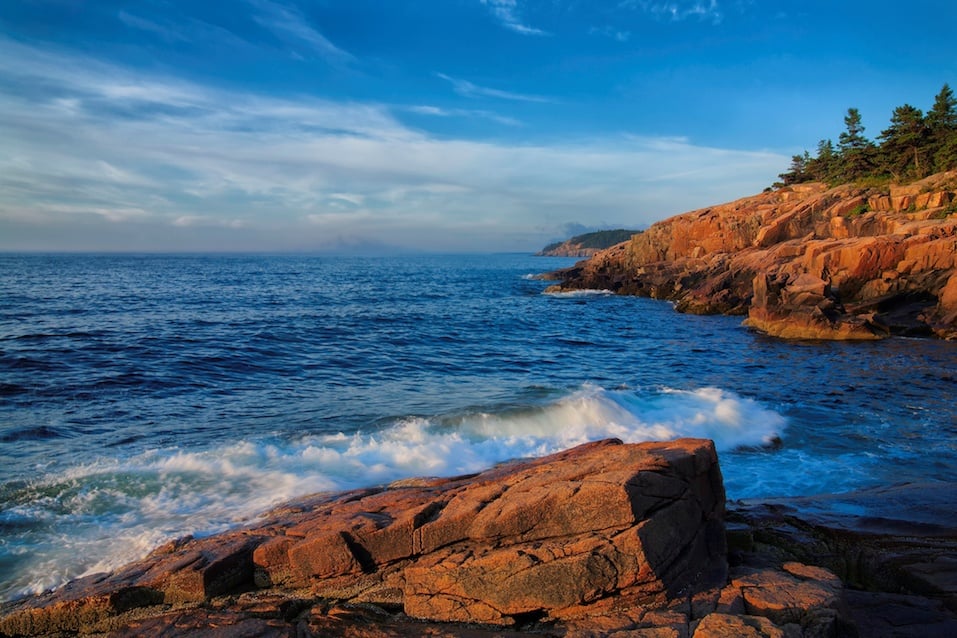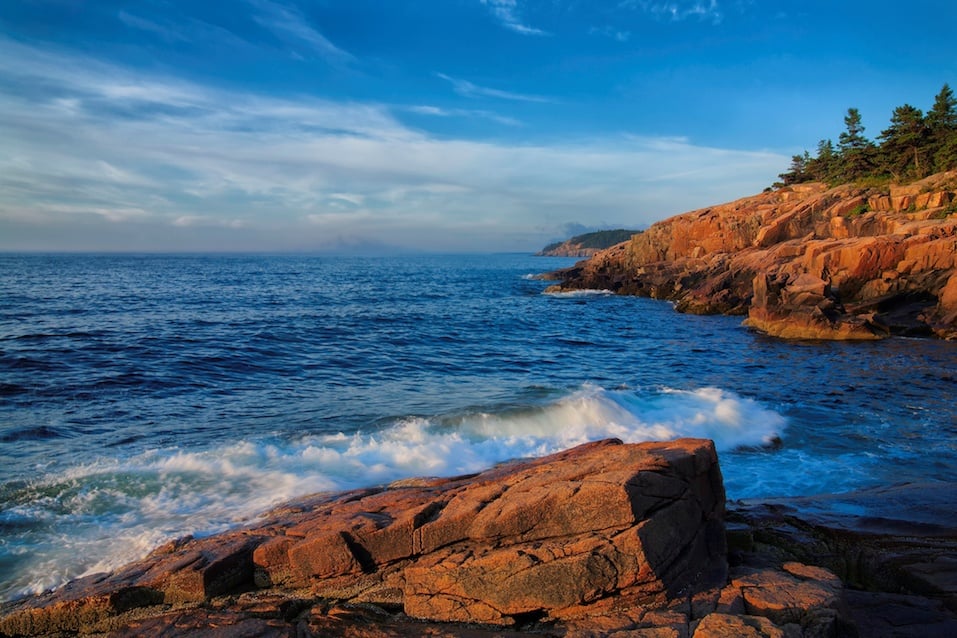 It's a picturesque location in Maine. | StevenSchremp/iStock/Getty Images
One of the smallest national parks, located on Mount Desert Island in Maine, also ranks as one of the most popular. Ocean and mountain meet at Acadia National Park, producing a varied landscape with stunning views. As one visitor wrote, "You can fish with one hand and sample blueberries from a wind-stunted bush with the other."
While most of the park sits on the main Mount Desert Island, you can also visit smaller islands and peninsulas from there. Hiking, biking, kayaking, and other ocean attractions all bring visitors to the area. And if you prefer to park your car, a bus service will cart you around for free.
Hot tip: Acadia National Park has gorgeous rocky beaches, but don't expect to swim. The water rarely tops 50 degrees.
Next: The following park feels like landing on the moon.
9. Badlands National Park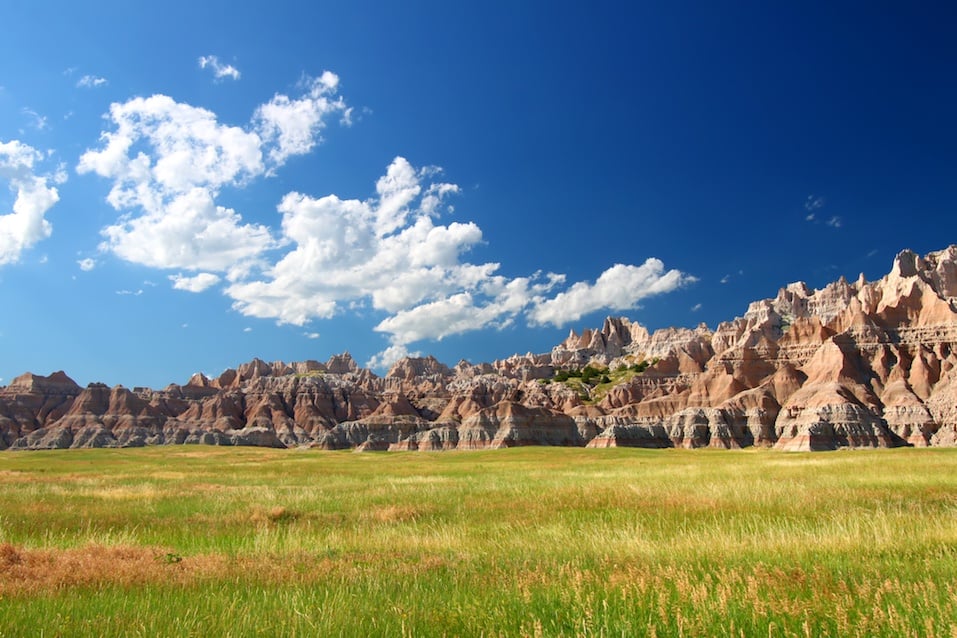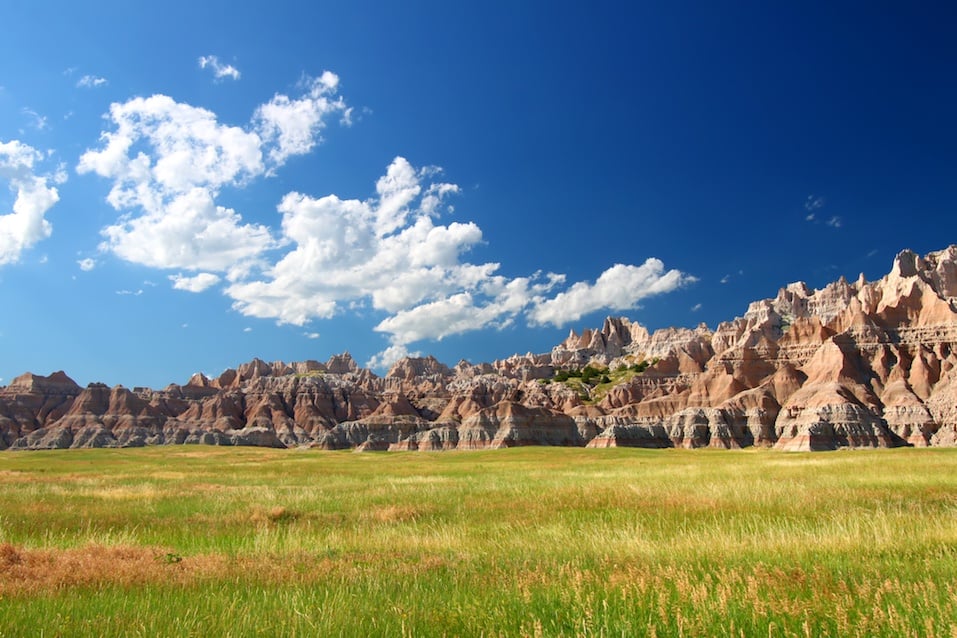 Head to the Badlands, and check out nearby Mount Rushmore. | Wirepec/iStock/Getty Images
If you want to feel like you stepped onto another planet, do not miss Badlands National Park in South Dakota. Set on 244,000 acres, Badlands National Park will stun you with its dynamic landscape that includes sharp cliffs, deep gorges, and tons of red rock formations. Local wildlife includes bison, bighorn sheep, prairie dogs, and black-footed ferrets who will pop up as you explore.
And for a two-fer, Mount Rushmore rests just a short drive away, so you can get some history with your natural beauty. South Dakota also remains relatively quiet, so you can enjoy the stunning views at both national parks uninterrupted.
Hot tip: Check out Mount Rushmore and the Black Forest nearby, for an additional adventure.
Next: Go to this park to see a disappearing beauty.
8. Glacier National Park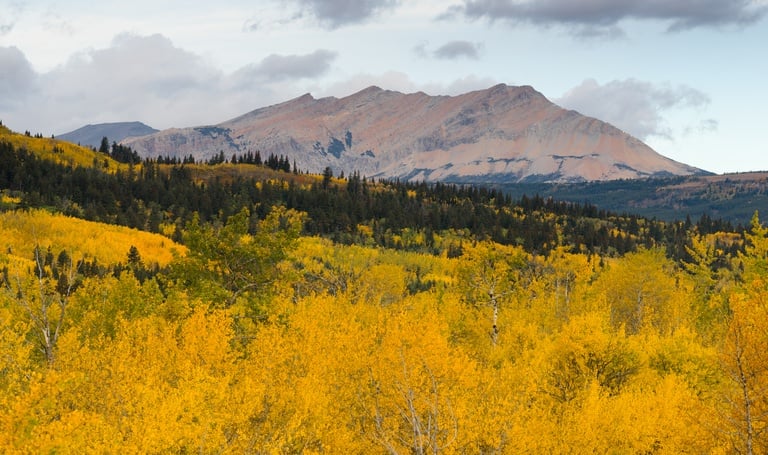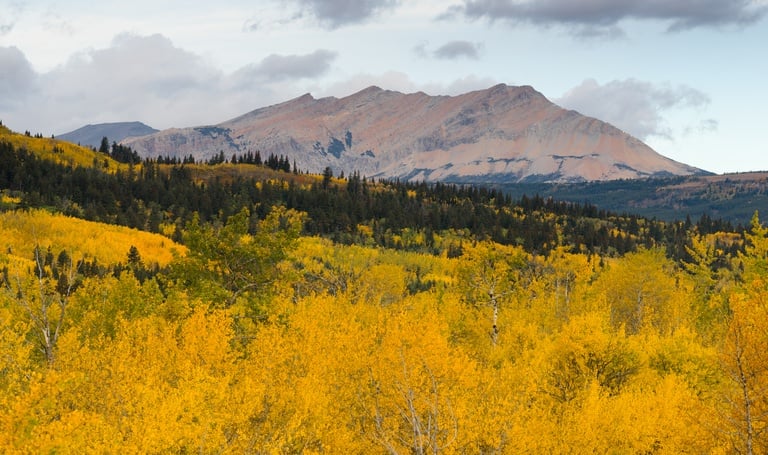 It's a hikers' paradise. | ChrisBoswell/iStock/Getty Images
Named the best place to hike in North America, Glacier National Park rests on the border of Canada and the United States. The hikers' paradise features a range of trails for all skill levels, ranging from the easy Trail of the Cedars to the challenging Grinnell Glacier. It also contains more than 130 lakes, many waterfalls, and two mountain ranges with lots of breathtaking geology.
Check out the scenic, 52-mile Going-to-the-Sun Road, which also offers access to many hiking trails. In addition, the Waterton-Glacier International Peace Park, a UNESCO World Heritage Site, also exists there. Go see the glaciers, before it becomes too late.
Hot tip: Stay at one of the historic lodges, to get a dose of history.
Next: This park also features amazing hiking options.
7. Yosemite National Park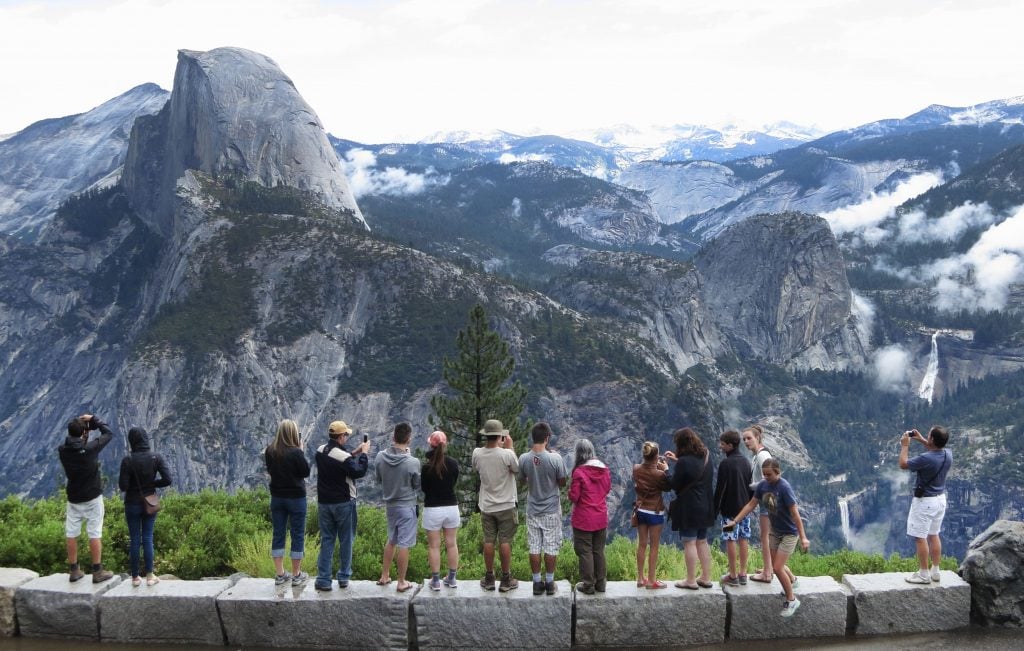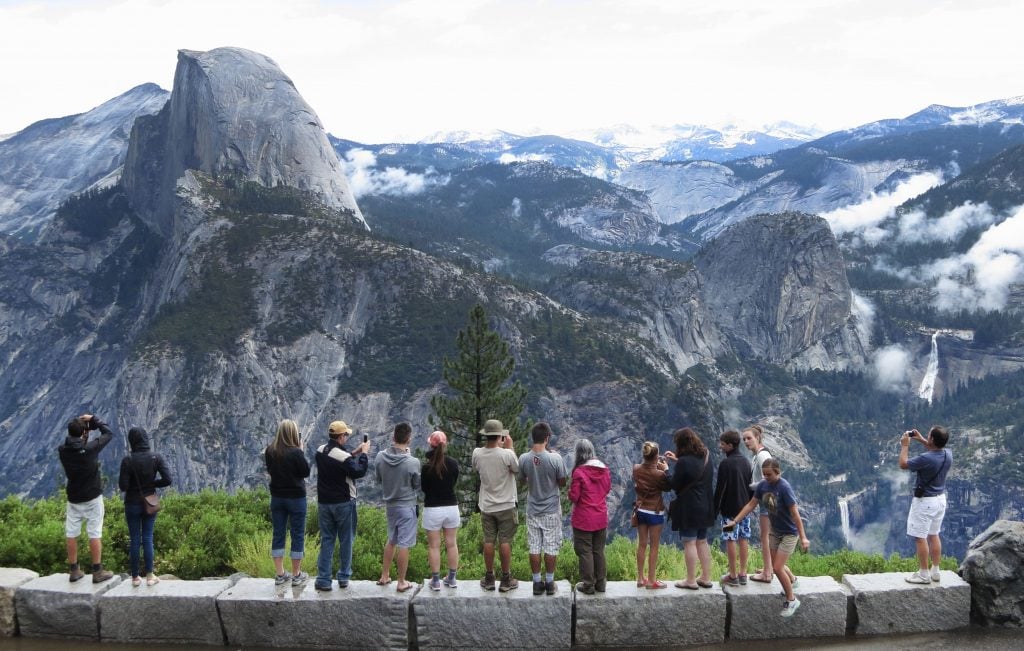 It's a must for its amazing landscape. | Sean Gallup/Getty Images
As one of the country's most well-known parks, you probably already know about Yosemite National Park. But did you know about its towering waterfalls, ancient Sequoia trees, awe-inspiring cliff faces and incredibly unique rock formations?
Most of the tourist activity takes place within the 8-square-mile area of Yosemite Valley, where its most famous landmarks exist. Check out Half Dome and El Capitan, as well as some wonderful hiking trails through the natural monuments. Don't worry if you have little experience — you can also take guided hikes and tours.
Hot tip: Travel outside Yosemite Valley for a more untouched, less crowded experience.
Next: At this one, you can also enjoy nearby city hotspots.
6. Rocky Mountain National Park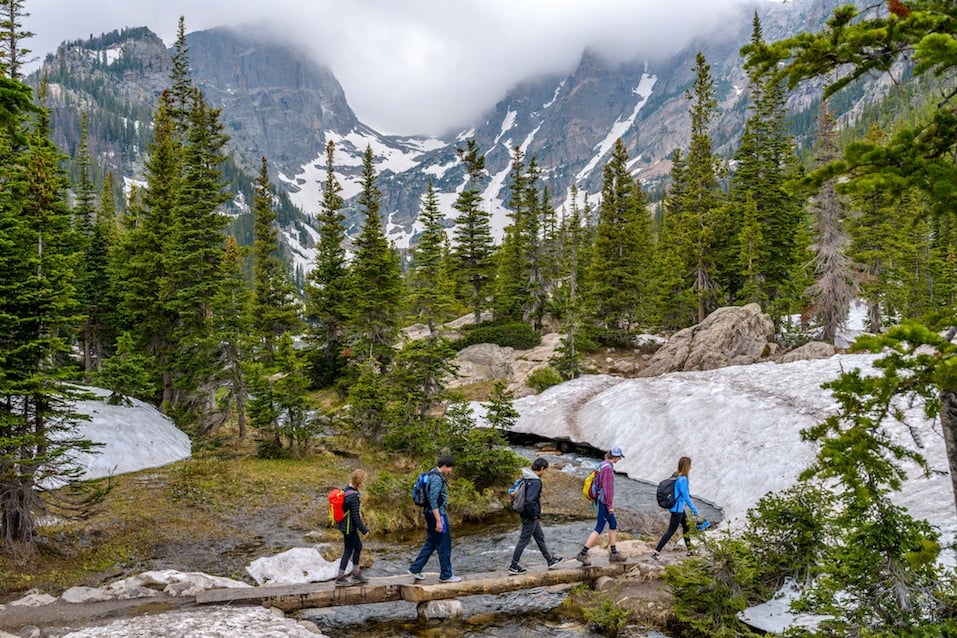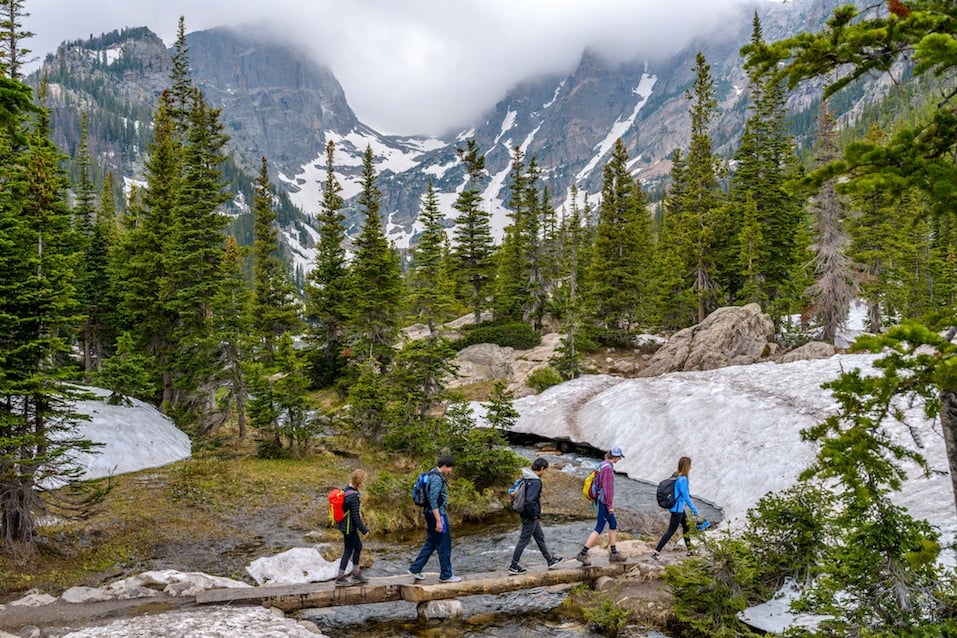 Check out the amazing views. | SeanXu/iStock/Getty Images
If the mountains call, you must go — especially when that call comes from the Rockies. This breathtaking park near Denver may not rank as the biggest or most populated, but it earned a spot on U.S. News & World Report's list for its amazing views and gorgeous hikes. Check out more than 350 miles of trails that wander through pine and spruce forests, crystalline alpine lakes, and beautiful wildflowers. You may even seen some alpine sheep.
And for variety, the spooky Stanley Hotel and village of Estes Park lay nearby. Colorado hot spots Boulder and Denver also rest just a short drive away.
Hot tip: Don't miss homemade ice cream in Estes Park for a sweet treat!
Next: You do not want to miss the giants this park features.
5. Sequoia National Park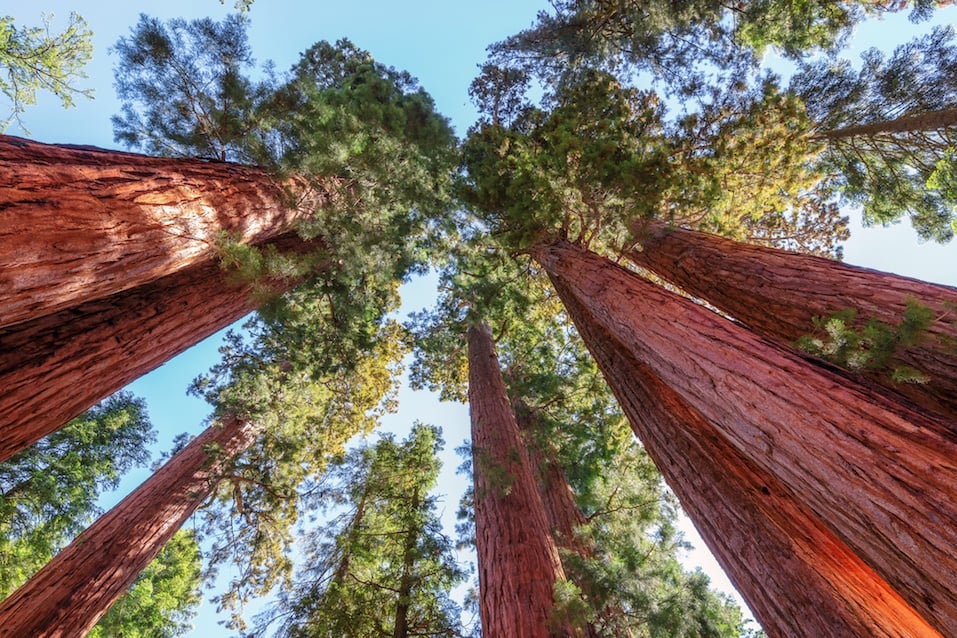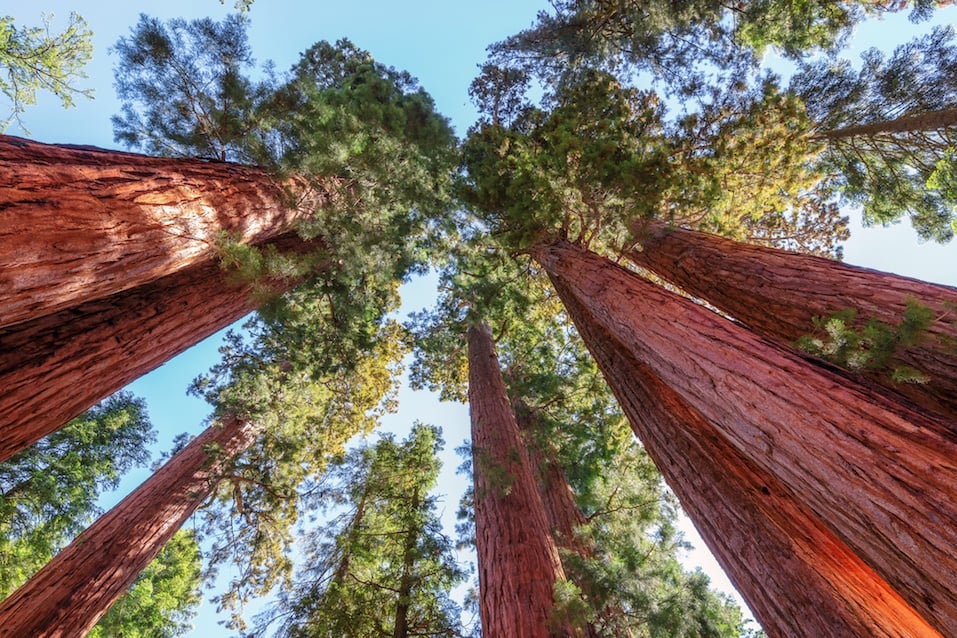 You can't miss these trees. | lucky-photographer/iStock/Getty Images
This California park will make you feel tiny, as you gaze upward at the largest trees in the world. This one ranks sixth best  in the U.S. and seventh in the world among national parks. It earns its name not only for the trees, but its versatility. Located about 80 miles east of Fresno, California, the southern Sierra Nevada mountain range runs through the nation's second national park.
You'll want to see General Sherman Tree, the world's largest tree, standing 275 feet tall with a base more than 36 feet in diameter. But you can also round out your visit with caves, hiking, and in the right season, even snowshoeing.
Hot tip: Sequoia stays open year-round, so if you need a winter or spring break destination, keep this one in mind.
Next: If you smell rotten eggs here, do not panic.
4. Yellowstone National Park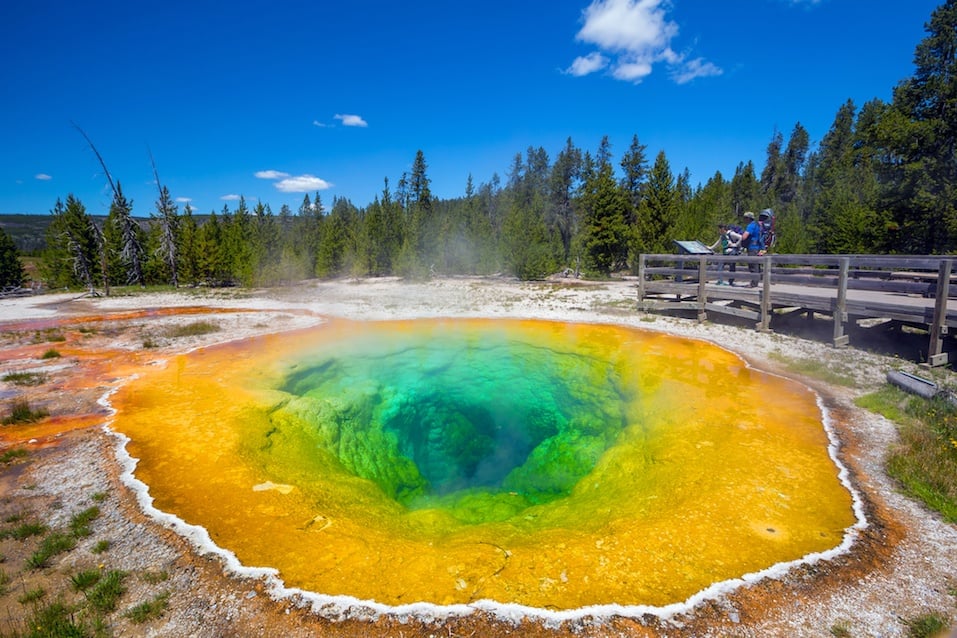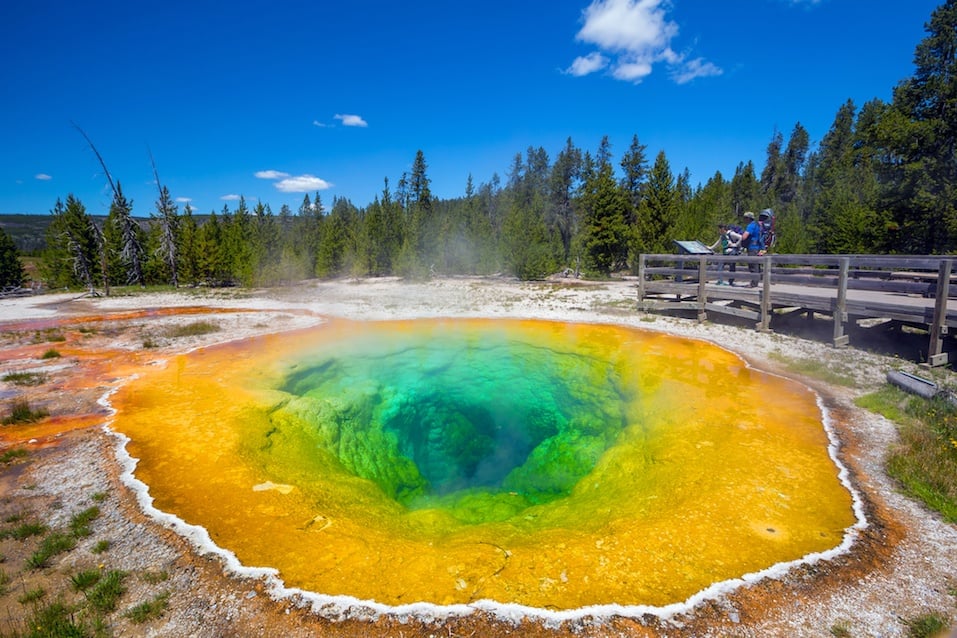 See a variety of wildlife. | f11photo/iStock/Getty Images
If you love hiking and watching wildlife, definitely add Yellowstone National Park to your list. This sprawling park boasts over 3,000 square miles of mountains, canyons, geysers, and waterfalls, as well as an amazing variety of wildlife. Get ready to see elk, buffalo, and sometimes even grizzlies.
Swing by the astounding Old Faithful geyser, where you will see the most of the park's many visitors. But don't miss Yellowstone Lake and Mammoth Hot Springs, either. The hot springs at the West Thumb Geyser Basin and wildlife along the Lewis River Channel and Dogshead Loop also deserve a visit.
Hot tip: If you see bison, keep your distance. These majestic creatures can get nasty if approached.
Next: The following park earned itself international fame for a good reason.
3. Grand Canyon National Park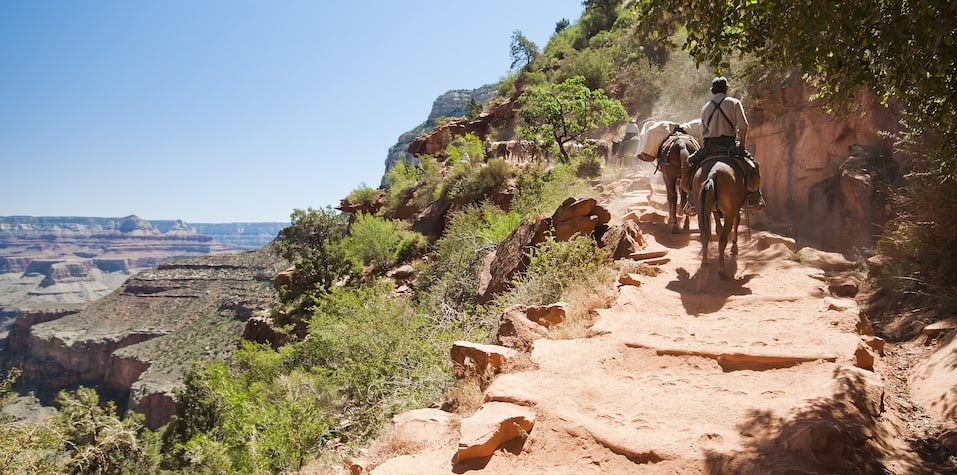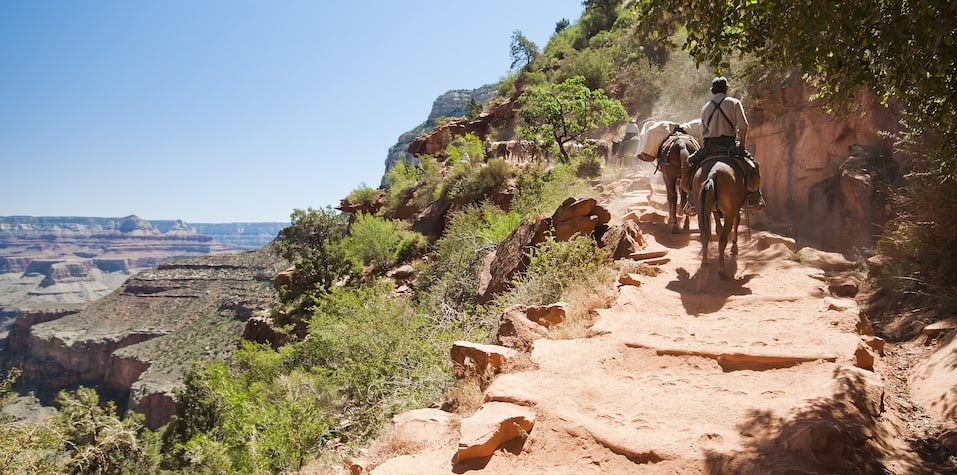 You'll find adventure here. | donvictorio/iStock/Getty Images
This park remains one of the most famous canyons in the world, as well as No. 1 for best adventure vacations and cheap vacations in America, for good reason. Measuring approximately 277 river miles in length, up to 18 miles wide and a mile deep, this massive chasm will truly take your breath away. The UNESCO World Heritage site does attract millions each year, so come prepared.
If you want a secluded adventure, hit up the North Rim for backwoods camping and hardcore hiking. You can also rent mules to travel down into the canyon, but call ahead. They can book up years in advance.
Hot tip: Book your trip to the Grand Canyon early, to get the best access to amenities.
Next: This park also lets you save a little coin.
2. Great Smoky Mountains National Park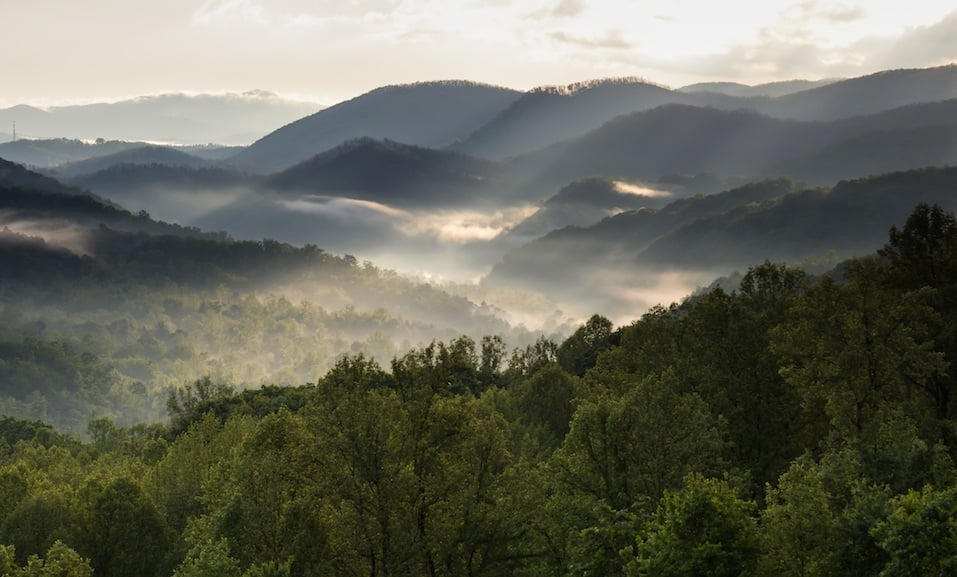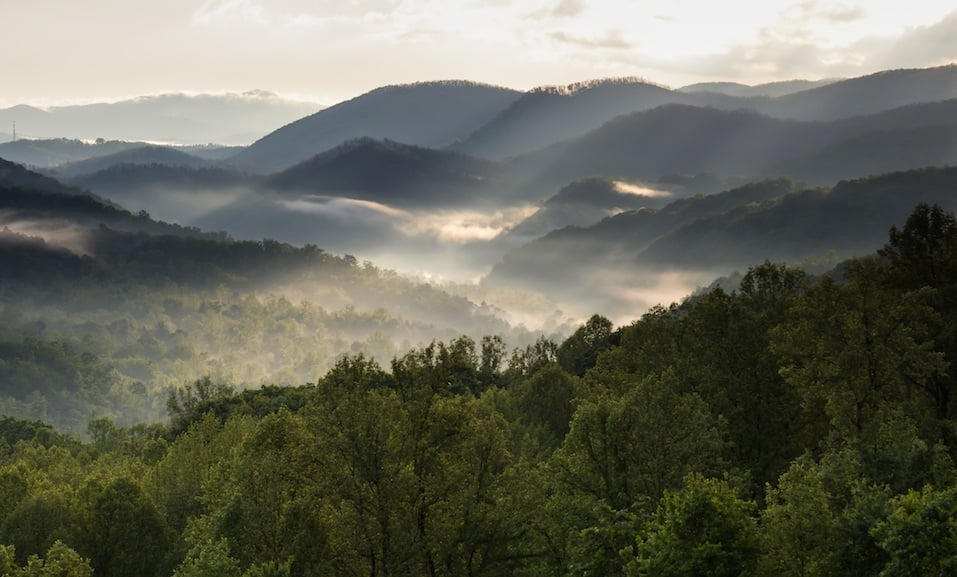 The views are breathtaking. | DiegoMcCartney33/iStock/Getty Images
Weighing in at No. 2 in the world and the U.S., this gorgeous park spans both Tennessee and North Carolina, with the border running through the center of the 522,427-acre park. Today, more than 10 million people visit this park each year. You can save a few bucks that way, since it ranks as one of the few free parks.
Activities include scenic drives to Cades Cove or along the Roaring Fork Motor Trail, as well as hiking, biking, and fishing. Don't miss a hike to Abrams or Rainbow Falls, or bike the Cades Cove Loop on Wednesday and Saturday mornings when the road closes to traffic.
Hot tip: Call ahead before you plan excursions. Some of the park remains closed, due to 2016 wildfires.
Next: This amazing place will make you marvel at nature in up to two national parks.
1. Grand Teton National Park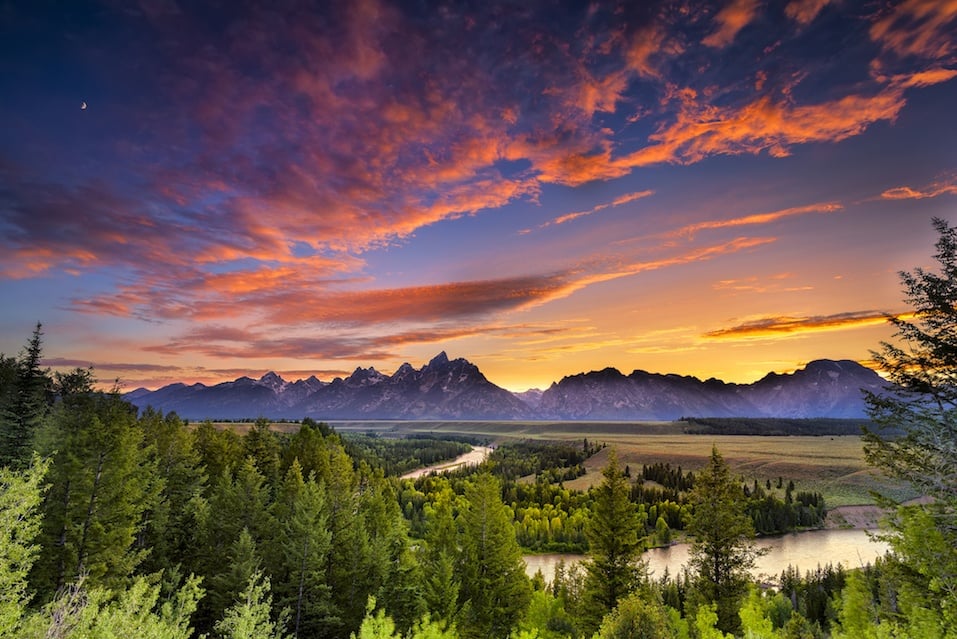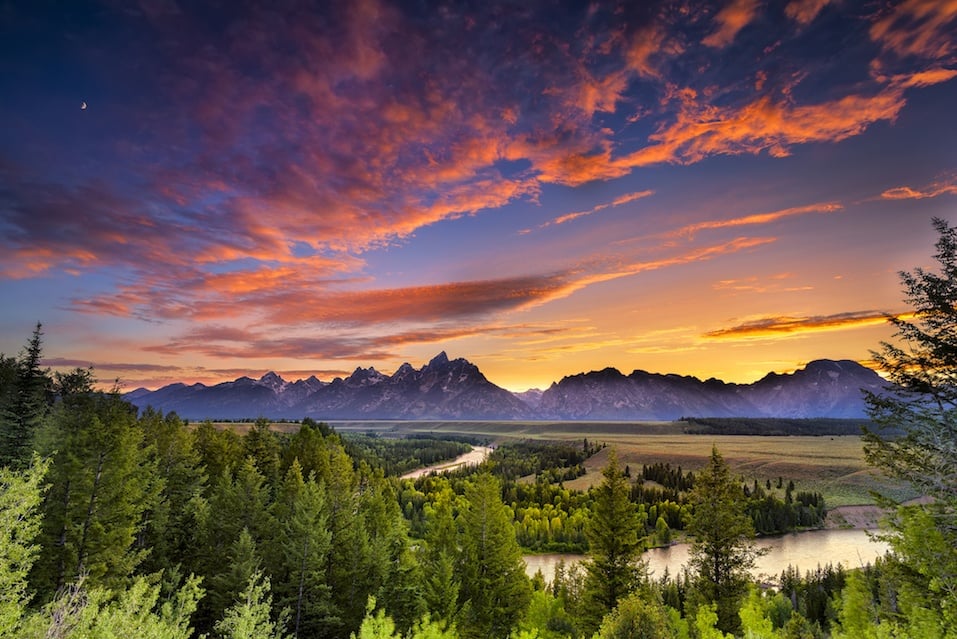 There's something for every outdoorsy person here. | Dean_Fikar/iStock/Getty Images
U.S. News & World Report ranks Grand Teton National Park as No. 1 among national parks in the U.S.A. and the world. We can see why. The majestic 13,770-foot Grand Teton mountain and its sisters tower over visitors, and almost 500 mile of parkland invites hikers and mountaineers. In addition, the Snake River beckons to kayakers and rafters and historic districts like Menors Ferry and Mormon Row will fascinate history buffs.
Nature-lovers, we found your park. Wildlife includes black bears, grizzlies, moose, antelope, and bison. And if you also want to tick off another park on the same vacation, Yellowstone adjoins the park.
Hot tip: You can save $10 on combined admission to Yellowstone and Grand Teton national parks, so book both for a cheaper trip!
Check out The Cheat Sheet on Facebook!
Source: Read Full Article