10 Of The Most Expensive Hotel Suites In Hong Kong
In 2019, Hong Kong was named the world's most expensive city to live in. With sky-high rent prices, it's no wonder that staying the night at a 5-star Hong Kong hotel comes with a seriously hefty price-tag.
Related: 10 Perks You Can Only Experience In Luxury Hotels
However, with top of the line amenities like private pools, soaker tubs with panoramic ocean views, and in-room grand pianos, these hotel suites might be worth the splurge. Scroll down to see the 10 most expensive hotel rooms in Hong Kong.
Click the button below to start this article in quick view
10 Extreme Wow Suite at the W Hong Kong, $1,698
The dreamy W hotel mixes innovative design, colorful details, and contemporary comforts. The result is this extravagant and playful luxury hotel. With a Whatever/ Whenever butler service that accommodates each customer's every need–no matter how unique– and an outdoor swimming pool with a one-of-a-kind mural, guests will love their stay.
Built to make its guests say, "Wow!" the Extreme Wow suite features some seriously unique details. The master bedroom has a chair in the shape of a prowling panther, a fish tank, and an oversized tub with panoramic ocean views.
9 Grand Harbor Corner Suite at the Rosewood Hotel, $2,524
The 5-star Rosewood Hotel is a recent addition to Hong Kong's thriving hotel scene. Made available to the public in March of 2019, the Rosewood Hotel has quickly gained a reputation for elegance and contemporary luxury. Also, this pet-friendly hotel makes sure your furry friends are as spoiled as you! Every pooch receives delicious welcome treats, a cozy bed, and recommendations for local dog-friendly restaurants, bars, and parks.
Their priciest offering is the Grand Harbor Corner Suite. This spacious suite features a luxurious all-marble bathroom, a personal butler, and allows its visitors access to The Rosewood's exclusive Manor Club. Every night in the Grand Harbor Corner Suite costs $2,524.
8 Upper Suite Harbor View at The Upper House, $3,825
With an understated, cosmopolitan atmosphere, The Upper House is a perfect getaway for a visitor looking for a tranquil and friendly setting in the center of an urban hub. Designed by Andre Fu (the same designer responsible for the St. Regis), The Upper House strikes a perfect balance between informal and refined.
Related: 10 Of The Most Expensive Hotel Suites In Tokyo
The Upper House's Upper Suites feature bespoke furniture and artwork, a luxurious living room, and a spa bathroom. A stay at the Upper Suite with the Harbor View costs $3,825 per night.
7 The Conrad King Presidential Suite at the Conrad, $4,195
The opulent 5-star Conrad Hotel is a sleek 61-story hub of luxury. Guests can take their pick of six award-winning restaurants, and, after a long day in Hong Kong, can relax in one of the Conrad's opulent lounges.
The Conrad King Presidential Suite boasts stunning skyline views, a spacious living room and bedroom, and a fully-equipped fitness room. With a $4,195 a night price tag, the King Presidential Suite comes with some serious benefits. Guests can enjoy a complimentary breakfast, afternoon tea, evening cocktails, afternoon tea, evening cocktails, and can sip on free tea and coffee throughout the day.
6  Tamar Suite at the Mandarin Oriental, $6,120
Stay in style at the original Mandarin Oriental. This hotel giant renowned for its luxurious accommodations and world-class service spares no expense in creating a memorable experience for its guests at its sleek flagship location.
This large one-bedroom suite, with a living room spa-style bathroom, and spacious balcony, costs $6,120 per night. Guests can enjoy the suite's butler service, lounge in the included silk kimonos, and fall asleep on sumptuous goose down duvets.
5 Presidential Suite at the Ritz-Carlton, $12,200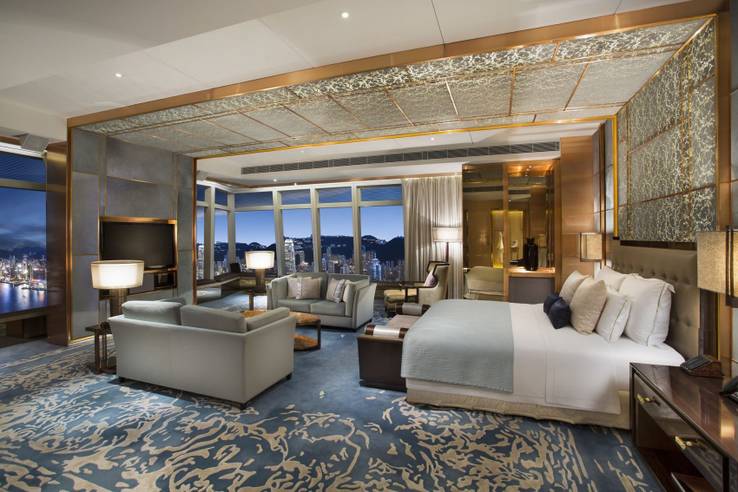 Guests take a 103-floor elevator ride to the 103rd floor of Kowloon's International Commerce Centre to enter The Ritz-Carlton's glamorous lobby. The Ritz Carlton features plush common spaces, a two Michelin-starred restaurant Tin Lung Heen, a one Michelin-starred Tosca Italian restaurant, a full-service spa, and an indoor infinity pool with sweeping city views.
Related: 10 Most Expensive Hotel Rooms in India
The Ritz-Carlton's Presidential Suite has nearly 4,000 square feet of living space, a dining room with a dramatic crystal chandelier, 400-thread count bed linens. Take in the city views with a spa-style soaker tub. Ready to spend some time in this opulent suite? Each night in this suite costs $12,200.
4 The 5-Bedroom Presidential Suite at InterContinental Hong Kong, $15,206
The celebrated InterContinental is renowned for its extravagant accommodations, impeccable service, and world-class restaurants. Located in the center of Hong Kong, and with four relaxing pools, the InterContinental is a perfect urban oasis.
With 7,000 square feet of living space over two floors, the 5-bedroom Presidential Suite is the largest suite in Hong Kong. The spectacular room features a private pool, a dining room, five beautifully appointed bedrooms, and a private gym. The suite cost a whopping $2.5 million to build and each night in the largest suite in Hong Kong costs $15,206
3 The Presidential Suite at The St. Regis, $15,301
Designed with the talents of acclaimed interior designer Andre Fu, the St. Regis oozes elegance and opulence. The refined St. Regis is situated in the trendy Wan Chai district and offers visitors upscale dining and a tranquil afternoon tea.
Related: The 10 Most Valuable Gemstone Types In The World, Ranked
The exquisitely designed Presidential Suite at The St. Regis features a spacious living room, a ten-person dining room table, and a gorgeous bathroom.
2 The Peninsula Suite at The Peninsula Hong Kong, $18,000
Built in 1928, the opulent Peninsula hotel has long hosted an exclusive clientele of diplomats and celebrities. Nicknamed "the Grande Dame of the Far East," the five star Peninsula Hotel's unmatchable elegance evokes an era of bygone glamor.
Guests can wake up to gorgeous floor to ceiling windows with stunning views of Victoria Harbor, and lounge in a private living room, a spacious bedroom, the in-room gym, or watch a movie in the cinematic screening room. Guests to The Peninsula Suite have access to a 24-hour butler service and can ride around Hong Kong in a Rolls-Royce. Each night in the Peninsula Suite costs $18,000.
1 The Presidential Suite at the Four Seasons Hotel Hong Kong, $35,000
With a name synonymous with luxury and elegance, the Four Seasons doesn't cut corners when it comes to this extravagant suite. When guests to The Presidential Suite touch down in Hong Kong, a limo and driver meet them at the airport and escort them to a private VIP entrance at the globally renowned Four Seasons. With 3,430 square feet of living space, the lavish Presidential Suite is outfitted with a stunning chandelier, a grand piano to bang out some tunes, and a soaker tub with sweeping views of the Victoria Harbor. A stay at the Presidential Suite costs $35,000, with a two-night minimum.
Next: 10 Most Expensive Buildings Ever Built In Asia
Home
Travel
10 Of The Most Expensive Hotel Suites In Hong Kong
Tags:best luxury hotels
Source: Read Full Article