Donald Trump and Guy Fieri Have a Lot in Common, Including Being Disliked by Anthony Bourdain
Is Guy Fieri the Donald Trump of the food industry? Perhaps, but these two actually have a lot more in common than personality traits alone. For starters, they were both on Anthony Bourdain's list of least favorite people (page 5). And that's not all.
So, forget the famous hairdos and over-the-top personas: Here are some lesser-known things Trump and Fieri have in common.
They both have a relationship with Jared Kushner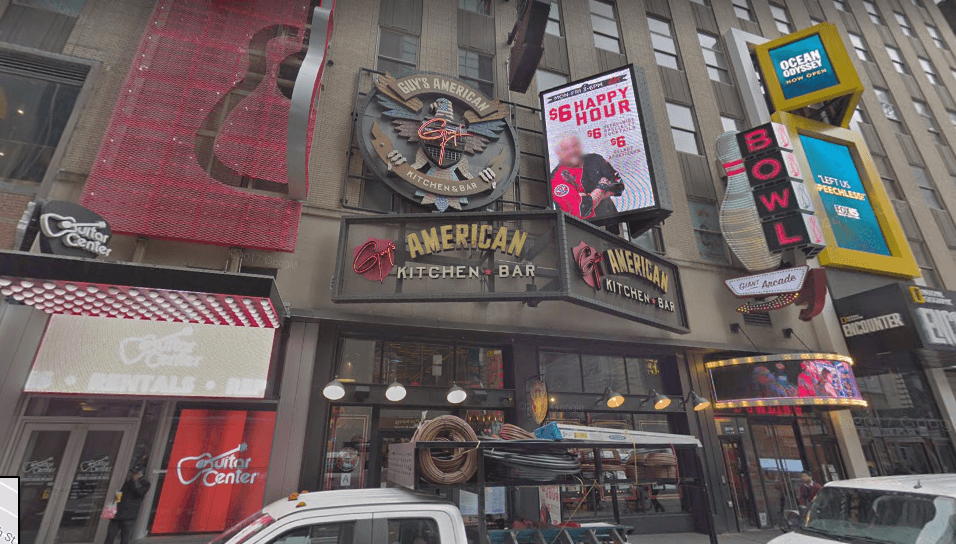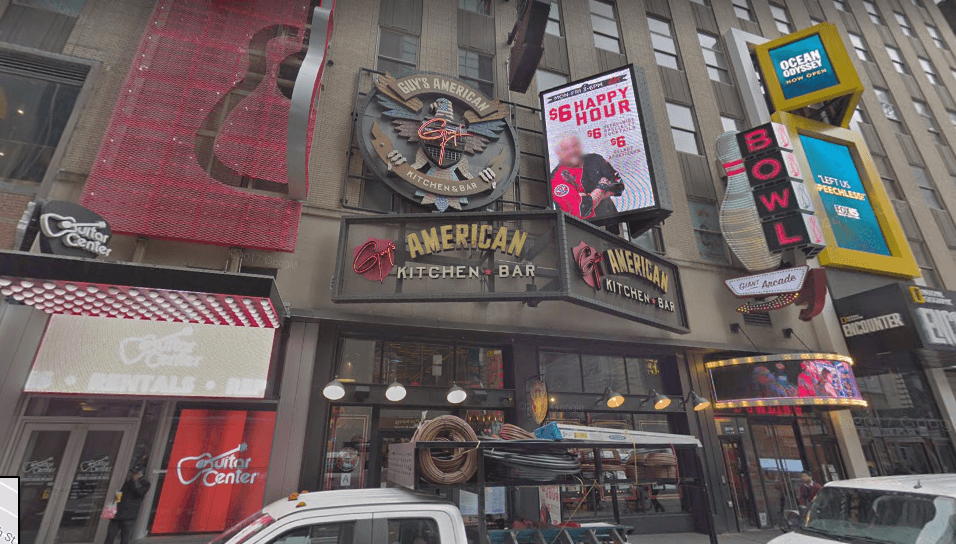 'American Kitchen & Bar' | Google Maps
You probably know Jared Kushner is Trump's son-in-law. But would you believe Kushner is also connected to Fieri? Well, believe it, because Trump's favorite son-in-law used to be Flavortown's landlord.
Before Kushner joined the White House staff, he was the chief executive of Kushner Companies. Turns out, the real estate company had managed the space Fieri rented to house his short-lived flop of a restaurant in Times Square. Guy's American Kitchen & Bar was the butt of many a joke. Just like Fieri, himself. And Trump. And Kushner. Go figure.
Next: These guys were made for the small screen.
They've both had careers as reality TV hosts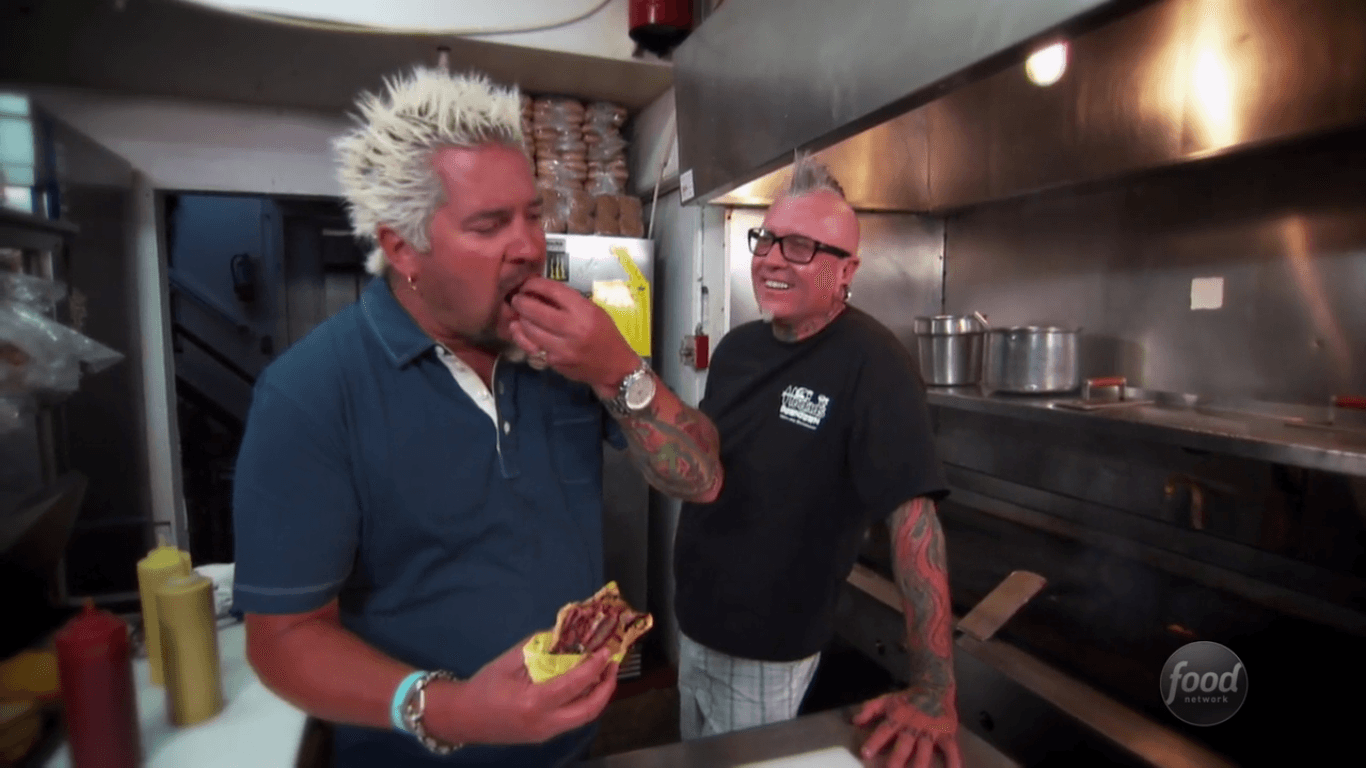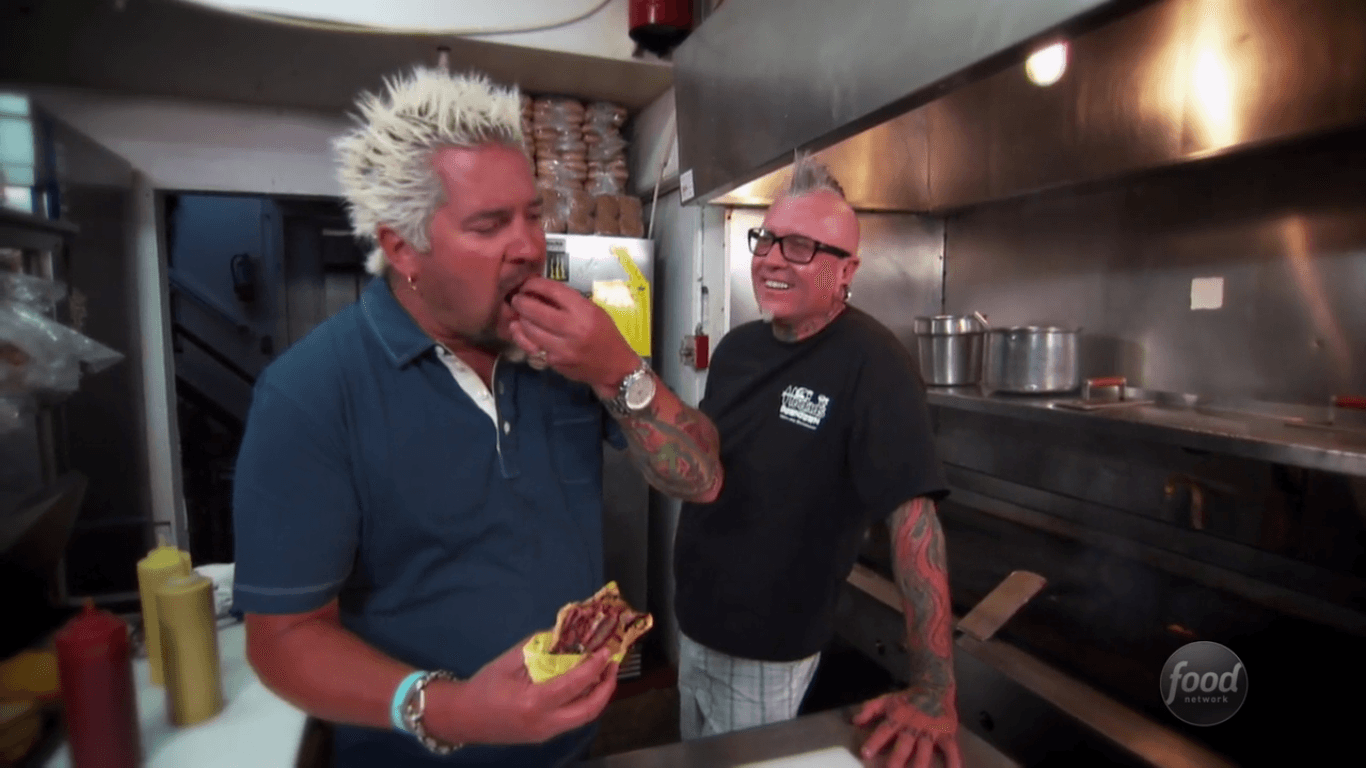 Guy Fieri on 'Diners, Drive-Ins and Dives.' | The Food Network
Between "You're fired" and "bomb-dot-com tasty," you know what we're talking about, here: The Apprentice and Diners, Drive-Ins and Dives (along with whatever Fieri's latest fried food series happens to be, because there are a lot).
Years ago, both of these reality-TV-loving individuals made their way into our homes. Trump played the "boss" nobody could stand. And Fieri? Well, he made a name for himself as one of the most successful Food Network hosts of all time. Similarly, viewers love to hate him, too.
Next: Would you like fries with that?
They're both fans of greasy, fast food
Donald Trump eating KFC | Donald Trump via Twitter
You're probably not surprised to hear Fieri loves all things fast, fried, and totally artery-clogging. You may, however, be surprised to hear Trump often dines on fast food fare, as well. Yes, even the POTUS eats fast food. But the celebrity chef and celebrity president seem to have very different reasons for their love affair with less-than-healthy cuisine.
Fieri, of course, is the host of shows whose premises rely on devouring greasy spoon fare. As for Trump? Well, he just really, really loves the taste — that, and he doesn't trust the White House staff. No word on his exact reasoning there.
Next: Business isn't for everyone.  
They've both had massive business failures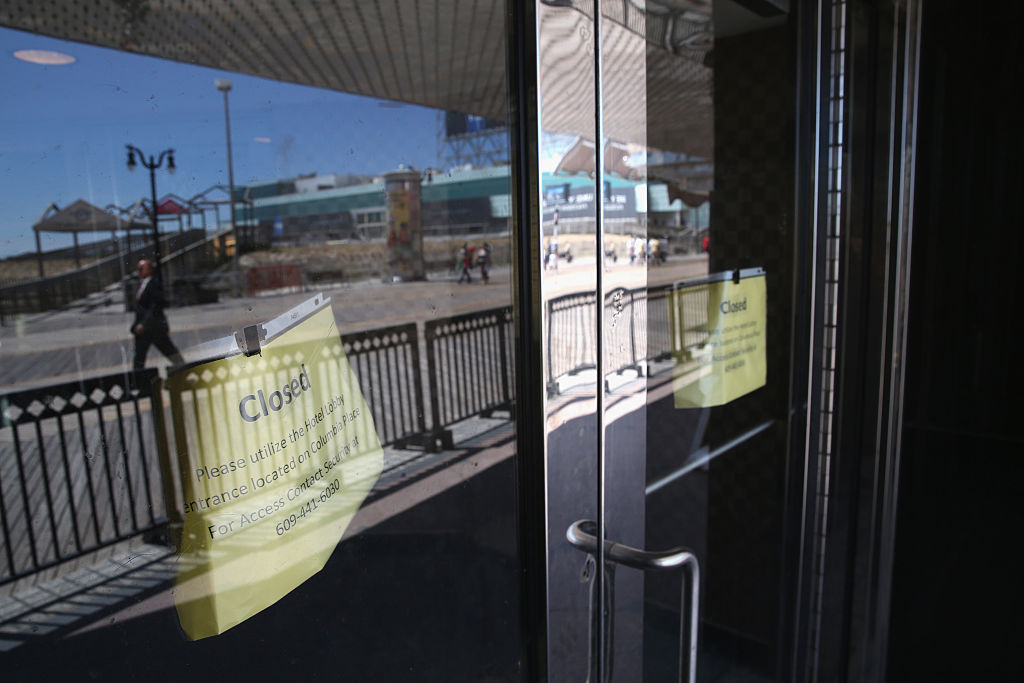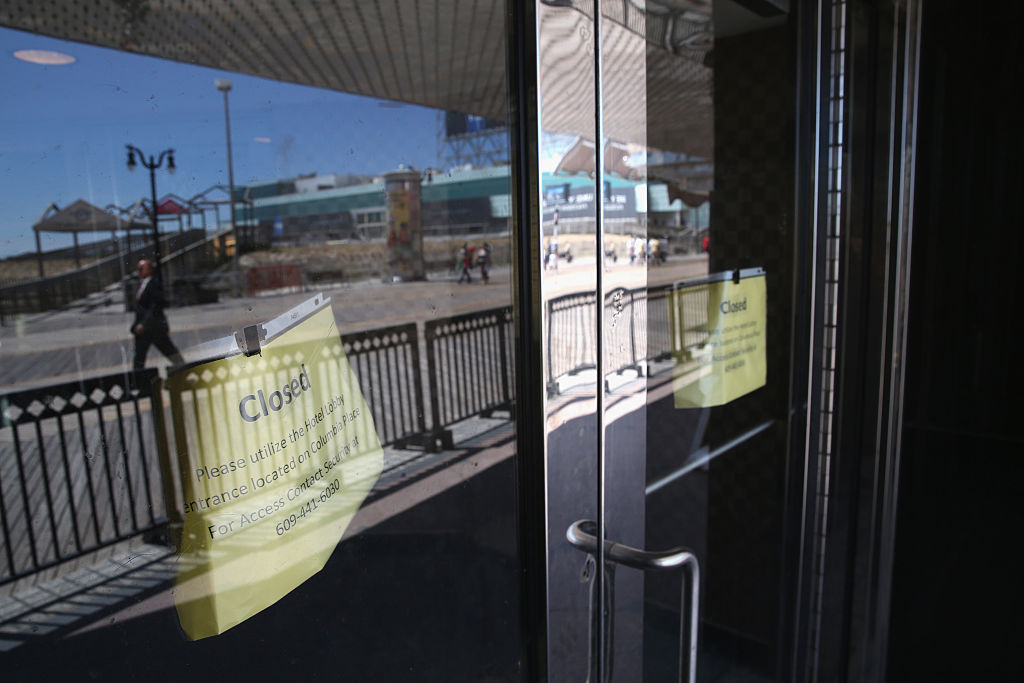 Trump Plaza Hotel and Casino | John Moore/Getty Images
Trump's list of business ventures is, well, huge — his word, not ours. And plenty of those ventures ended in total failure. Failures have included companies such as Trump Steaks, Trump Casinos, and Trump University — yes, Trump University. Don't worry, it didn't succeed. In fact, the New York Attorney General sued the "university" in 2013 for $40 million for defrauding students.
And then, there's Guy's American Kitchen & Bar. And we all know how that turned out.
Next: This Here's the story on why Bourdain hated Trump and Fieri.
Anthony Bourdain hated them both
Bourdain's tweet on Trump. | Anthony Bourdain via Twitter
Bourdain and Fieri's feud will go down as one of the biggest feuds in celebrity chef history. And it all started with Bourdain's repeated insults toward Fieri. Finally, Fieri snapped back, and had some choice words for the famously outspoken chef. Despite all that, there's still one person whom Bourdain hated even more.
When it came to Bourdain's thoughts on Trump, he was, not surprisingly, anything but held back. "There's so many reasons to find [Trump] troubling," he told Eater. "When Scott Baio's the only guy you can find to show up at your convention, you're in trouble." All joking aside, though, Bourdain had a laundry list of things he hated about Trump, and he commented on everything from Trump's anti-immigration laws to how he mistreated people.
Next: The chef once made his way into the White House, too.  
They've both been in the White House kitchen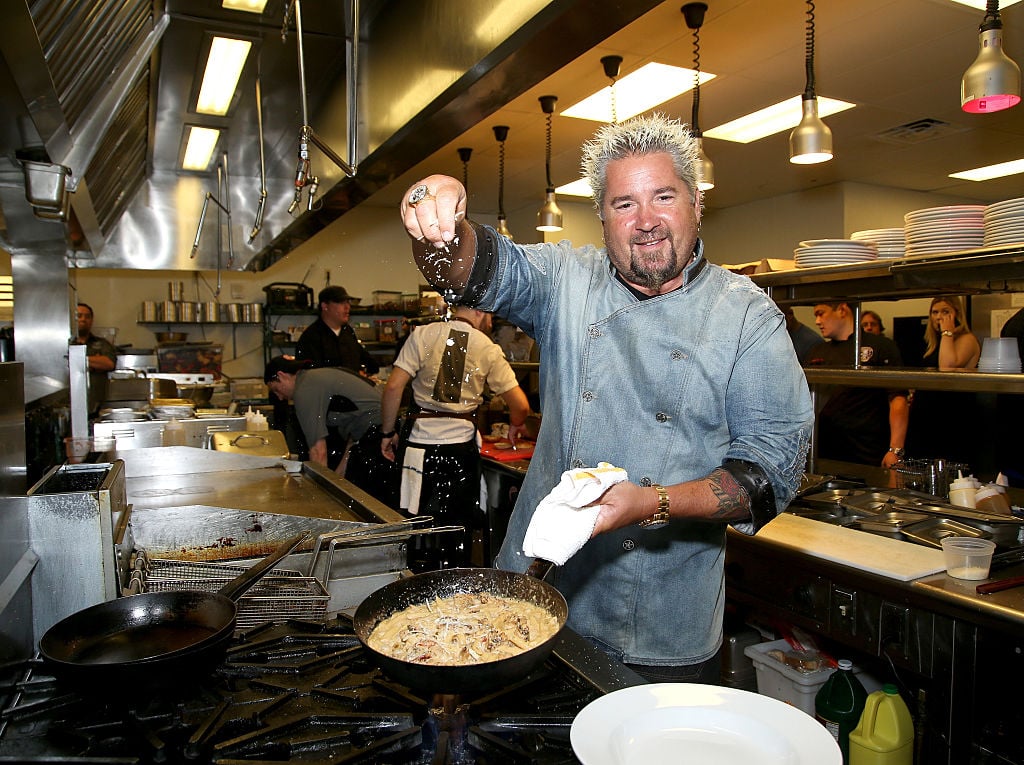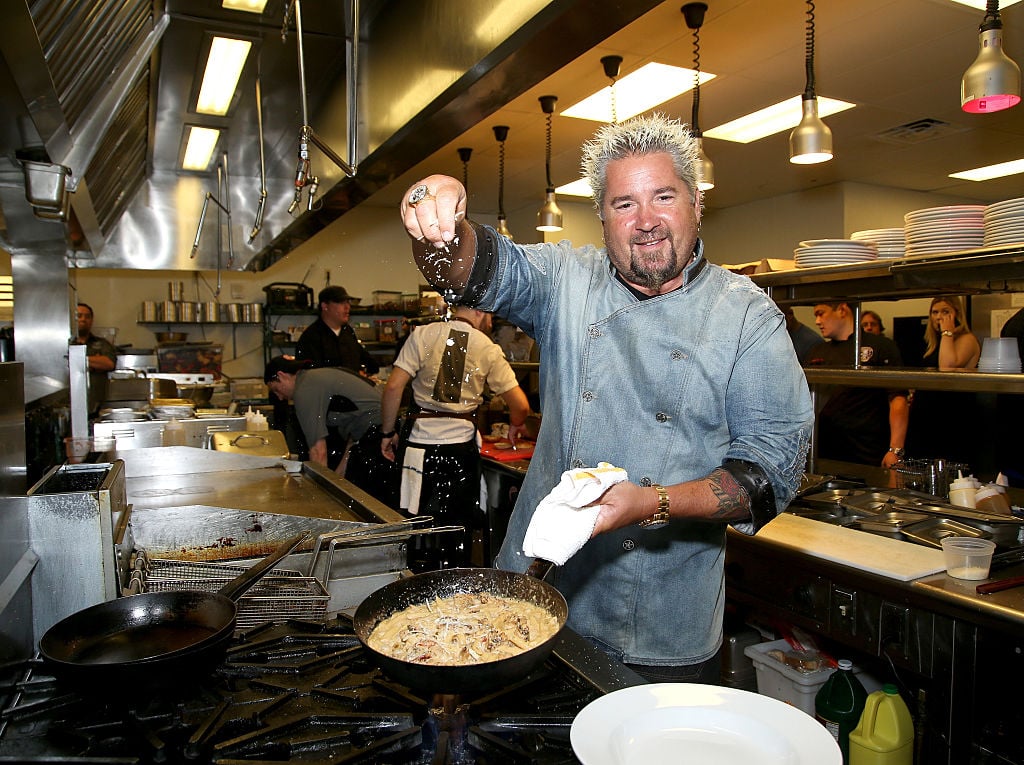 Guy Fieri | Paul Zimmerman/Getty Images
Yes, even the spikey-haired chef made it into the White House. But it wasn't while Trump was there (which is actually a bit surprising). Back in 2010, Fieri visited 1600 Pennsylvania Ave. "to cook some of the Fieri family classics for the White House staff," Eater reported.
As far as Trump is concerned, we don't have to do much explaining on that one. Like it or not, the White House is his home.
Next: Fieri also has something in common with the first lady. 
Melania Trump and Fieri both denounce bullying
Melania Trump 'Be Best' Campaign | Melania Trump via Twitter
It's no secret people love ripping on the Food Network star. And on occasion, he fires back. However, Fieri holds back on commenting on others more often than not. In fact, he's not a fan of those who continually tear other people down. Case in point: The time he said he didn't like Bourdain making fun of people.
And you know who else speaks out against bullying? Melania Trump. In fact, she once said,
We must teach each child the values of empathy and communication that are at the core of kindness, mindfulness, integrity and leadership, which can only be taught by example.
Or, at least the whole anti-bullying agenda was her mission at the start of her run as first lady. We're not entirely sure what she's up to these days.
Check out The Cheat Sheet on Facebook!
Source: Read Full Article